Greetings from Versailles, Ohio
From the travels and adventures of the "World's #1 Trackchaser"
I WAS TAKING A BIG RISK COMING HERE THIS WEEKEND!
Lifetime Track #1,816
Special ReportThe PlanThe TripThe ExperienceRace ReviewVideosPhotosQuick Facts
RLR – Randy Lewis Special Report
My special reports are meant to be "critical thinking" pieces on the state of trackchasing.  Sometimes they are just "news" items.  Often times the "trackchasing hierarchy" will consider them controversial.  At other times they are just good ways to think about the right things.  The topics won't always directly relate to trackchasing but they will always at least indirectly tie to the trackchasing hobby.  Remember the best way to learn about new things….is to listen.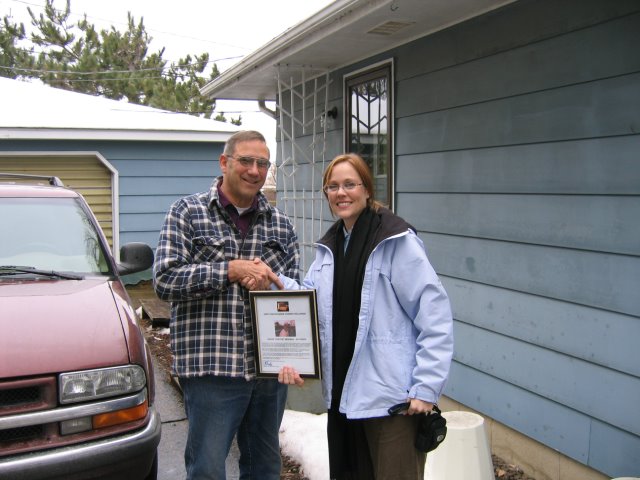 First Annual Ed Esser Memorial Race Event
Thought folks would like to know that the "First Annual Ed Esser Memorial" event will take place this weekend, February 16 & 17 on Mission Bay in Thunder Bay, Ontario, Canada.  The event is sanctioned by the Thunder Bay Autosports Club.
You may recall that Ed saw his final race at this track on February 26, 2012.  Just a few days later Ed passed away.  This was also Ed's first and only international track visit.  I was lucky enough to be able to spend the trackchasing weekend with Ed in Canada.
While we were at the event we met several racers in the paddock area before the races began.  The weather conditions were deplorable.  The temperature was about 10 degrees with a very strong north wind and spitting ice/snow.  The TBAC was so pleased to have visiting trackchasers on such a bad weather day that they chauffeured us around in the pace truck during the entire race program.  When we wanted to stop and take pictures or get a better view they were more than willing to accommodate.  Toward the end of the show (which was shortened due to the weather) we were introduced to the track's announcer who broadcasts over a local FM station for all of the spectators to enjoy.
Since Ed's passing the TBAC has worked with me to establish the "First Annual Ed Esser Memorial".  This was all their idea and I chimed in when they needed some help.  The Thunder Bay Autosports Club will be printing a special program for this weekend's races.  It will honor Ed's memory.  The TBAC and Ed's family asked me to write the memorial.  I have included what I wrote below.  They will also be using two photos of Ed from our mutual ice racing trackchasing trips.  One is very cool in that it shows Ed putting on a racing helmet for his "ride along" at an ice race in Brainerd, Minnesota.  The other is of Ed standing in front of the Thunder Bay Autosports track sign at the last track he was to visit.  The TBAC will be sending me a limited supply of these programs.  If you think you might like one please send me your name and address to ranlay@yahoo.com.  I'll send out what I get on a first come first served basis.  They have also talked about producing a special sticker as well.  I don't know how many of these will be available or if there is a cost associated with them.
If you're in the Thunder Bay area this weekend you might want to attend this very special event.
Randy Lewis
San Clemente, California USA
First Annual Ed Esser Memorial Race Event
Ed Esser was one of the most prolific race fans there ever was.  He was the six-time winner of the U.S. superfan competition, which recognized the person who had seen the most races in a given year.  Later Ed turned his attention to trackchasing.  Trackchasing is the hobby of seeing racing at as many DIFFERENT tracks as possible.
Ed was a winner in this competition as well.  In 2005, he saw racing at 132 different tracks.  Despite Ed being from Wisconsin and my hailing from California Ed and I met up at the same racetrack more than thirty times during our trackchasing careers.  We would always "bench race" at the track and then spend another hour or more in the parking lot after the races talking some more.
On Saturday, February 25, 2012 Ed and I ran into each other randomly at an ice race in Superior, Wisconsin.  This was Ed's 1,429th lifetime track to see.  Every one of those tracks was located in the United States.  This gave Ed a unique claim to fame.  He had seen more tracks than anyone else for a trackchaser who had never left the U.S. to trackchase.  That was about to change.
I was planning to go to the Thunder Bay Auto Sports Club ice racing event the very next day, February 26.  I had been bugging Ed for years to trackchase outside the U.S.  From his home in Madison, Wisconsin he wasn't that far from Canada.  I invited Ed to come along with me to Thunder Bay.  He finally accepted my invitation!  Off we went "talking trackchasing" non-stop for the next 24 hours.
Riding shotgun with me was unusual for Ed.  He was a trackchasing "independent".  He did all of his own driving.  He slept in his car more than 100 nights each year.  His 1988 Chevy Blazer had 848,500 miles on it before he traded it!  Ed wrote a blog at http://2arace.blogspot.com detailing his trackchasing exploits.
In Canada the weather was cold, windy and snowy for Ed's first ever international trackchasing event.  However, the people were the very best.  We met racers in the pits, rode around the track in the pace vehicle and met the track announcer.  On the way back to the U.S. you couldn't have wiped the smile off Ed's face.  He had seen his first ever international trackchasing race…… in Canada.  The Mission Bay Ice Track would be his 1,430th career track and his last.
Ed and I bid farewell in a Minnesota parking lot.  He headed back to Wisconsin.  I flew on to California.  Sadly, just four days later Ed passed away from a heart attack.
Rest in peace my friend.  I rarely go to a track these days without thinking of you.
Ed's Friend,
Randy Lewis
San Clemente, California USA
THE KEYS TO THE TRIP
I didn't have much choice.  I was taking a big chance coming to Ohio……………more in "The Plan".
I always try to put my free time to good use………………more in "Trackchasing Tourist Attraction".
Roger…never at a loss for words………..details in "Observations".
The other choices wouldn't work.  I HAD to come to Ohio.
I was taking a big chance coming to the BMI Indoor Speedway tonight.  There were other alternatives but for one reason or another they weren't going to work.
The ice racing in the Northeast was doomed by lack of ice (global warming?).  I couldn't go ice racing in Canada even though they had plenty of cold weather.  Why?  I didn't have a passport.  As you know a few years ago, a new law required Americans coming and going to Canada to have a passport.
We live just 74 miles north of the Mexican border city of Tijuana.  Did you know that you don't need a passport to enter Mexico.  Nope.  However, if you ever plan to return to the U.S. you DO need a passport.
My main backup plan to tonight's indoor racing in Ohio was an ice race in Wisconsin.  However, I've been invited there to be a guest driver later this winter.  I didn't want to burn that track this weekend.
I was left with an indoor track in Ohio.
That left me only this indoor race in Ohio as a workable alternative.  I told you I was taking a big risk right.  What was the risk?  I might just through all the hoops listed below and NOT be able to count the track.  Folks, I don't travel clear across the United States to NOT count the track.  I am sure you understand.
I will tell you this.  It's much more relaxing to attend a race event at an indoor track.  You won't be rained out in that situation.  However, if no countable racers show up the results are the same as a rainout.
Welcome to the Hotel O'Hare.
My trip began as it nearly always does in San Clemente, California.  On Friday afternoon I flew to Chicago.  I woke up this morning in the O'Hare International Airport.  I went to bed in Dayton, Ohio.  This is what today looked like.
On the first night of this trip (Friday) I landed in Chicago's O'Hare International Airport at 11 p.m.  My next flight would be just nine hours later over to Dayton.  I figured there wasn't enough time to effectively get a hotel for the night.  With a good two hours or more just "coming and going" a hotel would be a good deal of hassle with just nine hours on the ground.
Carol disagreed but then she doesn't sign the checks in our household.  Oops.  I made an error there.  She DOES sign the checks but it still didn't make sense to get a hotel room.  I would sleep overnight in the airport.
I consulted my "sleeping in airports" resource website aptly named www.sleepinginairports.net.  Here's a sample of the advice they offered.
I ended up in O'Hare for a night after getting re-routed as a consequence of missed connections from delays.
– Read mixed reviews on this website.
– Decided to give it a shot any ways (as I was on my own and have a Boingo WiFi account).
– Terminal 1 is domestic so vendors close at 9pm or so.
– If you have your own food and water, great. If not, get some before the shutters come down.
– I'm the kind that can sleep on any surface but the serial chairs are not leveled so may not be an outstanding experience for everyone.
– I was the only one in the terminal all night so enjoyed the peace and quiet. But will not recommend for single young females due to safety concerns (although I'm sure security is there, somewhere). Neither will I encourage families to brave this experience. If you're single and young, and are not finicky about comfort/luxury, it is most certainly doable.
It was quiet and the price was right.
That wasn't much help.  I was surprised at how quiet O'Hare was on a good weather winter Friday evening.  I found a deserted part of the airport near gate C28.  There were a few chairs together without armrests.  For a trackchasing sleeping in the airport that is like discovering pure gold.  There I caught 5-6 hours of "less than good" sleep with few annoying announcements.  It was the best of the available alternatives.
Chicago was getting a light dusting of snow on this evening.  From my "hotel room" I had a great view of the snowplows doing their thing all night.  Except with the plow's blade hit concrete, awakening me a time or two, it was a peaceful and safe setting for a short evening of slumber.
Let's steal a hotel stay.
Then it was off to Dayton, Ohio on Saturday morning.  Once I landed in Dayton I hopped on Priceline.com.  Surely, in the middle of the winter, I could steal a major chain hotel at a bargain price.  I used the local Motel 6 price as my baseline.  However, I was shutout.  No one wanted to sell me a Marriott or Hyatt for the price of a Motel 6.  That's O.K. I'll get them next time!
I did settle on a low-priced Travelodge.  That combined with my "zero cost" night at O'Hare the night before would make the Randy Lewis Racing budget department staff happy.
I always try to put my free time to good use.
I had a free 4-5 hours before it was time to leave for the races.  What did that mean?  It meant it was time for a "Trackchasing Tourist Attraction".  What could I see?  Folks at the airport were recommending the National Museum of the U.S. Air Force.  I would have probably gone there, even though I had already been to this attraction in the past.  However, a quick iPhone "things to do" search for Dayton, Ohio turned up a great first time visit.  Check it out in the TTA section of this report.
Of course my best chance to see a new track also carried the biggest risk.
In trackchasing you can never give up.  Last April Greg Robbins and I ventured up to the this very same BMI Indoor Speedway in hopes of my making it track #1,743.  However, on that day no "countable" cars and drivers were racing.  That is always disappointing to come away with nothing for my efforts.
I actually invited Greg to come along on this "re-visit".  However, he and his wife had the good sense to book a cruise to Hawaii.  Good call Greg.  Hope you enjoyed "Warren and Annabelle".
On that day last April I was counting on the "Senior Caged" class to save the day.  None showed up.  To show that I am a slow learner once again I was counting on some "Senior Caged" competitors to show up.  I tried to prepare myself a little better this time.
I was counting on the word of people I had never met.
I contacted three different sources, including the track's promoter, to try to confirm some of these racers would show up today.  Although I got generally positive feedback from everyone there were NO GUARANTEES.
When I entered the track I encountered a woman signing folks into the pit area.  Surely she would know if any "Senior Caged" competitors had come today.  When I asked her if any senior caged competitors were here tonight she should her head, "I don't think so" she said.  I could see some caged karts from where I was standing.  However, if those caged karts were driven by children (age 17 or less) that wouldn't count.  Now are you getting the idea that this trackchasing hobby really is complicated and somewhat difficult?
I asked her to check with someone who might know for sure about the senior caged class.  She was more than happy to accommodate.  Soon she was back with the news.  She held up seven fingers.  "They have seven of them" she told me.  Whew!  It would have been majorly disappointing to have been shut out twice at the BMI Indoor Speedway.
It wasn't a friendly face but a stern one.
When I entered the track I encountered a friendly face.  O.K., it really wasn't a friendly face but a rather stern face.  It was Indiana's leading trackchaser Roger Ferrell.  Roger's "stern" face is just his way of saying "I like you".  I had expected Roger to be here.  It's his haunt during the winter being just 85 miles or so from his place in Majentica, Indiana.
I sat with Roger during my three hours at the track.  Roger was a close friend of Ed Esser's.  Now with Ed gone Roger is the Midwest's pre-eminent trackchaser.  As is frequently the case, I cannot divulge much of my conversation with Roger.  It's a trackchasing "political" thing.
I was seated next to a corporate icon.
Roger Ferrell is Indiana's #1 trackchaser.  We have several states where a local resident is #1 in their state.  For some reason the folks over at the www.roamingtheraceways.com website won't give poor Butch Knouse the time of day.  He's the #1 trackchaser in South Dakota and there is nary a mention of it on that site.
Roger is somewhat of a "corporate icon".  He's the President and C.E.O. of a farm construction business that does work all over central and northern Indiana.  Roger is a midwestern boy.  As we all know many Midwesterners are very conservative people.  Having lived the first 23 years of my life in Illinois I feel qualified to make that statement.
For some reason Roger and many other trackchasers seem to think I have a lot of financial support behind my trackchasing.  Roger made the comment that I have "unlimited funds".  For the life of me I don't know where they get this stuff.  Roger owns his own company.  I have not worked in more than ten years.  Can anyone please explain this to me?
TRACKCHASING TOURIST ATTRACTION
I very much enjoy the racing when I go on trackchasing trips.  However, I am not the type of person who would feel the trip was complete if I simply left home, went to the race and came back home.
I do a good deal of traveling.  I want to do my best to see the local area when I come for a visit.  There are usually unusual attractions that one area is noted for more than any other locale.  I want to see those places.  I want to touch them and feel them.  When I leave an area, I want to have memories of these special places that I call Trackchasing Tourist Attractions.  I will remember those experiences long after the checkered flag has fallen on whatever race I have seen that day.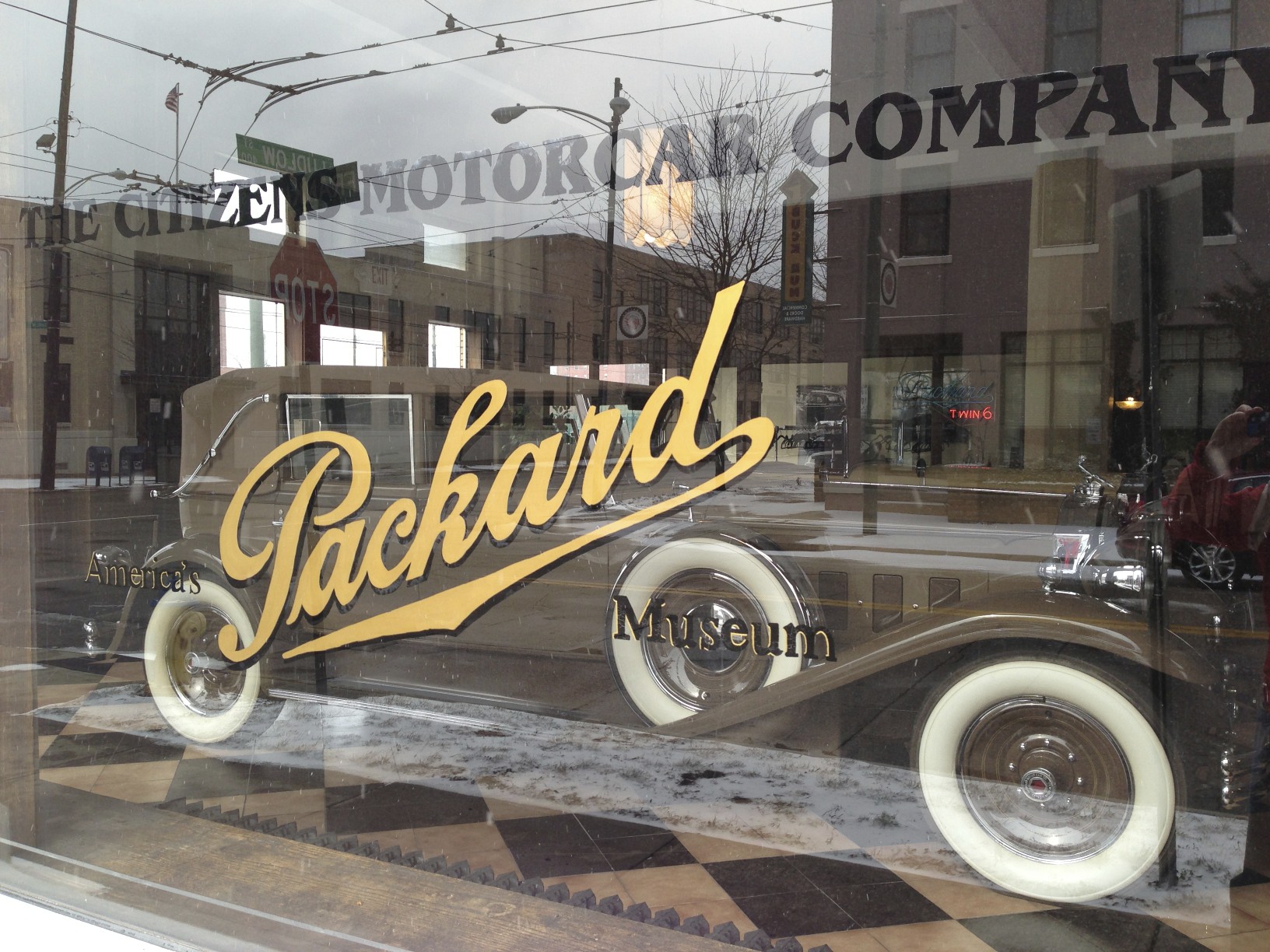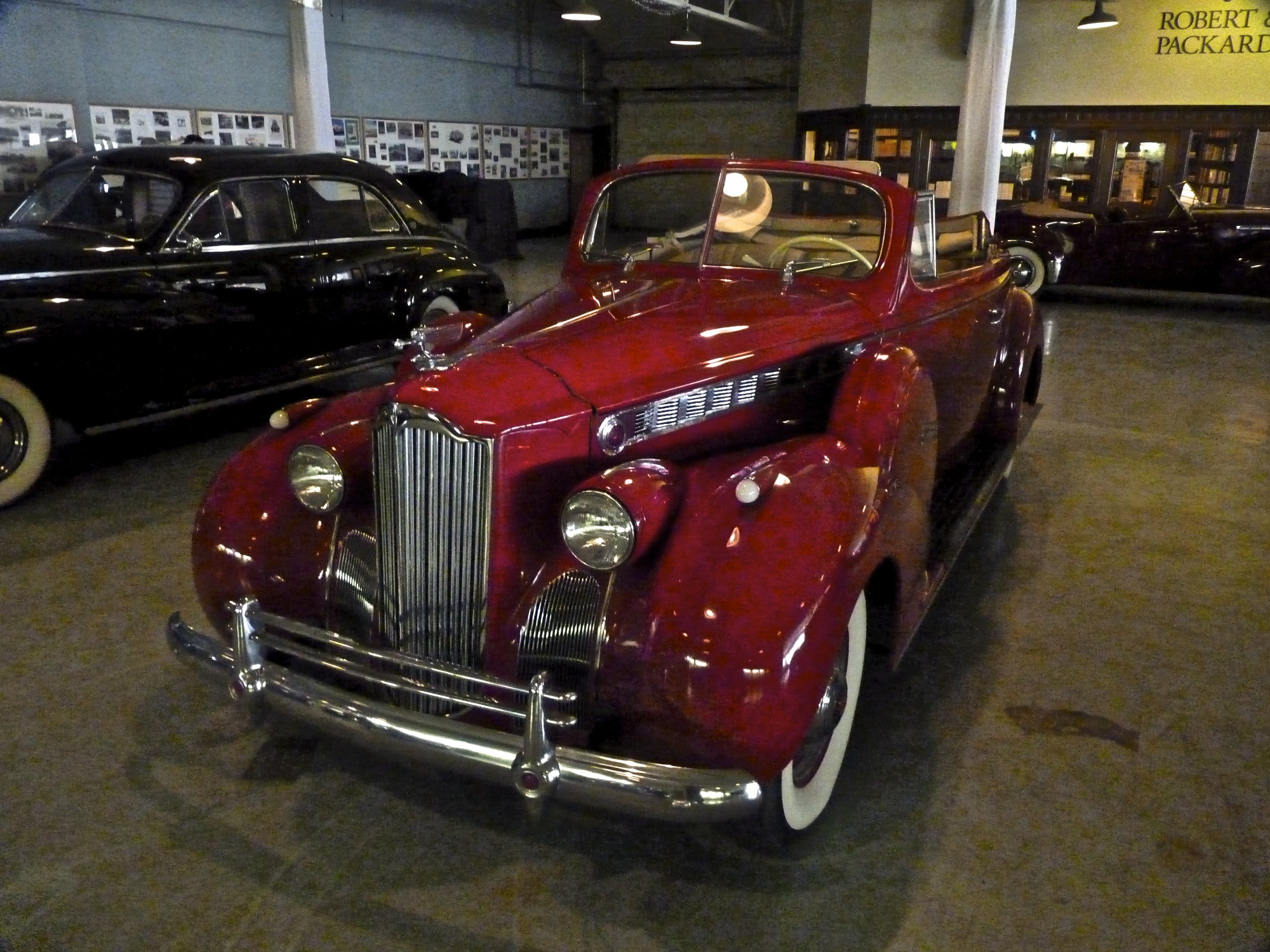 The Citizen Motor Car Company Packard Museum – Dayton, Ohio
It seems as if I'm beginning to see a lot of auto museums lately.  Recently that started with that great Nicolini Auto Museum in Lima, Peru.
Do you know much about the Packard automobile?  It was a major luxury car automobile that began production in 1899 and ceased operations in 1958.  Toward the end of their run Packard ranked third behind Cadillac and Lincoln in the luxury car market with Imperial coming in fourth.  In 1956 Studebaker merged with Packard and two years later Packard was gone.  In 1966 Studebaker went out of business.
This is a fun museum with about 40 Packards on hand.  Take a look at my photos from this museum.  Most of the car's pictures are preceded with a description of the make and model.
Click on this link to see the beautiful Packard automobile from days gone by.
Packard Auto Museum – Dayton, Ohio
ONE CANNOT LIVE WELL OR SLEEP WELL IF ONE HAS NOT DINED WELL 
Waffle House, Dayton, Ohio
I'm proud to tell you that I ate in my first Waffle House of the 2013 trackchasing season today.  Do not mistake that with being my first Waffle House of the year.  That happened in Florida during my New Year's Day trip to the Orange Bowl.  I'm also proud to say that the calories I consumed still allowed me to meet my "Lose It!" iPhone app caloric daily goal.  Life can certainly be grand.
Why?  Is it 'childrenism'? 
I have absolutely no idea why the trackchasing "Founding Fathers" didn't count kart racing from the very beginning.  The "Founding Fathers" all profess to be devout racing fans.
Frankly I think many of the Founding Fathers suffered from "childrenism".  Ever heard of that?  It's the desire to discriminate against children.  The majority of kart racers are children in the eyes of trackchasers.  The trackchasing definition of a "child" is anyone seventeen years of age or less.  Heck, if memory serves you can race in the NASCAR national truck division at age 16.
Karts are pure racing machines.  If they don't count how is it that a three-car figure 8 race contested with $50 junk cars "racing" at "speeds" of 20 M.P.H. on what can best be described as a "mud bog" racing surface are allowed to count?  Then a racing class like karts is not considered to be a "countable form of racing".  Give me a break!
Kart racing is fast and competitive.  The racing is close.  The machines are purpose built racing racers.  Some of America's top drivers including Jeff Gordon and Tony Stewart spent years racing go-karts.  The amount of money invested in kart racing can oftentimes run into five figures or more.  Most kart tracks get 50-100 competitors.  Kart racing should have been countable from day one.
Is Roger Ferrell responsible for flat karts not counting by trackchasing rule?
Recently a proposal was rejected to add "flat karts" to the trackchasing menu.  Few eligible voters took the time to vote on the issue.  In the end the vote ended in a tie 6-6.  Roger Ferrell voted against adding karts.  He told me he didn't want to see trackchasers "adding several kart tracks in one day".  He feared that some chasers would stay for one heat at a track and leave for the next one.  Roger wanted people to "earn" the track.  Roger makes a good point here.  We have had a few trackchasers who spent "5-10 minutes" at one track before heading to the next.  There are some significant drawbacks to adding kart racing at this late date in the hobby of trackchasing.  However, even at this time it might be a good idea.
This is definitely a unique venue.
The BMI Indoor Speedway is one of the more unique venues in all of U.S. auto racing.  The track is a high-banked dirt oval and it's INDOORS.  I can think of only one other track with such characteristics.  That track, in Tulsa, Oklahoma, hosts the "Chili Bowl" every January.
Tonight there were more than 100 racers in about twenty different classes of racing.  As mentioned the ONLY trackchasing countable class was the "Senior Caged" class.  Anywhere else these guys would have been called "Senior Champs".
The race format called for each class to run two heats and a feature.  The first round of heat racing took about two hours to handle some 25 different races.  The program did begin forty minutes late.  I had arrived just before the scheduled start time of 5:30 p.m.  They were still practicing.  Kart racers are like asphalt racers…they sure practice a lot.
A 5-6 hour show in a mostly cold building in simply too long.
Luckily, the senior caged class appeared as about class #5 in the lineup.  This allowed me to see every class race once and the senior caged class race both of their heats.  Each senior caged heat and their feature would start the SAME seven competitors.  I think the program would have been much better to have just one heat and a feature per class.
Outside the temperature was about 15 degrees.  Inside it was warmer but still required a hat and gloves to be comfortable.  They opened the building's vent from time to time to clear the fumes from indoor racing.  When that happened the outside weather conditions became the INSIDE weather conditions.
The P.A. system can be better in some spots than others.  I'm thinking Roger needs to sit in an area where the P.A. system can be heard.  Once the racing began they ran one race quickly after another.  Nevertheless, when I left at nearly 9 p.m. they were only in the middle of the second round of heats.  I'm guessing the show would have gone until midnight.  That's MUCH too long for a program with a 5:30 p.m starting time.  MUCH TOO LONG.
STATE COMPARISONS
Ohio
The Buckeye State
This evening I saw my 65th lifetime track in the Buckeye state, yes the Buckeye state.  I'm a little surprised so many people have seen more tracks than me in Ohio.  Maybe I shouldn't be surprised.  Most of the folks ahead of me live in Ohio or a state that borders Buckeyeland.  Nevertheless, I still have nearly forty tracks to visit here.  They're a curious combination of figure 8 layouts, county fairs and kart tracks with just one regularly scheduled oval in the bunch.  I'll be back to Ohio.
Thanks for reading about my trackchasing,
Randy Lewis
World's #1 Trackchaser
Peoria Old Timers Racing Club (P.O.R.C.) Hall of Fame Member
Ohio sayings:  Ohio, Japanese for good morning.
TRAVEL DETAILS
AIRPLANE
Los Angeles, CA (LAX) – Chicago, IL (ORD) – 1,724 miles
Chicago, IL (ORD) – Dayton, OH (DAY) – 240 miles 
RENTAL CAR #1 
Dayton International Airport – trip begins
Versailles, OH
TRACK ADMISSION PRICES:
BMI Indoor Speedway – $5
Total Lifetime Tracks
There are no trackchasers currently within 300 tracks of my lifetime total.  Don't blame me.
1.  Randy Lewis, San Clemente, California – 1,815
Total Trackchasing Countries
There are no trackchasers currently within 10 countries of my lifetime total.
1.  Randy Lewis, San Clemente, California – 63
Current lifetime National Geographic Diversity results
1.  Randy Lewis, San Clemente, California – 5.08
That's all folks!  Official end of the RLR – Randy Lewis Racing Trackchaser Report