The Event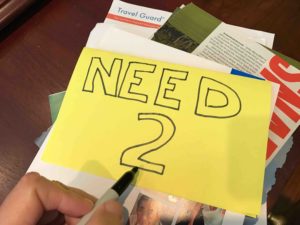 Yes, you CAN print money in the privacy of your own home!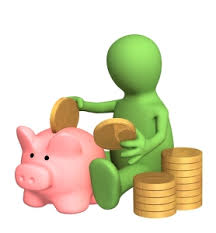 I want to save each and every one of you money.  With long-term care premiums soaring you've got to make it back somewhere.  Whether you're buying a new car, installing solar, creating a low-cost well-diversified investment portfolio…..or going to a major sporting event I want you to get a good deal.  Who could possibly argue with that?
Today's class is all about printing money in the privacy of your own home.  You probably thought that was illegal.  Nope.  You can do it.  I'm going to tell you how.
Let's say you and your spouse/friend/significant other wanted to go to the "big event".  It might be a professional sporting event, a concert, a college game, a big auto race or whatever.  Intrigued?  Read on.
I'll give you two recent examples of how I used this technique in the last month.  Remember, you're never going to get anywhere in life if your response is anything like, "That won't work where I live.  My situation is different."  Time to listen, learn and then most importantly act.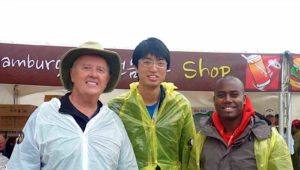 I have bought and sold tickets to most of the major sporting events in the United States and several internationally.  I've even done it in South Korea.  However, I must tell you that most locals had no clue what I was doing!  Nevertheless, I have discovered two important items in my worldwide experiences.
If you want to go to the "big event" you're going to need a ticket.  How are you going to get that ticket?  What is the psychology of the people who have the power to put that ticket in your hand?
First, most people don't understand the true market value of the ticket they are buying or selling.  If they are selling a ticket they think that nobody is in the market for it.  They are willing to sell it at a low price.  Lots of times they might have an extra ticket that they will end up "eating".  Of course, they won't literally eat the ticket.  They will simply walk into the event with the unneeded/unwanted ticket buried deep in their pocket.
Folks who are in the market to buy a ticket think the exact opposite.  They almost automatically believe that the demand for tickets is much greater than it really is.  This entire phenomenon is very similar to buying and selling a house.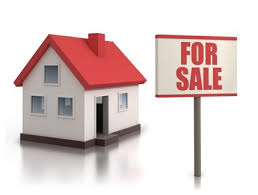 Think back to when you sold your last house.  Did it seem like folks were beating the door down to get your place or were offers a little slow to come by?  On the other hand, when it came time to buy a house was the realtor whispering in your ear, "We better act fast before this baby goes to someone else".
With that type of thinking people sell what they have for too little and pay too high of a price for what they want.  Ticket scalpers are the "middlemen" in this process.  They make tons of money on the fact that people don't know the value of the ticket they have or the ticket they want to buy.
I've learned lots about buying and selling tickets over the years.  I estimate that I've bought my ticket from an individual seller at well over 200 sporting events.  I have noticed in buying and selling tickets at these big events that a large number of tickets are going unused.  Here's what I'm talking about.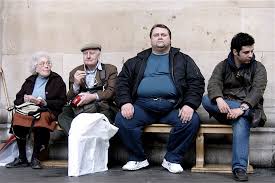 Let's say a party of four friends decided they were going to go to a sporting event months ago.  They went out and bought their tickets to ensure good seating.  Now at the last minute one of the four friends has dropped out. The remaining three folks have an extra ticket.  Maybe their flaky friend paid for it so they have no great incentive to sell it.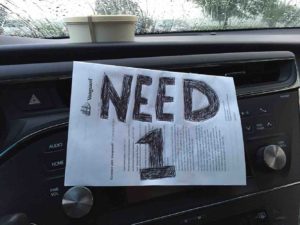 However when I come along sporting a "Need one" sign their eyes light up.  My sign means something else to them.  It says, "Beer money"!
My sign is invaluable.  Rarely do I wait more than a minute or two before the fish come biting.  Again, that was the case in the two examples I will share with you.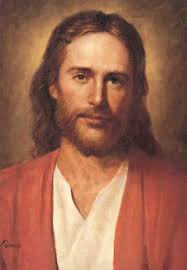 By the way I don't see anything whatsoever with my behavior being unethical.  Quite the contrary.  I see myself as being a "savior of mankind".  O.K., they might be a little strong.  However, I am providing a market for an item that might not have a market.  I'm giving cash to a person who might take his/her little piece of cardboard into the event.  A few minutes after that happens that little piece of cardboard (ticket) truly is worthless.
Here's a real life example from a couple of weeks ago.  Some think the tickets prices to attend NASCAR races are too expensive.  No way….if you know what you're doing.  I didn't have a ticket for the NASCAR Sprint Cup race being held at the Kansas Speedway.  That didn't concern me in the least.  Again I have systems and methods that have been proven to be most effective in securing a ticket to big events like this.
Where was I going to get a ticket to the races in Kansas?  I had checked the ticket prices for today's race on the Kansas Speedway website.  Mostly they ranged in the $100-$149 range.  I didn't expect to pay that.
I came to the track today with my "Sign".  The sign was simple.  It read on one side "Need One" and on the other side "Need 1".  Yes, I was catering to the bi-lingual buyer.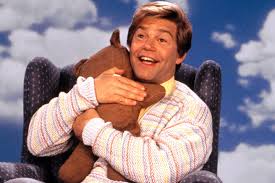 "The Sign" is the answer to how you can print money in the privacy of your own home.  Don't believe it?  Keep an open mind.  You can do this.  You're good enough, you're smart enough, and doggone it, people like you.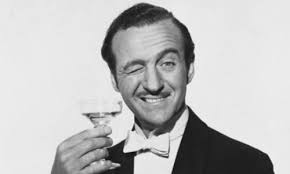 The "Sign" is my form of advertising.  A newspaper editor once said that not advertising was like, "Winking at your girlfriend in the dark.  You know what you're doing but no one else does."  That made all the sense in the world to me.
Even though the face value of today's tickets was $100-$149 for almost all the seats in the grandstand I did not expect to pay more than $20.  I haven't paid more than $20 to attend a NASCAR race in the past many years. This was an especially aggressive stance considering that the Kansas Speedway attracts a large crowd, nearly a sell-out, to every one of their events.
I hadn't been holding my sign up for more than a minute.  I had not passed 15 spectators until a fellow spoke up and said, "I've got an extra ticket."  I silently said to myself, "I'll bet you do."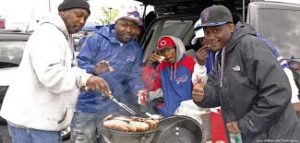 He was part of a group of three fellows sitting at the back of their automobile relaxing and tailgating.  I could see what their situation was at a glance.  One of their friends had bagged the idea of coming to the track today.  It was written all over this group.
I asked the guy how much he wanted for his ticket.  He told me his ticket had a face value of $100.  That was essentially useless information to both of us at this point.  Of course there was no need to mention that to my potential ticket source.  He admitted he was willing to sell the ticket for half of the list price.  I silently said to myself again, "I'll bet you would".  I told him I was more interested in paying about $20 for the seat.  He countered with thirty dollars.  I told him I would consider it and come back if I thought that was going to work.
There are two levels of seating in the Kansas Speedway grandstand.  The lower half of the seats are in the "100 level".  The upper half of the seats are designated with the number "200".  The fellow trying to sell me his ticket had a seat location in the lower half of the grandstand seating area.  I told him I was really looking for a seat in the upper sections.  In reality I was saying to myself that I didn't want to pay $30 or maybe even $20 for his ticket.
I walked on.  Fans were beginning to enter the track.  I positioned myself near the entrance of the Kansas Speedway.  The most consumer traffic was walking past this point.  Who wouldn't want their "advertisement" to reach as many eyeballs as possible?  I held up my sign just like those folks do at intersections near where you live.  I wasn't homeless.  I simply needed a ticket.  My sign told everyone that.
As I mentioned I've done this hundreds of times.  I love it when a couple comes past and one of them tugs on the sleeve of the other and seems to say, "Honey, look at that poor fellow.  He doesn't have a ticket.  Poor soul."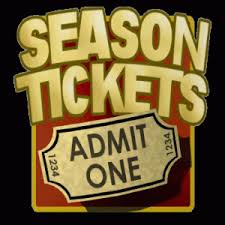 I feel like saying, "Let's think about this for a moment.  You're a season ticket holder.  You gave up your money a year ago to get your tickets.  You paid full price and maybe even more with a permanent seat license.  That means that a year ago you had to commit to coming today.  When your daughter told you last month that your granddaughter's music recital was today you said you couldn't go because you had already bought tickets to the event today".
That's right.  These people had paid top dollar, given up their cash a year ago and were locked into attending the event today regardless of what might have transpired since they bought those tickets.
On the other hand, the homeless looking fellow (me) was about ready to buy a ticket for less than half price on less than an hour's notice.  If MY granddaughter had a recital today I wouldn't be missing it because I had paid full price for my tickets LAST YEAR.
I hadn't been standing at the track's entrance for more than 90 seconds until a family, a man, wife and a couple of kids passed me.  I saw the woman sort of nudge her husband as they walked on by and make a comment.  This wasn't the "poor soul" approach.  It was exactly the opposite.
I knew exactly what was happening.  They had an extra ticket.  These were not the type of folks who would attempt to sell me their ticket.  They were from Kansas for gosh sakes.  They were going to GIVE it to me!  They walked about 10 feet past and stopped.  The woman pulled the ticket out of her purse.
From the corner of my eye I could see her approaching me.  She gave me the ticket and said, "Take this". Although I knew she wouldn't accept anything, I thought it was my obligation to ask her how much she wanted for it.  "Nothing" was the answer.  "We'll see you in the stands because you're seat is right next to mine" as she waved good-bye.
I felt a little bad at that point.  The ticket she had given me was in row four.  That was a terrible place to watch a big race.  The seat was much too close to the track for my tastes.  I hope she wasn't offended when I never showed up to sit with her family. I certainly appreciated her giving me a free ticket to the NASCAR race today. Her ticket, because of its poor location, had a face value of only $65.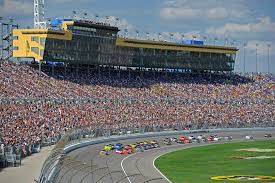 The fans of the Kansas Speedway are some of the most loyal of any in NASCAR.  Despite lots of open seats appearing at some NASCAR venues Kansas Speedway still fills about 90% of their seats.  The Kansas Speedway has a seating capacity of 74,000.  It's a big event.
I had now parked for free, gotten a free ticket and had enough food and beverage in my backpack to get me through the afternoon.  Life was good.
Let me add just one more important point to my description of the "Sign" and it's capabilities.  Even Superman cannot overcome kryptonite.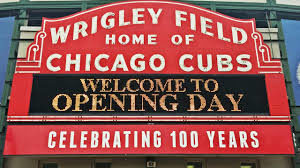 If you come to the track with seven people or seventeen people you're not going to be able to hold your sign up and get that many tickets all located together.  If you're going to Wrigley Field hoping to see the Cubs play in the World Series the "Sign" will not get you a below face value ticket.  I am not God!
Nevertheless, with a large group you probably could buy the tickets, at steeply discounted prices, one or two at a time until you got as many as you needed.  Then you could probably find a place for your large party to sit together and use the savings as a down payment on a new Tesla.
So now you are likely yelling into the kitchen to your spouse/significant other, "Hey honey, I'm reading this thing from this guy in California.   He sounds pretty smart to me.  He's got a great way to buy tickets to NASCAR races.  We should do it."  Then over the sizzle of whatever is being prepared for dinner comes the response, "But honey, we don't like NASCAR races.  It's too loud and the people are too wild".
O.K. So maybe NASCAR is not your cup of tea.  How about going to a big college football game then?  Would Randy's plan work at an event like that?  Let's just see.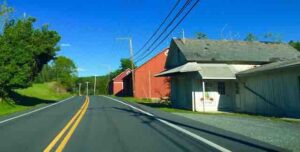 Just a few days ago I decided I was going to go to one of the biggest college football games of the year.  Although I'm from sunny Southern California I found myself in rustic and rural Pennsylvania.
That's right. Off I went to…. State College, Pennsylvania.  The Penn State Nittany Lions were hosting the Ohio State Buckeyes.  To top it all off the Ohio State Buckeyes came in as the number two ranked college football team in the country.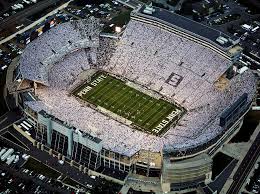 Penn State plays their games at Beaver Stadium.  That stadium seats more than 107,000 fans.  It is known as the second largest stadium in the western hemisphere and the third largest in the world.  No, most people across the United States have never heard of "Beaver Stadium" like they have the Rose Bowl venue but then so what.
Of course, with such a high-ranked opponent the game would be sold out.  I didn't have a ticket.  How was I going to get a ticket?  How was I going to see the game?  Don't worry about these questions.  I've answered them many times during my ticket-buying career and would answer them again today.
There are certain areas, primarily smaller population centers, where college football is bigger than you might expect it to be. I'm talking about places like South Bend, Indiana, Lincoln, Nebraska, Corvallis, Oregon and of course State College, Pennsylvania.  Folks in and around those areas don't have the entertainment opportunities that major metropolitan areas do.  College football is their thing.  Good on them.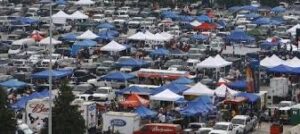 Tonight's game between the Nittany Lions and the Buckeyes was scheduled to begin at 8 p.m.  I arrived into State College at 6 p.m.  I was not early.  Penn State is noted for their tailgating.  About 100,000 of the 107,000 fans were already enjoying that activity when I came up on the scene.
The first item on the agenda was finding a place to park.  That was not easy.  It looked as if the Beaver Stadium is on the edge of the Penn State campus.  There is no citified residential area parking near the stadium.
The Penn State football parking reminded me a little bit what it's like to park at the Martinsville Speedway in Martinsville, Virginia.  That venue itself is surrounded by miles of rolling green grass hills.  These hills become parking lots during the time that their supporting venue has their big weekends.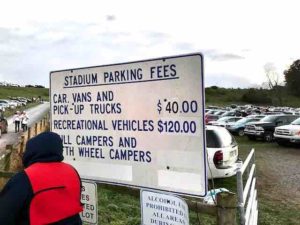 I did find a spot.  I would end up paying more to park there than I had ever paid to park anywhere in my life at an official parking lot of a sports venue.  I am sad and somewhat embarrassed to say that I paid $40 to park which was the standard rate.  It was non-negotiable.
After paying $40 you might think that I could just walk across the street from the convenience of the parking lot and be at the stadium.  That was not the case.  No, that was not the frigging case at all.  I knew roughly where the stadium was from the location of my parking lot.  I was pretty certain that people could walk from my parking spot to the game in two hours but I wasn't 100% sure!
So I had my car parked on a slightly muddy slope.  Tonight the temperature was going to hover between 41 and 42°. Winds were expected to be 22 mph.  During the game no rain was forecast.  Of course there was an on and off ice rain all night!
In anticipation of this questionable weather I had broken out my ice racing gear.  I had wool socks, long underwear tops and bottoms, blue jeans, a couple more layers on the top and my new Wal-Mart acquired jacket. Of course there was a stocking cap and jacket hood and my heaviest gloves.  I don't like to wear clothing like this.  I don't think people were meant to wear clothing like this.  I don't think people should wear clothing like this.  I wear long pants about six hours year.  I wanted to scream at these people, "Winter is coming….but not in southern California."  However, I refrained.
OK, I found a place to park. I had dressed for the occasion.  There was just one problem.  I still didn't have a ticket to the game.
I have a couple questions to ask you.  Would you feel comfortable doing what I was attempting to do?  Would you show up to a storied college football program like Penn State's, when they were playing their biggest game of the year and their biggest game in several years against the number two ranked Ohio State buckeyes, without a ticket?  I hope you would.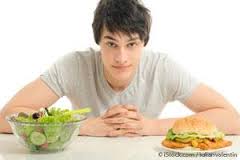 I've screened most people who read these reports.  They've been screened for superior intelligence and proper eating habits.  Most people passed but some had a tough time with the eating habits exam.  I hope these readers would have what it takes to hunt and gather until they had a ticket to the game that would insure an enjoyable night of sporting entertainment.
I had come prepared with the "Sign".  The sign is simply a piece of paper with the keywords that would make my finding a ticket really easy.  On one side of the sign it said, "Need One".  On the other side of the sign it said, "Need 1″.  like to think of myself as bilingual.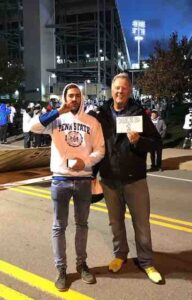 My "Need One" ticket sign attracts people like honey does flies.  Well I guess you're right.  I could have used a better analogy.  Nevertheless, I had not held up my sign for as much as 30 seconds when people came to assault me with offers to sell me their tickets.
I've done this hundreds of times. I've come to find that this is how it works.  There's always someone who explained to their friends at the very last minute that they couldn't come to the game.  That creates the dreaded "extra ticket".  These folks would love to sell it but they don't have much experience doing something like that.  They are afraid.  Will they get in trouble if they try to sell the ticket?  Secretly, they decide they will simply "eat the ticket".  Then when they see a gentle man like myself holding a sign that says "Need One".  Their prayers are answered.
I had no idea what the face value of tonight's tickets was.  It didn't really matter.  I was going to pay $20 for my ticket one way or another.  Can you imagine paying just $20 to come and see one of the biggest games of the year at the very last minute and get a good seat to boot?  This is the way it happens.  This is the way I make it happen.
One young man came up offering me a ticket. I told him I wanted to pay $20.  He said he would sell it to me for $30. I couldn't do that.  He moved on.  The second man came up.  The same situation occurred.  No problem. There were literally thousands of fans passing me by now.  It's a lot like fishing.  I waited.
After holding up my sign over my 6'3″ head for less than a total of three minutes a woman came by with what looked to be her two young adult sons.  She had a ticket. I told her I could pay her $20 for it.  She told me that would be just fine.
After a business career spanning 30 years in which I did a good deal of recruiting for the company I am trained to recognize the inherent quality of people…..quickly.  This is why I put people into two general groups in life. First there are the good people.  Then there are the Dreaded East Coast Trackchasers.  Nevertheless, I digress.
The woman had a "printed" ticket.  That simply means that at home in the comfortable confines of her den she can print out her game tickets on her printer from an online source.  There's nothing wrong with that.  Carol and I do it all the time.  However one can print out that online ticket 100 times.  The first person to successfully scan the ticket at the entry gate wins!
I don't like to buy printed tickets. I would prefer to buy a "hard" ticket.  However I could see this woman was sincere.  Paying her $20 for a ticket even though it was printed would work out just fine.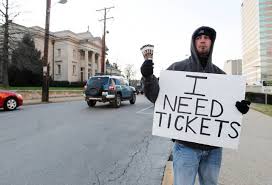 I might take a moment to tell you that I almost NEVER buy a ticket from a professional scalper.  Professional scalpers are easy to spot at the big game.  They normally have a fistful of tickets in their hand.  My sign says, "Need One" on one side and "Need 1" on the other.  THEIR sign says, "Need tickets" on one side and "Have tickets" on the other side. Professional ticket scalpers often have a gold tooth.
Why not just make things simple and get my ticket from a professional scalper then?  Wouldn't that be easier and faster?  I don't do that because I don't want to have pay the ticket scalper's "profit".
You see they are doing the same thing I'm doing.  They know that people don't have a good understanding of the value of a ticket when buying and selling.  In reality I am a professional ticket scalper.  One scalper doesn't want to do business with another one.  Their isn't enough money in it for us both to succeed.
I have told scalpers on many occasions that I don't buy tickets from professional scalpers.  At first they seem offended and ask why?  I simply tell them that I'm a professional too.  This always gets a smile and a nod.  They understand.
Now I had my ticket and it was only a few minutes past 7 p.m.  With game time at a little past eight I could enjoy the ambience of the game.  As mentioned the place was absolutely packed.
I had an excellent seat. I was right on the 20-yard line.  What percentage of the 107,000 fans do you think had a seat between the 20 and the 50-yard line?  For $20 I had secured a seat that was better than nearly 75% of the other folks who bought tickets a long time ago at full price.  Now do you know why I carry the "Sign"?
There you have it.  Now you know exactly how you can print money in the convenience of your own home.  All it takes is a blank piece of paper and a Magic Marker.
Of course there is a bit of negotiating skill required to pull all of this off.  We'll cover that skillset at a later date.  I'm pretty busy right now.  I'm creating a new ad.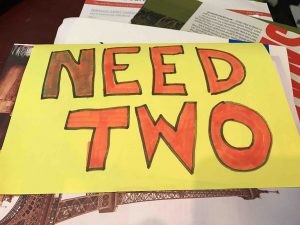 That's right.  I'm expanding.  The new ad reads, "Need Two" on one side and "Need 2" on the other.  Carol and I are heading to next week's big game. We don't have tickets.  However, we WILL have tickets.
The tickets we will get are sitting on someone's desk right now. They are likely part of a set of four. They are "Tom and Jane's" tickets.  We don't even know "Tom and Jane".  "Tom and Jane" backed out on their friends at the last moment.  Yep.  We'll be sitting in "Tom and Jane's" seats.  They paid full price for those tickets.  We won't.