2019 Trackchasing Annual Report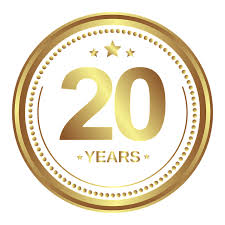 I first started sharing my annual trackchasing reports back in 2001.  This is the 20th consecutive year of my publishing these "Trackchasing Annual Reports".  I hope you enjoy reading them. I'll just suggest you imagine doing what I've been doing. If you do I think you'll have a good time!
As I look back on my 2019 trackchasing season I think of all of the enjoyment I got from my hobby. Remember, for me, trackchasing is not only about watching racing. It's about enjoying the travel that is required. There is so much to see and experience over the "long and dusty" trackchasing trail. Just planning these trips so that I can get from A to B to C and beyond provides hours of entertainment.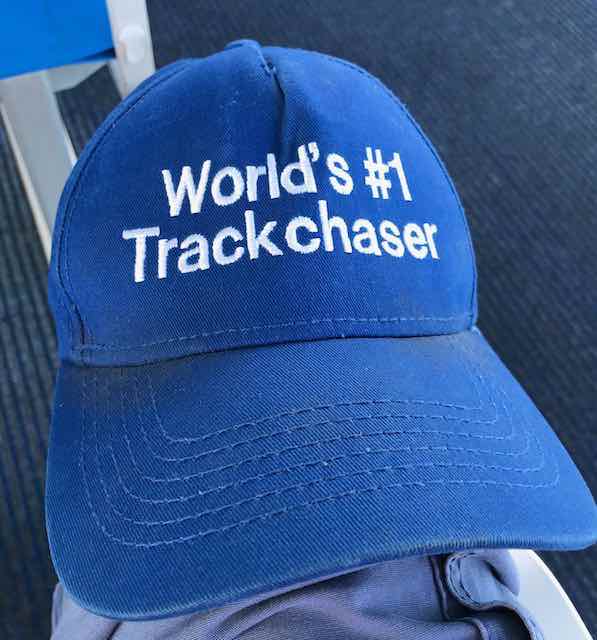 Highlights – International Trackchasing.
What were the highlights? There were several. Nothing could top adding three more countries to my trackchasing country list. Those additions included Tunisia, Montenegro and Antigua and Barbuda. I wonder what percent of the world's population has been to each of those countries?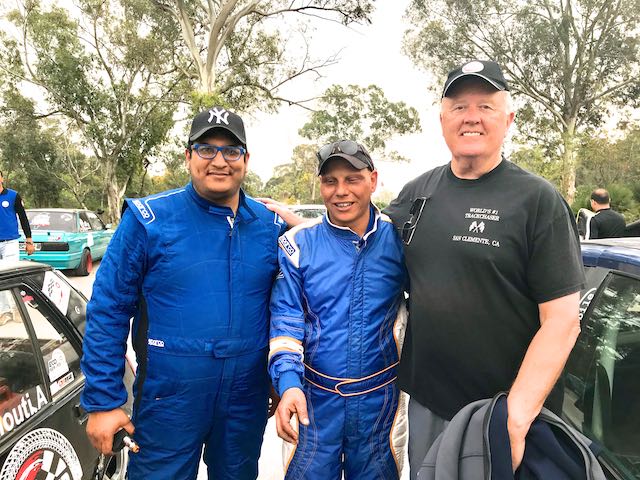 The highlights of those trips came from the people I met. In Tunisia, the boys took me in as if I were their own. I visited their racecar garage. They invited me into their homes and prepared special meals just for me. I ate most of my meals with them in restaurants. The Tunisia crew even gave me one of their phones to use while I was in their country, a personal guide and a two-hour visit to see a brand new racing/entertainment complex being developed on the outskirts of Tunis, Tunisia.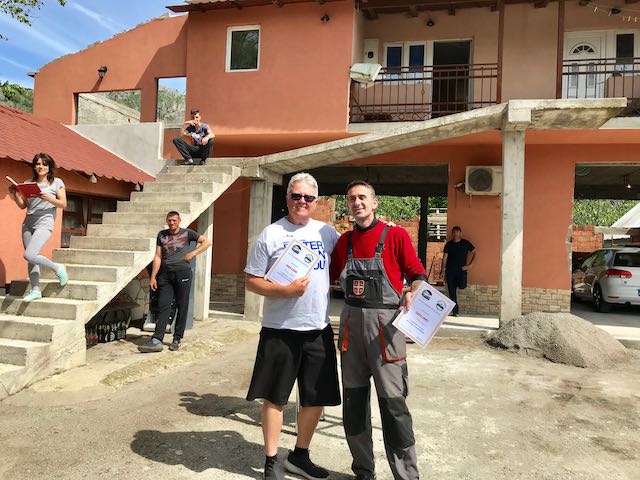 Carol's and my trip to Montenegro took us to one of the more undiscovered parts of the world by many, Eastern Europe. I love that region. When we finished up seeing the racing we were invited to their prized-giving ceremony. At this event I was presented with a special commendation recognizing our trip to Montenegro.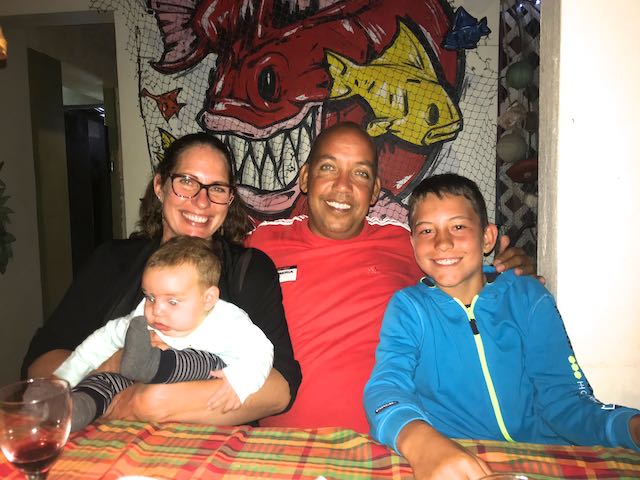 Finally, traveling down to the Caribbean country of Antiqua and Barbuda wrapped up our joint new country visits for the year. Again, our local hosts were so kind to us. I think we had just about every meal with our main race contacts and their friends. It was amazing seeing the racing interest at a track they've just build in their own sun country.
A little less travel.
I traveled a little less this year. That was one of the goals I set to achieve at the beginning of the year. I "only" traveled overnight 166 times in 2019. That was my lowest total in years.
Sharing is caring.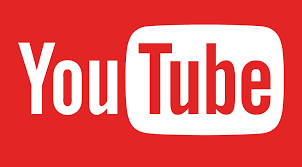 I wanted to increase my sharing and social media reach for my trackchasing in 2019. Success on all accounts there. I now have more than 1,300 racing videos on YouTube. Those videos have been viewed more than 1.2 million times.
My website continues to get more than 20,000 views every month. I did several at the track interviews. The newspaper coverage of my track visits were covered both in the U.S. and abroad. After each race I attend I post an extensive review of not only the racing but the entire trip in general. I share a YouTube video and a SmugMug photo album. No other trackchaser takes the time to do that.
Staying in shape.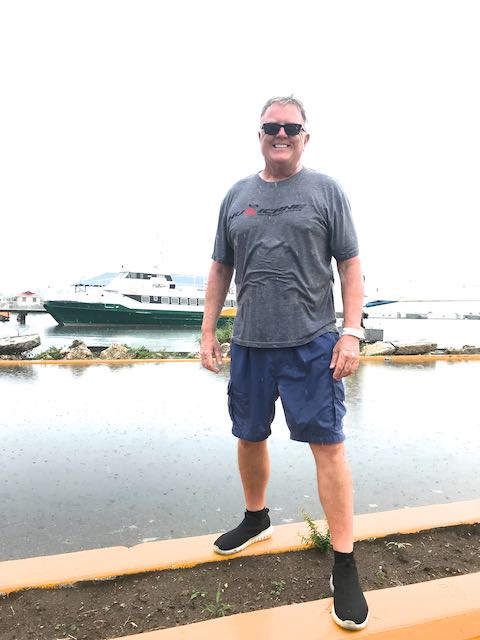 If one is going to travel to the extent that I do staying in good physical shape is important. That's why I choose to set aerobic exercise goals each year. Despite having foot surgery in mid-November I still made my goal of exercising at least four miles per day (5 times/week) for 250 times during the year.
Doing this a lot everywhere.
We all know that the racing part of trackchasing is a "counting" hobby. A trackchaser won't walk across the street to see the best racing that can ever be offered if there is a four-car figure 8 race happening some 150 miles down the road. That's just the way it is.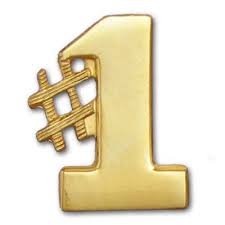 That being the case I am glad to report that I met my goal of gaining a #1 trackchaser ranking in 26 states. I added Louisiana and Missouri to this group. Here's the complete list of the states where I hold a #1 trackchasing rank.
Final 2019 state #1 rankings.
Alaska
Arizona
California
Colorado
Florida
Hawaii
Idaho
Illinois
Iowa 
Kansas
Kentucky
Louisiana
Minnesota
Missouri
Montana
Nebraska
Nevada 
New Mexico
Oklahoma
Oregon
Rhode Island
South Dakota
Texas
Utah 
Washington
Wyoming
What's really important with this trackchasing stuff?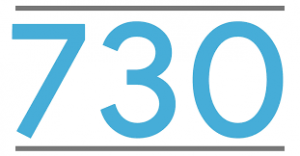 One of the three most important trackchasing stats for me is seeing the most tracks of anyone in the world. I'm proud to say my lead over my nearest fellow trackchasing competitor is now 730 tracks. I once thought to myself that if I could ever attain a lead of 400 tracks that would be wonderful. Now, 730 tracks? Amazing!
They call this RACEchasing.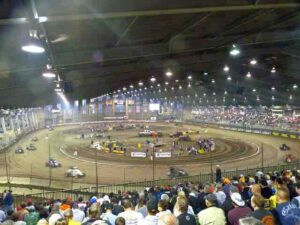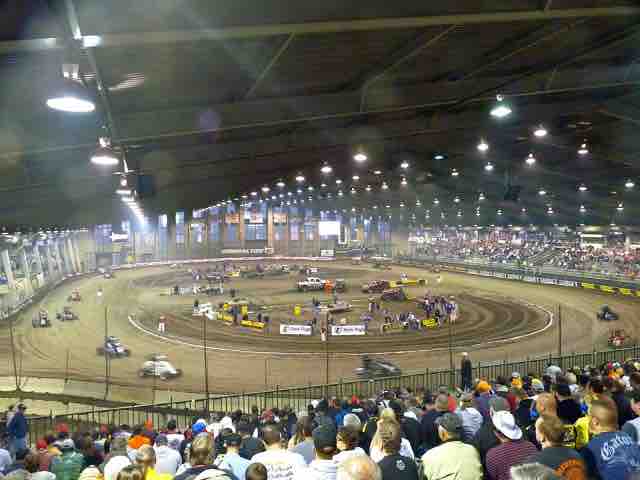 Despite my main focus being TRACKchasing I enjoy RACEchasing as well. I'm proud to say I made an effort to go back to tracks and events that I have really enjoyed in the past. I made trips to the Chili Bowl (above) in Tulsa, the Knoxville Nationals in Iowa and NASCAR Cup visits to Fontana, California and Martinsville, Virginia. Another visit to East Bay Raceway, my 23rd, during Florida's Speedweeks made for a fantastic RACEchasing year.
100 tracks in one state? Yes!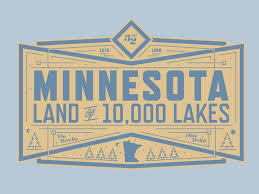 When you've been doing what I do for as long as I've been doing it the track visits begin to add up. This year I surpassed the 100 tracks seen in a single state in Minnesota. I've really enjoyed my visits up to the North Star State. Minnesota joins California, Illinois, Indiana, Iowa, Michigan and Pennsylvania where I've seen more than 100 tracks.
Out in the cold….ice racing.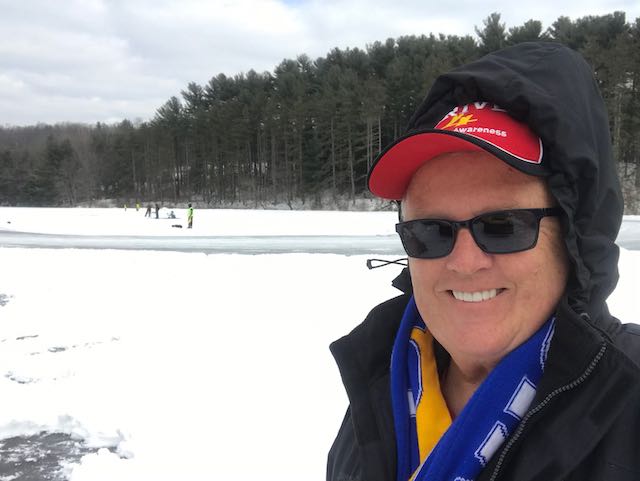 I was able to add my 20th different state, province or country to the places where I've seen ice racing. That new addition was in Massachusetts (above). That is particularly amazing since the hobby of trackchasing is dominated, except for the top position, by natives of the east coast. I was the first and at this time the only, trackchaser to ever see ice racing in Massachusetts.
My lifetime ice track results have come from this unusual group of states, provinces and countries.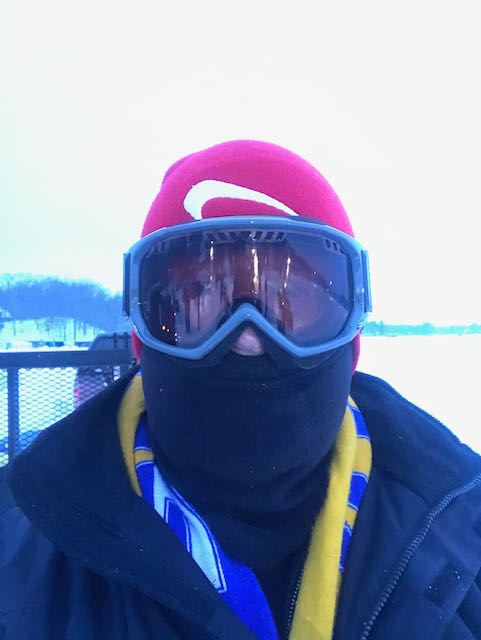 Alaska
Alberta
Andorra
Belarus
British Columbia
Finland
Iowa
Maine
Manitoba
Massachusetts
Michigan
Minnesota
New Hampshire
New York
Ontario
Quebec
Russia
Saskatchewan
Vermont
Wisconsin
Often and all over….they call it National Geographic Diversity.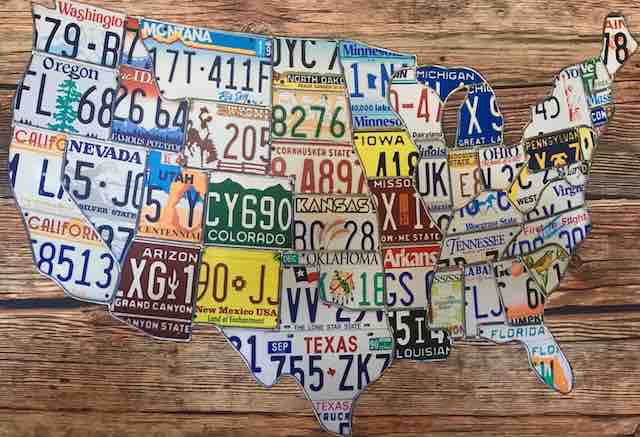 The National Geographic Diversity (NGD) program has been going strong for nearly two decades. The NGD results are shared every two years.
The National Geographic Diversity program has a formula that allows it to recognize not only those trackchasers who have seen a lot of races in the United States but those who have seen a lot of races in a lot of states! Through the end of 2019 I have now posted my lowest (lower is better than higher) NGD score ever, 3.96. Additional results and details about the 2019 National Geographic Diversity program at available under the "Goals" tab on the home page of my website at www.randylewis.org.
Exactly how "good" is seeing 80 tracks?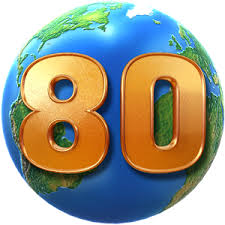 Finally, I will tell you that I finished the 2019 trackchasing season having seen racing at 80 new tracks. 80 new tracks! I finished the year having seen racing at 2,599 tracks in 85 countries. I think that's pretty good.
Exactly how good of a season did I have after seeing 80 new tracks? Did anyone else do better? Could anyone else have done better?
What does my final 2019 track total really mean? Is it good or bad? It's the lowest total I had in 16 years. It's got to be more difficult trying to find new tracks to see after seeing nearly 2,600 of them, right? I would like to share the following comparison. After you read and understand that comparison maybe you will be able to figure out exactly how good seeing 80 new tracks was at this point in my trackchasing career.
As you will see I picked a trackchaser by the name of Brian Dolphy for this comparison. I have never met Brian. For all I know Brian is a good fellow. I'm not picking on Brian. I would challenge any other trackchaser to this comparative process.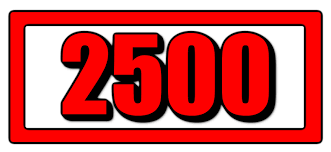 I entered the season having seen more than 2,500 tracks. It would definitely be more difficult for me to find new tracks that I had never visited than someone who had seen only a hundred or a few hundred tracks wouldn't it?
How can a trackchaser's results, who has seen racing at 300 or 400 tracks, be compared in the same year to someone who has seen racing at more than 2,500 tracks? Good question, right?
I've got a way to do this that might provide just a little bit better comparison than simply considering "absolute" totals. Wouldn't it be good idea if we could put the more inexperienced trackchaser on an equal footing with a veteran trackchaser?
I would ask any trackchaser who might like to compare his/her results with mine to SUBTRACT from their 2019 list any track that I had seen before this year. Since I would not have had the chance to see the tracks in this category it makes sense that in a valid comparison no one else could count those tracks either for 2019. Then I will SUBTRACT from my list any tracks that a fellow competitor had seen before this year from my list. Fair enough?
I think that will show the interested observer exactly how "good" my 80 new tracks seen in 2019 really was. With this type of comparison, each trackchaser would have the SAME unseen group of tracks available to see in 2019. I told you I was going to use Mr. Brian Dolphy for this unique comparison. Brian ended up seeing 103 new tracks this year. Coming into the year Brian had seen racing at a little bit more than 200 tracks.
If Brian were to subtract from his total of 103 new tracks every track I had already seen before 2019 (these tracks obviously would not have been available for me to see this year) his total would be…..six!
If I were to subtract from my 2019 total of 80 tracks all of the tracks that Brian had seen before this season began I would lose TWO tracks. My adjusted total would be 78. 78-6. That might give you an idea, starting on January 1, 2019, with an equal group of tracks to see, how our results might be comparable.
I picked Brian for this example for a few reasons. He had seen a lot of tracks, but not the most, of any trackchaser in 2019. Brian doesn't play "games" with his trackchasing. A new "form" of trackchasing seems to be the idea of visiting a track, seeing a single heat race, and then moving on down the road to the next track in the same evening. When you haven't seen all that many tracks and your only interest is peeking inside the door and then leaving….you can see a LOT of tracks. Let's be clear. That is NOT against the rules of trackchasing. It's just not the way I want to trackchase.
The World's #3 Trackchaser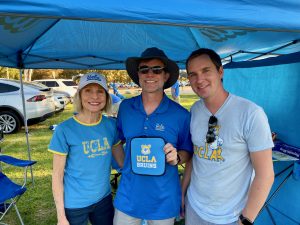 A HUGE highlight for the year was when wife Carol notched her 47th, 48thand 49th trackchasing countries, Montenegro, Antigua and Barbuda and Japan. That ranks her as the World's #3 Trackchaser. She's still the only woman in trackchasing history to visit a new track on her own without the support of male companionship. That might not sound like much until you consider no other woman in trackchasing history has ever done such a simple thing. She and I have now seen more than 3,000 combined tracks. We lead our nearest fellow competitors in the standings as the World's #1 Trackchasing couple by nearly 300 tracks.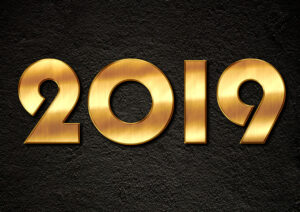 2019 Goals.
At the beginning of each year, I establish a few goals I would like to achieve for the year.  I share those goals in January. That way anyone who wants to "check me" can see what the goals are and how I'm doing against them.
Some trackchasers only share their goals AFTER they have achieved them. They also set "softball" goals. They're doing better at sharing their goals upfront but only after I shamed then into it!
If you want to see what my 2019 trackchasing goals were and how I did against them click on this link:
2019 Trackchasing Goals – Final Result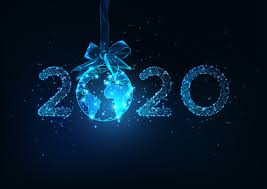 2020 Goals.
What are my goals for next year? You can find them on my website at www.randylewis.org by the end of January 2020. Just click on the "Goals" tab and you can see this coming year's goals as well as the goal results for several earlier years.  You will note that I don't have any softball goals either!
I have always enjoyed the competition of the hobby. However, with my nearest fellow competitor more than 700 tracks behind my lifetime total, there isn't much competition to consider.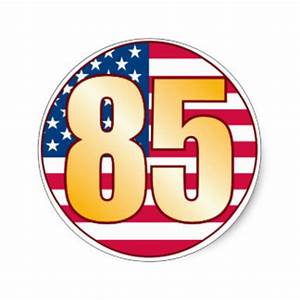 I've seen racing in 85 countries. I expect to continue adding foreign countries to my trackchasing list. I've now see racing in all 50 American states, all 10 Canadian provinces, all 6 Australian states and both north and south New Zealand. What's next? That's a good question.
Overall, the trackchasing hobby continues to be fun for me. It is important to note that most of the remaining tracks left for me to see in both the U.S. and the world don't offer the competitive racing I grew up with at the Peoria Speedway. That does make the "racing" part of my hobby a bit less enjoyable.
I commonly tell people that my hobby is about travel, sightseeing, logistics and oh yeah…racing. The challenge of getting from point A to point B without depleting our retirement savings is a real brainteaser. Remember I have been "unemployed" for the past 18 years. Carol and I maintain a modest seaside cottage overlooking the Pacific Ocean. We're still able to pay the light bill.
The actual racing part of the trackchasing hobby is almost an afterthought for me. Trackchasing probably took a wrong turn when the rules allowed for so many "novelty" events. Those kinds of racetracks have replaced hardcore short track oval racing. Nevertheless, that is what happened and that is the state of the current hobby.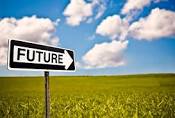 The future?
Will I see 100 tracks or more next year as I have done on thirteen separate occasions?  No, I will not! Absolutely not!  Why?  There just aren't that many tracks left to see. I would be more than happy seeing 40-60 tracks annually for the next several years. An active trackchaser can see 50 new tracks just about by falling out their front door.
I'll head out on the long and dusty trackchasing trail when it makes sense. Will I see more tracks than anyone else as I have done during thirteen trackchasing seasons? Again, I don't know. It's not really up to me. I'll see whatever I see. If that is more than everyone else then I win and if it isn't I don't win.  Pretty simple huh!
I feel badly that the frequency of trackchasing for the hobby's founders and early participants is down so dramatically. There are very few people on the horizon to replace the folks with 800 or more tracks who now rarely see many tracks at all. However, I shouldn't be surprised. The "bang for the buck" just isn't there for most people.
With all of the above being said, I wish everyone the best with their own personal trackchasing efforts. I thank everyone who follows my trackchasing hobby from afar whether or not they have ever been to a county fair junk car figure 8 race or not. I hope everyone has good health, great family and friends and safe travels and lives beyond their IRS predicted life expectancy.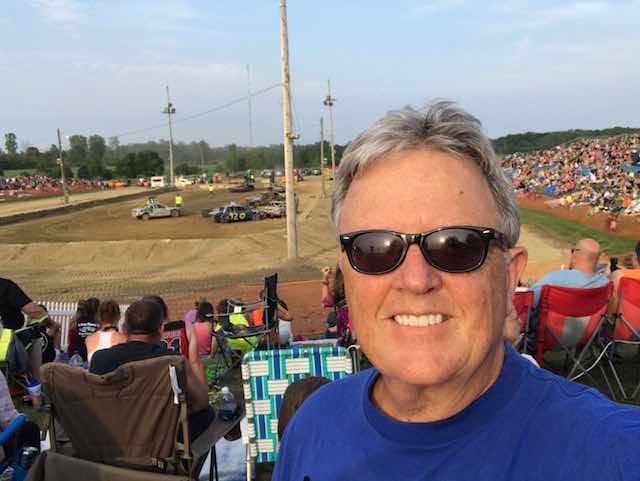 Randy Lewis
San Clemente, California
World's #1 Trackchaser
www.randylewis.org
Happy New Year to my trackchasing friends!
For years I carried around a simple piece of white paper in my briefcase. It had the best piece of wisdom on this subject that I have ever come across. I don't expect to really ever reach the "station". However, I plan to have more fun than just about anybody I know heading in that direction.
THE STATION
Tucked away in our subconscious minds is an idyllic vision.  We see ourselves on a long, long trip that almost spans the continent.  We're traveling by passenger train, and out the windows we drink in the passing scene of cars on nearby highways, of children waving at a crossing, of cattle grazing on a distant hillside, of smoke pouring from a power plant, of row upon row of corn and wheat, of flatlands and valleys, of mountains and rolling hillsides, of city skylines and village halls, of biting winter and blazing summer and cavorting spring and docile fall.
But uppermost in our minds is the final destination.  On a certain day at a certain hour we will pull into the station.  There will be bands playing and flags waving.  And once we get there so many wonderful dreams will come true.  So many wishes will be fulfilled and so many pieces of our lives finally will be neatly fitted together like a completed jigsaw puzzle.  How restlessly we pace the aisles, damming the minutes for loitering, waiting, waiting, waiting for the station.
However, sooner or later we must realize there is no one station, no one place to arrive at once and for all.  The true joy of life is the trip.  The station is only a dream.  It constantly outdistances us.
When we get to the station that will be it!" we cry.  Translated it means, "When I'm 18 that will be it!  When I buy a new 450 SL Mercedes Benz that will be it!  When I put the last kid through college that will be it!  When I have paid off the mortgage that will be it!  When I win a promotion that will be it!  When I reach the age of retirement that will be it!  I shall live happily ever after!"
Unfortunately, once we get "it," then "it" disappears.  The station somehow hides itself at the end of an endless track.
"Relish the moment" is a good motto, especially when coupled with Psalm 118:24: "This is the day which the Lord hath made, we will rejoice and be glad in it."  It isn't the burdens of today that drive men mad.  Rather, it is regret over yesterday or fear of tomorrow.  Regret and fear are twin thieves who would rob us of today.
So, stop pacing the aisles and counting the miles.  Instead, climb more mountains, eat more ice cream, go barefoot more often, swim more rivers, watch more sunsets, laugh more and cry less.  Life must be lived as we go along.  The station will come soon enough.