My 2013 trackchasing season is history now.  It was another good year of trackchasing both in the U.S. and all over the world.
Major Highlights of 2013 – There are always some "big" things that happen in each year of my trackchasing.  From a quantitative and qualitative point of view here are some of them.
**  Possibly the biggest highlight of 2013 was the massive upgrade of my website at www.randylewis.org.  Without this type of website where was I going to share well over 200,000 photographs and 600 YouTube videos (with totals growing every day)?  If you haven't checked it out now's the time.  You won't see anything like it in the hobby of trackchasing.
You'll be able to see my complete track list.  You can also read "special" reports including things like:
Is trackchasing too competitive?
My tribute to Ed Esser
Why are gas prices so low in the United States?
There are almost too many "special reports" to list and I add more nearly every week.
**  I ended up traveling "only" 183,905 miles to see the 109 new tracks I visited in 2013.  I must be slipping in my old age.  During the past ten years my trackchasing annual travel has averaged 208,247 miles.  I've traveled more than TWO MILLION miles just to trackchase during those ten years.
So just how long would it take to travel 183,905 miles?  If you drove 50 M.P.H. it would take you 3,768 hours to cover that distance.  If you drove non-stop at 50 M.P.H. it would take you more than 153 days to cover the distance I traveled in 2013.  Of course, if you needed to stop anywhere along the way to eat, sleep or whatever it would take you longer.
With the 2,082,473 miles I traveled during the past ten years for trackchasing (this doesn't count our long distance trips that aren't related to trackchasing) I figured that my body AVERAGES almost 24 M.P.H. for each hour of each day of each month for each year of  the past ten years!  Maybe this constant motion is why I still feel like I'm 35 years old and could be backing out of the driveway for a major international trip with 10 minutes notice any time the need arises.
Of course, Carol's the REAL piker.  She only traveled a bit more than 55,000 miles to trackchase in 2013.  Who travels "just" 55,000 miles chasing tracks.  Fortunately, she added a lot more frequent flyer miles (I wish) to her ledger with our non-trackchasing travel adventures.
In 2013 I trackchased 88 different days.  However, for the entire year I traveled overnight for some 186 nights.  Why the big difference in numbers?  First of all, because I trackchase from Southern California it takes me an additional 25-35 overnights every year just to get back home after each trip.  There are almost no trips where I can simply drive/fly back home on the same day I saw the last track of the trip.  The other 60-70 nights I spent in a hotel were on the many personal non-trackchasing trips that Carol and I take.  By the way, Carol traveled overnight for 103 nights this year.  If you're lucky enough to get your wife to travel with you for more than 100 nights in a given year….you're lucky enough.
** A couple of years ago I decided to try posting a video of my trackchasing travels on YouTube.  Did you know that some 53% of YouTube videos get less than 500 total views?  Thirty percent get less than 100 views.  Just 0.33% of YouTube videos get one million or more views.  I figured if I could post a YouTube video and get more than 500 views my efforts would be in the top half of all YouTube videos.  I never would have believed I could post videos where my channel has now almost 350,000 views.  There are more than 300 subscribers to my YouTube channel.   If you haven't had the chance to check out Randy Lewis Racing Films you can.  My YouTube channel name is "RANLAY".  Sign up now so you don't miss the premier of the next trackchasing movie.  What a fantastic way to share the hobby of trackchasing with people all over the world.
With YouTube I can get all kinds of "metrics" to see the demographics and location of the people watching my videos.  About 80% of the viewers are male.  I guess that isn't too surprising.  The results by state are interesting.  Who would have thought I would be this popular in Pennsylvania?  Here are the five states where my videos are most viewed:
Texas
Illinois
New York
Pennsylvania
Michigan
Below is a list of the top ten countries that view Randy Lewis Racing Films
United States
Canada
United Kingdom
Mexico
Australia
Sri Lanka
Ecuador
Indonesia
Philippines
Germany
**  This was my 14th straight year of finishing in the top three when my results are compared to every trackchaser I'm aware of worldwide.  It's special to have seen the most tracks in 2013 and the most in any given year seven times.  By the way, I compare my results with any trackchaser that provides information from any source in the world.  This level of achievement has to stop but it might not!
Now that Ed Esser is no longer with us, I consider myself the last major American trackchaser.  What's involved in that?  I still see a lot of tracks, do all of my own planning for the trips I take, do all of the driving and do all of the paying.  I wouldn't give up my independent role for anything.
By the way it's too bad that virtually all of the old-timers with plus or minus 1,000 tracks, the folks who built the trackchasing hobby, are now for the most part on the sidelines.  Anyone who has seen 1,000 tracks is a bona fide trackchaser!   However, factors such as age, expense, track proximity and lack of compelling entertainment value seem to have contributed.  I think it will be rare indeed when anyone else moves up from 200 tracks to 1,000 or more as these people did over the years.   
**  This was my 8th year of seeing more than 100 tracks in a single season.  I'm proud of those results for a few reasons.  First, who sees 100 tracks in a year AFTER they have already seen more than 1,800 tracks?  Some leading trackchasers have never seen 100 tracks in a year.  Just to make it a little more challenging I trackchase out of San Clemente, California.  That's pretty much where the Pacific Ocean and Tijuana, Mexico meet up.  Just ten of my 109 new tracks were within 900 miles of my home.
I also met my goal of NOT going trackchasing for 23 full weekends (Fri/Sat/Sun) for the year.  Why establish that goal?  I do this to make sure I spend enough time on the weekends with my family and other hobbies.  Heck, 23 weekends is nearly HALF the year.  I don't know what else I can do to keep my trackchasing totals down!
By the way, I can't ever recall setting a goal to see any certain number of tracks in a given year.  That would be putting too much focus on the "numbers" in my opinion.  What I will do is establish the amount of time I'm willing to devote to the hobby of trackchasing.  Then I will see as many tracks during that budgeted time as I can.
One more thing on trackchasing "time management".  Despite taking nearly half the year off from trackchasing I still have to fight to keep from spending too much time on the hobby.  If you've decided to share as much as I do with a website, Trackchaser Reports, photos and videos it can take a LOT of time.  However, sharing in this fashion has always been a passion of mine and I love doing it.  It's just that I have to manage the time spent compared to what I could be doing with family and friends.
**  My trackchasing travel in 2013 took me to 7 different countries for trackchasing.  These included:
Canada
Georgia
Lithuania
New Zealand
Russia
United Kingdom
United States
Trackchasing in foreign lands is the most fun.  We plan all of our trips on our own.  It's more challenging and entertaining that way.  When we go trackchasing internationally, it's more like taking a week long vacation with an afternoon of racing thrown in.  I estimate that the mainly one track per weekend of international trackchasing (covering 67 countries) has cost me 50-100 tracks that would have been seen had I stayed "local" in the United States.  Trust me; traveling to all of these foreign countries to trackchase was well worth it.
**  I didn't short change the U.S.  I took in racing in 23 different states.

**  At the Jackson Speedway in Jackson, Minnesota I saw my 1,900th lifetime track.
**  I wrapped up 2013 with the lowest lifetime National Geographic Diversity score ever recorded, 4.96.  The NGD results are important if you want to compare a "combination" of track quantity and geographic diversity.
**  My lifetime trackchasing total now stands at 1,922 tracks.  That amount is not very much different that 2,800 or 800 or whatever.  Very few people can get their arms around a trackchasing number this large.  Carol and I joke that her 498 lifetime tracks sounds more realistic than my total.  Fortunately, I don't get the question "did you see all of your tracks this year" that often anymore.
**  I sold out completely of a t-shirt run of 700 shirts with my first attempt at a trackchasing souvenir clothing line. 

**  What trackchasing accomplishment am I most proud of in 2013?  It would have to be my streak of trackchasing days without a single weather-related cancellation.  That string came to an end in 2013.  I had not had a single trackchasing day rained out since June 3, 2011.  Then on September 15, 2013 I was rained out in Iowa.  To tell you the truth I COULD have avoided that rainout.  The weather forecast was bad.  However, I had my college fraternity brother with me along for the ride to see UCLA whomp on the Nebraska Cornhuskers in Lincoln.  Had I been by myself I would have simply driven over to Ohio to pick up a track on the day I ended up being rained out.  However, my fraternity brother often says "I don't know how you do it.  I couldn't keep your travel schedule".  So as not to ruin his weekend I didn't drive to Ohio.  Nevertheless, my streak covered 835 days and 254 tracks without a rainout.  That is one trackchasing record that will NEVER be broken.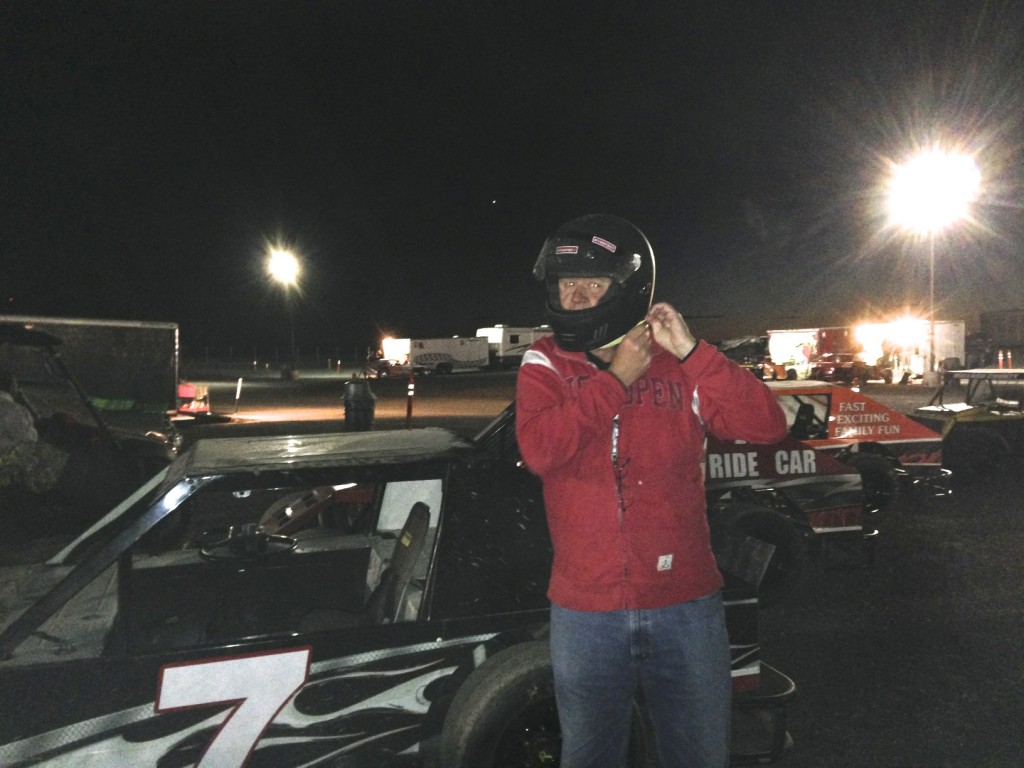 **  A close second to the above and maybe even first was my driving effort at the Millard County Raceway in Delta, Utah.  I've actually driven in competitive racing about ten times.  In Utah I was asked to drive in the mini-modified feature against some track employees and local celebrities.  Being a "rookie" of sorts I elected to start in the back row.  If you must know there were only four cars in the race.  Nevertheless, I ended up winning the feature event.  Then when I got back to the pit area I received a text from WISSOTA board member Rob Palmer.  He had seen the race on internet TV!  How special was that?  You can bet a photo of my winning car and me made it into our annual Christmas card.
**  Once again I generated a good deal of media coverage (TV, radio, newspapers and track interviews) for the trackchasing hobby.  Trackchasing was exposed to fans from New Zealand to North Dakota and many other locations in between with my interviews about what the hobby of trackchasing entails.  For some reason reporters and their readers get a big kick out of these "human interest" stories.
**  I would be remiss if I didn't mention my "racechasing" results.  To me racechasing is when I go to the event just for the quality of racing I expect to see.  I don't go because it's a new track for someone in my group or because the track is in my backyard.  I go "racechasing" because I want to see good racing.
I had several opportunities to racechase this year.  They included return visits to:
East Bay Raceway (FL)
Silver Dollar Speedway (CA)
Placerville Speedway (CA)
Eldora Speedway (OH) – NASCAR Truck Race
Peoria Speedway (IL) – My all-time favorite track
Florence Speedway (KY) – Induction of my all-time favorite driver Darrell Dake into the National Dirt Late Model Hall of Fame (I was one of the speakers on Darrell's behalf).
Quad Cities Speedway (IL)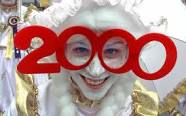 The future? – When I look back on things it is pretty difficult to understand how I have made it to nearly 2,000 (that's with THREE zeros) tracks.  I've been unemployed for the past 12 years.  My wife and I live on a retiree's income.  I've never been able to rely on her income to cover my expenses.  I trackchase out of Southern California which is pretty much the most remote spot anyone could pick in the continental United States as a trackchasing hub.  With both children and grandchildren activities I don't have all summer off to trackchase when 90% of the racing events are happening.  I don't rely on anyone else to split my trackchasing expenses (no I don't charge Carol; she travels free!).  It's a pretty amazing story when you think about it.
My season has already begun for 2014.  Now that January has wrapped up I've seen racing at new locations in three different countries and three different states and a Canadian provinces.  Not too bad for a January.  Don't miss checking out my 2014 goals available now on my website.
By the way before I sign off for another year let me tell you about an exciting upcoming event.  I've been in contact with the ice-racing promoters in Thunder Bay, Ontario, Canada.  They are planning the second annual Ed Esser Memorial Race up there over the weekend of February 8/9, 2014.  As many of you know Ed Esser's first ever international trackchasing visit, and the last track he ever saw was at Thunder Bay.  I commend those folks for following through to honor Ed.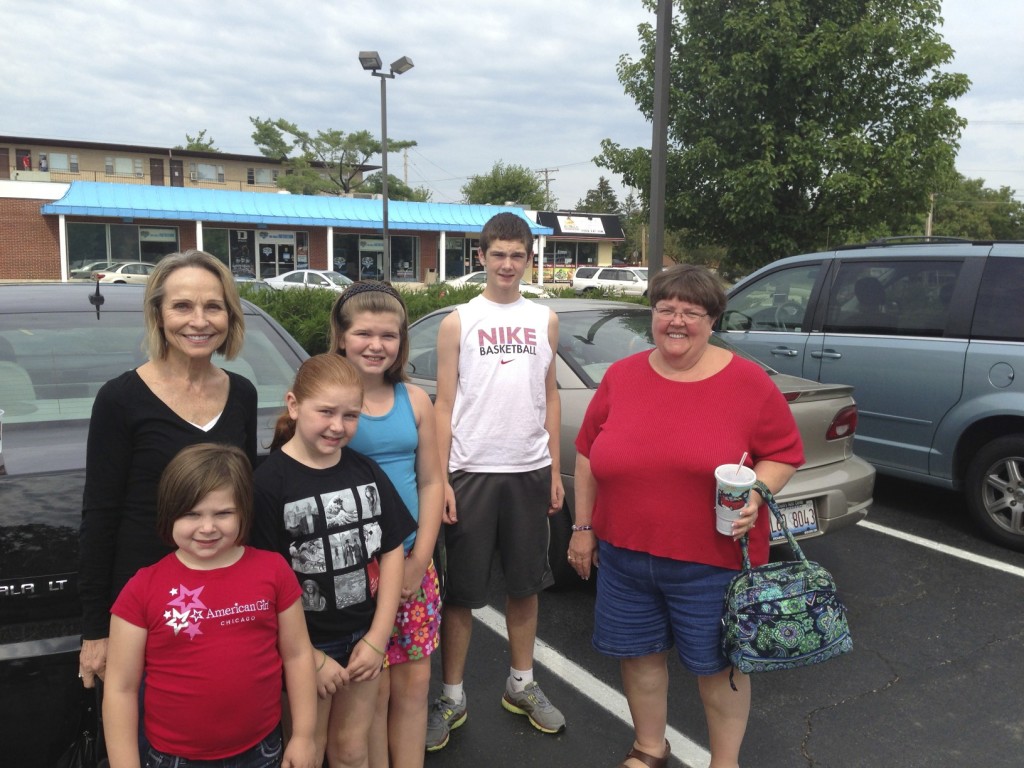 One more thing….when I was working I always asked myself this question.  When it was time to visit that final racetrack up in the sky would I be saying to myself "Would I rather have attended one more meeting or spent one more day with my family?".  I answered that question by retiring very early in life.  This is also a great question to ask of any trackchaser where the situation might apply.  "When it comes time to take the checkered flag "Would you have rather spent one more day trackchasing or one more day with your family?"  Regardless of how you might answer that question I wish everyone a happy, healthy and safe New Year.
Randy Lewis
San Clemente, California
World's #1 Trackchaser