My all-time favorite drivers
From the travels and adventures of the "World's #1 Trackchaser"
HighlightsDirt Stock CarsAsphalt Stock CarsSprint CarsModifiedsRoad RacersFigure 8ForeignIce RacingNotables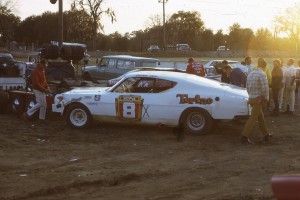 It was fun being a fan of Fords and the drivers who "made" me go to the track to see them race.
When I first became interested in auto racing I chose my racing location based upon where my favorite drivers would be competing.  My racing career as a fan started out in the "jalopy" days at the Peoria Speedway at the Mt. Hawley airport.  It was here that I started cheering for my first ever favorite driver Rocky Nohl.  I think I liked him because he drove a Ford and won his share of races.

As time went on I began to travel.  This allowed me to see racing all over the Midwest.  Dirt racing was strong in Illinois and Iowa.  That's where I started following my all-time favorite driver Darrell Dake of Cedar Rapids, Iowa who was driving a Ford at the time.  From dirt racing I branched out into the ASA circuit and their asphalt racing.  Dick Trickle (driving a Ford Fairlane and then a Mustang) was always my (and my stepfather's) favorite driver.

Corporate relocations would move us from Illinois to Ohio to Arizona to California to Connecticut and back to Illinois and finally back to California.  All along the way I picked up favorite drivers in all of the major divisions of U.S. racing.  I hope you enjoy reading and seeing my list of favorite drivers.  I'm sure you have your own.  It's fun to look back over the many years of racing and remembering the drivers who brought me to the racetrack.

Darrell Dake – My all-time favorite driver
I first start watching Darrell Dake race at the Sterling (IL) Speedbowl.  As far as I am concerned that was the golden age of racing.  During this time Darrell Dake raced a '62 Ford convertible.  It seemed as if he were nearly unbeatable against the stiffest of competition.  Of the more than 100,000 drivers I estimate I have seen race Darrell became my all-time favorite driver.  Don't miss my Darrell Dake tribute page found elsewhere on my site.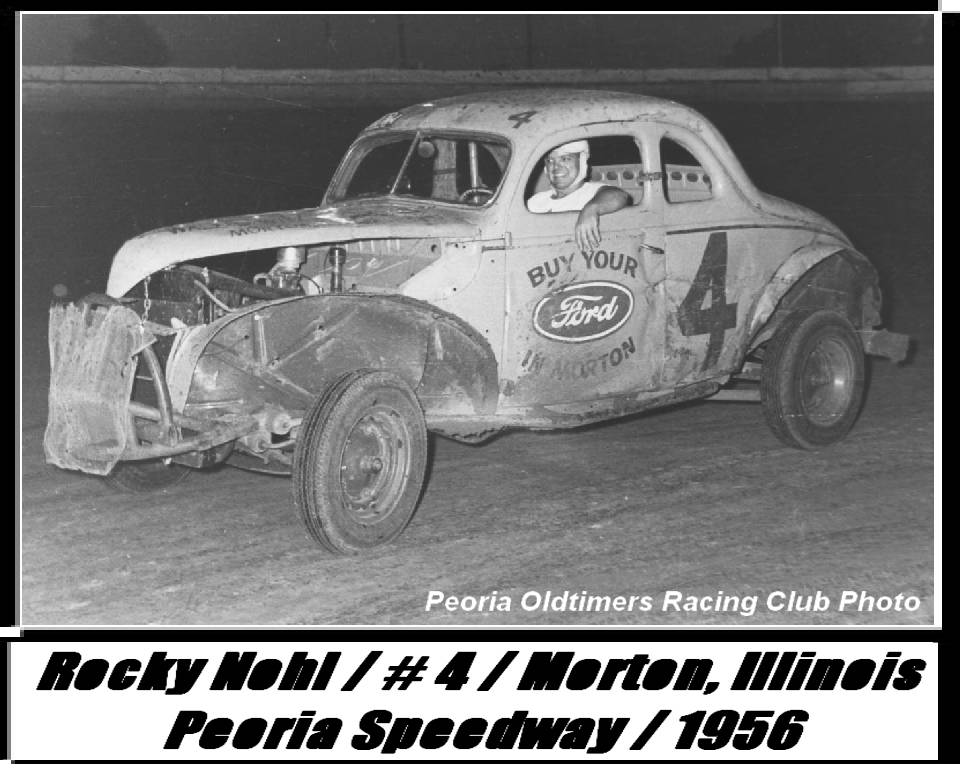 Rocky Nohl – my first ever favorite driver
I first started going to the races in about 1955 at the Peoria Speedway located at the Mt. Hawley airport.  Back then the top stock car division was the old 1932-1940 coupes.  To this day this class is my most favorite.  At the age of five or so everyone in my extended family drove a Ford.  Maybe that's why I latched onto Rocky Nohl as my very first favorite driver.




Ernie Gilkerson
'Cousin Ernie" as he was known around the dirt tracks of Southeastern Illinois, at tracks like Macon Speedway, was actually my great uncle.  He and his family hailed from Chrisman, Illinois.  Despite Chrisman being just 140 miles from my hometown of East Peoria I never got to see my uncle race.  We didn't have any money for that kind of travel!  However, at family reunions I wore out "Uncle Ernie's" ear with questions about his racing.  It is said that when one of his friends was killed in a race Ernie was also in Uncle Ernie lost his desire to race.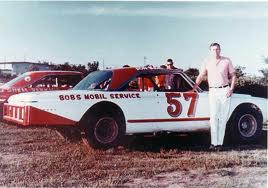 Don Bohlander
Don Bohlander was probably the winningest driver ever at my home track, the Peoria Speedway.  He was known as a clean driver who never spun out or spun anyone else out.  He often hugged the bottom in Hemi-powered cars with the number "57 or 65" on the side.  I probably saw Don win more features at the Peoria Speedway than anyone else.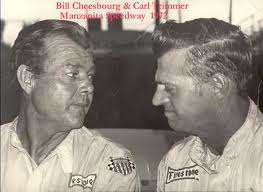 Bill Cheesebourg (left) with his Arizona rival Carl Trimmer.Bill Cheesebourg

Bill Cheesebourg was probably best known for racing in the Indy 500 six times.  However, I first saw him race when we lived in Phoenix and Manzanita Speedway was our home track.  I liked Bill because he drove Fords and won races.  I saw him race several time at the Corona Speedway (CA).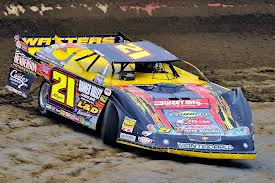 Billy Moyer.
As I began to travel further and further from home I began rooting for Billy Moyer Jr. in the biggest dirt races in the country.  Like all of my favorites Billy seemed to race intelligently, raced everyone clean and won races.  To this day if I go to a major dirt race I will be pulling for Billy Moyer.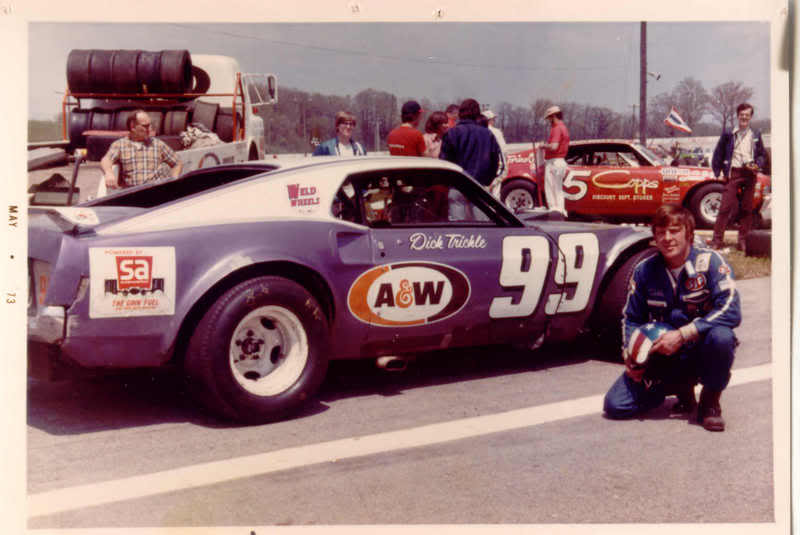 Dick Trickle
I first started following Dick Trickle at the Rockford Nationals in Rockford, Illinois in 1969-70.  Dick was driving Fords and winning races.  However, in those days, it seemed as if Dick Trickle was as likely to blow an engine as win the feature.  We followed him to the USAC races on the Milwaukee Mile where he always seemed a little underfunded against drivers like Don White, Jack Bowsher and A.J. Foyt.  I've seen Dick Trickle race well over one hundred times.  I've had the chance to meet him a few times as well.  When he began racing in the NASCAR Cup races he was always my favorite.  Even though I really rooted for Dick my stepfather Bill had Dick Trickle as his all-time favorite driver.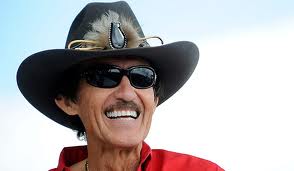 Richard Petty
I saw my first NASCAR race, the Atlanta 500, in 1971.  A.J. Foyt won.  However, from the very first NASCAR TV broadcast I ever watched until 1992 I was a Richard Petty fan.  I've been down to Level Cross, North Carolina several times to visit the race shops of the "King".  Richard Petty was the first NASCAR driver I ever pulled for.  I waited behind the scoring tower after a NASCAR West race at the Phoenix International Raceway to get Richard Petty's famous autograph.  Another time my stepfather and I were walking in the pit area of the Nashville International Raceway only to cross paths directly with Richard.  Of course, he gave us a smile and hello.



Ramo Stott
I first started watching Ramo Stott race Mopar products at the USCA stock car races in Milwaukee, Wisconsin.  I was surprised to see him show up one night racing his Plymouth Hemi at the Sycamore Speedway which was about like watching Mickey Mantle show up at your local pony league game.  I rooted for him when he raced in NASCAR on a limited basis as well.  I always regret I never saw any of his epic battles with Ernie Derr in IMCA stock car events.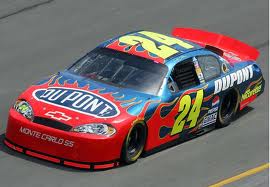 Jeff Gordon
It seems as if everyone has a favorite driver in NASCAR.  I have always rooted for Jeff Gordon.  He's in the mold of most of my favorites, a well-spoken clean driver who has success on the track.  To this day I will be pulling for Jeff as I watch flag to flag coverage of every NASCAR Cup race.
Hershel McGriff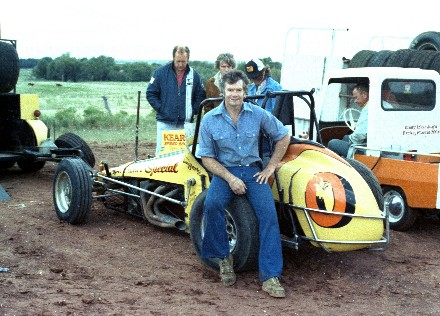 Rick Ferkel
I first saw Rick Ferkel race and win at the Manzanita Speedway in Phoenix, Arizona in 1974.  Back then they were racing sprint cars without a wing.  Over the years I went to more than 100 World of Outlaws sprint car races.  It seemed as if several of my favorite drivers were on the underfunded side.  However, they were always the "nice guys" of their sport and won often enough to keep me happy.  I never watched a sprint car race with Rick Ferkel in it that I didn't have an eye on "my driver" no matter where he was in the pack.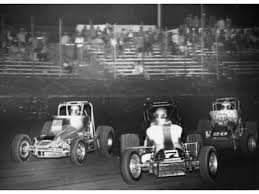 Buster Venard
In 1974 we moved to the greater Los Angeles area and the famous Ascot Park became my home track.  They raced wingless sprint cars.  I fell in love with the wingless sprinters and to this day prefer them over winged sprint cars.  Buster Venard battled Jimmie Oskie, Dean Thompson and Rick Goudy for some great wins at Ascot until it closed in 1990.




Lealand McSpadden
I first started watching Lealand McSpadden race back at the Manzanita Speedway when we live in Phoenix back in 1974.  Lealand, known as the "Tempe Tornado" was one of the hardest charging drivers I had ever seen.  He was a "checkers or wreckers" type of driver. He also was one of the nicest guys on the track.

However, it was a chance encounter with Lealand on an airplane that made him one of my all-time favorites.  I was returning from Indianapolis to Phoenix with a change of planes in St. Louis.  Who do you think I sat next too on the flight from Indy to St. Louis?  Of course, Lealand McSpadden!   I recognized him immediately.  Lealand was returning to his home in Arizona after a race in Indiana.  All during the flight I peppered him with questions about racing.  While we waited for our next plane in St. Louis I bought Lealand a piece of cherry pie and we talked some more.  He could not have been nicer.

I followed Lealand McSpadden's racing all up and down California and along the World of Outlaws tour from time to time.  I was concerned about his bout with cancer but it looks as if that dreaded disease is in his rearview mirror.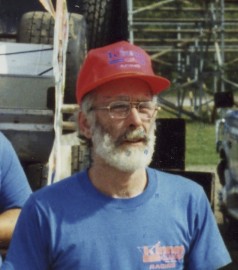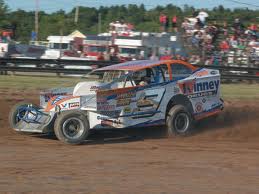 "Barefoot" Bob McCreadie
We were transferred to Connecticut in 1979.  This gave me my first exposure to D.I.R.T. modified racing in the Northeast.  I loved it.  There weren't then and there aren't now many racing groups that will put the fastest guys toward the back to start the race.  Nevertheless, the fastest drivers with D.I.R.T. including "Barefoot" Bob McCreadie usually made it to the front.  Bob was another driver who I followed until the end of his career.




Kenny Brightbill

Mark Noble
One of my favorite racing classes is the modified originated by Hawkeye Racing News editor Keith Knaack back in 1979.  Whenever I can I try to watch the United States Modified Touring Series (USMTS) race.  That's where I discovered Mark Noble of Blooming Prairie, Minnesota.  I've seen him win as far away from home as Florida.  As a matter of fact my last speeding ticket, in 2003, was in Mark's hometown of Blooming Prairie.  I didn't have the good sense to use Mark's name with the police officer (who was a race fan) until after he had written the ticket.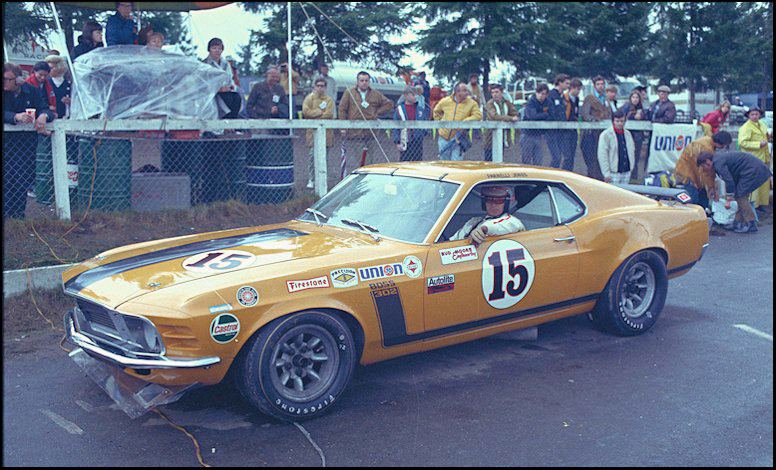 Parnelli Jones
My first ever road racing even was at Road America in Elkhart Lake, Wisconsin back in the late 60s.  My college fraternity held a summer campout each summer during my years at Northern Illinois University.  Road America was running the famous Trans-Am series then.  My favorite driver of the group, Parnelli Jones, ran a Ford Mustang.  I've never been a big road racing fan but the Trans-Am races were fun.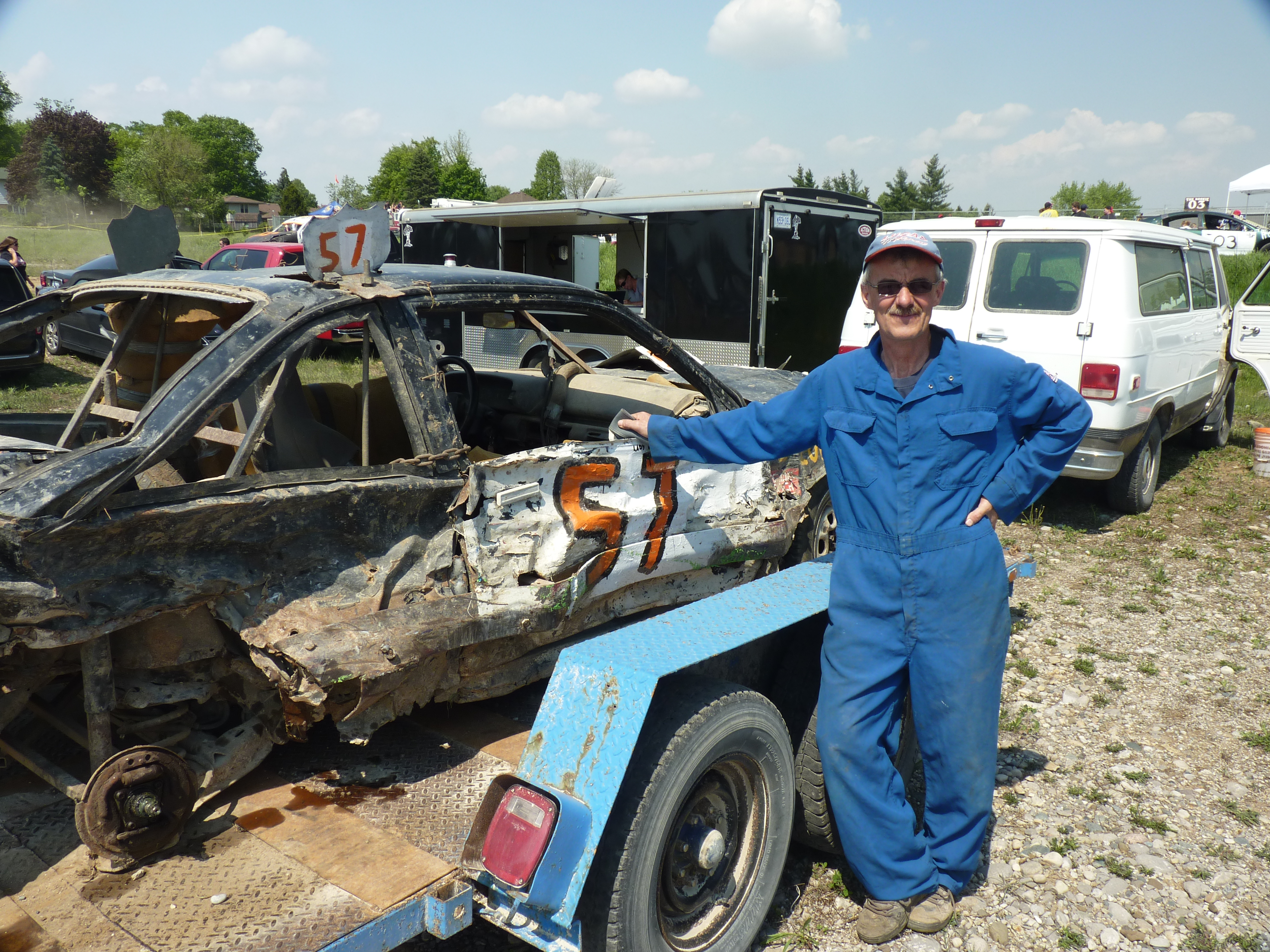 Peter Becker
I have seen racing at well over 200 figure 8 racetracks.  No one has seen more.  If there were a minimum of 15 drivers at each track, I have seen somewhere around 4,000 figure 8 drivers racing.  I could not tell you the NAME of a single figure 8 driver other than my all-time favorite…..Peter Becker.  Peter races all over Ontario, Canada.  He drives car #57.  Why car #57?  Because Peter is fifty-seven years old.  I first met Peter when he was driving car #53!  The car in the picture is eight years old.  Peter estimates that during each of his four championship seasons with the car he won $8,000-10,000 Canadian.  However, on the day this photo was taken he told me this might have been the last race on this car.

Frankie Wainman Jr.
I've seen more racing at more tracks in the United Kingdom than in any continent outside of North America.  The BriSCA F1 stock cars are my favorite racing class in the U.K.  Frankie Wainman Jr. is my favorite driver in BriSCA F1, the U.K. and in all of Europe.  Frankie routinely starts each race from the back of a 30-car field and either wins or finishes in the top 5.  Check out my photos of Frankie Wainman Jr. from my 2012 visit to the Stoke Stadium.




Steve Williams
Carol and I first met Steve Williams in late December, 2006 during our 12-track trip to New Zealand.  Steve was organizing and driving in a seven night "speedweeks" when we first saw him racing his Valvoline sponsored Ford Mustang.  Steve is a hard-nosed competitor and a fan favorite in New Zealand.  Steve was most impressed with our trackchasing hobby.  When Steve isn't racing his "day job" is as a professional golf caddie.  Currently, he's on the bag for Adam Scott winner of the 2013 Masters tournament.  In the past Steve has worked with Tiger Woods, Ray Floyd and Greg Norman.  Look for the "Valvoline" logo the next time you see "Stevie" on TV.
Pohthu
My favorite driver on the entire Asian continent is Mohamed. Mohamed aka Pohthu races on the island country of Maldives. I first met him when visiting Maldives, which was trackchasing country #79. Over the next few days he and I became good friends. I really enjoyed watching him race as well as touring his country and meeting his friends.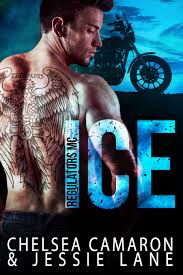 As the "World's #1 ICE trackchaser I've seen my share of ice racing.  I've seen ice racing in several foreign countries outside of North America including Andorra, Finland and Russia.  In Canada I've visited racing on the ice in the provinces of Alberta, British Columbia, Manitoba, Ontario and Quebec.  In the U.S. I've shown up to see ice racing in Alaska, Maine, Michigan, Minnesota, New Hampshire, New York, and Vermont.
Yep!  I've seen a lot of ice racing….all over the world.  However, I have just one favorite ice racing driver.  It's Alan Darrah from Rutland, Massachusetts.  Alan's been racing the very SAME car for 50 years on the ice!!  Yes, in 2015 Alan marked his 50th consecutive year of racing his red #20 1930 Model A Ford coupe.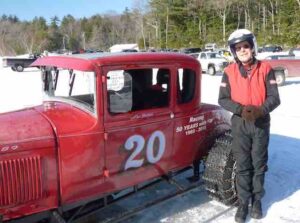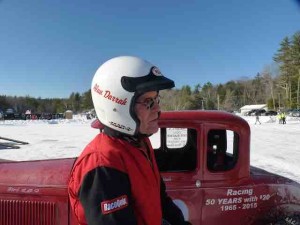 You can only have so many favorite drivers right?  Nevertheless, I have been fortunate to see so many famous (either locally or on the national or international stage) drivers that I wanted to give them a shoutout too.  Here are several that made my racechasing days so much fun.