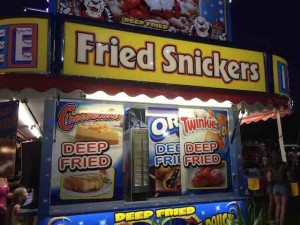 The Long and Arduous Mega Trackchasing Summer Trip of 2015 – Update
I've received several emails asking me how the "Long and Arduous Mega Trackchasing Summer Trip of 2015" is going. The short answer is "very well". Everyone enjoys going on vacation right? I just seem to like it more than most.
I've structured a lifestyle that allows me to stay in touch with "routine" daily activities remotely. Other than seeing Carol (we talk each night when we're not together) I don't have to be home for any reason. There's just too many people and things to see on the road to be stuck at home.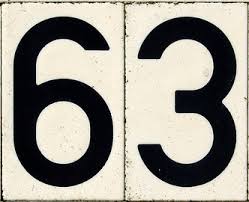 Last year I went on the longest trip in trackchasing history….42 days. This year I thought I might like to try to top that and scheduled a 56-day trip. However, doing 56 days on the road is easier to plan than it is to do. Could I stay "out here" for that long? Yes, I could. As a matter of fact I'm having so much fun I have extended the trip to 63 days. Who needs a house in San Clemente?
As this is written I am on day #41 and counting. So far I have trackchased in Kentucky, Minnesota, Manitoba, Indiana, Iowa, Illinois, Michigan, New York, Kansas, South Dakota, West Virginia, Virginia, New Jersey, Ohio, and Missouri. For the year I have now trackchased in 31 states and 4 Canadian provinces. I've had several rental cars. My rental car mileage currently stands at 16,300 miles. I will easily break last year's rental car mileage record (1 trip) of 16,700 miles.
Of course, as you know, the "trackchasing" part of this hobby only motivates me to go to point A, B and C, etc. Once I'm in those places it's time to see family, friends and fun stuff. How many people who live in a remote part of the country (California) or anywhere for that matter get to see friends and family who live thousands of miles away frequently?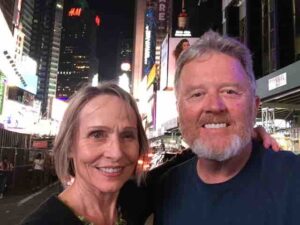 The overall plan for this trip was for me to be out on the road for 7-10 days and then have Carol to come along on the trip for 7-10 days. We would rotate that strategy three times so that we were never apart for more than a week or so. That plan had to be altered when Carol came down with pneumonia canceling her first of three trackchasing trip "legs". However, she is fully recovered now. We spent several fun days touring Washington, D.C. (Smithsonian museum, etc.), hung out in Manhattan for three days (Broadway plays, etc.) and even made a Sunday afternoon visit to the "Jersey Shore". Of course, Carol added to her trackchasing total along the way keeping us solidly in the #1 position in the World's #1 Trackchasing COUPLES competition.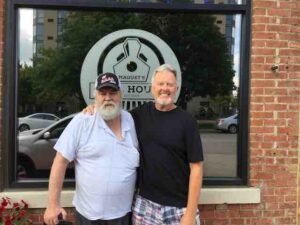 Along the way, I had the chance to call up a couple of former high school classmates who live in Illinois. I hadn't seen one fellow in 35 years and the other in twenty-five. They cleared their schedules and we enjoyed reuniting over lunch and dinner. That was fun! Then I made contact with my former college roommate. We enjoyed a steak dinner in his hometown and went looking for a long-ago deserted racetrack. I've been dragging my golf clubs all over God's green acres. That's a hassle! My round with my Phoenix-based brother who was visiting Illinois was rained out. Then my St. Louis located golf outing was canceled because of a travel conflict. I did get ONE round in with Pryce Boeye in the Quad Cities and had a nice supper with the Boeye family. That was a good day.
I've had the chance to visit with both of my sisters and my brother in Illinois. I spent a great afternoon with National Speedway Directory owner Tim Frost. Then Carol and I had lunch in Virginia with my stepfather's widow in Roanoke.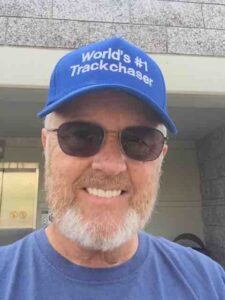 On top of all the above, I had a fantastic time with my first visit to the famous Sturgis Motorcycle Rally (that was an experience!) and a trip to Mount Rushmore. There was also a visit to see my team, the Los Angeles Angels of Anaheim play the Kansas City Royals in Kansas City. Another stop had me seeing the Iowa Cubs play AAA baseball in Des Moines. The Knoxville Sprint Car Hall of Fame made the agenda. I've even had to get a haircut on the road and may need another one before I get back to SoCal!
I haven't stayed in a Motel 6 during the entire trip. Most of my overnights have been in Marriott and Hilton hotels (thank you Priceline.com). However, I have had to sleep overnight in my car a couple of nights. You do what you gotta do. I've done at the track interviews about my hobby, been given several t-shirts and caps from tracks happy to see me and some newspaper interviews.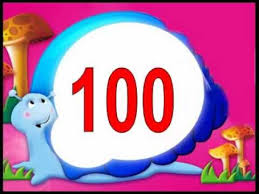 Tonight I will see my 100th track of the 2015 season. It's the 10th time I've seen 100 or more tracks in a single year. I still have three weeks left with this trip. I'll spend some time in Austin, Texas visiting those grandbabies (now aged 7) and their parents. Carol will join in for her next leg of the trip and we'll vacation for a week in Branson. Yes, there are more tracks to see.
Whew! I think most people think this sounds like a busy schedule. It really isn't for me. Because I do this so much it all seems "normal" to me. I truly could do this virtually every day of the year. Who doesn't like going on vacation?
Each day I make notes on the events of the day. I will also share YouTube videos and a photo album of every new track visit I make. When will you see it all? Sometime in the future! All I can say is that I will get it to you as soon as I can. There is no time to pull everything together while I'm traveling on these trips. I'm using nearly a tank of gas every day. However hang in there with me. I'll be telling you about all of these exciting track visits, and the associated Trackchasing Tourist Attractions, in good time.
Thanks for your interest and I hope you're having a great summer.
Best,
Randy Lewis
San Clemente, California USA
World's #1 Trackchaser