Remembering Ed Esser – good friend and excellent trackchaser

November 15, 1946 – March 1, 2012

Ed's Big Trip2010-20122009 and beforeCanada RemembersCheese Challenge
Just a few days before Ed passed away, he and I spent a weekend trackchasing in Wisconsin and then Ontario, Canada.  If you would like to see the photos and videos from our two days of trackchasing check these two Trackchaser Reports on my site.
Allouez Bay Ice Track – Superior, Wisconsin
Mission Bay Ice Track – Thunder Bay, Ontario, Canada
In Memory of Ed Esser……
I just learned of the passing of Ed Esser.  There are really no words I can think of to express my regret over his death.  I feel badly that his children and grandchildren will miss out on so many experiences they might have had in the future with Ed.  It's sad that his friends will be deprived of his dry wit and friendly easygoing approach to life.
Why Ed?  Why now?  No one knows the answer to that question.  Maybe God was working on a corporate merger between "racechasing" and "trackchasing".  If that's the case then He got the right guy.
When these types of things happen, I choose to think back on the good times.  I guess the trackchasing gods were smiling on me, as I was the trackchaser picked to be with Ed on his last trackchasing trip just last weekend.  Over the years we shared a lot of good times at the track and several away from the track. 
Today I decided to spend the afternoon just thinking back on the good times with Ed.  We surely met up on the "trackchasing trail" often over the years. If nothing else it made me feel good to make these reflections.  Maybe it will make you feel better too.  I'll work hard to make it as factual as I can because I know Ed will be looking down from above for any oversights I might make.  I'm a strong believer in the afterlife.  I'll be able to trackchase with Ed again.
Probably the most fun Ed and I had was when I created the "Cheese Challenge".  The contest was officially called the "TRACKCHASER CHEESE CHALLENGE 2005 PACE OF THE RACE REPORT BROUGHT TO YOU BY FRONTIER AIRLINES".
In 2004, I had seen (at the time) a record 127 tracks in a single year.  During the middle of 2005, I challenged Ed to break my record.  I had looked at his totals midway in the year, figured out how much time was left and concluded there was no way he could ever break my record.  I felt so confident I offered him a prepaid trip anywhere in the U.S. including airfare if he could see 128 tracks.
You know that rascal started seeing track after track and ended up seeing 132 tracks in 2005.  I couldn't believe it.  In the early winter of 2006, our daughter Kristy and her husband James (James is a graduate of the University of Wisconsin as Ed was) were visiting family in Wisconsin.  We made arrangements for them to personally deliver a plaque commemorating Ed's "Cheese Challenge" achievement to Ed at his home.  He was so proud of the Cheese Challenge plaque that he posted it at the top of his home page at http://2arace.blogspot.com/.  That made us all very happy.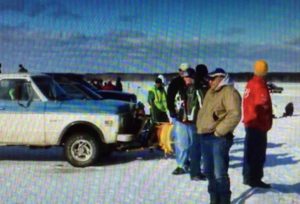 February 25-26, 2012 
SUPERIOR, WISCONSIN – Just last Saturday Ed and I met up by chance at the Allouez Bay Ice Track in Superior, Wisconsin.  I pulled in behind Ed's huge white motorhome (that would be his 2004 minivan).  In a moment he was sliding into the front seat of my rental car and slipping me our super-secret college fraternity handshake.  Then he mentioned the "password" and we both confirmed it truly was a meeting between the world's two top trackchasers.
We spent the afternoon together on the ice.  At the end of the day, I invited Ed (above – tan jacket) to ride along with me to the ice races at Mission Bay in Thunder Bay, Ontario, Canada the next day.  I was happy when he accepted my invitation.
I was really pleased because this would be Ed's first-ever trackchasing trip to a foreign country.  I've been bugging Ed, nearly every time I've seen him for the last several years, to start trackchasing outside the U.S.  I always kidded him that surely the statute of limitations on whatever crime he had committed had expired.  He should now be allowed to cross an international border.  This always brought a smile to his face.
For last weekend's trip, we dropped off Ed's car at a motel in Two Harbors, Minnesota.  We would spend the next 24 hours together.  About ten of those hours would be in the car.  I was surprised at how talkative Ed was.  Most folks know him as being on the quiet side.  I didn't mind at all.  I concentrated on driving on the snowy and slick roads and Ed entertained me with his racing adventures and stories of his family and their activities.
Probably his best current story was how the police used a battering ram to tear down the kitchen door of his house while he was gone racechasing in Tulsa this past winter.  He told the story well. 
I usually spent a good deal of my time with Ed kidding him and/or pulling his leg.  Carol used to say "Ed never would have started all of his trackchasing if it wasn't for you".  I don't know if that is true or not.  I do know that he never really took the trackchasing rankings that seriously.
During the weekend's trip, I couldn't help but ask Ed about one claim he made on his blog site (http://2arace.blogspot.com/).  His byline read, "Now first overall in the USA trackchaser standings, Ed has over 1,423 tracks that he has visited."  How could this be?  I told him I had already mentioned to my contacts at the Mission Bay ice track that I would be visiting as the #1 trackchaser.  Now, if he showed up with me and purported to be the #1 trackchaser we were going to have created a good deal of confusion in Canada.
His first explanation about his byline was "It means I've seen more tracks than anyone else for a trackchaser who has never trackchased outside the U.S."  I was no English major but I had to say to Ed, "It doesn't seem to me that your website statement really means what you just told me".
Ed seemed to squirm in the passenger's seat just a bit.  We still had a long way to drive.  I questioned him further.  Finally, he admitted he was really first in the "Pennsylvania based trackchasing standings".  That made a lot more sense.  If we laughed about that once we laughed about it ten times during our trip together.
Following the Saturday races in Wisconsin, we grabbed a hotel in northern Minnesota.  Then we headed out to dinner.  We spent another hour and a half enjoying some food and each other's company.  During dinner, Ed complained that his shoulder was "just killing him".  This was on top of my seeing him last winter when his right hand was so weak he could hardly shake my hand.  We both agreed that getting old sucks.
Once back at the hotel, Ed relaxed on one bed and we went through my Wisconsin "tracks to be seen" list.  He had more current information than I did in most cases.  We probably talked about the latest situations at well over 100 tracks.  Even after the lights went out, we talked about tracks.  Finally, I said to Ed, "We've got a long day tomorrow.  Let's get some sleep".
THUNDER BAY, ONTARIO, CANADA – Ed was pretty much a stranger to hotels.  He preferred to sleep overnight in his trackchasing vehicles.  Maybe that's why he seemed so pleased to be eating breakfast in our hotel.
I had made some contacts with the racing folks at the Mission Bay Ice Track.  When we arrived they treated Ed and me very well.  They even let us ride together in the pace vehicle on the track to start each race.  When the snow and heavy winds ended up canceling the remainder of the program I took Ed over to the fellow who was announcing the races on the local FM radio channel.  I really wanted to see Ed being interviewed on the radio but the program was just signing off the air when we arrived.  I won't be able to post my Trackchaser Reports for this trip for a few days due to my travel schedule.  They were both written before Ed's passing.  I'll keep them exactly as they were written.  I think Ed might want it that way.
This had been Ed's first-ever international trackchasing trip.  We got "hung up" at the border for about thirty minutes when we re-entered the U.S.  The border agents decided "we're checking all rental cars pretty closely today".  I loved it.  I wanted Ed to get the "full" international trackchasing experience.  I even asked the U.S. border agent to stamp Ed's passport (they would not normally do that for American travelers at the Canadian border).  Ed actually got his first TWO stamps when the border agent mistakenly used a stamp from 2011 the first time.
The drive back to Ed's car was a bit hairy with the snow, the wind and then the darkness.  We talked non-stop the whole way on the five-hour drive back.  When it was time to say good-bye we exchanged our fraternity handshake like we always do.  We pretty much never knew when we would run into each other although we ran into each other a lot considering we lived 2,000 miles from each other.  When we parted in Minnesota last Sunday we had no idea when we would meet again.
I thought you might like to see what I wrote about my encounters with Ed along the trackchasing trail over the past few years.  Here are a few excerpts.
July 15, 2011 
MADISON, INDIANA – "I expected to see Ed at the Jefferson County Fairgrounds in Madison, Indiana.  Why?  It was a Friday night and Ed had never been to this track.  He, like me, was running out of Friday night locations to trackchase.  I walked along the back of the grandstand until I saw Ed.  Whenever this happened I always tried to sneak up on him and sit either right behind him or beside him.  Then I would tap him on the shoulder and ask, "What time do the races start?"  He would smile and we would spend the evening chatting for the next several hours.
On this evening I was doing an "in the grandstands" interview with a very good track announcer.  The announcer let me take the interview wherever I wanted too and I was able to spend a good amount of time telling the crowd about Ed Esser's trackchasing achievements.  Allan and Nancy Brown were on the other side of the track, heard the interview, and spent the rest of the evening sitting with Ed and me."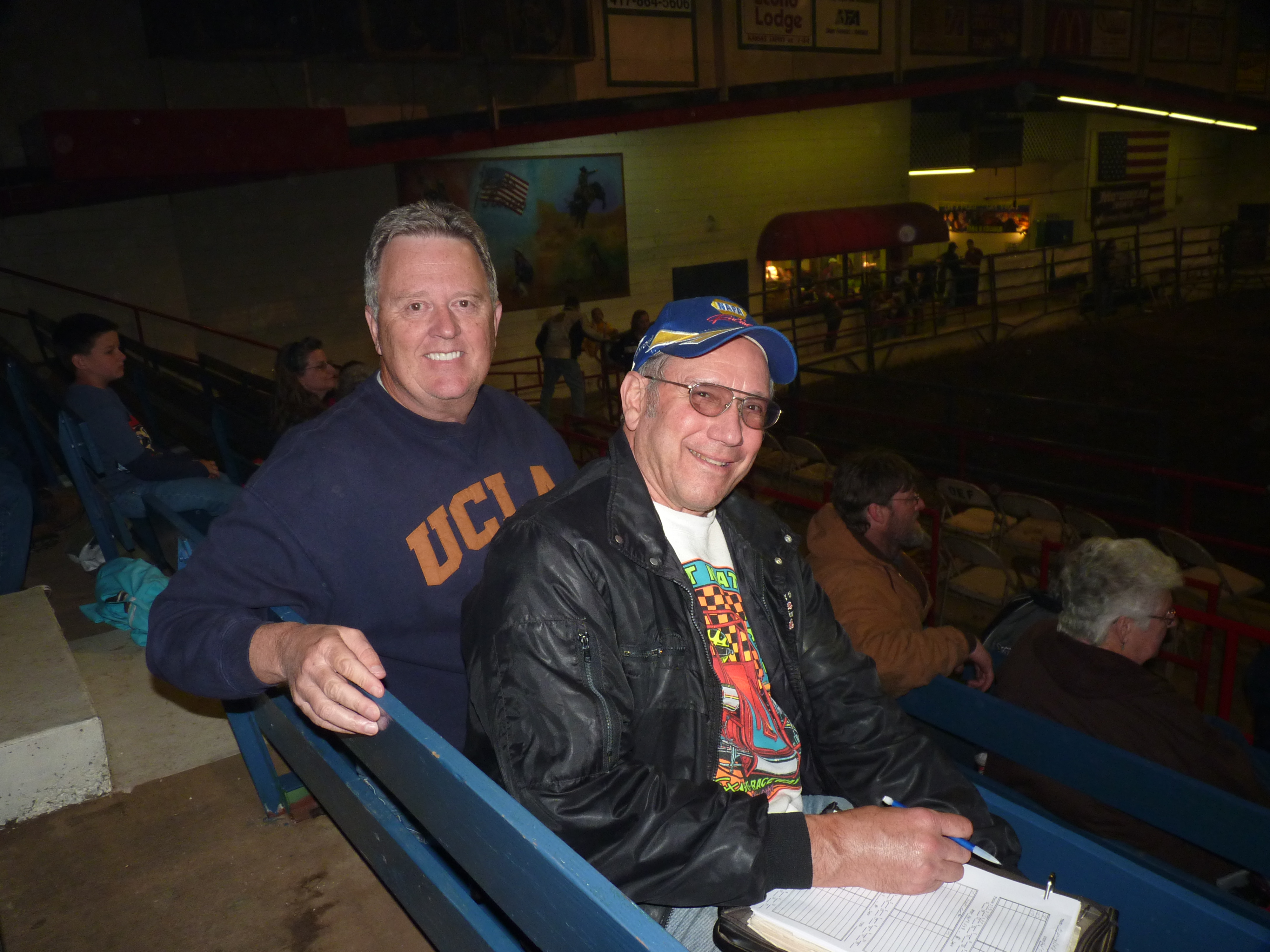 March 18, 2011 
SPRINGFIELD, MISSOURI – "I was headed on a Friday night to Springfield, Missouri to see some indoor figure 8 racing.  Although we had not communicated our travel plans to each other (we never did) I absolutely knew Ed would be there.  How did I know that?  It was simple.  There isn't much racing in the middle of March.  Ed had never seen this track.  It was a Friday night.  When you put those pieces of information together I knew he would show up.  Of course, he did. 
Ed had his notebook to record the results of the races.  I had my camera to record the results of the races.  We did things differently but in reality we did them the same.  It was on this night that Ed's right hand was so weak, for some unknown reason, that he could barely grip my hand."
October 9, 2010
AVON, ILLINOIS – "On this evening Ed and I met up at the Avcom Park Speedway in Avon, Illinois.  I called this my best "people night" of the year.  I had a chance to talk with Roger Sollenberger, former Peoria Speedway official and now Avcom's main man and Bill Goddard their track announcer.  I also got to meet Floyd Strube long-time Peoria Speedway star and now a vintage racecar owner and driver. 
In my report from this track I wrote, "I fully expected to see Ed at the track tonight.  During hot laps, I kept looking up into the stands but no Ed.  This is the first year that the Avcom Park Speedway has been racing in such a long time.  A new permanent track doesn't last long when it's within 500 miles of Ed's place up in Madison, Wisconsin."  Soon Ed DID show up and we spent the entire evening talking about the events of the day."
August 25, 2010
JOLIET, ILLINOIS – As circumstances would have it we (fraternity brother Mike Skonicki and I) ran into another "Delta Sigma Pi Brother" tonight from the University of Wisconsin.  Yes, I'm talking about the "one and only" Ed Esser.  Mike had heard and read many stories about the famous Mr. Esser. 
The massive grandstands of the Route 66 Raceway hold nearly 10,000 people.  They were only about 20% full tonight.  Nevertheless, Ed spotted us after we sat down in about row 20 of the row 50 or so high grandstand.  He came down and sat with us for the rest of the night.  We had an enjoyable visit. 
Mike and I had a nice evening reuniting.  We do see each other 2-3 times each year and have done so for more than 40 years.  It was fun seeing Ed.  That guy never gives up.  Overall, a good night of trackchasing.
July 10, 2010
OSCEOLA, IOWA – "This was a warm Saturday afternoon.  It was the very first-ever event at the Clark County Speedway in Osceola, Iowa.  The program would feature racing on their oval and figure 8 tracks.  On this day I wrote, "I expected to see other trackchasers feasting on this opportunity.  I wasn't disappointed in that regard.  When I walked in the gate there was a fellow wearing a red baseball cap and busily scribbling notes in his racing ledger.  For the next three hours, trackchasing's "#1 and #2" would compare notes and enjoy an afternoon of racing together.  Even in the stiffest competitions, chasers can peacefully co-exist….for at least a few hours."
June 19, 2010
STURGIS, SOUTH DAKOTA – "On this stormy Saturday evening Ed and I joined up with Trackchasing's First Mother for some micro sprint racing at the J.C. (Pappy Hoel) Short Track at the Jack Pines Motorcycle Club.  From this track I wrote, "Tonight I did a long interview with the track announcer.  My "at the track" press release always mentions the top five worldwide trackchasers.  On this evening I was able to talk about Ed's trackchasing for a few minutes so the crowd learned a little bit more about Mr. Esser and his participation in the hobby.  Following the interview, I hooked Ed up with the Rapid City Journal's Jim Holland. 
Ed and Jim spent most of the evening talking to each other.  Jim had his reporter's pad in hand and made notes.  I think that may translate into some much-deserved publicity for the World's #2 Ranked Trackchaser.  On the other hand, maybe Ed was negotiating with Jim Holland to buy the entire Rapid City Journal!"
2009 
Somewhat surprisingly, I didn't record a trackchasing visit with Ed during the entire year.
February 3, 2008 
BRAINERD, MINNESOTA – On this cold February Sunday afternoon, I wrote, "I would categorize the most competitive trackchasers as (in no particular order), Ed Esser, Guy Smith, Roland Vanden Eynde, Mike Knappenberger and myself."  Last year, I visited 160 new tracks.  At only eight of those tracks did I run into any other top 20 trackchasers.  As I have mentioned in the past, my running into other trackchasers is going to get rarer and rarer.  In 2005, I believe I saw Wisconsin's Ed Esser twelve times.  In 2007, I saw Ed at just three different venues and we both went to more than 260 tracks. 


Ed went trackchasing yesterday up in Erskine, Minnesota.  This was a track I discovered for the very first time just last week.  Yes, this is the nature of the hobby.  When one person finds a new track, others follow shortly.  I did not mind Ed following my lead.  I have followed his many times.


I had two presents for Ed today.  First, I met up with the International Ice Racing Association (IIRA) announcer Renee Anderson upon my arrival at the track.  I gave her Ed's trackchasing information.  Renee was nice enough to give Ed a very generous trackchaser welcome to the IIRA sanctioned event over the P.A. system.


Secondly, the IIRA folks had arranged for me to have a "ride-along" during today's lunch break.  In preparation for my ride, they asked me what size helmet I wore.  "Do you have a very big head?" they wanted to know.  I simply replied, "Carol says I do".  With that, they went to retrieve a helmet.
I've done these "ride-alongs" a few times, most recently at Barnes Lake up in British Columbia last month.  They are an absolute blast.  I asked Ed if he had ever done anything like that.  No, he had not.
Great!  I talked with the IIRA folks and convinced them to let Ed take my place.  Soon Ed was fastening the strap on his helmet and being fitted with a four-point airplane regulation seat belt.  He would be driven by Dick Nordby in the car #1 VW Rabbit.
It wasn't long before "Fast Eddie", as he is called in some circles, was on the track.  I think Ed had the time of his life.  I believe I had just as much fun watching Ed take a very wild ride.  They were sideways through most of the turns and within inches of the other cars on the track most of the time.  Please go to www.ranlayracing.com and first click on "Trackchaser Reports" and then click on "#1,307" to see Mr. Esser in action."
2007
During 2007 Ed and I ran into each other in Dillon, South Carolina, Muncie, Indiana and Bone Gap, Illinois.  From those three tracks, I wrote this about Ed.
BONE GAP, ILLINOIS – "I ran into Ed Esser at the SOIL MX track.  As part of my trackchaser imposed amnesty program, I had provided this race date to him.  I'm still waiting for a return trackchasing date from him!"
MUNCIE, INDIANA – "Tonight I spent some time talking to two leading worldwide trackchasers, Ed Esser #7 and Roger Ferrell #18.  These guys are tried and true Midwesterners.  They are as tight with their racing information as any trackchasers I have ever met.  I even offered to trade them a "date you don't know about" for one of theirs.  They declined.  I think they thought they already knew every race date there was to know and that I could not add any information that would be new to them!"
Ed seems to be softening his position about seeing Canadian tracks.  To date, Ed has seen just over 1,000 tracks and has never seen one outside of the United States.  Ed also stated that European trackchasers might have an advantage trackchasing in Europe.
DILLON, SOUTH CAROLINA – "I had literally bumped into one of the more prolific trackchasers at the Dillon Motor Speedway last night.  That would be Ed Esser of Madison, Wisconsin.  Ed had seen an incredible five tracks in just two days.
Ed's back in seventh place in the worldwide rankings with 987 lifetime tracks.  I remember being back in seventh place a few years ago.  There is something about being in seventh place.  It's just the way the numbers work out.  When you reach seventh and look up, you find yourself some 200 tracks or more behind the top 6 worldwide trackchasers.  At that point, you can visit an awful lot of tracks and never pass anyone in the top six.  That's what happened to me and that's what's been happening to Ed.
Ed has seen more than 100 tracks in each of the past four years.  No one has ever strung together that many century years in a row ever.  Finally, Ed is gaining on his fellow competitors.  This will be the first year in a while that Ed will begin to pass some folks in the lifetime standings.
Let me let you in on a little secret.  It's not going to be long, maybe two years, before Ed gets up to the second spot.  I certainly hope that every trackchaser maintains good health and can trackchase for as long as they want too.  That way we'll be able to find out who the very best worldwide trackchaser was/is.
I believe my strongest competitor near term (three years or less) will be Mr. Esser.  Ed's a very positive trackchaser.  He does not complain about anyone else's success.  He works hard to create his own success.  He works hard to create his trackchasing combinations.  He is a tough fellow competitor.  I wish him luck as he climbs the rungs this year and next.  Soon, he will be in second place.  I won't be able to let my guard down with Ed in my rearview mirror.   
Ed has a website where he shares information about his trackchasing.  I asked him why the race dates on his website have a ZERO correlation to where he actually goes.  He tried a few lame excuses and then just smiled.  I did too."
2006
Ed and I ran into each other all over the country in 2006.  These are the locations where we sat with each other.
AUBURNDALE, FLORIDA – "On this evening Ed joined me, Carol, my stepfather, Bill and his wife, Betty for my 1,000thlifetime track.  Here's what Bill and Betty had to say about Ed.
Betty's Comments
I enjoyed the races but it was too cold.  I was surprised there were "That many people from out of town.  Ed was nice and seemed like a jovial type person."
Bill's Comments
Ed was very informative and had obviously "Been there, done that before."
GRAND BAY, ALABAMA – "I was just wrapping up a trackchasing interview from the flag stand when I squinted off into the distance and said that "Yes, I'd like to thank my wife, Carol, for coming along on the trip."  I could see her dutifully operating the video camera.  When I left to go up into the flag stand, she was sitting all by herself.  Now a man in a blue jacket was sitting next to her.  Did he have his arm around her?  Who was this man?
It was none other than trackchaser Ed Esser of Madison, Wisconsin!  We end up on our fifth trackchasing choice of the day just a mile or two from the Gulf of Mexico and Mr. Esser shows up from Wisconsin!  He was 1,054 miles from home.
Ed's only comment when I returned to our seating area was "I saw Carol and you were up in the flag stand so I thought she was fair game!"  Ed's been up in the Wisconsin woods too long.  The three of us had a nice conversation like we always do until we bid Ed farewell and left the track with just one five-car feature remaining."
KNOX DALE, PENNSYLVANIA – "By submitting my trackchaser press release to the track's announcer, I am attempting to flush out those trackchasers who are hidden in the crowd.  This public proclamation has worked many times and it did again tonight.
Shortly after my trackchaser announcement was read, the aforementioned Mr. Ed Esser was making an appearance in our section of the grandstand.  We were happy to see Ed and help him celebrate a very special trackchasing occasion.  Tonight was his 900th track.  Congratulations, Ed!!!  This is a grand accomplishment.
We all enjoyed our evening together in what turned out to be a beautiful night for short track auto racing.  We visited in the parking lot after the races for a few minutes.  We then headed back to Ed's home state of Wisconsin and he headed further east into Pennsylvania and a very poor weather forecast.  Nice seeing you, Ed."
BEAVER DAM, WISCONSIN – Just as I was mentioning that I thought Ed might have passed up his "Midgets," he appeared to say hello.  Turns out he was rained out on his last day in Pennsylvania.  He had made the same, for him, nearly 700-mile drive that we had made yesterday.
ALTUS, OKLAHOMA – "Last year I ran into trackchaser Ed Esser at tracks located in Kentucky, Illinois, Wisconsin, Indiana, Michigan, Indiana again, Michigan three more times, Texas and Alabama.  None of these encounters were planned.  Considering that Ed lives in Madison, Wisconsin and I live in California, this number of somewhat chance encounters seems unusual to me.
Ed and I sat on what amounted to "concrete bleachers" that were connected to concrete posts about one foot in length.  I don't ever recall seeing this setup anywhere before.  Ed and I were able to converse about the trackchaser trends occurring in today's trackchaser world throughout the night.
Ed is a big fan of the trackchaser rankings.  I am as well.  I suspect that Ed will finally remove his ban on international trackchasing travel, but not until he gets his 1,000th track.  He's only about 40 from that mark as we speak.  He should reach the magic number sometime early next year.
Following the races, Ed and I adjourned to the parking lot.  I offered to buy him a drink back in town.  My main reason for the offer was to get out of the cool and windy conditions.  At this point I was freezing.  However, Ed needed to head north and I needed to head south.  So instead of finding some shelter, we spent several minutes chatting in the parking lot, as we always do, before we bade each other farewell.  Safe travels, bro."
COLUMBIA, MISSOURI – "Finally, I'll make mention of my fellow competitor, Ed Esser.  Ed always enjoys seeing Carol and me.  O.K., he really enjoys seeing Carol and I don't blame him for that.
Ed came down to sit in our section for a few minutes while he ate his lunch.  Our friend Bud Heineman was most pleased to meet Ed since he has read about him in these pages so often.  Ed said this to me, "I've never seen you wearing blue jeans.  I didn't think you owned a pair."  My reply was simple.  "I rented them.  You can rent blue jeans from formal wear shops.  They use them for country weddings." 
2005
ARKADELPHIA, ALABAMA – "I had some advance information that Wisconsin trackchaser Ed Esser would be in attendance.  Doesn't that guy ever stay home?  Sure enough, when I pulled into the track's parking lot the Wisconsin plated Chevy Blazer was already there…..I must also say that Ed appears to have a lock on the Trackchaser Cheese Challenge contest.
Ed was looking forward to getting home tomorrow night to hand out candy for the trick or treaters in his Madison, Wisconsin neighborhood.  He told me he had about 70 kids last year.  How many do you think we had come to our house last year?  The answer:  zero!  Ed, it was nice seeing you.  You are a trackchaser's trackchaser. 
"TRACKCHASER CHEESE CHALLENGE 2005 PACE OF THE RACE REPORT BROUGHT TO YOU BY FRONTIER AIRLINES"
This is a comparison of how many new tracks Ed Esser has seen in 2005 and how many tracks I saw through the same date in 2004 on my way to seeing, at then a record, 127 tracks.  In order for Ed to win the "Cheese Challenge", he must see 128 new tracks.
Through November 1 – Ed – 125 tracks         Randy – 107 tracks (in 2004)
Prize:  If Ed sees more than 128 new tracks in 2005, he wins a round-trip domestic airline ticket to anywhere Frontier Airlines flies.  If he cannot see at least 128 new tracks then I win 10 pounds of the Wisconsin cheese of my choice."
WICHITA FALLS, TEXAS – "You may know that all worldwide trackchasers are on the honor system when counting their tracks.  If you say you saw it, we believe you.  This is the 12th new track I have seen with Ed Esser this year.  Could it be that worldwide trackchaser management is sending Ed out to check on me?  Maybe worldwide trackchaser management is sending me to check on Ed!  Heck, maybe we are both double agents being sent out by worldwide trackchaser management to check on each other!!  Nevertheless, Ed continues to do well in the "Trackchaser Cheese Challenge" as outlined below."
ADRIAN, MICHIGAN – "From time to time I offer contests and challenges to some or all of our trackchasers.  Prizes range from gift certificates to free airline tickets.  The current trackchaser challenge involves Madison Wisconsin's Ed Esser.  I picked Ed because he is one of the most popular trackchasers, according to feedback from Trackchaser Report readers, of anyone in the trackchasing group.  
This contest will be called the "TRACKCHASER CHEESE CHALLENGE 2005".  I have challenged Ed to try to break last year's "New Tracks in One Season" record.  That record was 127 new tracks.  Going into tonight, by my calculations, Ed has 83 tracks.  If he sees 128 or more countable tracks during 2005 as reported by www.trackchaser.com then we wins the challenge.
What does Ed win?  A round-trip domestic airline ticket on Frontier Airlines, one of the participating sponsors of the RANLAY Racing Trackchaser Report.  Remember if your travel needs call for air travel, give Frontier a call.
Of course, if Ed cannot muster the required number of tracks, he loses the challenge.  What happens if he loses?  He must deliver to my home in San Clemente ten pounds of the Wisconsin cheese of my choice.  I recall some of those cheeses as being quite expensive!"
Tonight's temps were very comfortable on a near-perfect evening for figure 8 racing.  Following the races, Ed and I walked the fairgrounds and then conversed in the parking lot as we frequently do.  We did stop for sno-cones where Ed had a sour apple and I had a cherry vanilla-flavored ice treat.  Ed has some ambitious plans for the coming days and I wish him safe travels."
CORUNNA, MICHIGAN – "Under rainy skies, we ran into Wisconsin's best, Ed Esser.  Ed had left his trackchasing gear in the car, pending the weather outcome.  We stood under a shelter while the intensity of the rain picked up.  It was not heavy, but it was steady.
Carol agreed we were mighty lucky to get the track in tonight. She enjoyed seeing Ed since we both knew he always "prowling around".  With a little luck, I will run into Ed again soon."
MASON, MICHIGAN – "I found a seat in the absolutely jammed grandstands, just before the first heat started.  I walked down to the lower aisle way to give the program seller my press release.  I talked to her for a moment and was returning to my seat when I heard, "Randy!"  It was none other than #9 ranked worldwide trackchaser Ed Esser of Madison, Wisconsin.
He had a seat open next to him and we watched the races together.  Ed and I always enjoy seeing each other.  After sharing our secret fraternity handshake (Delta Sigma Pi), we talked about the events of the day. 
Readers should know that I have offered a wager to Ed.  The all-time record for new tracks in one year is 127.  I established that record last year and had 69 tracks at the end of July 2004.  Wouldn't you know it, Ed also had 69 tracks at the end of July 2005. 
I have offered Ed a challenge to see if he can see more than 127 tracks in 2005.  My offer is this.  If Ed sees more than 127 new countable tracks in 2005, I will give him a free round-trip airline ticket.  If he accepts the wager and sees 127 or fewer tracks then he owes me 10 pounds of Wisconsin cheese.  Ed is seriously considering accepting this challenge.  If and when he accepts, I will keep everyone informed about his continuing progress.  I hope to be eating some fine Wisconsin cheese by my fireplace come this January."
BROOKVILLE, INDIANA – "I was just about ready to buy my race ticket when Madison, Wisconsin's own Ed Esser literally bumped into me.  Ed is nearing the 800-track mark and hopes to reach this milestone by the weekend.  Ed and I bought our tickets and grabbed a seat in the grandstand.  Soon we were joined by Indiana's finest Roger Ferrell.  Roger, Ed and I had a nice time visiting.  This was my eighth new track to see with Ed this year and my third new track to see while sitting with Roger.  We spent part of the evening discussing our hairstylists.  You can imagine how that conversation might have gone.  Next time you see Roger ask him what a toolbox has to do with him getting a haircut.
SOUTH HAVEN, MICHIGAN – "I ran into trackchaser Ed Esser at Gingerman.  We had a chance to talk about the events of the day for some time although I had to lean against the car because of my limited energy.  Ed told me that he would be broke and without funds by September.  I share this seemingly, confidential information because I believe this is exactly what Ed told me about this time last year.  How come he is always running out of money in September when the racing season is pretty well over?  Can't Ed ever run out of money in the middle of July and have to miss 30-50 races over the rest of the season?  Hey, I'm just asking.  Of course, I hope Ed never cuts back on his racing because of funds and if he ever needed a loan I would be there for him.  Although we are fraternity brothers, I wouldn't want to play poker against Ed.
I believe that Ed Esser and his buddies Roger Ferrell and Jack Erdmann (Ed's agent) are really the Hunt Brothers from Dallas, Texas and have been relocated to Wisconsin and Indiana through a government witness protection plan.  Recall the Hunt Brothers were the billionaire brothers who got in trouble a few years ago for trying to corner the silver market.  The government didn't like that.
Although I have never met Jack, I am constantly picking up from Ed and Roger that there is a private distribution list going on between just the three of them.  Ed tells me Jack is not even in the trackchaser email group.  Roger tells me that he can only read messages and cannot send them.  Ed is used as "the nice guy front man". 
I could live quite comfortably on Ed's gasoline budget alone.  I could probably get too more tracks if this trio of government guests would share some of their trackchaser secrets.  I'm betting that if we could see these guy's bank accounts, we would be surprised by the number of zeros, and I'm not talking about the first number of the account balance either.  I'm just a poor retired pensioner living on a small fixed income and I'm expected to compete against a consortium like this."
NORTH VERON, INDIANA – "I was sitting in the stands with fellow trackchasers, Ed Esser and Roger and Brenda Ferrell.  Terry (the promoter) asked me to come down to the front of the grandstand for the interview.  Ed was nice enough to video record the interview for posterity and to someday be included in the archives of the trackchaser Hall of Fame building.  It was very nice meeting up with Ed and Roger.  This was my first time to meet Roger this year.  I saw Ed just a couple of nights ago."
LUXEMBOURG, WISCONSIN – "Tonight is a special people night in Luxemburg, Wisconsin.  Carol and I are going to be having dinner with some world-renowned trackchasers.  Roland Vanden Eynde of Vilvoorde, Belgium, Europe's #1 trackchaser, as well as Ed Esser, the driving trackchaser of all-time will join us. 
Ed is hot off an Illinois county fair race last night in the Quad Cities area and will be down by St. Louis at another Illinois county fair tomorrow night.  I have figured out a way to stay ahead of Ed in the trackchaser standings.  I will simply invite him to dinner and racing at a track he has already seen but is new for me.  Why didn't I think of this earlier?
DUQUOIN, ILLINOIS – "When Wisconsin trackchaser Ed Esser and I left Freedom Hall in Louisville, the wind chill temperature was barely above zero.  I had to kidnap Ed into staying overnight in my hotel room.  I used the same techniques that were so successful with wife Carol when we were dating in college.  Get your minds out of the gutter!  I couldn't risk having Carol catch cold out in the Northern Illinois winters, could I?  I couldn't let Ed sleep in his car.  If they found him frozen like a Popsicle the next morning, what would the "win at all costs" pundits say?  I know Ed has an image to maintain and staying in the hotel could tarnish that reputation but let's be reasonable.  I'll bet even Barefoot Bob McCreadie has towed his racecar to a track in an enclosed trailer sometime in his career.
Ed and I stayed up talking racing and stuff until 2:30 a.m.  Then it was time to hit the sack.  The next morning I found a bottle of water frozen in my car.  Wow, that could have been Ed.  We had breakfast at Denny's and then I followed him over to DuQuoin.  
During the trip, Ed made the comment jokingly that trackchasing used to offer an "off-season" during the winter months.  Now, in order to stay competitive, a trackchaser must stay on the road, even during December and January.  He's right.  Trackchasing is a bit like NASCAR in its development and evolution.  Nothing wrong with that, it just shows the growth in the hobby.
Ed and I agreed that we had never seen a better indoor racing facility.  The chaplain, while giving the invocation, told the crowd that we needed, "To thank the Lord and the state of Illinois for this fine-looking brand new building".   I suspect we are more indebted to the state of Illinois than anyone (no pun intended!).
The trackchasing hobby received a very nice mention over the quality sound system from an articulate and professional announcer.  The announcer closed by telling the crowd that "Leading trackchaser, Ed Esser of Madison, Wisconsin" was in attendance!  Ed, ever the modest one, gave us a smile for the well-earned recognition.
Following the final race of the day, Ed and I walked out into the parking lot.  It was still light, but it was COLD and WINDY.  We had both seen three tracks in two days.  I had personally prevented Ed from potentially getting a serious case of frostbite.  A good time was had by all and I look forward to going trackchasing with Ed sometime in the near future."
LOUISVILLE, KENTUCKY – "However, on Wednesday of this week, I was sitting in my office gazing out at the Pacific Ocean.  There had been some 2,000 emails building up since I returned from Australia that needed to be cleaned up.
One of the emails was from fellow trackchaser, Guy Smith, announcing an indoor event in Louisville, Kentucky.  Guy's communication was part of a newfound "nice personism" being adopted by the entire (I hope) trackchasing community.  I call it the Trackchaser Freedom of Information Act.  We are attempting to get everyone who finds a race date to share it publicly with our group. Guy hadn't done much of that sharing in the past.
My Louisville race is on Saturday.  My non-refundable ticket deposits me back in Los Angeles on Sunday.  It was a great plan until………….I came across an email from Wisconsin's Ed Esser.  Ed made a reference to an indoor race in DuQuoin, Illinois on Sunday afternoon.  DuQuoin was just six hours driving time from Louisville.  In trackchaser parlance, that's just over the hill and around the bend. 
As I approached the building, I noticed a very long line of people waiting out in the cold to buy tickets.  There were two lines of at least 150 people each.  In this weather, this looked bad.  I was expecting to see trackchaser Ed Esser tonight.  As a strategic trackchaser, I started at the head of the line hoping I might see Ed somewhere near the front.  If this worked, I would be able to get "cuts" and prevent a serious case of frostbite.
Just at that moment, the two lines of potential ticket buyers parked just like the Red Sea and Ed Esser appeared.  It was great to see Ed, but he had already bought his ticket.  How would I get my ticket in such a long line?  It never did occur to me to go to the back of the line and wait like everyone else.  It never does.
Once we were inside, we saw a nearly sold-out arena.  We estimated with the building configured for a Motorsports event that the seating capacity was about 7,000.  All seats were reserved.  Since both Ed and I had reserved seats in different sections we just picked out a couple of seats in one section that was mostly unoccupied and sat down.
Following the races, Ed and I exited the arena without staying to see the monster trucks smash four old Cadillac Sedan Devilles.  The wind chill temperature must have dropped to below ten.  Showing that not all trackchasers are out to win at all costs, I insisted that Ed share my hotel room.  Ed saw significant value in the offer, since his Bronco is not well insulated against temperatures of this magnitude, and he accepted."
2004
MATTOON, ILLINOIS – "When I go to tracks, I'm very likely to run into someone I know.  That was the case tonight.  I was out in the parking lot preparing my trackchaser note for the announcer.  Who should walk up but none other than the #11 trackchaser in the world, Mr. Ed Esser?  Frequent readers of this column will recognize Ed's name from the infamous, "Ed Esser update".
First, even though Ed and I are competing for trackchaser ranking positions, we are also very good friends.  Upon meeting, we were able to exchange the Delta Sigma Pi secret handshake.  Fortunately, since we were in a secluded area of the parking lot we didn't have to worry about anyone trying to steal the secrets of this handshake.  Otherwise, by fraternity charter, we would have had to kill them.
Ed and I enjoyed talking racing and trackchasing at Coles County Speedway.  Their race program ended at about 8:30 p.m. so we both decided to run over to the Charleston Speedway to see the last part of their program.  We had both been to Charleston previously but wanted to see if we could catch a couple of their features.  I followed Ed on the 15-mile trip to Charleston Speedway.  Ed drives at the legal speed limit.  What's up with that?
When we arrived at Charleston Speedway, they were still charging admission.  We each had to cough up 8 bucks to get in.  We were in time to watch the sportsman late model stock cars as well as the IMCA modifieds.  The complete Charleston race program was over by 9:35 p.m.  Ed and I spent several minutes in the stands and then the parking lot talking before we both parted and headed our separate ways into the starlit night.  Safe travels, brother.
2003
JIM FALLS, WISCONSIN – "World champion race chaser Ed Esser again accompanied me.  Ed is also showing a proclivity for trackchasing this season.  He currently leads the 2003 standings and ranks 13th, and climbing, in the lifetime standings with about 550 tracks."
DRESSER, WISCONSIN – "I had the pleasure of enjoying the company of the Barry Bonds of race chasing.  That would be Mr. Ed Esser of Madison, Wisconsin.  Ed led the world in the number of racing events attended (this is different from new tracks) last year with a world record 203 races.  He was rained out of about 15 other events.  That's a lot of racing!  Anyway, it was fun seeing Ed for the first time this season."
2002
PARKER, SOUTH DAKOTA –  "I pulled into the fairgrounds 30 minutes before the scheduled 7 p.m. start time and there were tons of figure 8 cars.  In fact, I was on the grounds for only five minutes when I ran into Ed Esser, race/trackchaser from Madison, Wisconsin.  Ed and I had met earlier this season in Wisconsin.  After exchanging our secret fraternal handshake we sat together for the event and enjoyed comparing notes.  Ed is already up to 126 races for this season.  His all-time high is 203 races in one season!"
KAUKAUNA, WISCONSIN – "Will White sat with us.  He's seen 19 tracks in 14 days during his special 17-day vacation.  He's had zero cancellations during this period.  Ed Esser, more of a race chaser than a trackchaser, saw his 94th event of the season.  You might think this is a lot and it is.  Ed admitted he's about 10 races behind his 2001 pace.  Ed, a University of Wisconsin graduate and Delta Sigma Pi alumni was able to give me the secret fraternal handshake.  Of course, we had to hide the handshake details from Will. 
MANITOWOC, WISCONSIN – "We arrived at the 8 p.m. scheduled start time and our seats were being reserved by our fellow trackchasers, Will White and Ed Esser.  In addition, ranked trackchaser Dale O'Brien's brother Nick from Green Bay was with the group.  We enjoyed talking about our trackchasing hobby with these folks and even stayed around after the races to bench race…. Net, a very nice group of people to watch the races with."
SHAWANO, WISCONSIN –  (Although I didn't record it as such, this may have been the first time I ever met Ed)  "At about the time I saw Will White, up walked Ed Esser of Madison, Wisconsin.  Ed is also in the top 20 worldwide trackchasers.  Ed's main hobby is seeing as many races as possible and the accumulation of tracks is only a sidelight.  Ed is an accountant who is my age.  He said he got started in racing with his father in 1955.  His father, also an accountant, would make notes in the racing program, bring the program home, erase the entries, and then TYPE them into the programs.  Ed has all of the programs dating back to 1955. 
Will, Ed and I enjoyed the warm and humid evening talking racing.  We'll head different directions on Tuesday night before we meet up again on Wednesday and Thursday nights.  It was a good day meeting up with three friends from all over the country."
Respectfully submitted by Randy Lewis friend of Ed Esser……
Ed Esser's last ever trackchasing trip took him to Thunder Bay, Ontario, Canada.  I was lucky enough to be with Ed on his first and last trackchasing visit to Canada.  During that trip, we met several racers and officials from the Thunder Bay Autosport Club.  Not long after Ed's passing, Mr. Peter Dumoulin, chief steward, from the club contacted me.  The TBAC wanted to host a memorial race in Ed's honor.  That was a great idea.  Here is what Peter wrote to me:
Good day, Randy.
It's Peter from the Thunder Bay Autosports Club. Two weekends from now will be our IIRA weekend (February 16th & 17th) and the club has discussed the plans of dedicating the entirety of the weekend to the memory of Ed. The club would like to know if you or Ed's family could write a short biography about Ed for a pamphlet that we are planning to hand out to spectators the weekend of the race. We are going to try and get somebody to record the driver's meeting and some of the race to upload on Youtube and/or send it to you if it is all right with Ed's family. The club has also decided to create decals for the weekend, which will say something along the lines of "1st Annual Ed Esser Memorial IIRA Weekend". I do not know if you or a member of Ed's family will be attending the races that weekend, so if you or his family would like to give the club your address, we will send you a couple of the stickers.
Thank you,
        Peter Dumoulin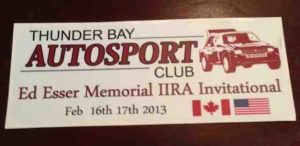 With the approval of Ed's family I wrote this note for inclusion into the program for the "1st Annual Ed Esser Memorial IIRA Weekend".
Ed Esser was one of the most prolific race fans there ever was.  He was the six-time winner of the U.S. superfan competition, which recognized the person who had seen the most races in a given year.  Later Ed turned his attention to trackchasing.  Trackchasing is the hobby of seeing racing at as many DIFFERENT tracks as possible.
Ed was a winner in this competition as well.  In 2005, he saw racing at 132 different tracks.  Despite Ed being from Wisconsin and my hailing from California Ed and I met up at the same racetrack more than thirty times during our trackchasing careers.  We would always "bench race" at the track and then spend another hour or more in the parking lot after the races talking some more.
On Saturday, February 25, 2012, Ed and I ran into each other randomly at an ice race in Superior, Wisconsin.  This was Ed's 1,429th-lifetime track to see.  Every one of those tracks was located in the United States.  This gave Ed a unique claim to fame.  He had seen more tracks than anyone else for a trackchaser who had never left the U.S. to trackchase.  That was about to change.
I was planning to go to the Thunder Bay Auto Sports Club ice racing event the very next day, February 26.  I had been bugging Ed for years to trackchase outside the U.S.  From his home in Madison, Wisconsin he wasn't that far from Canada.  I invited Ed to come along with me to Thunder Bay.  He finally accepted my invitation!  Off we went "talking trackchasing" non-stop for the next 24 hours.
Riding shotgun with me was unusual for Ed.  He was a trackchasing "independent".  He did all of his own driving.  He slept in his car for more than 100 nights each year.  His 1988 Chevy Blazer had 848,500 miles on it before he traded it!  Ed wrote a blog at http://2arace.blogspot.com detailing his trackchasing exploits.
In Canada, the weather was cold, windy and snowy for Ed's first-ever international trackchasing event.  However, the people were the very best.  We met racers in the pits, rode around the track in the pace vehicle and met the track announcer.  On the way back to the U.S. you couldn't have wiped the smile off Ed's face.  He had seen his first-ever international trackchasing race…… in Canada.  The Mission Bay Ice Track would be his 1,430th career track and his last.
Ed and I bid farewell in a Minnesota parking lot.  He headed back to Wisconsin.  I flew on to California.  Sadly, just four days later Ed passed away from a heart attack.
Rest in peace, my friend.  I rarely go to a track these days without thinking of you.
Ed's Friend,
Randy Lewis
San Clemente, California USA
Racing program and decal produced by the Thunder Bay Autosport Club in recognition of the "1st Annual Ed Esser Memorial IIRA Weekend".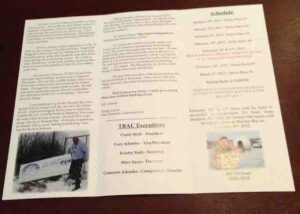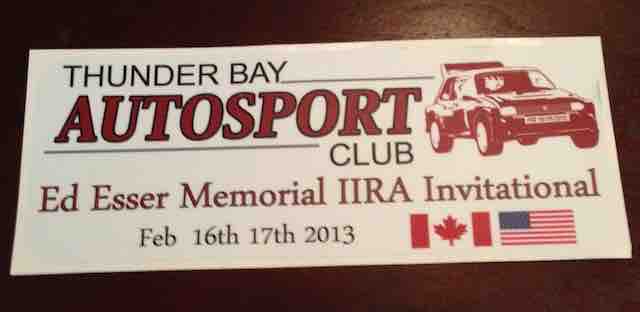 THE CHEESE CHALLENGE!
Unidentified Randy Lewis Racing representative approaches Esser home to deliver the Randy Lewis Racing Trackchaser Cheese Challenge award.


Ed receives his RANLAY Racing Trackchaser Cheese Challenge award.
Second unidentified RANLAY Racing representative offers her congratulations to Madison, Wisconsin's Ed Esser.



Ed shows off his award.  Sometime in 2006, Ed will be enjoying free air travel at a United States racing track as a result of winning the Randy Lewis Racing Trackchaser Cheese Challenge.
2005 TRACKCHASER CHEESE CHALLENGE AWARD
GRAND CONTEST WINNER – ED ESSER
Congratulations to Ed Esser for winning the 2005 Trackchaser Cheese Challenge Contest.  Ed made trackchasing trips beyond the call of duty.  He did more than anyone could possibly expect.  When he accepted the challenge, most knowledgeable people in the trackchasing hobby gave him only a small chance of success.  Undeterred, Ed developed a plan that even included a blended double or two on his way to beating his goal of 127 new tracks.

When Ed saw his 128th new track in 2005, he achieved his goal.  This enabled him to win the grand prize in the 2005 Trackchaser Cheese Challenge, a round-trip ticket on Frontier Airlines.  I am pleased to welcome Frontier as a new sponsor in the RANLAY Racing "Games and Contests" promotional family.

Frontier Airlines (www.frontierairlines.com) commenced operations on July 5, 1994.  With their hub in Denver, Colorado, Frontier offers more than 250 daily system-wide departures and arrivals.  For the third consecutive year, Travel + Leisure magazine recognized Frontier as "One of the top 10 domestic airlines."

Ed will be able to take his trip whenever he wants and can fly to any of more than 80 destinations serviced by Frontier Airlines within the United States.

Congratulations to Ed on a fine achievement.


Randy N. Lewis
President and CEO, Randy Lewis Racing