Darrell Dake – Cedar Rapids, Iowa
My all-time favorite race car driver
.
.
Randy Lewis – #1 Darrell Dake fan among many
TributeDarrell DakeDarrell's CarsVideosRest in Peace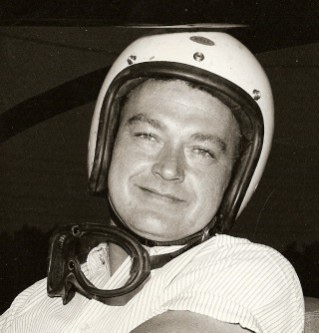 Darrell Dake……………in memory 
I had heard recently that my long-time stock car racing hero, Darrell Dake was in poor health.  Nevertheless, it was still both shocking and sad to open up the August 8, 2007 issue of the Hawkeye Racing News and learn of his passing at his home in Cedar Rapids, Iowa on August 6, 2007.  He was just five days short of reaching the age of 80.
As I write this I have seen racing at 1,261 racetracks.  No one in the world has been to more.  I suspect that I have seen an average of at least 50 different drivers at each of these tracks.  That's more than 63,000 different drivers.  My favorite drivers include such local legends as Dick Trickle, Rick Ferkel, Don Bohlander, Rocky Nohl and Billy Moyer. However, there can only be one number one.  My number one has always been Darrell Dake.  There was no bigger fan of his than me.
Although I've gone to the races more than 2,000 times, I suspect I probably only saw Darrell Dake race about 50 times.  He lived in the Cedar Rapids, Iowa area and raced mostly around Eastern Iowa and Northern Illinois.  I grew up near Peoria, Illinois and at the age of 23 started moving around the country with corporate transfers.  This made it difficult to see Darrell race, but that meant I loved it all the more when I did.
Let me tell you about Darrell Dake.  I had the chance to meet him several times and it was always an intimidating time for me.  It wasn't that Darrell wasn't friendly, he was.  I think it was the fact he was my hero.  Even though I made my living in sales, I always felt a little tongue-tied during the few minutes I would spend with Darrell Dake.  I tried to rehearse the things I might say to him before each meeting.
My first memory of seeing Dake race was at the Sterling Speed Bowl in Sterling, Illinois.  Sterling raced on Sunday nights and always had all of the top Illinois and Iowa drivers at the track.  This was in 1966 and 1967 during my last two years of high school.  Back then Iowa stock car racing was the best in the country.  Iowa drivers won the World 100 four times out of seven from 1972-78 and always seemed to win the Florida dirt Speedweeks championship each February.
Darrell Dake drove a 1962 Ford Galaxie convertible at the 1/3-mile nearly circular dirt track in Sterling.  There weren't very many people racing convertibles on dirt tracks in the late 60s.  There weren't many Fords being raced against the '57 Chevies of the day and a few Dodge Charger Hemis. Finally, no one had an engine that sounded like Dake's as he roared out of the turns.  He would race down the straightaway sideways with one huge windshield wiper running continuously and covering nearly the entire windshield.  Yep, they had windshields back in the day.  I never understood why he needed a windshield wiper because it seemed like he was usually at the head of the pack.
Darrell Dake always drove #8 when I saw him, although I have pictures of him driving a few other cars with different numbers back before I first learned of him.  That '62 Ford convertible was painted white and carried a black "eight-ball" on the side.  His truck always carried the words, "King of the Road" on the driver's door.  Darrel Dake was king of the road!
I think those years with the '62 Ford might have been the best of his career.  He ended up selling that car to Roger Dolan.  Roger painted it pink and beat everybody's butt, while Darrell switched to a Ford Torino that never seemed to have the success I was rooting for.
I met Darrell five times and can remember every one of those occasions.  I spent some time talking with him in the pit area at the Hawkeye Downs racetrack in Cedar Rapids.  A driver pulled in for one of their special events with his car decked out in full 7-Up soda colors and sponsorship.  Dake looked at me and said, "They'd have to pay me a lot of money to paint my car like that".  I wish someone had.
When I first saw Darrell Dake at Sterling I thought he was a "big buck" racer.  He was beating such stiff competition, it seemed like he would have to have some money behind him.  I would come to learn that Darrell was actually a "low buck" racer.  One night I was in the Farley pits and Dake came in with a steaming engine and a broken radiator hose. He jumped out of the car, cut an eight inch piece of GARDEN HOSE and fashioned it into a make shift radiator hose and went back onto the track and finished the race!
I might have seen Darrel Dake race at the Freeport Raceway more than anywhere else.  Freeport replaced Sterling in the early 70s.  There a huge hill to the west of the Freeporttrack.  Cars traveling from Iowa could be seen coming over that hill for more than a mile before they got to the raceway. I was always there early and Dake usually showed up late.  I would just stare at the hill anxiously until I saw his Ford flatbed rig coming over that hill.  I wouldn't relax until it did.
One night I cornered one of Dake's pitmen.  I was outside the pit area fence and Darrell's helper was in the pit area.  I always wanted to help out Darrell Dake financially but I didn't have the money to do much when he was racing.  I slipped the pitman a $50 bill through the fence on this night and told him to give it to Dake.  I said, "If he could send me a picture that would be great".  A few days later I opened the mail to find a beautiful 8" by 10" black and white photo of Darrell standing beside the first car I ever saw him race, the 1962 Ford Convertible!  That picture has been on my office wall ever since (see photo above).
If you know me and I've ever talked about Darrell Dake, then I've told you he raced in both the 1960 and 1961 Daytona 500s.  That's pretty good for an Iowa farm boy back in those days.  I never got to see Darrell Dake race in some of those big IMCA races like the Iowa 300.  I'm sorry I missed that.
Starting in 1973, we started to move around the country.  I didn't get a chance to see Darrell Dake race much after that. Nevertheless, I maintained my subscription to the Hawkeye Racing News.  This situation taught me to speed read.  As soon as the HRN arrived, I would turn the pages as fast as I could to see if Darrell had won a feature and what his results were.
In 1983, my family and I relocated to Southern California.  I had a fire engine red Cadillac Sedan Deville.  Californians were among the first to sport "vanity" license plates.  I ordered mine.  My plates simply read, "DAKE 8".  I must have explained a million times what "DAKE 8" meant when people would ask.  Several years later, I retired that car and that license plate.  I mailed one of the plates to Darrell at his home in Cedar Rapids.
During my corporate career, I've had the chance to see the Super Bowl, several World Series games and many high-profile sporting events.  None of those outings can touch the night I spent with Darrell Dake at the Sycamore Speedway.  They were having a special Busch All-Star race during the latter part of Darrell's racing career.  My meeting in Chicago ran late and I left for the track later than expected.
When I jumped in my car, I was wearing a three-piece suit. There was no time to stop, so I changed from my suit into my racing attire (t-shirt and shorts) without ever stopping the car.  I arrived in time for the show.  I bought a pit pass to get closer to the action in Dake's pit.  When he broke for the night in his heat race, I was disappointed.  However, that disappointment turned to pure joy when Darrell said, "Let's go up in the pit grandstand and watch the rest of the races from there". 
I don't know who your sports heroes might have been. Maybe Mickey Mantle, Larry Bird or Gayle Sayers.  What would you have given to spend an hour with your hero on a one on one basis?  As they say in the MasterCard commercial, it was priceless.
Darrell retired from racing in the early 90s.  I saw him a few years back when we were both watching the races at West Liberty.  He was always amazed that a guy from Californiawould show up so often at an Iowa racetrack.  We talked for a while and I bade him farewell.
From time to time I would get back to Eastern Iowa on business.  When I could I would drive by Darrell's garage.  I always wanted to stop the car and knock on his door to say hello, but I didn't want to bother him.  Now I wish I had.
Rest in peace, Darrell Dake. 
Randy Lewis
San Clemente, California
If you've got a favorite photo of Darrell Dake and want it to be part of this electronic collection, please email me at ranlay@yahoo.com.
 Randy Lewis photo collection – Darrell Dake.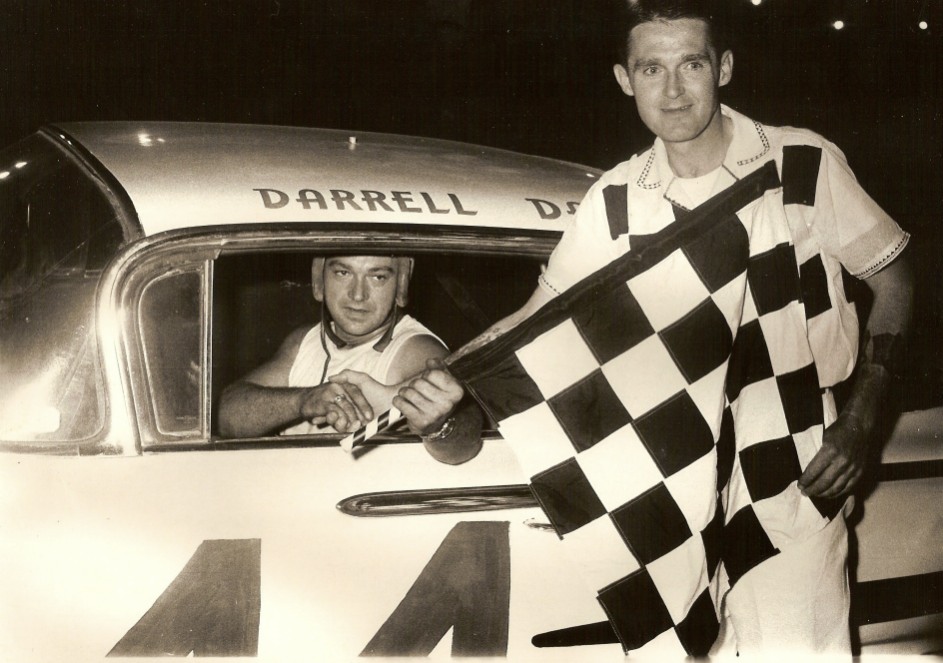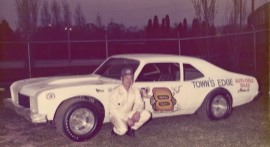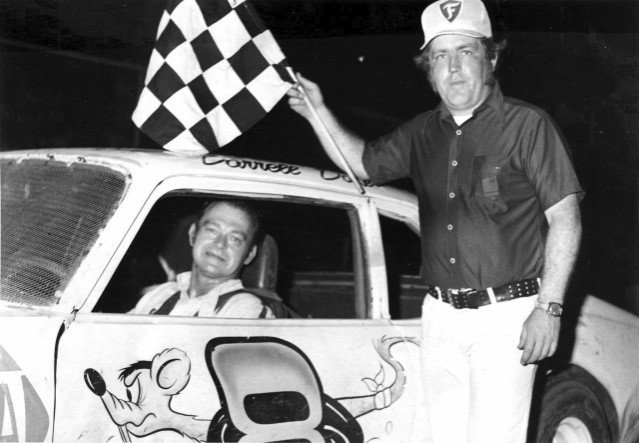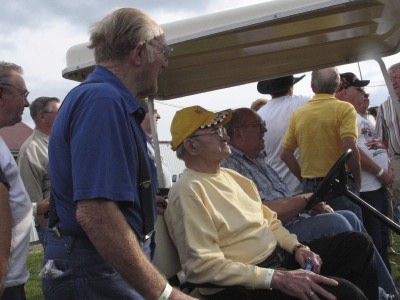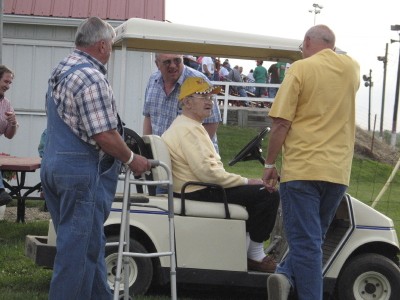 Randy Lewis photo collection – Darrell's cars.
I will start with the earliest photos that I have of Darrell Dake and move along to 1992 when Darrell retired from active racing.  I have purchased photos from several photographers or collectors including Stan Kalwasinski, Doug Haack and Wayne Peterson.  I would like to thank Dennis Piefer for his generous approval to use several of his photos and Bob Dixon for his old-time submissions.  Several of the pictures were taken by me and my stepfather Bill Virt.  I would also like to thank Ron Thruman, Scott Hawbaker and Billy Hall for the use of their photos.  I'm trying to get in contact with each of these gentlemen as well.  If you can help me do that please email me at ranlay@yahoo.com
Now, let's begin!!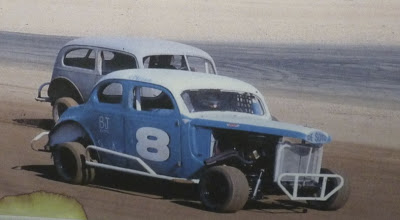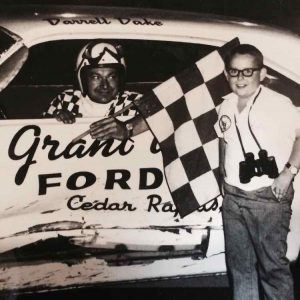 Yes, Darrell was popular with the fans. Kevin Cerveny sent me this photo. As a boy he lived near Darrell's shop. Kevin would go down there and just hang out. From time to time Darrell took him to breakfast on Saturday mornings!
Memorial – From the Cedar Rapids, Iowa Gazette Newspaper.
Darrell Clair Dake, 79, of 6505 Mt. Vernon Road SE, passed away in his home of cancer on Monday, August 6, 2007. A Celebration of Life will be held from 1 to 4 p.m. Monday at Cedar Memorial Funeral Home. A private family burial will be held at Campbell Cemetery.
Darrell is preceded in death by his parents, Wilmer Dake and Madeline Cilvick; his brother, Denny Dake; and his daughter, Diane Streeper.
Darrell is survived by his wife, LaVerle; his children, Ronnie Dake, Theron (Josie) Manson, and Pamela Boston, all of Cedar Rapids; Maureen (David) Kilfoile of Coral Springs, FL; LuAnn (Gene) Pierce of Des Moines; a son-in-law, Jerry Streeper of Maquoketa; 9 grandchildren; and 6 great grandchildren.
Darrell was born on August 11, 1927 in Palo and united in marriage to LaVerle on October 27, 1961 in Shreveport, LA. Darrell enjoyed a long and successful career in auto racing. He raced twice in the Daytona 500 in 1960 and 1961. He once said a memorable moment was in 1960 when he finished 4th in the 125 lap qualifier race for the Daytona 500 and the 5th place finisher in that race was Lee Petty.
In lieu of flowers, memorials may be directed to the family.
In the summer of 2018 I sought out Darrell's gravesite. He and his wife La Verle are laid to rest with a modest gravestone. However, that gravestone has crossed checkered flags that are just the right symbol for the KIND OF THE ROAD!