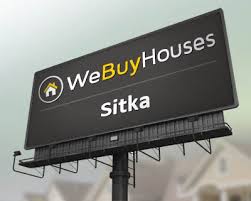 Greetings from Sitka, Kentucky
From the travels and adventures of the 
"World's #1 Trackchaser"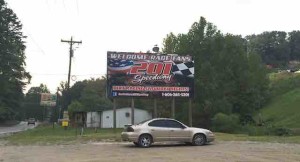 201 Speedway
Dirt oval
Lifetime Track #2,160
The EventVideoPhotos
THE EVENT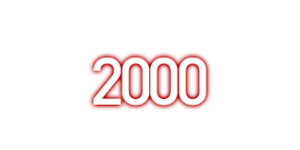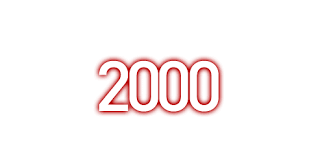 Today's undertaking was just one of more than 2,000 trips that have taken me up, down and around the long and dusty trackchasing trail. If you would like to see where I've been and experience those adventures here's the link:
If you've got a question, comment or whatever please leave it at the bottom of this report.  It's very easy to do.  I'll try my best to respond.  Thanks!
ON THE WAY TO THE RACES
Appalachia here we come.
I arrived into Ann Arbor at nearly 3 a.m. last night (above).  I woke up this morning in Ann Arbor, Michigan. I'll be overnighting at the Days Inn in West liberty, Kentucky.
Today's drive from Michigan to the 201 Speedway in Sitka, Kentucky will cover about 400 miles. It will be nearly seven hours of driving time. I have driven about 21,000 miles on this trip so far. Today is day #60 of my 66-day extravaganza. I can almost smell the sweet scent of the Pacific ocean rolling up and over toward our modest seaside cottage.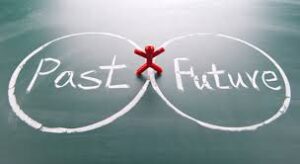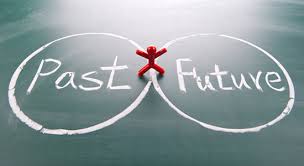 Pondering the past and the future.
As I drove down toward Kentucky, the home state of some of my kinfolk, I pondered my trackchasing past and future. I have now seen 2,159 different racetracks in 70 countries.
It's important to note that only when I have my near-term trackchasing future figured out do I give much thought to what happened in my trackchasing past. Yep, it's better to look toward the future than to dwell in the past.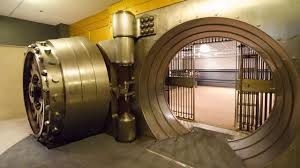 The combination to the vault.
The Randy Lewis Racing research department knows the combination to the vault where the super secret, never shared in its entirety with anyone, proprietary database of tracks still to be seen. There are two categories of tracks in this database.
The first grouping is for those tracks that are still active that I have yet to visit. I've been maintaining this database for well over 20 years. It dates back all the way to the Lotus 1-2-3 days.
Quite frequently a track will move from the "active not yet seen state" to the "inactive still not seen" category. Normally I don't spend much time with the tracks that have been moved to inactive status.
Some tracks move into and out of inactive status every time there's a change of management. Some tracks will go inactive and have all of their hardscape dismantled and commercial development will move in. In those situations I know the track will never "resurface" (no pun intended).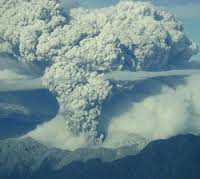 From dormant to active.
Today's track, the 201 Speedway, sat dormant in my inactive track status listing for a long time. I had no idea they had returned to racing in 2015 because, as I mentioned, I rarely check the current status of inactive tracks.
Thursday…a dry hole.
I had Thursday, September 3, 2015 as an open date on my trackchasing schedule. I had races to see immediately before and immediately after September 3. However I couldn't find a thing for this Thursday night, September 3.
However the dedicated staff at the Randy Lewis Racing research department never stops trying to find workable dates for me. Remember how they found an obscure Wednesday night race date in British Columbia, Canada? That was just two weeks ago and came in very handy.
A few days ago, out of the blue, I received a notification that they had found a track that was racing on Thursday, September 3. Not only had they found a track that was racing that track was currently in my inactive status list!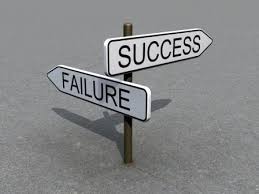 What were the chances?
What were the chances? That right. What were the chances that just a few days before a Thursday in early September that I'm going to find a track racing on that date? Remember this is after every track in the country, that I have not seen, has had their schedule bisected and dissected?
What if I COULD find a race on a Thursday night after kids have gone back to school in early September?  What were the chances that the track that would be running on that date would be a track that I thought was inactive? The answer to that question is "nearly zero".
However that was the case! Of course it HAD to be the case….or I wouldn't be telling you about it now.

Introducing the 201 Speedway
The 201 Speedway was hosting a late model special event on Thursday, September 3, 2015. The only thing that could screw up this master plan at this point would be bad weather. It almost figured that it would rain after having a double stroke of luck with this new race date.
However, I am happy to report the weather was warm, in the low 90s, with only a 20% chance of rain. That was the good news.
Good news….followed by good news.
Sometimes when there is good news it is followed by…more good news. That's right. The 201 Speedway was racing on Thursday night. Then I found one of the very few tracks that races on a weekly basis and mostly on Fridays. They were racing on the next night.
However, the Thursday night race date had seemingly fallen out of the sky at the last moment. What were the chances the Thursday race in Sitka, Kentucky would be anywhere close to the track racing on Friday. I certainly wouldn't want to drive from Kentucky to Maine or Colorado or Florida. However, you know I would do it don't you!
Lo and behold.
But lo and behold the 191 Speedway near Campton, Kentucky was racing on Friday. The 191 speedway was only about an hours drive from the 201 speedway. Yes, amazing but true. By the way, I guess they name their tracks after highway numbers in these parts.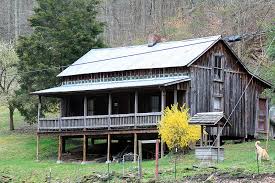 The weather was going to be hot and dry. Additionally I had a shot at an interesting Trackchasing Tourist Attraction. Does Butcher Holler, Kentucky ring a bell with you? Stay tuned for tomorrow's Trackchaser Report. You will find out what I found out in Butcher Holler, Kentucky.
Basking.
Just as I was basking in my newfound good fortune the low fuel light went on in the National Car Rental Racing Hyundai Sonata. On this particular tank I've already driven 604 miles. The fuel system indicator told me I still had 48 miles to go before I would run out of gas. I'm averaging 39.2 MPG. That's all good data.
The breakfast of trackchasing champions.
I've been eating onion and garlic cheese curds, Genoa sausage and washing it all down with Diet Mountain Dew. My good buddy George Robertson calls this "The breakfast of trackchasing champions".
I must take a moment to congratulate trackchaser Paul Weisel with his comment, "I drove the neon, not the van". It's sort of an inside joke but if you knew what it meant you would bend over with laughter.
When the 66-day trips ends….then what?
My plan is to return to San Clemente after completing my 66-day trip next Wednesday. You should know that I am actively planning trackchasing visits to California and/or Alaska just a couple of days following my return to San Clemente. I figure if they're willing to race I'm willing to get on a plane and watch them race. I know this gives my fellow competitors a sickening feeling in the pit of their stomachs. They thought I would have given up long ago. Heck, I would have thought they would have gotten used to this by now. Double heck, I think they should just give up.
Today's trip will take me from Michigan to Ohio to Kentucky. I'll enter eastern Kentucky in Appalachia on my way to Sitka, Kentucky. I have plenty of time to get there. I'll just sit back, relax, and listen to podcasts and satellite radio. Out the window I'll watch America's beautiful scenery pass me by.
THE RACING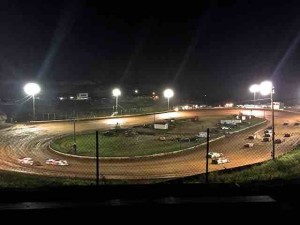 201 Speedway – Sitka, Kentucky
Geographically proximate.
I pulled onto the 201 Speedway property at about 6:30 p.m. It was hot but I was happy to be here. It's not often that a track that was inactive all of a sudden is racing on the one and only day that was open in my schedule. More good news was the track was "geographically proximate" and rain free. I was one lucky duck.
My research told me the 201 Speedway began racing on July 1, 1983.  They've been in and out of business several times.  The track has also been known as Highland Raceway Park and Paintsville Speedway.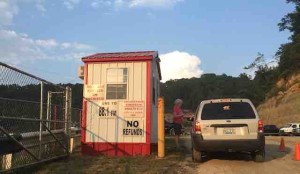 I paid my $20 admission price. The ticket taker, Kurt, told me I was in for an additional element of good fortune. Tonight they were running TWO main events for the late model stock cars. One would pay $3,000 to win and the the other paid $4,000 to win. It turned out that a feature race from all the way back in April had been rained out. Tonight was its reschedule date.
Once in a while, but not that often, these little dirt tracks have places where spectators can sit in their car and watch the racing. It's sort of like going to a drive-in movie, but not really.
I was most pleased to see that there were several places around the 201 speedway where spectators could park their cars. Then they could watch the racing from inside the comfort of their vehicle.
You can't fix tardy.
Southern tracks, and short tracks in general, are not known for starting their racing events all that promptly. I would use whatever downtime there was with tonight's program to sit in the comfort of my air-conditioned car. There I could seek information from both my laptop and my iPhone.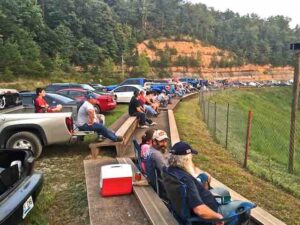 The 201 Speedway has a rather robust PA system. They also broadcast through an FM channel, 88.1, for anybody who can't hear the PA system. The announcer was a pro and did a generally good job with one major exception.
The announcer's job in my opinion is to inform and entertain the spectators. However, tonight, he was also tasked with telling the drivers which race was next and how they should lineup.
Boring.
Unfortunately for the spectators, including me, the announcer spent about half of his words telling the drivers how they should be lined up for the next race. After hearing this incessantly it was a major drag on what could have been a quality PA listening experience tonight.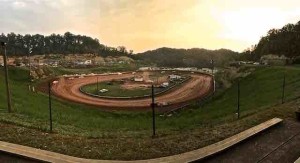 At the bottom of a gravel pit?
I don't know the exact history of the 201 Speedway's construction situation. It looks as if it was built in the bottom of a huge gravel pit. On three sides of the dirt oval track there are huge vertical walls of rock. These vertical walls around the track soar to heights of 100 feet or more. Some of these walls are so vertical and so steep and so high that unless you're standing on the very edge, which you wouldn't want to do, you can't really see the entire oval track.
I found a place just off of turn two where I could park my car. I couldn't see the entire oval from the cockpit of the National Car Rental Racing Hyundai Sonata. When the races were running I could simply step out of the car and watch the races by standing in front of my rental car.
We're starting. Oops. We're not starting.
At 7 p.m. the announcer called for the driver's meeting. I wasn't sure what time the actual racing was supposed to start. At 7:20 p.m. the announcer was still calling for the driver's meeting!
The best thing about the entire race program was they would run the super late model make up feature from a rained out date from last April first. Some 22 super late models had been on hand in April. Tonight 15 of those 22 returned for the $3000 to win make up feature.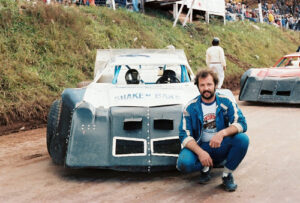 And now you know the rest of the story.
The race was mostly follow the leader. There was a good battle amongst the top three drivers. Jackie Boggs came from third-place up for the win after a caution flag narrowed the gap. You may know that Jackie Boggs is the son of "Blackjack" Boggs (above). If you know that then you likely know that "Blackjack" was shot and killed allegedly after being part of the losing end of a love triangle. Yep. You get all the news here.
The 201 Speedway then ran some heat races for modifieds, bombers and four cylinders. There were quite a few yellow flight delays as well as more delays from one race to the next.
How much time should be devoted to this activity?
I had been at the track since 6:30 p.m. By 10 p.m. I had seen the make up late model feature and heat races for the modifieds, bombers and four cylinders. They were getting ready to go to the super late model heat.
My hotel was an hour away on winding Kentucky roads. After having been at the track for 3 1/2 hours it looked as if I might have to stay another 2-3 hours just to see the super late model feature.
I had already seen one super late model feature so I knew that what that was like. However, the races for the other classes weren't all that fantastic. After being at the track for 3 1/2 hours I decided to bag the rest of the program.
Which was more entertaining?
I will tell you this. Last night I was at a junk car figure 8 race in the Upper Peninsula of Michigan. To be honest I found that program more entertaining than tonight's "traditional" stock car racing on a dirt oval.
Sometimes I bemoan the fact that traditional dirt oval track racing doesn't show up on my schedule all that much anymore. Why? I've seen most of the dirt ovals in North America race already.
With tonight's show being on the dusty side and on the deliberate side and on the follow the leader side it just wasn't all that entertaining. I wish I could come to a different conclusion but that's the way I saw things.
AFTER THE RACES
No service!
So I was off to the Days Inn in West liberty, Kentucky. I bought the hotel on Priceline but it didn't save all that much. Priceline definitely works better for larger metropolitan areas than in a place as small as West liberty, Kentucky.
As a matter fact when I pulled into the hotel parking lot my phone showed "no service" from AT&T. That's never good. However I figured I would simply use the hotel's Wi-Fi for my communication needs.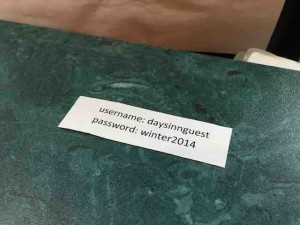 Wouldn't you know it? Shortly after checking into the hotel their Wi-Fi went out. The desk clerk told me she would "reboot it" but that didn't work.
Folks, this is 2015 for gosh sakes.
Folks I'm in eastern Kentucky and this is Appalachia. It's 2015. Tonight I didn't have any cell phone service or Wi-Fi connection. I was totally separated from the outside world. Maybe that's how it should be when you come to Appalachia. Maybe that's how it is.
Good night.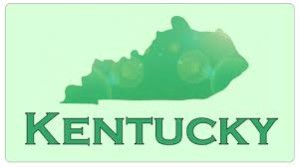 Kentucky
The Bluegrass state
This evening I saw my 39th lifetime track in the Bluegrass state, yes the Bluegrass state. I've seen 39 or more tracks in sixteen different states.
Thanks for reading about my trackchasing,
Randy Lewis
World's #1 Trackchaser
Peoria Old Timers Racing Club (P.O.R.C.) Hall of Fame Member
Kentucky definition: Hot Brown: May seem strange to any outsiders, but this delicious open-faced sandwich is a Kentucky staple.
QUICK FACTS
AIRPLANE
Los Angeles, CA (LAX) – Chicago, IL (ORD) – 1,745 miles
RENTAL CAR #1
O'Hare International Airport – trip begins
London, KY
Indianapolis International Airport – trip ends – 766 miles
RENTAL CAR #2
Indianapolis International Airport – trip begins
Bedford, KY
Indianapolis International Airport – trip ends – 603 miles
RENTAL CAR #3
Minneapolis-St. Paul International Airport – trip begins
Aitken, MN
Morten, Manitoba, Canada
LaGrange, IN
Manchester, IA
Oskaloosa, IA
Bowling Green, IN
Buncombe, IL
Ionia, MI
Osgood, IN
Hemlock, NY
Taylorville, IL
Cambridge, MN
Mora, MN
Urbana, IL
Bedford, KY
Owenton, KY
LeMars, IA
Belleville, KS
Grayslake, IL
Brazil, IN
La Grange, KY
Grayslake, IL
Sturgis, SD
Martinsburg, WV
Tazewell, VA
Henry, VA
Belmar, NJ
Berryville, VA
Croton, OH
Stockton, KS
Bates City, MO
Farmington, MO
Barnum, MN
Victoria, British Columbia
Springfield, IL
Scotland, SD
Russellville, MO
Put-in-Bay, OH
Kinross, MI
Sitka, KY
TRACK ADMISSION PRICES:
Laurel County Fairgrounds – $10 (not a trackchasing expense)
Trimble County Recreational Facility – $10
Aitken County Fairgrounds (oval) – complimentary admission
Aitken County Fairgrounds (RC) – $8
ALH Motor Speedway – complimentary admission
LaGrange County Fairgrounds – $10
Delaware County Fairgrounds – $10
Mahaska County Fairgrounds – $5
Sandstone – $15 (include pits)
HBR Raceway – $10 (included pits)
Ionia Free Fair – $13
Ripley County Fairgrounds – complimentary admission
Hemlock County Fairgrounds – complimentary admission
Christian County Fairgrounds – $8
Isanti County Fairgrounds – $12
Kanabec County Fairgrounds – $10
Champaign County Fairgrounds – $6
Dirty Turtle Off-Road Park – complimentary admission
Owenton County Fairgrounds – $10
Plymouth County Fairgrounds – complimentary admission
Belleville High Banks – $20
Lake County Fairgrounds – $8
Staunton MX – $15
Oldham County Fairgrounds – $10
Lake County Fairgrounds – $10
Buffalo Chip – $20
Berkeley County Youth Fairgrounds – $10
Tazewell County Fair Speedway – $10
Providence Raceway – $10
Wall Stadium Speedway – no charge
Clarke County Fairgrounds – $7
Hartford County Fairgrounds – $7
Rooks County Speedway – $10
JSI Off-Road Park – No charge
St. Francois County Raceway – $5
Carlton County Fairgrounds – $15
Western Speedway – $5 Canadian (about four bucks U.S.)
Multi-Purpose Arena @ Illinois State Fairgrounds
Lonetree Creek Race Park – Complimentary admission
Russellville Lion's Club – $8
Put-in-Bay Airport – no charge
Chippewa County Fairgrounds – $12
201 Speedway – $20
LIFETIME TRACKCHASER COMPARISONS 
The three most important trackchasing comparisons to me are:
Total lifetime tracks seen
Total "trackchasing countries" seen
Lifetime National Geographic Diversity results
Total Lifetime Tracks
There are no trackchasers currently within 500 tracks of my lifetime total. Don't blame me.
Randy Lewis, San Clemente, California – 2,160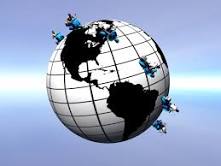 Total Trackchasing Countries
There are no trackchasers currently within 10 countries of my lifetime total.
Randy Lewis, San Clemente, California – 70
Current lifetime National Geographic Diversity results
Randy Lewis, San Clemente, California – 4.88
That's all folks! Official end of the RLR – Randy Lewis Racing Trackchaser Report
Click on the link below to see the "Video Plus" production from the super late model racing action at the 201 Speedway.
A picture is worth more than 900 words.
That's right. Click on the link below for a photo album from today's trackchasing day.  Double click on a photo to begin the slide show or watch the photos at your own pace.  Hover over a photo to read the caption.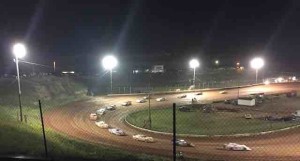 201 Speedway…getting there an more