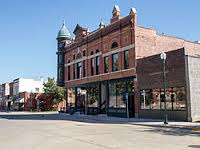 Greetings from Greenfield, Iowa
.
.
From the travels and adventures of the 
"World's #1 Trackchaser"
.
.
Adair County Fairgrounds – dirt road course
Lifetime Track #1,986
The EventVideosPhotos
The 42-day mega trackchasing trip just keeps on humming.
I woke up this morning at home in Joliet, Illinois. I went to bed in St. Josephs, Missouri. Today was the eleventh day of my 42-day mega trackchasing trip.
I was able to sleep late and complete a full set of Egoscue exercises before checking out at 11 AM. A few weeks ago fraternity brother Mike Skonicki had contacted me. He and his wife Mary would be in Des Moines for a Joel Osteen presentation tomorrow evening. He wanted to know if I would join him. I have been to Joel's church in Houston. I watch him on TV from time to time. I find him to be a very uplifting and motivational speaker. I didn't think I would be anywhere close to Des Moines when Mike first mentioned it.
The Randy Lewis Research Department and Roadfood.com.
Later to my amazement I would discover two tracks racing on this evening each within an hour of Des Moines. That would be perfect. I would treat my friends to a steak dinner at the Roadfood.com recommended Jessie's Embers.
Eating on the road.
I consider each trackchasing trip an excellent opportunity to fulfill my culinary desires. It was going to be a four and one-half hour drive from Joliet to Des Moines. I would be passing through the Quad Cities, which are actually five cities not four.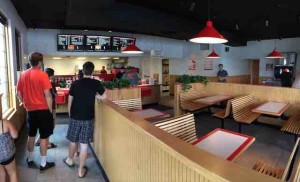 The Hungry Hobo.
That meant a stop at one of the Hungry Hobo outlets owned by good buddy Pryce Boeye. I made a phone call using my Hungry Hobo iPhone app to find out which store would be closest to interstate 80 as I passed through the Quad cities. That turned out to be the outlet in LeClaire, Iowa at exit 306. If you're traveling through the Quad cities and are hankering for an upscale sandwich shop you won't do better than the Hungry Hobo.
I entertained myself during the drive by listening to podcasts from my iPhone. The NASCAR and NPR stations from my satellite radio and just a little dictation into my Evernote iPhone app kept me busy as well. The Evernote app is a dictation device that allows me to remember the details when this Trackchaser Report finally gets ready to be published.
I never do that.
By the way I did listen to last Sunday's NASCAR Sprint cup race on the serious satellite radio NASCAR channel. I never ever do that. I always wait until I get home so I can see the TV broadcast. I was appalled at the number of commercials during the radio broadcast. I've got two strong feelings about NASCAR broadcasts.  As a NASCAR fan I couldn't possibly imagine having to listen to the broadcast live at a specified date and time. That just doesn't give me enough flexibility. Flexibility to do all kinds of things on my own timing is one of my lifetime requirements.
A no brainer? No. A no brainer!
Secondly I couldn't imagine, under normal circumstances, listening to a NASCAR broadcast with commercials. Who wouldn't want to see the program at the time they wanted to see it and without commercials. Is that a no-brainer or what?
I don't have to unload.
I encounter a lot of truck traffic during my travels. In reality my job is very similar to that of a truck driver. I just don't have to unload anything at the end of the trip! I continually see signs on the back of these tracks advertising jobs in the truck driving industry. The one I'm following now says "no one pays faster, immediate settlements when you want". Apparently truck driving is not an appealing occupation to many although I think I might like it.
Jessie's Embers.
I had an early dinner with Mike and Mary Skonicki at Jessie's Embers in Des Moines. This was a roadfood.com recommendation. Jessie's has been in business as a steakhouse for 51 years. The best I could do would be to give them a middling grade.  Nevertheless by the time we left at 6 p.m. the place was jam-packed. It appeared to be a typical midscale Midwestern family steakhouse that was very popular with the locals.
After the races……..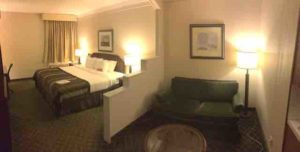 No smoking please. No. I mean NO smoking or I'm leaving.
Late in the evening I arrived at the Ramada Inn in St. Joseph's, Missouri. After rejecting a smoking room, I was awarded with a huge room with a king size bed, refrigerator and microwave. Tonight I would be able to get a full eight hours sleep. I was looking forward to that. On these trip's where a good deal of driving is involved sleep is the first thing that gets cut.
The Racing.
Adair County Fairgrounds – Greenfield, Iowa
Why is that?
After dinner it was time to hotfoot it over to Greenfield, Iowa. The promoter told me the trackchasing countable UTVs would race two heats and a main event. He estimated the second heat would begin at 6:30 p.m. I would be arriving at 6:50 p.m. I was counting on the fact that promoters are notorious for inflating expected car counts AND starting times. However in situations like this when time is not on my side I find the events start on time much more often! Why is that?
I arrived to find a traditional county fair grandstand in the small town of Greenfield, Iowa. However there was something unusual about tonight's small Midwestern county fair. They were not racing on a figure 8 track and they were not racing on a small homemade oval. Tonight I would be seeing stadium off-road racing!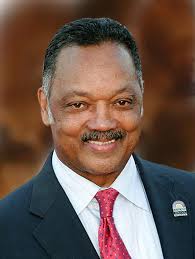 I'll bet you didn't know about this.
Greenfield is one of Iowa's tiny little towns of just 1,982 people. According to Wikipedia, "Greenfield is home to four entries on the National Register of Historic Places, the E. E. Warren Opera House listed in 1970; the Adair County Courthouse listed in 1981; the Adair County Democrat/Adair County Free Press building, listed 2012; and Hotel Greenfield, listed 2012." Additionally, back in 1997, Greenfield was the national headquarters for Jesse Jackson's presidential campaign!
Secrecy and appreciation.
How in the world do I find such things? I have special resources that I would like to thank publicly. However due to the secrecy of such internal and proprietary communication I must simply say a broader thanks. People know who they are and they are much appreciated.
Some classes count; some do not.
When I arrived the ATV classes were racing. ATVs are not a countable in trackchasing. However the UTV classes are. Tonight there were three of those classes with a combined total of about 11 entries. Luckily for me they had not started their first heats yet despite my arriving at about 6:30 p.m. I had not missed a thing with the countable classes.
A dirt road course in front of a county fair grandstand.
I paid my six-dollar admission. I could watch the races from turns three and four. This track actually had about 10 turns in total. I could sit in the nearly full grandstand. Alternatively I could just mosey around and take pictures of the small fair the pit area and the racing in general. That's what I decided to do.
It wasn't long before I was approached by a track official in a yellow shirt. This turned out to be the promoter Andy Kyner. He and I had talked yesterday about his race promotion in general. I had asked him to check out my website to see what my trackchasing hobby was all about. He did that and recognized me in today's crowd by the photos from my site.
It was great to meet Andy.
Andy was happy to have me here. Heck, I was happy to be here. Andy told me about all of his group's upcoming events. Each sounded interesting and should help my Iowa totals a good deal. I have told you in the past that side-by-side racing is going to provide an entirely new genre of racing in the next couple of years for me. Andy asked if I would like to do an interview with the track announcer. Of course I would. The announcer was a big man with a strong voice. He gave the crowd all the information they would need about tonight's event. He and I talked for about five minutes. You will be able to hear much of my interview in the YouTube video produced from our location in Greenfield, Iowa. When we finished up the interview the announcer reached out to shake my hand. His handshake was firm as you'd expect from anyone from Iowa. However, it was the size of his hand that surprised me. His hand was the size of the catcher's mitt!
Lots of racing action!
After watching about 30 individual races it was time to hit the road. I even considered trying to catch the last few races of some local Friday night racing programs. However after using Track Guide my iPhone racetrack locator app I couldn't find anybody racing nearby. That wasn't such a bad idea. As it was with no more racing tonight I would barely get to my hotel room before midnight.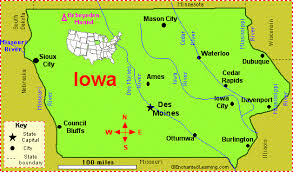 Iowa
The Hawkeye state
Tonight I saw my 93rd lifetime track in the Hawkeye state, yes the Hawkeye state. I'm just one track behind Ed Esser's state leading total of 94.
Thanks for reading about my trackchasing,
Randy Lewis
World's #1 Trackchaser
Peoria Old Timers Racing Club (P.O.R.C.) Hall of Fame Member
Iowa sayings: From an Iowa Hawkeye fan: I keep setting my DVR to record the "Biggest Loser" but all I get are Iowa State football games.
QUICK FACTS
AIRPLANE
Los Angeles, CA (LAX) – Chicago, IL (ORD) – 1,743 miles
RENTAL CAR #1
O'Hare (Chicago) International Airport – trip begins
Charlotte, MI
Cortland, OH
Davisburg, MI
Davisburg, MI
Mechanicsburg, IL
Harlan, IA
Primghar, IA
Knoxville, IA
Bucyrus, OH
O'Hare (Chicago) International Airport – trip ends – 3,616 miles
RENTAL CAR #2
O'Hare International Airport – trip begins
Carlyle, IL
Hastings, MI
Greenfield, IA
TRACK ADMISSION PRICES:
Eaton County Fairgrounds – $10
Trumbull County Fairgrounds – $4
Oakland County Fairgrounds – oval – $10 ($10 to park!)
Oakland County Fairgrounds – figure 8 – $10 ($10 to park….again!)
Ealyville Speedway – Complimentary pit pass
Shelby County Speedway – $5
Primghar Raceway – $5
Knoxville Raceway – No charge – Ticket given to me by race sponsor
Crawford County Fairgrounds – $10
Clinton County Fair – $10 ($3 parking)
Barry County Expo – $13 (fair and grandstand)
Adair County Fairgrounds – $6
LIFETIME TRACKCHASER COMPARISONS 
The three most important trackchasing comparisons to me are:
Total lifetime tracks seen
Total "trackchasing countries" seen
Lifetime National Geographic Diversity results
Total Lifetime Tracks
There are no trackchasers currently within 400 tracks of my lifetime total. Don't blame me.
Randy Lewis, San Clemente, California – 1,986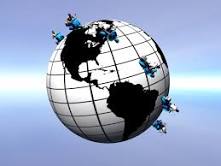 Total Trackchasing Countries
There are no trackchasers currently within 10 countries of my lifetime total.
Randy Lewis, San Clemente, California – 68
Current lifetime National Geographic Diversity results
Randy Lewis, San Clemente, California – 4.96
That's all folks! Official end of the RLR – Randy Lewis Racing Trackchaser Report
Click on the link below to see what the SXS racing looked liked today:
SXS racing from the Adair County Fairgrounds