Greetings from Greenland, Michigan
From the travels and adventures of the 
"World's #1 Trackchaser"
Lifetime Track #1,887
HighlightsThe DetailsRace ReviewVideosPhotosQuick Facts
I don't want this trip to end…………….more in "The Details".
Does your mother wear combat boots?
……………more in "The Details".
Was this going to be the perfect storm? ……………more in "The Details".
Just luck?  Just coincidence?  Or was it something else?  I report.  You decide.
……………more in "The Details".
Why were there so many strip joints in the U.P.? ……………more in "The Details".
What was the surprise concession item on the menu tonight?………..details in "Race Review".
Disco and paper maps are dead……..details in "Race Review".
I don't want this trip to end.
I woke up this morning in Romulus, Michigan.  I went to bed in Escanaba, This is what today looked like.  Every day I bemoan the fact that this trip is getting closer and closer to the end even though I'm not halfway finished with this 27th day adventure!  I have frequently taken one long trackchasing trip during July and August to take advantage of trackchasing opportunities at our nation's county fairs.
Does your mother wear combat boots?
I was up early. I had to do two things quickly. Number one I had to return my Budget rental car Chevy Impala.  Number two I had to immediately pick up a new car from the National Car Rental Company, my primary rental car sponsor.
Returning my Budget rental car was easy.  Then I had about a seven minute walk down a pothole filled Detroit area road to the National rental car location.  They had only one Hyundai Sonata.  It had just come back from being cleaned up.  I grabbed it and it's 35 miles per gallon fuel use capability plus XM satellite radio.  However, the NASCAR channel is a "premium" channel for XM users.  Most of the time the rental cars have it but this car did not.  That would be bummer because I planned to drive this car lots of miles.  Nevertheless, having a car with satellite radio, albeit without the NASCAR channel, is about one million zillion (or more) percent better than not having satellite radio.  Anyone who disputes that fact has a mother who wears combat boots.
Have you heard of the U.P.?
I hopped in my very clean rental car and headed up to the "U.P.".  If you're not familiar the U.P. stands for Upper Peninsula.  I was going way up there as in Greenland Michigan.  It would be a 565-mile one-way drive from Detroit airport to Greenland.
What does Wikipedia have to say about the Upper Peninsula?
The Upper Peninsula of Michigan is the northern of the two major land masses that make up the U.S. state of Michigan.  It is commonly referred to as the Upper Peninsula (U.P.) and Upper Michigan. It is also known colloquially as the land "above the Bridge" linking the two peninsulas. The peninsula is bounded on the north by Lake Superior, on the east by the St. Mary's River, on the southeast by Lake Michigan and Lake Huron, and on the southwest by Wisconsin.
The Upper Peninsula contains 29% of the land area of Michigan but just 3% of its total population. Residents are frequently called Yoopers (derived from "U.P.-ers") and have a strong regional identity. Large numbers of Finnish, Swedish, Cornish, and Italian immigrants came to the Upper Peninsula, especially the Keweenaw Peninsula, to work in the area's mines. The peninsula includes the only counties in the United States where a plurality of residents claim Finnish ancestry.
The weather forecast was spot on perfect. The U.P. was having "San Clemente" weather.  I'm talking about 70 to 75°, no humidity and no rain.  It was clear as a bell whatever that means.  Whenever I can get San Clemente weather while I'm on the road I'm a happy camper.
Very few of my fellow competitors have ever made it this far north in Michigan to get the Adventure Mountain Speedway.  I remember during one of my appearances at Florida Speed Weeks a woman came up and recommended that I visit this track.  Today I finally would.
It's important to be alert.
I try to keep my eyes and ears open for all kinds of stuff.  Then when an opportunity presents itself I act quickly and decisively.  I can't believe I almost missed a major geographical trackchasing opportunity while this far north.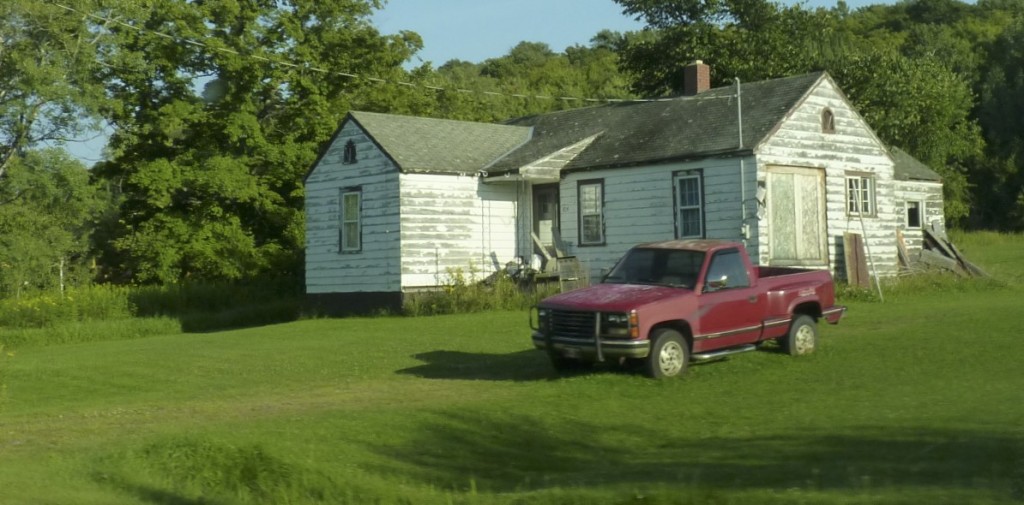 Small town America.
Greenland, home to the Adventure Mountain Speedway is an unincorporated community in the city of Greenland Township.  Greenland Township is how to 870 people.  You've got to consider yourself out the middle of nowhere if you are a community WITHIN a city of less than 1,000 people.
Was this going to be the perfect storm?
The Adventure Mountain Speedway races just six times a year or so.  It is common for tracks in such rural areas to race less frequently than locations with more population (fans) and more places to draw racecars from.  At the very last moment, while planning this trip, I noticed Upper Peninsula International Raceway in Escanaba,  Michigan was racing the next night.  The two tracks were "just" 167 miles apart.  I was nearly 600 miles north of Detroit.  Detroit is relatively far north as it is.  It seemed like a stroke of luck that these two tracks, that don't race every weekend, were having racing on back to back nights.
It could happen; it just hasn't happened yet.
Then….as if the trackchasing Gods came out of the sky and shouted "You are the one, we're looking out for you" (it could happen, it just hasn't happened yet!) there was going to be a THIRD countable track racing in the area on the very next night.  Oh, my.  Yes, it was true.
On the first night of my U.P. experience I would see racing in Greenland.  The next night I would see racing in Escanaba on the fairgrounds regular dirt oval track.  Then on the NEXT night a special Unique Motorsports event would be held on a temporary oval track at the fairgrounds.  When it rains it pours!  However, there would be no rain in the U.P. this weekend.  The weather was picture perfect.
Just luck?  Just coincidence?  Or was it something else?  I report.  You decide.
Are racing weekends like this one luck?  Or is the research department at Randy Lewis Racing just a little bit better than the competition?  I leave it for you to decide.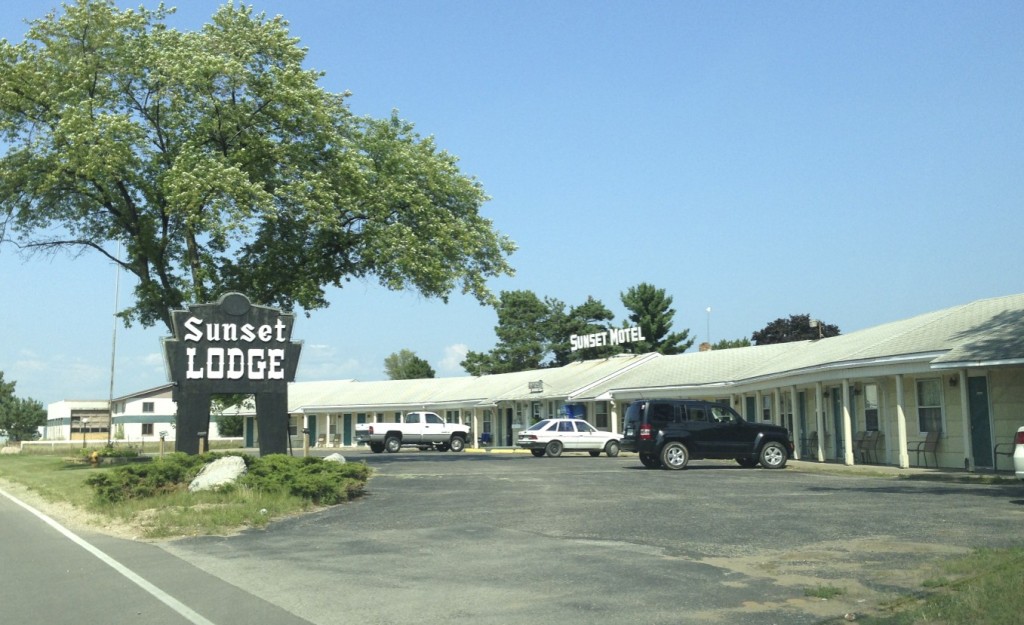 Sunset Lodge.
I had passed through Escanaba, Michigan on my drive up to Greenland.  All over the U.P. are small "mom and pop" hotels.  They are typically places I probably wouldn't consider staying in.  However, one place caught my eye, the Sunset Lodge.  In Michigan, it is against the law to smoke in hotel rooms, any hotel room.  I think any law that prevents people from bothering my personal space and well-being is a good one.  I wish every state had a law like this.  Don't miss the pictures of the Sunset Lodge.  It was basic, clean and functional.  Did I mention it was basic?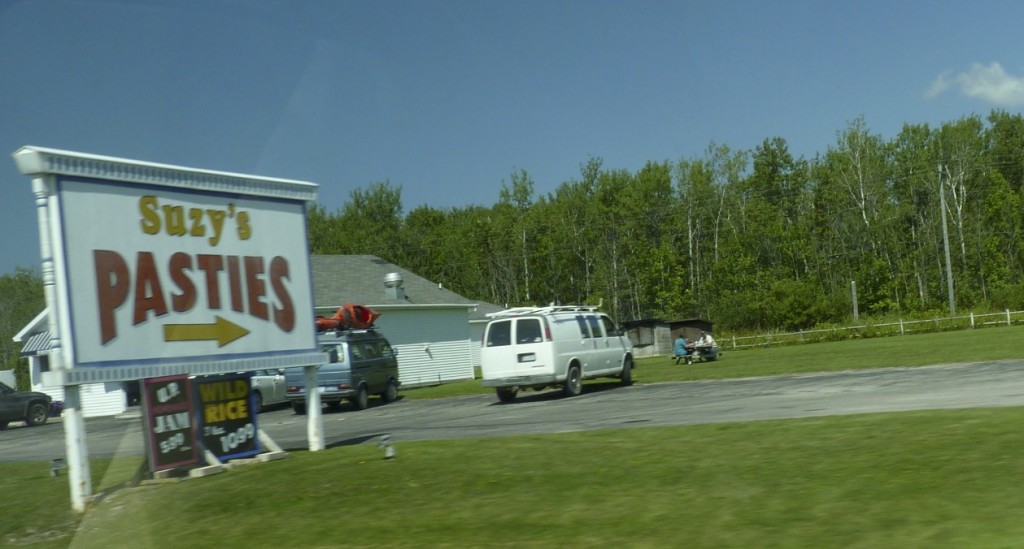 Why were there so many strip joints in the U.P.?
One other noteworthy item was the large number of retail outlets advertising "pasties".  At first I thought this was a refuge for the nation's strip tease artists sort of like Florida is for carnival workers.  Later I would come to learn that a "pastie" is somewhere between a pot pie and a burrito but it isn't either of those.  I had one later at the fair.  It wasn't that good but I'm not sure the vendor was very good either.
Adventure Mountain Raceway – Greenland, Michigan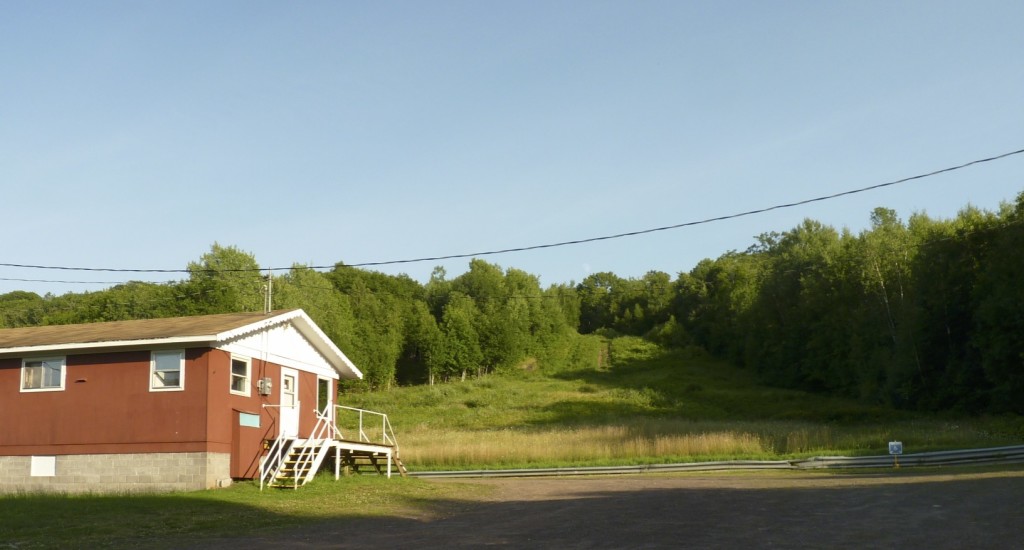 Even I could ski down this hill.
When I arrived into Greenland I found a sign pointing me to the "Adventure Mountain Ski Hill, Raceway and Fairgrounds".  I drove past the speedway location a block or two to find the "Ski Hill".  It didn't look all that steep.  I figured that even I could ski down this hill.  However, there was no snow today just a lush green summertime landscape.
Now I know where all of the Easter egg coloring went.
I found a spot on the road outside the track to part my rental car.  From there I spotted a pink, green and yellow sign telling me hot laps would begin at 7:30 p.m. with racing at 8 p.m.  I was early so I had time to scout things out.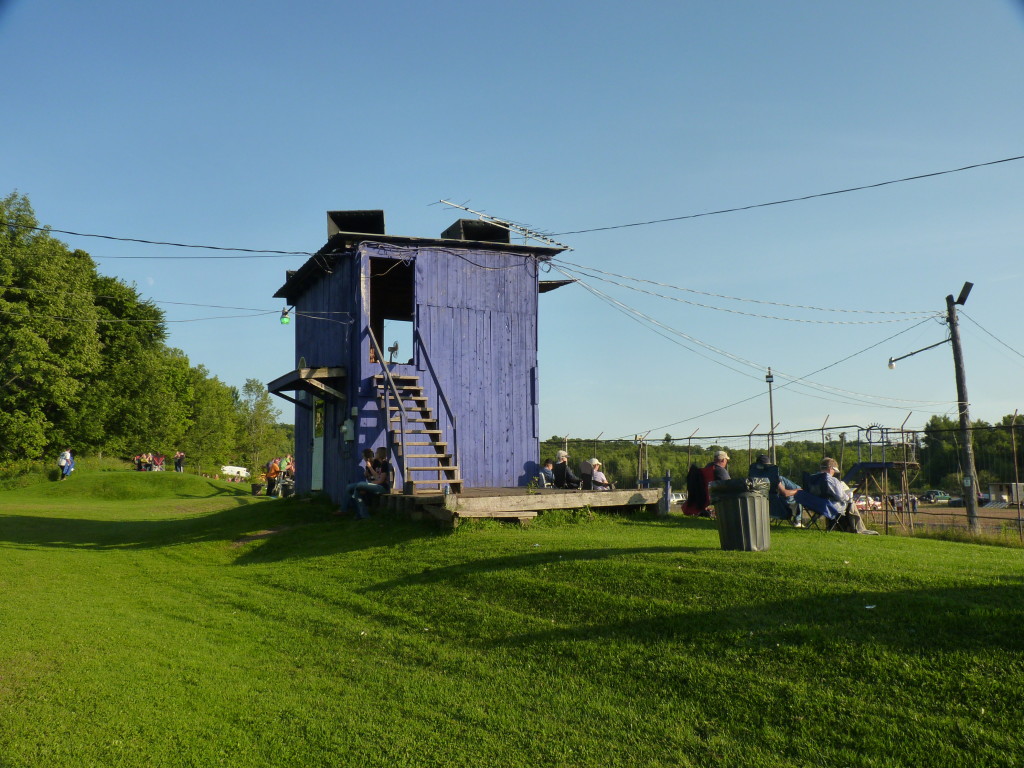 Once inside I found a very rural racetrack.  Just like the track sign it looked as if the buildings had been painted in Easter egg colors.  The "V.I.P." tower was done in a bluish purple.  The restroom was how shall I say it, "rustic" in nature.  The grounds were well maintained and as green as things are ever going to get.  Some fans brought blankets to sit on.  Others found a spot in the low rise sets of bleachers.
What was the surprise concession item?
The concessions were reasonably priced with the most expensive item costing just $2.50.  There were chili dogs and walking tacos for the main entrée.   They were even selling a menu item I can't ever recall seeing at a track I have visited.  It was the "Arnold Palmer".  Of course my fellow golfers know that to be a drink made up of half lemonade and half iced tea.  I've never had one because I can't stand tea.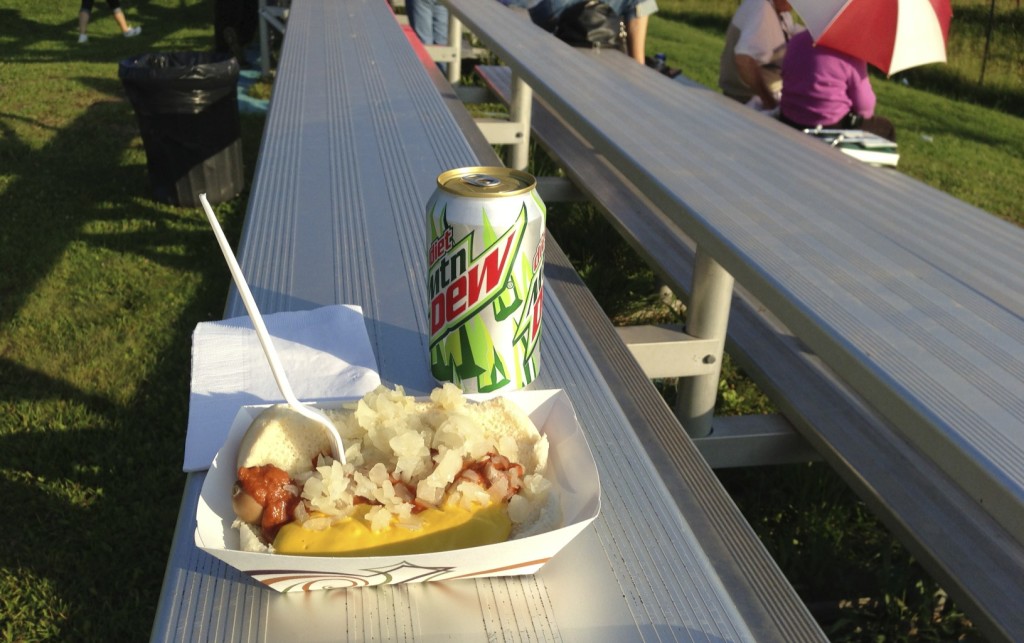 I settled on a chili dog and Diet Mountain Dew.  Then I couldn't resist an order of cheese nachos.  Finally dessert came in the form of a 25-cent Airhead.
It was just about time to go racing.
Soon it was time for racing.  The sun doesn't set until very late in the evening this far north.  When the sun did finally fall from the sky it created vision problems for the drivers entering turn one.

Car counts were skimpy at best.  I counted just 4 hobby stocks and 5 Midwest modifieds.  There may have been one more class that escaped making it into my notes.  Racing started 15 minutes late.  The weather was gorgeous and the pits were in the infield of the 1/3-mile (or so) dirt oval track.  Turns one and two were banked more than turns three and four.  The announcing from the track was done as a simulcast with a local radio station.  This meant from time to time the fans at the track listened to the commercials coming from the radio station.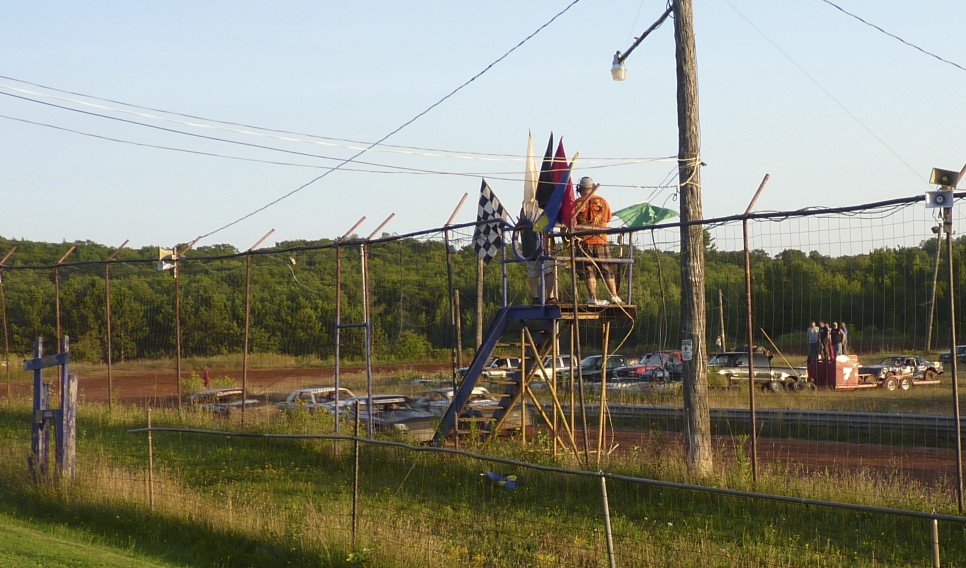 Despite the lack of fantastic competition the fans really seemed to enjoy the racing action.  They were treated to the first rollover of the season in turn four.
If there's a skeeter in the area it will find me.
As the night progressed the mosquitos made their presence felt.  That wasn't good.  With so few cars and so many mosquitos I did not feel compelled to stay until the final checkered flag flew.
Finding my way home was a challenge.
The AT&T phone service has been less than excellent in much of Michigan on this trip.  That was particularly troublesome because I would be using my iPhone GPS system to get me through the backwoods of Michigan at well past midnight.

Disco and paper maps are dead.
I would never resort to using paper maps.  I donated my disco clothing many years ago.  However, I was forced to go to my backup GPS system and use my Garmin unit.  That directed me along a series of two-lane back roads.  Folks, I don't recommend driving on two-lane roads anymore than you have too.  I also don't recommend doing such a thing on Friday and Saturday nights.  There are too many crazies out there.
However, sometimes you have to do things that you know you shouldn't be doing.  Nevertheless, I used my satellite radio capability to listen to the Angels baseball game for most of the drive.  I also downed a bottle of Five Hour Energy drink.  I believe this is the third time I've used Five Hour. It's very effective with no side effects.  I recommend it.
I was surprised by the amount of late-night traffic on these rural roads.  Often times as I roll through these areas I see very little traffic but tonight things were busy.  My Honda Sonata got more than 600 miles from the tank before the low fuel light came on.  I am being told it's getting 37.6 miles per gallon.  That's with me driving 5 miles over the speed limit everywhere I go.  I also use the air conditioning 100% of the time to control humidity if nothing else.
STATE COMPARISONS
Michigan
The Wolverine State
This evening I saw my 94th lifetime track in the Wolverine state, yes the Wolverine state.  Yes, I believe I will end the year with more than 100 Michigan tracks to my credit.
Thanks for reading about my trackchasing,
Randy Lewis
World's #1 Trackchaser
Peoria Old Timers Racing Club (P.O.R.C.) Hall of Fame Member
Michigan sayings:  America's first line of defense against Canada
QUICK FACTS
AIRPLANE
Los Angeles, CA (LAX) – Chicago, IL (ORD) – 1,745 miles
Chicago, IL (ORD) – Detroit, MI (DTW) – 234 miles
RENTAL CAR #1
Detroit Metro Airport – trip begins
Belleville, MI
Butler, PA
Urbana, OH
Union, KY
East Moline, IL
Marshall, MI
Armada, MI
West Branch, MI
Midland, MI
Detroit Metro Airport – 2,378 miles
RENTAL CAR #2
Detroit Metro Airport – trip begins
Greenland, MI
TRACK ADMISSION PRICES:
Wayne County Fairgrounds – $10
Butler Farm Show – $12 (not trackchasing expense)
Champaign County Fairgrounds – $12
Florence Speedway – Complimentary admission
Quad Cities Speedway – $8 ($2 senior discount – not trackchasing expense)
Calhoun County Fairgrounds – $10
Armada County Fairgrounds – $8
Ogemaw County Fairgrounds – $8
Midland County Fairgrounds – $10
Adventure Mountain Raceway – $8
LIFETIME TRACKCHASER COMPARISONS 
The three most important trackchasing comparisons to me are:
Total lifetime tracks seen
Total "trackchasing countries" seen
Lifetime National Geographic Diversity results
Total Lifetime Tracks
There are no trackchasers currently within 350 tracks of my lifetime total.  Don't blame me.
1.  Randy Lewis, San Clemente, California – 1,887
Total Trackchasing Countries
There are no trackchasers currently within 10 countries of my lifetime total.
1.  Randy Lewis, San Clemente, California – 65
Current lifetime National Geographic Diversity results
1.  Randy Lewis, San Clemente, California – 5.10
That's all folks!  Official end of the RLR – Randy Lewis Racing Trackchaser Report