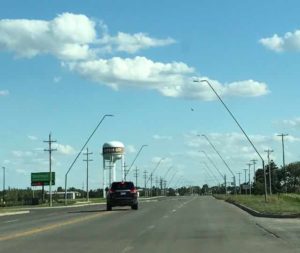 Greetings from Garden City, Kansas
.
.
From the travels and adventures of the 
"World's #1 Trackchaser"
.
.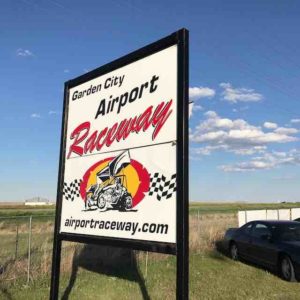 Airport Raceway
Dirt oval
Lifetime Track #2,325
The EventVideo PlusPhotos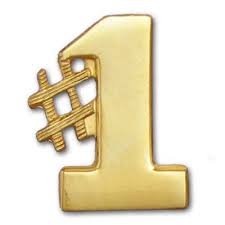 THE EVENT
I have had the opportunity to follow my trackchasing hobby all over the world. As this is written I have seen racing in 74 countries. My lifetime track total exceeds 2,300. Each and every year I will trackchase in 25-30 states. At track #1,040 I moved into the "World's #1 Trackchasing" spot.
I can't say for sure but this Garden City, Kansas racetrack might be just about the furthest from any of the top 50 airports in the continental U.S. that I have ever visited. No, it is not easy to get too and still tie the visit in with another track or two. However, its location makes it all the more fun to visit.
My hobby is not only about racing. Trackchasing for me centers around three things. The racing part is pretty obvious. However of equal importance is the logistics of trackchasing and the opportunity to see the world.
I live in Southern California. The vast majority of tracks are located in the Midwest and East. It takes a good deal of logistical planning to get from where I live to where the tracks are. For the past 15 years I have traveled about 175 nights each and every year. Surprisingly to some, more than half of those overnights were not part of trackchasing.
Then there's the travel just for the fun of seeing new things. You won't want to miss my "Trackchasing Tourist Attractions" page or my "Sports Spectating Resume" page on my website at www.randylewis.org. That will give you some understanding on how important seeing the world is with my hobby.
Today's adventure was one more of the 2,000 trips that have taken me up, down and around the long and dusty trackchasing trail. If you would like to see where I've been and experience those adventures here's the link: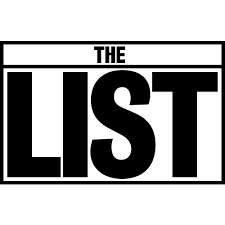 If you've got a question, comment or whatever please leave it at the bottom of this report.  It's very easy to do.  Or you can visit me on Facebook.  Thanks!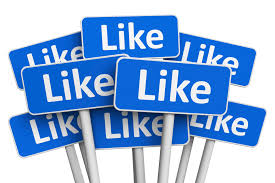 FOREWORD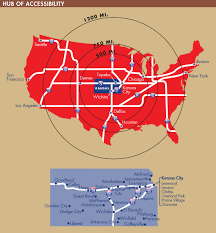 Today trackchasing takes me to the state of Kansas. It's the 19th state I seen racing in this year. I normally see racing in 25-30 states during each annual trackchasing season. Additionally, I've seen racing in three Canadian provinces and two Mexican states. It's only the end of May. The 2017 trackchasing season is just beginning!
A big part of this week's Memorial Day weekend trip focused on Carol mother. This morning we stopped by for our third visit of the trip. I was surprised to see the Indy 500 TV broadcast playing on the flat screen TV at the assisted living center. I wondered what the racing background was with all of the current residents?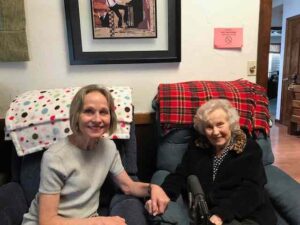 All too soon it was time say goodbye to Carol's 88-year old mother, June. It had been a big weekend for her. We took her to the movies and out to dinner. Then she got to meet her Alaskan born great granddaughter for the very first time when our Alaskan relatives were passing through Denver. For us it was time to leave Colorado and head on over to neighboring Kansas.
It was going to take the National Car Rental Racing Buick LaCrosse about five hours to get from Denver down to Garden City, Kansas. On the way back we would drive only 3 1/2 hours. We would stop for the night in Limon, Colorado. That would make Monday morning's drive over to the Denver International Airport a bit more manageable for our 11 a.m. flight back to Las Vegas.
I have no idea how I ever trackchased without technology. Today I was using my iPhone as an electronic map. My favorite GPS program is Waze.
Of course I was using my phone as a camera to take pictures of all of the exciting things we encounter on these trips. My phone was providing entertainment via podcasts to the car's audio system as well.
I looked over to Carol. She seemed to be having the time of her life riding shotgun (my words). Oftentimes she'll even listen to her own programming from her phone on these long drives.
Next Wednesday our Los Angeles Angels of Anaheim will be playing the Atlanta Braves. The significance of this game is it's "straw beach hat" night. I asked Carol if she wanted to go. I got the affirmative nod.  Editor's note:  As you can see we made it to the game!
Carol is a big baseball fan. She might be a bigger baseball fan than I am as this is written. We like to go when the Angels are offering free premiums. That happens at about 8-10 games each season.
However, we were out the middle of Kansas when this conversation took place. We didn't have tickets to the game. Surely one of the best attendance drawing teams in all of major league baseball would have a huge crowd on "straw beach hat" night. We wouldn't want to be shut out.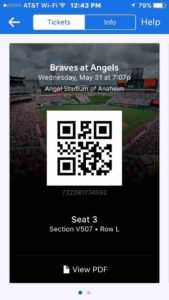 That would not be a problem for us. I looked out over a Kansas wheat field. Then I looked down at my iPhone. Getting tickets to the game was only a thumbprint away. I would use my Seat Geek iPhone app to quickly order two tickets. We paid only seven dollars for each seat. I used my thumbprint to actuate my Apple Pay system. The tickets were soon delivered to my electronic inbox. I absolutely LOVE technology.
About that time we decided to make a pit stop at a JJ convenience store. This is a small chain of stores located all around the Kansas. It was similar to other convenience stores we stop at with one notable exception.  By the way I must tell you that the National Car Rental Racing Buick LaCrosse was an excellent road car for this trip. 
They had some of the most unusual merchandise and displays, for a store of this type that I've ever seen. Carol called it more of a "travel" store than a convenience store.
They had one of those automatic milkshake machines that dispense 15-20 different flavors. I don't know that I've ever had one of those shakes. Right now with my low-carb eating plan I'll have to wait just a little bit longer to try one.
They had postcards. Carol loves postcards. On every trip that we take she sends postcards out to family and friends. Most convenience stores don't have postcards.
They had florescent yellow T-shirts that could be used if you wanted to change a tire on the side of the interstate. We passed on that one. I have AAA.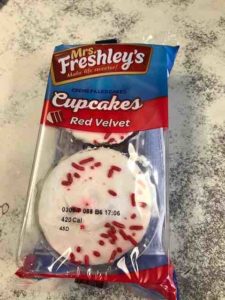 They had a unique sour powder candy machine. It looked like you could dispense a dozen flavors. They featured a massive spoon collection display. This was just a very unique place out in the middle of nowhere. I wanted to buy Carol a sundress. I think she looks great in those dresses. She declined my generous offer. They had a gigantic freestanding electronic gadget display that would make any Apple store envious. We even bought some red velvet Hostess post style cupcakes. We'll freeze those for when I get out of food rehab.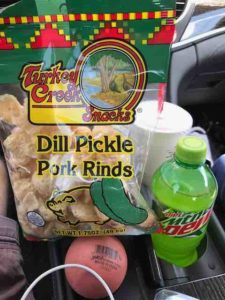 With some snacks in hand the rural Kansas drive passed fairly quickly. The Buick LaCrosse is a very comfortable road car. It was time to have supper.
We were just now pulling into Garden City, Kansas home to the Airport Raceway. Garden City was much bigger than I had remembered when I passed through previously.  They had the most unusual street lights as well.
Yes, I remember Garden City. I was just passing through a couple of summers ago when I was pulled over by a local policeman. The speed zone was changing from 35 to 45 miles an hour. I guess I got up to 45 miles an hour just a little bit before I got to the 45 MPH sign.
The officer took my driver's license and went back to his car to check on things. A little while later he came back. The copper told me that he wasn't going to give me a ticket. Why was that? His wife was from Maui, Hawaii. I'd like to tell you more about the significance of that but I don't think it would be prudent at this time.  
I think I've had nine speeding tickets since I got my driver's license on my 16th birthday. That was one of the most anticipated and biggest days in my life. I don't think it's that big of a deal to the teenagers of today. I first started driving at the age of ten. By the time I turned sixteen I had driven about 5,000 miles.
By the way I haven't had a speeding ticket since 2003. During the summer of that year I got two tickets in the space of about a month. I think all of my speeding tickets have been for "ten miles over" or at least that's what they were written up for.
As a young 23-year-old salesman I remember being pulled over for speeding in Iowa. The eastern half of the Hawkeye state was part of my sales territory back then. I think I've been in every grocery store in the eastern half of Iowa.
The police officer looked at my sales satchel. He leaned in the window and said, "I know you guys are always thinking about the next call down the road and not about your speed. I'm going to let you off but I don't want you to tell your buddies." What did I do when I go back home? I told my buddies.
Anyway, I digress. We were now in Garden City, Kansas. We were looking for something to eat. Yes, we could have eaten at the track. However, "track food" usually consists of a combination of hamburgers, hotdogs and nachos. There are only so many permutations of those three items you can have.
However, we were not from Garden City, Kansas. Where should we eat? Fortunately, for a town the size of Garden City, there were lots of choices.
In 99.76% of the cases when faced with this opportunity I wouldn't even consider randomly stopping at a place that was not recommended in some way or another. That's why I use Yelp on my iPhone.
Yelp will tell me what previous users thought about their dining experience. Those "test pilots" will provide photographs and descriptions of the food. Once I see the highlights of those reviews I will have decided where my next meal is coming from and Carol's. Fortunately, Carol is much less discriminating when it comes to food. She pretty much says, "Whatever you want is good for me". We like everything but sushi. I don't think they cook it enough.
It used to be that you couldn't get any good Mexican food outside of maybe Southern California, Arizona and Texas. However, as the demand for work, often times done by Hispanics, has expanded across the country so has Hispanic and in this case Mexican cuisine. What used to be "lily white" America is now much more diverse when it comes to ethnic cuisine. You can now get authentic Mexican food in so many places in the U.S.A. Kansas is one of those locations believe it or not. A few years ago we drove through Dodge City, Kansas. They have more Mexican grocery stores than anything else!
Yelp showed us a place that looked interesting. It was called "La Estrella". It had a five-star rating out of 23 recommendations. You will almost never see a place with that many reviews getting the maximum rating of five stars. I rarely try any restaurant without at least a four-star rating. I don't have too. There are always four-star choices in places with any population amount at all.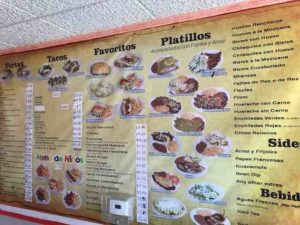 It was decided. We would go to La Estrella. The restaurant was in about as downtown as you could get. They also had one of the most extensive menus that I've seen. The menu was on a huge sign attached to the wall of the restaurant. I'm not sure what this place used to be. It was an old building. It had probably been home to several different stores at one time or another.
Because I'm eating a low-carb food regiment right now that means that I will not be partaking of sugars or tortillas or bread or desserts. Yeah, I know. All the good stuff. I miss those things.
That being the case, I'm not shy about having the restaurant cook up something special for me. I look at it this way. I'm the customer. I tell them what I want. Their mission is to try to provide it. Today my request was simple. "Can you make me some chorizo sausage and queso," was my order in a nutshell. Yes, they could! Then they served it all up with some very fresh, tasty and spicy "guac" or guacamole. Carol went with the taco salad. She's a salad girl. That's what keeps her in such great shape to withstand the riggers of the trackchasing trail.
The guacamole went nicely with some more than tasty tortilla chips. Before I ate any of those I did a quick Google search for "tortilla chips nutrition facts". I soon decided that I could eat about six chips and still stay within my 20-30g carbohydrates allocation allowed with my daily planner. I loaded the biggest chips I could find with tons of guacamole for what turned out to be a delicious Mexican dinner.
The young cashier/ server could not have been friendlier. Often times younger people think of folks like Carol and me as their surrogate grandparents. Other times people think of oldsters as simply statues. I can pretty well tell which of those young people is going to be more successful in life and then there's that.
From the La Estrella restaurant we made an 11-mile B-line over to the Airport Raceway located somewhere near the airport, just outside of Garden City. A fan we met at the track told us the track relocated more than twenty years ago to its present location.
Yes, if I were to plot of a map the 50 largest airports the Airport Raceway would probably be further from any one of those airports than just about any track I visit. It's five hours from Denver, nearly six hours from Kansas City and more than five hours from Oklahoma City.
THE RACING
Airport Raceway – Garden City, Kansas
Tonight the Airport Raceway was holding its once a year program featuring the Rocky Mountain Midget Racing Association/POWRi West racing series. Tonight they would draw forty very good midget racing cars to the event.
Race time was scheduled for 7:30 p.m. We pulled in about five minutes early. The entire parking/seating operation was a little confusing. It took us some time to figure it out.
Race tickets were $20 U.S. tonight. I didn't mind paying $20 to see midgets race at this track. However, I absolutely hated paying $17 last night to see a democross race combined with some high dollar asphalt stock car racing. That might tell you which type of racing surface/class of racecar I like best.

Airport Raceway is a nicely banked 1/5-mile dirt oval. They also had an active inner oval inside that track. From what I can tell they only race junior classes on that smaller track.
The ticket booth sold both admission tickets and pit passes. Pit passes were thirty dollars. I must tell you I long for the admission policies of the U.K. There one price gets you in as a spectator AND into the pits. At the Airport Raceway the parking entrance comes out along the backstretch. The backstretch was already lined with cars pulled up right next to the fence. I don't like that type of parking with rental cars. There's too much chance of getting a cracked windshield from racetrack debris.
This weekend the Airport Raceway was racing on both Saturday (last night) and today Sunday night. It was a two-day Memorial Day weekend show. When we bought our tickets we learned that last night's show was rained out after the heat races. That would turn out to be a great thing for us.
Tonight they would be running the three make up feature races from last night's rainout. There were just three classes competing this weekend. Those makeup features would take place before tonight's regular show began. What was so good about that?
Rather than seeing the heat races and then the feature events tonight we would see the feature events and then the heat races. I really wanted to get out of the track by 10 p.m. or so. If we did that we still wouldn't get back to our hotel in Limon, Colorado until after 1 a.m.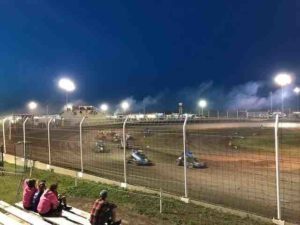 We soon found a seat in the grandstands. I was amazed at how close the grandstands were located to the racing surface itself. The first row of the stands could not have been more than 10-12 feet from the where the cars were on the track. With open wheel racing, or any racing for that matter, that's close!
Mud balls thrown off by the cars during practice had reached nearly the top row of the grandstand where we were sitting. Our proximity to the racing surface made this one of the best racing experiences of the entire 2017 season.
I contrast seeing a show like this with watching racing on a traditional road course. Often times you can't see more than 10-20% of the entire racing activity at one time on a road course. Does that give you some idea on why I prefer oval track racing?
Tonight's three classes included wingless micro sprints, the 1200 cc lightning sprints and the Rocky Mountain midget/POWRi midgets.  There were solid car counts in all classes.
Although the feature races had some yellow flags the action was intense. If I lived closer to Garden City, Kansas I would come to a show like this as often as I possibly could.
The mini-sprints brought about 25 cars. There were fifteen lightning sprints and the forty midgets. Those are excellent car counts.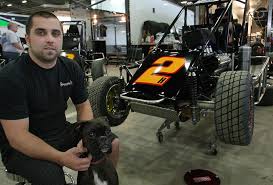 The one and only driver that we recognized by name was Casey Shuman. Casey is the son of the famous Ron Shuman. Ron is now retired. We used to see him race all the way back from our days at the Manzanita Speedway and Ascot Park. As a matter fact Ronnie Shuman won the Knoxville Nationals on my first ever visit there in 1979.
You really don't want to miss my video. I risked life and limb to get some really great close-up photos and clips….from all around the track.
The track announcer gave me a nice "trackchaser mention". He mentioned to the crowd that we had met previously. I'm trying to think where that was but right now I don't know.
After we watched the three rainout make-up feature races the track went to an intermission. Tore up the track, watered it and packed it down. I didn't really think that was necessary. I thought the racing was already good.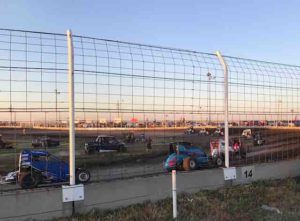 Then we watched the heat races from TONIGHT'S program. They were very competitive as well. I really didn't want to leave with the features coming up. However, it was already 10 p.m. I would have stayed if my hotel was back in Garden City and/or Carol wasn't with me.
Tonight's racing show wasn't going to end until past midnight local time. We had a four-hour drive to get us to our hotel. Even by gaining an hour from time zone changes that would put us back to the hotel and after 3 a.m. if we stayed. We had to be out the door by 8:30 a.m. to make a noon flight from Denver. If I get the chance I would love to revisit this track.
AFTER THE RACES
With a bottle of raspberry 5-Hour Energy drink I felt great during the four-hour ride back to the hotel. Carol napped just a little bit which was exactly what a sidekick should do under the circumstances.
We arrived back at the EconoLodge in Lyman, Colorado at about 1 a.m. The EconoLodge wasn't early as nice as the Sheraton where we had been staying for the previous three nights. Even though I bought the EconoLodge room on Priceline we still ended up paying more per night at that hotel that we did at the Sheraton!
MONDAY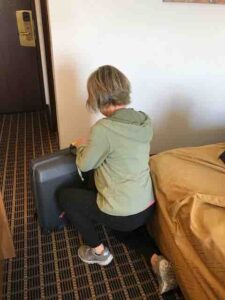 We were out the door at 8:30 a.m.  Carol is the designated packer. It was only going to be an 80-mile drive over the Denver International Airport. The weather was blue skies with temperatures at about 60 degrees. It was a very comfortable morning.
The EconoLodge complementary breakfast was heavy on carbohydrates. That was to be expected. Protein (meat) is expensive. Just before we reached the Denver airport we made a pit stop at McDonald's. We were surprised to see that a senior coffee was just $0.49.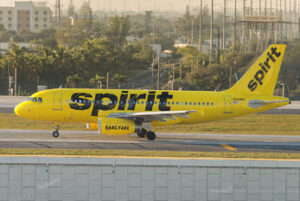 We were flying home on Spirit Airlines. In order to save $10 per person we had to print our boarding passes in advance of arriving at the airport. The only way we could do that with the time that we had was to engage the desk clerk at the EconoLodge.
This was an experience in itself. The desk clerk had some technology challenges. Her equipment seemed to have even more technology challenges. Then we had to deal with the security policy at the EconoLodge itself. According to the desk clerk (who seemed to be a stickler for the rules) security policy prevented me from coming around to her side of the computer screen to help her out.
Overall I'm a pretty laid-back guy. We've had three different lady friends tell us independently that I'm the most laid-back guy they know. However, Carol disagrees with that point strongly.
I must tell you that I am not very laid-back or forgiving of bad technology. I'm also not very understanding or appreciative of people that can't handle technology when it affects me. If they want to live their life in the dark ages so be it. Just don't slow me down with a lack of understanding. The EconoLodge desk clerk was slowing me down. I didn't care for that much.
We arrived back at the Denver airport rental car return facility without incident. They have a gas station right on the grounds. That made it convenient to fill up and the price is only about $.12 higher than what we have been seeing throughout the trip.
We would end up driving our rental car 1,261 miles. The National Car Rental Racing Buick LaCrosse gave us right around 30 MPG. For a full-sized near luxury car I think that's pretty good.
Once you buy a cheap ticket on Spirit Airlines it's a real challenge to keep your savings. Something as small as a soft drink will cost money with Spirit. They charge to reserve a seat in advance, to board the plane first and to print your boarding pass. I can just imagine the staff meetings when they try to think of creative ideas to get even more money from their passengers. However, Carol and I are typically ready for the fight.
That's why I was more than pleased when I asked the Spirit gate agent if we could change our seats to two aisles from the middle and window seats we are originally assigned. Not only did we get our aisles but also I got an emergency exit row aisle seat. That gave me plenty of legroom.
We would have a one-hour and 50-minute flight back to Vegas.  The Vegas airport is something.  When I first started coming to Las Vegas in the early 70s the airport had only eight gates in total. Once in Vegas it will take us about an hour to get our car. It will be another five hours to get back to San Clemente with stops for food etc.
I wrote the above paragraph before we made the drive home from Las Vegas. We were driving back on Monday of Memorial Day weekend. So was everybody else. It was a terrible drive. I don't even want to tell you about it.
Good day from Garden City, Kansas.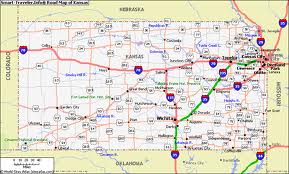 Kansas
The Jayhawk state
This evening I saw my 41st lifetime track in the Jayhawk state, yes the Jayhawk state. I hold the #1 trackchasing spot in Kansas. I've seen 41 or more tracks in 17 separate states.
Thanks for reading about my trackchasing,
Randy Lewis
World's #1 Trackchaser
Peoria Old Timers Racing Club (P.O.R.C.) Hall of Fame Member
Kansas sayings: Storm.
What it means everywhere else: Clouds, rain, maybe some thunder and lightning. 
 
What it means in Kansas: Hell hath no fury like a Kansas rainstorm with high winds, hail the size of golf balls, thunder that shakes the ground, and at times, tornadoes.
QUICK FACTS
LIFETIME TRACKCHASER COMPARISONS 
The three most important trackchasing comparisons to me are:
Total lifetime tracks seen
Total "trackchasing countries" seen
Lifetime National Geographic Diversity results
Total Lifetime Tracks
There are no trackchasers currently within 590 tracks of my lifetime total. Don't blame me.
Randy Lewis, San Clemente, California – 2,325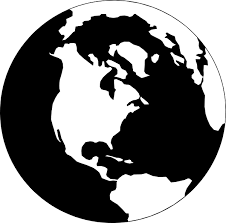 Total Trackchasing Countries
There are no trackchasers currently within 20 countries of my lifetime total.
Randy Lewis, San Clemente, California – 74
Current lifetime National Geographic Diversity results
Randy Lewis, San Clemente, California – 4.37
That's all folks! Official end of the RLR – Randy Lewis Racing Trackchaser Report
Click on the link below to see the video production from the racing action today.
Click on the link below for a photo album from today's trackchasing day.  You can view the album slide by slide or click on the "slide show" icon for a self-guided tour of today's trackchasing adventure.
A photo tour to and from one of the most rurally located tracks in the country