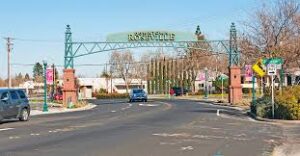 Greetings from Roseville, California
.
.
From the travels and adventures of the 
"World's #1 Trackchaser"
.
.
All American Speedway
Mixed oval
 Lifetime Track #2,596
The EventVideo PlusPhotos
THE EVENT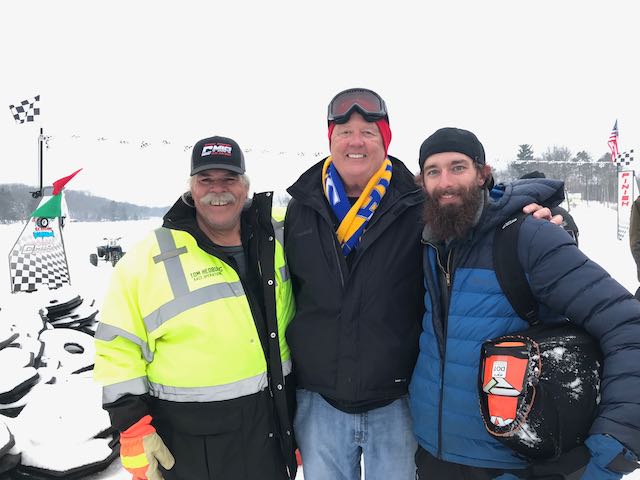 I AM A TRACKCHASER.
My name is Randy Lewis (above with Tom Hedberg – Minnesota ice racing and Mark Meyer – Alberta ice racing) . I live in San Clemente, California. I am a "trackchaser". I trackchase. Before you discovered my site had you ever heard of trackchasing? Maybe not? So….what the heck is trackchasing? Sit back, take a read and you'll be an expert on my hobby of trackchasing when you're finished.
Here's my best explanation on what trackchasing is to me.
Trackchasing is a three-pronged hobby. I'm a racing fan. I love to travel. I love to analyze opportunities to get the most out of everything while saving time and money.
Trackchasing fills the need for all of the above. The racing part of my trackchasing has me trying to see wheel to wheel auto racing at as many different racetracks as I can all over the world. Yes, all over the world. So far things are going pretty well. As this is written, I've seen racing in 85 countries at more than 2,500 tracks. As a matter of fact, I've seen racing at more tracks than anyone else in the world.
Equally important to me are the things I get to see and experience over the "long and dusty trackchasing trail". I call these adventures "Trackchasing Tourist Attractions". You won't want to miss my "Trackchasing Tourist Attractions" page. Here's the link:  Trackchasing Tourist Attractions or my "Sports Spectating Resume" page, Sports Spectating Resume on my website at www.randylewis.org.
I live in southern California. That's probably the most inconvenient location in the country for seeing tracks in the U.S. Most of the racetracks in the U.S. are located well over 1,000 miles from where I live. As a matter of fact, my average trip covers 5,000 miles and more. I take 35-40 of those trips each season. In any given year I will travel well over 200,000 miles, rent more than 50 cars, and stay in more than 150 hotel rooms.
I get the chance to meet people all over the world. With trackchasing trips to 85 countries and counting just getting the chance to experience so many other cultures, spend time in their homes and meet their friends is a huge reward for being in this hobby. I am indebted to several of these folks for their help and friendship.
It takes a good deal of planning to do the above and not spend my entire retirement portfolio. I enjoy the challenge, the travel and every other aspect of "trackchasing". In reality, my trackchasing hobby is a lot like being with the carnival. I breeze into town, stay a little while and then head on down the road.
I've tried to tell you what the trackchasing hobby is to me. Now I will show you what trackchasing is to me in pictures and music. If you watch just one YouTube video this year, this is the one to watch.
You will see how a simple trackchasing trip takes me a long way from my environment in California and most importantly not just in miles. My hobby is about seeing and experiencing the things that most folks walk right past. Check this out. It might just make your day.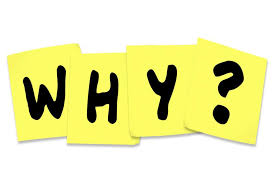 Trackchasing….this is exactly why I do it
Today's adventure was one more of the 2,000 trips that have taken me up, down and around the proverbial long and dusty trackchasing trail.  If you would like to see where I've been and experience those adventures here's the link: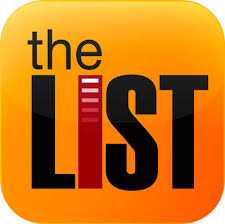 If you've got a question, comment or whatever please leave it at the bottom of this report.  It's very easy to do.  Or you can visit me on Facebook.  Thanks!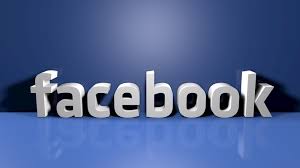 FOREWORD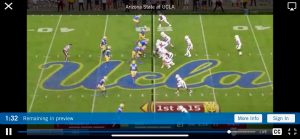 Saturday, September 14, 2019.
This weekend's trackchasing plan was going to be simple. Carol and I would go up to the Rose Bowl to see UCLA play on Saturday night. Then on Sunday morning I would hop on a jet airplane to El Paso, Texas. Just 40 minutes north of El Paso sits the new Vado Speedway Park in Vado, Mexico.
I had looked at all of my trackchasing options. This was the best plan. However, the best plan is only the best plan until a better plan comes along. This weekend a better plan did come along.
Another trackchaser, Edward Corrado, does some pretty good race research. I have credited him a couple of times for giving me options that fit my schedule very well. Edward came up with the idea for my visit (the new better plan) to the All American Speedway in Roseville, California. They were going to have a, "mixed surface" race this Saturday night.
In point of fact, the All American Speedway was going to have an enduro event this weekend. However, when I checked with my contacts at the speedway they told me that race would be held on an asphalt oval. Cars would be driving over a large supply of smashed pumpkins. Unfortunately, smashed pumpkins do not qualify as making an asphalt track with pumpkin purée as a mixed surface.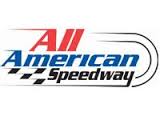 With that news, the Rose Bowl football game was still on and a trip to New Mexico on Sunday morning the only new track opportunity for me. Later I traded messages with Frank, the director of competition, at the All American Speedway.
The day after our initial attempt to contact each other Frank called me back. We talked for a while. During this call I learned that the enduro race would be on asphalt. However, they were also planning to have another novelty race. This race was called the "pumpkin smash". There was also going to be a trailer race. What the heck is a trailer race?
I've seen a few trailer races over time. Normally that's a car pulling a metal trailer with a boat on the trailer. These trailer races begin with a green flag and run for a certain number of laps. If a car, "loses" its trailer it's out of the race. That's not all that dissimilar to races where a car might lose its back bumper and be disqualified from the race.
I confirmed with Frank that this truly was a "race" and not a demolition derby. He was adamant this was a race. This event would be contested over 20 laps of racing on a mixed surface track.
That was good enough for me. The new plan called for me to run up to Roseville, California, a suburb of Sacramento, and then get myself over to El Paso, Texas on Sunday morning for the race late afternoon race in New Mexico.
I got the call from Frank on Thursday afternoon. Carol and I had already decided we were not going to go to the football game. UCLA isn't that good this year. A day at the Rose Bowl is pretty much an all-day event.
Carol and I had been trying to decide when we are going to have our date night this weekend. We were debating whether to do that on Friday night or Saturday night. As soon as it was confirmed I was going to Northern California on Saturday date night for us we came Friday.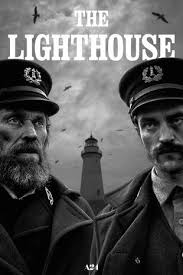 Our date night was going to be pretty basic. We would head to the movies. We see quite a few movies together. I did some research and after I subtracted all the movies that are playing but that we had already seen and then looked at the "Rotten Tomatoes" scores for the movies we had not seen we made our selection. We were going to see a movie called "Lighthouse".
The Lighthouse was billed as a "drama/thriller". It turned out to be a film in black-and-white. The movie was shot in a format that was smaller than what fits on the large movie screen our hometown theater offers. I could tell after the first 10 minutes it wasn't going to be to our liking. About midway through I seriously thought of asking Carol if we could leave. We almost never do such a thing. However, she is Bohemian. She would think that this was a waste of money if we left In the middle of the film. We stuck it out and then when the film finished we chuckled all the way home that this film might have been highly rated but neither of us cared for it much.
Saturday, October 26, 2019
My plan today was to drive up to the Los Angeles International airport. I would find a jet airplane to take me to San Francisco. Then I would rent a car in San Francisco and drive about an hour and a half north to the All American Speedway in Roseville, California. Following the races, I would drive about six hours overnight from near the Sacramento area back to the Los Angeles airport. Then on Sunday morning, I planned to grab an 8 a.m. airplane ride from Los Angeles to El Paso, Texas. I would arrive in plenty of time to see the racing in New Mexico on Sunday night. Racing there started at 5 p.m.
Most of my travel plans go really well. Maybe one in fifty or maybe one in one hundred go south on me. Today's trip went a little bit south.
I parked my car at the LAX World Parking garage, a long-time trackchasing sponsor. Then I walked a mile over to the terminal and cleared security at the airport. I arrived at my gate only to learn after a few minutes that my plane was leaving from another location.
I went over to the second gate and waited. While I waited I did some more power walking. Then I got the news that the plane was being switched to a third gate. I'm a patient fellow. I made my way over to the new gate.
I kept doing a little circles in the airport where I was close enough to see if my plane was going to be leaving soon. I was getting my steps in. That's when an iMessage popped up on my smartphone. My flight was canceled! That doesn't happen often but when it happens I have to act fast and find an alternative solution to fit the plan.
I was in terminal six at LAX. The airport has eight different terminals, many of which are not connected to each other. This can require going through multiple airport security checks to change terminals.
I popped open my MacBook Pro computer and tethered to get an internet connection with my iPhone 11. Soon I was settling on another airline located in terminal one. Then I went on the National Car Rental site and modified my reservation. I would now get a rental car in Sacramento rather than San Francisco.
I was able to do all of this in less than five minutes. I just shake my head when I think about my fellow trackchasing competitors. Could they pull off this change so quickly? Sadly, I don't believe they could.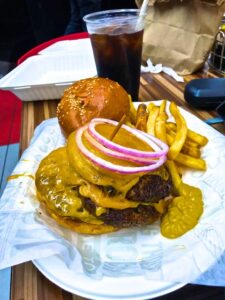 I soon arrived in terminal one. Terminal one at LAX is home to Rock & Brews, one of my Priority Pass trackchasing sponsors. I ordered up a meal to go for the $33. All but five of those dollars were covered by my sponsorship.
Soon I was in an aisle seat flying up to Sacramento, California. During the last few years of my business career, I spent a lot of time working in Sacramento. Of course, that was more than 20 years ago. The Sacramento airport has changed a good deal for the better in that time.
Sacramento is one of those airports where you have to hop on a rental car shuttle bus. The ride from the airport to the rental car center took the better part of 10 minutes. I don't like those kind of situations but I guess I didn't have to worry about the return today. I would not be returning my rental car to Sacramento.
I selected a Ford Fusion as my rental car for this more than 500-mile in less than 24 hours' drive. If you were to try to rent a car in one location and drop it off in another location, which was a considerable distance away, the rental car company would charge you an extraordinarily high price. They would do that to me as well.
My rental car company, National, has been a long-time sponsor. They give me several, "free" days during the year. I almost always save those free days to offset one-way rental charges. For today's rental I would pay only $16 to pick the car up in Sacramento and drop the car in Los Angeles. It is not uncommon for one-way rental charges to be in the $100-$200 range.
The All American Speedway in Roseville is only about 25 miles from the Sacramento airport. When my plane to San Francisco was canceled that actually decreased the amount of rental car miles I would need to drive to make this trip happen.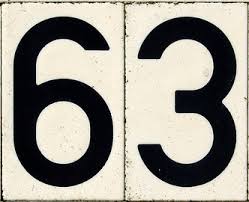 This would not be my first visit to the All American Speedway. I saw racing at the track all the way back in the 70s. In fact, the All American Speedway is listed as my 63rd-lifetime track. I've been to more than 2,500 tracks since then!
I have seen almost 2,600 tracks in my lifetime. I sometimes come back to a track that I've seen a long time ago. That was the case tonight. Do I remember my experiences after a long time away? Not always. Tonight, I had very little recollection of when I had seen the All American Speedway back in about 1975. Like I say this is not unusual.
I was using my Waze GPS system to get me to the speedway. However, they've had some recent changes in their parking situation at the fairgrounds for the All American Speedway. It took me a while, even with a security guard giving me directions to find the entrance.
Using the security guard's map and some verbal directions I got lost trying to find the speedway even though I was within 50 yards of the pit area on my initial entry. While I was lost I ran into a very loud talking fairgrounds' employee. She gave me some new directions and told a line of cars to follow me. That was a bold suggestion on her part.
In a little while, I did find the parking lot. I also found a sign stating there would be a $10 parking charge per car. I will tell you this. There are only a handful of short tracks that charge for parking. I think they all might be in California!
THE RACING
All American Speedway – Roseville, California
Racing was scheduled to begin at 6 p.m. I liked the early start time considering I would need to make an overnight drive to Los Angeles later in the evening.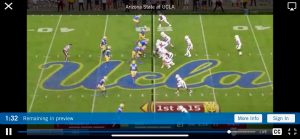 Tonight I "streamed" the broadcast of the UCLA- Arizona State football game from the Rose Bowl in Pasadena, California. I was surprised that I could get such good reception first on my MacBook Pro in my car and later on my iPhone in the grandstands.
On entry to the track, I learned that I could receive a five-dollar discount based upon the time that I have been on this earth. They call it a senior discount. Although I qualify in terms of age for senior discounts I don't believe I should get such a thing. I am 100% against senior discounts
Why would I say that? Let's think about it this way. Most people who are seniors are retired. Most people who are retired decided they had enough money and they no longer had to work any longer. Should people who think they have enough money that they don't have to work get an additional discount in the form of senior savings? I don't think so.
I say give those senior discounts to young families where both the man and the woman are working five days a week to support themselves and often times their small children. If you're going to give a five-dollar discount per person give it to people who have young families. Don't waste senior discounts on the fat cats who decided to drop out of the workforce voluntarily.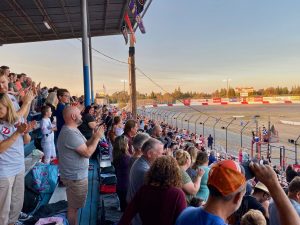 Tonight's racing program was going to be what I called a, "crash and bang" affair. I am constantly telling the promoters that I know that crash and bang "racing" is very profitable. More often than not the promoter sort of turns up their nose at these kinds of shows. They don't think this kind of event is "racing". They think that crash and bank stuff is a novelty event. That is true. This is a novelty piece of entertainment. However, racing is meant to be entertainment for the paying fans. Paying fans create profit for the track operator. Often times the annual night of destruction or crash and bang night is the most profitable day of the entire year.
I don't know what type of crowd the All American Speedway gets for their regular weekly shows. I do know this. Tonight's crowd for the crash and bang novelty race was huge. The admission charge was $10-15 per person and the track charged ten bucks for everyone to park. I know the track operators have to spend money to rent fairgrounds and have lots of other expenses. Nevertheless, tonight's promotion was going to be a big moneymaker.
I grabbed a seat in the covered grandstand on the aisle. I sat in front of the poles that support the roof to the grandstand. Why sit there? Those polls wouldn't interfere with tonight's video recording. I had an excellent view of the action.
There would be two main events on the agenda this evening. First up was a stock car enduro. That would be followed by the pumpkin smash trailer race. There was some mention of a flag pole race but that never came to pass.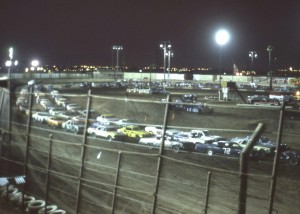 About this time I was checking Facebook. One of my Facebook friends from back in Wisconsin is Matt Record. Matt sent out a video tonight showing cars racing at an enduro race he was attending in Wisconsin. That race started 122 cars!
How many cars were in tonight's enduro at the All American Speedway? There were only 12. I'm not sure I can remember ever seeing an enduro with so few cars.
However, there were a couple of things that made even a 12-car competition entertaining. Before the race began a huge water truck came out on the paved oval. The truck took a few laps around the speedway. They sprayed water and detergent soap on the track's service. This was going to make the racing a very slick affair. Because Halloween was coming up in a few days they also smashed pumpkins all over the inner half of the racing surface of the oval track.
Based upon the behavior of the fans sitting around me I determined they were not experienced weekly racing fans. They had shown up to see crashes. They had shown up to see cars spinning around and having the drivers safely escape danger. They were novice, novelty fans.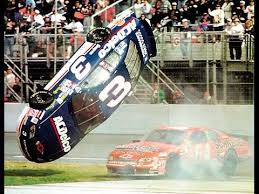 The first 50 laps of the enduro race would be run in the counter-clockwise direction of the paved oval. When the race took the green flag the track was extremely slick. Several of the drivers slid right into the wall. They didn't hit it hard but only brushed it. However, from the reaction of the rookie crowd, you would have thought three NASCAR Cup cars had barrel-rolled down the front straightaway and flown over the wall and out of the track in Daytona. I can't recall seeing and hearing such an enthusiastic group of fans in a very long time. Good on them!
I didn't know it at the time but tonight's track announcer was a young man by the name of "Steven". Yes! Steven Blakesley interviewed me back in 2013 at the Kern County Raceway Park in Bakersfield, California. Steven is a very entertaining announcer. With tonight being a Halloween theme and all the kids coming to the track dressed in their costumes the scene was right up Steven's alley.
I was learning as I went along as to how exactly tonight's enduro was going to unfold. Steven kept a crowded form and entertained. That's the main job of an announcer.
The twelve cars that started the Enduro ran the first 50 laps of the race and then the track went to intermission. The second portion of the program called for the cars to race 30 laps in a clockwise direction.
The first two segments had the cars racing totally on the asphalt oval. The third segment was going to be different. For the last 20 laps of this hundred lapper, the remaining ten cars would race on a mixed surface. How did that work?
When the drivers got to about the midway point of the asphalt oval's backstretch they made a left-hand turn through the dirt infield. They re-emerged somewhere between turn four and the starter's stand on the front straightaway. From there they resumed the racing part of the lap on the asphalt part of the track. Don't miss the video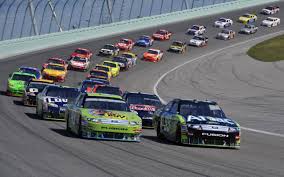 Short-track racing often times emulates what happens in NASCAR. You never saw double-file restarts until NASCAR started doing it. NASCAR runs its races normally in three stages. I very much like that idea. With a reward after each stage, the system increases the level of drama in the race.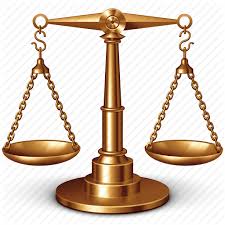 Now I faced both a legal and ethical trackchasing dilemma. Tonight's 100-lap enduro race was broken into three segments. The first two segments covered 80 laps completed on the asphalt oval. The last segment, just 20 laps, was being run on a mixed surface track. Did this make the track's configuration a mixed surface racetrack and race? If it did then the enduro event would qualify as the new mixed track configuration I had come to see. However, I didn't think this situation was truly a race on a mixed surface track. I guess I didn't have to worry about it knowing that the next event, the trailer race was going to be run exclusively on a mixed surface.
The track announcer Steven Blakesley knew that I was going to be attending tonight's show. However, we have not made any arrangements to meet up at the track.
That's why I was a bit surprised when Steven was running from the announcing booth at the top of the grandstand down to the track to make his interviews that he stopped for just a couple seconds to say hello to me over the PA system. He asked a couple of quick questions and was gone. It was nice of Steven to take the time to do that.
Tonight there were six entries in the trailer 20-lap feature event. Each of the race cars was towing a trailer that had a boat of one size or another on their trailer. All the cars took the green flag and raced into turn one of the asphalt oval.
They did a very good job of racing. Just as Frank, the director of competition at the All American Speedway and told me, this was a race, not a demolition derby.
Nevertheless, there was a good deal of contact between the competitors. The trailers fishtailed wildly behind the racers. A couple of boats got knocked off the trailers but by the end of the 20 laps, there were still four racers that had finished the entire distance of the event with the least part of their trailer still attached making them eligible for the victory.
As a racing fan I'm not all that wild about having these novelty events dominate my trackchasing calendar. However, there is one positive about these types of programs. Because the All American Speedway was hosting a trailer smash tonight it motivated me to come back to a track where I had not seen racing in so many years. I like the fact that novelty racing brings me back to these venues from time to time.
AFTER THE RACES
When the duel checkered flags were waved over the trailer smash that was my signal that it was time to leave the track. I would have liked to have stayed and talked with Steven Blakesley just a little bit. However, as it was I had nearly a six-hour drive from the Sacramento area back to the Los Angeles International Airport. I figured I had better get going.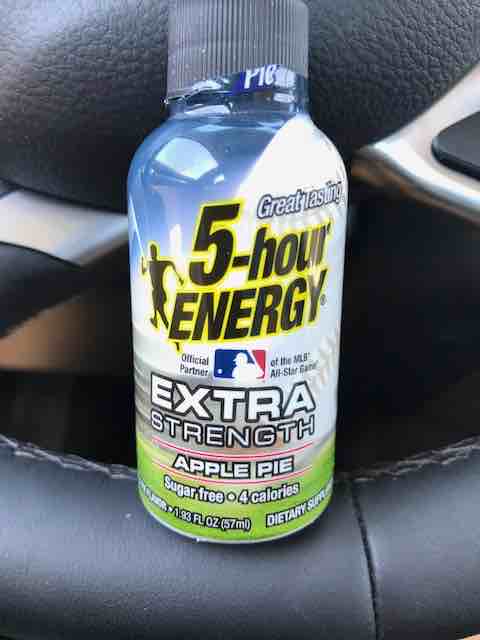 To make tonight's drive just a little bit easier to manage I downed a bottle of 5-hour Energy drink. That product works very well for me. I only need to take it about a half a dozen times a year but it's very effective.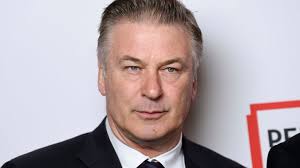 I'm a big consumer of podcasts. I have hundreds of shows at my fingertips on a wide variety of subjects. Tonight I listened to Alec Baldwin interview several celebrities in the theatrical world.
Tonight's trackchasing had been an interesting adventure. As I mentioned at the beginning of this tale I had not expected to come here until I got a notification less than 48 hours ago. It pays to be flexible in trackchasing. I am nothing if not flexible.
I caught about two hours of sleep in the Lebec I-5 highway rest area. That made the six-hour driver bearable. I arrived in plenty of time at LAX for my early morning flight to El Paso, Texas.
Good evening from the All American Speedway in Roseville, California.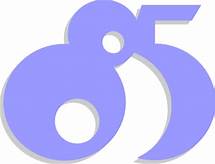 Randy Lewis – 85 countries – 2,595 tracks.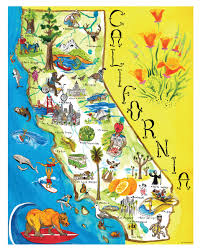 California
The Golden state
This evening I saw racing at my 173rd-lifetime track in the Golden state, yes, the Golden state.  I hold the #1 trackchasing ranking in California.  No trackchaser can match that stat.
Thanks for reading about my trackchasing,
Randy Lewis
World's #1 Trackchaser
Peoria Old Timers Racing Club (P.O.R.C.) Hall of Fame Member
California sayings: Winter is coming…but not in San Clemente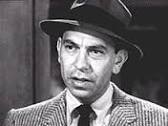 JUST THE FACTS
LIFETIME TRACKCHASER COMPARISONS 
The three most important trackchasing comparisons to me are:
Total lifetime tracks seen
Total "trackchasing countries" seen
Lifetime National Geographic Diversity results
Total Lifetime Tracks
There are no trackchasers currently within 730 tracks of my lifetime total.  Don't blame me.
Randy Lewis, San Clemente, California – 2,595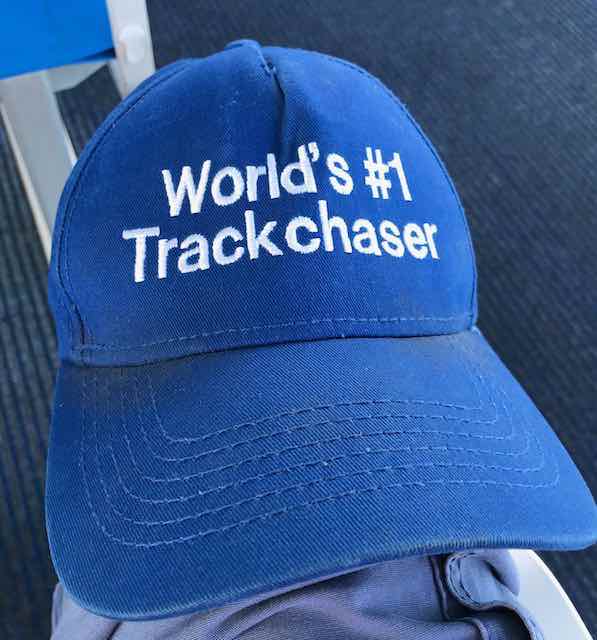 Total Trackchasing Countries
The nearest trackchasing competitor has seen racing in 30 fewer countries compared to my lifetime total. 
Randy Lewis, San Clemente, California – 85
Current lifetime National Geographic Diversity results
Randy Lewis, San Clemente, California – 4.14
That's all folks!  Official end of the RLR – Randy Lewis Racing Trackchaser Report
Click on the link below to see the video production from the racing action today.
Click on the link below for a photo album from today's trackchasing day.  You can view the album slide by slide or click on the "slide show" icon for a self-guided tour of today's trackchasing adventure.
Night of Destruction type racing from up in Northern California