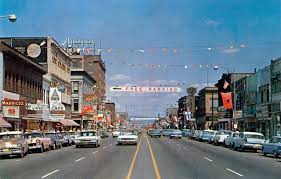 Greetings from Superior, Wisconsin
From the travels and adventures of the 
"World's #1 Trackchaser"
Allouez Bay Ice Track
Ice oval
 Lifetime Track #1,734
The EventPhotosVideo Plus
Reprinted with permission from my Saturday, February 25, 2012, Trackchaser Report. 

THE CLASSIC TRACKCHASER REPORT
Editor's note: This is a CLASSIC Trackchaser Report. What the heck does "Classic" mean? It's simply a Trackchaser Report that comes from my trackchasing archives. Typically these will be stories from tracks I visited five years or ten years or more ago.
For whatever reason (usually not enough time) it didn't get posted to my website when I first made the track visit. Often a classic TR will not have a video and/or photo album attached. I didn't begin producing my YouTube videos until 2009 (YouTube channel: RANLAY). I didn't begin writing a complete Trackchaser Report until I had seen about 425 tracks. Photo albums were sort of hit or miss during the early years of my trackchasing. Additionally, if you see a website link know that link worked when the TR was originally written. Will it work now? Your guess is as good as mine! Nevertheless, this CLASSIC Trackchaser Report has finally bubbled to the surface and is now available for everyone to see at www.randylewis.org. I hope you enjoy it.
I AM A TRACKCHASER.
My name is Randy Lewis. I hail from the sleepy little village by the sea, San Clemente, California. I am a "trackchaser". I trackchase. Have you ever in your life heard of "trackchasing"? I didn't think so. 
Well, you made it this far. You might as well pour yourself a cold one and take your Trackchasing 101 class. When you finish you'll have your trackchasing diploma and can then teach your friends about the hobby. 
Let's get started. Trackchasing is a three-pronged hobby. I'm a racing fan. I love to travel. I love to analyze opportunities to get the most out of everything while saving time and money.
Let's do this by the numbers.
The racing part of my trackchasing has me trying to see wheel to wheel auto racing at as many different racetracks as I can all over the world. Yes, all over the world. Do I mean that? Yes, I do! I've seen racing in 85 countries at more than 2,600 tracks. I'm known as the "World's #1 Trackchaser". Why? Because I've seen racing in more countries in the world than anyone else by a wide margin. 
However, my hobby of trackchasing involves much more than simply visiting racetracks. Much more. My hobby includes and requires lots of traveling. I get to see and experience, over the "long and dusty trackchasing trail," all kinds of interesting places, restaurants, sporting events and the like. I call these adventures "Trackchasing Tourist Attractions". You won't want to miss my "Trackchasing Tourist Attractions" page. Here's the link:  Trackchasing Tourist Attractions or my "Sports Spectating Resume" page, Sports Spectating Resume on my website at www.randylewis.org.
I live in southern California. That's probably the most inconvenient location in the country for seeing tracks in the U.S. Most of the racetracks in the U.S. are located well over 1,000 miles from where I live. My average trip covers 5,000 miles and more. I take 35-40 of those trips each season. In any given year I will travel well over 200,000 miles, rent more than 50 cars, and stay in more than 150 hotel rooms. 
I get the chance to meet people from all over the world. With trackchasing trips to 85 countries and counting just getting the chance to experience so many unique cultures, spend time in the homes of my friends and meet so many people is a huge reward for being in this hobby. I am indebted to several of these folks for their help and friendship.
It takes a good deal of planning to do the above and not spend my entire retirement portfolio. I enjoy the challenge, the travel and every other aspect of "trackchasing". In reality, my trackchasing hobby is a lot like being with the carnival. I breeze into town, stay a little while and then head on down the road.
Once you begin researching my trip itineraries from my website, yes you will want to do that, you will be surprised. One day I'll be in Tucson, the next in maybe Tuscaloosa and the following day in Syracuse. I do that kind of thing all the time. Figuring out the logistics of a trip like that is as much fun for me as watching a figure 8 race.
Now you know a little bit about my trackchasing addiction. When you receive one of my Trackchaser Reports or find one on my website at www.randylewis.org you'll get three pieces of entertainment.
First, my Trackchaser Report will be an in-depth essay on how the trip went from A-Z. Yes, I'll cover the racing aspect of things. But you will also hear about what it took to pull off the trip, the special stops that made the trip fun and the obstacles that needed to be overcome.
Secondly, you'll get a YouTube video of the racing action I saw. These are normally short 3-6 minutes highlights of the racing. My YouTube channel is named, "RANLAY". I have nearly 2,000 subscribers to my channel. Currently, I have posted more than 1,300 videos and my channel has more than 1.2 million views!
Finally, I'll share a captioned photo album using a photo-sharing program called SmugMug. Normally, there will be anywhere from 50-200 photos from each trip I take. Sometimes more! My website is linked to hundreds of thousands of photos from all of the trips I have taken.
There you have it. That's trackchasing…the way I do it. Do others trackchase? Absolutely. Do they share their experiences? Sorry. They don't. If you want to see the true "essence" of trackchasing you've come to the right place.
A common question I get about my hobby is, "Why?". I'm a curious fellow. I'm an adventuresome fellow. My hobby is about seeing and experiencing the things that most folks walk right past. Below is a link to a special video. It shows a small town in Missouri that I visited on one of my trips. In this video, I'll share with you exactly what I mean. This video might just make your day.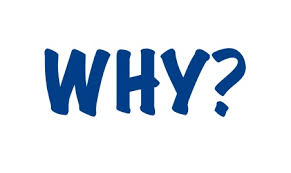 Trackchasing….this is exactly why I do it
Today's adventure was one more of the 2,000 trips that have taken me up, down and around the proverbial long and dusty trackchasing trail.  If you would like to see where I've been and experience those adventures here's the link: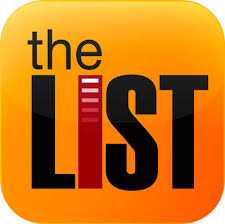 If you've got a question, comment or whatever please leave it at the bottom of this report.  It's very easy to do.  Or you can visit me on Facebook.  Thanks!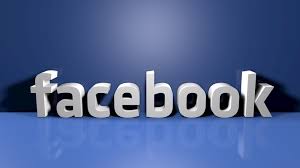 FOREWORD
Saturday, February 25, 2012.
Ed Esser – November 15, 1946 – March 1, 2012
In memory….today, February 25, 2012, trackchaser Ed Esser and I both showed up at the Allouez Bay Ice track in Superior, Wisconsin.  We really met by chance since neither of us had ever seen racing here.  Ed and I each had a great time pursuing our hobby of trackchasing.  At the end of the day, we decided to travel together up to Thunder Bay, Ontario, Canada for an ice race the next day.  This would be Ed's first-ever trackchasing effort outside of the U.S.A. after seeing 1,429 different tracks.
Sadly, just five days after we met in Superior, Ed passed away suddenly from a heart attack.  I left my Trackchaser Report just the way it was written before Ed died.  I think he would have wanted it that way.
I was able to capture a little bit of an "interview" with Ed about his first visit to Canada for trackchasing.  If you would like to see it click on this link:

Allouez Bay Ice Track – The racing action
"THE LAST ICE RACING WEEKEND OF THE YEAR"
TODAY'S HEADLINES
Saved by a Badger…………..details in "The Plan".
Would two college students know where the liquor store was in Superior, Wisconsin?……………..more in "The Trip".
Whose face was on today's trackchasing puzzle? …………..details in "The Trip".
Greetings from Superior, Wisconsin
THE PLAN, THE TRIP, THE PEOPLE…AND A WHOLE LOT MORE
The Plan 
I use only one kind of idea….other people's.
I get a good deal of recognition just about everywhere I go because of my trackchasing hobby.  However, that recognition is misplaced in some ways.
First of all, I get almost all of my ideas from other people.  Granted I do try to take someone else's idea and adapt it for my own use.  However, without the original idea, I would probably just be staring blankly off into space.
Without my sponsors paying many of my bills I could not go trackchasing nearly as often as I do.  Without the help of people who live locally, near the tracks I might be visiting, I would miss out on several opportunities.  That was the case with this weekend's trackchasing.
Saved by a Badger.
A couple of weeks ago I was contacted by racechaser, Ed Reichert who lives in Northern Wisconsin.  Just as the country has its leading "trackchasers" it also has its leading "racechasers".  The two hobbies are different in some very specific ways.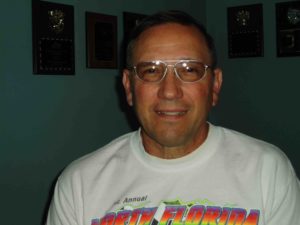 Racechasers are a different bunch from trackchasers.
A "racechaser" goes to the races that will be the most entertaining, the most competitive and often times the most significant within the regional or national racing scene.  Over the past many years names like Gary Jacob, Ed Esser and, yes, Ed Reichert were at the top of the "racechaser" list.  A "racechaser" attends the races primarily for the thrill and entertainment of the racing competition.  They couldn't care less if they were attending a racetrack for the first time or the one-hundredth time.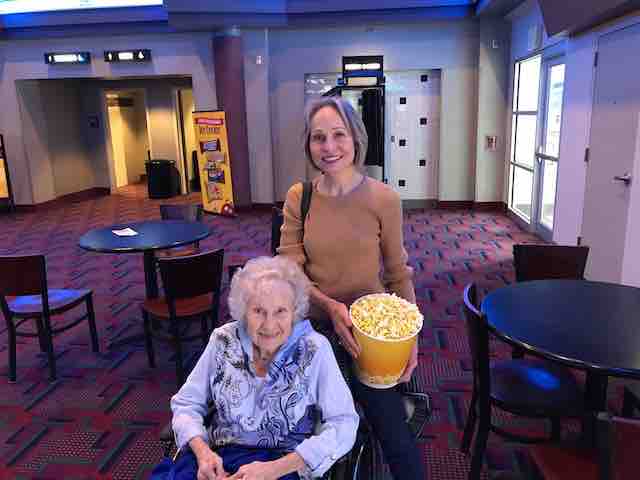 The "trackchaser" on the other hand is like a moviegoer.  I am certain that 99% + of everyone who goes to the movies sees that night's film just one time and never comes to the theatre again to see that show.  A trackchaser, for the vast majority of their shows, sees the racing at one track and never comes back.  It's not because they don't want to come back.  It's just that there are so many other tracks (movies) to see, they don't have time to come back.
This is the true test.
Some trackchasers might dispute the above claim.  These are the folks who DO go back to their local tracks from time to time.  However, this is the true test.  What happens if a "new track" is within easy driving distance and is racing just one time per year.  If the race fan goes to their local track they are likely a "racechaser".  If they drive right past their local track to attend the once a year racing opportunity they are most likely a "trackchaser".
Ed Reichert might be the most avid "racechaser" going right now.  He sees about 160 nights of racing each year.  He rarely goes to a track where he's never been before.  That's because the racing series he follows returns year after year to the same group of tracks.  There might not be another person in the world, right now, who sees more competitive racing night in and night out than Ed.
Mr. Reichert has been a solid follower of my trackchasing for a long time now.  I hear from him from time to time.  I was most pleasantly surprised to get a message a few weeks ago.
Just a little help from my friends.
He had noticed a sign advertising "ice racing" near his home in Superior, Wisconsin.  We wanted to pass along the information just in case I had one more northern Wisconsin ice trip left in my bag for 2012.  I did.
I followed up and the group had just been organized.  Their first ever race had been held only three weeks ago, February 4.  An added bonus was they raced on Saturday.  The majority of ice tracks that race just one time per week, race on Sunday.
By the time this is published the ice-racing season will be over.  Therefore, it is unlikely that any other trackchaser will benefit from my visit to Allouez Bay.  That's O.K.  After I get a chance to review the track and it's racing program my trackchasing fellow competitors should be able to have a very comfortable time in 2013 at this ice track.
The Trip
I never used to go to ice tracks.
I woke up this morning in San Clemente, California.  I went to bed in Roseville, Minnesota.  This is what today looked like.  Then I woke up in Roseville, Minnesota and went to bed in Grand Marias, Minnesota.
During my "pre-sponsorship" days I rarely went to any ice races.  To do so, I would have had to purchase a non-refundable airline ticket in the middle of the winter.  Ice race conditions are somewhat unreliable.
Most ice tracks need 15" or more of ice to safely hold their races.  This has been one of the mildest winters in many many years.  Ice tracks are starting their seasons late, canceling races during the season and ending their seasons early.  If there is really anything to "global warming" (Carol's says it's all a bunch of 'poppycock') then ice racing may soon become a thing of the past.
I don't know of any trackchaser who has seen more than one ice race in all of 2012.  By the end of this weekend, I hope to have seen five new ice tracks. 
Ice racing…the good and the bad travel-wise.
Almost all ice racing is done during the day.  That is both good and bad for me.  I cannot get to a noon ice race start time by leaving California on the day of the race.  Because almost all U.S. ice racing is in the central and Eastern Time zones I have to leave sunny California the day before the race date.  That's not the most preferred way for me to travel.
However, there is good news for afternoon racing as well.  When as ice race finishes, often on a Sunday, many times I can still make a late-night flight from the Midwest or east back to California.  So, I might have to leave a day early but I get home (sort of) a day early too.
For this weekend, I hopped on a 6:15 p.m. departure on Friday night to Minneapolis.  During the winter these flights are wide open.  Departing this late allows me to complete my exercise program, do some office work and spend some time with Carol before I leave.  That's a good deal.
With a two-hour time change, I would not land in Minneapolis until midnight.  Then I could elect to sleep overnight in the airport or grab a Twin Cities hotel.  I'm still looking for sponsorship of my last fifteen nights of hotel stays for 2012.  Despite my lack of sponsorship, Carol is adamantly against my sleeping overnight in airports.
Nobody gets shot inside the secure area of an airport.
I tell her that sleeping in an airport is much safer than sleeping in a Wal-Mart parking lot.  None of the bad guys have any weapons inside the secure portion of the airport.  Since I do the financial strategic planning within the Lewis household (Carol is in charge of everything else) I have a better handle on what we can afford and not afford.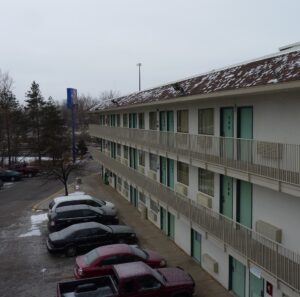 One for me; two for Carol.
However, I took the easy way out tonight.  I grabbed a Minneapolis area Motel 6.  I would not be checking in until about 1 a.m.  I would have to be on the road no later than 9 a.m.  It is times like this that a Motel 6 works perfectly.  Last week Carol stayed (me too) in Westin hotels and the like during our trip to New York and Montreal.  I enjoy staying in budget hotels when I'm by myself.  They offer me everything I need, especially when my stay is short.  If that helps me afford to put Carol in the very best places then I simply consider that as a reward she earns with all of the things she does back in San Clemente.  Make sense?
Would two young college students from Wisconsin know where the liquor store was?
It was nearly a three-hour drive from where I stayed near the Minneapolis airport up to Superior, Wisconsin.  My directions were a little suspect.  I had been told to "turn at President's 1 Stop Liquor".  Upon my initial entrance into Superior, I didn't see the liquor store but I did see a Subway sandwich shop.  I stopped there for lunch.
Two young men were working the counter.  Superior isn't that big.  Maybe they would know where the President's 1 Stop Liquor store was.  Does a bear do its business in the woods?  Would two young college students from Wisconsin know where a local liquor store was?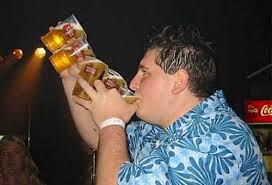 Folks, I travel the country nearly every weekend.  What have I noticed about Wisconsin?  They are the biggest beer drinkers by a factor of a six-pack when it comes to downing their brewskis.  Although the liquor store was way across town they described the way as if it were next door.  You gotta love these beer-drinking Wisconsinites.
Soon I was off to the track.  When I reached the liquor store, the bright blue and white signs identifying the "Superior Ice Racing Association – S.I.R.A." were plentiful.  It wasn't long before I was within a block or two of Allouez Bay, which is a water suburb of Lake Superior.
I had an unexpected surprise coming my way.
However, I did have a surprise coming my way.  About 200 yards ahead of me was a huge white motorhome.  Well, compared to my spiffy little grey Ford Fusion it was huge.  I had a funny feeling about who that motorhome might belong too.
I tried to put all of the pieces of the puzzle together.  This was an ice race.  This was an ice race at a track that had opened just three weeks ago.  This was an ice race in Wisconsin.  As the pieces began to seamlessly fit together I began to identify the picture of the puzzle.  That picture had the face of trackchasing's Ed Esser all over it.
Gosh!  I thought I had "one-upped" him with this track.  In point of fact, he entered the frozen bay some thirty seconds ahead of me.  I guess he had "one-upped" me!  Should I be mad at Ed for not letting me know about this new ice track?  Nah.  Should Ed be mad at me for not letting him know about this ice track?  Nah. 
Bump drafting.
There was no admission price.  Spectators simply drove their vehicles up to the edge of the viewing space, only 30-40 yards from the track, and found a good place to watch.  I pulled the National Rental Car Racing Ford Fusion right to the rear bumper of Ed's motorhome.  When he looked up in his rearview mirror to see what all of the commotion was I was taking his picture!
In a minute or so, Ed was leaving the comfort of his vehicle to join me in mine.  Long-time readers know that Ed and I are fraternity brothers.  Of course, he went to a better school than me, but we were still brothers.  We exchanged our super-secret handshake and began to renew our acquaintances. 
I had not seen Ed since last July back at a county fair in Indiana.  We never know when we would run into each other.  By this time in our trackchasing careers with Ed having seen more than 1,400 tracks and me more than 1,700 there were precious few locations where at least one of us had not already been.  A track like today, that was brand new, was the best bet for us to meet up.
The People
The folks from the Superior Ice Racing Association were happy to see us.
I already told you how I benefitted from Ed Reichert's advice with today's track.  There are a lot of people like Ed out there who follow my trackchasing and are willing to help whenever they can.  I love recognizing folks like that.  It takes a lot of local support to keep up with those "Dreaded East Coast Trackchasers".
The sign that Ed had seen offered up a phone number for more information on the Allouez Bay ice races.  This put me in touch with race organizer Darin Meierotto.  I gave him a call up in Northern Wisconsin.
He was happy to find someone interested in his brand new racing group.  Most local racers don't do it for the money.  There is very little money in local racing.  However, I have never found a racer who doesn't appreciate a fan who shows interest in their racing program.
Darin told me the group's first-ever race was on February 4, 2012.  That was only three weeks ago.  He said the local town officials were very much in favor of their racing.  Darin also mentioned he would love to have me "ride-along" for a race or two.  I never turn down those opportunities.  I honestly can never recall another trackchaser doing an ice race ride along with one exception.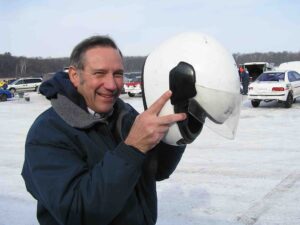 A few years Ed Esser and I were at an ice race together in Brainerd, Minnesota.  The race organizers asked me since I had made a prior contract with the group's management if I would like a "ride-along".  I deferred so Ed could take the ride.  I know he had a good time.
RACE REVIEW
ALLOUEZ BAY ICE TRACK – SUPERIOR, WISCONSIN
Good weather; good timing.
This would be my fourth ice track of the season.  The weather conditions were great.  It was nearly 30 degrees, sunny with no wind.  Folks, if you go ice racing you won't get weather much better than this or you might be fishing your racecar out of the bay.
As Ed and I pulled in other racecar haulers and their race teams were just driving onto the ice as well.  Today there would be eleven cars in action, all in the same class.  At the driver's meeting, we learned each car would race in five heats.  That's a lot.  Then everyone who was still running would race in a 15-lap feature event.
It was time for Ed and me to make our speeches.
Darin introduced us at the driver's meeting as "trackchasers" who had come a long way to see them race.  Although I had traveled a long way to get here Ed had driven his motorhome nearly six hours to see racing in Superior.
I spoke briefly and told the drivers a little bit about trackchasing.  I also mentioned I would be taking photos and would produce a racing film from their action today.  Then Ed addressed the group.  I can't recall if he mentioned that we were "now first overall in the USA trackchaser standings, Ed has over 1,423 tracks that he has visited" as his website (Ed's blogspot) proudly proclaims.  We would have to talk about that later!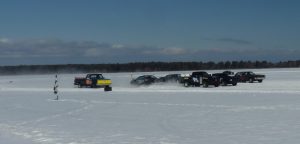 Lots of fast-paced racing.
Each of the heat races started 5-6 cars.  The track was large.  We were told it measured ½-mile "on the inside" but Ed and I both agreed it looked to be about ¾-mile in its ice oval length.
The competition was varied.  There were nice looking V-8 powered street stock type racers alongside pickup trucks.  One pickup truck looked to be of pre-World War II vintage but in reality, was probably born in the 80s.  I spent a few minutes talking to their driver and pit crew.  I could not have met a nicer group of people.  Don't miss their group photo!
Sit down; strap in; hang on and shut up!
The group's leader invited me to strap into the passenger's seat of his racer.  Darin's Chevy was the class of the field.  It was fun riding shotgun while I created part of the film you will see from the link above.  However, there was one drawback to riding with Darin.  He was in front the entire time!  It would have made a much better film if we were slamming and banging in the middle of the pack!
I've done these "ride alongs" many times.  Today's ride was particularly fast reaching speeds in excess of 60 M.P.H.  That's pretty fast when you're expected to make a 180-degree turn on glare ice every couple hundred yards.
The track was wide in the turns, maybe 100 feet or more.  The cars were rear-wheel drive with metal studs embedded into the front tires.  This made the handling and steering much better for the drivers.
It wasn't the Westin but it wasn't bad.
The group had some amenities for the fans today situated on the bay.  Believe me, not all ice tracks do.  They offered a porta-potty and had a small concession where folks could get some refreshments.  The highest price on the menu I saw was 75 cents!
No, I am not kidding.
I know you might think I'm kidding when I discuss the proclivity to consume alcohol by residents of Wisconsin.  I should know.  I used to drive up here with buddies when I was 18 years old from Illinois so we could legally drink "3.2" beer.
By way of example, today one driver was using a metal beer keg as his gas tank!  In a first, Gronk's Grill & Bar (Gronk's) had their own mobile vehicle, which appeared to be serving the suds.  If not, they must have been driving fans back and forth from the ice track to the bar.  Folks….only in Wisconsin.
Want to ride along?
From time to time, Ed and I would retreat to the comfort of my car.  When the final race was finished, I told Ed I was heading up to Thunder Bay, Ontario, Canada for their Sunday afternoon ice racing.  Would he like to join me?
Yes, as a matter of fact, he would he told me.  This was special.  Why would such an invitation and acceptance be so special?  Ed was agreeing to go to a race in a foreign country for the first time ever.  Heck, he's sixty-five years old.  It's about time!  I've been bugging him nearly every time I've seen him to "get going internationally" for years.  Frankly, I didn't think he would accept my invitation but was most glad he did.
STATE COMPARISONS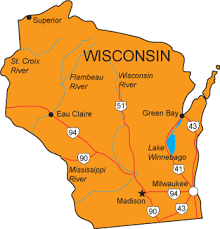 Wisconsin
This afternoon I was seeing my 71st-lifetime track in Wisconsin the Badger state, yes the Badger state.  That's a pretty good total.  Only three trackchasers have reported seeing more including "Fast Eddie" Esser who saw his 118th lifetime Wisconsin track today.
I've still got about 25 tracks to see in Wisconsin.  Only two of those are traditional oval tracks that race on a weekly basis.  The rest are an assortment of ice tracks, county fairs and the like.
Coming Soon – RLR – Randy Lewis Racing Exclusive Features!
Do some trackchasers carry an unfair geographical advantage?
Should foreign trackchasers be given a handicap so they can enjoy the fruits of trackchasing glory?
Thanks for reading about my trackchasing,
Randy Lewis
World's #1 Trackchaser
Peoria Old Timers Racing Club (P.O.R.C.) Hall of Fame Member
Wisconsin sayings:  Check out our cheese balls
TRAVEL DETAILS
AIRPLANE
Los Angeles, CA (LAX) – Minneapolis, MN (MSP) – 1,535 miles
RENTAL CAR #1
Minneapolis-St. Paul International Airport – trip begins
Superior, Wisconsin – 157 miles
TRACK ADMISSION PRICES:
Allouez Bay Ice Track – No charge
COMPARISONS
LIFETIME TRACKCHASER COMPARISONS 
There are no trackchasers currently within 300 tracks of my lifetime total.
Randy Lewis, San Clemente, California – 1,734
Ed Esser, Madison, Wisconsin – 1,429
Guy "The Kid" Smith, Effort, Pennsylvania – 1,421
Other trackchasing comparisons.
Official end of the RLR – Randy Lewis Racing Trackchaser Report
Click on the link below to see the video production from the racing action today.
Racing action from Allouez Bay PLUS a short interview with trackchaser Ed Esser 
.
.
Allouez Bay ice racing from A to Z!