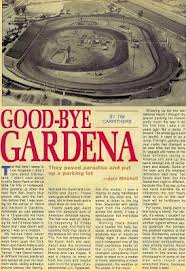 Greetings from Gardena, California
.


From the travels and adventures of the "World's #1 Trackchaser"
HighlightsVideo PlusPhotos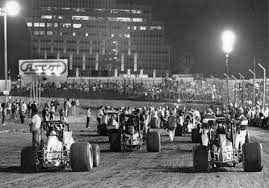 Ascot Park
Outer dirt oval
Lifetime track #54
  .
 Ascot Park
Inner dirt oval
Lifetime track #55
.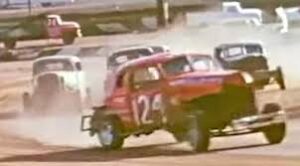 Ascot Park
Dirt figure 8
Lifetime track #538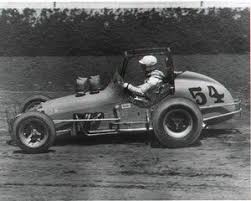 The famous Ascot Park ½-mile oval in Gardena, California is officially listed as my 54th-lifetime track. Ascot Park was the just the second-ever track I visited to see racing at in the Golden State. Today I have seen racing at nearly 200 different tracks in California.
I did not begin writing my famous "Trackchaser Reports" until the middle of the year 2000.  My first official Trackchaser Report was written for track #425, the State Fair Speedway in Sedalia, Missouri.  I saw that track with my brother Mark on May 28, 2000. I first went to Ascot Park in 1975 or so. I have a LOT of memories from my time at Ascot.

Before 1980, I never kept track of when I went to a track. I just know from memory that I had seen racing at 71 different racetracks from when I was born in 1949 through the 1979 season. This was affectionately known as the "Group of 71". Ascot Park was a special member of the Group of 71. Ascot Park easily ranks in my top 5 most favorite tracks. As this is written I've seen racing at more than 2,600 racetracks.
You see when I first became a racing fan I never gave the idea of "trackchasing" a passing thought. Why? Trackchasing requires the funds to travel long distances. I grew up poor. We had no money for travel. The ONLY vacation I can ever remember taking until I was in college was a bus trip from Peoria, Illinois to Evansville, Indiana to visit my grandparents. We had absolutely no money for luxuries and travel was a luxury.

I began my racing fan "career" as a "racechaser". How did I decide beginning in college and running through the early 80s where I would go to the races? That was easy! I simply followed my favorite drivers. I scoured the Hawkeye Racing News for advertised race dates. I followed my favorite dirt driver, Darrell Dake, all over his home state of Iowa and my home state of Illinois. We were big Dick Trickle fans. When he was racing at a big show we tried to make it there. Yep. I was a racechaser. I didn't give a second thought to whether I was visiting a new track or not.
However, somewhere in the 80s, I decided I liked going to a track for the first time more so than re-visiting a track for the 10th time. It was also about this time that Darrell Dake was slowing down his race schedule and Dick Trickle was moving from the midwestern short tracks to NASCAR. Of course, during the 60s and 70s, I was a regular at my hometown track, the Peoria Speedway. To this day the Peoria Speedway remains my all-time favorite track.
Much of what I can tell you about Ascot Park is from memory. During the years Carol and I moved all over the country moving up the corporate ladder. That meant we had a series of "home" tracks. We lived in Illinois, Ohio, Arizona, California, Connecticut, Illinois again and finally California again.
Our home tracks included:
Peoria Speedway (IL)
Queen City Speedway (OH)
Manzanita Speedway (AZ)
Ascot Park (CA)
Orange County Fair Speedway (NY)
Santa Fe Speedway & Rockford Speedway (IL)
Ascot Park (CA)
Our series of corporate moves covered the time frame of 1972-1983. During that entire time, I was a "racechaser". I went to the above tracks and other famous race facilities as well just to see good racing. I never considered the idea of going to a racetrack just for the sake of seeing racing at a new track. By the end of the 1983 season when we moved back to California for the last time I had seen racing at 137 tracks in total. I was 34 years old. Up to that point, I was averaging seeing just four tracks per year! Later I would see more.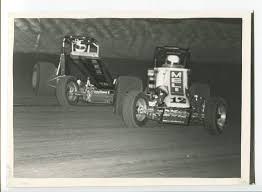 Ascot Park was famous for its sprint car racing. Wingless sprint car racing. I went to Ascot well over 50 times until the track closed at the end of the 1990 season. We lived in southern California from 1975-1979 and then again from 1984-1990 when Ascot closed its doors.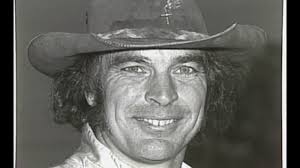 I think prior to moving to California in 1975 I had seen one sprint car race in my life. That was a USAC sprint car show on asphalt at the Queen City Speedway in West Chester Township, Ohio. The famous Jan Opperman showed up that day to race.
My introduction to dirt sprint car racing was all without wings. Today almost all sprint car racing on dirt is done with wings. I don't care for winged sprint car racing at all. Yes, they are fast, they just don't pass. I would rather see passing. Wingless sprints cars run two and three abreast and pass all the time.
Sadly, for fans, wingless sprint car racing is much more dangerous than when the sprinters run wings. The car owners and drivers prefer the safety of the wings. During my time as a fan, I've seen six drivers and one spectator killed at the track. A couple of those fatalities happened at Ascot Park.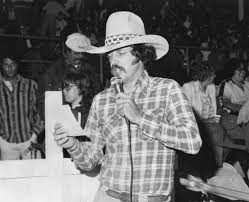 Racing at Ascot was a true happening. The famous J.C. Agajanian and his family promoted Ascot Park. They did things right. They always had a good announcer. Bruce Flanders was our favorite. Concessions were outstanding. However, it was the racing that set Ascot Park apart from everyone else.
On most Saturday nights Ascot Park ran just one class. There aren't five tracks in the country that run just one class in 2020. However, Ascot packed them in with one class, the "CRA" (California Racing Association) non-winged sprint cars.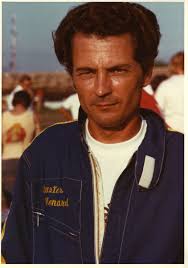 The top three drivers during our time at Ascot were Jimmie Oskie, Rick Goudy and Dean Thompson. I guess I liked "Deano" the best of those three. However, my favorite was Buster Venard (above). He came onto the sprint car scene later in life but won some big races. Yep. Buster Venard was my favorite Ascot Park driver.
Toward the end of the year, some of the eastern-based sprint car drivers would come out to California. I remember when Pennsylvania's Bobby Allen showed up one night. Of course, he was driving without a wing. I remember seeing four "points" that looked like antlers on the top of his roll cage. I had no idea what those were for. Some years later I would learn those points were used to attach his sprint car wing to the roll cage.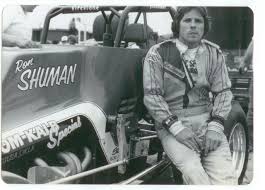 One of the best nights of racing all year at Ascot was the "Turkey Night Grand Prix". This was a special race held on Thanksgiving night for midget racecars. This race drew huge fields from all over the country. The race dated back to the 1930s. A.J. Foyt and Parnelli Jones were previous winners of Turkey Night. During my time at Ascot Park, Ronnie Shuman was this race six times in a nine-year time frame.
Ascot also featured stock cars about once a month or so. However, the crowds for stock car racing never approached the full grandstands Ascot would get for the sprinters.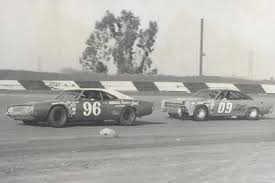 I did see the NASCAR Winston West stock cars race at Ascot Park. Ray Elder won a three-hundred lapper. Ascot was also famous for its enduros. Sometimes they started more than 100 cars in these races. Those were very entertaining events.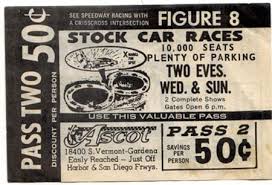 Over the years Ascot raced on an inner oval and held figure 8 racing as well. When I first saw figure 8 racing at Ascot the hobby of trackchasing didn't count figure 8 racing. Then at the end of the 2001 season, Allan Brown proposed a rule adding figure 8 racing as a countable track configuration for trackchasing. The proposal passed. Then in a somewhat bizarre entanglement of logic and trackchasing politics, Allan's rule was made "retroactive". This meant that if a trackchaser had seen a race before the rule allowing figure 8 racing was passed all of those previously seen tracks could be counted. Even though I saw figure 8 racing at Ascot before it was "trackchasing legal" I was able to count the track retroactively at the end of the 2001 season.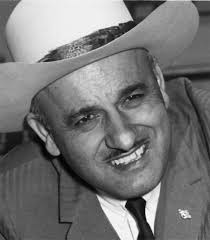 Ascot Park closed in 1990. There were big plans to develop the site commercially. To this day, thirty years later, nothing has been built where the famous Ascot Park created so many memories. Had Ascot Park remained there is a reasonable likelihood I never would have become a trackchaser at least to the degree that I did. Now when I drive up the "405" toward the Los Angeles International Airport I always see a huge 10-12 story building sitting off to the right of the freeway. Just beyond that building is where Ascot Park and it's slogan, "where the 110, the 405 and the 91 freeways collide!" left its mark. Thank you to J.C. Agajanian (above) for so many nights of great entertainment.
Wikipedia shared this information about the history of Ascot Park.
Ascot Park, first named Los Angeles Speedway, and later New Ascot Stadium, was a dirt racetrack located near Gardena, California.
History
Los Angeles Speedway opened in 1957, on the site of a former city dump. It was built less than 1 mile (1.6 km) from the former site of Carrell Speedway, which had been closed in late 1954 to make way for the Artesia Freeway. The track was renamed to New Ascot Stadium in October 1958 to as part of a management change. The track assumed the name it held until its closure, Ascot Park in 1961. J. C. Agajanianpromoted major races at the venue, and later leased the track from 1976 until his death in 1984, when his family continued operating the venue. His radio advertisements ended with the phrase "Come to Ascot, where the 110, the 405 and the 91 freeways collide!".
With seating for only 7,500, Ascot Park was smaller than the other tracks of the area including the Ontario Motor Speedway (closed in 1980), and the Riverside International Raceway (closed in 1989). However, the park was equally well-known, due to its being surrounded by freeways for easy access, its regularly scheduled races, and its heavy radio advertising.
The half-mile course featured tight semi-banked turns, long straight-ways, and a tacky surface that was conducive to dramatic sprint car racing. Other motorsport events, such as Figure 8 racing and motorcycle flat track and TT racing, were also held at Ascot.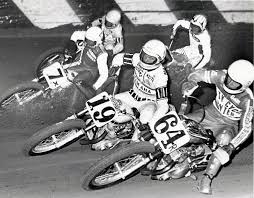 The dirt racetrack hosted races in the United States Auto Club (USAC) sprint car championship, the AMA Grand National Championship motorcycle series. Ascot was also the site of the annual USAC Turkey Night Grand Prix midget race on Thanksgiving.
Though he began doing stunt jumps in 1966 at small venues such as fairs and carnivals, Evel Knievel (Robert Craig Knievel) gained international attention with his first televised jump on ABC's Wide World of Sports at Ascot Park Raceway on March 25, 1967, successfully clearing 15 cars.
The racetrack was also used in movies and TV shows like the original Gone in 60 Seconds, A Very Brady Christmas, T J Hooker and CHiPs.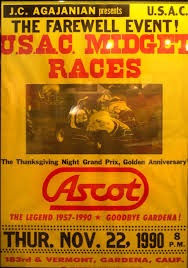 The 50th annual Turkey Night Grand Prix for USAC midget cars became the last of more than 5,000 main events held since the track opened. Ascot Park was closed in November 1990. It remained unused after a failed development project occupied the former site for a number of years. The track site was later replaced by Insurance Auto Auctions building and storage yard.
ESPN was hosting live races of Thursday Night Thunder sprint car racing from 1988 to the track's closing in 1990 and later went over to Indianapolis Raceway Park and the show was later moved to Saturday night, some of the most famous driver to race at Ascot was Jeff Gordon, Sleepy Tripp, among others.
NASCAR race results
Three NASCAR Grand National Series events were held at the track. The 1957 event was held on the 0.5-mile (0.80 km) track. It was won by Eddie Pagan. The second NASCAR event was a 500 lap event on the 0.4-mile (0.64 km) track, and it was won by Parnelli Jones. The final event was held in 1961 on the 0.5-mile (0.80 km) track. Eddie Gray lapped the field for the win.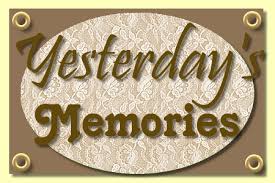 You might have remembrances about this track.  If so, please feel free to share your memories of the comments section below.  If you have any photos from back in the day, send them to me at Ranlay@yahoo.com.  I'll try to include them here.
Click on the link below to see the video production from the racing action today.
Ascot wingless sprint car racing – 1979 
.
.
A great example of Ascot's sprint car racing – 1984
Click on the link below for a photo album from today's trackchasing day.  You can view the album slide by slide or click on the "slide show" icon for a self-guided tour of today's trackchasing adventure.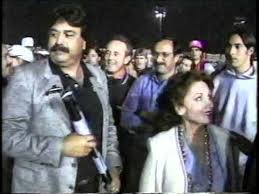 Memories from back in the day at Ascot