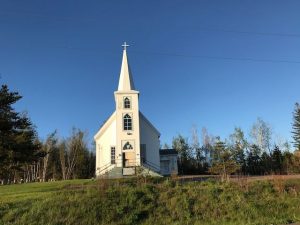 Greetings from Mill Village, Nova Scotia, Canada
.
.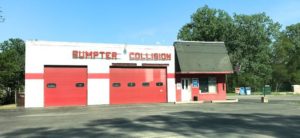 and then the next day Belleville, Michigan
.
.
From the travels and adventures of the 
"World's #1 Trackchaser"
.
.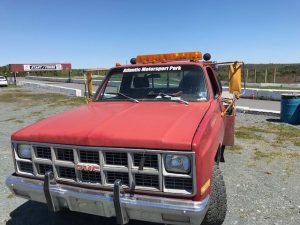 Atlantic Motorsport Park
Asphalt road course
 Lifetime Track #2,442
.
.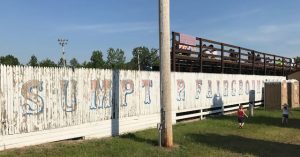 Sumpter Township Fairgrounds
Dirt figure 8
 Lifetime Track #2,443
The EventVideo PlusPhotos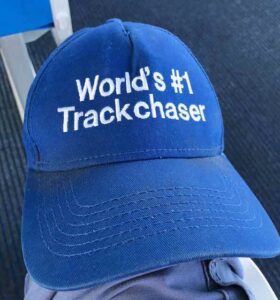 THE EVENT
I am a "trackchaser". So, what the heck is that? I get that question all the time from racing and non-racing people all the time. Here's my best answer.
I'm a racing fan. I love to travel. I love to analyze opportunities to get the most out of everything while saving time and money.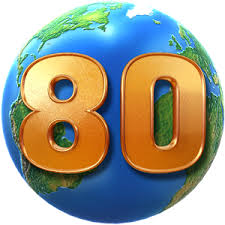 Trackchasing fills the need for all of the above. The racing part of my trackchasing has me trying to see wheel to wheel auto racing at as many different racetracks as I can all over the world. So far that is going pretty well. I've seen racing at more than 2,400 tracks in 80 countries. As a matter of fact, I've seen racing at more tracks than anyone else in the world.
Equally important to me are the things I get to see and experience over the "long and dusty trackchasing trail". I called these adventures "Trackchasing Tourist Attractions". You won't want to miss my "Trackchasing Tourist Attractions" page or my "Sports Spectating Resume" page on my website at www.randylewis.org.
I live in southern California. Most of the racetracks in the U.S. are located well over 1,000 miles from where I live. As a matter of fact, my average trip covers 5,000 miles and more. I take 35-40 of those trips each season. In any given year I will travel well over 200,000 miles, rent more than 50 cars, and stay in more than 150 hotel rooms.
I get the chance to meet people all over the world. With trips to 80 countries and counting just getting the chance to experience so many other cultures, spend times in their homes and meet their friends is a huge reward for being in this hobby. I am indebted to several of these folks for their help and friendship.
It's takes a good deal of planning to do the above and not spend my entire retirement portfolio. I enjoy the challenge, the travel and every other aspect of "trackchasing".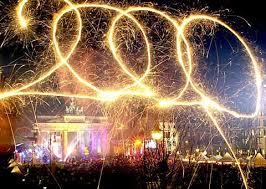 Today's adventure was one more of the 2,000 trips that have taken me up, down and around the long and dusty trackchasing trail. If you would like to see where I've been and experience those adventures here's the link:
If you've got a question, comment or whatever please leave it at the bottom of this report.  It's very easy to do.  Or you can visit me on Facebook.  Thanks!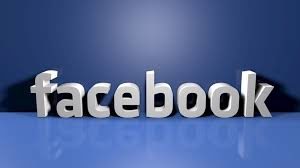 FOREWORD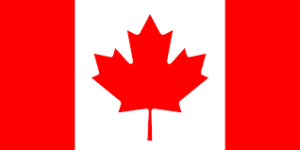 Saturday, May 26, 2018.
I've seen racing at more than 150 Canadian tracks. However, I have not trackchased very often in the Canadian province of Nova Scotia.
Until today I had only seen racing at one Nova Scotia track. That was back in 2008. Carol and I visited the Scotia Speedworld asphalt oval track in Halifax. That's a very upscale facility.
I spend quite a bit of time in several of the Canadian provinces. I trackchase the most in Ontario but also get to Quebec, British Columbia, Alberta, Manitoba and Saskatchewan often. As a matter of fact I have the #1 trackchasing ranking in British Columbia, Alberta and Prince Edward Island. I have the runner-up spot in Saskatchewan and Manitoba…and am closing fast on the province leader.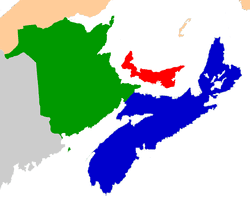 The one area of Canada that I have spent the least time in by far is the Maritimes region which would include the provinces of New Brunswick and Nova Scotia.
Why haven't I visited the Maritimes more often? Good question. First, they don't have very many racetracks. Secondly, and probably mistakenly on my part, I always thought the Maritime provinces were too far out-of-the-way. There were no convenient airports for me to use. It seemed as if the driving distances were too great. In reality today's road course racing in Mill Village, Nova Scotia was only a ten-hour drive from Boston. In my world that's not much.

I pulled into the town of Truro, Nova Scotia at about 11 p.m. last night. I still get a chuckle from the hotel's manager. He had the most serious heartburn over my arriving after 10 p.m. their closing time. I was finally able to talk him into leaving a key for me. I believe he thought it was the equivalent of giving up his firstborn child.
Sunday, May 27, 2018.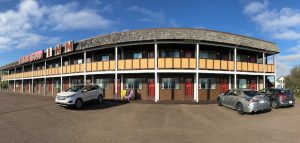 The next morning I had some trackchasing "administrative" work to do. After I checked out of my motel, I had to fill up the National Car Rental Racing Toyota Camry with petrol. This was my only fuel stop in Canada. Right now fuel prices are nearly four dollars a gallon north of the border. Gas is just three bucks in the United States. When I travel in Canada I try to use as little fuel in the country as I possibly can. 
Then I took off to try to find a decent breakfast. However, in Canada as in the United States the chains have buried the moms and pops when it comes to restaurant choices. Near my hotel I could eat at Tim Hortons, Taco Bell, KFC, and Burger King. I couldn't find a mom and pop breakfast location anywhere nearby. I settled for Tim Hortons breakfast sandwich, a Canadian maple pastry and a Diet Pepsi.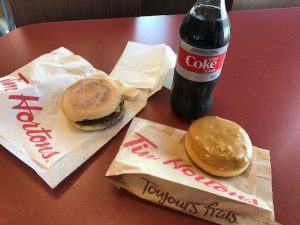 There was an unusual sign on the front door at Tim Hortons. It said that, "due to on foreseen circumstances" the restaurant would be closing early. That was sort of curious posting.
THE RACING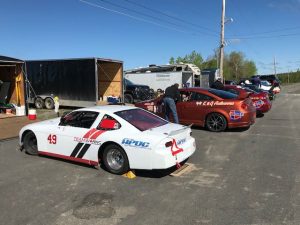 Atlantic Motorsport Park – Mill Village, Nova Scotia, Canada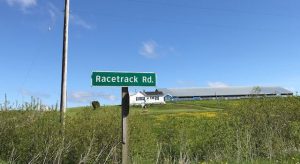 Following breakfast it was time to head over to the Atlantic Motorsport Park. I was looking forward to seeing this old line country road course. It's located in one of the more remote locations, relative to where I travel, of any North American track I visit.
I did have some difficulty getting information from the track's website. I tried the phone number that was published. I got a recording saying the call could not go through. Then I sent a message via email to the four email addresses listed for the track officers. I got only one reply and that was at the last minute.
I had much more luck with Facebook. I have some proprietary methods that I use with Facebook to gather information. They are very effective. Soon I was chatting with a fellow by the name of Brent O'Connor. Brent was great at sharing information quickly. He answered all my questions. Brent drives at AMP. I was looking forward to meeting him and his race team when I got to the track.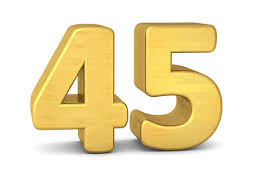 The Atlanta Motorsport Park has been operating since August, 1974. This is their 45th year of road course racing. A volunteer group of motorsport folks oversee the automobile and motorcycle racing here. Today I was told the facility is the only member owned road course track in North America. That's impressive.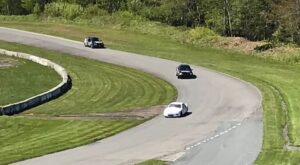 The track itself is 1.6 miles (2.5 km) in length. It has 11 turns with a little bit of elevation to the course. The track record is held by the famous Gilles Villeneuve. He set the record of 60 seconds all the way back in 1975.
The track's website offers this very detailed historical view of the Atlantic Motorsport Park:
Track History
"Atlantic Motorsport Park has been club-owned and operated from its inception in the 1970s, a popular outlet for speed lovers in Nova Scotia.
The story really begins with the popularity of sports car racing in the 1960s. The Canadian Automobile Sport Clubs (CASC) organised races were popular with competitors from coast to coast, prompting the development of new circuits such as Westwood in the relatively prosperous Vancouver suburbs, while Toronto and Quebec soon also enjoyed popular facilities.
The Atlantic Region of CASC, by contrast, was located in a more rural part of Canada, with more lower quality road networks and smaller numbers of competitors. Racers on the east coast made do with temporary circuits created from old military airfields. Debert, near Truro in Nova Scotia, hosted its first race in 1968 and continued to hold regional races for the next five years. In 1972, the Department of Transport decided to open Debert for civil aviation and so racing shifted to the abandoned airport at Pennfield Ridge, near Saint John in New Brunswick. While this kept the racing flame alive, it was far from ideal and a long way from Halifax, where the majority of racers were based.
A better solution was required and in 1972 Atlantic Region race director Frank Jobborn made a bold announcement at the CASC AGM; the region was going to build its own track. "If members of one club on the west coast can build a race track like Westwood, then the members of this Region can build one here," was his rallying cry.
It seemed a tall order; Westwood was in a more prosperous area and run by a club with many more members, yet it was already in financial trouble (and would close for good in the 1980s). The Atlantic Region was much smaller, comprising six clubs with around 100 members between them. Raising the finances was going to require a major effort.
Into the breach stepped Frank McCarthy, well known in racing circles as the manager of the Team Atlantic Racing Squad. His legendary promotional skills proved a boon and fundraising was soon in full swing. A non-profit company, Atlantic Motorsport Park Inc, was formed and soon had acquired a parcel of land near Shubenacadie. Formula Vee racer and architectural student Robert Guthrie was entrusted with coming up with the layout and soon local firms were encouraged to pitch in to help keep construction costs as low as possible.
The 1.6-mile course that finally emerged largely followed the contours of the land – this helped to reduce any expensive earth moving or grading to a minimum. The finished course proved a good driver's circuit thanks to its twists and turns.
Atlantic Motorsport Park opened for business in August 1974 and has remained in the ownership of its founding clubs ever since. Early highlights included the visit of the Formula Atlantic cars for the track's first five years. Canadian national racing legend Bill Brack won three of the races, while Gilles Villeneuve set the official lap record of 60.00 seconds in 1975, before winning the race the following year. While the Atlantic cars departed at the end of the 1970s, the circuit has become a integral fixture on the Canadian Superbike Championship to this day.
One of the most unique things about AMP is that it was designed, built and operated since August, 1974 by a volunteer group of motorsport enthusiasts, from the automobile, snowmobile and motorcycle racing groups. It remains completely owned by its member clubs and is believed to be the only track in North America that hosting a national series competition that is volunteer run.
AMP has hosted notable auto racing categories, including Formula Atlantic and a NASCAR race in the 1970s. The official lap record of 60.00 seconds was set in a Formula Atlantic Event in 1975 by Canadian racing legend Gilles Villeneuve. The circuit also featured the Canadian Honda Civic challenge in the 1980s.
At present, AMP is the annual host to the penultimate round of the Canadian Superbike Championship.
From May through October the track is busy with several local motorcycle and car clubs activities. Each year the Society of the Atlantic Roadracing League runs a full schedule of motorcycle racing. The Atlantic Region Motor Sports (ARMS) uses AMP for sedan and formula racing schedules. The Atlantic Sports Car Club (ASCC) the facility for Slalom and SoloSprint events and was host to the 2009 and 2015 ASN Canada FIA Canadian SoloSprint Championships."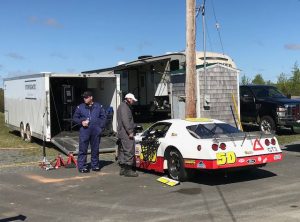 The first race of the day was scheduled to begin at 10:30 a.m. I got there about an hour early. Today's admission fee was $10 Canadian. The great thing about road course racing is that your ticket normally allows you to roam all over the property including the paddock area. Oval tracks are much different from road courses in many many ways. At an oval track you buy a ticket and sit in the grandstand. The oval spectator is rarely allowed to visit the pit area until the entire show is finished.
During the morning round of racing there would be three events. At 10:30 a.m. they would begin with a 12-lap "Debert" heat race. That would be followed by a 10-lap vintage race. Then a 12-lap "Pennfield" heat race would wrap up the morning race schedule.
Coming to the track I had no idea what a ""Debert" or "Pennfield" race was. I would learn that each of those races would be racing the same cars. They were having two races because some racing teams have two drivers. In those cases one driver would run in the Debert race. The team's second driver would compete in the Pennfield race. Race teams with only one driver would participate with their car in both races.
It was cool and clear today. At 8 o'clock in the morning the temperature was only 47°. The high temperature would top out at about 53° according to my weather app but in reality I think it got closer to sixty. With a 5-10 mile an hour wind it was definitely light jacket weather.
You can tell that spring has sprung in Nova Scotia. The trees were beginning to get their leaves. With the rain they've had the landscape was green and sprinkled with dandelions.
When I arrived I parked my car and began a tour of the paddock area. I'm going to guess there were about 20 race cars at the track today. I tried to get a good photo of each racer.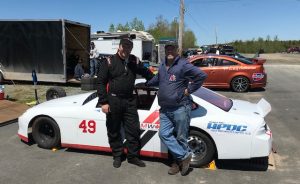 In life, "It pays to go to the top". In trackchasing the same adage is true. I was lucky. I had made advance contact with Brent O'Connor (above left). I soon found him in the paddock area. He was busy working on his race car. Brent's dad Stewart (above right), had some time to talk.
Stewart had been active with the track since 1974. As a matter fact, he was the club's president for several years. Stewart and I spent much of the day together. It was great to get all the track's background information from him.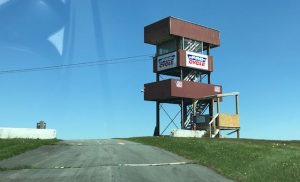 There's a huge tower somewhat in the middle of the 1.6-mile road course. It probably goes up in the air fifty or sixty feet. The top deck is reserved for race officials and observers. However, since I was with Stewart, I could get up on the top of the tower for some great video and photo opportunities.
At the lunch break Stewart took me on several moderately fast laps around the 11-turn road course in his passenger car. That was fun. Some sections of the track that look straight from high up in the tower really have small turns to knock down the racing speeds. The track hasn't been paved in a while. That doesn't seem to be a major problem for the cars. I'm told it's more of an issue for the motorcycle racers. They compete at AMP several times each season.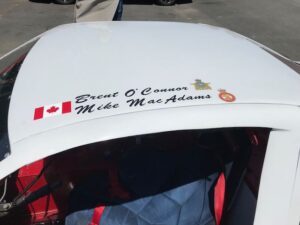 Of course my favorite driver at the track today was Brent O'Connor. He was driving car number 49, a Pro Challenge racer. Brent's co-driver was Mike MacAdams. I guess these fellows are now my two most favorite Canadian/Irish drivers!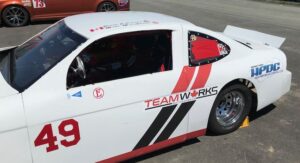 They drive for the "Teamworks Motorsports" racing team. Both Brent and Mike are Canadian military veterans. 
Brent spent several minutes explaining what the team's mission is all about. They want to help veterans and first responders who suffer from Post-Traumatic Stress Disorder. One of their objectives is to get these folks involved at the race track. If people with PTSD can have some meaningful things to do in their lives they have a much better chance at a happy and productive return to civilian life.
You can check out the "Teamworks Motorsports" Facebook page to get more information from Brent, about their racing team and the cause they support. I checked their page. I learned that the team's race car is powered by an 1100cc motorcycle engine.
I will tell you this. It's so much better when you know people at the track. If I hadn't made contact with Brent and then today Stewart there was no way I would get a chance to go out onto the course and ride along for a few laps. There's no way I get the opportunity to go up on the scoring tower for the best views of the entire Atlanta Motorsport Park.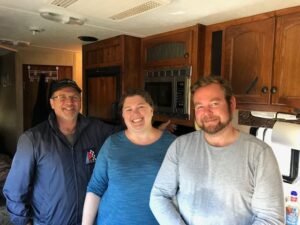 Without knowing people I don't get invited to lunch where Brent's wife Kim prepared a nice meal for us. Brent, his dad Stewart, wife Kim and co-driver Mike were able to sit for a few minutes and enjoy our meal in their camper.
I had been at the track for about four hours. That four hours had been very productive. I had seen all the cars at the track race in two different races. The vintage race, the middle heat race, had only two competitors. The other races included every race team in the entire paddock area.
AFTER THE RACES
However, being a trackchaser is somewhat like being in the carnival. The carnival comes to town and then before too long it heads on down the road to the next stop. That's what I do.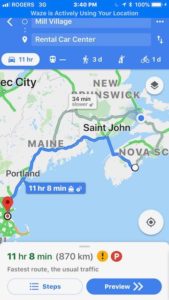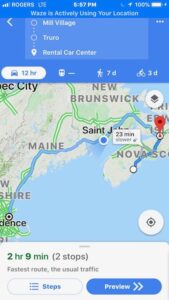 Today, the next stop was a long way away. I needed to get to Boston, Massachusetts tonight. I had two options. I could take the route that would include a ferry boat ride. That option was expensive. The charge for my car and me would be nearly $150 U.S. I elected to take somewhat long way around, all land-based, which was still "only" a 10 hour one-way drive.
I stopped from time to time to take my famous 12-minute power naps. By the time I crossed the border at Calais, Maine and then got down into the Boston area it was nearly 1 a.m.
I had a 5:30 a.m. flight departure from Boston's Logan airport to Detroit, Michigan. I needed to be returning my rental car by about 4 a.m. What does all that mean?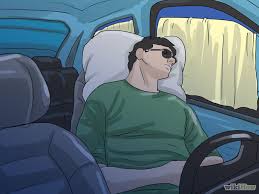 I would be staying at the Four Points by Sheraton hotel. That property is just about 5 miles from the airport. OK, I was exactly "staying" at the Sheraton. No you will not find my name there as a registered guest. I simply pulled in the parking lot, leaned the driver's seat back and slept for about three hours. Sometimes that's the way it's done in my world.
I will tell you this. It's probably not a good idea to live on three hours of sleep every night. I was flying standby on the 5:30 a.m. flight departure. I didn't even know if I would make the flight. However, I did make that flight. I slept from take off until the touchdown woke me up. Now it was up to 4 1/2 hours of sleep for the day!
When I sleep overnight in my car it's usually because I finish my day very late and have an early morning airplane ride the next day. That was the case in this situation. I finished my day at 1 a.m. and had a 5:30 a.m. flight.
MONDAY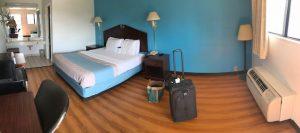 When I landed in Detroit at 7 a.m. I called the local Motel 6. Did they have a room that I could check into in the next hour? They did. 
In situations like this I feel like I'm getting two hotels for the price of one. Today I got into the hotel at 8 a.m. and pretty much slept and relaxed all day until 4:30 p.m. Then I was off to a race in a local Detroit suburb. After the race I got to sleep at the hotel during the more "traditional" hours. Yep. The way I look at it I got two hotel sleeps for the price of one.
THE RACING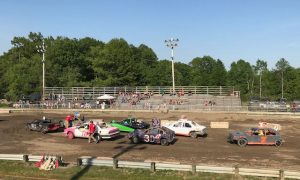 Sumpter Township Fairgrounds – Belleville, Michigan
After sleeping most of the day I drove the short 20 miles from my hotel over to Belleville, Michigan. The USA Derby group was holding a figure 8 race at the Sumpter Township Fairgrounds. This weekend was a two-day show where they raced last night and tonight.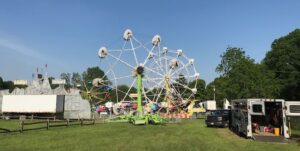 The racing tied into a small Memorial Day festival. There was no admission to the fair itself. To get into the grandstand for the races they charged $12. I also paid two bucks to park at a local Methodist Church.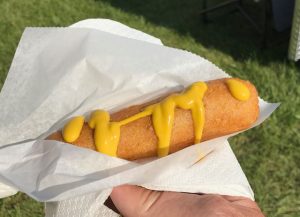 Tonight's racing reminded me that I'm about ready to begin my Midwestern county fair swing. That annual adventure happens mainly in July and the first portion of August. Yes, tonight I was getting a little bit of an early start. At the concession stand I went with a five dollar corn dog which seemed a little pricey but it felt good at the time.
I always say that you will find the best figure 8 racing in Missouri, Pennsylvania, Michigan and Nebraska. Nebraska and Michigan are best for big car V-8 racing. Missouri and Pennsylvania offer the best figure 8 shows for the four-cylinder smaller cars.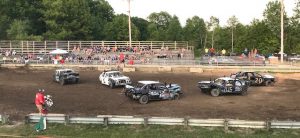 Tonight about 30 cars showed up to race. As far as I could tell they were all front-wheel drive four-cylinder cars. They ran in five heat races. The second-place finisher in each heat went to the consolation race. The five winners from the heat races as well as the top three in the consolation made it to the 20-lap feature.
This was some very competitive figure 8 racing. Yes, this was racing. It wasn't the crash and bang type that some county fairs offer. The show ran off quick enough. Two hours after they started they had their feature winner.
Following the figure 8 racing they went with a six-car demolition derby. These were the big V-8 rear-wheel drive cars. They put on a good show.
AFTER THE RACES
I've essentially been on the road for 11 days. I'm ready to get back to sunny Southern California. However, if I make my flight tomorrow I'll get home on Tuesday. Carol and I will be departing back toward the Midwest on Thursday. I've had one of my most robust travel schedules ever in the first five months of this year.
I was glad to get back to my Motel 6 hotel at a reasonable 9 p.m. I spent a little time watching the seventh game of the NBA western finals with Golden State in Houston. The flights are a little tight tomorrow so I'm not sure if and when and I will get home. I'll be trying though.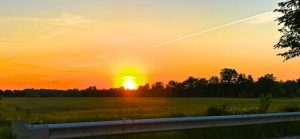 Good night from Belleville, Michigan
Randy Lewis – 80 countries – 2,443 tracks.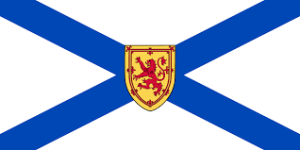 Nova Scotia
The Canada's Ocean Playground province
This afternoon, I saw racing at only my 2nd lifetime track in the Canada's Ocean Playground province, yes, Canada's Ocean Playground province. I've seen two or more tracks in all Canadian provinces except Prince Edward Island and Newfoundland and Labrador.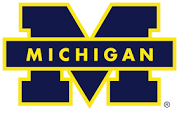 Michigan
The Wolverine state
This evening I saw racing at my 123rdlifetime track in the Wolverine state, yes, Wolverine state. I've seen 123 or more tracks in two states. I hold the #4 trackchasing rank in Michigan.
Thanks for reading about my trackchasing,
Randy Lewis
World's #1 Trackchaser
Peoria Old Timers Racing Club (P.O.R.C.) Hall of Fame Member
Nova Scotia sayings: Birthplace of New Scotland
Michigan sayings: 32 degrees? T-shirt weather
QUICK FACTS
LIFETIME TRACKCHASER COMPARISONS 
The threemost important trackchasing comparisons to me are:
Total lifetime tracks seen
Total "trackchasing countries" seen
Lifetime National Geographic Diversity results
Total Lifetime Tracks
There are no trackchasers currently within 650 tracks of my lifetime total.  Don't blame me.
Randy Lewis, San Clemente, California – 2,443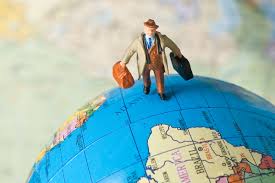 Total Trackchasing Countries
There are no trackchasers currently within 25 countries of my lifetime total. 
Randy Lewis, San Clemente, California – 80
Current lifetime National Geographic Diversity results
Randy Lewis, San Clemente, California – 4.14
That's all folks!  Official end of the RLR – Randy Lewis Racing Trackchaser Report
Click on the link below to see the video production from the racing action today.
Road racing from the Atlantic Motorsport Park
.
.
Figure 8 racing from right outside of Detroit
Click on the link below for a photo album from today's trackchasing day.  You can view the album slide by slide or click on the "slide show" icon for a self-guided tour of today's trackchasing adventure.
A beautiful day to explore Nova Scotia
.
.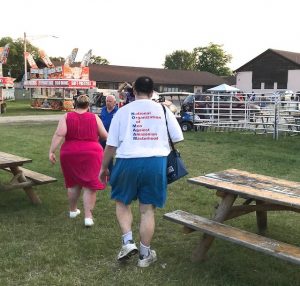 More figure 8 racing from Michigan