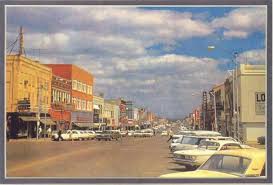 Greetings from Lawton, Oklahoma
.
.
From the travels and adventures of the 
"World's #1 Trackchaser"
The EventVideo PlusPhotos
Boss Dirt Track Speedway
Dirt oval
 Lifetime Track #2,617
THE EVENT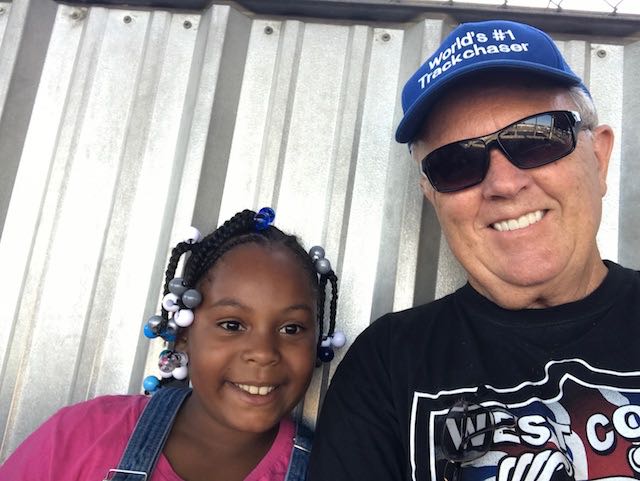 I AM A TRACKCHASER.
My name is Randy Lewis (above with people I meet over the long and dusty trackchasing trail). I hail from the sleepy little village by the sea, San Clemente, California. I am a "trackchaser". I trackchase. Have you ever in your life heard of "trackchasing"? I didn't think so. 
Well, you made it this far. You might as well pour yourself a cold one and take your Trackchasing 101 class. When you finish you'll have your trackchasing diploma and can then teach your friends about the hobby. 
Let's get started. Trackchasing is a three-pronged hobby. I'm a racing fan. I love to travel. I love to analyze opportunities to get the most out of everything while saving time and money.
Let's do this by the numbers.
The racing part of my trackchasing has me trying to see wheel to wheel auto racing at as many different racetracks as I can all over the world. Yes, all over the world. Do I mean that? Yes, I do! I've seen racing in 85 countries at more than 2,600 tracks. I'm known as the "World's #1 Trackchaser". Why? Because I've seen racing in more countries in the world than anyone else by a wide margin. 
However, my hobby of trackchasing involves much more than simply visiting racetracks. Much more. My hobby includes and requires lots of traveling. I get to see and experience, over the "long and dusty trackchasing trail," all kinds of interesting places, restaurants, sporting events and the like. I call these adventures "Trackchasing Tourist Attractions". You won't want to miss my "Trackchasing Tourist Attractions" page. Here's the link:  Trackchasing Tourist Attractions or my "Sports Spectating Resume" page, Sports Spectating Resume on my website at www.randylewis.org.
I live in southern California. That's probably the most inconvenient location in the country for seeing tracks in the U.S. Most of the racetracks in the U.S. are located well over 1,000 miles from where I live. My average trip covers 5,000 miles and more. I take 35-40 of those trips each season. In any given year I will travel well over 200,000 miles, rent more than 50 cars, and stay in more than 150 hotel rooms.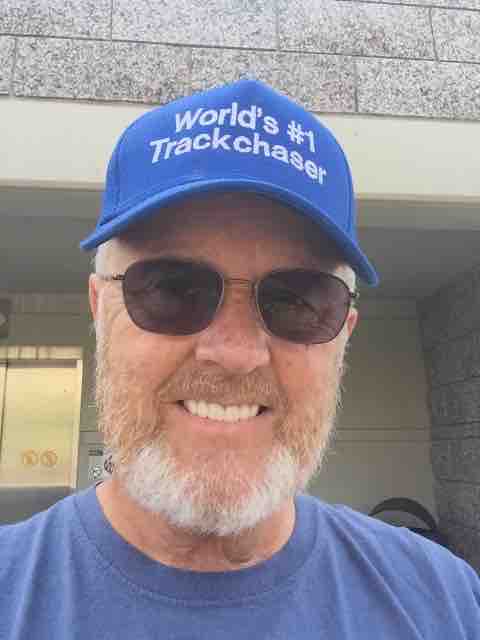 I get the chance to meet people from all over the world. With trackchasing trips to 85 countries and counting just getting the chance to experience so many unique cultures, spend time in the homes of my friends and meet so many people is a huge reward for being in this hobby. I am indebted to several of these folks for their help and friendship. 
It takes a good deal of planning to do the above and not spend my entire retirement portfolio. I enjoy the challenge, the travel and every other aspect of "trackchasing". In reality, my trackchasing hobby is a lot like being with the carnival. I breeze into town, stay a little while and then head on down the road.
Once you begin researching my trip itineraries from my website, yes you will want to do that, you will be surprised. One day I'll be in Tucson, the next in maybe Tuscaloosa and the following day in Syracuse. I do that kind of thing all the time. Figuring out the logistics of a trip like that is as much fun for me as watching a figure 8 race.
Now you know a little bit about my trackchasing addiction. When you receive one of my Trackchaser Reports or find one on my website at www.randylewis.org you'll get three pieces of entertainment.
First, my Trackchaser Report will be an in-depth essay on how the trip went from A-Z. Yes, I'll cover the racing aspect of things. But you will also hear about what it took to pull off the trip, the special stops that made the trip fun and the obstacles that needed to be overcome.
Secondly, you'll get a YouTube video of the racing action I saw. These are normally short 3-6 minute highlights of the racing. My YouTube channel is named, "RANLAY". I have nearly 2,000 subscribers to my channel. Currently, I have posted more than 1,300 videos and my channel has more than 1.2 million views!
Finally, I'll share a captioned photo album using a photo-sharing program called SmugMug. Normally, there will be anywhere from 50-200 photos from each trip I take. Sometimes more! My website is linked to hundreds of thousands of photos from all of the trips I have taken.
There you have it. That's trackchasing…the way I do it. Do others trackchase? Absolutely. Do they share their experiences? Sorry. They don't. If you want to see the true "essence" of trackchasing you've come to the right place.
A common question I get about my hobby is, "Why?". I'm a curious fellow. I'm an adventuresome fellow. My hobby is about seeing and experiencing the things that most folks walk right past. Below is a link to a special video. It shows a small town in Missouri that I visited on one of my trips. In this video, I'll share with you exactly what I mean. This video might just make your day.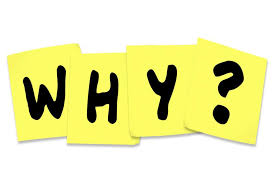 Trackchasing….this is exactly why I do it
Today's adventure was one more of the 2,000 trips that have taken me up, down and around the proverbial long and dusty trackchasing trail.  If you would like to see where I've been and experience those adventures here's the link: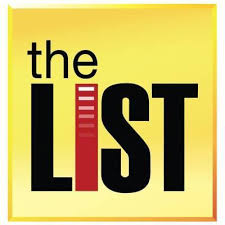 If you've got a question, comment or whatever please leave it at the bottom of this report.  It's very easy to do.  Or you can visit me on Facebook.  Thanks!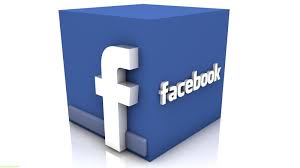 FOREWORD
Friday, June 26, 2020.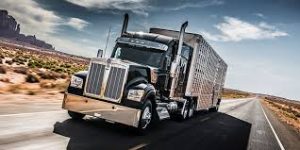 My hobby of trackchasing is essentially one part long-haul trucker and one part carnival worker. I routinely drive 30-40,000 miles across our nation's highways trying to visit that next racetrack that I haven't been to quite yet. That's the long haul trucker part of the hobby.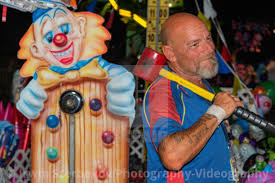 Then I pull into town, pitch camp for just a little bit, and watch the race. When the races are finished I head on out of town and down the road to the next stop just like the friendly carnie worker that you've seen so many times at your local county fair.
The carnival comes back time and again to that little fair that you saw as a small boy or girl. I was coming back again to Lawton, Oklahoma to see racing at the Boss Dirt Track Speedway. Sit back and let me tell you the story.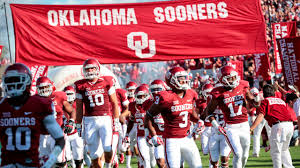 Back in September 2018 Carol and I were in Norman, Oklahoma for a football game. We joined our son J.J. on Saturday morning at the Gaylord Family – Oklahoma Memorial Stadium to see our UCLA football Bruins take on the Oklahoma Sooners. That was going to be a tough task for UCLA. There is one thing I can tell you about that game. Every Oklahoma fan we met was as nice as could be. Given their success is I found that to be a happy surprise.
We had come into Oklahoma the day before. We were hoping to see racing at the Boss Dirt Track Speedway on Friday, the night before the game. Unfortunately, we were rained out. Luckily for us, the track was planning to race on Saturday night as well. There would be just enough time after the football game in Norman to get over to Lawton. The driving distance was just 81 miles.
Wouldn't you know it! There was no rain at the football game. However, there was rain in Lawton at the Boss Dirt Track Speedway. They rained out on Saturday night as well. I can't recall if I have ever been rained out at the SAME track two days in a row.
As luck would have it Carol and I stopped for a minute to talk to the race promoter in a soggy Boss Dirt Track Speedway parking lot on Saturday night. It was at this very moment that we met Johnny Landers. I could sense that Johnny was quite the character. Over the next couple of years until tonight Johnny and I stayed in touch over Facebook and Facebook Messenger.
Johnny, who is now about 60 years old, has one of the most unique and exotic histories of not only any race promoter I know but of anybody I know at all. Let me tell you what I know about Johnny Landers. Don't miss the video Johnny did with a local TV news station linked below.
Boss Dirt Track Speedway video news release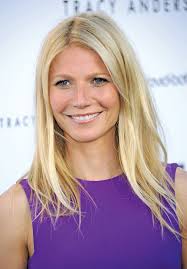 Johnny is a former dirt professional motorcycle racer,. He also ran a motorcycle thrill and stunt show all over Europe. Johnny lived in England and took his traveling band of motorcycle merrymakers to 26 countries. Remind me sometime to tell you about his Gwyneth Paltrow stories.
The BOSS Go-Kart Speedway runs mainly on Friday nights. Over the past couple of years, I've considered going out to Lawton to see their races. On every one of those four or five potential trips, I was scared away by rainy weather. I can't recall a track that I tried to get so many times but was turned back by poor weather.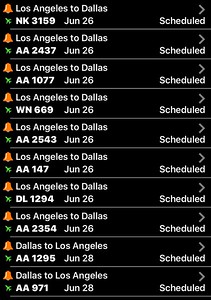 This morning my alarm came at 3 a.m. I was backing out of the driveway of our sleepy little seaside village of San Clemente at 3:30 a.m. This morning I would be flying standby. Here's how flying standby works for me. If there's an unsold seat on the plane I might get it. I had a number of flight options that could get me to Oklahoma on time. If the plane goes out full with paying passengers I wave goodbye to everyone leaving LAX! 
We are in the midst of the coronavirus pandemic. That has all kinds of impacts, both positive and negative on people. So far the pandemic has simply killed the travel business.
This will be my fifth consecutive weekend of flying during the COVID-19 situation. Is it safe to do that? I can't tell you for sure. I do know this….most people I know don't have any interest in flying a single time in the very near future let alone five times over the past five weekends.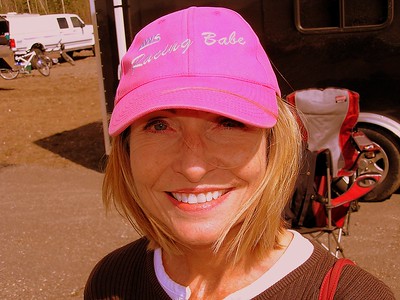 Next weekend Carol is planning to head out on her very first post-pandemic flying trip. We will be trackchasing in Ohio and Michigan.
When I landed at the DFW airport (Dallas) I took the long bus ride over to the rental car center. There I picked out a Toyota Camry. I'm going to be driving about 800 miles in 48 hours. Yep. That's the long-haul trucker part of my hobby.
Right now gasoline sells for about three dollars and up in California. During the trip, I would see gasoline prices as low as $1.65 around Lawton, Oklahoma. That's an amazing price.
The weather is warm in Oklahoma in late June. Today the temperature was in the mid-90s but this was a dry heat that wasn't all that bad. The weather was going to be clear tonight but windy.
I had messaged Johnny Landers that I was coming to tonight's racing. He sent a message back telling me that he was going to set me up with a complimentary pit pass. All I had to do was talk with Jolene at the ticket booth. I did just that.
When I arrived I asked the woman I met at the ticket booth if she was Jolene. She was. Then Jolene immediately came back and asked, "Are you, Randy?". Soon I had a green wristband and full access to everything at the Boss Dirt Track Speedway.

I took a quick walk through the pit area. The track races karts and micro sprints. All of the racers have midget/sprint car bodies so it's somewhat difficult to tell the karts from the micro sprints. Of course, for the most part, the karts don't have suspension and the micro sprints do.
Soon I found Johnny Landers. It wasn't long into my conversation with him that it was reinforced with me, for probably the 1,000th time, that my hobby is not just about racing. It's about meeting people and after I meet the people exploring the environments where they live their lives.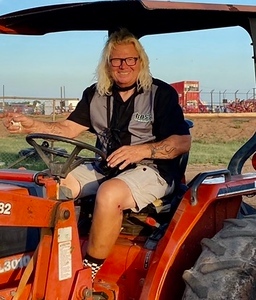 I think it would be fair to say that Johnny's appearance is a little unusual. He sported black horn-rimmed glasses à la Buddy Holly. He has long flowing golden-white hair down past his shoulders. If I met Johnny Landers at the airport I would probably be thinking "WWE" and that he was headed for a Smackdown event! Tonight he was wearing a special pair of checkered flag socks. It wouldn't take the casual observer long to know that Johnny Landers is a free spirit.
I hope I get back to Lawton sometime soon so I can just take Johnny out to dinner. I could just sit there for a long time and listen to his stories. Back in the day, he was a professional dirt motorcycle rider. Later he got hooked up and ran his own motorcycle daredevil/stunt show. He did much of that while living in England and taking his troops to 26 different countries. Some people think I have the stories from my trackchasing travels? I'm sure Johnny's experiences dwarf mine.
Now, among other things Johnny owns, operates and promotes the Boss Dirt Track Speedway. The track is a little, I'm going to call it, 1/6- mile banked dirt oval. He also has two other tracks on the property. These are commercial tracks where folks come out and rent go-karts and race just for fun.
Tonight when I met Johnny I shook his hand. Under normal circumstances, that's not all that unusual. However, since the corona pandemic sort of frowns on that kind of activity I had not shaken anyone's hand in more than four months. However, when a friendly Oklahoma cowboy extends his hand you do not give him an elbow bump!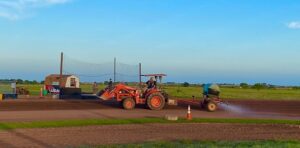 Johnny does quite a bit of work here at the track. He runs a couple of different water trucks around his oval. He's not opposed to getting out on the track during a yellow flag and directing race car traffic. You'll even see him taking victory lane photos. Johnny's in charge of pretty much everything else from a management point of view.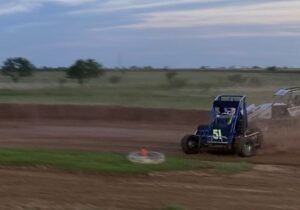 He invited me to watch the races from the track's infield. I don't know as a race fan if you've ever done that. It's definitely a different way to see the races. If you ever get the opportunity to do that I would recommend just one thing. Don't turn your back on the racecars.
I had a chance to meet and talk with a number of local people tonight. One of the yellow flag corner workers was a local electrician. I might've thought he would have said his business was way down because of the coronavirus. Exactly the opposite. He told me they had been so busy they couldn't keep up with both residential and commercial electrical activity. Good for him.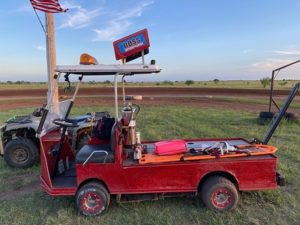 I also had a chance to talk to the track's EMT. He was a laid-back Oklahoman. He sort of reminded me of talking to NASCAR Texan Terry Labonte. It was also interesting to hear his experiences with what he described as "hundreds of calls" from people concerned with the coronavirus. Nice guy.
After the heat races were finished I went over to the concession stand. There, for about six dollars, I bought two of the most delicious chili cheese dogs I've ever had at a race track and a can of Diet Pepsi. Those chili cheese dogs are going to go down I suspect as the "chili cheese dogs of the year" for my 2020 trackchasing season. Work well done by the concession stand folks.
There was a point in time in the track's infield, just past sunset, when the skeeters came out. If mosquitoes are in the area the first and sometimes the only person they will bite is me. I was somewhat happy, in a sadistic sort of way, to see the EMT also swatting mosquitoes away as well.
Not too many folks in Oklahoma seem to wear shorts. I wear shorts 99.97% of the time at home. People from Oklahoma seem to prefer blue jeans. Maybe that's because of the mosquitoes!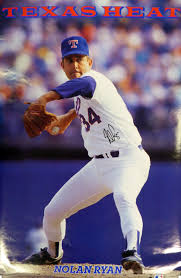 I took one mosquito bite to the forehead. The bite location swelled up as if I had been hit by a Nolan Ryan fastball. When I woke up in the hotel on Saturday morning I still had big bumps and lots of smaller ones all over my body. The mosquitoes were victorious tonight at the track. I'm here to tell you that four days later, as I put the finishing touches on this Trackchaser Report, I still have mosquito bite bumps and itches all over my body!!
I had decided that I was going to watch the features from the comfort of the grandstands. The Boss Dirt Track Speedway has a number of different seating options for its fans. I was relaxing in a top row seating location when I heard my name being called over the PA system.
Tonight's track announcer was a young woman named Kristen Ward. She was a friendly, clear speaking track announcer. Kristen roamed around the track with a cordless microphone. She knew her Boss Dirt Track Speedway racing stuff. I overheard her telling one of the corner workers exactly how the race program was going to work.
When Kristen called my name she was operating from the track's infield. There was a break in the action so she came over to the spectator fence to meet me. We did a short interview after I had come down from the grandstand. You'll be able to hear most of that interview on my YouTube video from Lawton.
I can conservatively tell you that I've done well over 500 at the track interviews. I have kind of a standard "stump speech". Since I am visiting a track I've never been to before I know that most folks have never heard what I have to say.
Having done that many interviews I have some experience judging the quality of the track interviewer doing the interviewing. I've had some announcers do their "interview" by simply handing me the microphone with this advice. "Why don't you tell the fans what your trackchasing is all about?" Then they wander off in search of a chili cheese dog. I often wonder why they simply give me the mike when I could be a serial interviewee who might say the very worst things to their audience.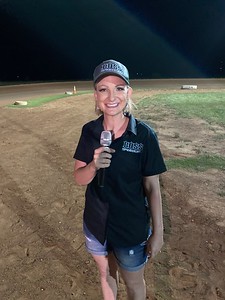 Kristen Ward was on the other end of that spectrum. She began the interview with some separate comments warming up the crowd to their meeting a "trackchaser". Then she approached me with a big smile and great eye contact and asked me about my trackchasing experiences. She even asked about my wife Carol's trackchasing participation. It is true that Carol is the World's #3 Trackchaser and that's out of hundreds of people who are "registered trackchasers". I told Kristen that since I'll be sleeping in my car overnight after a race in Amarillo, Texas tomorrow night that Carol doesn't go for those trips. Then when Kristen wrapped up the interview, and I headed backed to the stands, she had a few more wrap up comments. Folks, that's how you do a good interview!
Speaking of Carol I'm always telling her that when I come to these tracks, despite having seen racing at more than 2,600 different tracks, that I'm always going to see something that's a little bit unusual, a little bit different than anything I've ever seen before.
I could give you five million guesses and you would never be able to guess what I saw tonight that I had never seen before in my previous 2,616 track visits. Heck, I could give you ten million guesses. However, I'm not going to waste your time with that. What did I see?
To start the program off at our nation's local speedways the national anthem is played. Tonight's national anthem was going to be sung on a live time basis. That's always nice. Last weekend at the track in New Mexico a young woman played the national anthem on a violin. That was way cool.
Tonight two women sang the national anthem. They didn't actually sing it together. First, one took a few lines of the song and then handed the microphone over to the other and she continued. They did this back-and-forth until they both joined in for the conclusion of the national anthem and sang it together. One of those singers was track announcer Kristen Ward. You'll be able to hear their rendition on my YouTube video as well. I enjoyed it.
Visiting a racetrack when I know the track promoter is almost identical to going to a friend's house. If you visit friends or relatives' houses they're going to want to make sure that you enjoy your visit. They're going to make sure that everything is "picked up" and their home is looking as inviting as it possibly can. Good people just like to do that.
Johnny Landers is proud of his race track. He's proud of the people who help him run it. And he is proud of his racers. In his message to me before I showed up tonight, he asked me to make sure I talked to the racers to see what kind of a nice group of folks he had racing at his track. There was a nice family atmosphere at the track.
I mentioned that Johnny provided a complimentary pit pass. He also instigated my at the track interview. Earlier in the evening, he came up with three separate T-shirts from the Boss Dirt Track Speedway as gifts for me. I'm not gonna find any more hospitable people than Johnny Landers and his crew.
Tonight's racing car count was down because a nearby track in Tulsa, the Port City Speedway, was having a two-day special. Some of the cars that normally race at Boss went over to Port City.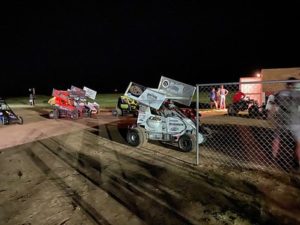 Nevertheless, there were about six classes of race cars tonight with 4-6 cars in each division. Six cars on a 1/6-mile track can provide a lot of good entertainment when they race closely as they did tonight. Again, don't miss the video for several reasons.
During the heat races, Johnny and I stood in the infield and watched the races together. He told me about this driver and that driver. I was amazed at how young some of them were. You can be as young as six years old and race in the 6-12-year-old group. There's got to be a huge difference in the maturity of a 12-year-old compared to a six-year-old.
I had a great view of the action from the infield. What amazed me time and again when the winner pulled into the victory circle was that some of the winning drivers were just kids. They looked like Steve Kinser or Sammy Swindell out on the track. Then when they unbuckled and got out of the car they were 5'1" tall and looked to be about 10 or 12 years old. I was amazed by that.
Of course, there were divisions open to adults as well. I might remind you that trackchasing rules require that any racing division that is countable from a trackchasing point of view must be open to drivers 18 years of age or more. Some of the kart classes tonight were only available for children less than 18 years of age.
You should also know that I didn't make up the trackchasing rules. These rules were established in the late 90s. I didn't join the trackchasing hobby until about 10 years after that.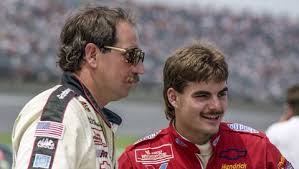 I will tell you that I have no earthly idea why trackchasing's founding fathers turned thumbs down on kid's racing. Heck, I saw NASCAR's Jeff Gordon race his sprint car at East Bay down in Florida when he was 13 years old. What did the founding fathers have against kids?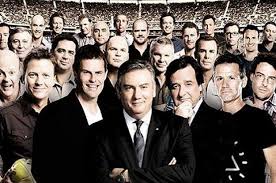 I think there were ten original trackchasing founding fathers. They were all men. They were all white. And to my knowledge, not a single one of them acknowledged a single episode of fatherhood. Maybe that's why they didn't like kid's racing. I'm surprised they didn't ban women from trackchasing!
As mentioned above my wife Carol is also a trackchaser. Over the years she has seen racing at more than 600 different racetracks in every American state and almost 50 different countries around the world. No, she doesn't trackchase with me every weekend. Remember, this is my hobby and not necessarily hers. However, in order to accomplish the stats I just mentioned she has had her fanny in the seats more than just about any woman in the world.
Trackchasing's WORLD rankings are determined by how many countries a trackchaser has visited to see racing. I've seen racing in 85 countries. A trackchaser from Belgium has seen racing in 52 countries. Carol's total of 49 trackchasing countries ranks her third in the world. Not bad. Way to go Carol!
Carol has a very famous trackchasing nickname. She is known as "Trackchasing's First Mother". She is the first person to ever be part of the hobby of trackchasing who is also a mother. There are very few women in trackchasing. The women who do participate are, in every case, part of a couple. Carol is the only woman in the hobby of trackchasing to have gone to a race by herself! She accomplished that feat at the Hagerstown Speedway in Hagerstown, Maryland.
I will tell you this. I had a good time tonight. I enjoyed the racing. However to be honest I enjoyed meeting the people even more. Folks down in this part of the country are nice, friendly and welcoming to a strange-looking individual, wearing shorts, who comes into town in a rented car and then heads on out of Oklahoma later that night.
During most of the feature racing, I hadn't seen Johnny Landers. If you go to a party at a friend's home you're never going to leave that party without finding the person who organized the event and thanking them for their hospitality and generosity. I wasn't gonna be able to leave the Boss Dirt Track Speedway without saying goodbye to Johnny.
I looked all over but I couldn't find him. My last shot at seeing him appeared to be at the ticket booth. The ticket booth after the races often turns out to be the pay booth where racers collect the money they've won for the night.
I found Johnny sitting inside the ticket booth with some of his friends. I thanked him again for everything he and his crew had done to make my trackchasing evening such a fun one. We got our picture taken together and I bade him farewell until the next time we see each other. I hope he shows up someday in San Clemente. He'll be my guest.
From there I found my car which had been dusted down pretty good after sitting just beyond turns one and two. I took a little bit of time to call Trackchasing's First Mother to tell her about my fun experience tonight. She remembered Johnny from when we had met briefly after that Oklahoma football game two years ago.
From there I retired to the Spring Hill Suites by Marriott Hotel in Lawton. I needed to get a good night's sleep. I had gotten up at 3 a.m. this morning to start the trip. Tomorrow night I'll drive 5 1/2 hours after the races from Amarillo to Dallas. The plan is to sleep for two hours in my car. I hope to catch a 7 a.m. flight on Sunday morning back to California.
It is truly amazing and absolutely factual that the way I do my hobby is so much being like being a long-haul trucker and a carnival worker. I think I would've been happy in either of those professions although I might've made a little bit less money.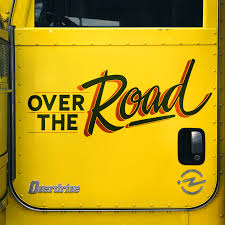 I listen to podcasts when I travel on these trips. For this trip, I found a podcast called "Over the Road". It's about the life of a long haul trucker. It was exactly what I wanted to listen to on this trip.
That's about it from Lawton, Oklahoma. I'm glad with all the weather problems I've had over the past couple of years with the Boss Dirt Track Speedway that I didn't give up on them. They didn't give up on me either. Hope to see you all again soon. Stay safe.
Good evening from Lawton, Oklahoma.
Randy Lewis – 85 countries – 2,617 tracks.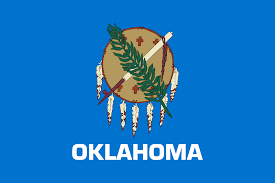 Oklahoma
The Sooner State
This evening I saw racing at my 40th-lifetime track in the Sooner State, yes, the Sooner State.  I hold the #1 trackchasing ranking in Oklahoma. Oklahoma ranks #20, amongst all the states, in tracks seen for me in the U.S.
Thanks for reading about my trackchasing,
Randy Lewis
World's #1 Trackchaser
Peoria Old Timers Racing Club (P.O.R.C.) Hall of Fame Member
Oklahoma sayings: "Tarnation"- The polite way of saying, "What in the hell?"

JUST THE FACTS
LIFETIME TRACKCHASER COMPARISONS 
The three most important trackchasing comparisons to me are:
Total lifetime tracks seen
Total "trackchasing countries" seen
Lifetime National Geographic Diversity results
Total Lifetime Tracks
There are no trackchasers currently within 735 tracks of my lifetime total.  Don't blame me.
Randy Lewis, San Clemente, California – 2,617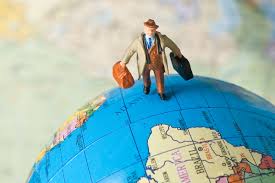 Total Trackchasing Countries
My nearest trackchasing competitor, a native of Belgium, has seen racing in more than 30 fewer countries compared to my lifetime total. 
Randy Lewis, San Clemente, California – 85
Current lifetime National Geographic Diversity results
Randy Lewis, San Clemente, California – 3.96
That's all folks!  Official end of the RLR – Randy Lewis Racing Trackchaser Report
Click on the link below to see the video production from the racing action today.
Click on the link below for a photo album from today's trackchasing day.  You can view the album slide by slide or click on the "slide show" icon for a self-guided tour of today's trackchasing adventure.
A special night at the Boss Dirt Track Speedway