Greetings from Packwaukie, Wisconsin
From the travels and adventures of the "World's #1 Trackchaser"
Track #1,817
From the Call of the Wild Campground!
HighlightsThe PlanThe TripThe ExperienceAttractionsRace ReviewVideosPhotosQuick Facts
THE KEYS TO THE TRIP
I arrived at the Call of the Wild Campground today by process of elimination……………more in "The Plan".
What is the 'Secret of February'?………………more in "The Trip".
Folks, you'll only see this in Wisconsin………..details in "The Experience".
THINGS YOU MIGHT HAVE NOTICED HAD YOU BEEN PAYING MORE ATTENTION IN SCHOOL
THE BEST READERS IN RACING TAKE TIME TO CONTRIBUTE
From time to time I get messages like this one inviting me to attend the local track of the sender. 
My name is Chip. I would like to invite you to add the Upper Peninsula International Raceway to your travels in 2013. This will be the track's fourth year in operation and is run by a completely volunteer organization. The track is a low-banked clay oval and is located at the Upper Peninsula Fair Grounds in Escanaba, MI. The track started out with youth sprints and four-cylinders, and when first built, was 1/5 mile long. In the spring of 2012, the organization enlarged the track to 1/4 mile and added modifieds to the classes ran. You can check out more about the track at the links below.
I will be racing my modified here for the 2013 season. I haven't raced here before, but I have been attending the rules meetings. The folks running the show are very friendly and have great ideas of what they want this track to become within their community. The drivers here are unusually friendly – their concerns have been largely centered around keeping the drivers safe, and maintaining respect for each other. The clay used to make the track larger was not very desirable, but they will be getting new clay this spring. The drivers have voted to go without payouts in order to build the track. There are eight races on the schedule, with another one or two for the fall special.
When I raced at Tomahawk Speedway (Tomahawk, WI) we made your list for 2010 (I think it was 2010…). The drivers loved seeing the track mentioned in such a unique way. I think the people running the club, the drivers, the fans, and the city of Escanaba would be thrilled to see all their hard work shown in one of your videos on YouTube. (And you can add another track to your list. Two, if you hit Norway Speedway (1/3 mi asphalt oval), about an hour to the north-west.)
I arrived at the Call of the Wild Campground by process of elimination. 
This trackchasing plan came about through the process of elimination.  Despite having seen more than 1,800 lifetime tracks, I still had several choices for this weekend.  That's pretty amazing when you think that this weekend is the first one of February.  Traditional tracks (read that ovals) in the U.S. aren't open for the most part.  There isn't much happening internationally except on the continent of Australia.  That pretty much leaves ice racing and a stray indoor show here and there.
I had several Canadian ice racing dates for today.  However, I couldn't go there.  I don't have a passport.  Yep, you read that right.  My passport is currently out of my possession as is Carol's.  Why?  You'll soon be hearing the answer to that question.  It has something to do with Trackchasing Country #64.
Ice racing up in the Northeast is having trouble with global warming.  So far this year they've cancelled most of their shows.  I would have had a hard time getting to those places from Saturday's show in Dayton, Ohio anyway.
That left upper Midwest ice racing.  I'm talking about Wisconsin and Minnesota.  They almost always have plenty of cold weather especially in early February.  Even in Wisconsin I had to be "strategic" with my location selection.  You'll hear more about that in coming reports.
Editor's note:  I am in negotiations to continue my fledging racing career.  I'm lining up a "ride" on the ice as we speak.  You won't want to miss that!
What to do when the 'sleep meter' sits on empty. 
I woke up this morning in Dayton, Ohio.  I went to bed at my home in San Clemente, California.  That makes for a long and interesting day.  This is what the day looked like.
My wakeup call came at 4 a.m. Eastern time (1 a.m. San Clemente time).  I would hit my good old Tempurpedic some 23 hours later.  Getting up at 1 a.m. my time was a little early to be doing my back exercises but they had to get done.  After sleeping in the airport on Friday night and getting just 4-5 hours of slumber last night my "sleep meter" was running on empty.
I was counting on two flights today to get me up toward Central Wisconsin.  I would have taken either Green Bay or Madison.  This kind of travel is always risky especially during the winter when snow can disrupt the plan.
What is the 'Secret of February'?
However, a few years ago I discovered a heretofore unknown travel secret.  The flights are WIDE OPEN on Super Bowl weekend.  So are the highways.  I'm not a big NFL fan.  I used to be.  When they started striking every few years I gave up on the National Football League.  I used to have nine season tickets to the Los Angeles Rams games.  When they moved to St. Louis that was the "nail in the coffin".
I have not watched a quarter of NFL football in well over ten years with the exception of the Super Bowl.  I watch that game to see the commercials!  I recorded last year's Super Bowl and STILL haven't watched it.  Just an hour before today's game I used my iPhone app to record the Super Bowl on my DVR.  I'm not sure if I'll watch that game either.  When I last stopped watching NFL football the Packers were my favorite team.  My favorite NFL themed song is "Who needs crackers when you got cheese and Packers"!
After the races……
At times the travel can get to be routine.
Following the ice races I trekked back to Los Angeles through Minneapolis for the second Sunday night is a row.  I'll add a few more ice races this winter but will be keeping a close eye of achieving my goal of twenty-three non-trackchasing weekends.  I'm trying to do a little bit of everything in life you know.
The home of the 'Cheese Challenge' winner.
I enjoy interacting with nice people.  One nice fellow was trackchaser Ed Esser.  Ed hailed from Madison, Wisconsin.  When I landed in Madison this morning I decided to drive past Ed's house.  My Google Maps program told me it was only about five miles from the Dane County Regional Airport in Madison.  It's been nearly a year since his untimely passing.
Several years ago my daughter Kristy and her husband James "ran an errand" for me.  They delivered to Ed's doorstep his "Cheese Challenge" award.  I had challenged Ed to see a certain number of tracks in a limited amount of time.  I knew it would be tough for Ed to "meet the number". However, he did.  That just showed how competitive Ed could be in the trackchasing hobby.
Both Kristy and James told me how appreciative and humble Ed was in accepting his reward.  You can see photos from this occasion under the "Cheese Challenge" tab on my website at www.randylewis.org.
Strangers are just friends I haven't met yet.
I would be meeting another nice person today as well.  Her name was "Wendy", Wendy Hurst (as she says 'like the shifter').  Wendy was one of those people who stood ready to help me with all kinds of information on the Buffalo ice-racing group.  I first "met" her online more than a year ago.  Her group was battling through an "off and on" season with the warm weather last year.  She kept encouraging to visit, but it seemed as if every free weekend I had they were having bad ice conditions.  Obviously, I never did make it up to Packwaukee last year.
Without any advance notice that Wendy had seen, I showed up at the Call of the Wild Campground bar and restaurant unannounced.  Who was tending bar in her mother's establishment?  It was Wendy herself.  All I had to do was say "I'm Randy from California" and soon Wendy and I were old friends.
It was time to meet Wendy's family and friends.
She was happy that someone from California had come all the way to see their ice-racing program.  She introduced me all around.  This included her mother, Meta Peacock, who has owned the rustic bar and restaurant for more than twenty years.  I also got to meet the "racing granny" a 73-year young ice racer in the "W.O.W." (Women on Wheels) ice racing class.  It was a real family affair as Wendy's boyfriend, Mark Long was working the kitchen.  From there she introduced me to the guys who ran the group.  Ken Wrege was an interesting guy.  He gave me the background on the Buffalo Ice Racers.
Folks, you'll only see this in Wisconsin.
I found a couple of things he told me to be very funny.  Ken explained the racecar weight limit is "the driver, the co-pilot and a 12-pack of beer".  Yes, drivers are allowed to drink and drive on the Buffalo Lake ice!  Yes, to show you how weight conscious some drivers are they wanted to know if the weight limit meant a 12-pack of beer in cans or glass (ba-da-bing!).
I asked him how long the ice-racing season was going to be.  We'll run into somebody has their car fall through the ice.  Then we'll know it's time to end the season.  These ideas were nothing if not 100% practical.  This guys should have been on Leno.
The Buffalo Lake ice racing group does not use seat belts or helmets.  Why no seat belts?  If the car falls through the ice a seat belt would only hinder the driver's chance to get out of the car I was told.  Why no helmets?  I'm not sure I got an answer to that question.
Race, come in and get warm and race some more.
Today each class ran a heat and a feature event.  Between races everyone came into the Call of the Wild bar to warm up and have an adult beverage.  You've heard me tell you more than once that Wisconsin is the biggest beer-drinking state by a factor of several.  These folks like their brewskis.  I saw one race team standing around the back of the racecar hauler (OUTSIDE) having a beer in 15-degree (maybe near zero wind chill).  Those are dedicated beer drinkers.
Just beyond them was a permanent lakeside cabin.  What did the 4' by 4' sign on the front door say?  "Pabst Blue Ribbon"!  You just gotta love it.
Today was the most special weekend of the year for the Buffalo Lake Ice Racers.
They've been ice racing here for nearly half a century.  It was "Memorial" race weekend.  I could not have picked a better time to come.  Today's racing was being held to honor all of the group's members that had passed on over the years.  This included lots of fathers, mothers, uncles and siblings.  During the intermission break, inside the Call of the Wild restaurant/bar different drivers explained who they were remembering.  Then all of the cars took to the ice with a couple of "slow laps" to remember their departed but not forgotten friends and family.  Very nice indeed.
Really beautiful wintertime country.
By the way Wisconsin is most picturesque in the wintertime.  If you have time please take a look at the photos.  When everything is snow-covered it's all the more beautiful.
Just getting to the track was an interesting adventure.  I first thought the track was in Montello, Wisconsin.  I figured I would simply cruise into town, see a sign and be at the track.  Wrong!  In point of fact the ice racing was actually contested in the nearby town of Packwaukee.
Just like in the olden days, pre-GPS, I asked for directions in a convenience store.  Then the adventure began.  There were several times when I thought I had taken a wrong turn on the snow-covered roads.  But, alas, I get with it and was rewarded with a sign that read "Call of the Wild Campground".  I really want to come back here in the summer to see how much different the lay of the land would look.
ONE CANNOT LIVE WELL OR SLEEP WELL IF ONE HAS NOT DINED WELL
Call of the Wild Campground – Packwaukee, Wisconsin 
The food and drink is excellent at the Call of the Wild.  The group's Facebook page had touted their chili and potato dumpling soup.  Since I had chili THREE times yesterday I went with the potato dumpling soup.  It was great.  I downed it with a Bud Lite as I would have to do in Wisconsin.
I couldn't resist the "German Chocolate Brownie".  Had I not been watching my weight I could have had a couple more.  My soup, dessert and beer cost me just $5.50 U.S.  I don't know if I'll ever be back for the ice racing but I might be back for the food!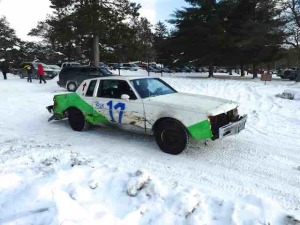 At every track I visit I will see something (or two) that is most unusual.
Today's racing was contested on a flat (obviously) quarter-mile ice track.  There were three classes of racers.  These included rear-wheel drive, front-wheel drive and the W.O.W. (Women on Wheels) group.  In total there were some 20-25 cars racing.
There was one aspect of the racing program that was unusual….for ice racing.  Normally the cars pit on the frozen lake.  They even bring the tow vehicles and racecar haulers out on the ice.  Today everyone pitted on land.  When it was time to race they simply drove out onto the lake.
With the temperature at about 15 degrees with a steady wind I was glad to have my "full winter" clothing gear in place.  Additionally, I had the warmth of the Call of the Wild interior and my rental car to keep me warm between races.
Maybe the most shallow lake ever?
The group races on Buffalo Lake.  This year the lake has been "drawn down".  That means it's been drained.  However, it is still an ice track because there was some eight inches of frozen water, i.e. ice left from the draw down.  The lake will stay like this for two years.
There are two reasons for the "draw down" I was told.  First they are repairing a nearby dike that was damaged recently by flooding.  Secondly, they are doing a form of "weed control" as I understand it by draining most of the lake.
This is how a Wisconsin resident looks at life.
In all of my previous 1,817 tracks I have seen less than five that don't require racing helmets to protect the drivers.  As mentioned above this race group doesn't use helmets OR seat belts.  They drink beer before, after and during the race.  That might tell you how someone from Wisconsin looks at life.  It might seem a bit unusual to me but to them it is a way of life.  Good for them!
You won't want to miss the photos and video of today's racing action and experience.  That will tell you more than anything I could write.
Just plain nice people.
You've heard me say over and over that "NIMS" people are the nicest in the country.  Of course, "NIMS" stands for Nebraska, Iowa, Minnesota and South Dakota.  I've never lived in any of those places so I don't have a bias toward them.
I'm not forgetting Wisconsin.  However, their claim to fame is their relationship with beer.  To them beer is water.  Beer means friendship.  Beer means a tavern, or two or three, in every one-horse town.  I'm trying to spread out the "state awards" and will keep Wisconsin tied forever to the beer drinking championship.
Overall, I was impressed with a nice group of people having fun in the environment that God sent their way.  It was great getting to meet Wendy.  I appreciate all of her help and support in the messages about the group's racing.  I hope everyone from the Buffalo Ice Racing group understands what a great ambassador she is.
STATE COMPARISONS
Wisconsin
The Badger State
This evening I saw my 73rd lifetime track in the Badger state, yes the Badger state.  I still have about twenty tracks to see up here.  That includes a base of ice and kart tracks and the, up to now, illusive Plymouth Dirt Track.  I'll be back and probably this year.
Thanks for reading about my trackchasing,
Randy Lewis
World's #1 Trackchaser
Peoria Old Timers Racing Club (P.O.R.C.) Hall of Fame Member
Wisconsin sayings:  Out drinking your state since 1848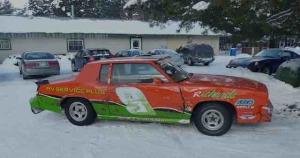 Click on the link below to see photos from today's trackchasing activity:

The Buffalo Lake Ice Racing Trip
TRAVEL DETAILS
AIRPLANE
Los Angeles, CA (LAX) – Chicago, IL (ORD) – 1,724 miles
Chicago, IL (ORD) – Dayton, OH (DAY) – 240 miles
RENTAL CAR #1
Dayton International Airport – trip begins
Versailles, OH
Dayton International Airport – 176 miles – trip ends
AIRPLANE
Dayton, OH (DAY) – Chicago, IL (ORD) – 240 miles
Chicago, IL (ORD) – Madison, WI (MSN) – 109 miles
RENTAL CAR #1
Dane County (Madison) Regional Airport – trip begins
Packwaukee, WI
Dane County (Madison) Regional Airport – 136 miles – trip ends
AIRPLANE
Madison, WI (MSN) – Minneapolis, MN (MSP) – 227 miles
Minneapolis, MN (MSP) – Los Angeles, CA (LAX) – 1,535 miles
Total air miles – 4,075 (6 flights)
Total rental car miles – 310 (2 cars)
Total miles traveled on this trip – 4,385 miles 
TRACK ADMISSION PRICES:
BMI Indoor Speedway – $5
Buffalo Lake Ice Track – No charge
Total racetrack admissions for the trip – $5
LIFETIME TRACKCHASER COMPARISONS  
The three most important trackchasing comparisons to me are:
Total lifetime tracks seen
Total "trackchasing countries" seen
Lifetime National Geographic Diversity results
Total Lifetime Tracks
There are no trackchasers currently within 300 tracks of my lifetime total.  Don't blame me.
1.  Randy Lewis, San Clemente, California – 1,814
Total Trackchasing Countries
There are no trackchasers currently within 10 countries of my lifetime total.
1.  Randy Lewis, San Clemente, California – 63
Current lifetime National Geographic Diversity results
1.  Randy Lewis, San Clemente, California – 5.08
That's all folks!  Official end of the RLR – Randy Lewis Racing Trackchaser Report