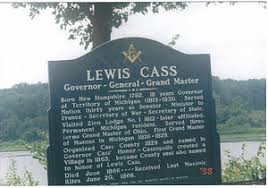 Greetings from Cassopolis, Michigan
.
.
From the travels and adventures of the 
"World's #1 Trackchaser"
.
.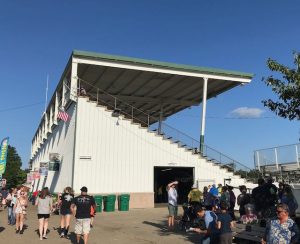 Cass County Fairgrounds
Dirt oval
 Lifetime Track #2,570
The EventVideo PlusPhotos
THE EVENT
I am a "trackchaser". I trackchase. Before you discovered my site had you ever heard of trackchasing? Maybe not? So….what the heck is trackchasing? Sit back, take a read and you'll be an expert on my hobby of trackchasing when you're finished.
Here's my best explanation.
Trackchasing is a three-pronged hobby. I'm a racing fan. I love to travel. I love to analyze opportunities to get the most out of everything while saving time and money.
Trackchasing fills the need for all of the above. The racing part of my trackchasing has me trying to see wheel to wheel auto racing at as many different racetracks as I can all over the world. Yes, all over the world. So far things are going pretty well. As this is written, I've seen racing in 85 countries at more than 2,500 tracks. As a matter of fact, I've seen racing at more tracks than anyone else in the world.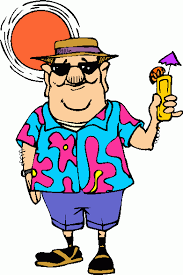 Equally important to me are the things I get to see and experience over the "long and dusty trackchasing trail". I call these adventures "Trackchasing Tourist Attractions". You won't want to miss my "Trackchasing Tourist Attractions" page. Here's the link:  Trackchasing Tourist Attractions or my "Sports Spectating Resume" page, Sports Spectating Resume on my website at www.randylewis.org.
I live in southern California. That's probably the most inconvenient location in the country for seeing tracks in the U.S. Most of the racetracks in the U.S. are located well over 1,000 miles from where I live. As a matter of fact, my average trip covers 5,000 miles and more. I take 35-40 of those trips each season. In any given year I will travel well over 200,000 miles, rent more than 50 cars, and stay in more than 150 hotel rooms.
I get the chance to meet people all over the world. With trackchasing trips to 85 countries and counting just getting the chance to experience so many other cultures, spend time in their homes and meet their friends is a huge reward for being in this hobby. I am indebted to several of these folks for their help and friendship.
It's takes a good deal of planning to do the above and not spend my entire retirement portfolio. I enjoy the challenge, the travel and every other aspect of "trackchasing". In reality, my trackchasing hobby is a lot like being with the carnival. I breeze into town, stay a little while and then head on down the road.
Today's adventure was one more of the 2,000 trips that have taken me up, down and around the proverbial long and dusty trackchasing trail.  If you would like to see where I've been and experience those adventures here's the link: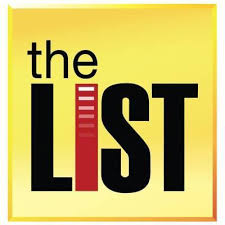 If you've got a question, comment or whatever please leave it at the bottom of this report.  It's very easy to do.  Or you can visit me on Facebook.  Thanks!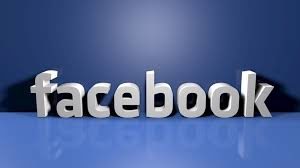 FOREWORD
Thursday, August 1, 2019.
Today was another unique and interesting day as I travel down the long and dusty trackchasing trail. I probably should be doing a reality TV program. Trackchasing is an excellent hobby for seeing the local sites and meeting the people who live there. Let me tell you my story.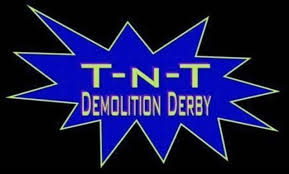 Last night I had seen Bump n Run racing at the Ingham County Fairgrounds in Mason, Ohio. The event was promoted by T-N-T Demolition Derby. As luck would have it, for me, they were having another Bump n Run race tonight but at a different fairgrounds.
For the first time ever the Cass County Fairgrounds in Cassopolis, Michigan was going to hold a Bump n Run race. I don't know how many times I've been to a venue where they were holding their first ever race. I can tell you this. I've done it many many times. 
A huge part of my trackchasing hobby revolves around something called, "Trackchasing Tourist Attractions" (TTA). What's a TTA? It's just as the name indicates. When I'm out on the long and dusty trackchasing trail I try to scrounge up local tourist attractions that would be fun to see and experience. I really did well in that category today. 
I very much enjoy going to automobile museums. Recently I did a search for the top 10 auto museums in the country. Of course any such list would be subjective and open to the preferences of the creator of that list. Here are a couple of lists I found showing what these folks thought were the top 10 museums. I've been to those museums marked with an "*".
Galerie Magazine – Top 10 U.S. Auto Museums
1) Petersen Automotive Museum* | Los Angeles, California
2) Indianapolis Motor Speedway Hall of Fame Museum* | Indianapolis, Indiana
3) Mullin Automotive Museum | Oxnard, California
4) The Revs Institute | Naples, Florida
5) National Automobile Museum | Reno, Nevada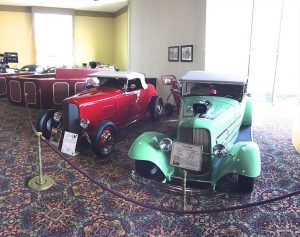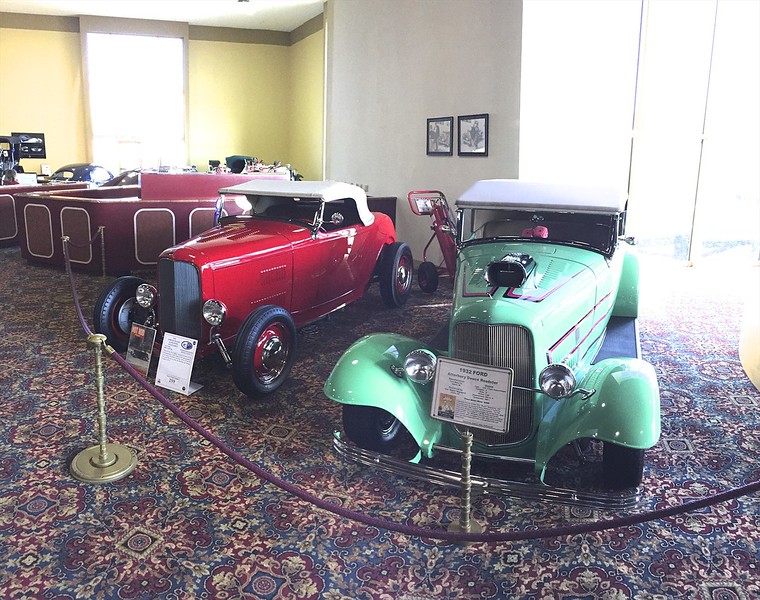 6) Nethercutt Collection* | Sylmar, California
7) Auburn Cord Duesenberg Automobile Museum* | Auburn, Indiana
8) Blackhawk Automotive Museum | Danville, California
9) The Henry Ford* | Dearborn, Michigan
10) Wally Parks NHRA Motorsports Museum | Pomona, California
USA Today – 10 great auto museums worth a pit stop
Petersen Automotive Museum*
Los Angeles, CA 
Auburn Cord Duesenberg Automobile Museum*
Auburn, IN
The Revs Institute
Naples, FL
The Henry Ford*
Dearborn, MI
America's Car Museum*
Tacoma, WA
Lane Auto Museum*
Nashville, TN
Museum of American Speed*
Lincoln, NE
National Automobile Museum
Reno, NV
Simeone Foundation Automotive Museum*
Philadelphia, PA
Blackhawk Automotive Museum
Danville, CA
Today I made the one-hour drive from Battle Creek up to the Gilmore Auto Museum in Hickory Corners, Michigan. I had heard a lot about this place. As a matter fact, a couple of years ago I had planned to go there but at the last minute changed my plans.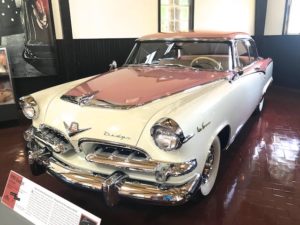 The Gilmore Auto Museum is something very special. Frankly, I am really surprised that it didn't make anyone's top 10 list. In my opinion, it was as good or nearly as good as any auto museum that I have visited. Again, that view can be in the eye of the beholder but in terms of quantity and quality of cars, as well as the overall ambience of the facility, I believe the Gilmore Auto Museum is tops.
Wikipedia provided a nice overview of the Gilmore Auto Museum.
"The Gilmore Car Museum is located in Hickory Corners in the U.S. state of Michigan. The Museum houses one of Michigan's largest collections of classic and vintage automobiles. Over 300 vintage and collector vehicles and motorcycles from all eras are on display in over a dozen vintage buildings located on 90 acres (36 ha).
Exhibits range from the early cars of the 1890s, to the Duesenbergs, Auburn Automobile, and classics of the 1940s, 1950s, and 1960s, as well as automobiles built in the "Other Motor City – Kalamazoo." Also on display is a vintage Franklin dealership and the largest gallery ever dedicated to the Model A Ford. Featured are the Dust Bowl and Great Migration vehicles of the 1920s and 1930s, a Tucker 48, vintage pedal cars, Motorcycles, Hood Ornaments, Bicycles, Checker Taxi, including the actual Sunshine Cab Co. Taxi 804 from the television series Taxi and more.
Admission to the Gilmore Car Museum actually includes 7 independent auto museums located on its 90-acre historic campus. They are the Gilmore Car Museum, Classic Car Club of America Museum, the Pierce-Arrow Museum, The H. H. Franklin Collection, the Model A Ford Museum, Lincoln Motor Car Museum and the Cadillac LaSalle Club Museum."
When I get to a museum, if I have enough time and enough iPhone battery life I try to take a picture of virtually every car in the museum. Before I take a picture of the car I will photograph the car's description, which normally appears on a plaque beside the automobile itself. I then share that entire photo album on my website. Check out the tab at the bottom of my home page labeled "Halls of fames/Museums". It's all there for your viewing enjoyment.
The Gilmore museum is something that you cannot breeze through in an hour or even two. I was there for three hours and really had to rush through things in order to try to see as many of the buildings and automobiles they had on display. I hope to go back there someday when I have just a little bit more time. When I left the museum I had 1% battery life left on my iPhone! If you are an antique car enthusiast please take the time to check out my photo album from the Gilmore Auto Museum. I think you will be impressed.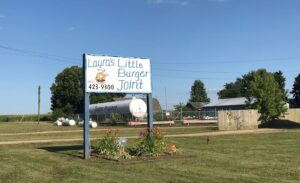 Although I had eaten at the Susan's Diner replica, which had been relocated to the Gilmore museum property from Connecticut, I was still looking for a little bit of supper. I consulted with roadfood.com and found a little eatery in Decatur, Michigan.  The place was called "Laura's Little Burger Joint". It came highly recommended. 
I gave them a call. No answer. I did some more checking and saw a story about how Laura's had some damage, which was taking a little bit of time to repair. Since Decatur, Michigan was on the way I decided to check the place out anyway. However, as I feared they were closed but did have a sign saying "opening soon". There would be no Laura's Little
Burger Joint burgers for me today.
Whenever I go to these Trackchasing Tourist Attraction "hole in the wall" restaurants I have to keep an eye on my time schedule. I'm really in the area to see the race. I don't want to be late for the racing.
That means I have to manage my time carefully. I use my Waze GPS system to help out with that. I am almost always early to the race. Today I showed up about 15 minutes before the scheduled 7 p.m. start at the Cass County Fairgrounds.  
Tonight I would meet two new friends at the track. Folks, I've seen racing at more than 2,500 locations. I'm the kind of guy who seeks out people to meet and talk with. You can imagine how many conversations and how many people I've met. I've made a lot of friends that way.
I had talked with the promoter of T-N-T Demolition Derby earlier in the week. His name is Todd. He seems to be expanding his demolition derby/bump and run business with a lot more events that I have ever noticed in the past. I had a nice conversation with Todd. He reminded me that this was the first ever Bump n Run racing activity at the Cass County Fairgrounds. Following that call I hoped that l would be able to meet up with Todd tonight and if you'll read I did.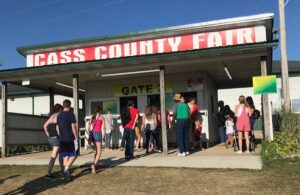 When I approached the entry to the Cass County Fairgrounds I noticed that adults were being charged seven dollars for admission to the fair. I smiled when I saw they took credit cards. I always like to save my cash when I can. My smile would get even bigger in a moment though. I handed my credit card to the ticket seller. She looked at me and asked, "Are you more than 60 years old?"
I was about ready to tell her my real age and then follow up with, "But I feel like I'm 35". I didn't really know the intent of her question. There was no sign on the wall that indicated there was any kind of senior pricing. However, wouldn't you know it? Today was "senior day" at the fair. All seniors would get into the fair at no charge. Wow! I am a lucky duck. 
THE RACING
Cass County Fairgrounds – Cassopolis, Michigan
The Cass County Fairgrounds has a rustic retro covered grandstand. Those are getting to be more and more rare. The grandstand roof had a number of poles supporting it. I needed to sit in front of those poles (closer to the track) so my video would look better. However, I didn't want to sit too close to the track. That's the dilemma. If I sit too far back, where the view is better, the poles get in the way. If I sit too close to the track, where the poles don't block the view it's hard to get the panoramic perspective.
When I go to the races by myself I normally look around the grandstands trying to find someone who might be interesting to sit next to. It makes for a much more enjoyable evening if there is someone to talk to about the racing and the general events of the day. Tonight I did a very good job of selecting just the right person.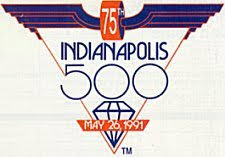 I noticed a fellow sitting by himself about halfway up in the grandstand. He was wearing an Indianapolis Motor Speedway t-shirt. Even though I'm not a big fan of Indianapolis I would sit next to him. For the first few minutes there wasn't much conversation. I offered up a couple of comments and questions but we really have not bonded quite yet. 
When we finally did get to talking I learned that he had been to nearly every Indianapolis 500 race over the last 40 years. On the other hand, he was attending his very first "Bump n Run" race. Since I have seen hundreds of these types of races that surprised me just a bit. 
Maybe I shouldn't have been surprised at all. I suspect that quite a few people reading this report right now have never ever in their entire lives seen a Bump n Run stock car competition. What are you waiting for? Those types of race are probably at a county fair near you this summer.
I was able to answer a couple of my new friend's questions about tonight's racing. I offered up a couple of other ideas that I thought might help him enjoy tonight's slam and bang affair. Soon we were talking quite a bit, not about the racing, but about national and local events and situations. We were in the midst of bonding.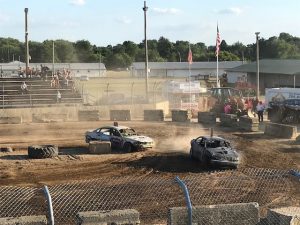 Tonight was a Thursday night. Most competitors in Bump n Run racing are younger people although tonight's feature winner was 58 years old. He told the crowd that's why the number on his car was 58. Nevertheless, younger people are more likely to be racing and working.  They might have some difficulty getting off on a Thursday night in time to tow a race car very far over to a fairgrounds race.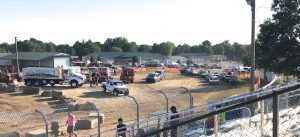 Last night's racing over in Mason, Michigan (with the same T-N-T Demolition Derby promoter) offered three classes of competitors and about 22 cars in total. Tonight there was only one class. This was a four-cylinder stock car (junk car?) group. There were only about 10-12 racecars at the track tonight. 
Despite the small car counts I think the crowd enjoyed the action. T-N-T derbies has a really enthusiastic and entertaining announcer. After each of the two heat races he interviewed the winner and sometimes even the second-place driver. The action on the track was fine.
One driver was identified as a "lady driver". She got in her share of mishaps. Once the crowd knew she was a "girl" she automatically had 50% of the audience rooting for. Another front wheel drive contestant had the entire rear wheel housing and wheels torn off his car. It dragged behind held only by a single cable. With the front wheels churning forward and the rear wheels dangling behind the crowd loved it.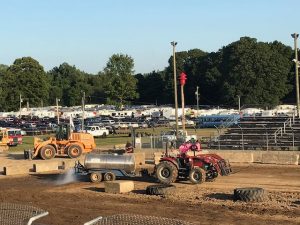 They took a little time at intermission to throw things into the crowd and water the truck. I don't think the track needed watering but it was just another "activity" that kept everybody from realizing they were actually experiencing some downtime. All of this was followed by a six-car feature race and then, as a surprise to me, a minivan demo derby. The demo derby was actually a really good one as many that I see are. 
I was pretty sure I noticed another seasoned trackchaser in the audience. This fellow likes to travel underneath the radar. No problem with that. I noticed that he left after the feature race ignoring the exciting demolition derby crash fest. I'll just say it this way. Some of these guys as hard-core and stubborn as they come. 
AFTER THE RACES
I asked my new friend, let's call him "Tim", which he had liked better the demolition derby, which had just finished, or the Bump n Run racing. I would have bet a dollar to a doughnut he would have said he preferred the demolition derby. I was pleasantly surprised when he told me he liked the "racing" better. Good for him. 
Tim and I had really gotten into chatting at this point. I asked him if he wouldn't mind waiting for a couple of minutes while I went down and introduced myself to Todd, the promoter of T-N-T Demolition Derby. Tim was fine with that. With that I headed on down and introduced myself to Todd. He and his girlfriend Trisha form the name "T-N-T" Demolition Derby. I wonder how many trackchasers knew that?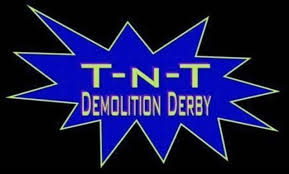 Todd remembered me from our phone call of a few days ago. He asked me how I liked the show tonight. I told him I thought it was a good one given the small car count. They had started on time, there was lots of action with the racing, they had a good announcer and they entertained the crowd. 
The promoters job is not easy. He organizes and advertises the event. Then he has no idea how many racers are going to show up. As Todd mentioned it was a Thursday night. With the good economy people are working. He would have liked to have had more cars but considering this was the first ever Bump n Run race at the Cass County Fairgrounds everything had worked pretty well. 
We probably talked for five or maybe 10 minutes. It was good to make contact with an up-and-coming demolition derby promotions company. Todd was quick to remind me that this is just one of his several businesses. He sounded like a pretty busy guy to me. I very much appreciate him taking a little time to speak with the World's #1 Trackchaser. 
I returned to where Tim, my grandstand buddy, was patiently waiting for me to finish my conversation with Todd the track promoter. Tim and I found a park bench just outside the grandstand. For the next hour and a half we covered a wide range of subjects touching at times on politics, financial planning, the state of our country, and a lot more interesting topics. It was a wonderful summer night for two guys from different parts of the country to just relax and chew the fat.
I think Tim's point of view was a bit more conservative than mine. Nevertheless, he was open to listening when it was time for me to share my ideas and in some cases my rebuttals to some of his comments. Not everyone I talk to in situations like this is so accommodating (but Frank Eich is!). 
We talked until all of the lights went out in the grandstand and some of the vendors begin closing up shop for the night. I was still looking at a 2 ½-hour drive from Cassopolis, Michigan over to where I had a hotel reservation in Arlington Heights, Illinois. I wanted to "get through" Chicago late at night rather than trying to drive through there tomorrow morning. That is always a good strategy. Chicago, although minorly improved, has along with Boston the worst inner city traffic of anyplace in the country. 
Meeting up with Tim tonight was sort of like having an in-depth conversation with someone seated next to you on an airplane. You end up telling them things that you might not tell some of your best friends. Sometimes it's good to share information like that. You can get direct and honest feedback knowing that there won't be any judging at a later time because there's a pretty good chance you will never meet up again.
Tim and I bid each other farewell with a strong handshake and a sharing of personal contact info. The next morning I would awake to an email from Tim telling me how much he enjoyed our getting together.
Tim mentioned he had very much enjoyed a new type of racing, bump n run racing, hoped I had enjoyed our conversation (I did) as much as he did and invited me to join up at another race sometime with him and he would buy dinner!
It was now nearly 11 p.m. I took a few photographs of the nearly closed down fairgrounds and carnival. Then I looked to see how much walking mileage I had covered during the day. My "heart" app showed 3.2 miles. I thought it was more. My daily goal is four miles or more. 
There is a huge parking lot at the Cass County Fairgrounds. I used the rolling farmland of that parking lot to walk an additional 8/10 of a mile. I wasn't going to get that close, 3.2 miles, to my daily goal and not make it.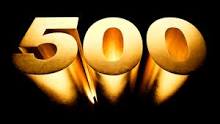 I've seen racing of one form or another at more than 500 county fairs. I can understand when a rock 'n' roll groups tour night after night for years how they might easily forget where they were and maybe even what state they were in. Sometimes it feels like that for me with racing and county fairs. 
I'll remember the Cass County Fairgrounds, especially after I read over my notes, for a few things. This was the first ever night they have had wheel to wheel racing at the fairgrounds at least in recent memory. I got to meet the demolition derby promoter. I got to add a new friend that I had sort of "selected" in advance. I got to have a supper that consisted of a large piece of fried dough half-covered in chocolate and half-covered in cherry filling.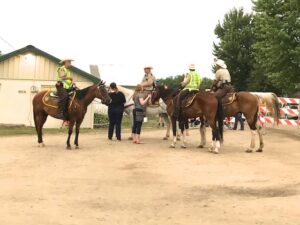 I noticed one other item of note about tonight's fairgrounds experience. They seemed to have more police at this fair that an any fair I can recall visiting. I'm going to guess that I personally noticed 20-30 uniformed policeman. Maybe the sheriff was running for office!
I go to so many fairs and I might not see one or two police. I mentioned that fact to Tim tonight. He thought that was a good thing. I wondered if and why it might be necessary. To me the crowd looked well behaved and pretty much "normal" for a Midwestern county fair situation.
Anyway, it was an interesting night. I think I get about as much out of these experiences including meeting the people and the track promoter and watching the races and such than anybody in this hobby does.
On the drive over to Illinois to check into my Motel 6 in Arlington Heights I wanted to give the motel a call and tell them I would not be arriving after midnight. That would just help assure they didn't give my room away if it looked as if I might not be showing up at all.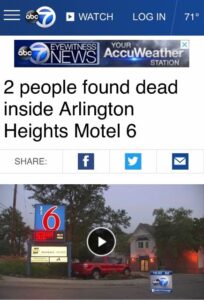 I did a Google search for the phone number for the Motel 6 in Arlington Heights. That search brought up some alarming news. The headlines blurted out that two people had been found dead at this particular Motel 6. Initially I misread that story to be dated July, 2019. Later, I would learn it was July, 2015. Whatever right?
I'm going to guess that I have stayed in hundreds of different Motel 6 locations over the years. I've got a few favorite properties. I like the Motel 6s up around the Toronto area. The Motel 6 near the Dallas airport is a good one. I've always thought of the Arlington Heights property as one of the very best. Now they had found people dead in that motel? 
I checked in at nearly 1 a.m. The old woman who was manning the desk looked as if she had just been awakened from a six-month hibernation. As I was casually checking in I asked about the "dead people". "What are you talking about?", she asked. I tried to jog her memory.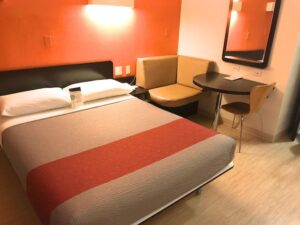 She seemed to be pretending to have amnesia. Finally she be grudgingly admitted, "Yes, that was that guy who killed his girlfriend". She followed all of that up with, "but that was a few years ago." That's when I noticed the article I had seen was printed four years earlier and not last month. I slept a little easier with that news. But I was still wondering if I was sleeping in THAT room.
Good evening from the Cass County Fairgrounds in Cassopolis, Michigan 
Randy Lewis – 85 countries – 2,570 tracks.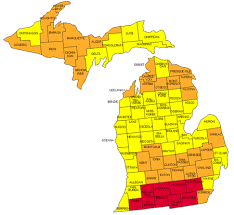 Michigan
The Wolverine state
This evening I saw racing at my 133rd lifetime track in the Wolverine state, yes, the Wolverine state.  I hold the #4 trackchasing ranking in Michigan.  I've seen 133 or more tracks in two different states.
Thanks for reading about my trackchasing,
Randy Lewis
World's #1 Trackchaser
Peoria Old Timers Racing Club (P.O.R.C.) Hall of Fame Member
Michigan sayings: Jeet?: 
When I was a teen, my parents hosted a foreign exchange student from Hungary. Before she got here, someone came over to give my mom a sort of linguistics lesson on how to avoid using phrases like "Jeet?" to not alienate the exchange student. So what the heck does "jeet?" mean? It means "Did you eat?"
People from other states might shorten that to just "Didja eat?" but that's still not acceptable to a Michigander. Another one, very similar to this is "imunna" which means "I am going to." Again, others just shorten this to "I'm gonna'" but we're innovators, so we shortened it further!
QUICK FACTS
LIFETIME TRACKCHASER COMPARISONS 
The threemost important trackchasing comparisons to me are:
Total lifetime tracks seen
Total "trackchasing countries" seen
Lifetime National Geographic Diversity results
Total Lifetime Tracks
There are no trackchasers currently within 715 tracks of my lifetime total.  Don't blame me.
Randy Lewis, San Clemente, California – 2,570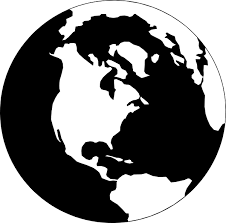 Total Trackchasing Countries
The nearest trackchasing competitor has seen racing in 30 fewer countries compared to my lifetime total. 
Randy Lewis, San Clemente, California – 85
Current lifetime National Geographic Diversity results
Randy Lewis, San Clemente, California – 4.14
That's all folks!  Official end of the RLR – Randy Lewis Racing Trackchaser Report
Click on the link below to see the video production from the racing action today.
Click on the link below for a photo album from today's trackchasing day.  You can view the album slide by slide or click on the "slide show" icon for a self-guided tour of today's trackchasing adventure.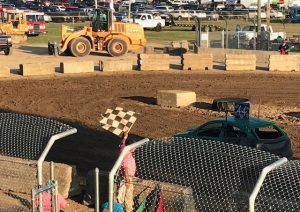 A night at a small county fair in Cassopolis, Michigan
.
.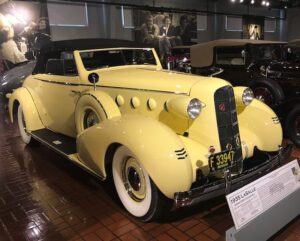 Gilmore Car Museum – Hickory Corners, Michigan