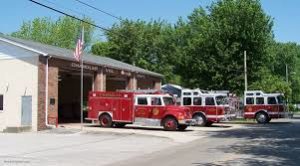 Greetings from Chandler, Indiana
.
.
From the travels and adventures of the 
"World's #1 Trackchaser"
.
.
Chandler Motorsports Park
Dirt outer oval
Lifetime Track #1,478
.
.

Chandler Motor Speedway
Dirt inner oval
Lifetime Track #2,326
The EventBig oval - 2009Little oval - 2017Video PlusPhotos

THE EVENT
I have had the opportunity to follow my trackchasing hobby all over the world. As this is written I have seen racing in 74 countries. My lifetime track total exceeds 2,300. Each and every year I will trackchase in 25-30 states. At track #1,040 I moved into the "World's #1 Trackchasing" spot.
I was trackchasing in Indiana tonight. I've seen more races in the Hoosier state than all but California and Michigan. I first came to the Chandler Motor Speedway in 2009 for racing on their big oval. That year I saw racing in 35 American states and 16 countries.
My hobby is not only about racing. Trackchasing for me centers around three things. The racing part is pretty obvious. However of equal importance is the logistics of trackchasing and the opportunity to see the world.
I live in Southern California. The vast majority of tracks are located in the Midwest and East. It takes a good deal of logistical planning to get from where I live to where the tracks are. For the past 15 years I have traveled about 175 nights each and every year. Surprisingly to some, more than half of those overnights were not part of trackchasing.
Then there's the travel just for the fun of seeing new things. You won't want to miss my "Trackchasing Tourist Attractions" page or my "Sports Spectating Resume" page on my website at www.randylewis.org. That will give you some understanding on how important seeing the world is with my hobby.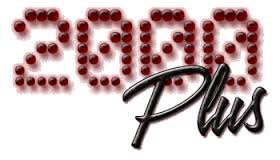 Today's adventure was one more of the 2,000 trips that have taken me up, down and around the long and dusty trackchasing trail. If you would like to see where I've been and experience those adventures here's the link:
If you've got a question, comment or whatever please leave it at the bottom of this report.  It's very easy to do.  Or you can visit me on Facebook.  Thanks!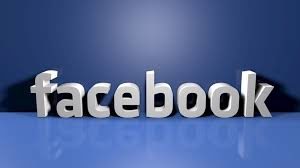 Greetings from Chandler, Indiana and then Princeton, Indiana,
TODAY'S HEADLINES
Are you ever late for an appointment because you didn't know what time it was? If you lived in Dale, Indiana, this might happen all the time. …………..details in "The People".
Trackchasing doubles are out there, you just have to know where to find them………………more in "The Objective".
If you want to save money on travel expenses just keep reading the RANLAY Racing Trackchaser Report. …………..details in "The Trip".
THE OBJECTIVE, THE TRIP, THE PEOPLE…AND A WHOLE LOT MORE
The Objective 
The plan does not always go according to plan.
The objective tonight was to get a trackchasing double. However, I was barely within 1,000 miles of where my originally planned trackchasing double would be racing. How did this come about? What could I do about it?
My original trackchasing double was to be with Russ Ingram, former P&Ger who lives in Texas. There were just two potential roadblocks to that plan. First, I would be flying standby from Cincinnati to Dallas. The flights were tight and I might not make it.
Secondly, Russ had some potential family conflicts. His daughter might be visiting at the last minute. Folks who have young adult children know that they have the most flexible plans. You pretty much know what they're doing when it happens.
Both of our plans had about a 50% chance of making the "trackchasing gig" a reality. As those of you who took business statistics know, the probability of something happening when two independent events have a 50% success rate is 25%. The odds were against us. As it turned out Russ did have a family conflict and our plans to get together for a first ever trackchasing outing were postponed to a future date.
It was decision time.
Now I had a decision to make. I could get up at zero dark thirty in Cincinnati and try to make this flight to Dallas. Then I would end up doing the same thing the very next morning in an attempt to return to Cincinnati for a Saturday night race in Ohio after seeing action in Texas on Friday night. If I didn't make it out of Texas on Friday morning, I could easily trackchase there on Saturday night before trying to get to Colorado for some Sunday afternoon action.
This plan required a good deal of flying over routes that were almost fully booked. It also required some early morning wake-up calls. I had already flown overnight from Los Angeles to Detroit two nights earlier. It takes me a while to recover from those overnighters. There must be an easier trip out there I told myself.
I considered going to Minnesota but the weather was forecasted to be bad this weekend. I was in constant texting contact with a Minnesota area racechaser about my options up there. Another potential conflict, airplane wise, was the PGA Championship golf tournament. It was being played just outside of Minneapolis. This major event might really jam up airplane seating getting into and leaving the twin cities.
Editor's note: As a major Tiger Woods fan, and fan of his auto racing caddy Steve Williams, I am majorly bummed that he lost the lead and the championship for the final major of the year…..the PGA Championship.
I continued to look for a better trackchasing option. I've seen nearly 1,500 individual racetracks. This gives me the fewest options in a situation like this of any trackchaser in the world. Never fear, that makes it all the more fun for me.
A complete search of all my racing databases came up with a Friday night trackchasing double that I've had on my radar screen for years. One of the best things about this double was that it was just 210 miles or so from where I was in Cincinnati. I would not have to fly anywhere.
There were two tracks located just 36 miles from each other in southern Indiana. I'm talking about the locales of Chandler and Princeton, Indiana. The weather forecast was perfect. I could drive this distance and wouldn't have to fight the last minute summer vacation traffic at the airports. This would be my plan. It would support my objective of adding to my overall track total.
A picture perfect blended double opportunity.
Tonight's trackchasing adventure was made for the "Blended Double". I didn't invent the blended double. I just named it. Long before I came along trackchasers were doing their very own blended doubles, they just didn't know what to call it.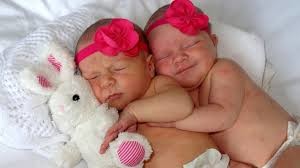 What's the background on trackchasing doubles?
Let me explain some trackchasing background information about trackchasing "doubles". Of course, a trackchasing double simply means that a trackchaser gets to see two tracks in one day. There are several types of trackchasing doubles.
After tonight's races, I have seen 79 new tracks in 2009. There have been eleven times where I have had a trackchasing double this year. There are five different kinds of doubles. Below is a list of the types of trackchasing doubles available and the number of each that I have in 2009:
Day/Night – 6
Blended double with features – 3
Blend double without features – 2
Same location double – 1
Traditional double – 0
The "day/night" trackchasing double is probably my favorite. I've seen six of those this year. This double allows me to see a track in the afternoon and then another in the evening.
I named the "blended double". I have my own definition for a blended double. Some fellow competitors do a variation of what I have defined as a classic blended double. There are two forms of blended doubles. The first is a "blended double with features on both ends". Yep! Just as the name suggests, the trackchaser sees enough racing at both tracks to include feature racing. The second blended double is a "blended double" without features at the first track. This means there was likely not enough time to stay for feature racing at the first track before leaving for the second.
The "same location" double is an easy one. This allows the trackchaser to purchase one race ticket and never leave his seat in order to see two tracks. The same location double comes into play when a track offers two different sized ovals or an oval and a figure 8 track or an oval and a road course. Finally, the "traditional double" simply means that a trackchaser stays for most or all of a program at track #1 and then runs over to track #2 in time to see a very small portion of the second track's program. This is my least favorite type of trackchasing double. I never liked being at the second track of a traditional double for just 5-15 minutes of racing. I rarely do traditional doubles.
Most tracks begin racing at around 7 p.m. Most tracks end their racing programs at around 11 p.m. When I say "most" tracks I'm referring to tracks in the U.S. and Canada. There are very few trackchasers (track count wise) who live outside of this geography. Those that do, have a totally different set of racing circumstances than those presented in the U.S. and Canada.
In order to get a blended double for two tracks racing on the same night, the tracks need to be located near each other. This doesn't happen often but it does happen. Tonight's tracks were just 36 miles apart. That would be perfect for a blended trackchasing double.
Trackchasers seem to have three strategies for the length of time needed to "count" a track. All three are perfectly legal when compared against our trackchasing rules. The strategy that each trackchaser might use is totally up to them as an individual. Let me briefly explain those three strategies.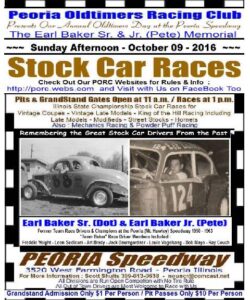 Get there early and stay til they turn off the lights.
When I first started going to my boyhood track, the Peoria Speedway, this is how I did it. My family and I were normally standing in line by 6 p.m. when the gates opened. This early arrival would guarantee we would be able to get a "top row" seat. Then we watched time trials at 7 p.m. followed by races at 8 p.m. The program normally finished up with the late model feature by about 11 p.m. Sometimes, but usually not, we would go into the pit area following the completion of the races.
In today's trackchasing world, there are very few trackchasers who get there early and stay until the very last race finishes. The only trackchaser that I know of who does this is Allan Brown. Most trackchasers don't find the race program entertaining enough to stay through the entire event, especially when it lasts 4-5 hours or more. I fall into this camp.
Get there early and stay til you're not entertained anymore.
I would say this is the most popular strategy used for the majority of trackchasers including me. I almost always arrive 30-90 minutes before the program is scheduled to begin. One of the reasons for my early arrival is that I travel a long distance to get to the track. I leave a little leeway for potential travel delays. Normally, when I don't have any delays that ends up getting me to the track early.
In today's racing world, race programs have 4-6 divisions of racing and sometimes more. Often the car counts are small. Most racing programs have heat races for each division followed by feature races. It seems like as much as 50% of the time, a single division does not have enough cars to run more than one heat race. This means the same cars and usually fewer (due to wrecks and mechanical problems) compete in the feature race as did in the heat race. In some ways, that makes the heat race more entertaining than the feature!
One of the main reasons I go to a racetrack is to have fun and be entertained. If the show starts at 7 p.m. and I've been at the track since 6 p.m., my butt is starting to get sore by 9 p.m.!! When my butt gets sore, I don't find myself at easily entertained. I will tell you this. I would much rather watch feature races than heat races. I wouldn't mind showing up at a racetrack at feature time (9-10 p.m.) and just watching those races. However, with variable weather changes, I wouldn't want to risk getting to the track at 10 p.m. and finding out they rained out at 9 p.m. after running two hours of heat races.
Get there whenever and leave early.
There is no rule in trackchasing that prevents a person from showing up at 7 p.m., watching the first heat race and leaving at 7:05 p.m. Our rules only call for seeing "competitive racing". I don't prefer the first approach of "arriving early and staying til the lights go out". Not only do I not prefer, but also I do not support the idea of leaving a track after being there for just a few minutes. Nevertheless, trackchasing's founding fathers established the rule that the only "requirement" was to see "competitive racing".
Other than one ice race in Quebec, Canada I cannot ever recall leaving an event after just a few minutes and before the entire program was finished to go on to another track. On that one occasion, I was with Will White and Guy Smith and the temperature was about 25 degrees below zero. I've actually had to tell two different trackchasers who were traveling with me that I would not leave a track after only a few minutes to go to another.
Personally, I could never get much entertainment from being at a track for just a few minutes. When I defined the "blended double" I established a guideline of staying a minimum of one hour but more normally up to two hours at each track. That worked for me. However, others might like to stay longer or leave sooner. That's the best thing about trackchasing; everyone gets to trackchase the way he or she wants.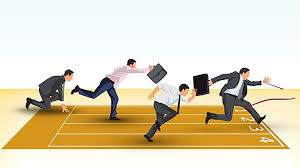 Too much competitiveness in the hobby rears its ugly head.
The only minor problem involves the overall "competitiveness" of trackchasing. Some trackchasers don't think that seeing races for ten minutes, one hour, two hours or whatever is as "good" as getting there early and staying late.
In American politics, one political party only complains about the other political party. No Democrat will ever be caught criticizing another Democrat. The same thing goes for the Republicans. As you might expect "trackchasing politics" prevents one group from ever criticizing "one of their own". When I first starting writing about "blended doubles" and staying at one track for as little as one hour, trackchasers Gordon Killian and Allan Brown just about had apoplexy. I thought that was poor sportsmanship on their part. However, I also didn't think much of several other trackchasers who played the "trackchasing politics" game and didn't say a word in defense of a policy they obviously supported and/or accepted for fear of offending folks in their own trackchasing political party.
Currently, we have trackchasers visiting tracks for just a few minutes both here and abroad. I don't hear a peep out of Mssrs. Killian or Brown or anybody else for that matter on the subject. Yes, trackchasing is fraught with "politics" brought on by "competitiveness". It is this type of behavior that makes me seriously question why I ever joined the group in the first place.
Despite all of this, I enjoyed a blended double without a feature on both ends tonight. The tracks were close and I saw enough racing at each track to entertain me. I'll tell you more about it all in the "Race Review".
The Trip
This rental car strategy might work for you.
Tonight's first race didn't begin until 7:30 p.m.   I had to cover just 210 miles to get to the first track. You might think I would be able to sleep in wouldn't you? Nope! Trackchasing is not a simple logistical endeavor.
I had only planned to keep my rental car in Cincinnati for one day. My original plan called for me to fly to Dallas this morning and rent a car there. I would now need my rental car for two more days in Cincinnati. I called the National Rental Car Company to see how much it would be to extend my rental. The fee would be about $110. It would have been easy to simply say "Yes" to this offer. However, the RANLAY does not roll that way. I hope you don't either.
I had another option. I could call up a different section of the National Rental Car Company and make an entirely new reservation. I did just that. A NEW two-day reservation was just $67. By making a new reservation rather than extending my old one for two days, I had saved $43.
There was one minor inconvenience, which really wasn't too bad. I would have to return the car I had to the airport, close out the contract and "re-rent" it. I could still keep all my stuff in the car without having the hassle of moving it from one car to another. I didn't even have to stop to refuel my car before re-renting it. I was staying this morning in a motel less than ten miles from the Cincinnati airport. This was not quite as easy as simply extending my reservation over the phone but I was saving forty-three dollars.
I am sure you see a pattern here. If I didn't look for money-saving ideas, this trackchasing hobby could be a lot more expensive. There are trackchasers who spend less than I do on this hobby. However, they get so much less in the form of services that I believe I'm getting the best value by far.
Being a AAA member is a great monetary value.
By the way, being a member of the Automobile Club of America (AAA) helped me secure today's rate. AAA saves me money continuously with rental cars and hotels. For my lifestyle, those savings easily amounted to THOUSANDS of dollars saved each year. We usually manage to use their roadside services a time or two each year as well. I think our family membership runs about $75 per year. This is one of the best bargains going even if it was never used for anything but road service protection.
However, the Motel 6 in Dale, Indiana is not a great monetary value!
I ended up staying the evening at a Motel 6 in Dale, Indiana. This was a nicer newer Motel 6 but it was still a Motel 6. I didn't even ask what the rate was when I checked in. I mean Motel 6 is always the least expensive chain hotel right? Any ideas on what a Motel 6 out in the middle of rural southern Indiana just off I-64 might cost. How does $83 sound? That didn't sound too good to me.
I asked the desk clerk why the price was so high. "We've got an amusement park just seven miles away". Did this lady want to know that I have an amusement park very near my home? They call it Disneyland!! I'm sure I can rent hotels within WALKING distance of Disneyland for less than $83 per night.
I was just down the road from a Comfort Inn in Santa Claus, Indiana. This is a newer upscale Comfort Inn that I've stayed in one time before. I remember this hotel for one reason. I shared a room with Ed Esser (Why do I fear Ed Esser? – coming soon) following an indoor event during the winter in nearby Louisville, Kentucky. On that night, the temperatures were near zero and I had to convince Ed that sleeping in his car would not be as comfortable as staying inside at an upscale Comfort Inn. I was happy to share my room with the world's #3 ranked trackchaser.
The People
Could you live here?
I had an interesting talk with the desk clerk at the Motel 6 in Dale, Indiana. The motel's location straddles the dividing line between the Central and Eastern Time zones. Interstate 64 runs east and west in this area. The motel sits just a few hundred yards south of this highway. In this area, everything south of the interstate is in the Central Time zone. Everything north of the road is in the Eastern Time zone.
The clerk was telling me she lives just three miles north of the motel. She's in the Eastern time zone. The motel is in the Central time zone. When she leaves work at 5 p.m. in the evening, it is actually 6 p.m. at her home. "I am one of the few people in America that lives three miles from work and my drive takes me an hour and ten minutes to get home!" She's right, although the residents of Boston might disagree with her exclusivity.
I asked her if the "time zone straddle" was confusing for people. She told me it wasn't but I didn't believe her. "When you make an appointment to meet someone do you have to go through the entire time zone thing with them", I asked. "Yes, I guess we do. My hairdresser lives in the Central time zone and since I live in the Eastern time zone we always have to go over what time and what time zone we're talking about for my hair appointment". Oh, my. I think this would be a major annoyance. The motel office has two clocks, one identifies the time in the Eastern Time zone and the other in the Central time zone.
RACE REVIEW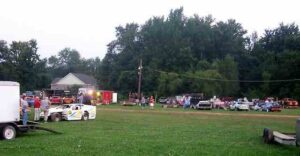 CHANDLER MOTORSPORTS PARK
The little dirt bullrings are fun.
The Chandler Motor Speedway is located in Southern Indiana. The track is only 36 miles from the Seedtick Raceway in Princeton, Indiana. My night started out over in Princeton. The Seedtick track would actually be my second countable track for the evening. However, a daylight trip to Seedtick (before they started racing) would allow me to both find the place and take some pictures during the day.
I arrived back at the Chandler Speedway at 7:40 p.m. (scheduled start 7:30 p.m.). They were playing the National Anthem when I arrived. Admission was ten bucks with no discount for the wealthiest group in the country…..us seniors.
Chandler is a small town and the biggest city nearby is Evansville, Indiana. This is a rural crowd. Kentucky grows tobacco and there were plenty of people smoking. I hardly know anyone who smokes.
It was warm and humid and there was a big crowd on hand. The announcer and P.A. system were much better when the roar of the engines wasn't going on. This was a "down-home bullring" type track with only marginal track lighting. The quarter-mile dirt oval was high-banked with old-time steel Armco fencing in turns three and four.
No, this was not the Ritz-Carlton.
The men's restroom was a treat. The "urinal" consisted of a six-inch diameter plastic pipe, about eight feet long, cut in half and tilted at an angle. Its simplicity was blinding. The male "customers" simply relieved themselves and gravity took care of the rest. What do you think patrons at Angels Stadium in Anaheim would feel about such a setup?
The track ran an efficient program. They had the next race lined up in the pit area ready to go as soon as the previous race was finished. The top class was the UMP modifieds. They also had some various forms of stock cars and a mini-stock class. The track wasn't dusty until the more high-powered modifieds came out. Then I wished I had brought my racing goggles!
Racing had started at 7:40 p.m. The heats were all finished by 8:44 p.m. My research about the Seedtick program consisted of reading Ed Esser's track report on his visit there. He told of the program ending at 11:30 p.m. It would be a 40-minute drive from Chandler to the Seedtick Raceway in Princeton. I figured I could leave Chandler as late as 10 p.m. or so and still make it to the second track.
How long should intermission be?
I wondered how long intermission might take. I really wanted to say I had seen a feature race here. However, when the track's management took their grader out onto the track that looked bad. In what would be unheard of in today's trackchaser rush to get to the next track, I waited through intermission for 28 MINUTES. At that time, the grader was still on the track moving dirt around and several pickups were taking laps around the track to "run it in".
It was 9:12 p.m. I didn't feel I could wait any longer. The Chandler Motor Speedway was in the books. I headed out, bound for the Seedtick Raceway in Princeton, Indiana. This track would be the second half of a blended double without a feature on the front end.
This would be my second blended double of the year without seeing a feature on both ends. Not surprisingly, both involved senior champ karts or their equivalent.
RACE REVIEW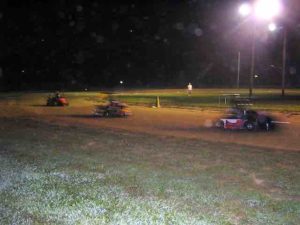 SEEKTICK RACEWAY
Not much countable racing here.
I had purchased my ticket to the Seekonk Raceway at about 6:30 p.m. They weren't scheduled to begin racing until 8 p.m. Central Time. This gave me plenty of time to walk the facility so you could see photos taken during the daylight.
This is a flat 1/5-mile dirt oval track. They've been racing here since 1992. Tonight there was only one countable class racing. I'm talking about the "10 HP Star" class of karts that looked identical to the Senior Champ Karts I've seen run all over the country. There were just three of them but that would be enough to count this track.
The remaining racers (maybe 30-40) were flat kart racers. I took some pictures and then left at 7 p.m. bound for the first half of my blended double. I returned to the track at 9:50 p.m. after a 36-mile drive over from the nearby Chandler Motor Speedway.
Seedtick was running their feature events by the time I arrived back. I had no idea where they were in the program. After reading Ed Esser's trackchaser report from a visit earlier this year, I learned that the "10 HP Star" class had been the last class of the night when he visited. However, I was too lazy to inquire about when in the program this one and only countable class would race. That could have been a deal breaker but luckily, it was not.
When Ed saw racing here the program ended at 11:30 p.m. Tonight the racing was finished at 10:20 p.m. I'm glad I didn't stay at the Chandler track any longer than I did. As it turned out the three "10 HP Star" karts took to the track at 10:12 p.m., just 22 minutes after I had returned. Their race was brief, maybe 15 laps. This could have qualified as a "traditional" trackchasing double. However, in advance of the Star kart race, I was able to see three other flat kart feature events. This moved the double more toward a blended one than a traditional one.
This is why the blended double exits.
Seeing racing at a track like the Seedtick Raceway, from a trackchaser's point of view, is exactly why I defined the "Blended Double". For me it would not make any sense to spend an entire Friday night at a track where there were just two countable races (a heat and a feature for just one class) and three karts in each of those races.
If this track were not near any other track, I would likely never visit it. However since it is fairly close to a more traditional track it made sense to combine the two in a blended double trackchasing effort. I would like to have seen some feature racing at Chandler. However, it was more important and entertaining trackchasing-wise, to see more than an hour of racing at Chandler and at least some countable racing at a kart track. That made for a very entertaining evening for me.
STATE COMPARISONS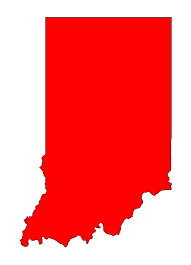 Indiana
This evening I saw my 62nd and 63rd lifetime tracks in the Hoosier state. This maintains my seventh place rank just four tracks behind legendary and deceased racecar driver and trackchaser Pappy Hough. I never met Mr. Hough but he was traveling all across America primarily before the interstate days. That must have been fun. Roger Ferrell leads in Indiana with 117 tracks.
Although I have not worked much on my Indiana racetrack database, I show there are 44 tracks I have not visited. However, just TWO of them race on a regularly scheduled basis. That is not a good sign. The remaining 42 tracks are mainly county fairs that would have just one program per year.
Coming Soon – RANLAY Racing Exclusive Features!
Why I fear Ed Esser. (Delayed again! Come on Ed I can't wait forever…..my readers can't either. They're beginning to bug me about this).
What is Randy's (speaking in the third person) trackchasing future? (Coming August, 2009)
Who have been Randy's three toughest trackchasing competitors? (Coming September 2009)
Thanks for reading about my trackchasing,
Randy Lewis
Alberta's #1 Trackchaser
I'm still trackchasing out of a tiny three-car garage in the faraway but sunny seaside village of San Clemente, California.
TRAVEL DETAILS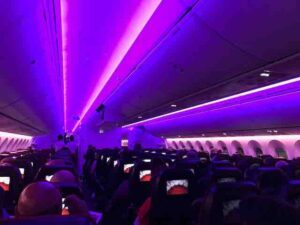 AIRPLANE
Los Angeles, CA – Detroit, MI – 1,970 miles
Detroit, MI – Cincinnati, OH – 229 miles
RENTAL CAR #1
Cincinnati – Northern Kentucky International – trip begins
Cincinnati, OH – 30 miles
Cincinnati – Northern Kentucky International – 66 miles – trip ends
RENTAL CAR #2 (re-rent same car)
Cincinnati – Northern Kentucky International – trip begins
Chandler, IN – 317 miles
Princeton, IN – 353 miles
TRACK ADMSSION PRICES:
Hamilton County Fairgrounds – $8 ($4 parking)
Chandler Motor Speedway – $10
Seedtick Raceway – $4
COMPARISONS
LIFETIME NATIONAL GEOGRAPHIC DIVERSITY UPDATE
Randy Lewis – current score = 4.92 (tracks posted thru August 9)
2009 NGD point changes
Connecticut -7
Iowa -1
Maine -10
Massachusetts – 6
New Hampshire -11
North Dakota -1
Rhode Island -8
South Dakota -1
Wisconsin -1
Texas +1
Vermont -8
Wisconsin -1
Net changes -53
Gordon Killian – current score = 5.82 (tracks posted thru July 25)
2009 NGD point changes
Connecticut +1
Georgia -6
Kansas +1
Kentucky +1
New Jersey +1
New Mexico -4
North Dakota -1
Ohio -1
Rhode Island -1
South Carolina +2
South Dakota +1
Net changes -6
LIFETIME TRACKCHASER COMPARISONS 
There are no trackchasers currently within 200 tracks of my lifetime total.
Randy Lewis, San Clemente, California – 1,479
Official end of my RANLAY Racing Trackchaser Report
FOREWORD
I consider the "summer" trackchasing season to run from roughly Memorial Day to Labor Day. I once told Carol that if we left home on Memorial Day and went trackchasing on every day that we possibly could through Labor Day of just one year that she would never have to go on a trackchasing trip again. She declined my offer. I took that to mean that she didn't want to limit her trackchasing options!
I'll be heading to the Chandler Motor Speedway in Chandler, Indiana for tonight's racing. If all goes really well on this trip I will see four tracks for the very first time in just three days. I also expect to drive about 1,400 miles. There is a distinct possibility that I will not be able to stay in a hotel for even one night given the logistics of the trip. You can ride with me, through my Trackchaser Reports, YouTube videos and SmugMug photo albums during the entire thing from the comfort of your own space.
ON THE WAY TO THE RACES
THURSDAY
Carol and I completed a successful trackchasing and family visiting trip last weekend in Colorado and Kansas over Memorial Day weekend. Carol will not join me again for trackchasing until likely Father's Day weekend. She treats me well all the time but especially well on my birthday and Father's Day. On Father's Day I could probably ask her to sleep four straight nights in the car for one of these trips and she would do it…..then I might be pushing my luck with that request. Nevertheless, I'm happy to have the support of the fittest person in the entire hobby of trackchasing by my side. You can't beat that. 
I take Carol out to eat as often as I possibly can. I don't like to see her slaving over the preparation of the meal and the cleanup afterwards. What I particularly like about going out to eat with her is it gives us a chance to catch up and calibrate over the events of the day.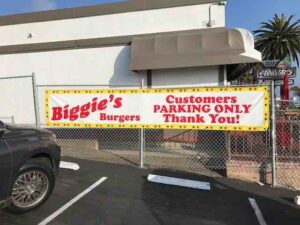 Tonight we went to Biggie's Burger a great hamburger establishment located less than a mile from our home. We would be eating at about 6 p.m. Just a couple of hours later I would be heading out on this weekend's trackchasing trip.
As I see more and more racetracks the remaining tracks left to be seen seem to be further and further apart. That's not a huge problem. I have airplanes on my side. I am also willing to drive long distances in order to make the plan work.
Tonight I would fly from Los Angeles to Portland Oregon. I wouldn't be leaving LAX until 11:45 p.m. I wouldn't get up to Portland until past 2 a.m.  When I landed I noticed it was Willie Williams birthday.  Willie and his family have been a part of the "Thrill Show Productions" Canadian demo derby group for the better part of a century.  Willie's dad and uncle started out as "Stunt Show" drivers.  Happy birthday Willie!
I actually like this flight combination. The Portland airport is modern. They have lots of seating where I can lie down flat for a few hours of sleep. Then I can take a relatively early morning flight out to the Midwest or East Coast.
Logistics is a particular challenge to trackchasing from my home location of Southern California. Most of the tracks are located in the Midwest and the East. Not only does it take 3-5 hours or more to fly from the West Coast to the East Coast but I also lose three hours in time zone changes. This is one of the many reasons there have never been any really successful trackchasers emanating from the West Coast.
When I landed at Portland airport I picked out a spot that seemed like it would be quiet for the next few hours. Little did I know that the gate I was sleeping at was hosting a 5 a.m. flight departure.  At about 4 a.m., just a couple of hours after I had gone to sleep, the gate area became busy with early-morning travelers. They were just starting their day. I was just ending mine. They had no idea about my situation.
That did give me some pause for thought. We all go about our daily lives thinking mostly about US. Me. What am I doing today? It's easy to forget that others are going through "stuff" as well. Think about that the next time you encounter someone doing, saying or acting in some fashion that you might not care for. They might be going through some kind of "stuff" that you are completely unaware of.
FRIDAY
I'm using a new app in my iPhone to keep track of my airplane schedule. It's called FlightView. It's not quite as good as what I used to have (FlightTracker) but the old app went out of business. I guess you can't give away an app for free and stay in business for long!
With FlightView I am allowed to name my trips. The name for this trip was "Cubs/Alabama". If all went well I might go to the Chicago Cubs afternoon game at Wrigley Field Friday. Then the next day I would make my way down to Alabama for some trackchasing in the south.
To make a long story short the above plan was aborted because of questionable weather. Not only is it a challenge to get from Southern California to a long distance away race location but I have to go somewhere where the weather is good as well. The weather forecast for the south was bad. The weather in the Midwest, especially at Wrigley Field, wasn't the best either.

They did get the Cubs game in with the Cubbies beating their archrivals the St. Louis Cardinals 3 to 2. My first several major league baseball experiences as a boy all happened at Wrigley Field. I really need to get back there but I only want to do it for an afternoon game. That how it happened for me as a boy with my grandfather.
When the weather is questionable in one location I normally have three or four and sometimes more possible alternatives in other directions for trackchasing. That was the case this weekend as well.
The final plan for this weekend began with me flying to St. Louis on early Friday afternoon. Then I would drive down toward Chandler, Indiana for an inner oval race there. Following the Indiana action I had a 510-mile drive overnight.
That's right. Last night I slept overnight in the Portland, Oregon airport. Tonight, if the races finished by 10 p.m. or so, I would have about 14 hours to make an eight-hour drive over to Wampum, Pennsylvania.
I was accounting for the fact that I would lose an hour moving from the central to the eastern time zone. Tomorrow's racing was scheduled to begin at 1:30 p.m. Of course, I will do my best to make such a long drive safely with intermittent stops for rest. That kind of plan needs to be managed carefully but it can be done.
Then when I finish up with the Pennsylvania afternoon road racing I will try to make it over to Attica, Ohio on Saturday night. They are racing at a kart track in that small town of just 800 people. They only have "trackchasing countable" racing a time or two each year. I didn't want to miss that.
Then if I were still awake and lucid I would drive from Attica up to the Detroit Metropolitan Airport. That drive would only about 2 1/2 hours long. However, I would need to be at the airport to catch my flight by about 6:30 a.m. Sunday morning. That pretty much meant there would not be enough time to get a hotel on Saturday night either.
Let's think about this. I was taking a long weekend vacation that would run from Thursday through Sunday or maybe even Monday.  On Thursday night I would sleep in an airport.  On Friday night I would drive through the night for most of the time with intermittent stops at highway rest areas. Then on Saturday night I would likely sleep in the car for a few hours as well.
If all of the above went according to plan I would fly on Sunday morning from Detroit to Hartford, Connecticut. There I would pick up a rental car on a one-way basis to see some Red Bull Global Rally Cross racing in Thompson, Connecticut. Following that race my plan was to drive back to the Boston Logan International airport.
I would be in time to standby for only one non-stop flight from Boston back to Los Angeles. That flight didn't leave Boston until after 10 p.m. on Sunday night. It wouldn't land in Los Angeles until about 1:30 a.m. local time. If I made that flight I would likely get back to my home at 3 a.m. or later California time. That would be past 6 a.m. Boston time when most people are beginning to start their workweek. I would just be getting home from my long weekend! Heck, I might even sleep in the Boston airport on Sunday night.
There is a reason that I have a nearly 600-track lead over my nearest fellow competitor. I have a passion for this. I am simply willing to do what it takes.
When I landed in the St. Louis airport I grabbed an upscale Chrysler 300 rental car. These are great road cars. I rent them often. If I were going to be sleeping in the car overnight for two consecutive nights I figured that a Chrysler 300 would be the type of vehicle to do it in.  Soon I was crossing the Stan Musial Veterans Memorial Bridge taking me into Illinois and on my way to Indiana.
THE RACING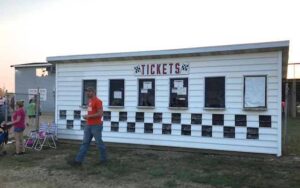 Chandler Motor Speedway – Chandler, Indiana
The above was a little background on what it would likely take to get out to Indiana as well as what it was going to take to complete the weekend. Now, let's start thinking about the racing at the Chandler, Indiana located Chandler Motor Speedway.
I actually have a history with this facility. Back in 2009 I saw racing on their regular dirt oval. At the time it was my 1,478th lifetime track. You'll find my Trackchaser Report under a separate tab in this post from that visit.
I don't trackchase with other racing fans all that often. Why? I can't guarantee my appearance. So much of my travel is planned at the very last minute. How last minute? I routinely change the plan on the day I leave San Clemente. No one else can do that like I do and still be productive.
However in 2009, for some odd reason, I was meeting friends and fellow competitors all over the place. Here's a sampling of who I met and where.
Jerry Fisher (Argentina)
My sister Becky and her husband Bob (Wisconsin)
Paul Weisel and Bing Metz (Rhode Island)
Will White (Iceland)
Juan Alvarez visiting from Colombia (New Mexico)
My brother Mark (Arizona)
Bruce Spencer (Massachusetts)
John Sullivan (Maine & New York)
Greg Robbins (three times in Ohio)
Butch Knouse (South Dakota)
Dale Terry (Alabama)
Guy/Pam Smith & John/LuEllen Osowski (Vermont)
Rob Palmer (North Dakota)
Jim Sabo (Virginia)
My stepfather Bill and his wife Betty (Florida)
Of course I knew all of these people before we met up at various racetracks. Oops. I can't forget wife Carol. She rode shotgun on many of the trips.
Sometime last year, I believe it was from fellow competitor Guy Smith, I learned that a new class was running at the Chandler Motor Speedway. This new group is called the "scrappers". They were an ultra low-dollar mini-stock type of racecar. They would race on a temporary inner oval at the Chandler Motor Speedway.
As you know trackchasing rules allow chasers to count two different ovals if they are permanent tracks at one single facility. Yes, a chaser can count one permanent oval and one temporary oval at one facility as well.
I was never much for this type of "counting" until I became aware of the trackchasing rules. They don't do it like I would do it but that's not a problem.   I do get a huge kick out of people who want to be a part of trackchasing but don't want to count their tracks under the same rules as those following the sometimes liberal and sometimes overly stringent trackchasing rules. Why join if you can't follow the rules?
If a trackchaser, whether they are part of the formal group or not, wants to accurately compare their results with others they need to operate under a consistent set of rules. I'm not a member of the formal group. However, I follow the trackchasing rules to the "T". I'm willing to do that as long as the rules don't get to be too idiotic.
I arrived at the Chandler Motor Speedway some 2 1/2 hours before the races were scheduled to begin. I pulled the National Car Rental Racing Chrysler 300 under a big old shade tree. I tried to get a little bit of sleep. However, with temperatures at 88° that was difficult.  I sat in my car and watched the cars being towed into the track.
I figured the more sleep I could get now the easier it would be to drive overnight after the races were finished tonight. I was simply trying to make the best out of a challenging logistical situation. I was a little surprised to see a drag strip operating right next to the oval speedway itself. All during the night as I watched the races on the dirt track I could see cars speeding down the quarter-mile drag strip.  I watched those drag cars coming into the strip as well.
Just a few minutes before the 8 p.m. start time I bought my general admission ticket for $10. By the way there is no "secondary" market for tickets at tracks like Chandler. There was no senior pricing tonight either. I think I see senior pricing options at about 50% of the racetracks I visit.
There was a good crowd on hand. I secured one of the very last spots in the top row of the grandstand. As soon as I sat down I met a local Chandler resident, Carl A. I've omitted his last name for security reasons.
It was nice to meet Carl. We talked throughout the next three hours of the race program. Carl owns a vintage racecar (above but that's not him in the photo). He and his friends take the car all over the immediate area and he races it. He told me they "race the hell out" of those vintage cars. Everyone tries to win.
Carl couldn't get over the fact that as a Californian I had come all the way from the West Coast to "Little old Chandler Speedway" to see the scrappers race. Yes, I know that is a difficult concept to comprehend amongst intelligent individuals. What can I say? It is what it is.
It had been eight years since I last visited the Chandler Motor Speedway. Actually it seemed longer. It WAS approaching 1,000 tracks ago for me.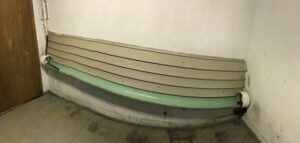 Nevertheless, as soon as I pulled into the parking lot and approached the entrance to the track my memories of my last visit came back to me. It's funny how I can see so many different racetracks and they all deliver their own distinct remembrances.  The men's restroom was memorable too.
I was here to see the scrappers race. I didn't know much about the scrappers other than that they were a low dollar racecar. I also didn't know what kind of "track" they would be racing on. I had no idea how many of them would show up.

Tonight's racing program, for the majority of the fans in attendance, was going to be contested on their permanent ¼-mile dirt oval. Tonight there were four classes of stock cars racing there. This included the street stocks, pure stocks, modifieds and mini stocks.
Car counts were small. That is often the case these days. The street stocks had five. The pure stocks came with eight or nine. The modifieds had 10-11 and the mini stocks had eight. Every class except the street stocks ran two heat races. As you can figure out the heat races didn't have many cars in them.
When all of the heat races for the regular stock car classes were finished the scrappers came out. Their field had 12 cars in total. They were divided in half and raced two heat races with six cars in each event.
The track was a little underwhelming. It was simply two large tractor tires situated about 75 yards or maybe less apart. The tires, and thus the inner oval, were situated entirely inside the bigger oval. The cars raced round those tires in an oval fashion. The first heat race seemed to have a few more laps than the second heat race. The second heat race only took about a minute in total. I video recorded the entire race.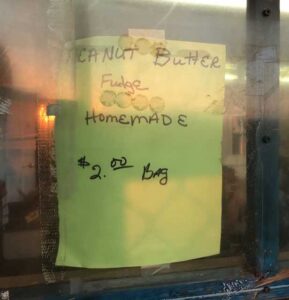 Following the scrappers heat races the track went to intermission. It was a little past 9 p.m. I had hoped to be leaving the track tonight after having seen the scrapper feature by 10 p.m.  I considered the refreshment choices.  I passed but I did have my eye on that bag of peanut butter fudge.
If I met that objective I would have 14-hours to drive eight hours. That would get me over to the afternoon event on Saturday at the Pittsburgh International Race Complex.
I had committed to myself that if the scrappers had just one heat race I would leave after the heat under the theory that the feature would be the same set of cars, racing for a different amount of laps, as the feature. However when the scrappers had two heats I had somewhat of a moral obligation (not really) to myself to stay for their feature event.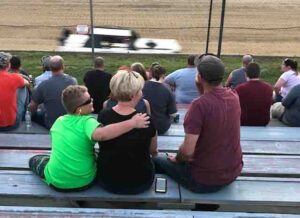 However, in order to do that I would have to sit through the rest of intermission. The break included a kid's bike race. I would also stay for the four feature races for the stockers on the big oval.  Then I would see the last race of the night, the scrappers feature race. In the end that is exactly what I did.
Although the car counts were small the actual racing on the high-banked quarter-mile track was very good. You won't want to miss my video that shows how close to the fence the cars raced during the main events. The modifieds were probably the best but the pure stocks and mini stocks weren't bad either. Again everything in racing is relative. My all-time favorite track configuration is the quarter-mile dirt track. Maybe that's why I thought the racing, with so few cars, was actually pretty good.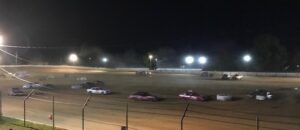 The last event of the night was the scrapper feature race. The announcer asked the crowd how many laps they should run. Yes, this is exactly how Ted Johnson did it with the World of Outlaws sprinters in the early years. Tonight's choices were six laps, eight laps or 10 laps. The people who had remained in the grandstand up to this point all shouted in unison, "10 laps". Ten laps it would be.
With 12 cars starting the scrapper main event it was a slam bang affair. There were no yellows or red flags even though cars were sitting disabled on the track. My buddy Carl had said it was going to be a rolling demolition derby.
There are certainly some people who could legitimately question the "validity" of this inner oval. I wouldn't disagree with that at all. However, I was only adhering to trackchasing's official rules on how to count tracks.
Nevertheless, there is a hidden benefit to coming back to see what I did tonight. It lets me re-visit for one more time what the quarter mile dirt oval racing looks like at a place like Chandler. If I didn't come back to see the temporary oval I would probably never ever come back to see racing on the larger track. Yes, I'm trying to look at this from a glass half full point of you.
AFTER THE RACES
When the final checkered flag had fallen I bid farewell to Carl A. Call told me that he lived about four blocks from the track. He had a short distance to travel after tonight's races. I had 510 miles to traverse.  It was fun talking to Carl.
I had not had dinner yet. Almost immediately upon leaving the track I came across a convenience store. I quickly pulled in for a bottle of Diet Mountain Dew, a package of pork rinds and a couple bottles of 5-Hour Energy drink.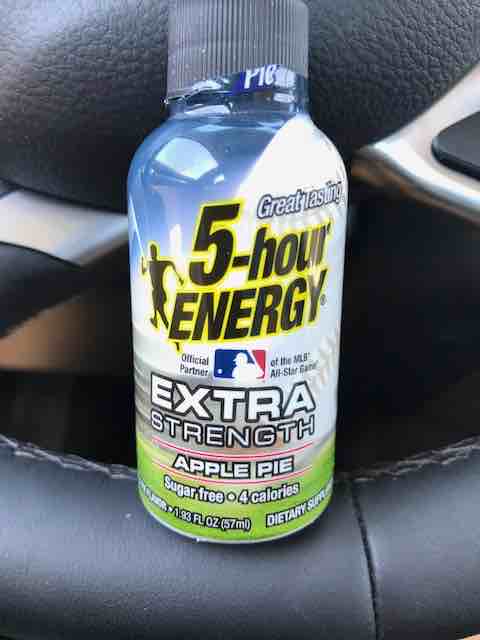 One of the 5-Hour Energy drinks carried the flavor of "apple pie". The clerk told me this item didn't sell very well. That made me want to get one! The apple pie version of 5-Hour Energy drink is pretty nasty stuff. I think I would prefer the real version of Apple pie à la mode!
Off I went into the night in the National Car Rental Racing Chrysler 300. I now had about 13 hours to drive eight hours. I hoped that I could drive at least four hours before stopping for any rest.
I wasn't sure that I wanted to go with a Diet Mountain Dew followed almost immediately by a 5-Hour Energy drink. However, in the past when I've used 5-Hour Energy it does keep me going for about five hours. I didn't want to wait three hours to take a five-hour energy stimulant that might keep me on the road for eight hours of driving. That being the case I took the 5-Hour Energy drink almost immediately upon leaving the Chandler Motor Speedway. I sipped the Diet Mountain Dew as a sweet cocktail for the next hour of the drive.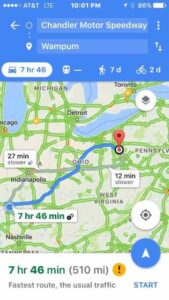 My route took me through Louisville and then up to Cincinnati. I pulled into a Cincinnati McDonald's to get a bottle of water. I couldn't resist getting a one-dollar large Diet Coke (light ice) and a triple cheeseburger. However, I was informed that McDonald's stops serving burgers at 3 a.m. and then moves into breakfast mode. Yes, you can learn something new every day if you keep your eyes and ears open. This being the case I went with a couple of sausage McMuffins because they're cheap and somewhat filling. Of course, I tossed the muffins.
At 4:09 a.m. I decided to close this Trackchasers Report. I was still driving. I would continue to drive until nearly 8 am.
Good evening from Chandler, Indiana.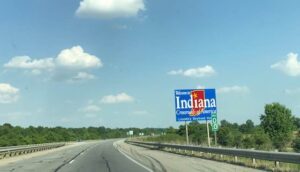 Indiana
The Hoosier state
This evening I saw my 107th lifetime track in the Hoosier state, yes the Hoosier state. I hold the #2 trackchasing spot in Indiana but am gaining fast on leader Roger Ferrell. I've seen 107 or more tracks in three separate states.
Thanks for reading about my trackchasing,
Randy Lewis
World's #1 Trackchaser
Peoria Old Timers Racing Club (P.O.R.C.) Hall of Fame Member
Indiana sayings: The Best Way To Eat A Giant Hunk Of Pork Tenderloin Is On A Bun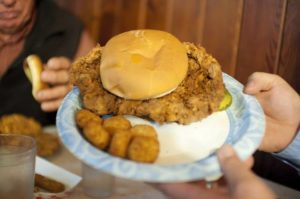 Pork tenderloin sandwiches are one of Indiana's most delicious regional dishes… and that's saying a lot, because between the puppy chow and buttery corn on the cob, there's some competition.
And It's Best Served With A Dessert Of Hoosier Sugar Cream Pie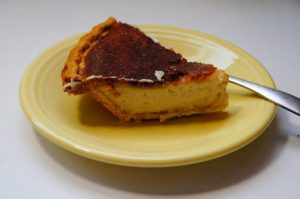 Obviously the worst thing about pie has always been all the fruit. Belch! Too healthy. Hoosier sugar cream pie is the perfect, sugary, delicious solution.
QUICK FACTS
LIFETIME TRACKCHASER COMPARISONS 
The three most important trackchasing comparisons to me are:
Total lifetime tracks seen
Total "trackchasing countries" seen
Lifetime National Geographic Diversity results
Total Lifetime Tracks
There are no trackchasers currently within 590 tracks of my lifetime total. Don't blame me.
Randy Lewis, San Clemente, California – 2,326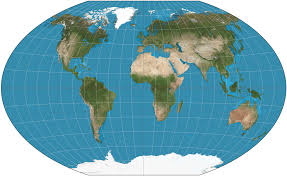 Total Trackchasing Countries
There are no trackchasers currently within 20 countries of my lifetime total.
Randy Lewis, San Clemente, California – 74
Current lifetime National Geographic Diversity results
Randy Lewis, San Clemente, California – 4.37
That's all folks! Official end of the RLR – Randy Lewis Racing Trackchaser Report
Click on the link below to see the video production from the racing action today.
Click on the link below for a photo album from today's trackchasing day.  You can view the album slide by slide or click on the "slide show" icon for a self-guided tour of today's trackchasing adventure.
2017 racing 
A long trip to Indiana with lots of great Midwestern scenes….and then scrapper racing!
2009 racing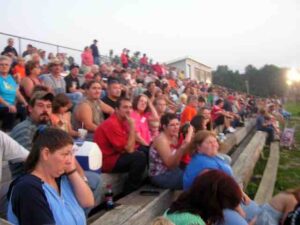 Racing from the Chandler Motorsports Park – 2009