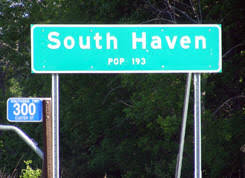 Greetings from South Haven, Minnesota
.
.
From the travels and adventures of the 
"World's #1 Trackchaser"
.
.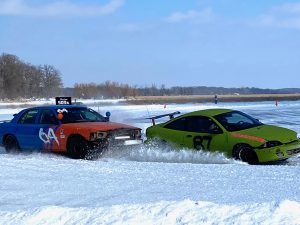 Clearwater Lake Ice Course
Ice road course
 Lifetime Track #2,607
The EventVideo PlusPhotos
THE EVENT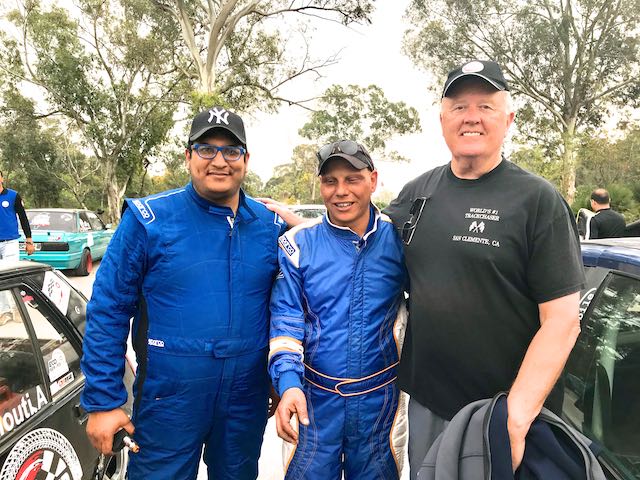 I AM A TRACKCHASER.
My name is Randy Lewis (above with my buddies from Tunisia). I hail from the sleepy little village by the sea, San Clemente, California. I am a "trackchaser". I trackchase. Have you ever in your life heard of "trackchasing"? I didn't think so. 
Well, you made it this far. You might as well pour yourself a cold one and take your Trackchasing 101 class. When you finish you'll have your trackchasing diploma and can then teach your own friends about the hobby. 
Let's get started. Trackchasing is a three-pronged hobby. I'm a racing fan. I love to travel. I love to analyze opportunities to get the most out of everything while saving time and money.
Let's do this by the numbers.
The racing part of my trackchasing has me trying to see wheel to wheel auto racing at as many different racetracks as I can all over the world. Yes, all over the world. Do I really mean that? Yes, I do! I've seen racing in 85 countries at more than 2,600 tracks. I'm known as the "World's #1 Trackchaser". Why? Because I've seen racing in more countries in the world than anyone else by a wide margin. 
However, my hobby of trackchasing involves much more than simply visiting racetracks. Much more. My hobby includes and requires lots of traveling. I get to see and experience, over the "long and dusty trackchasing trail," all kinds of interesting places, restaurants, sporting events and the like. I call these adventures "Trackchasing Tourist Attractions". You won't want to miss my "Trackchasing Tourist Attractions" page. Here's the link:  Trackchasing Tourist Attractions or my "Sports Spectating Resume" page, Sports Spectating Resume on my website at www.randylewis.org.
I live in southern California. That's probably the most inconvenient location in the country for seeing tracks in the U.S. Most of the racetracks in the U.S. are located well over 1,000 miles from where I live. As a matter of fact, my average trip covers 5,000 miles and more. I take 35-40 of those trips each season. In any given year I will travel well over 200,000 miles, rent more than 50 cars, and stay in more than 150 hotel rooms. 
I get the chance to meet people from all over the world. With trackchasing trips to 85 countries and counting just getting the chance to experience so many unique cultures, spend time in the homes of my friends and meet so many people is a huge reward for being in this hobby. I am indebted to several of these folks for their help and friendship.
It takes a good deal of planning to do the above and not spend my entire retirement portfolio. I enjoy the challenge, the travel and every other aspect of "trackchasing". In reality, my trackchasing hobby is a lot like being with the carnival. I breeze into town, stay a little while and then head on down the road.
Once you begin researching my trip itineraries from my website, yes you will want to do that, you will be surprised. One day I'll be in Tucson, the next in maybe Tuscaloosa and the following day in Syracuse. I do that kind of thing all the time. Figuring out the logistics of a trip like that is as much fun for me as watching a figure 8 race.
Now you know a little bit about my trackchasing addiction. When you receive one of my Trackchaser Reports or find one on my website at www.randylewis.org you'll get three pieces of entertainment.
First, my Trackchaser Report will be an in-depth essay of how the trip went from A-Z. Yes, I'll cover the racing aspect of things. But you will also hear about what it took to pull off the trip, the special stops that made the trip fun and the obstacles that needed to be overcome.
Secondly, you'll get a YouTube video of the racing action I saw. These are normally short 3-6 minutes highlights of the racing. My YouTube channel is named, "RANLAY". I have nearly 2,000 subscribers to my channel. Currently, I have posted more than 1,300 videos and my channel has more than 1.2 million views!
Finally, I'll share a captioned photo album using a photo-sharing program called SmugMug. Normally, there will be anywhere from 50-200 photos from each trip I take. Sometimes more! My website is linked to literally hundreds of thousands of photos from all of the trips I have taken.
There you have it. That's trackchasing…the way I do it. Do others trackchase? Absolutely. Do they share their experiences? Sorry. They don't. If you want to see the true "essence" of trackchasing you've come to the right place.
A common question I get about my hobby is, "Why?". I'm a curious fellow. I'm an adventuresome fellow. My hobby is about seeing and experiencing the things that most folks walk right past. Below is a link to a special video. It shows a small town in Missouri that I visited on one of my trips. In this video, I'll share with you exactly what I mean. This video might just make your day.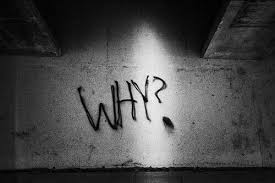 Trackchasing….this is exactly why I do it
Today's adventure was one more of the 2,000 trips that have taken me up, down and around the proverbial long and dusty trackchasing trail.  If you would like to see where I've been and experience those adventures here's the link: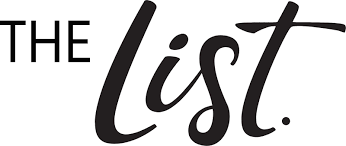 If you've got a question, comment or whatever please leave it at the bottom of this report.  It's very easy to do.  Or you can visit me on Facebook.  Thanks!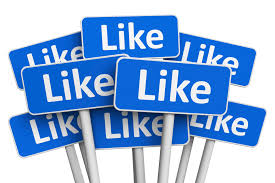 FOREWORD
I truly am trying to control my out-of-town travel. However, in the winter that is difficult. The ice racing season only lasts for two months, January and February.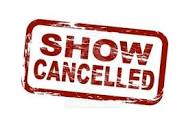 In recent years I would say that more ice race scheduled dates have been canceled than have run. It's mid-February now. The main ice racing groups in New York and Massachusetts and even one in southern Wisconsin have yet to run a race all year! As a matter of fact, the M&M Ice Breakers, who race around Green Bay, Wisconsin, have already canceled their entire 2020 season.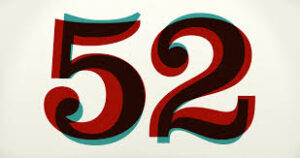 I've seen more ice racing in more locations around the world than any other trackchaser by a wide margin. I got a very late start in life with ice racing. I didn't see my first racing on frozen water until I was 52 years old. Virtually every trackchaser lives in cold-weather country and thus very near ice racing locations. For nearly every one of 111 ice racetracks that I've visited before today I've had to travel a minimum of 2,000 miles or so to get there.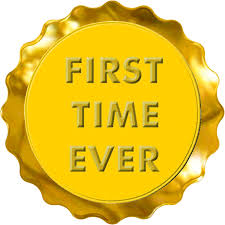 With all of the above being the case I really hate to miss out on a weekend where I can see racing at a couple of different tracks on the ice. I guess I am famous for visiting venues for the very first time that no other trackchasers have ever been to. That would be the case today at the Clearwater Lake Ice Course as well as tomorrow when I hope to trackchase up in Saskatchewan, Canada. I guess I have the best researchers who support Randy Lewis racing. They are located all over the world. I can't thank them enough!
Friday, February 14, 2020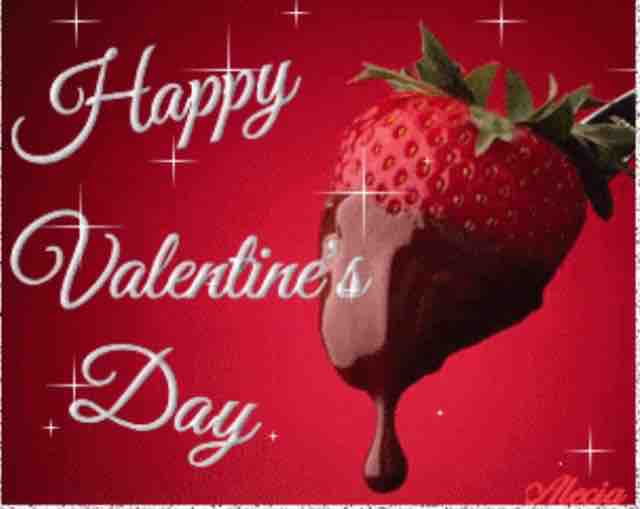 Happy Valentine's Day! For the most part Carol and I celebrated Valentine's Day yesterday. We joined our son J.J. to listen to an economics professor visiting UCLA. Eugene Fama is a renowned economics professor from the University of Chicago. He's a Nobel prize winner. Professor Fama is a supporter of passive investing as am I. It was fun to listen to his Q&A session for an hour and a half. Then I had a chance to wish him a happy birthday. He was born on Valentine's Day.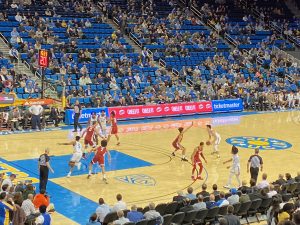 We followed up that outing with a visit to nearby Pauley Pavilion, just a short walk across the UCLA campus. We went there to see UCLA's basketball team drop the Washington State Cougars in overtime. A good time was had by all.

This morning Carol and I exchanged our Valentine's Day gifts. Our wedding anniversary is one day before Valentine's Day. That meant that Carol got two gifts from Pajamagram. Guys if you want to make your lady happy I recommend Pajamagram.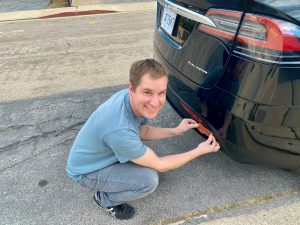 In the mid-afternoon, I was off to the races so to speak. My new ride is a 2020 Tesla Model X SUV. It's an all-electric car. Last night J.J.'s good buddy and mine, Dustin, helped me by putting on my carpool stickers. With an electric car, I can drive in the carpool lane with only me in the car if I have these stickers displayed on my vehicle. Otherwise, I would need to have two people in the car in order to use the carpool lane.
With the purchase of my car, I got free supercharging for the life of my ownership of the car. Today I charged up for the first time ever outside of San Clemente at a Tesla supercharging station in Redondo Beach. The supercharger is right next to In-N-Out Burger's so I had to stop there as well!
Then I was off to the Los Angeles International Airport to catch a flight to Minneapolis, Minnesota. I will be landing at midnight. I must be getting soft in my old age. In days gone by I would have simply headed to my favorite sleeping spot in the airport, which is actually very cool, and slept overnight there. However, Carol strongly encouraged me to get a hotel and I did. I selected the Courtyard by Marriott in Eden Prairie, Minnesota. I'll be ready to go tomorrow morning.
I might point out that it is not uncommon for me to leave a day early in order to get to a racetrack in the Midwest or East. That's because of the distance I need to travel and the change in time zones from the west coast. Additionally, I frequently also need to come back one day after the race I am seeing finishes up. Again, that's because of flight schedules to the west coast.
All of this means that it can often take me TWO days more than many of my fellow competitors in travel to see a track. Probably 70-80% of the countable racetracks are located in the Midwest and east. That, more than anything, explains why there has never ever been a west-coasted based trackchaser who traveled all that much.
Saturday, February 15, 2020
THE RACING
Clearwater Lake Ice Course – South Haven, Minnesota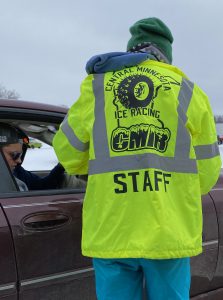 Today I was going to be driving just a little bit more than an hour from Minneapolis to see ice racing on the Clearwater Lake Ice Course in South Haven, Minnesota. The races were being organized by the Central Minnesota Ice Racing (CMIR) group.
Over the past three or four years, I've seen several of CMIR ice racing shows. I like what they do for several reasons. First, being a trackchaser, I love the idea that they race on several different lakes every year. They also get a decent turnout of cars, UTVs, bikes and quads. There are very few ice racing groups that have racing for all four of these motorsports genres.
The weather was going to cooperate nicely. The high temperature would be somewhere around 32°. For ice racing that's pretty much ideal. If it gets any warmer than that then lots of water puddles begin to form on the frozen lake. That's not really good for racers or spectators. If it gets much colder than 32° with the wind it can be downright uncomfortable.
I know the guys who run CMIR. From what I can tell it's primarily a father-son operation. Derek Hedburg is the head honcho and his dad Tom handles the flagging chores.
When Derek found out I was coming he invited me to be the race starter when he was busy racing his own stock car on the ice. CMIR runs two "motos" or two races for each class during the day. I was only going to be able to stay for the first moto for each class. That racing would last 2-3 hours and feature every entry in every class racing one time. That being the case I couldn't except Derek's offer.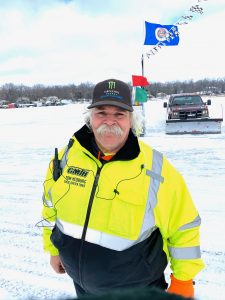 I also had a chance to stop down at the flag stand during the intermission to say hello to Tom Hedburg. He and son Derek have built a custom metal flag stand. As the starter, Tom can walk up a series of 4-5 steps and be 8-10 feet off the ground with the flags.
With ice racing, being out of the ice continuously like a starter is can be a very cold proposition. The Hedburg's came up with a solution to this potential problem. They built a propane heater inside the flag stand to keep father Tom warm during an afternoon of flagging activity. That's pretty ingenious, isn't it?
Racing started today at 11 a.m. I arrived just a few minutes before the official start time. I could have parked on the land and walked across the street to the frozen Clearwater Lake. My other option was to drive my car onto the lake and pay a five-dollar admission charge. The advantage of that idea was that my car would be available as a warming hut all day. I chose the second option.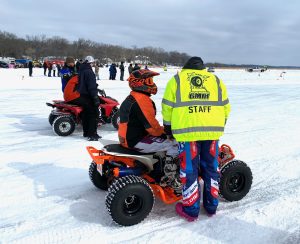 As a note, the Central Minnesota Ice Racing group is one of the few ice racing organizations that races cars, UTVs, quads and motorcycles. That makes for a very diverse racing program.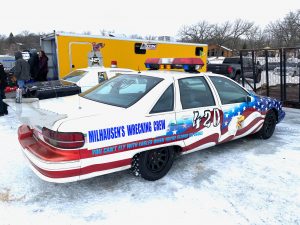 Today I'm going to guess they had about 75 entries in those four general categories. There was also a huge crowd on hand. Some watched from their cars. Others just moved around in the paddock area. Still more people watched from the nearby Waterfront Lakeside Grill restaurant just across the highway from the racing action.
I think if you take the time to watch my YouTube video and see the photos that I share from the SmugMug photo-sharing platform you'll get a good idea of what the day's racing was like. The CMIR people don't mess around. They ran one race after another. They took a break about every four or five races or so to plow the track. They had several pick-up trucks on the ice at one time with large snow plows.
I asked Derek (above with his ice racing nephew) how long the flat ice road course was today. He told me it was, "a 95". A 95? Yes, 0.95 miles in length. He also mentioned that today's track surface was very rough. I've done just a little bit of Ice racing myself. When I did I was surprised at how rough the ice was. The rough ice also increases the grip. 
During one of the plow periods, I walked over to take a look at the many ice fishing huts that dotted the landscape of Clearwater Lake. There was even one fellow who had a simple hole drilled in the ice. The hole might have had a diameter of a foot or so. He was dangling an electronic, "fish finder" radar scope into the hole. He wanted to see if there were any fish in the immediate area. Ice fishing is not in my lane but every time I see people doing it I am intrigued.
When the first half of today's racing was wrapped up I walked across the street to have lunch at the Waterfront Lakeside Grill in the lakefront town of South Haven. I had a great seat in the restaurant with huge picture windows. This allowed me to continue to watch the racing.
The restaurant was packed with locals. Many of them were seated at the bar. Although Wisconsin is the biggest beer-drinking capital of the world, only challenged by Zimbabwe, Minnesota isn't too far behind.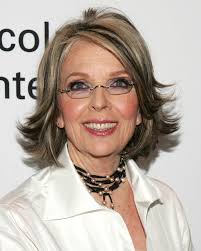 I relaxed with appetizer orders of cheese curds and boneless chicken wings. My server, a Diane Keaton look-alike, coyly wished me a good lunch although as she noted an unhealthy lunch. I wouldn't say this was the best pub food I've ever eaten but it fit the bill considering where I was at today.
AFTER THE RACES
From South Haven, Minnesota I headed back to the Minneapolis-St. Paul International Airport. I had just seen my 103rd-lifetime track in the North Star State. Some 24 of those tracks seen in Minnesota have been ice racing venues.
I had intended to go trackchasing in Wisconsin today. I'm trying to increase my track total to one hundred and beyond in the Badger State. However, the logistics of seeing a race in Wisconsin didn't fit well with the airplane I needed to make to get me to Canada tonight.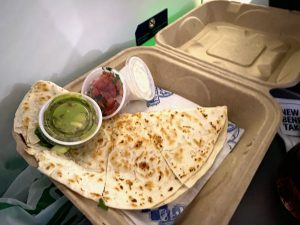 Once back at the airport I had just enough time to stop at one of my Priority Pass trackchasing sponsors, Ike's Clubhouse. There I took a chicken quesadilla to go. I've been waiting for months for what is now called Ike's to get their kitchen back online. How can I say this politely? Ike's Clubhouse's idea of a quesadilla isn't what would be served in any California based Mexican restaurant that I have ever visited.
Tonight I would by flying standby on a plane from Minneapolis to Saskatoon, Saskatchewan, Canada. Ever been there? The flight's "loads" were tight. I wasn't exactly sure I would make it. If I didn't make it tonight that was my last chance to get to Saskatchewan. If I didn't make that flight I would have had to miss tomorrow's ice racing in Rosetown, Saskatchewan.
I did make that flight. As a matter of fact, I got a first-class seat to Canada. I relaxed with a Bailey's cocktail and looked out the window to see the lights of Minneapolis disappearing as the sun began to fall below the horizon.
When I landed in Saskatoon, I still hadn't booked a hotel room. It was now past 8 p.m. When I'm flying standby I can't book a hotel in advance because if I don't make the plane then I'm stuck with a nonrefundable hotel room.
I used several of my travel partners including Priceline, Expedia and Snap Travel to check out my options. I ended up choosing a low price option at a hotel called The Inn on College. It was only 50 bucks. I guess I couldn't ask for too much at that price.
Although my room was modern it was small. It also didn't come with a bathroom. Well, it did come with a bathroom but it was a shared bathroom. My host told me there were only four rooms on this floor using two bathrooms, so I shouldn't have a problem with the duration of my stay. That's how he saw it.
Today had been a good day of ice racing. I had seen ice racing at my 112th-lifetime ice track. As a matter of fact I've now seen ice racing in 22 states, provinces and countries. I've even got a strong chance of adding a 23rd state, province or country in the near future. We'll see how that goes. Here's the current list.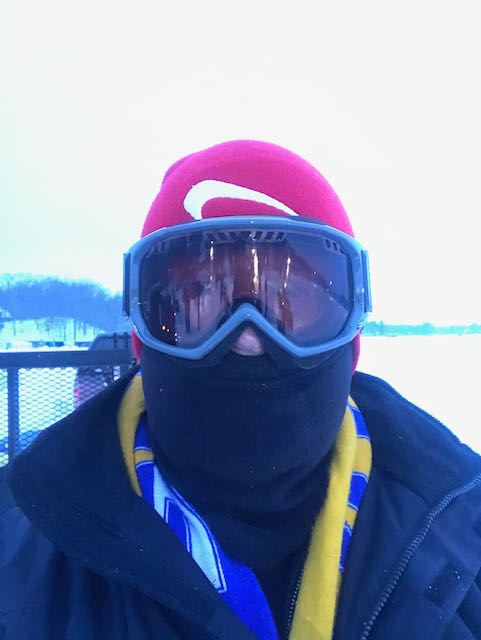 Alaska
Alberta, Canada
Andorra
Belarus
British Columbia, Canada
Finland
France
Iowa
Italy
Maine
Manitoba, Canada
Massachusetts
Michigan
Minnesota
New Hampshire
New York
Ontario, Canada
Quebec, Canada
Russia
Saskatchewan
Vermont
Wisconsin
This is sort of a four-day holiday weekend. Valentine's Day was Friday. Then Saturday and Sunday were the weekend days followed by Presidents' Day on Monday. I was surprised the flights were so open on Valentine's Day getting me from Los Angeles to Minneapolis.
Getting home after tomorrow's racing in Saskatchewan is going to be challenging. I have decided I'll fly from Saskatoon to Vancouver on Sunday night after the races. I'll sleep overnight in the Vancouver airport. Then I'll do my best on Monday to get from Vancouver back to Los Angeles when everyone else is returning from their three or four day weekend.
Good afternoon from South Haven, Minnesota.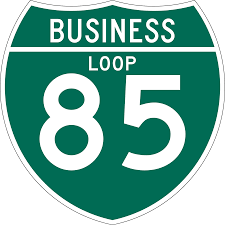 Randy Lewis – 85 countries – 2,607 tracks.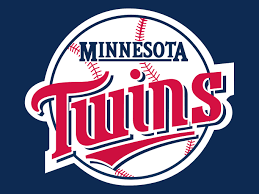 Minnesota
The North Star State
This afternoon I saw racing at my 103rd-lifetime track in the North Star State, yes, the North Star State.  I hold the #1 trackchasing ranking in Minnesota. Minnesota ranks #7, amongst all the states, in tracks seen for me in the U.S.
Thanks for reading about my trackchasing,
Randy Lewis
World's #1 Trackchaser
Peoria Old Timers Racing Club (P.O.R.C.) Hall of Fame Member
Minnesota sayings: "It could be worse."
Spoken like a true Minnesotan: "Oh, it's 15 below zero, it's been blizzarding for three days, all the schools are closed… I'm not sure where my car is because the snowdrifts are too deep, I've got icicles growing out of my nostrils, and I was almost killed by an ice stalactite on my way out of the house, but whatever! It could be worse!"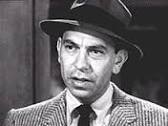 JUST THE FACTS
LIFETIME TRACKCHASER COMPARISONS 
The three most important trackchasing comparisons to me are:
Total lifetime tracks seen
Total "trackchasing countries" seen
Lifetime National Geographic Diversity results
Total Lifetime Tracks
There are no trackchasers currently within 735 tracks of my lifetime total.  Don't blame me.
Randy Lewis, San Clemente, California – 2,607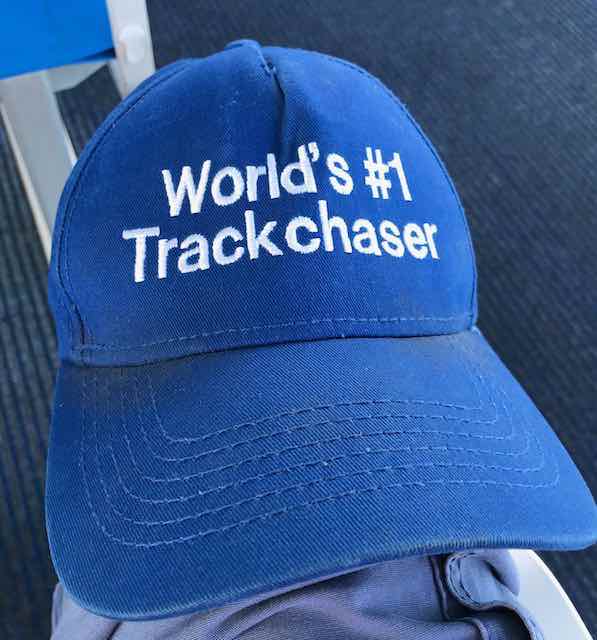 Total Trackchasing Countries
My nearest trackchasing competitor, a native of Belgium, has seen racing in more than 30 fewer countries compared to my lifetime total. 
Randy Lewis, San Clemente, California – 85
Current lifetime National Geographic Diversity results
Randy Lewis, San Clemente, California – 3.96
That's all folks!  Official end of the RLR – Randy Lewis Racing Trackchaser Report
Click on the link below to see the video production from the racing action today.
Click on the link below for a photo album from today's trackchasing day.  You can view the album slide by slide or click on the "slide show" icon for a self-guided tour of today's trackchasing adventure.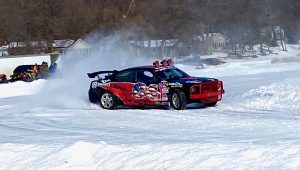 A day on the ice……Clearwater Lake