Greetings from Dayton, Washington
.
.
From the travels and adventures of the 
"World's #1 Trackchaser"
.
.
Columbia County Fairgrounds
Dirt oval
Lifetime Track #2,335
The EventVideo PlusPhotos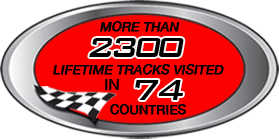 THE EVENT
I have had the opportunity to follow my trackchasing hobby all over the world. As this is written I have seen racing in 74 countries. My lifetime track total exceeds 2,300. Each and every year I will trackchase in 25-30 states. At track #1,040 I moved into the "World's #1 Trackchasing" spot.
Who knew they had oval and figure 8 racing in county fair like locations in the state of Washington? Yes, the Midwest and East has tons of these types of race locations. But the Far West? No! However, that was until the Randy Lewis Racing Research Department discovered a "vein" of Washington state low-dollar racing locations.
Do I fear my fellow trackchasing competitors will take advantage of my research? No, I do not. They won't come to Washington. It's too far. There's not enough "bang for the buck".
My hobby is not only about racing. Trackchasing for me centers around three things. The racing part is pretty obvious. However of equal importance is the logistics of trackchasing and the opportunity to see the world.
I live in Southern California. The vast majority of tracks are located in the Midwest and East. It takes a good deal of logistical planning to get from where I live to where the tracks are. For the past 15 years I have traveled about 175 nights each and every year. Surprisingly to some, more than half of those overnights were not part of trackchasing.
Then there's the travel just for the fun of seeing new things. You won't want to miss my "Trackchasing Tourist Attractions" page or my "Sports Spectating Resume" page on my website at www.randylewis.org. That will give you some understanding on how important seeing the world is with my hobby.
Today's adventure was one more of the 2,000 trips that have taken me up, down and around the long and dusty trackchasing trail. If you would like to see where I've been and experience those adventures here's the link: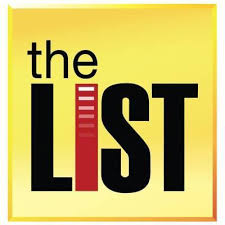 If you've got a question, comment or whatever please leave it at the bottom of this report.  It's very easy to do.  Or you can visit me on Facebook.  Thanks!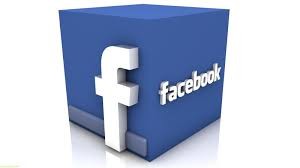 FOREWORD
I pulled into Redmond, Oregon at 1 a.m. this morning. It had been a five-hour drive from yesterday evening's race in Yreka, California.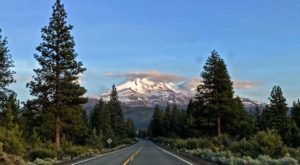 The first hour of the drive was one of the most picturesque that I've had in sometime. Mount Shasta, a potentially active volcano, was out the front of my windshield and to the side for much of that time. The still heavily snow-covered mountain tops out at 14,197 feet, the fifth tallest in California.
However, I didn't think much of the last four hours of the drive. It was in the dark and almost exclusively on two-lane highway Route 97. I was a little tired from having slept in the airport the night before. So four hours at night on a two-lane road wasn't what I was looking for.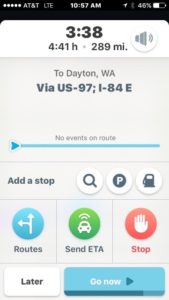 The entire driving time from yesterday's race location in Yreka to tonight's race destination in Dayton, Washington was going to be nine hours.  I would be covering a total distance of 338 miles. By getting to Redmond, Oregon last night I would have "just" a four-hour drive today.
For some unknown reason, unknown to me anyway, hotel prices were almost prohibitively expensive along my route to Dayton, Washington. As an example, Motel 6 was selling for $110 plus tax.
I used Kayak.com to find the only hotel in the area that was listed below $100 a night. From there I called the hotel itself. I had to wrestle the owner to the ground to get a rate of $60 cash including all taxes. He was tough but I prevailed.
The Greenway Motel in Redmond was old and I'm sure well used. However it appeared to be clean. My room had a microwave and fridge. This would be my only hotel over the three nights of this particular trip. The other two nights had me sleeping in the airport and in a highway rest area.
I woke up this morning at about 7:30 a.m. That's roughly the time I wake up every morning at home or when I'm in the Pacific Time zone. I made some flight arrangements and rental car reservations using my iPhone tethering feature with my Apple MacBook Pro.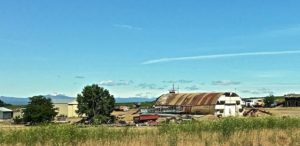 Tonight, after the races in Washington, I expected to be sleeping in an Oregon highway rest area. That being the case I will back to sleep for another hour in my hotel room. Then I took an extra good shower and shave that was expected to last me until I pulled into the driveway of our modest seaside cottage in San Clemente late Sunday night.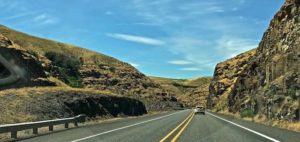 I pulled out of the hotel at 11 a.m. Tonight's racing in Dayton, Washington was scheduled to begin at 6:30 p.m. I had 7 1/2 hours to make the four-hour drive. That meant I could do everything in a relaxing fashion. Yes, this is how I relax.  The Far West scenery can't be beat for the uniqueness, ruggedness and beauty.
I've seen 40 or more tracks in seventeen of the fifty American. When I visit a state for trackchasing purposes I'll probably average seeing one and a half tracks in that state for each trip to that state.
Therefore if your divide 40 by 1.5 you would get a quotient that rounds to about 27. That means that for every one of those states, all seventeen of them where I've seen 40 or more tracks, I've been to that state around 27 times. Of course that doesn't include the business travel that could easily double or triple my visits to some states.
What's the point of mentioning this? Simply that I travel a lot. However, I have not done all that much traveling in Southern Oregon especially southwest Oregon and East Central Washington. Nevertheless, I did break 90 for the first time ever on a golf course in Bend, Oregon. I was pretty proud of that at the time.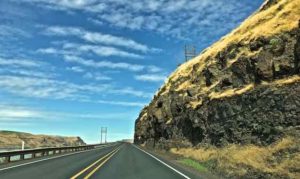 I was re-exposed to the idea that this is some very unique and beautiful scenery. If I were to divide our country into four parts west, central, east and south I would have to say that the west easily has the best driving scenery. Actually I don't think it's even close.
I would highly recommend you take a look at my SmugMug photo album from this trip. You're going to see a lot of beautiful photos of the equally beautiful landscape that I was traversing today. It's most unusual and it's gorgeous especially in the late spring when just about everything is green.
A lot of the scenery reminds me of the rural areas of some parts of Canada. I guess that's not unusual since Washington borders British Columbia and Alberta.
I'm a big fan of Mexican restaurants. I seem to eat in them multiple times per week. With my current low-carb eating plan, a mixture of meat, cheese and eggs can easily be concocted into something tasty at just about any good Mexican restaurant. Remember, I do not think of Taco Bell as a Mexican restaurant.
There are not many states where the first place trackchaser in that state has doubled the trackchasing totals of his or her next nearest fellow competitor. However I am approaching that position in Washington. Tonight I'll be seeing my 36th lifetime track here.
I was lucky to discover quite a few fairgrounds that had oval track racing of one type or another during their special celebrations in the summertime. I'm a little surprised I had overlooked that for so long. I expect to see a few more Washington state tracks before the year is out.
It should be noted that these locations are not easy to get to. Additionally these Washington once a year tracks are not that close to other tracks that I could see during the same weekend.
Nevertheless the scenery is beautiful. These tracks are unique. Because they race only one day a year the logistics is challenging. That makes getting them special.
Everything being equal I would always rather see a track that races once a year than one the races once a week. That translates into many more trackchasing opportunities in the future. I've employed this special trackchasing policy for many years. That's one of the reasons I still have so many trackchasing opportunities after seeing well over 2,000 tracks.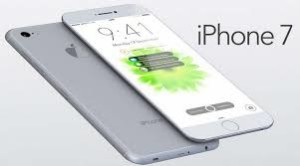 I cannot begin to describe how I use my iPhone as an entertainment unit during these long drives. Whether it's using it as my GPS, finding a neighborhood restaurant or keeping up-to-date on the news of the day this little machine is beyond it's weight in gold by several times. Of course it doubles and triples as a camera and a movie camera and a flashlight and a calendar and so so much more. I have loved my iPhone from the day I got it. I could not imagine life without it.
Technology is designed to make life for us humans easier. Within my hobby of trackchasing information is king. My phone gives me information like nobody's business. When I have all the information I need I can make the very best decisions.
THE RACING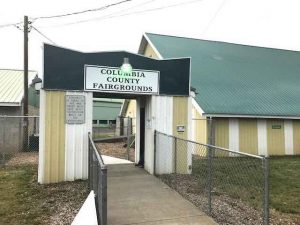 Columbia County Fairgrounds – Dayton, Washington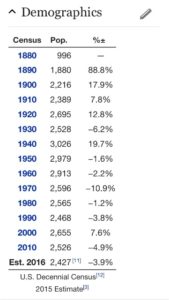 Tonight's racing was scheduled to begin at 6:30 p.m. I pulled into Dayton, Washington about 40 minutes earlier. Dayton is a small town with a population of 2,500 or so. I figured that just by driving into town I would be able to see the fairgrounds. I drove all the way through town without finding it. I had to stop to ask a pedestrian for advice. I have never minded asking for directions. I know that men have a reputation for not wanting to do that. Not me. I was soon directed to where the race was going to be held tonight.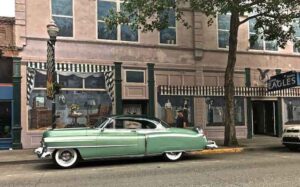 It was difficult finding a parking spot. However, I subscribe to the theory that, "There's always room for one more" especially when I'm driving a rental car!  I think the big car show had brought a lot of visitors to Dayton.
My car was safely parked. My computer was attached to the passenger seat with my flexible security cable (never put to the test yet). It was time to go and see what kind of racing was being offered tonight. I paid my $10 general admission price. There was no senior pricing. I noticed that there were three large grandstands. I figured that should be enough seating for everyone who would come to the races tonight.
When I entered the grandstand seating area I saw that one entire grandstand was closed. The other two covered grandstands looked to be nearly 100% occupied. Of course I could find one more seat for myself but the grandstands were virtually full.
I thought I had read that there would be qualifying for the stock cars like there was in Lind, Washington last week. The arena at Lind and tonight's Columbia County Fairgrounds are about 97 miles apart.
I got to thinking. County fair racing normally happens in the summertime. You'll see two general types of racing at county fairs. One uses ovals and the other figure 8 configurations. All of those races are for low dollar racecars. They provide a crash and bang racing program for the mostly novice county fair auto racing fan.
It would be fun to know the number of county fairs that have ever hosted a trackchasing countable figure 8 or enduro race. Without seeing those numbers directly I can tell you pretty much what they would look like.
The Far West and South have very little county fair racing. The vast majority of the fairs are in the Midwest as well as Pennsylvania and New York in the eastern region of the country.
There was something a bit unusual about tonight's county fair type racing compared to the fairs that I have been to in the Midwest and East. Tonight, just like in Lind, Washington last week they were holding a racing event that was not part of the county fair. There were no carnivals or animal displays or anything else going on at the fairgrounds…just the racing. I've been to more than 300 county fairs. That's why seeing this type of racing in front of the county fair grandstand with no county fair behind the grandstands was most unusual.
Maybe they ran the qualifying events, as in time trials, before I got there. However, once I sat down in the grandstands the first formal event that I saw was the kid's power wheel demo derby. I am not a big fan of this event. Nevertheless, the track announcer, promoter and some of the fans seemed to be.
They had about a dozen kids in the age range of 4-8 years old. They were driving battery powered miniature cars. They were out in the middle of the dirt arena for about 10 minutes.
Tonight they had a decent announcer and a good public address system. The temporary dirt oval track was marked by four large tractor tires, which made up a rectangle. The cars would race around these four tires that would make up an oval configuration. The cars raced counter-clockwise.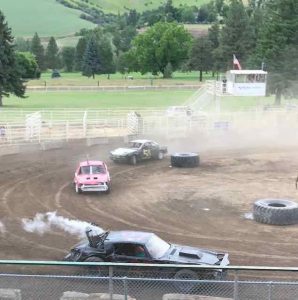 The races were short. Tonight they would have a series of heat races with about five cars in each race racing for about five laps. Later they would have a winner's race made up of each heat race winner. They also held a few heat races for the powder puff division and the mechanic's division. I hadn't seen a mechanic's race in a long time.
I am often critical of the Red Bull Global Rally Cross group as being a "five cars for five laps" operation. Yes, tonight they were racing five cars for five laps in most of the races. However, in my judgment this was much more entertaining. There was a lot of crashing and banging and slinging of dirt into the grandstands. The crowd loved the action. They were right on top of the action and could see the entire track up close and personal.
You won't want to miss my YouTube video. I was stationed pretty high up in the grandstands between the fourth turn and the starter.
This was only my second Washington state county fair type race program. So I don't know if what I'm going to tell you about is a trend or not. Last Friday night the Lind, Washington starter wore a fluorescent orange suit with matching top hat and vest. Tonight the starter wore a mafia type white pinstriped suit and top hat. He was quite the sartorial wonder. I guess if my next Washington fair event race has a starter duded up I can call this a Washington state trend.
Big V-8 engines powered most of the cars racing tonight. They were loud, did a lot of spinning and as I said put a good amount of dirt into the stands. Some dirt was thrown all the way up, about 15 or 20 rows, to where I was sitting. I found that rather amazing.
For the entire racing event, about 10 heat races, there was only one yellow or red flag. That one stoppage was a red flag. It came in the powder puff race.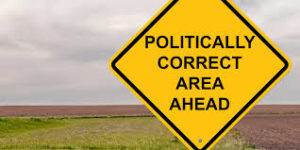 Of course the powder puff race is for women only. I'm not sure how politically correct that is in today's world. I don't make the news I just report it.
It just turned out that the biggest wreck of the night involved a lady driver who was piloting her husband/boyfriend's Camaro. I'm guessing it was a Camaro. I don't know that for sure. However this was the fastest car at the track tonight.
During the heat race this lady drove boldly. She really leaned on it and shoved another fast car driven by a woman who was just as aggressive. However, the lady driving that really fast car lost control and slammed hard into the outer crash wall just beyond where the flagman was standing. Initially they didn't throw a red flag. However, the flagman kept gesturing for feedback on her condition. Soon the red flag was displayed. Fortunately the woman was A-OK. It was an exciting ride.
When all of the heat races were finished the announcer told us there was going to be more power wheels action. The demo derby would follow. I don't like the kid's power wheels at all. I think that's a waste of time for the racing fan.
I enjoy a good demo derby if the conditions are right. However, following tonight's races I had a 4 1/2-hour drive back to the airport. I had to be at the airport by 5:15 a.m. in order to catch a 6:30 a.m. flight. At best I was going to get about four hours of sleep in a highway rest area. That was if I left at this point. All of the oval track racing was finished.
I bagged the idea of waiting for the demolition derby event to begin. I did consider the option of trying to catch racing at some other track tonight. If I did that it would be at a location that I have visited in the past. However, this area is so rural that I really couldn't find anything between Dayton, Washington and Portland, Oregon that would make that hope come true.
AFTER THE RACES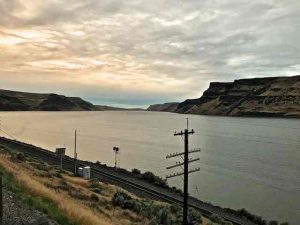 The last couple hundred miles of my drive back to Portland were identical to what I had done last Friday night just eight days ago. I stopped at the very same gas station, Loves Travel Center in Boardman, Oregon to refuel.
Oregon and New Jersey are the only two states where state law requires that the gas company have an employee to fill your tank. In those states, for the most part, you can't fill your own tank. That's been the case for many many years.
However, Oregon seems to be changing that policy to some degree. Last Friday night when I came to the Loves Travel Center in Boardman no one came out to fill my tank. I filled it myself which I actually prefer to do.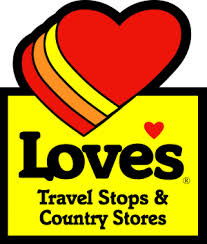 Once again tonight at the very same Loves I filled my own tank. I went into the convenient store to use the bathroom and grab a Coke Cherry Zero. I asked the cashier what the policy was on Oregon gas stations pumping gas.
Her expectations were clear and succinct. I suspect she may have answered this question a few times in the past. Here's how the story goes.
First of all if you are pumping diesel gas into a car or truck you can pump that yourself. I'm guessing that's because diesel fuel is less flammable. Maybe there are no safety concerns for this particular policy. I do know this. When we live in Connecticut I had a 200-gallon tank of diesel inside my garage!
For customers who have cars powered by gasoline this is their Oregon fill-up situation. If they are getting gas in a county with a population of less than 40,000 people they can fill their own tanks from 6 p.m. until 6 a.m.
Motorists in those smaller counties must have the gas station attendant handle the fill-up chore from 6 a.m. until 6 p.m. Drivers in counties with a population greater than 40,000 must have gas station attendants fill their tanks 24 hours a day.
If I had to guess I would say both Oregon and New Jersey's policy in this area has to do with unions and job security. Of course, when I was a kid the motorist was never allowed to fill their own tank. Gas station attendants would run out of cheerfully fill your tank with gas, check the air in your tires, check your oil level and wash your windshield. Quite often they had one person handling the gas and another person or more doing the cleanup process. Yes, times have changed.
I plan to sleep overnight in the same I-84 a rest area that I did last Friday night. I'll set my alarm and be up early for the drive down to the Portland airport. I'm trackchasing in northern California tomorrow.
Good evening from Dayton, Washington.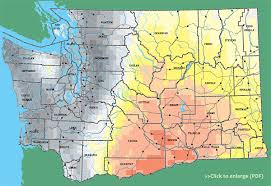 Washington
The Evergreen state
This evening I saw my 36th lifetime track in the Evergreen state, yes the Evergreen state. I hold the #1 trackchasing spot in Washington. I've seen 36 or more tracks in 19 separate states.
Thanks for reading about my trackchasing,
Randy Lewis
World's #1 Trackchaser
Peoria Old Timers Racing Club (P.O.R.C.) Hall of Fame Member
Washington definitions: Hops
What it means everywhere else: That magical flower that makes every bottle of beer you love. What it means in Washington: That magical flower that makes every bottle of beer that everyone loves thanks to Washington, which exports seventy-five percent of all hops in the country. You're welcome, America.
QUICK FACTS
LIFETIME TRACKCHASER COMPARISONS 
The three most important trackchasing comparisons to me are:
Total lifetime tracks seen
Total "trackchasing countries" seen
Lifetime National Geographic Diversity results
Total Lifetime Tracks
There are no trackchasers currently within 595 tracks of my lifetime total. Don't blame me.
Randy Lewis, San Clemente, California – 2,335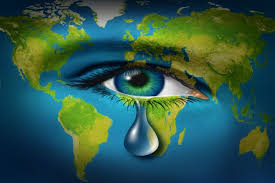 Total Trackchasing Countries
There are no trackchasers currently within 20 countries of my lifetime total.
Randy Lewis, San Clemente, California – 74
Current lifetime National Geographic Diversity results
Randy Lewis, San Clemente, California – 4.37
That's all folks! Official end of the RLR – Randy Lewis Racing Trackchaser Report
Click on the link below to see the video production from the racing action today.
Click on the link below for a photo album from today's trackchasing day.  You can view the album slide by slide or click on the "slide show" icon for a self-guided tour of today's trackchasing adventure.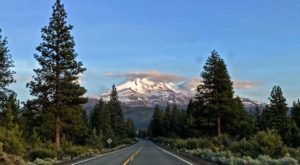 One of my most scenic trips of the year