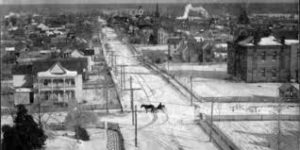 Greetings from Paragould, Arkansas
.
.
From the travels and adventures of the 
"World's #1 Trackchaser"
.
.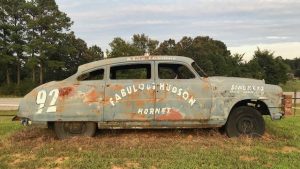 Crowley's Ridge Raceway
Dirt oval
 Lifetime Track #2,583
The EventVideo PlusPhotos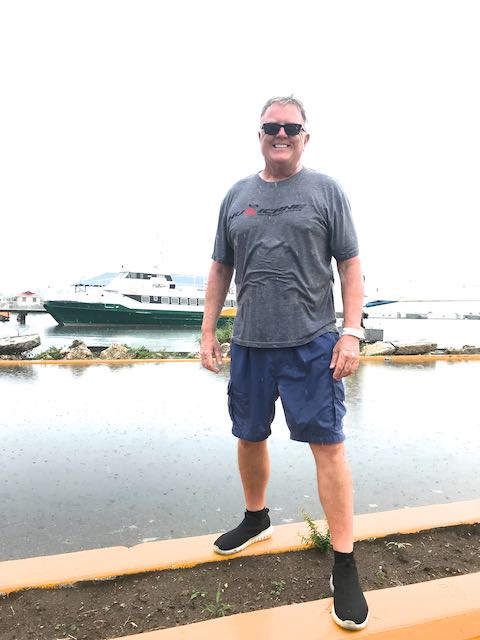 THE EVENT
My name is Randy Lewis. I live in San Clemente, California. I am a "trackchaser". I trackchase. Before you discovered my site had you ever heard of trackchasing? Maybe not? So….what the heck is trackchasing? Sit back, take a read and you'll be an expert on my hobby of trackchasing when you're finished.
Here's my best explanation on what trackchasing is to me.
Trackchasing is a three-pronged hobby. I'm a racing fan. I love to travel. I love to analyze opportunities to get the most out of everything while saving time and money.
Trackchasing fills the need for all of the above. The racing part of my trackchasing has me trying to see wheel to wheel auto racing at as many different racetracks as I can all over the world. Yes, all over the world. So far things are going pretty well. As this is written, I've seen racing in 85 countries at more than 2,500 tracks. As a matter of fact, I've seen racing at more tracks than anyone else in the world.
Equally important to me are the things I get to see and experience over the "long and dusty trackchasing trail". I call these adventures "Trackchasing Tourist Attractions". You won't want to miss my "Trackchasing Tourist Attractions" page. Here's the link:  Trackchasing Tourist Attractions or my "Sports Spectating Resume" page, Sports Spectating Resume on my website at www.randylewis.org.
I live in southern California. That's probably the most inconvenient location in the country for seeing tracks in the U.S. Most of the racetracks in the U.S. are located well over 1,000 miles from where I live. As a matter of fact, my average trip covers 5,000 miles and more. I take 35-40 of those trips each season. In any given year I will travel well over 200,000 miles, rent more than 50 cars, and stay in more than 150 hotel rooms.
I get the chance to meet people all over the world. With trackchasing trips to 85 countries and counting just getting the chance to experience so many other cultures, spend time in their homes and meet their friends is a huge reward for being in this hobby. I am indebted to several of these folks for their help and friendship.
It takes a good deal of planning to do the above and not spend my entire retirement portfolio. I enjoy the challenge, the travel and every other aspect of "trackchasing". In reality, my trackchasing hobby is a lot like being with the carnival. I breeze into town, stay a little while and then head on down the road.
I've tried to tell you what the trackchasing hobby is to me. Now I will show you what trackchasing is to me in pictures and music. If you watch just one YouTube video this year, this is the one to watch.
You will see how a simple trackchasing trip takes me a long way from my environment in California and most importantly not just in miles. My hobby is about seeing and experiencing the things that most folks walk right past. Check this out. It might just make your day.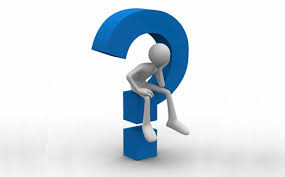 Trackchasing….this is exactly why I do it
Today's adventure was one more of the 2,000 trips that have taken me up, down and around the proverbial long and dusty trackchasing trail.  If you would like to see where I've been and experience those adventures here's the link: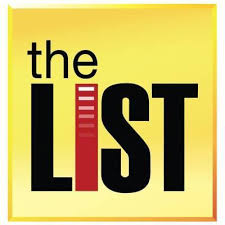 If you've got a question, comment or whatever please leave it at the bottom of this report.  It's very easy to do.  Or you can visit me on Facebook.  Thanks!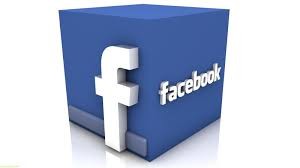 FOREWORD
Friday, August 30, 2019.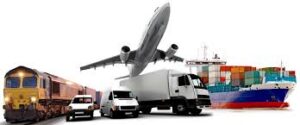 You've heard me say it one million times. Trackchasing is a travel and logistics hobby. Oh yeah, I see some auto racing from time to time as well. 
The primary driver for this trip was being able to see the UCLA football Bruins in their home opener in Cincinnati, Ohio against the University of Cincinnati Bearcats. For years Carol and I have had season tickets to both UCLA basketball and football games. 
We have followed the football and basketball Bruins all over the country. I've seen that basketball Bruins play in two final fours. We've seen the football Bruins play at famous places like Notre Dame, Oklahoma, Texas, Virginia and Texas A&M amongst many. 
For this trip I would come to the Midwest a day early so I could see the game. Then later in the trip I planned to be trackchasing in Arkansas, Louisiana and then Illinois.
Remember, Carol and I had just gotten back from six days in British Columbia where we saw three new Canadian tracks. Then I was home a day and out for this trip. When I return home next Monday after seeing a track in my boyhood state of Illinois I'll be home for one more day and then plan to head out to Idaho, Pennsylvania, Quebec and Nova Scotia. Yes, I enjoy a busy and robust lifestyle. Without airplanes, I couldn't do it.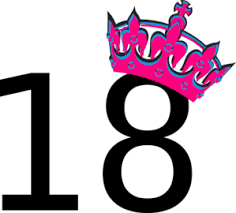 As you may or may not know I am in my 18th year of retirement. What does that mean? I haven't earned a single dime in working income in all of that time. I have never received a company pension of any kind. As my mother used to ask me, "How are you going to pay for that, with your good looks"? Mom, maybe so. 
I couldn't do what I do without trackchasing sponsors. Let me tell you how they helped me on this trip.  To begin with, I drove up to the Los Angeles International Airport. There I parked the Carol Lewis owned and MFunds sponsored Lexus RX350 with one of my long-time sponsors, LAX World Parking. If I had to pay the normal rate of $15-$20 per day for airport parking I would have had to stop trackchasing a long time ago. LAX World Parking helps me out a lot. 
When I entered the airport terminal I stopped off for a very nice lunch at P.F. Chang's, the upscale Chinese restaurant. The first $30 of my lunch order would be at no charge compliments of my Priority Pass trackchasing sponsorship. Would you be surprised if I told you that my normal lunch order comes in right at about $30? 
Then I walked over to the private Korean Airlines lounge located in the international terminal at LAX. Priority Pass sponsors me here too. I can go into this exclusive lounge for as long as I want and simply relax and eat and drink from their offerings. Priority Pass is a key sponsor of mine. 
Today I will be flying on a nonstop flight from Los Angeles to Cincinnati, Ohio. You might be surprised to know that Cincinnati, Ohio's airport is located in Northern Kentucky! 

For this particular flight my Frontier MasterCard was my primary sponsor. I did have to pay $5.60 in taxes but that was it for a 2,000-mile flight. 
Of course, I would be remiss if I didn't mention my overall airline sponsorship program. I can't go into a lot of detail on this one. I'll just say this. I couldn't do trackchasing, or at least the way I currently do trackchasing, without my airline sponsor. I am very happy to have my airline sponsorship, my most important trackchasing sponsorship of all. 
However, on this trip, I was actually a paying passenger. Frontier Airlines is a no-frills discount airline. They charge for everything including carry-on bags, checked bags, boarding the plane early, printing your boarding pass and even for a bottle of water or a can of soda.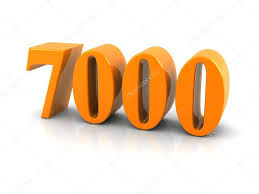 I estimate that I have flown an average of three flights a week, every week since I was 23 years old. That comes to a little bit more than 7,000-lifetime flights. For most of my business career, airlines did not charge for checked baggage. Then for most of the time during my retirement, my airline sponsors didn't charge for checked baggage. I have a phobia about paying to check my bags on an airplane.
Frontier Airlines will allow you one free "personal" item to bring onto the plane. The dimensions are rather skimpy. The personal item can't be any larger than 18" x 14" x 8". I bought a bag with rolling wheels and an extendable handle that just barely beats meet the Frontier Airlines requirement from Costco. The bag was only $29. It's been a great investment. 
I was going to be gone on this trip for six days. It's hard to put six day's worth of clothing and just general stuff in an 18" x 14" x 8" bag. That being the case I brought along my biggest winter jacket and stuffed the sleeves full of shirts, underwear and the like. I took my smaller less bulky items and put them in the side pockets. Now my jacket weighed about 20 pounds! There weren't going to be any baggage fees for me.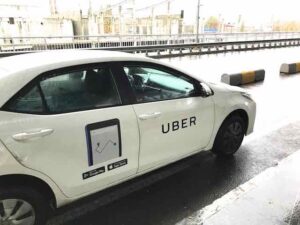 I landed without incident in Cincinnati. From the airport, I called up an Uber driver to take me to my hotel room for the evening. This unique trip was off and running. 
Thursday, August 29, 2019 
Today is football day. Playing a major college football game on a Thursday is a little bit unusual. The teams do it so their game can be featured on TV. ESPN will be broadcasting the UCLA versus Cincinnati game tonight at 7 p.m. Eastern. 
With a late start for the game, I had all day to do some touring in Cincinnati. Did you know that Carol and I used to live in Cincinnati way back in the day? Yes, we spent a year in Fairfield, Ohio, a northern suburb of Cincinnati. 
Today I met up with my good buddy Greg Robbins. He's also retired from Procter and Gamble. Greg and I used to work together some 25 years ago. 
He recommended a place called Eli's BBQ on Riverside Drive in Cincy for lunch. I like barbecue. Eli's is a great place. Don't miss the photos.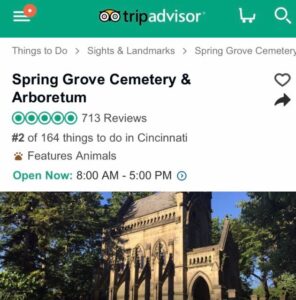 I had done some advanced research and found out that an interesting Trackchasing Tourist Attraction could be seen by visiting the Spring Grove Cemetery and Arboretum. It's the number two ranked attraction in all of Cincinnati according to TripAdvisor.
It just turns out that Greg is an "expert" on the Spring Grove Cemetery and Arboretum. He volunteered to be my guide. Greg and I would spend a good couple of hours driving through and observing the monuments to lots of very famous people from Cincinnati.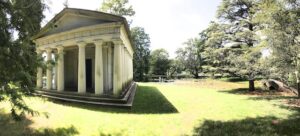 I use these trackchasing trips to see the popular, the unusual and the unique sights and sounds of the areas I visit. You definitely don't want to miss the photographs from the Spring Grove Cemetery and Arboretum. Thanks to Greg Robbins for coming along today. 
I considered using my SpotHero app to find parking for tonight's game at Nippert Field in Cincinnati. I knew they were charging $20 for parking near the stadium and four dollars for parking about a mile away. For this trip, I decided not to use SpotHero. I found some side street parking on my own about 0.8-miles from the stadium. There will be no charge for parking today. 
I didn't have a ticket for the football game. That is not unusual. I rarely buy a ticket in advance to these road games that I visit. However, I did have my "need one" sign. That "need one" sign is a very valuable piece of travel and logistical equipment for me. 
After having purchased sports tickets and concert tickets outside of venues hundreds of times I know the value of "advertising". As soon as that sign comes out if I don't get a ticket offer within five minutes I am majorly surprised.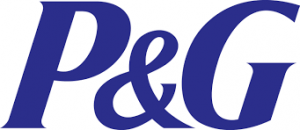 I am a retiree of the Procter & Gamble Distributing Company aka P&G. As a retiree, I am a member of a special Yahoo Groups email group that is home for nearly 3,700 P&G retirees. We share all kinds of ideas and approaches in this conference. I shared the following regarding my "need one" sign. I thought you might find my approach both educational and entertaining.
"This is a story about helping others, leaving a good impression, managing money wisely and living a fun lifestyle in retirement. I believe these are some of the principles for which this retiree sharing conference was created. However, if this is not something that you want to read about today now would be a good time to leave quietly. 
I'll make this disclaimer up front. Please don't complain about the length of today's sharing. That would be like going to Costco and buying a 55-gallon drum of mayonnaise and then complaining that you have too much mayonnaise. When you go to Costco you know what you're going to get. 
A few days ago as a UCLA Bruins football fan I told you that I would give you a summary of my experiences, most specifically the ticket buying experience, from my visit to Nippert Stadium in Cincinnati, Ohio. 
I also told you that regardless of the game's outcome I would not comment on the result. My exact words were,
"All of the above is said with the biggest smile in my heart. Of course, I expect UCLA to win. However, regardless of the outcome, there will be no "I told you so" messages coming from me. I will offer my congratulations to the winner."
If you ARE interested in who won the game I suspect you could Google the results or some kind-hearted, likely Cincinnati based, reader could share that information.
So…this is how the day in Cincinnati went…..
I travel a good deal of the time with my wife, some 40 weekends/weeks of the year. I'm in my 18th year of retirement. I've had this level of travel each and every one of those years. Wherever I travel I like to see the local "sites and attractions" to supplement whatever major activity brought me to the area.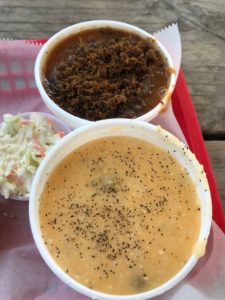 On this day in Cincinnati, I joined up with my good buddy Greg Robbins for lunch at Eli's BBQ on Riverside Drive. It's a cool place with very good food. The jalapeno cheddar grits were excellent. Now I know what "pork crispins" are! 
In advance of my trip, I had checked out what the leading tourist attractions in Cincinnati were according to TripAdvisor. TripAdvisor told me the Spring Creek Cemetery and Arboretum was the #2 attraction in all of Cincinnati. I had never been there. I had been to the Forest Lawn Cemetery in Buffalo, New York. I enjoyed that visit very much. 
It just turns out that Greg Robbins is an expert on the Spring Grove Cemetery and Arboretum. He agreed to be my guide for our two-hour-plus tomorrow at Spring Grove. Very impressive! Lots of very powerful, financially well off Cincinnati people reside at Spring Grove. I was surprised to learn that the place currently holds 220,000 people and apparently people are, "dying to get in there". It was also interesting to learn about the "SpongeBob SquarePants" controversy and how that problem was solved at Spring Grove. 
Now it was time for me to head to Nippert Stadium on the campus of the University of Cincinnati. UCLA was going to be a big-time opponent on the Cincinnati Bearcats home football schedule. The game was a near sell-out. I didn't have a ticket. However, I had a plan. 
I have bought (mainly) and sold tickets at more than 200 sporting and concert venues. Doing this truly is a piece of cake. No matter what the event there are always going to be "regular" people, not scalpers, who have an extra ticket or two for one reason or another. 
Because stadium food and drink are expensive and because I love Skyline Chili I stopped at one of their outlets for my pregame meal somewhere near the stadium. After a regular-sized four-way and a Coney dog and enough Diet Pepsi to drown it all down was consumed I was off to the stadium. By the way, I eat barbecue and skyline chili and all of the other "bad things" pretty much three meals a day all the time. Luckily, I must have good genes. I have low blood pressure and low cholesterol. 
As many people know Nippert Stadium is located on the campus of the University of Cincinnati. It's in sort of a residential area. That makes parking a little bit tougher. 
I use a smartphone parking app called, "SpotHero". I simply tell SpotHero where I'm going to be going and the app recommends several different parking options based upon location and price. I noticed that I could pay $20 to park somewhere near the stadium and only four dollars to park 1.2 miles away on Vine Street. However, someone told me the walk from Vine Street back from the stadium might be a little dodgy.  
By the way, just so you will be prepared, throughout the remainder of this diatribe, I'm going to share with you several financial tips that might save you $50 here and $50 there. 
I'd like to make one thing perfectly clear. What I do is NOT about saving $50. Saving $50 is only important in life if you get to the end of your road and you don't have $50! Very few of us, when lying on our deathbeds, are going to be $50 short. 
For me saving $10 or $50 or whatever is really just a big chess match. It becomes a question of, "Can I pull this off?" I commonly save hundreds of dollars on these adventures compared to what most people might pay. I won't ever see any of that money! It will all go to my heirs. I hope they enjoy it. 
Rather than use SpotHero today I elected to simply drive over toward the stadium. As soon as I saw a parking spot in a residential area I would park there at no charge. I did exactly that. I parked right in front of the Taft Road Medical Center. Ever been there? It's only about a half a mile from the stadium. 
Today I was wearing my UCLA baby blue football jersey, shorts and athletic shoes. This is my dress code every day of the year. I might wear long pants for a half a day each year. I might wear formal dress shoes only when we are cruising and it's formal night. 
Today's Nippert Stadium objective was to secure a ticket to tonight's football game between the UCLA Bruins and the Cincinnati Bearcats. We've followed UCLA to some pretty big venues including Notre Dame, Nebraska, Texas, Nebraska, Oklahoma and Virginia Tech. At most of those places, we come to the event WITHOUT a ticket.
At each one of these venues, the crowd is 90-95% (or more!) in support of the home team. Walking into a place like Nippert Stadium wearing a baby blue UCLA athletic jersey truly would be like waving a red flag in front of a bull. No, I wouldn't be doing myself any good doing something like that.
Going to a college football game is a lot like going to a gang fight where each side is wearing their "colors". To prevent such potential violence that's why schools and shopping malls and the like don't allow gang members to wear their colors. Those rules haven't been implemented at college football games yet!
I had a plan to work around the "colors" situation. I was carrying a light-weight long-sleeve black T-shirt. This black shirt turned out to be random good luck since virtually every fan at the game tonight was wearing a black shirt with red Bearcat lettering. 
On the walk over to the stadium, I struck up a conversation with a traffic cop (that's where the title of this message comes from) who was manually operating the stoplights. He was one of the first local people to ask me if I had "flown all the way here" for the game. People seem surprised at that. They shouldn't be. I do that kind of thing almost every weekend. 
The cop reminded me that "we" had beaten UCLA last year at the Rose Bowl. With that kind of objectivity, I hoped I would never be stopped for speeding, while wearing a UCLA shirt, by this cop! I was painfully aware of the result at last year's game. To keep the conversation going I asked him what the policy was on buying and selling tickets at the stadium. The police officer told me that activity was "discouraged". His feedback didn't discourage me but it reminded me to try to be alert. 
When I got within about 100 yards of the stadium entrance I took a moment to slip my black long-sleeved T-shirt over my baby blue UCLA shirt. Just as I was doing that a couple of UCLA fans noticed what I was doing. They yelled from 50 yards away, "Be proud; show your colors" and laughed. 
I yelled back that this was part of my long-term ticket buying strategy. They understood perfectly where I was coming from. They had bought their tickets in advance. Soon we were all yukking it up as UCLA fans are wont to do. One of the UCLA fans was from Kentucky. He admitted that Kentucky fans would never sell tickets to Louisville fans. Nuff said. 
It was still early. Game time was 7 p.m. It was only  5:45 p.m. now. A spattering of fans were making their way into the stadium. Just to test the waters I pulled out my pink and blue "Need One" ticket sign. The "sign" would be the key to my success. 
I stood under a shade tree. With two shirts on, especially a long-sleeved black shirt, and the fact that it was 88° it was hot! As the fans began to walk by they noticed my sign. I always get a kick out of the reactions some people have. 
People going to the game often come in twos. They might be a guy and a girl or a husband and wife or just two friends. The reaction I get from the ladies 50 years of age and older is almost always one of sympathy. I can read their minds. They are thinking, "That poor fellow doesn't have a ticket. We have tickets. "Chuck" paid for our tickets last year.  "Chuck" paid full price for tickets. We have good seats. This poor fellow doesn't have a ticket." It's very much the same reaction lots of folks have when they see the homeless person holding a sign at a stoplight.
I have learned to accept their reaction. Often times when people smile as they see my sign I tell them, "There's still time to sell me your ticket and go home and watch the game on TV". They like to hear stuff like that. It puts them at ease.
Having a sign is a key ingredient to my success and it would be again today. It's my form of advertising. Someone once told me that if you don't advertise it's sort of like winking at your girlfriend in the dark. You know what you're doing but nobody else does. As you can see from the above photo my strategy even works in a foreign language!
It is rare that I have to hold my sign for more than five minutes before someone offers up a ticket. Sometimes they will give me the ticket at no charge. Other times, most of the time, they will offer a significant price reduction compared to the ticket's face value. 
Today getting a ticket took just a little bit longer. I attributed that to the fact that it was still an hour and 15 minutes before game time. The fact was that only about 100 people passed by my sign until one fella said, "You need a ticket".… I looked at my sign. I looked at him. My sign said I needed a ticket. Yes, I needed a ticket I told him. 
He told me his girlfriend had an extra ticket and he began to call her on his cell phone. Just at that point in time another fellow came up and offered me a ticket. He was a clean-cut person who looked to be about 45 years old. He might have worked for Procter & Gamble.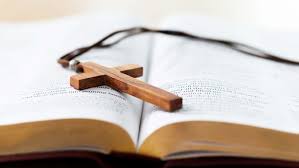 I could not have cared less where this gentleman's seat location was with the ticket he was offering. I operate with a principal I learned by reading the Bible. There's always room at the inn for one more, right? I would sit just about anywhere in Nippert Stadium that I wanted to….once I got inside the stadium. 
I asked him how much he wanted for his ticket. I learned this technique in several negotiating classes (not at P&G) about 40 years ago. By asking this question I was encouraging my new business partner to bid against himself. He told me he would like to sell the ticket for $40 U.S. I am sure he would but he would not be selling his ticket to me for that price.
That's when I replied with, "The explosive no!" This is another negotiating tactic. Simply put when someone makes an offer in the negotiating process to signal that you have absolutely no interest and to try to get the upper hand, you offer a forceful rejection. It sends a signal that this negotiation is on.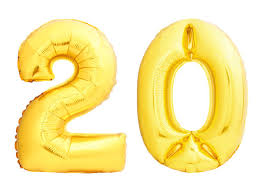 I told him that I just wanted to get into the game cheaply. I offered him $20 for his ticket. He wasn't offended. He came back quickly with, "25?" I probably could've stood my ground on the $20 offer and been successful, but I didn't want anyone to lose face in our negotiation. I smiled and said, "That would be fine". 
The fellow had a "printed" ticket, not a hard ticket. It's not a really great idea to buy a printed ticket. Anyone can print that ticket 50 times and the first person to take one of those copies of the ticket to be scanned at the entry gate gets in. Every other copy of that printed ticket is useless. 
However, I consider myself a good judge of character. This guy looked like he could be trusted. I told him that I didn't normally buy a printed ticket but we both smiled and agreed that there was little risk.
This printed ticket to the game didn't specify any face value. Because of that, I didn't know exactly how much I had saved. I did know this. I would end up sitting in the last row of the eastern side grandstand exactly on the 50-yard line. I think that ticket location sold for about $65-$70.
Now I could celebrate. The first thing I did was take off the hot long-sleeve black T-shirt. I was free! Now I was proudly sporting my UCLA colors. Other UCLA fans came up to say hi. I even ran into the two Bruin fans who had seen me putting on my "disguise" a few minutes earlier. They were pretty impressed that I had come all the way to the game by myself and scored a ticket for such a low price. 
Listen closely to this thought. I'm going to guess that most people who live in your immediate neighborhood are similar to you. They probably look like you. They are probably somewhere close to your age range. When someone is "new" and doesn't look like you comes into the neighborhood you probably notice that fact fast.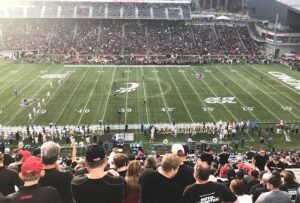 It was interesting to observe the crowd. In this case, almost everyone was wearing black UC Bearcat sportswear. There were very few people who, "Didn't look like them". By wearing my UCLA shirt I was "one of these guys who didn't look like he was from around here".
UCLA does not "travel well" to athletic events. They don't even support their team at home games all that well. Southern California sports fans are generally very laid-back. There's so much else to do in Southern California with the beaches, the mountains, Disneyland and the great weather. Going to a local sporting contest isn't as big of a deal as it is in locations where the entertainment options are more limited. 
Maybe in your own experience when you see an "outsider" in your hometown environment you become a little apprehensive. However, as soon as the outsider smiles or shows some act of kindness your defenses go down just a little bit. Maybe you breathe a collective sigh of relief. That's exactly how it happens at one of these big-time sporting events when UCLA people are considered the outsider.
Of course, there were a couple of comments from students that strongly resembled, "F UCLA". However, in virtually every case Cincinnati fans were well behaved. They did what a good fan does. When their team did something well they cheered wildly. When the other team did something well they fell deathly silent. The Cincinnati fans didn't gloat and point a finger when something bad happened to UCLA. Sadly, I cannot say that about all of the fan bases I have observed over the years.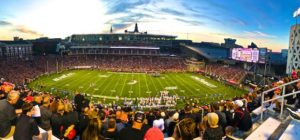 As I mentioned I watched the game from the 50-yard line in the top row of the eastern grandstand. The stadium had an announced crowd of about 38,000 people. I was impressed with every aspect of Nippert Stadium. Compared to the Rose Bowl, where UCLA plays their home games, Nippert Stadium is small.  The Rose Bowl seats more than 80,000 people. 
At tonight's game, the UC Bookstore was giving out a promotional item. It was a banner that when extended out was about three feet in length. One side of the item advertised the UC Bookstore. On the other side it read, "Go Bearcats".
When the game was finished I corralled a couple of these little souvenirs for my grandkids. About 15 feet away an eight-year-old boy wearing a Bearcat T-shirt was looking at me. He walked over to me all by himself and asked, "What are those things?" I explained what they were for. He asked me what I was going to do with the banners. I told him about my grandkids at home.
He saw my UCLA shirt and was a little bit puzzled. He asked me, "Are your grandkids Bearcats fans?" I replied, "No, son they are not. They are UCLA Bruins fans". They are "BEAVER" fans he asked? I nodded with a smile. Then I asked him if he would like to have one of the souvenirs. His eyes became wide and he nodded his head yes. I handed him one and off he went. 
Then I begin to gather up the rest of my gear and head for the exits. I could hear the boy who had gotten his Bearcat souvenir talking things over with his dad in the distance. The dad asked the boy, "What were you talking to that guy about?" The boy showed him his new souvenir and said, "He gave this to me". 
The dad was impressed with that encounter. I knew I had made a good impression. I was pretty sure that when dad and son got back home "mom" would hear the complete story about how that "BEAVERS" fan had been a nice guy. I would have loved to have heard that conversation! 
I have several financial strategies for travel that I have developed over the years. I need to confirm that I didn't come up with these ideas myself. I simply took others' thoughts and approaches and adapted them to my own situation. 
One of the things I believe strongly in is that I want to, "Buy good things cheap; not cheap things cheap". Lots of people can buy things cheap. I do not buy cheap. 
A lot of the people seem to think it was somewhat extravagant to, "fly all the way out here" to see a football game. Actually, I was going to be pursuing my auto racing activities for a few more days afterward but the driver of this particular trip was the location of the UCLA football game. 
I'm going to share with you a few of the financial details of this trip. From my point of you it wasn't extravagant at all to make this trip. I think I lived up pretty well to my adage that I, "Want to buy good things cheap". You'll be able to confirm or deny that valuation.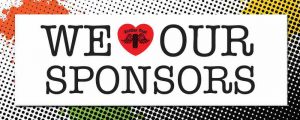 To begin the trip I parked my car in a parking garage at the Los Angeles International Airport. I have an "arrangement" with the LAX World Parking group. They charge me about 1/3 of the normal airport parking price, which can often times can be $15-20 a day at LAX. I average having my car at LAX on all or part of about 20 days a month. My sponsorship is a big money saver.
When I entered the airline terminal I immediately went to P.F. Chang's. They are part of my Priority Pass relationship with the Chase Visa Sapphire Reserve credit card. Each time I go to P.F. Chang's I get a $30 food and drink credit, and $60 when my wife is with me. I eat there on most of my LAX adventures. By the way my one-year review of my using the Chase Visa Sapphire Reserve credit card is coming soon.
When I finished my gourmet Chinese lunch I walked over to the Korean Airlines lounge. This is a nice place to relax for an hour or so, again with complimentary food and drink. That's right! There's no charge for me to use this lounge. It's part of the Priority Pass program with the Chase Visa Sapphire Reserve card.
Today I was flying on a nonstop flight with Frontier Airlines to Cincinnati. I used my MasterCard air miles, (10,000 miles) to get the ticket for a charge of $5.60, which covered the taxes. Flying on Frontier Airlines doesn't fully support my life goal of buying good things cheap. They might fall under the category of buying cheap things cheap. Nevertheless, they are one of the few carriers offering a non-stop flight from LAX to CVG so I didn't have much choice. Was flying on Frontier terrible? No, maybe just, "not that great". 
I estimate that I have flown on an average of three flights per week EVERY week since I was 23 years old. That's more than 7,000 flights. For most of the first 30 or so flying years there was no charge to check a bag from any airline. For most of the last 20 years my frequent flyer status and my relationship to my son's commercial airline also  charged me nothing for bags. 
On the rare occasion when I do fly a discount airline where I am going to be charged for bags I do everything I can to avoid that expense. The keyword is "everything". It almost borders on a "phobia" to avoid incurring charges for checked bags." 
Friday, August 30, 2019 
I woke up this morning in Louisville, Kentucky. I have a goal of power walking more than four miles for at least five days a week. Sometimes with all the driving and the flying and watching the races that's difficult to do each day.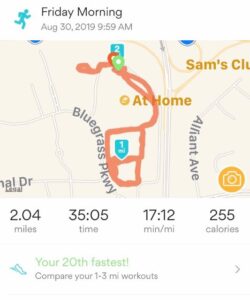 This morning with Louisville being in the eastern time zone I was operating with a three-hour time zone disadvantage. That makes things a little more challenging in the morning. Nevertheless, I got in a quick early 30 minutes, which netted two miles of walking. I found that if I can get in as little as two miles in the morning then walking the two miles I still need later in the day is easy to do. That's what I did today.
I'm glad I got in a couple of hours of my driving last night from Cincinnati. That would make today's drive over to Paragould, Arkansas still more than five hours. By checking out of the hotel at 11 a.m. and knowing that tonight's race was scheduled for a 7:30 p.m. go I had plenty of time to make it. 
I was over in Western Kentucky somewhere when I decided to have lunch. It wasn't all that long ago that trying to find a good Mexican place in the Midwest or south was difficult. I should know about good Mexican places after having lived in Southern California for more than forty years as well as having visited Mexico frequently.
I actually had one trackchaser many years ago tell me that Taco Bell was his favorite Mexican eatery. OMG!
Nevertheless, the ship has sailed on the idea that good Mexican food can't be found all over the U.S. With the rapid expansion and relocation of the Hispanic population in the U.S. one can get good Mexican food just about anywhere.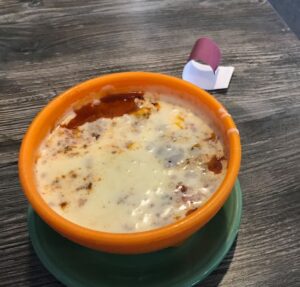 How would I find good Mexican food in Kentucky? Simple Simon. I used my smartphone app, Yelp. Soon I was walking through the front door of the Los Mexicanos restaurant in Hartford, Kentucky. They served up a really good dish of queso fundido chorizo. Their tortilla chips left a little bit to be desired. They almost seemed as if they had come out of a Fritos bag. Nevertheless, I enjoyed my lunch.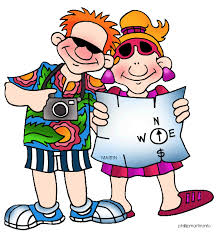 TRACKCHASING TOURIST ATTRACTIONS
At lunch, I decided to check out my Roadside America smartphone app. This app turns me on to all kinds of, just as the name implies, roadside attractions. Today I found a good touring stop in the town next door, Rosine, Kentucky.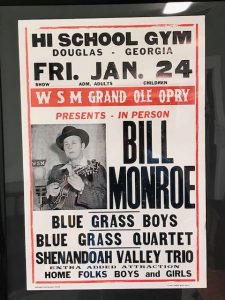 I enjoy country music. I've never been a huge bluegrass fan but I was aware of Bill Monroe and his Bluegrass Boys band. Did you know that Bill Monroe was considered the father of Bluegrass? 
It just turned out that Rosine was home to three Trackchasing Tourist Attractions. Bill Monroe's homeplace was in Rosine. His burial place was in Rosine. And finally the only recently completed a bit more than a year ago, Bill Monroe Museum was built in Bill's hometown of Rosine. I would end up visiting all three of these attractions.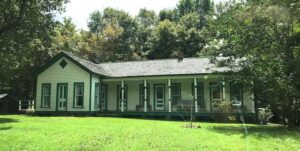 I first took a drive through Bill Monroe's homeplace acreage. Please don't miss the photos. It was a warm day and flying grasshoppers or whatever kept hitting my windows. I was going to go inside the main house when I ran into a gentleman riding on a huge mower. I lowered my window to talk with him as he shut down his huge lawnmower. That was a mistake. Yes, that was a mistake on my part as these huge bugs began to fly into the car's interior at a rapid rate.
We talked for less than a minute. He told me that not only was he the groundskeeper but the tour guide of Bill Monroe's homeplace as well. I had a difficult time concentrating on what he was saying. The grasshoppers were everywhere! I told him I would come back on a better day.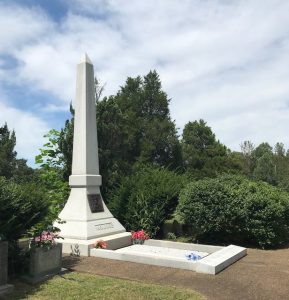 My next stop was to the Rosine Cemetery. The largest monument in the entire cemetery belongs to Bill Monroe. Actually there are a lot of Monroes in the cemetery. It must have been a big family. 
From the cemetery, I drove a block or two through the extremely rural small town of Rosine over to Bill Monroe's Museum. They just opened about 18 months ago. This is a small museum. I paid my five dollars to the one and only lady on the premises and looked around all by myself.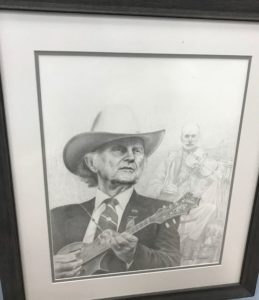 My visit began with a three-minute orientation film. I love to sit down and watch overview films at the museums I visit. From there I looked around for probably about 10 minutes. The museum is the size of a one-level 2,500 square-foot home. Back in the year 2000, the museum developers bought a lot of the belongings of Bill Monroe.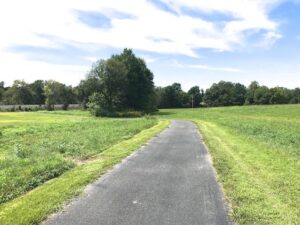 Just outside the museum was an asphalt walking path. I asked the museum's manager how far that pathway went into the woods. She told me it went back "a ways". That's how they talk about distances in the south. That's all I needed to know. I wanted to add about a mile of power walking while I was in Rosine. 
I didn't go all the way to the end of the trail. I didn't have time. However, there was something unusual about this particular walk. Out of the tall weeds came a small cat, maybe a kitten. 
For people who know me well they know that I am not a big fan of pets. We have never had any pets except for "Peanut" the school rabbit. I wasn't too fond of Peanut. He didn't survive long in our care but I will tell you I had nothing to do with his demise.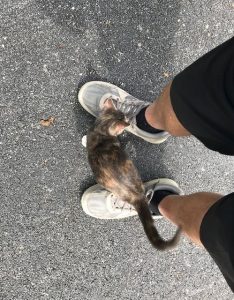 Through my walk today this little kitten soon was named by me, "Gray B". Gray B made it impossible for me to walk. When I attempted to walk he/she simply scooted between my legs or stepped right in front of where I would be walking. He/she just about tripped me a time or two. He/she was a friendly little kitten. If logistics were simpler I might've taken the little thing home. If you knew me and pets you know how big of a statement that is.  However, I couldn't take Gray B home. It just wouldn't work. The trackchasing lifestyle doesn't support having a pet.
THE RACING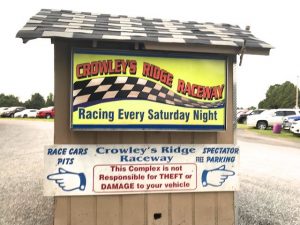 Crowley's Ridge Raceway – Paragould, Arkansas
Tonight's racing location is going to be the Crowley's Ridge Raceway in Paragould, Arkansas. As far as I knew this was the very last permanent track that I had not seen in the Razorback state. 
In Arkansas race tracks tend to change their names, advertise themselves as being from one town five years ago and a new town today. That makes it difficult for me. I don't want to be confused by any of the above and return to a track that I've already been to in the past. 
Crowley's Ridge Raceway was an interesting place. They had a couple of items that really decreased my enjoyment of the racing tonight. On the other hand, they had several parts of their program that were just fantastic. I'll tell you what I didn't like to begin with. 
Normally I fly into a central location, rent a car and drive to the racetrack. When I arrive it's just me. Well….I might have my man purse with me. In my man purse I have a cell phone battery charger, race goggles, earplugs and the like. There is one thing I do not have on my person. That is a lawn chair.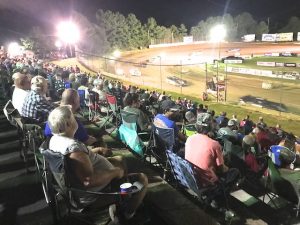 Tonight, at $20 per person, Crowley's Ridge Raceway had a huge crowd. The entire front grandstand was pretty much occupied. The grandstand itself was built into a hillside and featured large concrete steps for fans to watch the races. The problem for me was that everyone in this particular grandstand brought their own lawn chair. That made it difficult for anyone who didn't have a lawn chair to see the races because most everyone sitting in their own chairs. Crowley's did have one small set of wooden bleachers. However, those bleachers were located so far down in turn four that I didn't even know if those fans could see the entire track. 
In addition, the track's PA system was almost nonexistent. How can a track have such high-quality racing and charge $20 to see that racing and then have a PA system for the most part that cannot be heard? Yes, the Crowley's Ridge Raceway really missed the boat with their grandstand seating situation and sound system.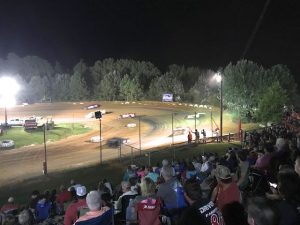 On the other hand, the racing and the ambiance was well above average. Crowley's is a high-banked little quarter-mile bullring. I've seen racing at nearly 2,600 racetracks. My all-time favorite track, that I grew up with as a boy, is the Peoria Speedway. Crowley's Ridge is a clone to the Peoria Speedway. 
Racing was advertised to begin at 7:30 p.m. I showed up early at 7 p.m. I stood to watch the racing activity for the next four hours. That wasn't a good thing. 
The track advertised that "racing" would take place at 7:30 p.m. I do not consider time trials to be "racing". Some people like the folks at Crowley's Ridge Raceway, apparently do.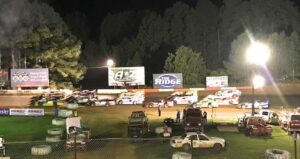 Nevertheless, they got the qualifying out-of-the-way pretty quickly. Tonight they had four classes of racers. The main class was the late models. They had nearly 30 late models, a very good field.
They had a good field of sprint cars too. I was told these were "305" sprinters. That means the sprint car engines had a maximum cubic inch displacement of 305 inches. There were about thirty of those cars as well. They also had a handful of factory/street stocks and another 8-10 junk cars that competed with a passenger.  
With a virtually nonworking PA system, I could only guess when they were running their heat races, the consolation events and features. From the looks of things, the late models and the sprint cars had enough cars for those consolations. 
I probably would have left early if the Crowley's Ridge Raceway wasn't racing one of my favorite classes, late model stock cars. I probably would have left early if Crowley's Ridge Raceway wasn't an exact clone of my favorite track, which is a high-banked quarter-mile oval. However, despite having a long drive to my hotel following the racing I stayed until the end. I was rewarded as the trackchasing gods appreciated my dedication. 
Both the late models and the sprint cars started 20 competitors in their main events. For small tracks like this, that's a lot. Nevertheless, they raced well and had very few yellows in the feature races. Please don't miss my video from Crowley's. You will see exactly the type of racing that I grew up with and that is still my favorite today. 
Crowley's offered something else that I liked as well. They had some vintage replicas of our nation's all-time favorite racecars including the fabulous Hudson Hornet. They also had a couple of '32 Ford type coupes. All of these, "racers" were pretty much used as flowerpots at this point! This was even more appropriate since we were in the state of Arkansas. 
The Crowley's Ridge Raceway was my last traditional permanent track see in Arkansas. I have a few states now where I no longer have any active permanent tracks remaining to see for the first time. That's been going on for a while. If you look at my track list over the past five years you'll see much more novelty racing and international racing than ever before. From a travel and ambiance aspect of my hobby that's OK. From the racing view of my hobby that's not OK.
AFTER THE RACES
The racing finished at about 11 p.m. At that point, I headed on down to Memphis, Tennessee. I had a hotel reservation at the Extended Stay America hotel property there. I pulled into the hotel parking lot at about 2 a.m. I was doing the same thing tonight that I had done the night before. I was getting about two hours of tomorrow's seven-hour drive done tonight!
Good evening from the Crowley's Ridge Raceway in Paragould, Arkansas….it had been a full day.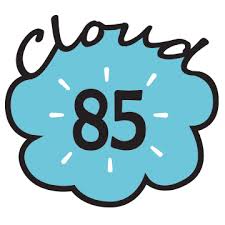 Randy Lewis – 85 countries – 2,583 tracks.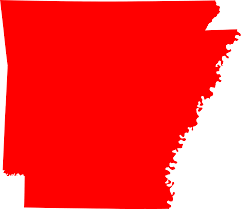 Arkansas
The Razorback state
This evening I saw racing at my 15th-lifetime track in the Razorback state, yes, the Razorback state.  I hold the #3 trackchasing ranking in Arkansas.  I've seen 15 or more tracks in thirty-nine different states. No trackchaser can match that stat.
Thanks for reading about my trackchasing,
Randy Lewis
World's #1 Trackchaser
Peoria Old Timers Racing Club (P.O.R.C.) Hall of Fame Member
Arkansas sayings: My belly thinks my throats been cut.
Translation: Friends, I appear to be so hungry that I may starve to death at any moment. I shall soon require approximately seven pounds of fried catfish.
QUICK FACTS
LIFETIME TRACKCHASER COMPARISONS 
The three most important trackchasing comparisons to me are:
Total lifetime tracks seen
Total "trackchasing countries" seen
Lifetime National Geographic Diversity results
Total Lifetime Tracks
There are no trackchasers currently within 720 tracks of my lifetime total.  Don't blame me.
Randy Lewis, San Clemente, California – 2,583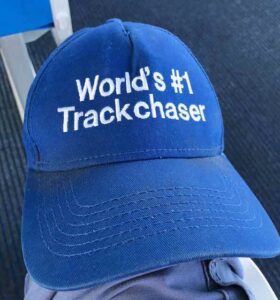 Total Trackchasing Countries
The nearest trackchasing competitor has seen racing in 30 fewer countries compared to my lifetime total. 
Randy Lewis, San Clemente, California – 85
Current lifetime National Geographic Diversity results
Randy Lewis, San Clemente, California – 4.14
That's all folks!  Official end of the RLR – Randy Lewis Racing Trackchaser Report
Click on the link below to see the video production from the racing action today.
Click on the link below for a photo album from today's trackchasing day.  You can view the album slide by slide or click on the "slide show" icon for a self-guided tour of today's trackchasing adventure.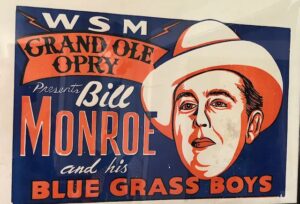 Several Trackchasing Tourist Attractions PLUS a racing visit to Arkansas