Greetings from Daytona Beach, Florida
From the travels and adventures of the "World's #1 Trackchaser"
SOMETIMES THE OFF-SITE RESTARUANT IS A HECK OF A LOT MORE FUN THAN WHAT
GOES ON AT THE RACETRACK
Track #1,823
HighlightsThe PlanThe TripThe ExperienceAttractionsRace ReviewVideosPhotosQuick Facts
THE KEYS TO THE TRIP
My next-door hotel neighbor could be heard telling the staff that his room was infested with COCKOACHES!…………….more in "The Trip".
There is a HUGE difference between managing your money well and just being plain CHEAP.  I hate cheapskate behaviour……………..more in "The Trip".
One person's "A+++" might be based upon where their paycheck is coming from…………..details in "Race Review".
I was taking chances on this trip. 
Only a novice trackchaser could see four straight days of new tracks in the middle of February.  To do that they would have to see a series of races most likely during SpeedWeeks in Florida.  However, I long ago knocked off all of those tracks.  I found it quite amazing that after seeing more than 1,800 tracks I could still find opportunities in North America to see four consecutive days of racing at tracks heretofore not visited.  However, to achieve that fete I would have to take some chances.
I do my best to stay away from taking too many chances in trackchasing.  That's why I try to plan these trips as well as I can.  Tonight I was taking a chance.  There were several things that COULD go wrong and really screw up what was really the main plan.  Nevertheless, as I nearly always do I took "calculated risks" and went on down the road.
I was in search of the 'trackchasing jewel'.
The "trackchasing jewel" at the end of this trip is seeing racing in my 64th trackchasing country.  The events leading up to that effort were the preliminary activities if you will.  Nevertheless, I had seen two ice racing events (Saturday and Sunday) in Wisconsin.  Then I stumbled across a rare Monday afternoon event in Canada.  Finally I was off to Florida for an equally rare (this was the first ever action at this special track) racing event at the "World Center of Speed" Daytona Beach, Florida.
I would have to avoid three major risks that could destroy the main plan.
However, see racing on a Tuesday in Florida brought three significant risks.  First, with a winter storm approaching in Canada I had to get out of Toronto after Monday's racing there.  I did that.
Secondly, rain was all around Daytona Beach.  If you looked at the weather map you saw rain showers in both northern and southern Florida.  Daytona is located in central Florida.  To show you how close this risk was to the event, trackchasing partner Jim Sabo ran into heavy rain ten miles north of Daytona just after the event we saw ended.
The biggest risk of all was whether I could get OUT of Florida after the racing there.  Daytona was racing on Tuesday night.  I had a flight from New York's JFK airport the next day, Wednesday at 4:10 p.m. That flight was headed toward country #64 (if that isn't about as big of a hint as I could give you I don't know what is).
I would have a partner in crime.
Carol was coming along for that event.  As a matter of fact, on Tuesday, while I was having fun in Daytona Beach she was flying from Los Angeles to New York.  She would stay the night in Gotham City (Yes, Batman's hometown) in hopes of meeting up with me the next day in New York.
If I missed my flight (of course, I was flying standby) she could go to country #64 without me.  Of course it would not be country #64 for her but country #32.  That's still a pretty impressive "countries" total for a young lady isn't it?
With multiple wake-up calls set for Wednesday morning at 4:45 a.m. (1:45 a.m. San Clemente time) I was pretty sure I wouldn't oversleep.  After staying late for the Daytona races (actually it was THEY that ran late) I could muster up only three hours of sleep.  That's more like a "nap" than an overnight slumber.
In life it can pay to take risks.
I am happy to report I overcame all of the risks that could have sidelined me.  I made it out of Canada just before a major winter storm hit Toronto.  We missed the rain in Florida.  My current rain-free trackchasing streak stands at 629 days.  Finally, I made my early morning flight out of Orlando to New York is good fashion.  I flew first class no less.
In life it pays to take some risks.  That's often where life's enjoyments lay.  I'm a big proponent of "managed risk".  That's pretty much where today's trip to Florida fell into the mix.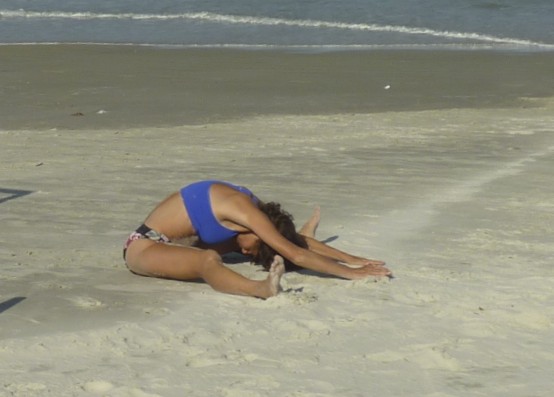 I was in a rush to leave Canada.
I woke up this morning in Orlando, Florida.  I went to bed in Orlando, Florida as well.  Actually the trip began to sunny Florida began after Monday afternoon's racing in Ontario, Canada.  The logistics of the trip allowed me to stay in Orlando, Florida both the day before and the day after this evening's racing in Daytona Beach, Florida.  This is what this part of the trip looked like.
I move around some getting from track to track.  Following the racing in Ontario it was a mad rush back to the Toronto airport.  I always have to remember to refuel my rental car on the way back to the airport.  Oftentimes, there isn't much time for that.  That was true today.
In Toronto, I would have to clear U.S. Customs.  My Global Entry membership helped me bypass some 150 "regular" travelers.  I made my flight to Chicago and then onto Orlando, Florida with ease.
Bugs!
I had to battle the management at the Travelodge on McCoy Road in Orlando over "bugs" in my room.  After my first night at the hotel I had awakened to hear the guest in the room next door telling the maid that his room was full of  COCKROACHES.  Folks, that is definitely not the first words you want to listen too in the morning.  My neighbor told the maid that he even had to sleep in his room overnight with the light on!
Yikes!  I looked around my room.  I didn't see any cockroaches.  Then I got to thinking.  Maybe that's the way THEY wanted it.  However, when I went into the bathroom I saw three different kinds of bugs moving around.  I had to squash one with a hotel washcloth.  That was enough for me.  I was moving!
This involved quite a "discussion" between management and myself.  Not only did I want to move I wanted a refund.  I'll have to tell you more about that in a later report.  We're in "negotiations" as we speak.
Tried the 'Express Deal'?
My iPhone is the best machine that's ever been invented.  That's a pretty strong statement.  However, with the lifestyle I live it is 100% indispensible.  Tonight I used my phone to power my laptop with a Wi-Fi connection.  This is called "tethering".
With an internet connection I tried to steal an upscale hotel room in Orlando for two nights from the boys and girls at Priceline.  Although Biddingfortravel.com told me that others had purchased Marriott's and Hyatt's for about $50 per night those deals weren't available to me.
I ended up using the new Priceline.com program called "Express Deals".  This allows folks to confirm the price and hotel "star" rating in advance.  However, you don't see WHICH hotel your getting until after you buy it.  Some people have a problem with that but I don't.  Tonight I bought two nights at a Travelodge for $39 per night.  The best rate on these rooms during my stay directly with the hotel was $69.  Little savings like this can really add up at the end of the year.
Have I ever told you the iPhone rocks?
I arrived into the greater Orlando area at about midnight.  I used my Google Maps iPhone app to get me to the hotel.  For me Google Maps is a bit better GPS unit than Apple Maps.  BOTH of these apps are better than getting directions from the Waffle House.
Were they smarter than a fifth grader?
I had arrived into Orlando at nearly midnight.  That was only 9 p.m. my time and I was ready for a late night snack.  Although I hadn't seen my hotel yet, when I eyed the WH I knew I was close to my Travelodge.  I stopped for a quick waffle ala carte.  Since I knew I was within a mile or less of the hotel I asked the three WH employees if they knew where my hotel was.  They all conferred with each other but were sorry to inform me they didn't really know the hotel's location.  That was O.K., I had my GPS.
Once out in the parking lot I jumped in the National Rental Car Racing Chrysler 300 and looked out the side window.  What WAS that I saw?  It was the dang-gummed Travelodge!  Yes, my hotel was within a well-placed pitching wedge of the Waffle House just across the street.  What did I conclude?  The WH people can make waffles but they ain't much good at directions.  Sometimes the combined intellect of folks in the good ol' U.S.A. worries me!
Being 'cheap' ain't good.
Racing at Daytona and other venues brings me to a key point about trackchasing.  Some folks are just too damned cheap to see the big events in racing.  I ran across an example of this just this week.  On the trackchaser forum a racing fan from England was asking about the month of May racing schedule at the Indianapolis Motor Speedway.  The forum's leader, that would be Guy Smith, recommended the U.K. fan go the day BEFORE the 500 and see a preliminary event.  Oh, my!  What has trackchasing come too?
Of course, you can go to the Indianapolis Motor Speedway and see a preliminary event.  In trackchasing you could certainly "count" the track by doing that.  But wait just a minute.  If you're a racing fan and you're coming all  the way from England and you're coming to Indy in May are you REALLY going to wimp out and go to an Indy Lites race (talk about watching paint dry) and miss the Indy 500?  Give me a break!
Anyone who would recommend that is just being plain cheap.  Anyone who would do that is just being plain cheap.  You can hide behind all of the BS by saying you "don't want to fight the crowds" etc.  In reality, you're just being plain cheap.  If you come to the Indianapolis Motor Speedway and don't see the Indy 500 you're just wasting your money not saving it.
Don't get me wrong.  I think racing at the Indianapolis Motor Speedway sucks!
That being said (of course I HAVE seen the Indy 500) I think watching racing at the Indianapolis Motor Speedway is one of the most boring major venues I have ever visited.  You can't really see a thing.  It takes about 40 seconds for a car to turn a lap there.  Even with good seats you can only see the cars for about ten seconds of their racing lap.  Then they are going so fast you can only make out the cars by sponsor colors and not by racing number.
I wouldn't go back to Indy for the 500 OR the NASCAR Brickyard 400.  However, I wouldn't sell my one and only experience of seeing the 75th annual Indy 500 for anything.  Sometimes the focus on trackchasing at the expense of racechasing leaves me sick to my stomach.  I hope the U.K. visitor makes the right decision so he can tell his racing friends back home that he got to see the Indy 500.  I don't think they'll be too interested in hearing how the "Indy Lights" race went.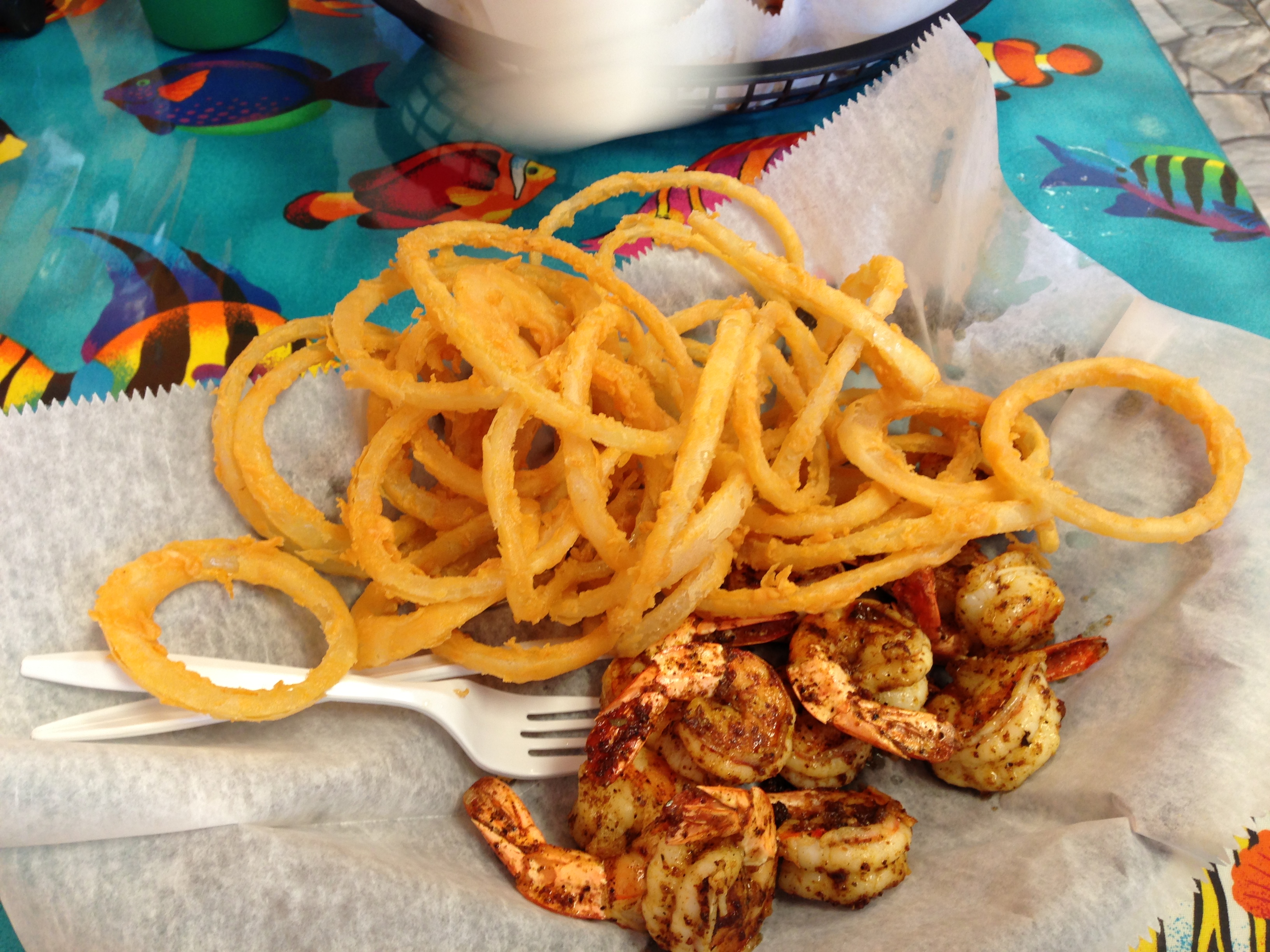 ONE CANNOT LIVE WELL OR SLEEP WELL IF ONE HAS NOT DINED WELL
Bay Street Seafood – Daytona Beach, Florida
One of the reasons I trackchase.
Eating at good-tasting unique places along the trackchasing trail is one of the most fun parts of the hobby for me.  I'll do whatever I can to avoid chains when I have a good alternative.  My iPhone app Yelp! directs me to some fantastic local places based upon ratings from normal people who have already tried the restaurant.
The Bay Street Seafood restaurant rates an "A+++" very much unlike tonight's racing (see below).  This is a hole in the wall place located near Daytona's old downtown area, not along the beach.  It's as informal and non-pretentious as you can get.
Good company and good food.
They serve seafood with different species based upon the catches of the day.  Jim Sabo (see below) and I both went with the special of a dozen blackened shrimp.  With that we got one side.  Yelp! reviewers had raved about the onion rings so that is what we got.  Folks, don't miss the pictures.  The food was fantastic.  The shrimp were delicious and the onion rings, lightly fried, were some of the best I had ever had.
The key lime pie also came highly recommended.  It was delicious.  Again, as good as I have ever had and I've had my share of key lime pie.  In the casual atmosphere Jim and I had time to catch up personally for the first time in more than three years.  The bill with tip came to about $15 per person.  The next time I'm in Daytona you'll find me at Bay Street Seafood.
By the way, I will tell you that I rarely go to a restaurant or a movie that I don't like.  Why is that?  Because before I go I do a few minutes of online research.  Based upon what others have to say, I can normally have a 95% plus chance of finding something that fits my tastes.
DAYTONA INTERNATIONAL OVAL (SHORT TRACK) – DAYTONA BEACH, FLORIDA
The biggest travesty on my trackchasing resume? 
Most people think of racing at the Daytona International Speedway as being on the "big" track.  That would be the 2.5-mile high-banked oval where the Daytona 500 is contested.  I must confess I have never seen the Daytona 500.
Every year we ever went to Florida we went mainly for the short track racing.  When the short track racing wound down I needed to be back to work on Monday.  That precluded staying for the Sunday Daytona 500 because we were always driving back to the Midwest.  For a worldwide pretty well known trackchaser the void of not having ever seen the Daytona 500 is a complete travesty.  I feel that is the ONLY race that I have not seen that I SHOULD have seen by now.  I can't correct this omission in 2013 but maybe I can shortly there after.
Three times at D.I.S.
I have seen other NASCAR racing on the big track in Daytona and on Daytona's famous road course.  Tonight (and last night) they were racing on a special "temporary short track".  That would allow me to count racing for a third time at the D.I.S. property.
The track itself was a four-tenths mile virtually flat asphalt oval.  They had taken a short stretch of the famous "Daytona Superstretch" (that's the backstretch of the big track) and combined that with some of the asphalt covered infield run-off area to create a paperclip style oval.  Seating was in the massive Daytona backstretch grandstand.
Tonight I watched the racing with good friends.
With this being such a unique event I was joined by several retired or semi-retired trackchasers.  First I came to the track with long-time Richardson-Vicks/P&G buddy Jim Sabo.  He and I have trackchased many times together.  To be more accurate most of our trips were aimed at racechasing not trackchasing.  He and I last racechased back in 2009 at the NASCAR Sprint Cup show in Martinsville, Virginia.
Pennsylvanian Paul Weisel was saving seats for Jim and I up in section R of the Daytona grandstands.  Paul had turned a business trip in the southeast into a trackchasing trip in Florida.  Paul has a MAJOR international trackchasing trip coming up in 2013.  There will be a press release on that activity coming up soon.
Finally, Kentuckian Dave Garrison came by to say hello.  Dave is a true racechaser.  However tonight he was seeing track #301 as a trackchaser.  Dave and I had met up last Monday night (eight days ago) near Tampa, Florida for a pure racechasing effort near Tampa, Florida.
Too much time in Florida?
As a matter of fact, this was my fourth visit to Florida in the first seven weeks of the year.  However, tonight was the FIRST trip to Florida to trackchase.  The other Floridian visits brought me down for the Orange Bowl football game, a Caribbean cruise with Carol and last week's racechasing effort near Tampa.  I don't expect any near-term Florida "re-visits" but then one never knows.
If you're not early, you're late.  These guys were late very late.
Today's racing event was to begin with heat racing at 3 p.m.  The program would continue non-stop with feature racing at 7:30 p.m. and 8:30 p.m.  That meant the original schedule called for a seven-hour racing program.  I had ZERO interest in sitting in the Daytona grandstands for seven hours.  Mind you that was the SCHEDULE.  In reality few tracks, if any, ever stick to the schedule.  Everything always runs longer.
My plan was to meet Mr. Sabo for dinner at 4:30 p.m.  Paul was invited as well but declined the invitation.  This would allow Jim and me to get to the track easily by 6 p.m.  That would still make it nearly four hours of sitting in the grandstands.  That would be enough for me.
I kept looking over my shoulder.
However, there were two minor concerns with my plan.  The first was the weather.  Although it was fairly clear, the forecast did call for a stray shower or two.  It would have been a bummer to have them start racing at 3 p.m., then get rain and be rained out by the time we showed up at 6 p.m.  However, based upon the forecast that was a risk I was willing to take.
The second concern was the seating for tonight's event.  If we showed up at 6 p.m. when heat racing had begun at 3 p.m. would we still be able to get a seat?  The event was being heavily hyped on satellite radio's NASCAR channel.  All of the heavy-duty racing fans were in Florida for SpeedWeeks.  Would it be hard to get a seat?  Nope!  The backstretch grandstands at Daytona are massive.  They must seat fans in the tens of thousands.  There was probably a good crowd on hand.  Maybe 5,000 people?  However, in the massive Daytona grandstands there were far more empty seats than occupied ones.
What about the racing?  Yikes!
That brings us to the racing.  We did see the last of one of the late model heat races.  That could mean only one thing.  They were running behind schedule.  Somehow this did not surprise me.
I was absolutely incensed.
Our plan was to see the 150-lap modified race and the 150-lap K&N NASCAR series stock car race.  If you were to listen to the NASCAR channel on Sirius/XM radio following the racing you would have thought it was a barnburner of a racing evening.  The broadcaster with the post-race show described the racing as "A+++".  I was so incensed that I tried to call into his show.  The line just rang and rang without any answer.  I have never tried to call Sirius/XM before in my life.
As racing experts we would have given tonight's event a far lower grade.
We had some very experienced racing fans in Jim, Paul, Dave and myself.  None of this bunch would have even considered giving the racing an "A+++" rating.  Although I didn't directly ask, from the comments the others made a grade of "D" would have been the likely group choice.
The Whelan NASCAR modifieds started nearly 40 cars (way too many) for their 150-lap feature (way too long).  I am not exaggerating in the least when I say there were maybe 35-40 green flag laps out of the 150 scheduled.  I think they only had ONE run all night where they raced for more than ten laps consecutively without a yellow flag.  There were two red flag periods.  From a racing point of view it was terrible.  Yep, it was just terrible.
They need to change their rules.
The night before the race winner Kyle Larson had been heavily criticized for punting the leader off the track on the last lap and going on to "win" the race.  Under NASCAR's rules this week that was a perfectly acceptable way to win.  That would be akin to my slicing Guy Smith's tire and then proclaiming victory.  Folks, that's not how you win.
In tonight's racing the race leader was punted out of the lead on the last lap in BOTH races.  In the stock car race one driver led 149 straight laps before being spun out on the last lap.  On NASCAR Sirius/XM radio the announcer gleefully announced that the winners of all three feature at the temporary short track had led JUST four laps amongst the three of them out of a possible 450 laps.  He INSANELY attributed that to "close racing".  I have never heard a more off the wall analysis of the situation in my life!!!!
Which was worse, the single file 'racin' or the yellow flags?
Folks, the "racing" was essentially terrible.  For the most part it was single file with a yellow flag every couple of laps, or more often, with the modifieds.  The stock car race was better but then the front row starter led every lap but the last one and was never seriously challenged.
Here's my solution.
What could they do to fix the "punting" that went on?  Simple.  Have a rule that says the driver who takes out the leader goes to the back of the back with the leader.  An even better choice, in my mind, is to have the "punter" put to the back, the race brought under yellow, and the leader returned to his rightful spot.  Some might think that would be difficult to administer but it would be an official's call just like in basketball or baseball.  The offended driver should not be penalized by the irresponsible acts of the offender.
Can't wait til next year…not.
How many in our racing group would have any interest in returning for another Daytona short track experience?  ZERO!!  That should tell you something.  I told Jim on the way back to the parking lot, "One of the best things about trackchasing is that you don't have to come back to the track if you don't like the show".  Most places are worth going to for the first time if for no other reason than 'first time buzz'."  However as I have come to find out, maybe hundreds of times, the 'first time buzz' can wear off quickly.
STATE COMPARISONS
Florida
The Sunshine State
This evening I saw my 58th lifetime track in the Sunshine state, yes the Sunshine state.  I still have about a dozen tracks remaining to be seen in Florida.  However, if push came to shove I might have a difficult time proving each of those places is still active.
Thanks for reading about my trackchasing,
Randy Lewis
World's #1 Trackchaser
Peoria Old Timers Racing Club (P.O.R.C.) Hall of Fame Member
Florida sayings:  Ask us about our grandchildren 
TRAVEL DETAILS
AIRPLANE
Los Angeles, CA (LAX) – Minneapolis, MN (MSP) –1,535 miles
RENTAL CAR #1
Minneapolis-St. Paul, Minnesota International Airport – trip begins
Gresham, WI
Caroline, WI
Minneapolis-St. Paul, Minnesota International Airport – 606 miles
AIRPLANE
Minneapolis, MN (MSP) – Toronto, Ontario, Canada – 678 miles
RENTAL CAR #2
Lester B. Pierson (Toronto) International Airport – trip begins
Milton, Ontario
Lester B. Pierson (Toronto) International Airport – 94 kilometers or about 60 miles
AIRPLANE
Toronto, Ontario, Canada – Chicago, IL (ORD) – 436 miles
Chicago, IL (ORD) – Orlando, FL (MCO) – 1,005 miles
RENTAL CAR #3
Orlando International Airport – trip begins
Daytona Beach, FL
Orlando International Airport – 145 miles
TRACK ADMISSION PRICES:
Upper Red Lake Ice Track – No charge
Caroline Pond Ice Track – $5 (included admission to pit area)
Milton Fairgrounds – $5 Canadian
Daytona International Speedway – $25
LIFETIME TRACKCHASER COMPARISONS 
 The three most important trackchasing comparisons to me are:
Total lifetime tracks seen
Total "trackchasing countries" seen
Lifetime National Geographic Diversity results
Total Lifetime Tracks
There are no trackchasers currently within 300 tracks of my lifetime total.  Don't blame me.
1.  Randy Lewis, San Clemente, California – 1,823
Total Trackchasing Countries
There are no trackchasers currently within 10 countries of my lifetime total.
1.  Randy Lewis, San Clemente, California – 63
Current lifetime National Geographic Diversity results
1.  Randy Lewis, San Clemente, California – 5.08
That's all folks!  Official end of the RLR – Randy Lewis Racing Trackchaser Report