Greetings from Deland, Florida
.
.
From the travels and adventures of the "World's #1 Trackchaser"
.
.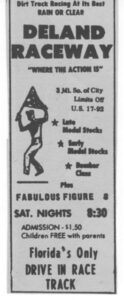 Deland Speedway
Dirt oval
Lifetime track #42
Highlights
The Deland Speedway in Deland, Florida is officially listed as my 42nd-lifetime track. Deland was the tenth track where I had seen racing in the Sunshine state.  
I did not begin writing my famous "Trackchaser Reports" until the middle of the year 2000.  My first official Trackchaser Report was written for track #425, the State Fair Speedway in Sedalia, Missouri.  I saw that track with my brother Mark on May 28, 2000.

Prior to 1980, I never kept track of when I went to a track. I just know from memory that I had seen racing at 71 different racetracks from when I was born in 1949 through the 1979 season. This was affectionately known as the "Group of 71". The Deland Speedway is part of my "Group of 71".
You see when I first became a racing fan I never gave the idea of "trackchasing" a passing thought. Why? Trackchasing requires the funds to travel long distances. I grew up poor. We had no money for travel. The ONLY vacation I can ever remember taking until I was in college was a bus trip from Peoria, Illinois to Evansville, Indiana to visit my grandparents. We had absolutely no money for luxuries and travel was a luxury.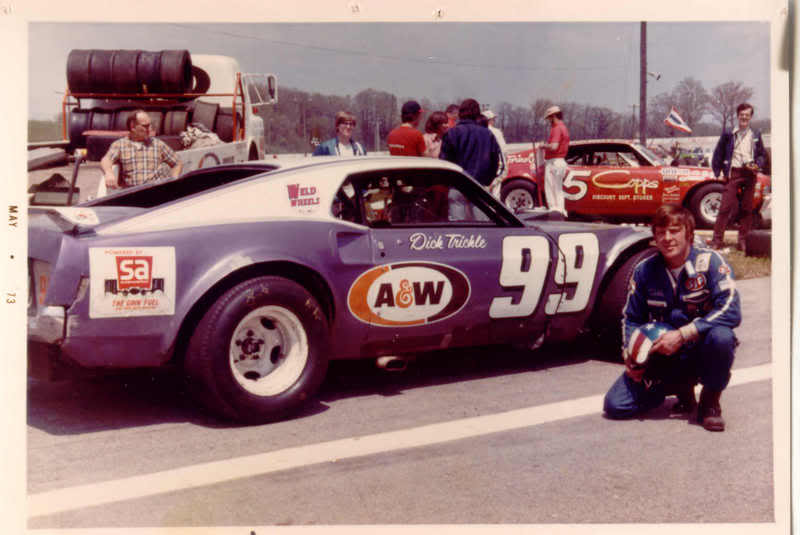 I began my racing fan "career" as a "racechaser". How did I decide beginning in college and running through the early 80s where I would go to the races? That was easy! I simply followed my favorite drivers. I scoured the Hawkeye Racing News for advertised race dates. I followed my favorite dirt driver, Darrell Dake, all over his home state of Iowa and my home state of Illinois. We were big Dick Trickle fans. When he was racing at a big show we tried to make it there. Yep. I was a racechaser. I didn't give a second thought to whether I was visiting a new track or not.
However, somewhere in the 80s, I decided I liked going to a track for the first time more so than re-visiting a track for the 10th time. It was also about this time that Darrell Dake was slowing down his race schedule and Dick Trickle was moving from the midwestern short tracks to NASCAR. Of course, during the 60s and 70s, I was a regular at my hometown track, the Peoria Speedway. To this day the Peoria Speedway remains my all-time favorite track.
Therefore much of I can tell you about the Deland Speedway is from memory. I would have seen racing at Deland during the early70s. My visit would have been in February as part of the entire state's "Speedweeks" celebrations and racing.
I can tell you that "The History of America's Speedways – Past and Present" authored by Allan E. Brown tells me this about the Deland Speedway.
Mr. Brown's research tells me a track named, "Deland Drive-In Raceway Park" operated from March 5, 1966, through the 1973 season. It was closed for not having building permits.
Additional research reveals these quotes.
"Deland-Drive-In Raceway, as it was called, was built in 1966, and ran its last race in 1973. The Burkhalter young guns were there watching on the back of a station wagon on Sunday afternoons after church, they told me.
It is/was located on the north side of Mcgregor Road, about one mile west of 17-92. It was pretty cool, the depressed area in topo mode, as 5 houses actually sit on the outskirts of a bowl-like area, and all of their backyards look into a "pit" like area where the Raceway existed.
The banking from two turns is still intact on the west side, a pile of tires off in the trees, a couple of 55-gallon drums with trees growing through them, and up on the hill on the west side, is a cement slab with plumbing drain lines going down through it; it was probably the restrooms.
Back in the early 70s, late model drivers came from all over to race the dirt short tracks of Florida during Speedweeks. Today major sanctioning bodies like the World of Outlaws and Lucas Oil Late Model Racing Series bring their drivers to Florida. It wasn't like that in the "old days".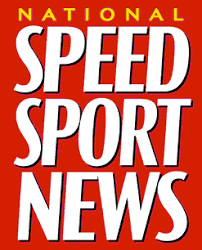 The hot shoes from the best dirt tracks in the southeast and Midwest showed up at places like the Deland Speedway. This was pre-internet. Much of the advanced racing information appeared in racing newspapers like the Hawkeye Racing News and National Speed Sport News.
In the late 60s and early 70s, I believe the best dirt track stock car racers came from the state of Iowa. These were often farm boys with mechanical genius to construct their home-built cars. The success of Iowa drivers was so great that drivers from the Hawkeye state won the famous World 100 stock car race five or six times in a six or seven-year period in the early 70s. Then when professionally constructed chassis and big money came into the sport the "Iowa guys" were "out monied" and no longer dominated the national dirt track stock car scene.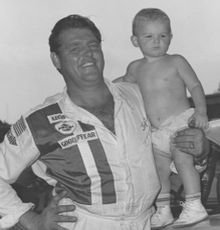 During my visit to the Deland Speedway, I remember seeing Tiny Lund competing. I remember the track as being down in a bowl with a very sandy racing surface. Fans watched the racing from their cars high above the track.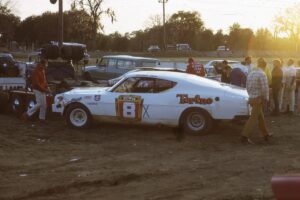 My all-time favorite driver, Darrell Dake, won the "nationals" one year driving his Ford Torino (above). In those days the drivers would race several nights in a row at just one track contesting the Florida dirt track nationals during February.
You might have remembrances about this track.  If so, please feel free to share them in the comments section below.  If you have any photos from back in the day, send them to me at Ranlay@yahoo.com.  I'll try to include them here.