Greetings from Rugby, North Dakota
From the travels and adventures of the 
"World's #1 Trackchaser"
Lifetime Track #1,877
Don't miss my one-minute preview of today's trackchasing visit:
HighlightsThe DetailsRace ReviewVideosPhotosQuick Facts
Luckily I was in Nebraska…………….more in "The Details".
I don't want you doing this…………….more in "The Details".
Tell me about North Dakota…………….more in "The Details".
Character counts…………….more in "Race Review".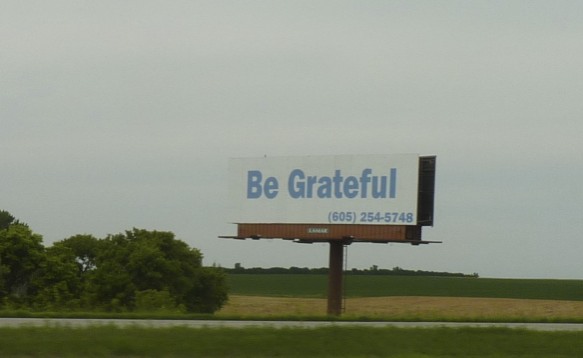 It's important to go with the very best plan.
I woke up this morning in Omaha, Nebraska I went to bed in Grand Forks, North Dakota.  This is what today looked like.
I have a lot of flexibility in my travel planning.  How flexible?  At just past midnight last night I changed my transportation plan for today. I noticed that a flight from Omaha to Minneapolis was wide-open. I would fly to Minneapolis, rent a car for two days and trackchase in North Dakota for the final two days of this 13-day trip.
Then after THAT plan was nearly put to bed I continued to review my 2013 proprietary racetrack scheduling database.  I noticed a track running near where I would be staying in Grand Forks.  However, this track was in Minnesota.  This new opportunity in Minnesota would replace the second North Dakota track I had planned to see.  Strategically this made good sense.
I knew that I could sleep on the airplane tomorrow, Friday morning.  What did I do with that piece of wisdom?  I stayed up until 2 AM with a 5 AM wake up call!  In hindsight that was not the best move.

Some folks don't get out much.
Nevertheless, I was up bright and early this morning and returned my rental car to the Omaha airport by 5:45 AM.  It would be best to check my bag as it was jam packed full of stuff including bottled water which I couldn't take with me if I didn't check the bag.  There were quite a few flyers using the few available airline kiosks.  The passengers, in several cases, didn't seem too familiar with the process.  That's not unusual in small city airports like Omaha.  That's not a criticism of Omahaians.  However, it was likely that folks had driven into Omaha from much more rural areas around Nebraska and Kansas.  I'm guessing that those folks don't fly that often.

For lack of a thread.
While waiting for my bag tag to print out it dawned on me to check the load factors for this morning's flight. Last night the flight was wide-open but things had changed at the last minute.  Maybe another flight was canceled somewhere along the line.  Now it looked like I would not make the flight at all. If I didn't get to Minneapolis on an airplane then I wouldn't get to Rugby, North Dakota for tonight's trackchasing.
I'm always telling you about my use of technology and having a flexible mindset. Let's think about those attributes this way.  If I don't have an iPhone I can't check the airlines website.  Then I don't realize that I won't make this flight because there are not enough open seats.
I had to do something.  While waiting in line for 60 seconds for that bag tag I decided to make a phone call to National Car Rental Company.  Could they rent me a car that I would drop later today in Minneapolis?  They could. What would it cost me? $8.92!
At about that time I was being called by the agent to check my bag.  I had to break the news that I would not be taking the flight.  At that point I did a perfectly executed about-face and walked back to the National Car Rental parking garage.
It was in the rental car garage that I met up with the fellow that had checked me in when I returned my car about 30 minutes earlier. I told him I wanted to re-rent the same car that I just dropped off.  He seemed to take that request in stride.  Why not he's from Nebraska.
My preference to re-rent the very same car was important for two reasons.  First, that car gave me 35 miles per gallon.  It also had XM satellite radio. There was just one minor problem.  By now my car was parked in the middle of a long grid or returned rental cars.
I was glad I wasn't attempting this switcheroo in New York.  However, today this would not be a problem.  I was in Nebraska.  Folks will do anything they can for you here.  However the rep I was working with out in the parking garage would have to go back into the terminal and get a box full of 50 different sets of car keys.  Then he would have to fish through all those keys to find the ones to the car I wanted.  Finally he would have to rearrange all the cars so that I could get to the car I wanted.  Surprisingly, this didn't take as long as you might think. Soon I was in MY car again.  I had driven it nearly 1,200 miles on a one-way rental two days ago INTO Omaha.  When I'm finished with this car I will have driven it more than 2,000 miles!
As it was I now faced a 639 mile one way drive up to Rugby, North Dakota.  I would then trackchase myself back to Minneapolis for a total driving distance of more than 1,100 miles with this car rental contract.
My plan after Saturday night's races was to stay in one of my two most favorite airports for sleeping overnight. What a grand plan I had as I headed north on interstate 29 toward Rugby.
Folks there's a very good reason that I almost never get rained out.  There's a good reason I have the highest tracks per trip production number of any trackchaser. You just read about it.  As Dizzy Dean says it's not bragging if it's true or you can do it.  I agree with old Diz don't you?.

Napping….what a wonderful invention.
My nearly 700 mile drive from Omaha to Rugby, North Dakota was punctuated by periodic power naps.  My power nap duration never lost sight of the ETA that was required to meet up in North Dakota.
I have the capability to do a good deal of my travel logistics while I'm traveling in the car.  Case in point, while barreling up I-29 at a ferocious rate of speed, I pulled up my Priceline iPhone app.  With that I made a successful bid on a hotel in Grand Forks, North Dakota. Priceline always gives me a significant savings over the best rate offered by the hotel.
Just a brief comment on my texting, phoning, checking the internet etc. while I'm driving.  I really don't want my fellow drivers out on our nation's highways doing this.  It's dangerous enough when I do it.  Can you imagine if the OTHER guy was reading his email at the same time.  Don't use your phone while driving!

Peach Garden state here I come!
When I began my trip North Dakota was not even on my radar screen. It just goes to show that once I'm out in the middle of America or somewhere in the eastern third of the country I can turn on a dime.  I can cover a good deal of distance in one day's driving.  Then I might end up somewhere that wasn't on the original schedule.
I continue to get a good number of very positive comments regarding my new website. I certainly appreciate people taking the time to share information via their comments. I'm glad that the work that was put into the website is being appreciated by so many people.




Tell me about North Dakota.
During my trip I stopped a North Dakota highway rest area.  There I picked up a brochure extolling the virtues of the state.  I was surprised to learn a few things.  North Dakota was admitted to the union in 1989 as the 39th state.  It only got the nod over South Dakota, which submitted for statehood on the same day November 2, 1989, because of it's standing in the alphabet!  North Dakota has three times as many cattle as residents (that's 1.7 million cattle and 683,000 people).  They also have 160,000 pigs, 80,000 sheep and produce 1.2 million turkeys. The state has a very unusual nickname, the Peach Garden State.
I'll be staying overnight in Grand Forks, North Dakota the state's third largest city with a population of 53,000.  That's not a lot of people is it?  The weather can get a little coolish up this way.  I rarely wear long pants at any time of the year.  Heck, I don't even wear socks for more than half the year!  On this 13-day trip all I brought were my infamous cargo shorts. With temperatures in the mid 60s and some wind I might have been better served to be wearing long pants.  However I don't have much room to pack stuff like that.  I'll have to live with cargo shorts, which I don't mind doing at all.  By the way, you'll see just one other adult wearing shorts in all of my photos from tonight's trackchasing visit.  Most brought their jackets!
I would be remiss if I didn't mention I was visiting a special geographical location today.
That's right I was visiting the "Geographical Center of North America!  I don't get to do that every day.  Here's a tidbit I found regarding this subject.  If there wasn't always some controversy wouldn't life be dull?
The Geographic Center of North America — as important a center as you're likely to find — lies in the town of Rugby. It's marked by a rock obelisk, about 15 feet tall, flanked by poles flying the US and Canadian flags. It is a monument easily missed, standing as it does in the parking lot of a cafe/gift shop (formerly a Conoco station). That's where it was moved when North Dakota widened Highway 2. Rugby isn't too particular about where, exactly, the center lies — as long as it's somewhere in Rugby.
Amazingly, it wasn't until 1931 that this important Center was finally found. Rugby quickly realized its good fortune and changed its town seal to an outline of North America with a big dot on Rugby. Postcards for sale in the Cornerstone Cafe and the Hub of America liquor store cite the page number of the Department of the Interior's Geological Survey Bulletin in which it was "definitely established."
But wait. The U.S. and Canada, yes — but doesn't "North America" include Central America, too? It does on most of the maps that we've seen. Rugby doesn't want you to think about that. They'd have to put up a lot of new flags at the Center if you did. And if places like Panama and Mexico were added to the equation, would the Center still be in Rugby? Maybe it would be somewhere else — like in South Dakota.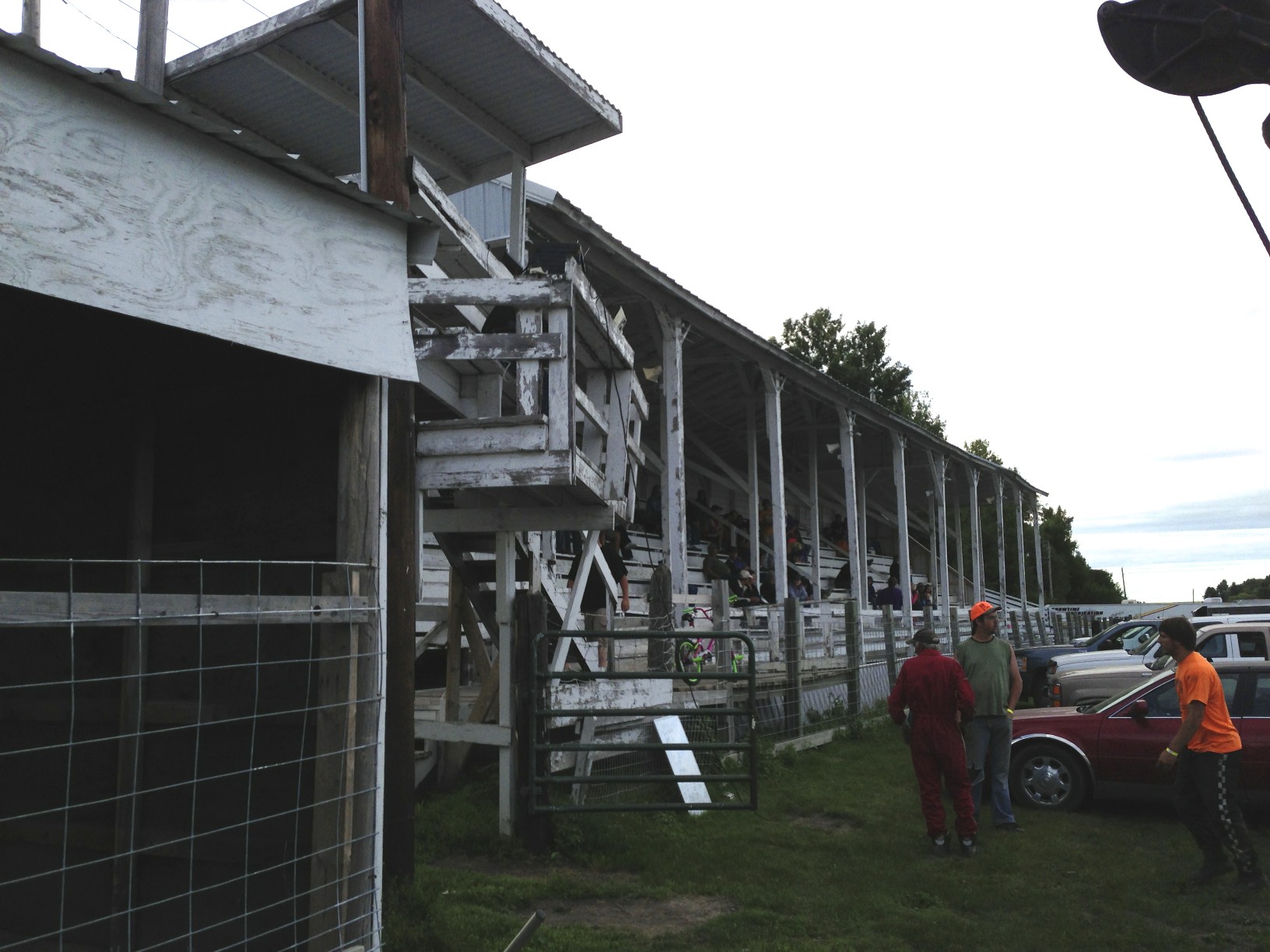 Geographical Center Speedway – Rugby, North Dakota
Ouch.
I was finally able to put the Geographical Center Speedway in the books. There are a few tracks that I have tried for years to get but either weather or travel problems prevented me from being successful. I now have just one active tracking North Dakota still to see. I could see that North Dakota track tomorrow night but I won't.
When I arrived at the ticket booth I asked how much a ticket to the races at the Pierce County Fairgrounds would be. The ticket seller replied, "For senior citizens it's eight dollars."  Ouch!
Character counts.
This race track had tons of character. The old covered county fair grandstands had to date back the better part of 100 years. The grandstand's support posts prevented most spectators from having a clear view of the track in all directions.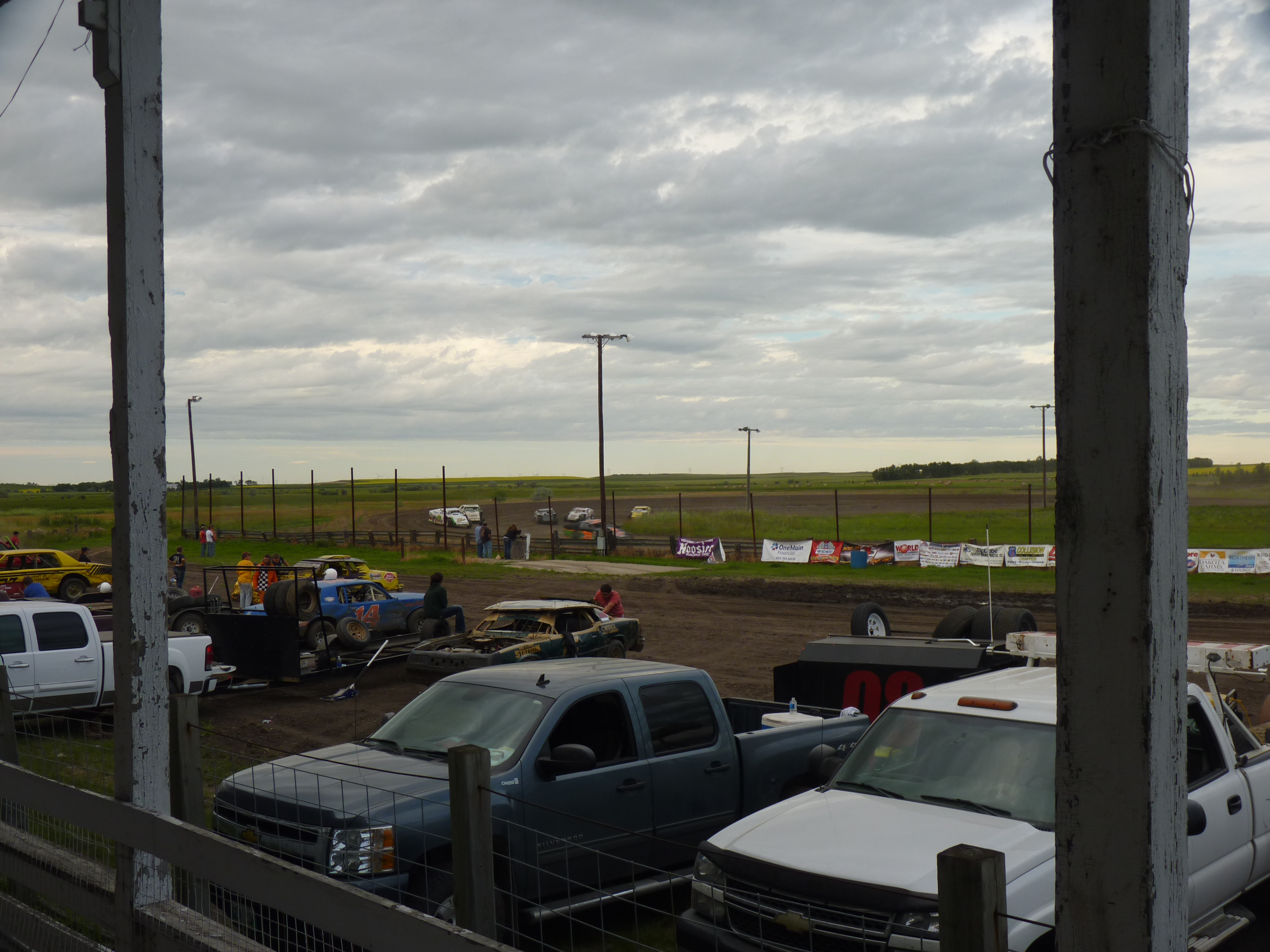 There were just two racing divisions.  They included the pure stocks and modifieds. Each class ran trophy dashes and their feature events.  I liked the idea that most cars were pitted right in front of the grandstand.  It's always more fun to see the cars like that compared to them being out of sight somewhere.
The track layout was a high banked quarter-mile dirt oval.  That's my favorite.  The racing surface remained tacky all night.  The track announcer was good and could be heard over a very clear PA system.  I was surprised that there weren't any mosquitoes at the track.
Racing was scheduled to begin with hot laps at seven and racing at 7:30 p.m.  However, the first race did not begin until 8 o'clock. The track played first the Canadian national anthem followed by the U.S. national anthem.  This is common at tracks located within shouting distance of the border.  I'm guessing that Rugby is less than 50 miles the Canadian border.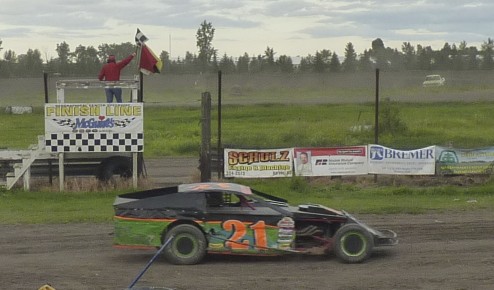 Most fans are happy with this.
Tracks at locations where there are not many people are often rustic and car counts are small. That was the case tonight. Nevertheless the racing was generally good.  Even with smallish car counts the cars raced close together.  When that happens on a small track you are likely to see an entertaining show.  Fans want to see close racing, with some passing and a crash or two.  Give them that and most fans will leave the track happy.

This is how I handle the hobby.
From my morning departure point in Omaha to the track in Rugby I had driven 636 miles.  By the time I got back to my hotel in Grand Forks I had covered almost 800 miles today after only three hours of sleep last night. As mentioned I did catch a couple of power naps during my driving today.  I will tell you this.  I have never slept more soundly in my power naps that I did today!  The bugs and frogs were out on the highway  in droves during my late night after the races drive to the hotel. My windshield was so covered with bugs by the end of the day I could hardly see. Additionally, I'm afraid I ended the lives of several frogs prematurely tonight.
STATE COMPARISONS
North Dakota
The Peach Garden State
This evening I saw my 12th lifetime track in the Peach Garden state, yes the Peach Garden state.  Who would have guessed that state nickname?  I like North Dakota.  Actually, I like ALL of our 50 states.
Thanks for reading about my trackchasing,
Randy Lewis
World's #1 Trackchaser
Peoria Old Timers Racing Club (P.O.R.C.) Hall of Fame Member
North Dakota sayings:  We really are one of the 50 states.
TRAVEL ITINERARY
AIRPLANE
Los Angeles, CA (LAX) – Dallas, TX (DFW) – 1,232 miles
Dallas, TX (DFW) – Nashville, TN – 630 miles
RENTAL CAR #1
Nashville International Airport – trip begins
Bowling Green, KY
Indianapolis International Airport – 315 miles
RENTAL CAR #2
Indianapolis International Airport – trip begins
Rossburg, OH
Peoria, IL
Urbana, IL
Indianapolis International Airport – 778 miles
AIRPLANE
Indianapolis, IN (IND) – Chicago, IL (ORD) – 177 miles
Chicago, IL (ORD) – Sioux Falls, SD (FSD) – 461 miles
RENTAL CAR #3
Sioux Falls Regional Airport – trip begins
Luverne, MN
Eppley Field (Omaha) – 252 miles
RENTAL CAR #4
Eppley Field (Omaha) – trip begins
Arlington, NE
Liberal, KS
Beloit, KS
Lincoln, NE
Eppley Field (Omaha) – 1,191 miles
RENTAL CAR #5
Eppley Field (Omaha) – trip begins
Rugby, ND
TRACK ADMISSION PRICES:
Southern Kentucky Fairgrounds – $13
Eldora Speedway – $40 (not trackchasing expense)
Peoria Speedway – $13 (not trackchasing expense)
Champaign County Fairgrounds – Complimentary
Rock County Speedway – $9
Washington County Fairgrounds – $9
Liberal Fairgrounds Speedway – $10
Solomon Valley Raceway – $18
Lancaster Events Center – $13
Geographical Center Speedway – $8 ($2 senior savings)
LIFETIME TRACKCHASER COMPARISONS 
The three most important trackchasing comparisons to me are:
Total lifetime tracks seen
Total "trackchasing countries" seen
Lifetime National Geographic Diversity results
Total Lifetime Tracks
There are no trackchasers currently within 350 tracks of my lifetime total.  Don't blame me.
1.  Randy Lewis, San Clemente, California – 1,877
Total Trackchasing Countries
There are no trackchasers currently within 10 countries of my lifetime total.
1.  Randy Lewis, San Clemente, California – 65
Current lifetime National Geographic Diversity results
1.  Randy Lewis, San Clemente, California – 5.10
That's all folks!  Official end of the RLR – Randy Lewis Racing Trackchaser Report