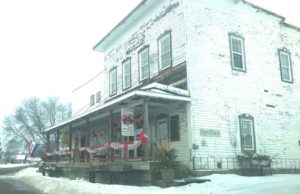 Greetings from Gleason, Wisconsin
.
.
From the travels and adventures of the 
"World's #1 Trackchaser"
.
.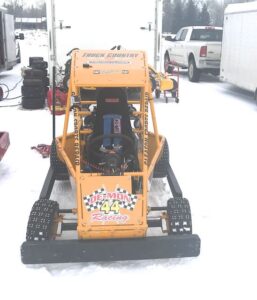 Gleason International Raceway
Ice oval
 Lifetime Track #2,411
The EventVideo PlusPhotos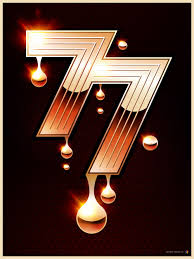 THE EVENT
I have had the opportunity to follow my trackchasing hobby all over the world.  As this is written I have seen racing in 77 countries.  My lifetime track total is just over 2,400.  Long ago I wrapped up seeing racing in every American state.
Some twelve years ago I moved into the "World's #1 Trackchasing" spot.  Of course, that's if that title is awarded to the person who has seen the most lifetime tracks.  Frankly, I don't think it should be.   Maybe "Most Prolific Trackchaser" is a better description for that category.
The World's #1 Trackchaser title should be bestowed on the person who has seen the most racing in the most countries.  That's what the "world" is made up of isn't it?  Countries!
How is it that I have the best research staff in the history of trackchasing and I don't find out about the racing at the Gleason Community Club for 35 years!? How do I know I have the best research staff?  Isn't it obvious. I was the first trackchaser ever to see racing at Gleason!
It's important to note that my hobby is not only about racing.  Yes, that is one part of it.  However, of equal importance are the logistics of trackchasing (getting from point A to B to C, etc.) and the opportunity to see the world.
I live in Southern California.  The vast majority of tracks in the U.S. are located in the Midwest and East.  It takes a good deal of logistical planning to get from where I live to where the tracks are.  A typical weekend trip within the U.S. will cover more than 5,000 air and driving miles.  I do about forty of those trips each year.  For the past 15 years I have traveled about 175 nights each and every year.  Surprisingly to some, more than half of those overnights were not part of trackchasing.
A big part of trackchasing for me is simply travel just for the fun of seeing new things.  You won't want to miss my "Trackchasing Tourist Attractions" page or my "Sports Spectating Resume" page on my website at www.randylewis.org.  Search around on my site.  Use the drop-down menus.  They will take you all over the world!  My site will give you some understanding on how important seeing the world and just "seeing stuff" is with my trackchasing hobby.
Today's adventure was one more of the 2,000 trips that have taken me up, down and around the long and dusty trackchasing trail.  If you would like to see where I've been and experience those adventures here's the link: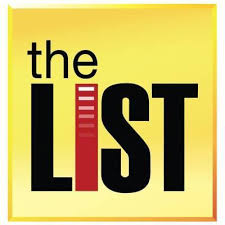 If you've got a question, comment or whatever please leave it at the bottom of this report.  It's very easy to do.  Or you can visit me on Facebook.  Thanks!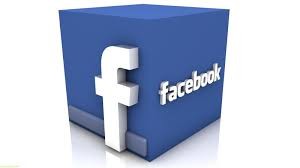 FOREWORD
We had a good week in San Clemente. I haven't traveled overnight in nearly 2 weeks. In my world that's a long time.
We were all set to see a race on Saturday in central California for this weekend's trackchasing effort. However, I have a large group of people located in the United States and all over the world who want to see me do well with my hobby of trackchasing. They help out a lot!
I got an unexpected offer from the Hardwater Ice Racing Association up in Minnesota. That should not have been unexpected.  They are from Minnesota.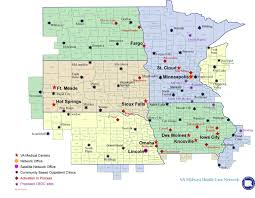 You already know that Minnesotans are part of the "NIMS" tribe. Who are the "NIMS" people? They are folks who live in Nebraska, Iowa, Minnesota and South Dakota. Get it?  "NIMS" people!
These are the nicest people on earth. If anyone ever honks at you when you're driving through a "NIMS"  state you pretty much know that honker is from the East Coast.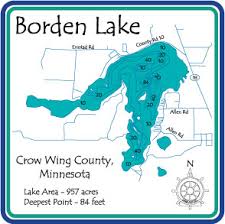 Anyway, I got a message from Kyle Hall of HIRA. He was contacting me to tell me that his group is racing on a new lake up in northern Minnesota this year. Their old lake, Crystal Lake, just wasn't having the "ice come in". They had to move the entire operation over to Borden Lake. They were racing at Borden Lake this Sunday.
Despite having seen racing at more than 80 ice tracks I still have quite a few left to see. They seem to pop up all the time and sometimes in the strangest of places. Unfortunately almost all of them race on Saturday.
Ice racing tracks are located a long way from where I live, for good reason on my part. I wouldn't go back into the snowy frozen tundra to see a lonely Saturday ice track without any other racing on Sunday. O.K., I might but that would not be part of my normal trackchasing plan.
However, now that I knew HIRA was on board for Sunday I could easily find a Saturday ice show. That made a Saturday/Sunday ice racing combo. I couldn't pass that up.

Despite the fact that Carol was tugging on my cargo shorts in anticipation of heading to Bakersfield this weekend I told her that event was now a no go. Yes, if she wanted she could come along on a weekend Midwestern ice trackchasing adventure in frigid temperatures she could. O.K., in reality the temps were not that frigid. That didn't appeal to her as much as Bakersfield had. She would be a trackchasing no show this weekend.
My first race of the weekend would be at the Gleason Community Center over in Gleason, Wisconsin. Gleason is about 3 ½-hours east of the cities or a little bit NW of Green Bay. Yes, it is true. No trackchasers had ever seen a race there. Yes, I would be the first. This is why my Trackchaser Reports are so valuable to my fellow competitors.  They can use my experiences as a "road map" if you will.  That way they won't get lost!
Friday, January 19, 2018.
Racing was scheduled to begin at Gleason at 10 a.m. on Saturday morning. I live 2,145 miles, if you pass through Las Vegas, from Gleason. I would have to leave on Friday to be there on time for Saturday morning's racing. If that's what I had to do then I would do it.

I grabbed a nonstop flight from Los Angeles to Minneapolis, again on a standby basis. Standby flights in the winter are easy to get. People don't want to fly as much in winter as they do in the summer. Why is that? I think it's got something to do with climate and cold temperatures and the like. Duh! However, I do not mind traveling in the winter time. That's the only time they have ice races.
In addition to an airplane ride I would need a rental car and a hotel room. I checked rental car rates out of Minneapolis for two days.
Avis offered a full-sized rental car for two days at a price of $65 in total. That's a great price. The price from my long-time trackchasing sponsor National Car Rental was $112. The choice was easy. I chose National.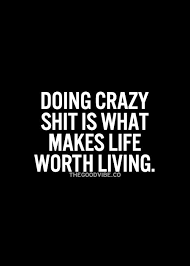 What? You paid $112 for a rental car when you could have paid $65? Are you CRAZY!? No, I am not crazy. There's a very good reason that I submitted my retirement papers at the age of 52, never had a company pension and never made my wife work outside the home. It's called financial strategy. I could tell you why $112 was a better deal than $65 but for now I'll just ask you to trust me. I got the best deal.
Next up I needed a hotel. I broke out my Google Maps and noted that I would begin the trip in Minneapolis. My first trackchasing stop would be in Gleason, Wisconsin. Then I would continue up to Garrison, Minnesota for trackchasing day #2. When the entire trip was finished I would end up back in Minneapolis.
Of course, I was on the lookout for a Trackchasing Tourist Attraction. I saw something that might work in Eau Claire, Wisconsin. More on that later.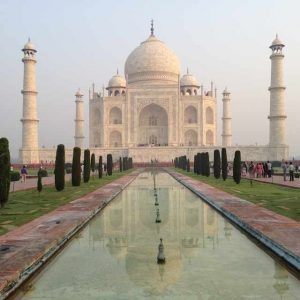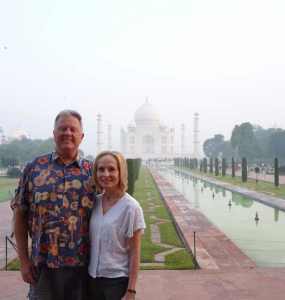 I wouldn't be getting into my hotel on Friday night until past 11 p.m. I needed to be out the door by 7:30 a.m. on Saturday morning. Since I was going to be at the hotel for such a short time I would not need the Taj Mahal.
Using Priceline.com I found the Days Inn in Eau Claire, Wisconsin. They didn't charge much for a Days Inn in the middle of winter time in the middle of Wisconsin. The rate was only 58 bucks.
However, as you have come to know over the years I do not pay retail. I paid 35 bucks plus tax. Was a $23 savings worth three more minutes on the computer to go through Priceline?
If you save $23 or more literally thousands of time in your life, year after year, it's going to add up to a pretty large number. That's what I've done. Yes, the savings created by understanding the travel systems of the world have indeed amounted to a pretty large number.
Saturday, January 20, 2018.
My alarm woke me at 7:10 a.m. central time in Eau Claire, Wisconsin. That's 5:10 a.m. from where I come from. I don't get up at 5:10 AM where I come from. I normally roll out of bed about 7:30 a.m. after I've read the paper electronically from my iPhone while staring at the Pacific Ocean. That's just how I do it. Not everyone does it that way.
It was going to be a two-hour drive from Eau Claire over to Gleason, Wisconsin. Why do I always mention how long the drive will be?  Because, for me driving is a big part of trackchasing. I enjoy driving. I'm motivated by the carrot at the end of the road.
Racing would begin at 10 a.m. I noted on the GCC website they would be having more than 40 races with all kinds of classes.
They would be racing snowmobiles, quads, flat karts and caged karts. Only three or four of the 40 races, from what I could see, would count in my hobby of trackchasing. Those races would be done by classes open to adults racing caged karts.
It looked as if the first race that would count for me was the fourth race of the day. I didn't want to roll in late, miss the fourth race and have to wait until race number 25 to see another countable class. My plan was to be there at 10 a.m. to see the very first race of the day…..even if I did have to get up at 5 o'clock in the morning!  Would I stay for all 40+ races? I doubted it. I didn't know for sure but I doubted it.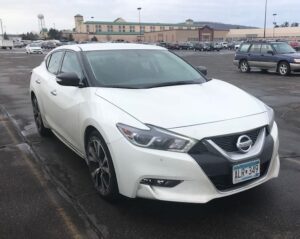 I had picked out a bright white Nissan Maxima from the National Car Rental lot at MSP. The car had just 4,000 miles on the odometer. I would put the better part of another thousand miles on the car during the weekend.
The weather was going to be fantastic…considering that I would be in central and northern Wisconsin and Minnesota. What does fantastic mean? Temperatures will be in the 20s and might even reach the 30s. That's pretty good considering they've had some of the coldest weather in recent memory over the past month.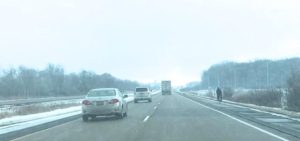 The roads were clear even though they did have crazy bikers riding along the shoulder in the middle of the winter. However, snow was forecast for Sunday afternoon and Sunday evening just when I would be returning to Minneapolis. I have experienced, more than once, driving back to Minneapolis on a Sunday night after a very fun trackchasing weekend into a driving snowstorm. I hoped I would beat the snow this weekend and be back in the loving arms of Trackchasing's First Mother by late Sunday night. Tine would tell.
THE RACING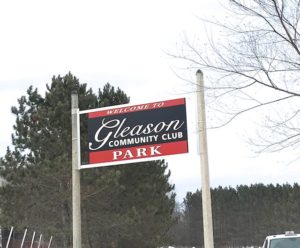 Gleason International Raceway – Gleason, Wisconsin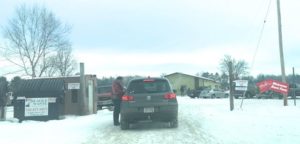 I pulled into the Gleason Community Club just as the clock struck 10 a.m. The general admission price for all adults was a reasonable seven dollars.
I'm not exactly sure when the Randy Lewis Racing research department first discovered this racing venue. I think it was about a year ago. In all likelihood it came from a social media search.
I have Pete Mondeik to thank for getting me up to speed over the past couple of weeks about the racing in Gleason. My research told me the track was racing karts, snowmobiles and quads. However, before I could make a trip all the way out to Central Wisconsin I needed to make sure the karts these folks were running would meet and exceed trackchasing's somewhat stringent rules.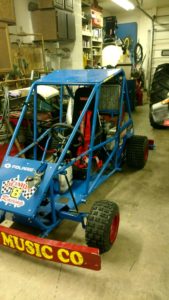 Pete was kind enough to answer all of my questions. He even sent me three photographs of karts that he built in his own shop. In some places these karts might be called "yard karts". Don't be misled by that moniker. These were safe and sophisticated racing machines.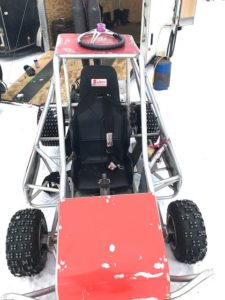 Yes, upon closer examination at the track today these were some pretty sophisticated karts. They had detached steering wheels just like Jimmy Johnson uses. They had racing seats with full five-point racing seatbelts and shoulder restraints. These were cool and sturdy looking karts. They definitely met and exceeded trackchasing rules.
I quickly found a parking spot in the pit area. I wasn't exactly sure if that was where I was supposed to park. However there was no one to ask. I have always believed in the adage "It's better to ask for forgiveness than approval".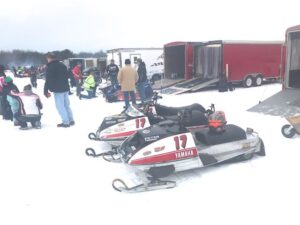 They hadn't started racing yet so that gave me some time to explore the pit area. You will not want to miss my photo album of the many and varied racing machines that raced today.
The temperature was in the high 20s. There was no wind. For the most part it felt very comfortable but the longer I was out in the cold the colder it felt. It never did get all that cold though.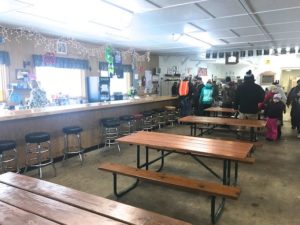 Since the racing had not yet begun I wanted to check out the snack bar. It was impressive. The snack bar was in the community center building. A good deal of the time ice racing doesn't have any concessions whatsoever. If they do have concessions it's usually a small mobile food trailer.
Let's not forget that I was trackchasing in Wisconsin today. I have now seen 84 tracks in Wisconsin. What is Wisconsin famous for? If you said cheese you would be right. If you said Wisconsin is home to the "drinkingest" people in the United States you would be right there as well.
Each year I see racing in 30-35 states. Every year that combination of states varies just a little bit. Over a period of three or four years I'll be in every state at least once. I've been the most states well over 50 times.
This gives me a chance to see the uniqueness of the regional localities in our country. If you come to California you're going to eat Mexican food. If you go to Maryland you'll probably have crab cakes. If you run down to Louisiana you're going to have some Cajun food.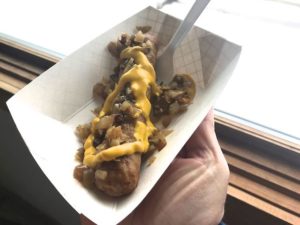 If you come to Wisconsin it will be difficult to leave the state without having eaten a brat. However, Wisconsin is not as famous for their food or even there Friday night fish fries as they are for their drinking.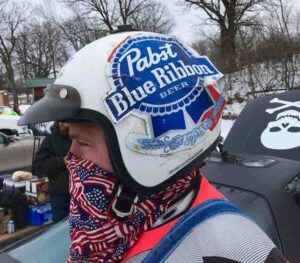 I am going to tell you this. There is no state in the United States that comes anywhere close to Wisconsin's love for drinking. They seem to be mainly beer drinkers. However I think they will feel very comfortable drinking anything alcoholic.
I've seen racing in 77 countries. The only country that I have visited that can give Wisconsin a run for their money in drinking alcoholic beverages is Zimbabwe. Those folks can drink! I would put both Wisconsin and Zimbabwe on the same podium standing side-by-side for first place in a world-wide competition.
Yes, it is true. The bar was open in the snack shop at 10 a.m. At about noon they took a break from racing. They would work on the track and sweep it just a bit. The announcer told the crowd that during the break shots would be available at the bar for a dollar apiece.
Now do you believe me when I tell you that Wisconsin is the "drinkingest" state in the country? They win by a landslide.
I've seen racing at more than 2,400 tracks. It's starting to drive me crazy when I continue to see something at the next track that I visit that I've never seen in the previous 2,400. How can that possibly be? How can there be something new every time I go to the racetrack?
Unless you've been to the Gleason Community Club I'm pretty sure you have never seen this at a racetrack before either. If you want to buy food or drink you have to buy tickets with cash in advance.  Then you present those tickets to the people serving the food. I'll bet you've never seen that at a racetrack.
Before you excitedly raise your hand and tell me that you've seen that in New York or Pennsylvania or wherever I will tell you this. Yes, you may have paid cash to get a ticket so that you could exchange that ticket for food at a racetrack.
However, I am going to tell you that you have never put dollar bills into a machine and had the machine spit out the tickets have you? In all of my racetrack visit I have never seen such a thing. I asked the server if this ticket spitting machine would give me change. No it would not. I would have to go to the bar to get singles so that I could buy tickets from the machine so that I could get a three-ticket (three-dollar) brat. I did that.
Unfortunately, I wasn't near the snack shop when the announcer advertised the one-dollar a shot offering. If I had been I would have taken advantage. Who wouldn't like a shot of Jack Daniels at 11 o'clock in the morning on a cold day at an ice track? Next time.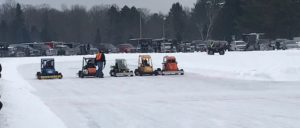 I'm going to guess today's ice oval was about 1/5 of a mile in length. That's just a guess. The track was smooth and immaculately prepared. Spectators watched from their car around turns one and two and along the back stretch.
The pit area started the middle of turns three and four on the outside of the track and spilled over in the space outside of turn four. From what I could tell you didn't need a pit pass to be in that part of the pit. However you would need a pit pass to be in the "hot pits" also known as the staging area. I didn't have a pit pass so I didn't go into the hot pits.
I think they got started at about 10:15 p.m. I'm not sure if they played the national anthem or not. I was at the snack bar feeding a ticket machine dollar bills when the first race started.
What I've been calling a snack shop was really a large community building. It was warm in there and very well insulated from the sounds out on the track. Fans could watch from the large picture windows.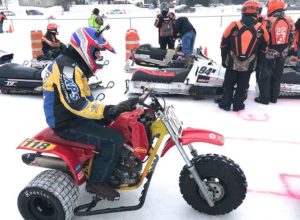 It wasn't easy getting a chance to say hello to Pete Mondeik, my Gleason racing contact. He was busy working the pit gate in the hot pits. Nevertheless, I did get to meet up with him briefly. I always like to personally thank the people who have gone out of their way to help me with information. Thank you Pete!
I enjoyed all of the racing today. Last weekend I saw my first ever snowmobile (snow machine) racing. Today the snowmobiles were a big part of the show again. The more I see snowmobile racing the more I like it.
They have a couple of snowmobile accidents today. I had been video recording the start of several of the snowmobile races. Wouldn't you know it on the first race I did not record they had a major accident in turn one.  The rider (driver?) and his machine took a serious tumble. Sorry I missed it.
Going to the races at the Gleason International Raceway is a lot like eating at a buffet. They keep throwing stuff at you until you just can't eat anymore. They had all kinds of snowmobile classes, flat karts, caged karts and various forms of quads in a program that was scheduled for more than 40 races. Some of the classes that were listed just once on the schedule had multiple heats.
Just like at a dinner buffet I didn't stop when I was full but when I got to the point that I couldn't eat anymore.  I was about ready to burst when left the speedway. I had a good time. I got my seven bucks worth of entertainment. If I've ever driving by Gleason, Wisconsin at 10 o'clock on a Saturday morning I'll stop in for the racing and maybe a shot of Jack.
AFTER THE RACES
I don't know exactly how long they've been racing in Gleason. Tom told me that he first started racing there at age 17 and knows they've been racing at the location for at least 35 years. I don't know if at the beginning they were racing karts or not. It does surprise me that it took me this long to discover racing at the Gleason Community Club.
I was out of there early enough in the day that I could stop off at a couple other entertainment venues.  I'm heading back to Minneapolis where I'll be staying for the night.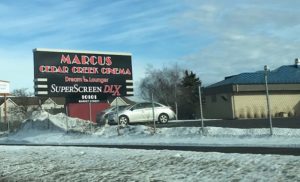 There was just enough time to use my Moviepass at a movie theater in Rhinelander, Wisconsin. The timing worked out just perfectly for me to see a showing of "12 Strong". This was an action war movie about the war in Afghanistan. It looks like that's a tough place to fight a war.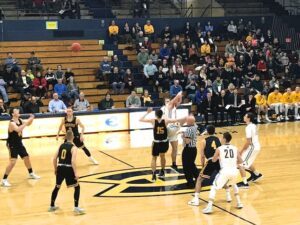 My plan for the evening was to watch a college basketball game. The University of Wisconsin – Eau Claire Blugolds would be hosting the University of Wisconsin – Oshkosh Titans. My schedule allowed me to just skate in before tip-off at Zorn gym.
Good afternoon from Gleason Community Club in Gleason, Wisconsin.
Randy Lewis – 77 countries – 2,411 tracks.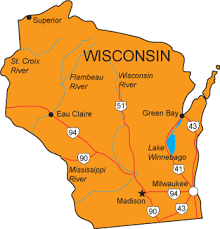 Wisconsin
The Badger state
This afternoon, I saw racing at my 84th lifetime track in the Badger state, yes, the Badger state.  Ed Esser has seen the most tracks in his home state of Wisconsin with 117.
Thanks for reading about my trackchasing,
Randy Lewis
World's #1 Trackchaser
Peoria Old Timers Racing Club (P.O.R.C.) Hall of Fame Member
Wisconsin sayings:  A couple three. This is a phrase that means "a few."
QUICK FACTS
LIFETIME TRACKCHASER COMPARISONS 
The three most important trackchasing comparisons to me are:
Total lifetime tracks seen
Total "trackchasing countries" seen
Lifetime National Geographic Diversity results
Total Lifetime Tracks
There are no trackchasers currently within 600 tracks of my lifetime total.  Don't blame me.
Randy Lewis, San Clemente, California – 2,411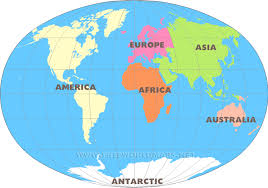 Total Trackchasing Countries
There are no trackchasers currently within 20 countries of my lifetime total. 
Randy Lewis, San Clemente, California – 77
Current lifetime National Geographic Diversity results
Randy Lewis, San Clemente, California – 4.14
That's all folks!  Official end of the RLR – Randy Lewis Racing Trackchaser Report
Click on the link below to see the video production from the racing action today.
Click on the link below for a photo album from today's trackchasing day.  You can view the album slide by slide or click on the "slide show" icon for a self-guided tour of today's trackchasing adventure.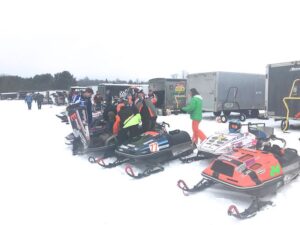 Gleason International Raceway a hidden little gem and photos of all of the geographical side dishes