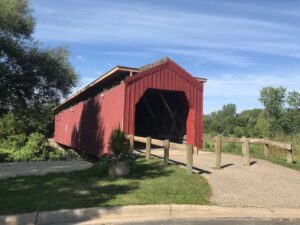 Greetings from Zumbrota, Minnesota
.
.
From the travels and adventures of the
"World's #1 Trackchaser"
.
.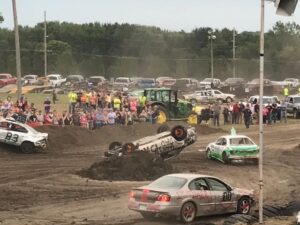 Goodhue County Fairgrounds
Dirt oval
Lifetime Track #2,575
The EventVideo PlusPhotos
THE EVENT
My name is Randy Lewis. I live in San Clemente, California. I am a "trackchaser". I trackchase. Before you discovered my site had you ever heard of trackchasing? Maybe not? So….what the heck is trackchasing? Sit back, take a read and you'll be an expert on my hobby of trackchasing when you're finished.
Here's my best explanation.
Trackchasing is a three-pronged hobby. I'm a racing fan. I love to travel. I love to analyze opportunities to get the most out of everything while saving time and money.
Trackchasing fills the need for all of the above. The racing part of my trackchasing has me trying to see wheel to wheel auto racing at as many different racetracks as I can all over the world. Yes, all over the world. So far things are going pretty well. As this is written, I've seen racing in 85 countries at more than 2,500 tracks. As a matter of fact, I've seen racing at more tracks than anyone else in the world.
Equally important to me are the things I get to see and experience over the "long and dusty trackchasing trail". I call these adventures "Trackchasing Tourist Attractions". You won't want to miss my "Trackchasing Tourist Attractions" page. Here's the link: Trackchasing Tourist Attractions my "Sports Spectating Resume" page, Sports Spectating Resume on my website at www.randylewis.org.

I live in southern California. That's probably the most inconvenient location in the country for seeing tracks in the U.S. Most of the racetracks in the U.S. are located well over 1,000 miles from where I live. As a matter of fact, my average trip covers 5,000 miles and more. I take 35-40 of those trips each season. In any given year I will travel well over 200,000 miles, rent more than 50 cars, and stay in more than 150 hotel rooms.
I get the chance to meet people all over the world. With trackchasing trips to 85 countries and counting just getting the chance to experience so many other cultures, spend time in their homes and meet their friends is a huge reward for being in this hobby. I am indebted to several of these folks for their help and friendship.
It takes a good deal of planning to do the above and not spend my entire retirement portfolio. I enjoy the challenge, the travel and every other aspect of "trackchasing". In reality, my trackchasing hobby is a lot like being with the carnival. I breeze into town, stay a little while and then head on down the road.
Today's adventure was one more of the 2,000 trips that have taken me up, down and around the proverbial long and dusty trackchasing trail. If you would like to see where I've been and experience those adventures here's the link: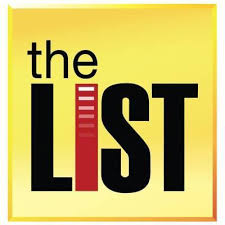 Randy's Complete Track List
If you've got a question, comment or whatever please leave it at the bottom of this report. It's very easy to do. Or you can visit me on Facebook. Thanks!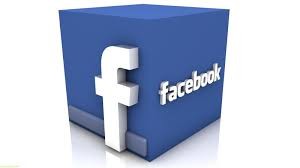 Randy on Facebook
FOREWORD
Friday, August 9, 2019.
I woke up this morning in Clear Lake, Iowa. I didn't get back to the hotel last night from the Knoxville Nationals in until 3 a.m. Then I didn't go to sleep until past 4 a.m.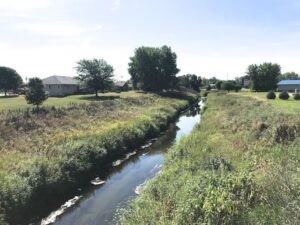 Nevertheless, my first agenda item this morning was 30 minutes of power walking. The weather was perfect. I figured if I could get in a couple of miles in the morning reaching my daily goal of four miles for the day would be easy. It was. I finished the day with nearly five miles of walking.
Today was going to be a big day in my little trackchasing world. First, I was going to max out with Trackchasing Tourist Attractions. Then if all went well I would see my 100th track in the state of Minnesota.

I have a smartphone app called "Roadside America". For a one-time fee of five dollars, I can be alerted to literally hundreds of small to large attractions that are both unusual and near the travel route that I'm using.
Today I would check out four of those Roadside America attractions. Then as if I was being rewarded for my efforts I was treated to a fifth attraction that I hadn't even planned on.
I've stayed for the past couple of days in Clear Lake, Iowa. Clear Lake was home to a couple of attractions that piqued my interest.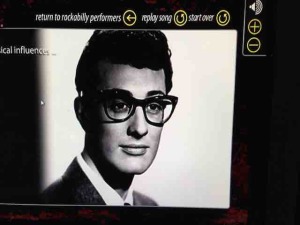 Years ago I went to the Buddy Holly Museum in his hometown of Lubbock, Texas. I've also seen the Buddy Holly display in the Country Music Hall of Fame building down in Nashville, Tennessee.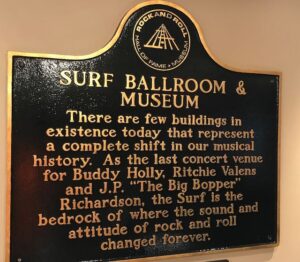 Today my first stop was a visit to the legendary Surf Ballroom in Clear Lake. This is where Buddy Holly and the Crickets played their last ever show on the evening of February 3, 1959. Believe it or not, that was 60 years ago!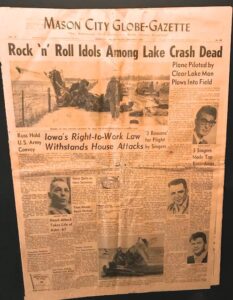 Following that show, Buddy Holly decided to charter a plane to take him to his next performance in Fargo, North Dakota. Along for the ride were Ritchie Valens, the "Big Bopper" J.P. Richardson and pilot Roger Peterson. They took off from Mason City, Iowa and crashed just 6 miles from the airport.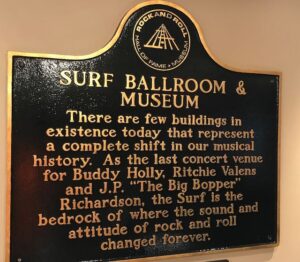 The Surf Ballroom is still an active venue for performance artists. Some of the biggest names in the music business the likes of Willie Nelson, the Oak Ridge Boys and many more have performed at the Surf Club.
When I pulled up in front of the Surf Ballroom there was a huge demonstration of sorts going on. I didn't know if it was a union strike or what. It turned out twenty-one Democratic presidential candidates were in the midst of converging on the historic Surf Ballroom in Clear Lake this evening for the annual Democratic Wing Ding fundraiser where they each were given five minutes to make their cases to hundreds of northwest Iowa Democrats. Wow! Don't miss the video and photos on this one.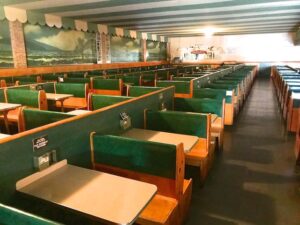 Seeing the action in advance of a democratic national presidential election rally was my unexpected fifth Trackchasing Tourist Attraction. I very much enjoyed going through the entire Surf Ballroom. It was built in the 30s. It didn't seem as if all that much remodeling had been done over the years. I would love to see a show there someday. Maybe I will. Don't miss the pictures.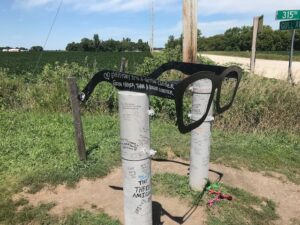 From there I headed to my third TTA of the day. I wanted to visit the Buddy Holly airplane crash site. It was less than 10 miles from the Surf Ballroom and out of the middle of a huge beanfield.
I was lucky that my GPS system recognized the location of the "Buddy Holly Memorial". I had to take a series of farm roads which culminated in driving on a gravel road. There were a few carloads of people already there exploring the site. I took off walking some 4/10 of a mile through a farm field before I got to the very small but impressive memorial.
As I was walking along the beaten-down halfway back to my car another group of a dozen or so people passed me as they attempted to get their own glimpse of the Buddy Holly Memorial. I thought it was definitely worth the stop. There isn't all that much there but it's a significant memorial in the history of rock 'n' roll.
From Clear Lake, I would make the drive north up to Zumbrota, Minnesota. Tonight my plan was to trackchase at the Goodhue County Fairgrounds. It just turned out that there were two more Roadside America attractions Minnesota. I couldn't pass those up since I was so close.
It turns out that the state of Minnesota has only one old-time covered bridge. I contrast that to the neighboring state of Iowa, which has the "Bridges of Madison County" made famous in the movie headlining Clint Eastwood. I've actually been to that attraction. I sat in the bathtub that was used by Clint Eastwood!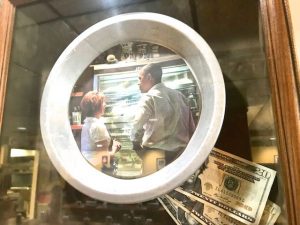 Then only about a block from the covered bridge in Zumbrota was what the Roadside America folks were calling the "Obama Pie Shop". Apparently, President Barack Obama came to this restaurant and ordered some pie during his 2011 presidential campaign. I don't say much about politics in my Trackchaser Report writings but I couldn't miss an attraction like that.
I had to sit in the booth that the president sat in when he had his pie. I ordered up a slice of graham cracker meringue topped vanilla pie. I've had better pie. However, I've never had better pie sitting in the same seat that a former president had occupied.
I had just completed FIVE Trackchasing Tourist Attractions in a single day. I guess I could have stopped here. But, I wasn't going to do that. This trackchasing day was going to get even better.
After leaving the pie restaurant I was less than a mile from the Goodhue County Fairgrounds. They were having an autocross race there tonight. I had seen several cars passing through town on the way to the fairgrounds.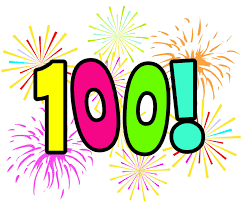 Tonight's trackchasing effort in Minnesota was going to be special, very special. When the green flag dropped on the very first race I would have seen wheel to wheel racing at 100 different racetracks in the North Star state, Minnesota.
I saw my first race in Minnesota back in 1985. As a matter of fact, the date was September 2, 1985. I was there to see a big-time ASA stock car race featuring one of my all-time driver favorites Dick Trickle and his rivals. From then until now I have made 72 separate trackchasing visits to Minnesota.
Quite a bit of my travel to Minnesota was done during their oftentimes harsh winters. I've seen 23 ice racing tracks up here. Minnesota accounts for more than 20% of the 107 ice tracks that I've seen. Yes, It can get cold up here.
Today after I finished my pie I pulled into the Goodhue County Fairgrounds at about 5:30 p.m. The races were not expected to begin until 7 p.m. I parked my car next to the road where the racecars were entering the fairgrounds. Every time I looked up from my computer another car or two was going past. How many cars were entered tonight?
Whenever I have a little downtime I take advantage of that benefit to plan future trips. I contact those that have the information I need for making those trips happen. I get a LOT of help from people all around the world with my trackchasing. I am indebted to them.
THE RACING
Goodhue County Fairgrounds – Zumbrota, Minnesota
When I pulled into the fairgrounds I had a rather unusual encounter with a friendly Minnesota woman. She was selling parking and admission tickets to the fair. I lowered my window with a $20 bill in my hand. Then she asked me this question.
She said, "I don't want to offend you but if you're 65 years of age or older there is no charge for you at the fair today". I looked at her and smiled. Then I said, "No and yes". No, I am not offended and yes I am 65 years of age or older. With that, I was admitted for free into the Goodhue County Fairgrounds.
I was pretty impressed with the ticket lady. Not only did she have a pleasant smile and a bubbly personality she was able to understand that although I feel like I am 35 years old, chronologically I might be older than 65. She handled the situation well.
At about 6:15 p.m. I headed for the grandstands. From a distance, I could see the stands were already beginning to fill up for tonight's 7 p.m. autocross racing. That meant I needed to hurry and grab a serving of cheese curds and a bottle of Diet Mountain Dew.
With my food and drink in hand, I paid $12 to get into the race arena. It does seem that the fairgrounds have increased their prices from last year's common price of $10 to somewhere in the range of $12-$15. It doesn't really matter to me. I'm not going to turn around and go home because they increased their admission fee by a few dollars.
Tonight's fair was going to be a little bit unusual on several accounts. There can only be one fairgrounds that ends up being my 100th new track in Minnesota. There can only be one fairgrounds that have a car count that is the largest I have ever seen at one of these events. There can only be one fairgrounds that offered the grandstand clientele I would encounter tonight.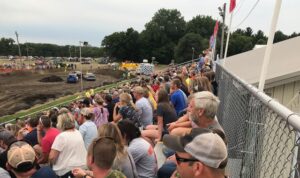 Most of the seats in the grandstand were already reserved with blankets that were taped to the aluminum seats. I could see these folks were serious about their racing.
I like to sit in the top row if I can. That way I don't have to listen to the conversations, often lame conversations and points of view, from the people in the row behind me. I've had that happen about one million times. I can also stand up if I like if I'm in the top row. This allows me to take photos and video of the racing action.
I thought there was one seat between a man sitting in the stands and an already taped down blanket. I asked if the seat was occupied. I could tell he wasn't all that keen about my sitting there but the best he could come up with on the spur of the moment was, "No, not really" Fine. Thank you.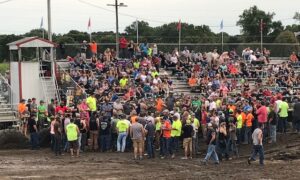 Soon the announcer was calling the drivers to the official drivers' meeting at 6:45 p.m. He also told us they had, "a couple hundred cars back in the pits". Was he exaggerating? I would have to wait-and-see.
Tonight's racing surface was what I call, "Iowa black dirt" Of course I was in Minnesota. I doubt it very much that they had tracked in the dirt for the fairgrounds from Iowa. However, the dirt had the color of, "Iowa black dirt".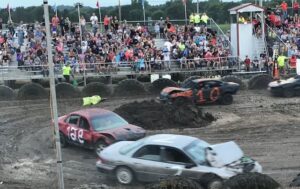 There were two huge dirt mounds that would act as pylons tonight. The announcer told us these were not simple dirt mounds. These dirt mounds had a 2,000-pound concrete block inside each of them. He told the audience those pylons were not going anywhere.
Tonight's racing machines would drive around those two pylons counter-clockwise in an oval configuration. The straightaways had significant dirt moguls that would play a major part in tonight's fun.
I'm happy to report they started racing on time. They also ran a very efficient show. After each race, there would invariably be a car or two and sometimes more that were disabled. Those cars needed to be towed out of the arena before the next race could begin.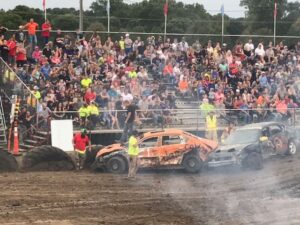 Tonight the heat races were six laps in duration. The feature events would be 12 laps. Between six and eight cars started each heat race. There were about six classes of racers including four, six, and eight-cylinder cars, a minivan division and a couple of pick-up truck divisions.
At most autocross races that I attend the car count is somewhere around twenty and maybe as high as thirty or so. Tonight the six-cylinder automobile division by itself brought 48 entries! I had never seen such a thing.
The announcer told us the mini-van division had about 40 entries. Maybe they did have "a couple hundred entries" tonight as the announcer had predicted! If they had 200 cars and started six cars in each heat race that meant there would be a LOT of heat races.
The crowd seated around me all seemed to know each other. That's actually pretty unusual at a county fair race. I felt like I had picked a grandstand seat right in the middle of a family reunion and the family wasn't mine. I don't care for all that much with the person sitting on the left of me carries on a full-time conversation with the person sitting on the right of me and I don't know either person.
Nevertheless, I tried to enjoy my track concessions. Tonight my cheese cost seven dollars. I think of cheese curds as somewhat like "dip n' dots" ice cream. It doesn't seem like you get very much of either of these items for the price.
Here I was with a puny little basket of seven dollars worth of cheese curds and a bottle of Diet Mountain Dew. I must admit the families sitting around me knew their groceries. They would send a runner down below for provisions about every 10-15 minutes. The runner was instructed to bring back beer, milkshakes, cheese curds and covered and smothered nachos. These people could chow down.
The lady next to me was no exception. If she wasn't having a beer she was having a milkshake. If she wasn't having a milkshake she was having a beer and cheese curds. When she wasn't having any of that stuff she was ordering more food. I've never seen people eat like this in my life.
The racing was intense. The cars would start the race from just beyond turn four of the oval. At the green flag, the drivers floored it and drove as fast as they could over the 4-5 foot dirt mogul in the middle of the front straightaway. Often times this would launch them into the air. The crowd loved that.
Then in the space of about 30 yards, with the cars going more than 50 MPH, the driver had to slam on the brakes and try to make the 90° turn coming up in turn one.
The drivers had a really hard time with that. This was especially true when the track was wet. Most of the time the drivers would fly over those moguls going 50 MPG and then go straight into the dirt berm perimeter without being able to turn at all in turn one.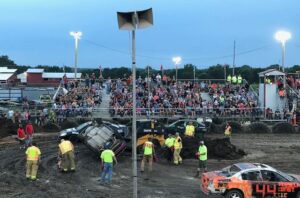 There were a few flips. There was a tremendous amount of crashing and banging and gnashing of teeth. Often times the drivers wore tank tops. Some cars had roll cage protection and some didn't.
This was definitely a free-for-all. A couple of drivers were black flagged for, "reckless driving". It all looked like reckless driving to me.
How much six-car, six-lap vicious autocross racing should one fancy for one night? To me, the answer is "not all of it". To me, the correct answer is until you feel like you are no longer being entertained. Remember trackchasing is all about entertainment.
I left the grandstand after more than two hours of nonstop autocross racing. How many racecars did I see compete? I'm going to estimate I saw well over 150 cars race in their heats. They were down to their last class of heat racing when I pulled the plug.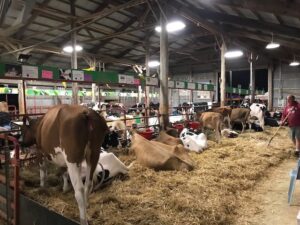 I wanted to have a little bit of time to explore the fair. The weather has been wonderful tonight. Just before the racing began some cloud cover moved in. The temperature was in the low 70s. All of this made for very comfortable viewing.
For some reason, this county fair seemed a little bit unruly. I don't know if it was the behavior of the fans in the stands or the cow milking that was going on nearby or just what. The carnival itself wasn't that big. The animal barns weren't that large. The 4H displays and the like were on the smaller side. However, as I mentioned, the car counts for the autocross racing were huge! World record-breaking.
Nevertheless, I've had a fun time trackchasing all over the state of Minnesota. The people of been nice and the racing has been good. I thought I might share my list of my first 100 Minnesota tracks. Check it out.
1 Minnesota State Fair Speedway St. Paul
2 Murray County Raceway Slayton
3 Worthington Speedway Worthington
4 Chateau Speedway Lansing
5 Winona County Speedway St. Charles
6 K.R.A. Speedway Willmar
7 Fiesta City Speedway Montevideo
8 Grove Creek Raceway Grove City
9 I-94 Speedway Sauk Centre
10 Raceway Park Shakopee
11 Fairmont Raceway Fairmont
12 Steele County Fairgrounds Owatonna
13 Viking Speedway Alexandria
14 Princeton Speedway Princeton
15 North Central Motor Speedway Brainerd
16 Golden Spike Speedway Sauk Rapids
17 Golden Spike Speedway Sauk Rapids
18 Raceway Park Shakopee
19 Elko Speedway Elko
20 Elko Speedway Elko
21 Elko Speedway Elko
22 Deer Creek Speedway Racine
23 Dodge County Speedway Kasson
24 Fergus Falls Raceway Fergus Falls
25 Redwood Speedway Redwood Falls
26 Redwood Speedway Redwood Falls
27 Madison Speedway Madison
28 Proctor Speedway Proctor
29 Brainerd International Raceway Brainerd
30 Canby Speedway Canby
31 Hibbing Raceway Hibbing
32 Little Log House Speedway Hastings
33 Buffalo River Speedway Glyndon
34 Stevens County Fairgrounds Morris
35 Norman County Raceway Ada
36 Bemidji Speedway Bemidji
37 Cameron Lake Ice Track Erskine
38 Birch Lake Ice Track Hackensack
39 Mille Lacs Lake Ice Track Garrison
40 Mille Lacs Lake Ice Track Garrison
41 Brainerd International Raceway Ice Track Brainerd
42 Lake Washington Ice Track Mankato
43 Elko Speedway Elko
44 Button Buck Speedway Spring Valley
45 Grand Rapids Speedway Grand Rapids
46 Greenbush Race Park Greenbush
47 I-94 Speedway Fergus Falls
48 ERX Motor Park Elk River
49 Ogilvie Raceway Ogilvie
50 Crosslake Ice Track Crosslake
51 Garfield Lake Ice Track Laporte
52 Bass Lake Ice Track Underwood
53 Waseca Fairgrounds Waseca
54 Watonwan County Fairgrounds St. James
55 Scott County Fairgrounds Jordan
56 Nicollet County Fairgrounds St. Peter
57 Crystal Lake Ice Track Merrifield
58 Polk County Fairgrounds Fertile
59 Big Stone County Fairgrounds Clinton
60 Arlington Raceway Arlington
61 Arlington Raceway Arlington
62 Blue Earth County Fairgrounds Garden City
63 Carlton County Fairgrounds Barnum
64 South Lindstrom Lake Ice Track Lindstrom
65 Grant County Speedway Herman
66 Rock County Speedway Luverne
67 Mahnomen County Speedway Mahnomen
68 Jackson Speedway Jackson
69 The Bullring at Jackson Speedway Jackson
70 Rush Lake Ice Track Rush City
71 HayDays Dirt Course North Branch
72 Big Lake Ice Track Cloquet
73 11th Crow Wing Lake Ice Oval Akeley
74 56 Speedway Brownsdale
75 Browns Valley Fairgrounds Browns Valley
76 Aitken County Fairgrounds Aitken
77 Aitken County Fairgrounds Aitken
78 Isanti County Fairgrounds Cambridge
79 Kanabec County Fairgrounds Mora
80 Carlton County Fairgrounds Barnum
81 Brainerd International Raceway – Competition Course Brainerd
82 Olmsted County Fairgrounds Rochester
83 Crow Wing County Fairgrounds Brainerd
84 KIR Ice Racing Kimball
85 Roseau County Fairgrounds Roseau
86 Trace Lake Grey Eagle
87 Borden Lake Ice Oval Garrison
88 Peterson Lake Ice Oval Swede Grove
89 Sibley County Fairgrounds Arlington
90 Mcleod County Fairgrounds Hutchinson
91 Mille Lacs Lake – Isle Ice Track Isle
92 Lake Allie Ice Track Buffalo Lake
93 Mille Lacs Lake – Onamia Ice Track Onamia
94 Lake Ripley Ice Track Litchfield
95 Grand Lake Ice Oval Rockwell
96 Twin Valley Junk Yard Twin Valley
97 Hubbard County Fairgrounds Park Rapids
98 Marshall County Fairgrounds Warren
99 Mower County Fairgrounds Austin
100 Goodhue County Fairgrounds Zumbrota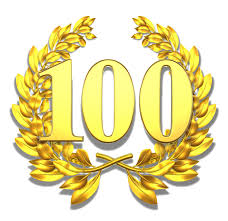 AFTER THE RACES
With both my 100th Minnesota track and my 2,575th-lifetime track in the rearview mirror, it was time to head back to the cities. I needed to check into my upscale and nearly opulent hotel. For the next couple of nights, I had reserved a room at the Sheridan Minneapolis West location. This would turn out to be a fine property.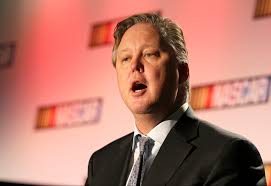 When I checked in I found an agreeable young man who closely resembled Brian France, former CEO of NASCAR, when Brian was in his 20s. I mentioned this fact to the clerk who had no clue who "Brian France" was.
Even though I had purchased my room at the Sheridan for an incredibly low price on Priceline the Brian France look-alike upgraded my room to the Sheraton concierge lounge level. He also gave me vouchers for the hotel's breakfast buffet, each a $20 value. He upgraded my room and gave me access to the Sheraton Lounge 24/7.
I've had some really good days of trackchasing over the years. This was one of them. Today I had been able to visit and experience five very interesting Trackchasing Tourist Attractions. Then I had seen my 100th track in Minnesota. By the way, I've seen 100 tracks in six other states. Those states are California, Indiana, Iowa, Illinois, Michigan, and Pennsylvania. Then day was capped off with an upscale hotel stay as well. Yes, it was a good day.
Good evening from the Goodhue County Fairgrounds in Zumbrota, Minnesota.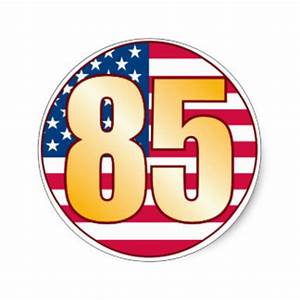 Randy Lewis – 85 countries – 2,575 tracks.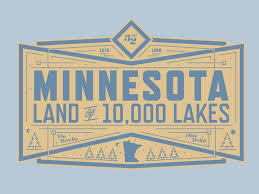 Minnesota
The North Star state
This evening I saw racing at my 100th-lifetime track in the North Star state, yes, the North Star state. I hold the #1 trackchasing ranking in Minnesota. I've seen 100 or more tracks in seven different states. No trackchaser can match that stat.
Thanks for reading about my trackchasing,
Randy Lewis
World's #1 Trackchaser
Peoria Old Timers Racing Club (P.O.R.C.) Hall of Fame Member
Minnesota sayings: "Oh, for cute."
I thought only my childhood neighbor Kay used this exclamation when faced with something adorable/darling/mildly amusing. But I've been around the state enough to claim this as an authentic Minnesota-ism. Generally employed by women who have accumulated enough years to cut their hair short for practical and not fashionable reasons, you can hear applied to dance recitals, children's artwork, a festive centerpiece, and various pieces of dangly jewelry.
QUICK FACTS
LIFETIME TRACKCHASER COMPARISONS
The three most important trackchasing comparisons to me are:
Total lifetime tracks seen
Total "trackchasing countries" seen
Lifetime National Geographic Diversity results
Total Lifetime Tracks
There are no trackchasers currently within 715 tracks of my lifetime total. Don't blame me.
1. Randy Lewis, San Clemente, California – 2,575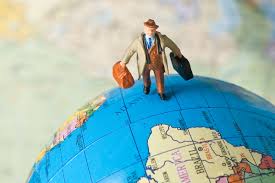 Total Trackchasing Countries
The nearest trackchasing competitor has seen racing in 30 fewer countries compared to my lifetime total.
1. Randy Lewis, San Clemente, California – 85
Current lifetime National Geographic Diversity results
1. Randy Lewis, San Clemente, California – 4.14
That's all folks! Official end of the RLR – Randy Lewis Racing Trackchaser Report
Click on the link below to see the video production from the racing action today.
Click on the link below for a photo album from today's trackchasing day. You can view the album slide by slide or click on the "slide show" icon for a self-guided tour of today's trackchasing adventure.
See five different Trackchasing Tourist Attractions PLUS a day at the county fair