Greetings from Grafton, New South Wales, Australia
.
.
From the travels and adventures of the 
"World's #1 Trackchaser"
.
.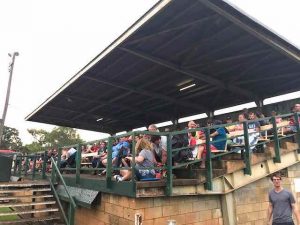 Grafton Speedway
Dirt oval
 Lifetime Track #2,406
The EventVideo PlusPhotos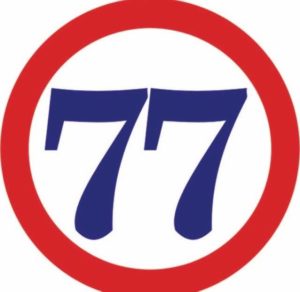 THE EVENT
I have had the opportunity to follow my trackchasing hobby all over the world.  As this is written I have seen racing in 77 countries.  My lifetime track total is just over 2,400.  Long ago I wrapped up seeing racing in every American state.
Some eleven years ago I moved into the "World's #1 Trackchasing" spot.  Of course, that's if that title is awarded to the person who has seen the most lifetime tracks.  Frankly, I don't think it should be.   Maybe "Most Prolific Trackchaser" is a better description for that category.
The World's #1 Trackchaser title should be bestowed on the person who has seen the most racing in the most countries.  That's what the "world" is made up of isn't it?  Countries!
Today, I was moving from one Australian state, Queensland to another, New South Wales.  Do you know how many states Australia has in total?  If you said, "five" you're wrong.  It's six plus some territories.  Know the difference between states and territories?  Me neither.
My hobby is not only about racing.  Yes, that is one part of it.  However, of equal importance are the logistics of trackchasing (getting from point A to B to C, etc.) and the opportunity to see the world.
I live in Southern California.  The vast majority of tracks in the U.S. are located in the Midwest and East.  It takes a good deal of logistical planning to get from where I live to where the tracks are.  A typical weekend trip within the U.S. will cover more than 5,000 air and driving miles.  I do about forty of those trips each year.  For the past 15 years I have traveled about 175 nights each and every year.  Surprisingly to some, more than half of those overnights were not part of trackchasing.
A big part of trackchasing for me is simply travel just for the fun of seeing new things.  You won't want to miss my "Trackchasing Tourist Attractions" page or my "Sports Spectating Resume" page on my website at www.randylewis.org.  Search around on my site.  Use the drop-down menus.  They will take you all over the world!  My site will give you some understanding on how important seeing the world and just "seeing stuff" is with my trackchasing hobby.
Today's adventure was one more of the 2,000 trips that have taken me up, down and around the long and dusty trackchasing trail.  If you would like to see where I've been and experience those adventures here's the link: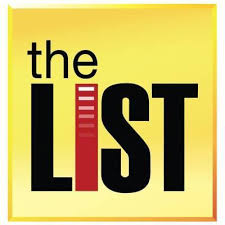 If you've got a question, comment or whatever please leave it at the bottom of this report.  It's very easy to do.  Or you can visit me on Facebook.  Thanks!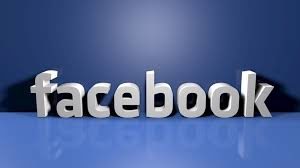 FOREWORD
Saturday, December 30, 2017
I checked out of my "van" room at Ned Kelly's Motel in Tinana, Queensland this morning.  I had stayed there two nights.  I thought the experience was fantastic.  At that price and with that location I would do it again in a heartbeat.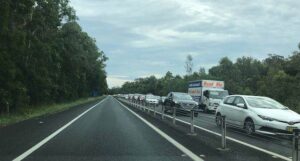 Today I was looking at a bit of a drive to the Grafton Speedway down in the Australian state of New South Wales.  It would be 350-mile one-way adventure.  I was surprised to see there was quite a bit of traffic on the road today.  I wondered why?
Then it dawned on me.  It was Saturday!  I don't have Saturdays in my life.  I don't have Tuesdays or Thursdays either.  What?
I only have Mothar Mountain Speedway and Maryborough Speedway on my mental calendar. When I stopped working for the man Tuesdays and Thursdays and even Saturdays went away.  I have some recollection of what I did yesterday.  I know what the plan is for today.  I'm pretty sure I know where I'll be tomorrow.  That's how my "calendar" works.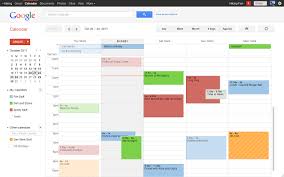 Everything else is neatly stowed away in my Google electronic calendar.  When the stuff in that calendar is scheduled for tomorrow then it moves into my mind.  This way I keep my mind uncluttered with stuff I don't need to be thinking about.  Got it?
Yes, I was making a 6 1/2 hour 350-mile one-way drive.  That's not all that uncommon for me.  What was uncommon was that I was driving into a weather forecast that called for a 60-90% chance of rain in Grafton, New South Wales, Australia.

You might be interested to know that today is my 101st day of trackchasing in 2017.  How many times have I been rained out once I committed to going to the track?  Just once.  That was in upstate New York. 
What makes that stat even more remarkable is this.  Back in the day I used to have lots of backups.  If one place was going to be effected by rain I would simply head my rental car in the other direction and go where it would not be raining.  I once went 854 days, and saw racing at more than 250 tracks for the first time, without being rained out.  Now I don't have as many backup options.  I didn't have a backup plan today if the Grafton Speedway cancelled because of rain.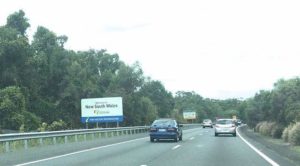 I also had to factor in a time change.  When I moved from Queensland to New South Wales I lost an hour.  That wasn't a big deal as I planned for it.  It was a nice benefit on the way home though.  It would save me an hour when I got back to Queensland for lunch with my buddy Bob Leyden tomorrow afternoon.  The favorable time zone change meant an extra hour's sleep.
Do you like pies?  I like pies.  However, I don't care much for meat or vegetable pies.  I can't say that I've ever eaten an entire pie of this nature ever and I didn't have any plans to.  I'll take a good custard pie, pecan pie, pumpkin pie, apple pie, cherry pie most anytime if you've got one.  I'll gladly accept a slice of shoe fly pie too.
I stopped for gas in one of the highway service areas. The price of gas was about $4.20 a gallon in USD.  I figured the Hertz Rental Car Racing Toyota Yaris was getting me almost 39 miles a gallon.  That's with an automatic transmission.
While I was in the service area making a gas stop I also sought out a place for lunch.  I found myself walking into a "Beefy's Famous Aussie Pies" fast food eatery.  They serve all kinds of meat and veggie pies.  I couldn't exactly go that route but I did go with a sausage roll which had a flaky pie crust exterior and a sausage filling.  I guess I ended up almost getting an Aussie pie even though that wasn't my intention.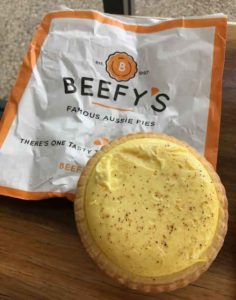 I substituted the fries on my combo order with their custard pie.  I ordered a small serving.  The cashier told me that for whatever reason the large serving was the same price as the small one.  How could I pass that up?  No, it wasn't as good as one of Carol's custard pies.
It's really nice having full cell phone capabilities in a foreign country.  I wouldn't be able to reach tonight's motel until after the races.  I simply gave the motel owner a call.  She made arrangements to leave my key inside the room.  Isn't technology wonderful!
THE RACING

Grafton Speedway – Grafton, New South Wales, Australia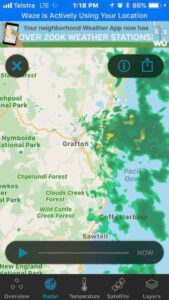 I pulled into the Grafton speedway just as the program was beginning at 6 p.m.  Earlier in the afternoon I talked to a fellow by the name of David.  David was answering the phone at the Grafton Speedway.  He told me, at 1 p.m. when I called, it was raining at the track.  I was still about four hours away.  They had not made a final decision about racing tonight.  He recommended I continue to check Facebook.  Since I had full cellphone capability I could do that.  The track did a nice job of updating their fans on the weather status on their Facebook page.
A good-sized crowd was on hand when I pulled into the wet and soggy parking lot.  With an assumptive approach, I asked for one pensioner admission ticket. My request was honored at a fee of $20 Australian.  I'm going to guess that saved me $5-10 compared to the regular admission price.  I know the ticket say, "Lismore Speedway".  Lismore and Grafton are owned by the same people.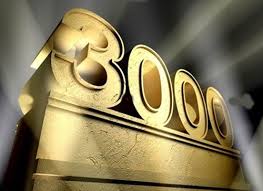 Tonight was going to be a special trackchasing moment.  As you may know Carol and I are the World's #1 Trackchasing couple.  Going into tonight our combined track total came in at 2,999 tracks.  If the rain held off just a little bit I would be able to put us in rarefied air.  Never before had a married couple seen 3,000 combined tracks.  I was pretty pleased about that.
What I found at the Grafton Speedway was a nearly perfect 360° circle of a track.  One fellow I talked to later in the night, said there was a small straightaway in one section of the track but I didn't see it.  I'm calling the Grafton Speedway a true circle.
I knew the Grafton Speedway was scheduled to race tonight.  I just didn't know what classes they would be featuring.  That was really of a secondary interest to me.  Once I found out they were racing I figured I would enjoy whatever they put on the track and I did.
The two most unique divisions, which I had not seen on this trip yet, were the V-8 dirt modifieds and the non-winged sprint cars.  For a moment, I thought that maybe the Syracuse Dirt Week Nationals had relocated from New York over here to Grafton, New South Wales.
When I got my first glimpse of the track it looked like a big muddy soupy mess.  The dirt modifieds had just pulled onto the track for their session of hot laps.  The track commentator told the crowd they had better batten down the hatches and be ready for some mud to come their way.  No, this wasn't the movies.  Racing fans do not sit in a climate controlled environment.  They often get hit by mud balls….and seem to enjoy it!
Folks I am a veteran trackchaser.  I will tell you this. I hate sitting in a place where I can get hit by mud balls.  I simply hate it.  There's no way to fight back.  The mud balls hit you when you're least expecting them.
As a veteran trackchaser I am also aware of "announcer hyperbole".  The track announcer is there to entertain and inform the fans.  Tonight wouldn't be the first time a track commentator "embellished" the circumstances.  Could the mud be that bad?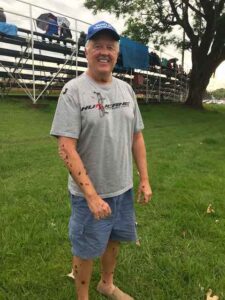 The simple one word answer to that question is "Yes". The track was muddy and slick.  The dirt modifieds weren't going that fast.  Nevertheless, the mud came at us as if a Claymore mine had exploded.  The moist mud balls stuck to me like glue.  The mud went into my shoes.  It went into the pockets of my cargo shorts.  If anything, the announcer had understated situation!  Take a look at that picture.  I was only up by the fence for five seconds!
I saw my first two nights of racing down in the Australian state of Victoria.  Neither one of those tracks had any grandstand seating.  It was most uncomfortable standing for 4-6 hours to watch the races.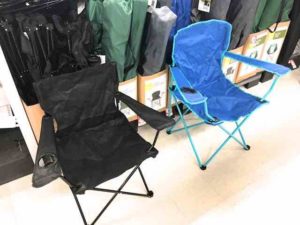 The first thing I did when the trip moved me along to Queensland was to go to Kmart and buy lawn/beach chair.  So, what did I see when I pulled into the Grafton Speedway?  A series of wooden bleachers surrounded at least half of the circular track!  They even had a covered grandstand.  This was my third track to see since I arrived in Brisbane and two of them had grandstands where I wouldn't need my beach chair.  I guess life just works out that way at times.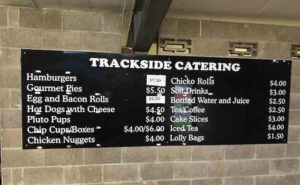 I had not had supper yet so it was going to be race track food for me tonight.  They were only serving food at one location.  That was underneath the grandstands.  It was hot and humid in there.  The line moved slowly.  Nevertheless, for seven Australian dollars I had a delicious pluto pup, think corndog, and a Coke Zero.  Once I bit through the batter of the pluto pup I came across the equivalent of a Martinsville red hot dog!
As the track dried out a little, the mud dissipated at least the mud being thrown into the grandstands. Nevertheless, I grabbed a top row spot in what the announcer described as turn four.  Folks there was no turn four.  There are no turns in a circle.  The entire track was one big turn!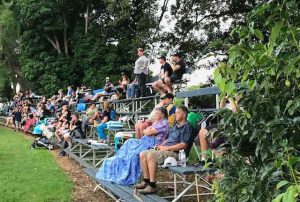 I guess I would describe the Grafton Speedway as a "country" track.  They didn't have the amenities of the Simpson Speedway or the uniqueness of the Mothar Mountain Speedway.  Well, maybe being a circle track they DID have their own form of uniqueness. Car counts were smaller than what I've seen on previous nights as well.
I sat down next to a young man and immediately struck up a conversation with him.  As the night went on I would learn he was a major racing fan.  "I'm 26 years old," he told me.  He had never flown on an airplane in his life!  He was going to change that status in a couple of months.  His plan was to fly down to Adelaide for one of the big Australian race meetings.  Good on him.
I told him that I hadn't flown on my first airplane until I was 21 years old.  That very first trip had me seeing a race at the Bellaro Speedway in Billings, Montana.  Of course, like most of my racing trips, the adventure was about other things as well.  On that trip, I would be visiting a young blonde girl whom I had met in college.  She would later become "Trackchasers First Mother" and the better half of the World's #1 trackchasing couple.
Tonight they were racing the aforementioned dirt modifieds, wingless sprint cars, street stocks and junior sedans, a division for drivers 16 years of age and younger.  There may have been one more class but I don't recall what it was.
It looked as if car counts might have been about 10 per class with the possible exception of the junior sedans.  They had more.  From what I could tell each class was racing three heats and a final.  The sprint cars and dirt modifieds ran a dash for the top six racers.  That race would determine the starting lineup for the first three rows of their feature.
The PA system tonight was the best of any of the tracks that I visited this week.  I really enjoyed the commentator.  He was easy to understand, didn't talk every second and was both informative and entertaining.  It sounded as if he had been a driver earlier in his race career.
When all of the heats were finished, about 15-20 races, it began to sprinkle.  My new young buddy and I both looked at our phones.  We had different weather apps but they showed the same thing. Rain was headed our way.  The commentator told us they expected rain in the next 15-20 minutes.  They had to decide whether to do the fireworks show or start feature racing.  With the kids in mind they went with the fireworks.  That seemed like a fair choice.  Check out the photo above.  Also, note the guy covering his beer from the mud!
Before I go any further I must reiterate that I don't care for the short track racing model as it relates to fans.  It's all about the "cinnamon roll" theory.  I don't want to sit through twenty heat races to get to the moist, juicy and delicious center of the cinnamon roll (the final!).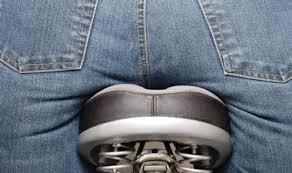 When I explained this theory to my new Aussie racing friend he looked at me as if I had two heads.  He LOVED the six-hour racing program.  What does this tell me?  There's an ass for every seat!  Does his point of view have any effect on how I think about the subject?  You're kidding, right?  Absolutely not!!!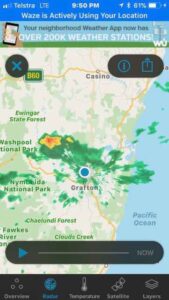 The rain looked like it could be substantial.  That being the case I bid my friend farewell.  My car was parked on the other side of the circle from where I had watched the races.  I didn't want to get caught in the downpour that far from where my car was.
I watched the fireworks from just about the point where I had walked into the track.  They did a nice job with the fireworks for a racetrack.  By now the rain with coming down steadily.  I figured with the muddy condition of the track when they started and even more water now they would lose the track quickly.
I had a decision to make.  I could hang around and see if the rain was going to wash out the program. If they did call it immediately I might be caught in the stampede of Australian racing fans trying to be first out of the parking lot.
If it didn't rain quite hard enough to cancel the show quickly I might have to sit through a long rain delay that often goes back-and-forth as to whether or not the show will continue.  That didn't seem like a fantastic idea either.
I had a 60-mile drive up to my hotel tonight.  I decided to call it a night at the Grafton Speedway.  My pluto pup had long ago passed through my intestinal track.  I was hungry.  Nothing was going to be open at 9 o'clock at night that would be quick and easy.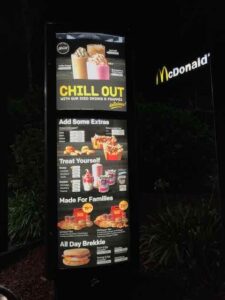 The only culinary idea that popped into my mind was McDonald's.  I know when I've said about eating at McDonald's in foreign countries.  But it WAS 9 o'clock at night and I knew where there was a McDonald's.  I used the McDonald's drive-through with a right-side steer car and ordered a triple cheeseburger and some fries covered in brown gravy.  It wasn't exactly poutine but it was close enough.  Then I plugged in the address of my Squatters Homestead Motel up in Casino, New South Wales.  I headed in that direction. 
Wouldn't you know it. The route from McDonald's to my motel took me right past the race track again!  It was still raining but I couldn't resist pulling into the parking lot.  They were still racing.  I don't know how they did it with all of the rain but they were STILL racing!  From there I watched the dirt modified feature race.  I was shocked they were still racing under these wet conditions.  The next day I would call David my track contact.  He confirmed they got the entire show in.  That was beyond amazing.
AFTER THE RACES
Following that feature race I headed out on a dark two-lane rain-soaked highway.  I was headed to my motel in Casino, NSW.  The woman who ran the motel had agreed to put my key inside my room and leave the light on.  That was cool with me.
Then the evening began to turn "weird".  How weird?  It was weird enough that I penned an essay and sent it off to more than 3,000 of my friends who are members of the Procter & Gamble Yahoo Groups conference.  I told them about my 7' x 7' "van" room…..and what happened to me tonight.  I share that with you now.
*****************************************************
"Some people might read this and think it is a vacation tale.  It is not.  It is a financial planning story.  It is a mindset story.  It is a time value of age story.  Will everyone drop everything they are doing and try to emulate the activities I describe?  No, they will not.  Folks, our age are already locked into how they do things.  They're locked in and they ain't changing.  That includes you and it includes me.  So why write this in the first place?  The folks who can't change might see some entertainment value.  Others can pass it on to their kids in the hopes they are not too old to change.  
From somewhere in Australia………..
Sometimes I think I just look at life a little differently than most folks….especially most folks my age.  I'm a soon to be 69-year old locked in a mindset of a 30-year old.  Ya, I know.  It's a problem, but I've learned to deal with it.
No, I'm not like most folks my age.  I'm not trying to save money ­­‑‑ I'm trying to spend it!  You see I saved my money along the way so that when I got to be nearly 69, I wouldn't have any money problems.  Things worked out.  I've got all the "stuff" I'll ever need.  Like a true millennial person, I'm all about having "experiences".  I travel a lot.  Since I retired in 2002, I've averaged more than 175 nights on the road each and every year.  When I travel, I want to experience the most unusual things I possibly can and still live to tell about it.  If I can have an experience I've never had before and most people I know have never had, then that's fun to me.  
I just got back from Australia.  It was my fifth trip to Aussie land.  A couple of really unusual experiences came my way.  Some were partially expected.  Some were totally unexpected.  Some folks would be disappointed in what I encountered.  I, on the other hand, was elated with the "story" each of these experiences created.  Permit me to share just a couple of examples.  Mind you I have hundreds of these, but we'll save them for another time.
I use all kinds of travel sites to book my travel.  Most of the time I don't book a hotel until the day I will need it.  Realizing that fact you can tell I travel differently than most.  Usually, you'll find me using Priceline.com.  As a platinum member of both Marriott and Sheraton I routinely get upgraded to a suite.  However, I am just as comfortable in any kind of room under the right circumstances.
Have you ever stayed in a really small motel room?  I'm talking REALLY small.  For this trip, I would be staying in a small town a few hours north of Brisbane in Queensland, Australia.  I figured that since my travel plans were firm (normally they are not), I would use Booking.com to make an advance reservation.  Soon I was pressing the "accept" button to reserve a room at "Ned Kelly's Motel" in Maryborough.  For just $38 USD I could reserve a "compact single van room".  I had no idea what that was, but the place was highly rated by previous visitors to Ned Kelly's.  I never gave the idea much more thought and moved on to planning the rest of my trip.
Then the day came when it was time to check in.  Again, I don't travel like most folks.  I'm as likely to show up at 1 a.m. as I am at 1 p.m.  That was the case with this motel.  From the road I called in advance to make sure the place could handle my very late arrival.  They could and the key to my room would be put in a safe place.
I was about to experience a "compact single van room".  Have you ever seen the temporary housing that FEMA provides to hurricane victims, the same housing that is all over the North Dakota oil fields?  This was that.  So, what is a "van" in Aussie terminology.  Essentially, it's what someone at P&G Product Supply would call a "trailer".  Those huge 18-wheelers driving down the road are pulling a trailer.
I had reserved a room in what some would call "worker accommodation".  There are three rooms in each van.  My "room" was exactly 7' x 7'.  I could stand in the middle of the room and touch all four walls!  Was this the smallest room I had ever stayed in?  No way.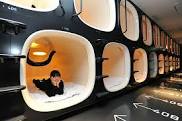 The smallest room was a "capsule" hotel in downtown Tokyo.  That communal living situation was one of my all-time best travel experiences.  My wife literally shivers when I tell that story.  Then there was the night I cleared Philippines customs at the Manilla airport.  I soon found out the airport had "transit" hotel rooms.  These rooms were on the airside portion of the airport.  It was past midnight.  It was just me and the customs official.  With a "wink and a nod", he let me go back into the airport without clearing customs of any kind.  I figure the statute of limitations has expired on that one!  That room in Manilla was about six feet wide.  I could stand in the middle of that room and touch both walls at the SAME time!
My room in Australia was perfect since I was traveling without my wife.  I stayed there two nights.  Even though it was tiny, it was like staying in a really nice RV.  The room had a flat-screen TV, microwave, toaster, mini-fridge, shower and toilet (not part of the 7' x 7'), and an air-conditioner that could replicate what a night might feel like outdoors in Alaska in the middle of the winter.  Was I satisfied with my room?  You betcha!  Not only was it comfortable, safe and cheap……it came with a built-in story.  Such an accommodation is the best kind.
A night or two later I was making a 60-mile drive on a desolate two-lane road in New South Wales.  It was 11 p.m.  The area was heavily forested.  A major rain and windstorm had just passed through the area. The road was littered with debris from the forest, almost as if a tornado had come through.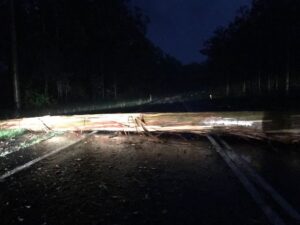 Although the road had leaves and small tree branches strewn about, it was still passable until I drove a little further and came across a huge tree.  It was a "box" tree.  I had never heard of a box tree.  This one was tall and skinny (50 feet or more if upright) and came with an 18" diameter trunk.  It wasn't standing anymore.  It completely blocked the road.  Again, it's 11 p.m.  I'm out in the middle of nowhere.  Other than my car's headlights there was no illumination.  A couple of other cars came upon the situation.  No one got out of their cars.  Everyone made a U-turn and headed for an alternative route.
After I turned around, I took the first left I saw.  I figured my Waze GPS system would "catch up" as soon as it could.  I was on a dirt road now.  It was wet with huge puddles from the rain.  Soon Waze did catch up, and I was headed to my motel in the town of Casino, New South Wales.  All was going well until I came across another road blockage.
At this stoppage, another car had pulled over to assess the situation.  I got out of my car to meet my new "friends" who were now living the same dream I was.  In hindsight, I think about the types of people I could have met in this situation at nearly midnight on a Friday night.  They say you can't pick your relatives, and I couldn't pick my friends on this night.
I was lucky.  The folks I met were a 55-60-year old Australian cowboy, his wife, and their son and daughter-in-law.  I would learn they were all coming back from being at a local rodeo.  We all agreed this second stoppage would not be passable.  They lived in the area.  Soon I was following them down a rain-slicked blackened highway to another turnoff.  It wasn't long before more trees had fallen and blocked the roadway, my third stoppage in less than five miles of driving.
This tree and its branches were small but still too heavy to lift.  My Australian friends knew some people who lived nearby.  The father dispatched the son and his wife to see if they could borrow a chainsaw from the friend.  While they went away only the cowboy, and his wife, and I remained.  The only illumination, as we formally introduced ourselves, was provided by my Eurocar Toyota Yaris.  I was wearing shorts as I do some 99.2% of the year wherever I happen to be.  Next to this well-built rugged Aussie fellow wearing an Australian cowboy hat, plaid shirt and blue jeans, I felt like the "suburban slicker" I am.  I didn't want to admit that the mosquitos were just about ready to eat my legs alive.
Soon the son returned.  He was carrying an axe.  That's when I had a strange thought.  I don't really have ANY friends that I would feel comfortable with knocking on their door at midnight.  It turned out that tonight's friend wasn't home.  Nevertheless, the son found an axe and brought it back to help get us on our way.  Not only do I not have any friends that I would feel comfortable visiting unannounced at midnight, I don't have any friends that I could get an axe from if they weren't home.  I guess I just don't have the right kind of friends!
Soon both father and son were waling at a 4-inch soggy log with a very dull axe.  I didn't volunteer nor was I asked to do any of the "axing".  I think it was probably a combination of my age, my appearance in shorts and suede slippers, and my "suburban slicker" demeanor.  Soon the road was cleared, and we were all on our way in two cars again.
We would encounter two more road blockages, five in total.  However, now my friends felt responsible for me getting to my motel.  They led me to a roundabout just 800 meters from where I would be staying overnight.  They pulled their SUV over to the side of the road and stopped.  As I drove slowly past, they lowered their window and wished me well.  Had I not run into these folks, I might STILL be driving around the one-lane dirt roads of Southwest Australia.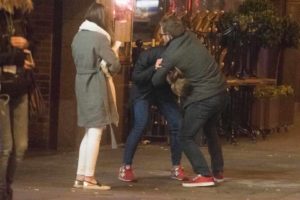 The adventure for the night wasn't quite over.  I could see my motel just up on the right side of the road.  This was a small town.  Just across the two-lane road from the Squatters Homestead Motel a major fight going on.  For whatever reason two young men were going at it as if the world UFC championship was on the line.  They were absolutely killing each other while a young woman sat on the curb next to them oblivious to these young combatants.  What a night.  What if I had run into these three characters where the road was blocked by the fallen trees?
Like I say, I don't need to spend my money on any more stuff.  However, some of these memories can't be purchased at any price.  I could travel in a more age-appropriate, income-appropriate style; and when my wife is with me I usually do.  I truly do have hundreds of stories like this one.  I am always seeking adventure, and it seems as if adventure doesn't have any trouble finding me."
**********************************************************
Just as promised the motel proprietor had left my room key in room number one.  I pulled the car into a tight parking spot, got all of my gear together and went in for the night.
Tonight is likely my last night in a motel.  I have a race planned for tomorrow on New Year's Eve.  That should wrap up at about nine or ten.  Then I have to be at the airport on New Year's Day at 5 a.m. to begin my journey back to Southern California.  I don't think they'll be enough time to make getting a motel good financial sense.  I still haven't made a final decision on that because the weather forecast for tomorrow is racing is calling for a 100 percent chance of rain.  It rained hard overnight.
When I checked out of my motel room the next morning I was in for a shock.  I had left the driver's side window down.  I guess I forgot about that in the excitement of watching those two guys fight at 1 a.m. Luckily about 2/3 of my car was covered by a roof while parked in front of my room.  Had I been parked out in the open like most of the other cars were at the motel my car would probably have about 3 inches of water in the floorboard right now!
Good evening from the Grafton Speedway in Grafton, New South Wales, Australia.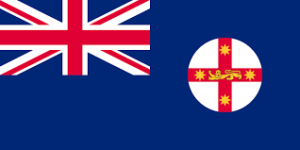 New South Wales
The First State
This evening I saw racing at my third lifetime track in the First state yes, the First state of Australia.  I've now seen 15 tracks in Australia.  With another 18 racked up in New Zealand I hold the #1 trackchasing ranking in the entire continent of Australia.  That's right.  The continent of Australia.  I'll take that.
Thanks for reading about my trackchasing,
Randy Lewis
World's #1 Trackchaser
Peoria Old Timers Racing Club (P.O.R.C.) Hall of Fame Member
New South Wales sayings:  Being busy.
Running around like a chook with my head cut off.
QUICK FACTS
LIFETIME TRACKCHASER COMPARISONS 
The three most important trackchasing comparisons to me are:
Total lifetime tracks seen
Total "trackchasing countries" seen
Lifetime National Geographic Diversity results
Total Lifetime Tracks
There are no trackchasers currently within 600 tracks of my lifetime total.  Don't blame me.
Randy Lewis, San Clemente, California – 2,405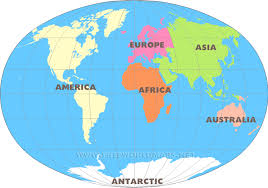 Total Trackchasing Countries
There are no trackchasers currently within 20 countries of my lifetime total. 
Randy Lewis, San Clemente, California – 77
Current lifetime National Geographic Diversity results
Randy Lewis, San Clemente, California – 4.37
That's all folks!  Official end of the RLR – Randy Lewis Racing Trackchaser Report
Click on the link below to see the video production from the racing action today.
Click on the link below for a photo album from today's trackchasing day.  You can view the album slide by slide or click on the "slide show" icon for a self-guided tour of today's trackchasing adventure.
What a day!  Check out what I faced after the races with trees falling all over the forest.