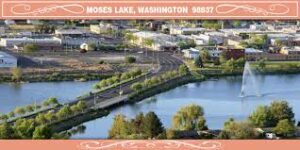 Greetings from Moses Lake, Washington
.
.
From the travels and adventures of the 
"World's #1 Trackchaser"
.
.
Grant County Fairgrounds
Dirt oval
Lifetime Track #2,367
The EventVideo PlusPhotos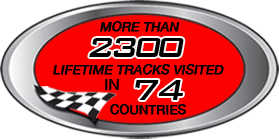 THE EVENT
I have had the opportunity to follow my trackchasing hobby all over the world. As this is written I have seen racing in 74 countries. My lifetime track total exceeds 2,300. Each and every year I will trackchase in 25-30 states.
At track #1,040 I moved into the "World's #1 Trackchasing" spot. Here's the funny thing about that. I was perfectly content to remain in about seventh place in the worldwide trackchasing standings. Then I had rotator cuff surgery, which knocked me out of golf for about six months. With no golf and time on my hands I turned up my trackchasing by a notch or two. I discovered I liked MORE trackchasing and LESS golf. It didn't take all that long to move up to the top of the world trackchasing standings at that point.
Who knew? I've got the very best trackchasing research department in the world and we never knew. Who knew that the county fairs of Washington state had so much figure 8 and oval racing as part of their county fair demolition derbies? Carol and I just wrapped up nearly a week of Evergreen state trackchasing. Who knew?
My hobby is not only about racing. Trackchasing for me centers around three things. The racing part is pretty obvious. However of equal importance is the logistics of trackchasing and the opportunity to see the world.
I live in Southern California. The vast majority of tracks are located in the Midwest and East. It takes a good deal of logistical planning to get from where I live to where the tracks are. For the past 15 years I have traveled about 175 nights each and every year. Surprisingly to some, more than half of those overnights were not part of trackchasing.
Then there's the travel just for the fun of seeing new things. You won't want to miss my "Trackchasing Tourist Attractions" page or my "Sports Spectating Resume" page on my website at www.randylewis.org. That will give you some understanding on how important seeing the world is with my hobby.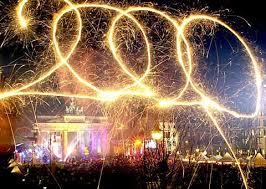 Today's adventure was one more of the 2,000 trips that have taken me up, down and around the long and dusty trackchasing trail. If you would like to see where I've been and experience those adventures here's the link:
If you've got a question, comment or whatever please leave it at the bottom of this report.  It's very easy to do.  Or you can visit me on Facebook.  Thanks!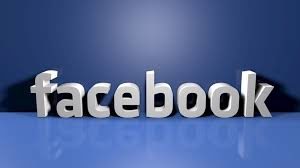 FOREWORD
Today was going to be our last day of trackchasing in the Northwest. Our trip began last Friday with a flight from Los Angeles to Portland and then on to Seattle.  On Saturday night in Lewiston, Idaho we saw both oval and figure 8 track racing.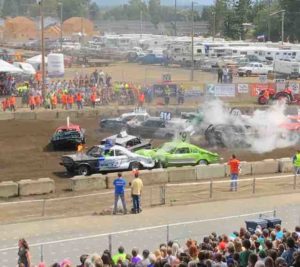 Sunday was off day for trackchasing. On Monday we went up to Lynden, Washington for their afternoon figure 8 racing. Last night, Tuesday, we were in Chehalis, Washington for first oval track racing and then some figure 8 racing. We've seen demolition derby at all of these locations.
Tonight we were headed to some "lap races" AKA oval racing over in Eastern Washington at Moses Lake. Yes, that oval racing would be followed by demolition derby.
Today was kind of a kickback day. We've been enjoying the idea of staying in one hotel for four consecutive nights. Having the Marriott Corporation upgrade us to a suite during our stay didn't hurt things either.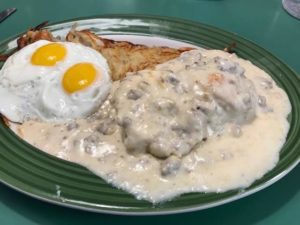 We went back to the Strawberry Patch breakfast restaurant again today. I went with the biscuits and gravy. I'll just say they don't do biscuits and gravy in Washington as well as they do in the south.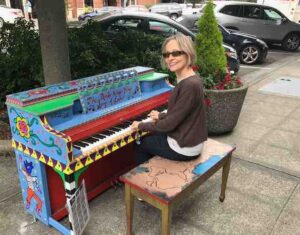 Next up we took a walking tour of the city of Everett. It's a quaint little funky city. They have lots of flower arrangements all over the city streets. It's really beautiful. They also have a series of colorful pianos along the city streets.
You really see so much more when you're walking in the city compared to driving. I was amazed at how many diverse ethnic restaurants Everett had. There were also a few homeless individuals roaming around. Everett reminded me a lot of Berkeley, California.
We stopped into an antique store to look around. I've been watching the TV reality show, "American Pickers" over the last several months. It's got me interested in the idea of picking/collecting but it's way too late in my life to start something like that now.
We talked to the antique store owner for several minutes. He told us about his experiences with buying goods that he thought might be stolen. He had both good and bad experiences coming from that. He also had a lot of comments to make about the American Pickers show most of which weren't all that positive. His feelings might have been tinged with envy.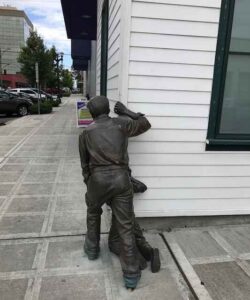 The mileage from today's morning walk would go a long way toward meeting my 4-mile per day walking goal. I'm sure I'll get a lot of walking exercise at tonight's fair celebration in Moses Lake as well.
Lunch was in our hotel room. We had saved what we couldn't eat from our Chinese dinner a couple nights ago. It was just as delicious from the microwave oven in our hotel suite as it was in the restaurant.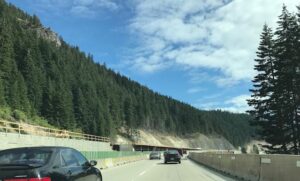 At about 2 o'clock we headed out toward Moses Lake, Washington. It would be a 200-mile one-way drive. Most of the drive took place across interstate 90 driving across as the Cascades mountain range. We expected to be pulling in the hotel's parking garage after the races at about 1 a.m. How many people do you know that make a 400-mile round-trip drive beginning at 1 p.m. in the afternoon and are back in their beds that evening just for fun? Yes, that's trackchasing.
We had been warned it was going to be a very crowded event tonight. Tickets were on the expensive side. General admission was $18 per person and reserved seating was $23. There was a special VIP ticket option of sorts at $35, which included food.
I called the track on the drive over to Moses Lake. I was told if we didn't arrive by 4:30 p.m. there was a good likelihood that we would be facing standing room only. In all of my trackchasing travels I could never remember having to buy a standing room only seats because the other options were sold out.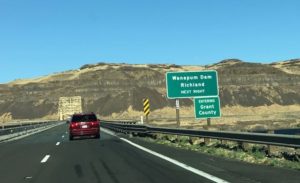 The drive over to Eastern Washington was scenically spectacular. The eastern half of Washington is much drier than what you'll find in coastal Washington. We've had perfect weather on this entire trip. Tonight would be no exception.
THE RACING
Grant County Fairgrounds – Moses Lake, Washington
We arrived at the Grant County Fairgrounds at a little past 5 p.m. Time trials were scheduled to begin at 6:30 p.m. Racing would follow at 7:30 p.m.
Even though the ticket prices for the racing were high there was no charge for parking. Additionally a race ticket included free admission to the county fair itself. Overall that made the pricing situation fairly normal.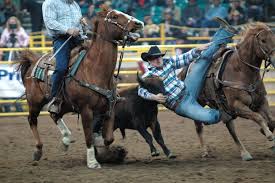 Tonight the Grant County Fairgrounds would be hosting the "Moses Lake Roundup". The Roundup is primarily a rodeo show. Yes, tonight there would be auto racing but for the next three nights it would be rodeo. The rodeo has been going on in Moses Lake for about 65 years!
The fairgrounds has a modern covered grandstand. It's large. They also have additional bleacher seating situated around the turns of tonight's dirt oval track. There was plenty of seating. From what I could tell every seat was occupied and more.
The $23 U.S. reserved grandstand seats were located in the bottom 10 rows or so of the grandstand. Above those 10 rows and all the way to the top of the grandstand it was unreserved seating.
We were lucky enough to find unreserved seating pretty much in the location I would have chosen if I could pick any seat in the entire grandstand. I'm glad we didn't buy reserved seat tickets. I wouldn't want to sit that low.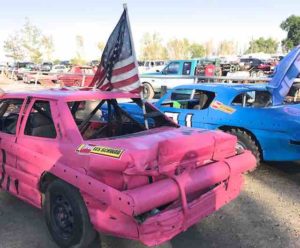 After we put our seat cushions in the grandstand to reserve our seats we headed on down to the pit area. It looked as if folks had to have pit wristbands but we walked right into the pit area as if we owned the place.
I walked up to a driver and started a conversation. I do that a lot. I was interested in finding out about other racing locations for these types of cars in the state of Washington. The guy answered my questions, and then said without prompting from God or anybody, "Are you. Randy?"   That doesn't happen all that often. I was wearing a "Dale Junior" shirt so that didn't help him.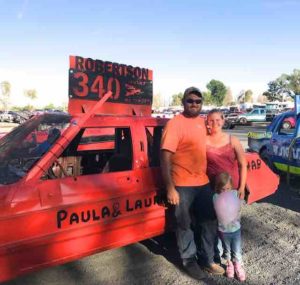 It turned out I was talking with Adam Robertson (above) a racer tonight but the promoter of the upcoming demolition derby in Othello, Washington. He and I had texted previously. He had been on my website and recognized me from photos there. That's shows the power of my website, which gets more than 20,000 hits a month. A couple of weeks ago I was in Pennsylvania when a race fan came up to say hello face-to-face after visiting my site.
We talked with Adam for a while. I confirmed my intentions to attend his show next month. We continued around the pit area taking up close and personal photos of several of tonight's cars.
Later we would come back into the pit area to attend the driver's meeting. Our visit was followed by single car, one-lap qualifying for each of the 75-80 cars in attendance tonight. That's more time trialing than at any event I've been to in the last several years. I am not a big fan of time trials. I'm not really sure why they had to qualify. I'll tell you why in a moment. Qualifying took longer than expected on a VERY wet track to begin with.
At the driver's meeting the racers were told that the top four qualifiers would run a "trophy dash". Then there would be a series of "lap races" AKA heat races.
The fellow running the pit meeting told the drivers that the heat race lineups would be first come first served. "If you want a grudge race with your buddies you should get them altogether for your heat race. That way you'll all be in the same race." With that statement I came to wonder why in the world they were having time trials for 75-80 cars. Maybe I was missing something.
The track was super muddy and sloppy was watering the surface not from rain. The driver's took the green flag from the starter after entering the track in turn four. The first 20-30 cars could not negotiate turn #1! When they went into the turn they just kept sliding with an EXTREME push. The first driver to successfully negotiate turn one was given a great round of applause.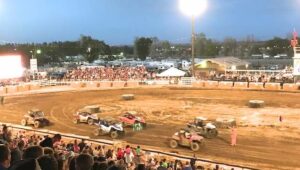 The first race of the night would be a UTV race for six competitors. They raced on the dirt oval just like the stock cars would. Then a series of heat races with eight cars in each race came out onto the track.
At the pit meeting they told us the UTVs would race a second time. There would be a powder puff race for the stockers. All of this action would be followed by an Australian pursuit race. They had 75 cars signed up for the Australian pursuit action!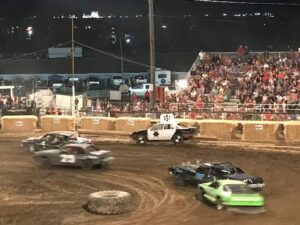 From what I could tell the stock cars would all race in just one heat race each. That still made for about ten heat races of eight cars each. There was no shortage of action. The final event of the night would be the demolition derby. It was a team demo that paid $3,000 to the winning team. If more than 12 cars showed up the winner would get $4,000.
The first race didn't go off until about 8:30 p.m. The UTVs had a good race. This shows these types of machines can run very well on short dirt oval tracks.
The crowd really loved the stock car racing. Most of the cars were powered with strong engines. The drivers were aggressive. They were not afraid to take people out.
After each of the heat races there would normally be two or three totally disabled cars remaining on the track. By the way, I don't think they threw a yellow flag the entire time we were there. When a car stopped on the track they just kept racing. I like that approach. Apparently the fans, including the standing room only ticket buyers who paid a minimum of $18 per, loved it too.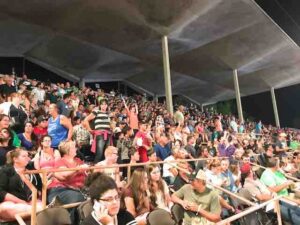 We saw six or seven of the heat races, maybe more. They were very efficient. However, at 9:30 p.m. we elected to leave the show. We had been in the grandstands for 3 ½-hours. We were looking at a three-hour drive back to our hotel in Everett, Washington over the Cascade Mountains.
It would have been fun to stay for the entire show. However, they had started an hour late. We had been in the grandstands for a long time. This show was very entertaining. They probably offered the best racing of the entire trip.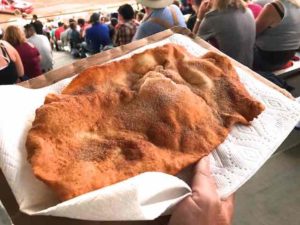 We did sample the fair concessions. Carol scored a corn dog that was probably the largest I've ever seen in my life. I went with an elephant ear. It was likely the worst and driest elephant ear I've had in recent memory.
AFTER THE RACES
All in all this had been a wonderful trip to the Northwest. On the racing front we had both been able to see six tracks in a period of five days. We had a nice variety of trackchasing tourist attractions. We had fantastic accommodations at the Marriott. We dined at excellent restaurants. The sometimes fickle weather of the Northwest was absolutely wonderful. What more could we ask for?
The National Car Rental Racing Chrysler 300 got us over the Cascade Mountains in good shape. When we return the car tomorrow morning it will have more than 1,600 miles on the trip odometer during the six days that we rented it. Tonight we were back at the Marriott by 1 a.m. with the car filled with gas. We were ready for the trek home to Southern California tomorrow.
THURSDAY
We were out the door of the Courtyard by Marriott hotel in Everett, Washington at 9 a.m. The hotel had been perfect for this trip. It's not often that we get to stay for four consecutive nights in one place. However, as you know when Carol comes along "special" things happen.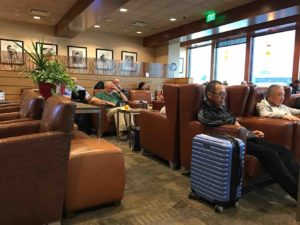 Once at the SeaTac airport Carol relaxed in the Alaska Lounge. I did some power walking. Airline terminals are a perfect place for walking exercise.
We landed in Los Angeles at 3 p.m. That is not a good time to be landing at LAX. We would be trying to drive to our modest seaside cottage in San Clemente. Los Angeles traffic can be tough but if you don't have to travel during rush hour, traffic in SoCal is no big deal.
We decided that rather than battle the traffic at its worst we would simply consult Yelp for a Chinese restaurant recommendation. Soon we were headed in the direction of chopsticks.
We arrived into Carson, California. The restaurant was in a small older strip shopping center. Yes we could see the Chinese restaurant. However, a few doors down was a Peruvian restaurant. We love Peruvian food.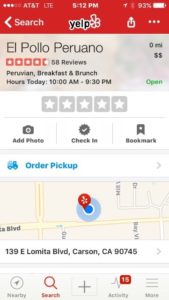 The restaurant was called El Pollo Peruano. I would check their Yelp rating. If it were good we would change our dining choice on the spot. Some fifty-nine Yelp review users had given this Peruvian spot a 4.5-star rating. Bingo! We would now be eating Peruvian food.
I hope the above example is just a small sample to show you how we travel. Virtually every part of the travel plan has been vetted as a "best idea". However a best idea is only the best idea until another better best idea comes up. Make sense?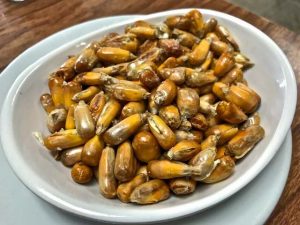 We were soon dining on cancha (fried corn), Peruvian pasta with shrimp, bell peppers and the like and then a new delicacy for us. We asked the woman in the kitchen, who was also the restaurant owner and cook, what her most popular dessert was. Without hesitation her answer was quick. Picarones! This was essentially a Peruvian donut. These picarones were moist and served in a honey sauce. Delicious. We will be back to Carson and the El Pollo Peruano eatery.
That's about it from seven days on the road with the World's #1 Trackchasing couple. Good evening from Moses Lake, Washington.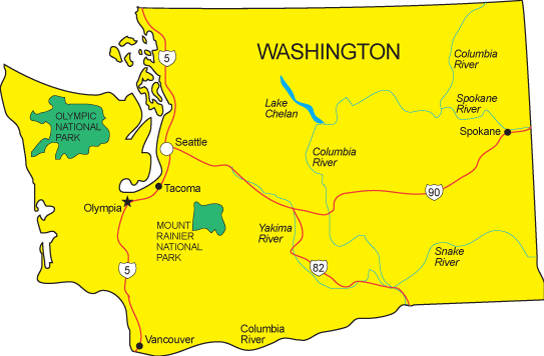 Washington
The Evergreen state
This evening I saw my 40th lifetime track in the Evergreen state, yes the Evergreen state. I hold the #1 trackchasing spot in Washington as I do in 24 total states. I've seen 40 or more tracks in 18 separate states.
Washington state now joins Oregon and Montana where my trackchasing totals have doubled my nearest fellow competitor. That hasn't happened anywhere else by anyone else.
Thanks for reading about my trackchasing,
Randy Lewis
World's #1 Trackchaser
Peoria Old Timers Racing Club (P.O.R.C.) Hall of Fame Member
Washington sayings: Summer
What it means everywhere else: The season everyone wishes for as they're digging out from under twelve feet of snow. Until the first heat wave hits and they're begging for winter.
What it means in Washington: The season in which your Instagram and Twitter feeds are filled with nothing but images of the sun and the park and basically anything that involves being outside. Because summer in Washington makes up for the rest of the year by far.
QUICK FACTS
LIFETIME TRACKCHASER COMPARISONS 
The three most important trackchasing comparisons to me are:
Total lifetime tracks seen
Total "trackchasing countries" seen
Lifetime National Geographic Diversity results
Total Lifetime Tracks
There are no trackchasers currently within 600 tracks of my lifetime total. Don't blame me.
Randy Lewis, San Clemente, California – 2,367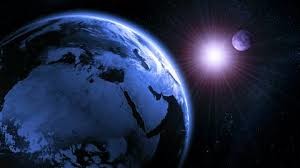 Total Trackchasing Countries
There are no trackchasers currently within 20 countries of my lifetime total.
Randy Lewis, San Clemente, California – 74
Current lifetime National Geographic Diversity results
Randy Lewis, San Clemente, California – 4.37
That's all folks! Official end of the RLR – Randy Lewis Racing Trackchaser Report
Click on the link below to see the video production from the racing action today.
Click on the link below for a photo album from today's trackchasing day.  You can view the album slide by slide or click on the "slide show" icon for a self-guided tour of today's trackchasing adventure.
The racing at the Grant County Fairgrounds was good and the food was as well