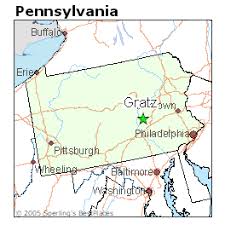 Greetings from Gratz, Pennsylvania
.
.
From the travels and adventures of the 
"World's #1 Trackchaser"
.
.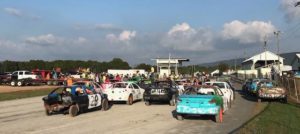 Gratz Fairgrounds
Dirt figure 8
Lifetime Track #2,376
The EventVideo PlusPhotos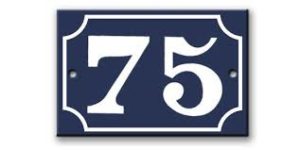 THE EVENT
I have had the opportunity to follow my trackchasing hobby all over the world. As this is written I have seen racing in 75 countries. My lifetime track total exceeds 2,300. Each and every year I will trackchase in 25-30 states.
At track #1,040 I moved into the "World's #1 Trackchasing" spot. Here's the funny thing about that. I was perfectly content to remain in about seventh place in the worldwide trackchasing standings. Then I had rotator cuff surgery, which knocked me out of golf for about six months. With no golf and time on my hands I turned up my trackchasing by a notch or two. I discovered I liked MORE trackchasing and LESS golf. It didn't take all that long to move up to the top of the world trackchasing standings at that point.
There's no doubt about it. People who live back in this part of the woods just think about auto racing differently. Why? I'm not really sure. This is a very rural part of America. Except for the lack of a drawl it's not much different than the American south. However, the south, with the exception of NASCAR, doesn't have a love affair with auto racing.

Could it be that there's not much to do around here? The pro sports teams are all a long way from the rural part of Pennsylvania and New York. Most are located near the ocean. That means they are a long way from the backwoods where many of these people live. Racing certainly has a strong history here. Maybe that's it.
My hobby is not only about racing. Trackchasing for me centers around three things. The racing part is pretty obvious. However of equal importance is the logistics of trackchasing and the opportunity to see the world.
I live in Southern California. The vast majority of tracks are located in the Midwest and East. It takes a good deal of logistical planning to get from where I live to where the tracks are. For the past 15 years I have traveled about 175 nights each and every year. Surprisingly to some, more than half of those overnights were not part of trackchasing.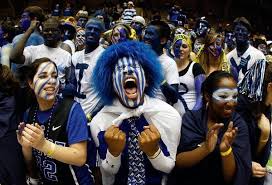 Then there's the travel just for the fun of seeing new things. You won't want to miss my "Trackchasing Tourist Attractions" page or my "Sports Spectating Resume" page on my website at www.randylewis.org. That will give you some understanding on how important seeing the world is with my hobby.
Today's adventure was one more of the 2,000 trips that have taken me up, down and around the long and dusty trackchasing trail. If you would like to see where I've been and experience those adventures here's the link: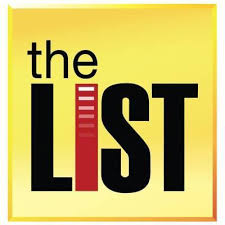 If you've got a question, comment or whatever please leave it at the bottom of this report.  It's very easy to do.  Or you can visit me on Facebook.  Thanks!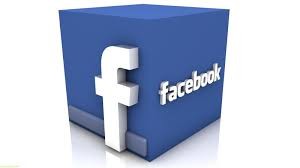 FOREWORD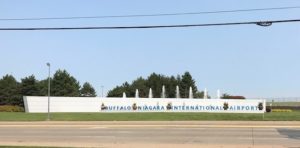 I woke up this morning at a Towne Place Suites by Marriott hotel just across the street from the Buffalo – Niagara International airport. This was a great hotel with lots of amenities. As per normal, with Priceline.com, I paid about half the rate that everyone else in the hotel was paying. It is savings like this that will keep me out on the trackchasing trail just a little bit longer.
The first item on the morning agenda was to get a power walk in. I've got a lot of travel this month. The more overnight travel I have the more difficult it is to beat my power walking trackchasing goals. Having a goal definitely motivates me to get out there and do it.
I'm using my McDonald's app to get great deals on their breakfast sandwiches. Today I got nine dollars worth of food for five bucks. Lots of little wins add up to big ones.
I am heading down to Gratz, Pennsylvania today. It's a five-hour drive and I've got 6 1/2 hours to make it. I've had my rental car for three full days. I noticed the trip odometer has registered 1,382 miles. I've still got quite a bit more driving to do before today ends.  I will say this.  Rural Pennsylvania has some of the best farm scenes depicting rural life that you will ever see.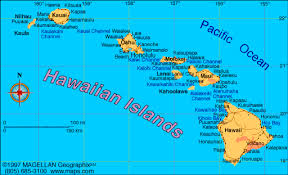 It's the last half of September. My trackchasing season for 2017 is winding down quickly. I'll get home on Thursday. Carol and I will leave for Maui, Hawaii on Saturday. That will knock me out of two trackchasing weekends right there.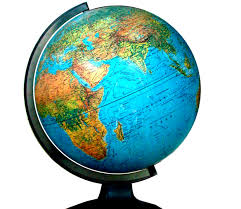 When I get back from Hawaii I expect to have a very busy and eclectic finish to my season. I don't think I'm done with foreign trackchasing. However, the places I'm planning to visit are a little bit uncertain as to regard their race dates. That's never a good thing when you're going to be buying non-refundable tickets.
I am communicating constantly with people from all around the world. They're giving me information and advice. I'm getting more messages each day from people outside of North America than from my very own continent. I enjoy that.
I arrived at the Gratz Fair in Gratz, Pennsylvania about a half hour before the scheduled starting time of 7 p.m. While others left their cars to enter the fair I sat in my rental car with the engine running and the air-conditioning humming. Why would I do that?
I suspected that virtually every one of the people that I saw walking to the fair at this particular moment lived fairly close to the Gratz Fairgrounds. They would be sleeping in their own home and in their own bed this evening. I would not.
I immediately tethered my phone with my laptop and made an Internet connection. I asked the boys and girls over at Priceline to get me a good hotel room somewhere down in the Washington D.C. area.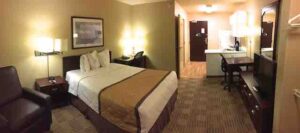 In almost no time they came back with an offer that I couldn't refuse. I got an Extended Stay America hotel in Fairfax, Virginia for less than half the very best online price the hotel was offering for this evening. Did you know that no other trackchasers have been able to handle and harness technology like I have? I'm sorry. Of course you knew that.
THE RACING
Gratz Fairgrounds – Gratz, Pennsylvania

I was at the fairgrounds tonight to see the double figure 8 racing promoted by the JM Productions demolition derby outfit. JM Productions does an excellent job with their promotions. They're one of the best promotional companies in this genre of motorsports I've seen anywhere.
I've seen racing at more than 300 figure 8 tracks. Well over 90% of those tracks have what I would call single figure 8 racing. Of course in a single figure 8 race the cars race around two tractor tires in a configuration that resembles an "8".

However with double figure 8 racing there are THREE tires that the cars race around. This creates two "X"s where the cars are on a path that crosses over itself. I don't know that I have a favorite. When the conditions are right have I enjoyed both.
What is someone attempted a triple figure 8 race? Stop the madness! I don't want to ever think about that.
Tonight there was no charge for parking. As a senior citizen I was charged just four dollars to enter the fair. That was a bargain. When I went to the grandstand I had a decision to make. I think I may have made the wrong decision.
On the one hand I could pay six dollars and get a reserved seat in the somewhat smallish covered grandstand. Alternatively I could pay just four dollars and sit in one of two sets of bleachers located on each end of the covered grandstand.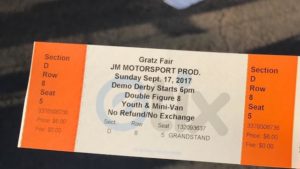 The ticket seller sort of talked me into getting a seat in the "center" of the grandstand. She told me that was the best place to see the "stage". With an outside temperature of about 80° I asked her if it was going to be extra hot in the grandstand. She shrugged her shoulders. I went with her encouragement and purchased a ticket for six dollars in section D row eight seat five.
The racing was scheduled to begin at 6 p.m. That meant I didn't have any time to explore the fair. I would do that afterwards. I went into the covered grandstand.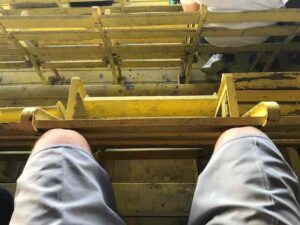 It was at this point that things began to work against me. I sat down into my seat that was probably constructed the better part of 100 years ago. I guess Pennsylvanians were much shorter then. I could barely fit my knees into my seating location. My knees touched the chair back in front of me making things quite uncomfortable.
There was no breeze in this covered grandstand. Although it was 80° outside of the grandstand it felt like it was about ninety-five inside. I've got to tell you this was the most uncomfortable seat I've had in all of 2017. My seating location was exacerbated when the announcer told us that due to a "technical problem" the racing would be delayed. It was. They didn't start racing until 6:30 p.m., thirty minutes late.
The price was right for tonight's entertainment. My seating location was horrible. Buying the more expensive option is not always the better deal. Nevertheless, I am happy to report the racing was some of the best figure 8 racing I've seen anywhere.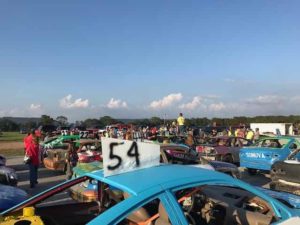 They had about 40 cars in the pit area. They divided those cars up into six heat races. The winner of each of these races advanced to the "A" main event. Each of the second-place finishers moved onto the "B". The top two finishers of the "B" went to the "A". Got that? This put eight cars in the main event.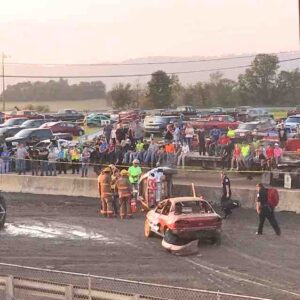 Please don't miss my video. There was a lot of good crashing and banging. The cars raced at generally high speeds given the wetness of the track. They were all powered by four-cylinder engines. Although the grandstand was sold out from a ticket selling point of view there were a few open seats to be found. The fans seem to very much enjoy tonight's double figure eight racing.
I would classify the Gratz Fair as being of average size or maybe even smaller. The food concession area seemed to be a little bit limited. Although I didn't tour any of the animal barns they didn't look that plentiful either. Finally, the carnival, which was a little ways away from the main entry street, wasn't huge either. I guess that's why I call it an average-sized fair!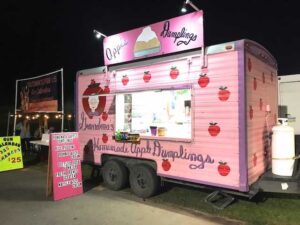 After the races I was looking for some strawberry shortcake. It's my favorite fair dessert. I walked up and down and couldn't find any.  I did see some apple dumplings but that doesn't cut it against strawberry shortcake. I settled on an ala Carte order of fried rice. The Asian couple working the stand tried to tell me that fried rice really was really only an accompaniment to their main entrée. Nevertheless, they relented and sold me a serving of fried rice for three bucks. I thanked them and headed out toward my car.
AFTER THE RACES
Normally the county fair racing season runs during the month of July and maybe for the first two weeks in August. It's a little surprising that during mid to the latter half of September I could have seen county fair racing during four of the last five nights. Three of those four nights of fair racing I didn't even know existed just one year ago. I often wonder how many tracks are still out there that I haven't discovered. Every year I think there can't be that many more and there are.
Following the conclusion of the figure 8 racing at the Gratz Fair I had a three-hour drive down to the Washington D.C. area. When I arrived my rental car's trip odometer was right at 1,700 miles. I had covered those miles in less than 3 1/2 days. No matter! I was now positioned well for some trackchasing touring tomorrow before wrapping up this unexpectedly long trip with two more county fair dates on Tuesday and Wednesday.
Good evening from Gratz, Pennsylvania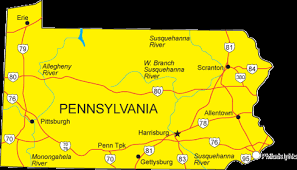 Pennsylvania
The Keystone state
This evening I saw my 103rd lifetime track in the Keystone state, yes the Keystone state. I'm sneaking up on tenth place here.
Thanks for reading about my trackchasing,
Randy Lewis
World's #1 Trackchaser
Peoria Old Timers Racing Club (P.O.R.C.) Hall of Fame Member
Pennsylvania sayings: You Jagoff!
Don't annoy a Pittsburgher. Otherwise, you're likely to hear those two biting words, "you Jagoff."
QUICK FACTS
LIFETIME TRACKCHASER COMPARISONS 
The three most important trackchasing comparisons to me are:
Total lifetime tracks seen
Total "trackchasing countries" seen
Lifetime National Geographic Diversity results
Total Lifetime Tracks
There are no trackchasers currently within 600 tracks of my lifetime total. Don't blame me.
Randy Lewis, San Clemente, California – 2,376

Total Trackchasing Countries
There are no trackchasers currently within 20 countries of my lifetime total.
Randy Lewis, San Clemente, California – 75
Current lifetime National Geographic Diversity results
Randy Lewis, San Clemente, California – 4.37
That's all folks! Official end of the RLR – Randy Lewis Racing Trackchaser Report
Click on the link below to see the video production from the racing action today.
Click on the link below for a photo album from today's trackchasing day.  You can view the album slide by slide or click on the "slide show" icon for a self-guided tour of today's trackchasing adventure.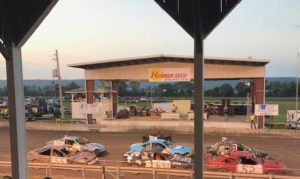 A day of county fair figure 8 racing and all of the sideways stuff that goes with it