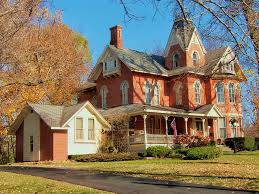 Greetings from Holland, New York
From the travels and adventures of the 
"World's #1 Trackchaser"
The Event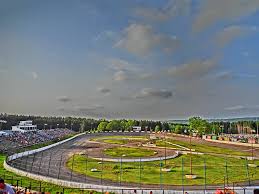 Holland Speedway
Asphalt oval
 Lifetime Track #498
.
.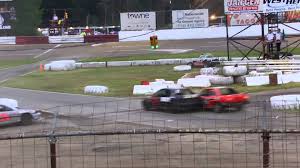 Holland Speedway
Asphalt figure 8
 Lifetime Track #499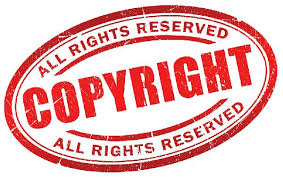 Reprinted with permission from my Thursday, July 26, 2001, Trackchaser Report. 


THE CLASSIC TRACKCHASER REPORT
Editor's note: This is a CLASSIC Trackchaser Report. What the heck does "Classic" mean? It's simply a Trackchaser Report that comes from my trackchasing archives. Typically these will be stories from tracks I visited five years or ten years or more ago.
For whatever reason (usually not enough time) it didn't get posted to my website when I first made the track visit. Often a classic TR will not have a video and/or photo album attached. I didn't begin producing my YouTube videos until 2009 (YouTube channel: RANLAY). I didn't begin writing a complete Trackchaser Report until I had seen about 425 tracks. Photo albums were sort of hit or miss during the early years of my trackchasing. Additionally, if you see a website link know that link worked when the TR was originally written. Will it work now? Your guess is as good as mine! Nevertheless, this CLASSIC Trackchaser Report has finally bubbled to the surface and is now available for everyone to see at www.randylewis.org. I hope you enjoy it.
I AM A TRACKCHASER.
My name is Randy Lewis (above with New Yorker Dave Sully). I hail from the sleepy little village by the sea, San Clemente, California. I am a "trackchaser". I trackchase. Have you ever in your life heard of "trackchasing"? I didn't think so. 
Well, you made it this far. You might as well pour yourself a cold one and take your Trackchasing 101 class. When you finish you'll have your trackchasing diploma and can then teach your friends about the hobby. 
Let's get started. Trackchasing is a three-pronged hobby. I'm a racing fan. I love to travel. I love to analyze opportunities to get the most out of everything while saving time and money.
Let's do this by the numbers.
The racing part of my trackchasing has me trying to see wheel to wheel auto racing at as many different racetracks as I can all over the world. Yes, all over the world. Do I mean that? Yes, I do! I've seen racing in 85 countries at more than 2,600 tracks. I'm known as the "World's #1 Trackchaser". Why? Because I've seen racing in more countries in the world than anyone else by a wide margin. 
However, my hobby of trackchasing involves much more than simply visiting racetracks. Much more. My hobby includes and requires lots of traveling. I get to see and experience, over the "long and dusty trackchasing trail," all kinds of interesting places, restaurants, sporting events and the like. I call these adventures "Trackchasing Tourist Attractions". You won't want to miss my "Trackchasing Tourist Attractions" page. Here's the link:  Trackchasing Tourist Attractionsor my "Sports Spectating Resume" page, Sports Spectating Resume on my website at randylewis.org.
I live in southern California. That's probably the most inconvenient location in the country for seeing tracks in the U.S. Most of the racetracks in the U.S. are located well over 1,000 miles from where I live. My average trip covers 5,000 miles and more. I take 35-40 of those trips each season. In any given year I will travel well over 200,000 miles, rent more than 50 cars, and stay in more than 150 hotel rooms. 
I get the chance to meet people from all over the world. With trackchasing trips to 85 countries and counting just getting the chance to experience so many unique cultures, spend time in the homes of my friends and meet so many people is a huge reward for being in this hobby. I am indebted to several of these folks for their help and friendship.
It takes a good deal of planning to do the above and not spend my entire retirement portfolio. I enjoy the challenge, the travel and every other aspect of "trackchasing". In reality, my trackchasing hobby is a lot like being with the carnival. I breeze into town, stay a little while and then head on down the road.
Once you begin researching my trip itineraries from my website, yes you will want to do that, you will be surprised. One day I'll be in Tucson, the next in maybe Tuscaloosa and the following day in Syracuse. I do that kind of thing all the time. Figuring out the logistics of a trip like that is as much fun for me as watching a figure 8 race.
Now you know a little bit about my trackchasing addiction. When you receive one of my Trackchaser Reports or find one on my website at www.randylewis.org you'll get three pieces of entertainment.
First, my Trackchaser Report will be an in-depth essay on how the trip went from A-Z. Yes, I'll cover the racing aspect of things. But you will also hear about what it took to pull off the trip, the special stops that made the trip fun and the obstacles that needed to be overcome.
Secondly, you'll get a YouTube video of the racing action I saw. These are normally short 3-6 minutes highlights of the racing. My YouTube channel is named, "RANLAY". I have nearly 2,000 subscribers to my channel. Currently, I have posted more than 1,300 videos and my channel has more than 1.2 million views!
Finally, I'll share a captioned photo album using a photo-sharing program called SmugMug. Normally, there will be anywhere from 50-200 photos from each trip I take. Sometimes more! My website is linked to hundreds of thousands of photos from all of the trips I have taken.
There you have it. That's trackchasing…the way I do it. Do others trackchase? Absolutely. Do they share their experiences? Sorry. They don't. If you want to see the true "essence" of trackchasing you've come to the right place.
A common question I get about my hobby is, "Why?". I'm a curious fellow. I'm an adventuresome fellow. My hobby is about seeing and experiencing the things that most folks walk right past. Below is a link to a special video. It shows a small town in Missouri that I visited on one of my trips. In this video, I'll share with you exactly what I mean. This video might just make your day.
Trackchasing….this is exactly why I do it
Today's adventure was one more of the 2,000 trips that have taken me up, down and around the proverbial long and dusty trackchasing trail.  If you would like to see where I've been and experience those adventures here's the link: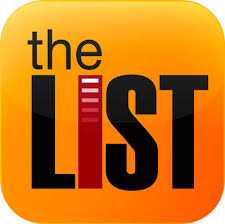 If you've got a question, comment or whatever please leave it at the bottom of this report.  It's very easy to do.  Or you can visit me on Facebook.  Thanks!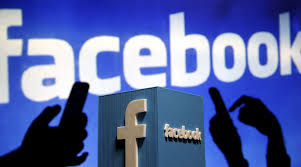 FOREWORD
Thursday, July 26, 2001.
Greetings from Holland, New York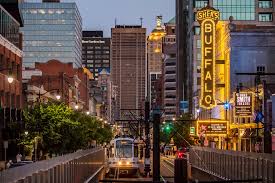 TRAVEL/PEOPLE NEWS
This weekend's racing activities will be confined to near Buffalo, New York.  Buffalo is in the northwestern corner of New York and borders Canada.  Three, and maybe four races are also planned in North Central Pennsylvania.  With any racing and weather luck, I will get my 500th track here.
For some reason, Buffalo is a very expensive market for rental cars.  I normally pay $25-30 per day for a mid to full-sized car.  The rates at all major rental car companies in Buffalo were going from $40-50 per day.  That seemed high so I bounced around on the Internet searching for a better rate.  I got one from Priceline.com.  I had never had success with Priceline before with rental cars or airline tickets.  Maybe in the past they didn't think they should sell me a roundtrip ticket to Tokyo for $198!  I submitted a bid for $30 a day for a rental car.  In less than two minutes my bid was accepted and I was out the door with a four-day rental for $141 including tax and tip.  I'm going to try this more often with lower bids and see what happens.
I also had a little trouble with my airline ticket.  Remember I lost my credit card a couple of months ago on a racing trip in Louisiana?  Seems that American Airlines still had the lost card number in their system.  So when I went to check my bag at 5:30 a.m. curbside I was informed I'd have to go inside to buy a ticket.  This was not part of the time plan.  At Los Angeles International (LAX) you don't leave your car outside and stroll in and buy a ticket.  This meant a shuttle bus ride to Lot C with THE BIG BAG and a lot of hustling to make a 6:30 a.m. departure.  I got lucky and the thing was straightened out and I made it to Buffalo via Chicago in good shape.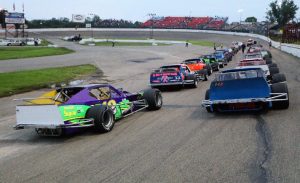 RACING NEWS
Holland Speedway is about 30 miles south of Buffalo.  The track is a 3/8 mile high-banked asphalt oval.  Their normal racing night is Saturday.  Tonight was a special called "Thursday Night Thunder".  General admission for this program was just $4.  A good bargain.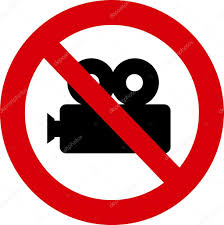 When I entered the track I began to take some video of the track facility.  I noticed an older gentleman giving me "the eye".  I then saw him give a slight nod to a huge security guard.  In no time the security guard was in my face asking me if I had permission to use the video camera.  I've only run into a couple of tracks where this is a problem.  I told the guard that no I didn't have permission and asked who I should ask to get an OK.  Since I knew the boss was only standing about 10 feet away I asked the question loud enough for him to hear.  He motioned me over.  Giving me the "you're not from around here are you boy?" look I explained my trackchaser background.  I even produced my track list for his review.  He didn't seem too impressed. Welcome to the east coast! 
I kept telling him I was there to see his oval and figure 8 tracks.  He kept saying that the racing tonight was "just playing around" and I should be there for the weekend when the NASCAR Featherlite Modifieds come in.  I kept saying it didn't matter. I was there to see the different tracks and the quality of racing didn't matter (even that sounded strange to me). Finally, he said, "we just want to know who's doing what at our track so you can go ahead with your video".
Just three classes were running tonight.  They would be the Challengers, Mini Stocks and Figure 8 (road course?) cars.  They had a good announcer but a very annoying applause track (like used in sitcoms) when they asked the crowd to applaud the winner.  The track also had a nice scoreboard and reverse lap counter.  This would be a good track to watch a top class of cars race on.
Holland Speedway also had a small carnival area with a Ferris wheel and other rides.  It was not operating tonight.  The 50/50 drawing went for $156.  A highlight of the evening was the spectator drags.  They had 8 cars in each of their three divisions of 4, 6 and 8 cylinders.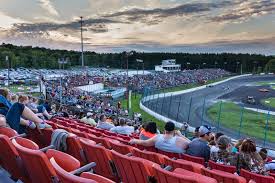 The challengers (25) and mini stocks (10) each ran a couple of heat races and their features on the oval.  The racing was good with solid sightlines from all over the large grandstand area.  They had a unique grandstand just off the number 1 and 2 turns.  It had about 30 rows and fiberglass theatre-style folding seats.  The main grandstand was your standard bleacher.
The oval at Holland Speedway was my 498th-lifetime track.
Restaurants of the day:  I ate dinner at Earl's in Sardinia, NY just south on route 16 and Holland.  If you're in the area this is the place to eat.  It's good country cooking.   Also had some fried dough aka elephant ears at the track for $2.00
Weather:  High for the day was in the low 70s.  By the time the races finished at 9:45 p.m., it was downright cold.  It was probably in the high 50s with a strong wind.  Long pants and Pebble Beach sweatshirt barely did the job.  Will (White), bring an extra blanket!
Current rental car mileage:  My Alamo Chevy Malibu had 68 miles on it when it rested for the night at Ben's Nichols Brooke Motel in Sardinia.  The motel reminds me of an old college dorm from the 40s.  It's clean and reasonable.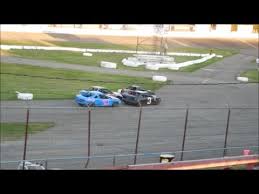 And now my review of the Holland Speedway figure 8 track!
Greetings from Holland, New York
RACING NEWS
Holland Speedway has a figure 8 track or is it a road course?  The figure 8 portion is entirely inside the high-banked 3/8-mile oval and is perfectly flat.  The cars take the green flag to start the race at the "X" or intersection of the figure 8 configuration.  Instead of taking a right in the northwest corner of the eight and heading northeast they drive up into turn two of the high banked oval and make a right, driving clockwise on the full oval, drive out of the oval's turn one and back onto the flat figure 8.  I would love to see all the different mental pictures this word description created.  The remainder of the event is completed on the flat figure 8. 
Is this a figure 8 track or a road course?  You, the reader, will have to decide.
This course would come to be my 499th track but just barely!  How many cars did this class have?  Three!  That's the minimum number of cars that can race and still have a track be countable.  It would have been a bummer if one of these car's haulers had broken down on the way to the track.
On the fourth lap of the 8-lap heat race, the three cars were involved in a wreck that brought out the yellow flag.  Temporarily none of them could restart.  I started to panic.  If they could not restart was this an official race?  Would it be an official track?  Fortunately, after a brief delay, all three got going again.
This was kind of a cheap one but #499 is in the books.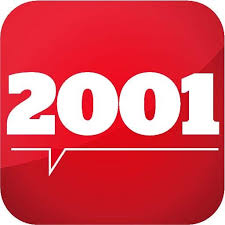 New racetracks visited in 2001
Laughlin Event Center, Laughlin, NV (no web site)
Loc Moran, Mont Carmel, Quebec (http://www.grabnetworks.net/delta/)
Circuit Jacques Rainville, Vanier, Quebec (no web site)
Pauline Davis Pavilion, Red Bluff, CA (http://www.rboutlaws.com/)
The Pavilion at the Fairgrounds, Chico, CA (no web site)
Baton Rouge Raceway, Baker, LA (http://www.batonrougeraceway.com)
Mississippi Motorsports Park, Long Beach, MS (http://www.msmotorsportspark.com)
South Alabama Motor Speedway, Opp, AL (http://www.southalabamaspeedway.com)
Nashville Super Speedway, Smyrna, TN (http://www.nashvillesuperspeedway.com)
Beech Bend Raceway (oval track), Bowling Green, KY (http://www.beechbend.com)
Beech Bend Raceway (figure 8 track), Bowling Green, KY (http://www.beechbend.com)
Soggy Bottom Speedway, Morgantown, KY (http://www.soggybottomspeedway.com)
Buttonwillow Raceway Park, Buttonwillow, CA (http://www.buttonwillowraceway.com)
Speedway 90, Beaumont, TX (http://www.Speedway90Bmt.com)
105 Speedway, Cleveland, TX (http://www.105speedway.com/)
482   Savannah Speedway, Savannah, MO (no web site)
Winston Speedway, Winston, MO (no web site)
Stuart Speedway, Stuart, IA (http://www.midiowa.com/showtime/stuart.html)
Barberton Speedway, Barberton, OH (http://www.barbertonspeedway.com/)
Eriez Speedway, Erie, PA (http://www.statelineeriezspeedway.com/)
Anderson Dry Lake, Lucerne Valley, CA (http://hometown.aol.com/mdrracing/index.html)
Perris Auto Speedway-(figure 8 track), Perris, CA(http://www.perrisautospeedway.com/)
Dixie Motor Speedway – (figure 8 track), Birch Run, MI (http://www.dixiemotorspeedway.com)
Dixie Motor Speedway – (oval track), Birch Run, MI (http://www.dixiemotorspeedway.com)
Grand Prix of Cleveland, Cleveland, OH (http://www.imgmotorsports.com/)
492   Painesville Speedway – (oval track), Painesville, OH (http://members.tripod.com/pspeedway/)
493   Painesville Speedway – (figure 8 track), Painesville, OH (http://members.tripod.com/pspeedway/)
Angola Motor Speedway, Angola, IN (http://www.angolamotorspeedway.com/index.shtml)
Atlanta Motor Speedway, Hampton, GA (http://www.atlantamotorspeedway.com/)
Dixie Speedway, Woodstock, GA (http://www.dixiespeedway.com/)
Rome Speedway, Rome, GA (http://www.dixiespeedway.com/) Rome uses the same web site as Dixie Speedway.
Holland Speedway (oval), Holland, NY (http://www.hollandspeedway.com/)
I can tell you that "The History of America's Speedways – Past and Present" authored by Allan E. Brown has this to say about the Holland Speedway. By the way, I can't even imagine the level of research it took to make this book. There is a listing from virtually every racetrack that ever existed in the U.S. and Canada. It truly does border on the unbelievable. Well done!
The Holland Speedway began its life as a 3/8-mile dirt oval in 1960. They stayed with the dirt until 1967. Holland paved their track surface and had their first race on the tarmac on June 20, 1968. They began running figure 8s on a 3/8-mile paved F8 in 1980. Then in 1983, they added a second (this is very unusual) F8 track inside of the main oval. This figure 8 configuration is estimated to be 1/5-mile in length.
You might have remembrances about this track.  If so, please feel free to share your memories in the comments section below.  If you have any photos from back in the day, send them to me at Ranlay@yahoo.com.  I'll try to include them here.
Thanks for reading about my trackchasing,
Randy Lewis
World's #1 Trackchaser
Peoria Old Timers Racing Club (P.O.R.C.) Hall of Fame Member
New York sayings: New York City is the Capital of the World
That's all folks!  Official end of the RLR – Randy Lewis Racing Trackchaser Report