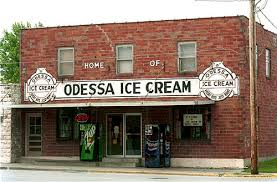 Greetings from Odessa, Missouri
.
.
From the travels and adventures of the
"World's #1 Trackchaser"
.
.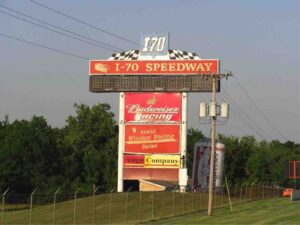 I-70 Speedway
Dirt oval – 1/2-mile
Lifetime Track #118
.
.
I-70 Speedway
Asphalt oval – 1/2-mile
Lifetime Track #463
.
.
I-70 Speedway
Dirt oval – 1/4-mile
Lifetime Track #1,208
The Event2007 visit
THE EVENT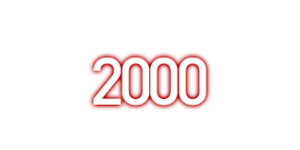 Today's undertaking was just one of more than 2,000 trips that have taken me up, down and around the long and dusty trackchasing trail. If you would like to see where I've been and experience those adventures here's the link:
If you've got a question, comment or whatever please leave it at the bottom of this report.  It's very easy to do.  I'll try my best to respond.  Thanks!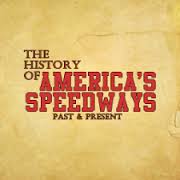 My history with the I-70 Speedway.
The I-70 Speedway has a long and glorious history.  Unfortunately, I missed most of it.  According to "The History of America's Speedways – Past and Present" authored by Allan E. Brown the I-70 Speedway opened on August 8, 1969.  The facility's paved oval ran through 1980, re-opened on July 31, 1988 and then closed again in 2008.  In 1981 the main 0.54-mile oval was covered in dirt.  It ran as a dirt track from 1981-1987.
My 1982 visit.
On a Tuesday night, August 9, 1982 I made my first ever visit to the I-70 Speedway.  By this time they were racing as a dirt track.  Back in 1982 the I-70 Speedway was only my 118th lifetime track.  I was 33 years of age at the time.  Yes, compared to most others I got a very late start in trackchasing.
I was in the area for a business meeting.  I remember that a small group of us ventured over to I-70 including racing buddy Jim Sabo.  Back in these days I was seeing a lot of World of Outlaws sprint car racing.  On this night Sammy Swindell (above) was the winner.  I do remember being in the pits.  A young woman was hit by a moving sprint car.  She was run over by one of the huge rear tires of a sprint and sent flying.  Fortunately, she was O.K.  The pits, especially with sprint cars, can be a very dangerous place.
Over the next four nights I went racechasing at the Knoxville Sprint Car Nationals in Knoxville, Iowa.  I saw some greats with the features on the first three nights including Jimmy Sills, Doug Wolfgang and Steve Kinser.  Then Saturday night's final was rained out.  I couldn't stay for Sunday's rain date due to business commitments.  I had a pretty big job at the time.  I couldn't go racechasing whenever I wanted.  Nevertheless, with good planning, my job took me places where I could see lots of unique racing locations…on the company's dime.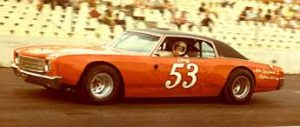 I returned in 2000.
In the year 2000 I returned to the I-70 Speedway.  By this time the track's surface on their "big" track had returned to asphalt.  I was finally go to see racing on the track surface that Dick Trickle, Terry Bivins (above) and the like had made famous.  However, I wouldn't get to see much racing after all.  The program was rained out after just two heats were run!
2007 – My final trip to the famous I-70 Speedway.
Finally, in 2007, I came back to the I-70 Speedway.  They had constructed a permanent quarter-mile dirt track behind the main grandstands of the original 0.54-mile track.  I would see a special Wednesday night program featuring the United States Touring Modified Series (USMTS).  This is my favorite modified series of all.  I'll tell you all about that with photos from the event behind the "2007 Visit" tab.
Wikipedia doesn't provide much historical information about most of our country's short tracks.  However, in a nod to the famousness of the I-70 Speedway Wikipedia shares this: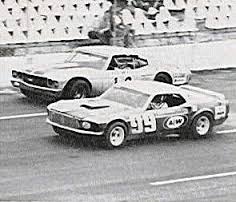 "I-70 Speedway was a racetrack near Interstate 70 east of Odessa, Missouri, USA. The track opened in 1969 and was open every year until it closed in 2008. It was built and owned by Bill Roberts who, along with partners, had previously built and owned KCIR Dragstrip on Noland Road in Kansas City, Missouri.
The track hosted NASCAR Craftsman Truck Series races from 1995 to 1999. In 2006, a new 3/8 dirt track was built on the site. The asphalt track is a long 1/2 mile (0.54 mi) with high 30-degree banking in the turns. The back stretch has a small dog-leg. It is regarded as one of the fastest and highest banked short tracks in the nation. When the track was being built, in the late sixties, a crane was used to pave the turns from outside the retaining wall because nothing was capable of paving embankments that high at the time. It was also one of the first tracks to feature a very early version of the soft-wall. During a World Cup race in the early 1990s huge styrofoam blocks were placed high along the retaining wall in all the turns. All-Pro Series driver, and former NASCAR Rookie of the Year, Jody Ridley hit one of the blocks which sent him airborne over the wall in turn four upside down. Ridley walked away from the wreck, but that style of soft wall was only used in a few more races at I-70. I-70 is also one of the few race tracks that offers individual bucket seating for fans instead of bleachers. This unique style of race track seating was designed by Bill Roberts and his good friend Louis Noland.
Mr. Roberts sold the track to Mr. Weld (of Weld Racing Wheel fame) sometime in the late 1970s or early 1980s (?). Weld turned the track into a dirt track. Late in 1989 Roberts, who had continued holding the note on the track, repossessed I-70 from Weld. Then Mr. Roberts, along with sons Dennis and Randy, turned the track back to asphalt and got it NASCAR sanctioned. On another interesting note, Roberts' other son Dan, who was a Kansas City area country music DJ on KFKF 94.1 FM and long-time announcer at Arrowhead stadium, got his start in sports broadcasting at I-70.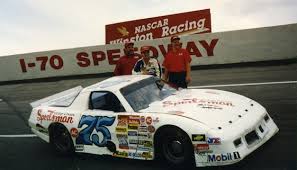 I-70 was the "home" track of many famous drivers such as Rusty Wallace, Clint Bowyer, and perhaps the best short track driver of all-time Larry Phillips (above) who won five Short Track National Championships and well over 2,000 confirmed feature wins. (However, some estimates are much higher than that at around 2,500. In the early days many local race tracks didn't keep records past the end of a season and what records were kept were often lost or simply thrown away over the years). James Ince, who was Larry Phillips crew chief and later a NASCAR Crew Chief of the Year with Johnny Benson Jr., also started his career at I-70. Other notable drivers who had driven there (not all of them on a full-time basis) included: Mark Martin, Butch Miller, Bob Senneker, Dick Trickle, Mike Eddy, Johnny Benson Jr., Jamie McMurray, John O'Neal Jr., Terry Bivins, Jenny White, Jennifer Jo Cobb and many others. Famous short track driver Joe Shear once held the 4 barrel Late Model track record. Adam Petty, grandson of Richard Petty, once won an ASA race at I-70.
Famous actor and race car driver Paul Newman rented the race track in 1990, while he was filming in the Kansas City area, for a private practice session. He drove some of the local race cars including the 1989 Late Model Track Champion, Jay Truelove's.
Mr. Roberts sold the track to Ted Carlson sometime in the mid-1990s. Carlson later sold the track to Brad McDonald. The track has hosted stock car racing and kart racing events. It used to offer a twin-billing Saturday night dirt track and asphalt track show. The dirt track is directly behind the original asphalt facility. The major asphalt event held at the track was the World Cup. This event first featured the All-Pro series, but in later years it featured the ASA Late Model Series (formerly known as ARTGO) North vs. South Showdown."
TODAY'S HEADLINES
Several readers sent in their "Sports Spectating Resumes," …….…….details in "Sports Spectating Resumes."
What makes the Kansas City airport so unusual?………………details in "Rental Car Update."
Midwest Airlines, what makes them so special?…………details in "The Trip."
SPORTS SPECTATING RESUMES 
Recall I recently posted my personal sports spectating resume. I asked readers to send me a list of where they've been able to see or have a close-up encounter with legends of sport. Check these out.
From Florida………
– NBA Finals (Seattle/Chicago)
– NBA All Star Game (Cleveland)
– NCAA Final 4 (Indy, Atlanta, San Antonio, St. Louis & New Orleans)
– Gator Bowl (3 times)
– MLB All-Star Game (Cleveland)
– MLB World Series (Oakland, Cleveland)
– NFL Super Bowl (Detroit, Jacksonville)
– The Masters (practice round – twice)
– PGA TPC (Sawgrass, 3 times)
– Indy 500
– Daytona 500 (3 times)
Our Florida reader "would like to see the Kentucky Derby, Stanley Cup Finals and the NCAA Football National Championship game. That should about do it for rounding out my list."
From Texas……… 
– NFL Super Bowl (Tampa, Pasadena)
– Cotton Bowl (3 times)
– Dallas Cowboys season tickets (1990-98)
– Played in 1973 Senior college football bowl
– Played in 1973 Coaches All-America game
– Played in 33 Texas Tech football games (1970-72)
– Played in the Sun Bowl twice
Our Texas reader states, "My future objectives include the Kentucky Derby, Olympics, Indy 500, ringside seat at a future heavyweight championship-boxing match and the World Series."
From Colorado……… 
– U.S. Senior Open (mid-80s, talked to Gary Player about his workout regime, a true gentleman)
– NFL playoff game (Keezar Stadium, San Francisco – mid-70s) 
– NFL Championship games – 2 times (Broncos vs. Browns and Oilers, featuring the "Browns" fumble)
– International Golf Tournament – Denver
– NFL pre-season game in Omaha, Nebraska
– Met Bart Starr in a Vail pizza parlor 
– My wife lived down the street from St. Louis Cardinals pitchers, Bob Gibson in Omaha
– Caught a ball in the V.I.P. section at Angels Stadium and had Don Drysdale, who was broadcasting the game next door, sign it. 
– My wife had Pee Wee Reese in the family home and he signed a ball for her. Dizzy Dean was a frequent visitor to her parent's home.
Thanks to the folks who sent in their "Sport Spectating Resumes." As I read each of these, it gave me a feeling of being there.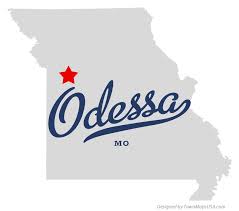 Greeting from Odessa, Missouri,
I woke up in San Clemente, California this morning.  I went to sleep in Blue Springs, Missouri.  This is what transpired today.
PEOPLE/STRATEGY/TRAVEL NEWS
The Strategy       
This trackchasing trip worked perfectly into my overall trackchasing strategy. I would prefer not to travel during golf's four major tournament weekends. This is the weekend of the U.S. Open at Oakmont near Pittsburgh, Pennsylvania. I would also prefer not to travel over Father's Day weekend.
This particular trip had me traveling for just two overnights a Wednesday and a Thursday. The two tracks in Missouri would require only about 250-300 miles of total driving. Both tracks were featuring one of my most favorite touring groups, the United States Modified Touring Series. I would gain two lifetime National Geographic Diversity points. Finally, I would be able to stay in the same hotel for two consecutive nights. I rarely get to do that. The weather forecast called for dry perfect weather. With all of these things going in my favor, this was nearly the perfect trackchasing trip.

The Trip 
My primary airline sponsors are SkyWest, United and Delta. Since I gained that sponsorship back in September, 2006, I have done all of my flying with these carriers. However, I also have the option of flying with just about any U.S. and many foreign carriers. It takes just a bit more preplanning, but it can be worth it.
I've really been "mining" the tracks within easy driving distance of the airline hubs of my primary carriers. This trip would mark my first diversion into the realm of "ZED fare carriers."

I was flying on Midwest Airlines today. Their hubs are in Kansas City and Milwaukee. This trackchasing trip was to begin in the Kansas City area. For me to get to Kansas City from Los Angeles on United or Delta, I would have to connect in one of their hubs, probably Denver of Salt Lake. Midwest Airlines would take me non-stop from LAX to MCI (Kansas City).
J.J. had told me about the special service offered by Midwest. They did give their passengers some things I wouldn't normally expect. First, they had a full-sized jet with only two seats on each side of the plane rather than three. The seats were large and leather. They didn't offer any first class seats, but these coach seats were nearly as good.
They offered meals for $10 each. That seemed a bit expensive to me and I wasn't hungry anyway. I'll try one next time, because I've heard they are so good. They did give each passenger a freshly baked chocolate chip cookie. I liked that touch.
Finally, they did something, I have never seen in all my days of flying. I first started flying regularly when I was 22 years old. I have flown nearly every week since for the past 36 years. That's a lot of flights, so it takes something special for me never to have experienced it before.
They had an automated flight attendant announcement for virtually every instance where one would be required. If we hit turbulence, a recorded voice came over and told us to remain seated and fasten our seat belt. When the flight attendants were going to come through the plane with food and beverage, the automated announcements told us all about it.
I'm seeing this more and more, but this is a first inside the airplane. It is very common with rental car buses to have these automated announcements. I think businesses are doing it because so many of their employees don't speak English well.
The People 
I met an interesting lady at the check-in desk of tonight's Super 8. To get to the hotel I had driven East on Interstate 70. When I reached my desired exit, the state provided directional sign told me to turn right. This was a well-developed commercial area. I searched and searched for the Super 8 with no luck. Finally, I decided to try the other side of the freeway and quickly found the hotel.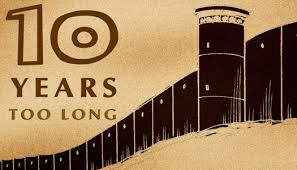 I told the woman at the hotel desk about my dilemma. "Yes," she said. "We've contacted the state about the bad directional sign. They told us they have 10 years to correct the sign!" She didn't seem to upset with this bureaucracy. That was disappointing.
I-70 SPEEDWAY – DIRT (OUTER OVAL), – TRACK #1,208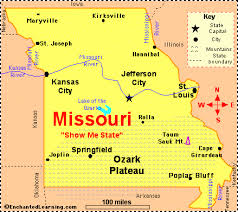 MISSOURI STATE RANKINGS
This was my 36th lifetime track in the Show Me state. I move up one position into a tie with Allan Brown for 6th place. I'm only one track out of fifth currently held by Andy Sivi. Ed Esser leads in Missouri with 52 tracks.
RACE REVIEW 
Sometimes I miss my racechasing days. You see, I chase tracks today not races. I've been to more than 1,200 tracks and there are about 1,200 North American tracks remaining for me to see. If you thought I went to most of the best tracks in the FIRST 1,200 I saw you would be right. A huge percentage of the remaining tracks don't offer nearly as good racing as the ones I've already seen.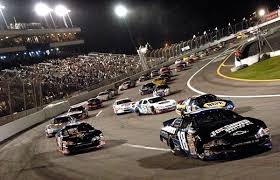 You might ask, "If you want to see good racing, why don't you go to Irwindale Speedway (above) or Perris Auto Speedway? These tracks offer an excellent program and they're right in your backyard." My answer to that question is simple. I spend too much time going to the races now. I don't want to spend my free time from trackchasing going to more races. I've got too many other interests in life and don't have the time.
Nevertheless, not all of the future tracks I will see offer sub-par racing programs. If they did, I would probably give up trackchasing. One of my favorite classes of racing involves the low-cost dirt modified. Hawkeye Racing News' Keith Knack created those dirt modifieds back in 1979. They put on great side-by-side racing.
Tonight's program was sanctioned by the United State Modified Touring Series. This series travels from track to track and state to state all over the central part of the U.S. They have very full fields of cars. That can't be said for most of the tracks, I have visited in 2007.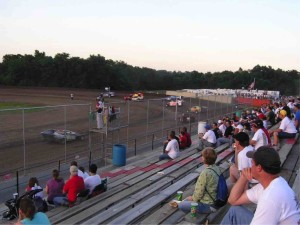 Tonight, they brought a lower than normal 28 modifieds. That was still enough for four heat races, a "B" main and the "A" feature. They draw for starting positions and use "passing" points to determine feature-starting positions. I like all of that!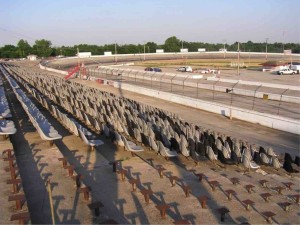 This is the first year for the I-70 dirt track. The track sits behind the main grandstand of their ½-mile asphalt track that has been in existence for some 30 years. Actually, the ½-mile track was dirt for a few years back in the day. I have seen countable racing on both surfaces of the ½-mile track.  I had a good view of the asphalt track while standing in the grandstands of the dirt track.  I could still see the famous molder plastic "bucket" seats which first appeared at the I-70 Speedway when it opened in 1069.
Tonight's racing was on the quarter-mile dirt oval. They also have an inner dirt oval and a traditional figure 8 track connected to the inner dirt oval. That means I could conceivably be back here some day for the inner dirt oval and figure 8 track. I've even heard talk of a makeshift road course being considered. Will these promoters never stop with the extra tracks?
The U.S.M.T.S. normally pays a large purse for short track racing. Usually, they pay a minimum of $2,000 to win the feature. There were only 300-400 fans in the stands for tonight's Wednesday night show. I don't know how they can pay the purse with a crowd that small.
I heard the track promoter say over the race scanner that the announcer should, "keep pluggin' away for tomorrow night's race, so I can make some money." With that internal communication, the announcer immediately went to work over the P.A. recommending the next four nights of U.S.M.T.S. racing. Yes, this entertainment is a business.  By the way part of the "entertainment" was a hot dog eating contest at intermission.
The racing was O.K. The track was too narrow and too dry. I was glad I had my racing goggles tonight. Nevertheless, the passing in the feature was good over the 40 laps that were contested. I love Midwestern modified racing. I wish each one of you had the opportunity to visit the Boone Speedway, the second weekend of September each year. This is the mecca for modified racing. They get more than 300 cars to show up for six straight nights of racing. In addition, their rib-eye steak sandwiches and fried potato chips are out of this world.
RACE TRACK STATS:
Track details 
Website: http://www.i70speedway.net/
Weather: The weather was warm with temps in the low 80s.
Track type: oval
Surface: Dirt. The track was too dry and dusty.
Length: ¼-mile
Grandstands: Even though the grandstand was newly erected, the 16-row wooden bleach boards were a little rickety.
P.A.: O.K.
Announcer: The USMTS uses each track's local announcer. The guy did a decent job considering there were so many racers from all over the country at tonight's show.
On time: Just 15 minutes late.
Pit area: Located beyond turn one.
Classes: They only had the hobby stocks (8) in addition to the 28 U.S.M.T.S. modifieds.
Radio Frequency: 469.500. I had to ask the flagman what their frequency was after searching a long time for it.
Concessions: Excellent! I bought a paper bag of peanuts that must have weighed more than three pounds. This many peanuts at Angels Stadium would have cost $20-25. I am not exaggerating. I also went with a massive, quality double cheeseburger. It was huge and I think it cost $4.00. I doused it all with a $4.00, 16-oz. Budweiser in a designer red bottle. I felt a little "L.A." drinking out of such a container and would have preferred a can.
Scoreboard: No
Extras: The dirt track grandstands sit back to back with the grandstands for the asphalt track. There were a few cars over on the asphalt track practicing.
LIFETIME TRACKCHASER STANDINGS UPDATE:
There is only one trackchaser within 100 tracks of my lifetime total.
Randy Lewis, San Clemente, California – 1,208
Allan Brown, Comstock Park, Michigan – 1,110
Other notables
These worldwide trackchasers are within 10 tracks (plus or minus) of Carol's current trackchaser total.
Dwight Bucks, Topton, Pennsylvania – 324
Carol Lewis, San Clemente, California – 319

2007 TRACKCHASER STANDINGS
Randy Lewis, San Clemente, California – 70
Ed Esser, Madison, Wisconsin – 47
Roland Vanden Eynde, Vilvoorde, Belgium – 35
Carol Lewis, San Clemente, California – 25
Mike Knappenberger, Reading, Pennsylvania – 25
Guy Smith, Effort, Pennsylvania – 20
Gordon Killian, Sinking Springs, Pennsylvania – 18
Paul Weisel, Orefield, Pennsylvania – 17
Pam Smith, Effort, Pennsylvania – 16
Roger Ferrell, Majenica, Indiana – 15
Tracks have been reported by 37 different worldwide trackchasers this season.
RENTAL CAR UPDATE
Kansas City – Wednesday, Thursday, Friday 
The Kansas City airport is unusual for a few reasons. One of them is there "rental car center." They had a generic rental car bus that picks up customers when their planes land. This is different from most airports where each individual rental car brand (Hertz, Avis, National, etc.) has there own bus.
This idea is definitely in the minority, but I see it from time to time. I guess the advantage is that fewer rental car buses are clogging up the roads around the airport.
The Kansas City Airport is not huge by most big city standards. However, their rental car terminal is GIGANTIC. Imagine one of the bigger shopping malls, you've ever seen. The Kansas City Airport rental car center is like a huge shopping mall. I was shocked at its size.
Thanks for reading about my trackchasing,
Randy Lewis
Alberta's #1 Trackchaser
If you're lucky enough to live at the beach, you're lucky enough.
CUMULATIVE TRAVEL DISTANCES:
AIRPLANE 
Los Angeles, CA – Kansas City, MO – 1,361 miles
RENTAL CAR – KANSAS CITY 
Kansas City International Airport – trip begins
Odessa, MO – 72 miles
TRACK ADMSSION PRICES: 
I-70 Speedway – $15
LIFETIME NATIONAL GEOGRAPHIC DIVERSITY STANDINGS
2007 (current thru 6/11/07)**
Randy Lewis, San Clemente, California – 6.71
Gordon Killian, Sinking Springs, Pennsylvania – 6.96
Allan Brown, Comstock Park, Michigan – 7.55
**Until the end of the year, NGD rankings are unofficial.  Rankings are affected not only by the leader's activities but also by other trackchasers impact on the leader's position in each state. 
UPCOMING TRACKCHASING PLANS 
This is the general type of racing I grew up watching. I wish most programs I watched in my trackchasing hobby offered racing like this. I will get a chance to see these guys run tomorrow night.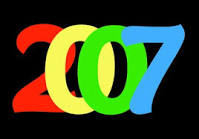 RACETRACKS VISITED IN 2007 (** not the first time to visit this track)
1,139.  Meremere Dirt Track Club, Meremere, New Zealand – January 1
1,140.  Meeanee Speedway, Hawkes Bay, New Zealand – January 1
1,141.  Top of the South Speedway, Richmond, New Zealand – January 2
1,142.  Woodford Glen Speedway, Christchurch, New Zealand – January 3
1,143.  Robertson Holden International Speedway, Palmerston North, New Zealand – January 5
1,144.  Taupo Motorsports Park, Taupo, North, New Zealand – January 6
1,145.  Waikaraka Park International Speedway, Auckland, New Zealand – January 6
1,146.  Angels Stadium of Anaheim (inner oval), Anaheim, California – January 13
1,147.  Angels Stadium of Anaheim (outer oval), Anaheim, California – January 13
1,148.  West Valley Speedway, Surprise, Arizona – January 14
1,149. Sandia Motorsports Park (road course), Albuquerque, New Mexico – January 28
1,150. Grand Prix De Lanaudiere, Lavaltrie, Quebec, Canada – February 3
1,151. Ste-Eulalie Ice Track, Eulalie, Quebec, Canada – February 4
1,152. St Guillaume, St Guillaume, Quebec, Canada – February 4
1,153. Caldwell Rodeo Arena, Caldwell, Idaho – February 10
1,154. Balsam Lake Ice Track, Balsam Lake, Wisconsin – February 18
1,155. Northeast Pond Ice Track, Milton, New Hampshire – February 24
1,156. Lee Pond Ice Track, Moultonborough, New Hampshire – February 25
1,157. New Hendry Country Speedway, Clewiston, Florida – March 3
1,158. Florida Sports Park, Naples, Florida – March 4
1,159. Honeoye Lake Ice Track – Road Course, Honeoye, New York – March 10
1,160. Houston Raceway Park, Baytown, Texas – March 16
1,161. Houston Motorsports Park, Houston, Texas – March 16
1,162. Dawgwood Speedway, Chatsworth, Georgia – March 17
1,163. Toccoa Speedway, Toccoa, Georgia – March 17
1,164. Tazewell Speedway, Tazewell, Tennessee – March 18
1,165. Malden Speedway, Malden, Missouri, Tennessee – March 23
1,166. Dacosa Speedway, Byhalia, Mississippi – March 24
1,167. Swinging Bridge Raceway, Byram, Mississippi – March 24
1,168. Florence Motor Speedway, Florence, South Carolina – March 25
1,169. Foothills Raceway, Easley, South Carolina – March 30
1,170. Mileback Speedway, Gray Court, South Carolina – March 30
1,171. Grand Prix of St. Petersburg, St. Petersburg, Florida – April 1
1,172. Vegas Grand Prix, Las Vegas, Nevada – April 8
1,173. Huntsville Speedway, Huntsville, Alabama – April 13
1,174. Low Country Kartway, Aynor, South Carolina – April 14
1,175. Dillon Motor Speedway, Dillon, South Carolina – April 14
1,176. Valley Dirt Riders, Berthoud, Colorado – April 15
1,177. Antelope Valley Fairgrounds, Lancaster, California – April 22
1,178. Sertoma Speedway, Tularosa, New Mexico – April 27
1,179. Sandia Motorsports Park (outer oval), Albuquerque, New Mexico – April 28
1,180. Sandia Motorsports Park (inner oval), Albuquerque, New Mexico – April 28
1,181. Hollywood Hills Speedway, San Felipe Pueblo, New Mexico – April 29
1,182. Meridian Speedway, Meridian, Idaho – May 11
1,183. Diamond Mountain Speedway, Vernal, Utah, Idaho – May 12
1,184. Rocky Mountain Raceways (oval), Salt Lake City, Utah – May 12
1,185. Rocky Mountain Raceways (figure 8), Salt Lake City, Utah – May 12
1,186. Modoc Speedway, Modoc, South Carolina – May 18
1,187. Possum Kingdom Super Speedway, Belton, South Carolina – May 19
1,188. Laurens County Speedway, Laurens, South Carolina – May 19
1,189. Fairplex at the Los Angeles County Fairgrounds, Pomona, California – May 20
1,190. Lowes Motor Speedway (inner oval), Concord, North Carolina – May 24
1,191. Lowes Motor Speedway (road course), Concord, North Carolina – May 24
1,192. Madison International Speedway (inner oval), Oregon, Wisconsin – May 25
** Madison International Speedway (outer oval), Oregon, Wisconsin – May 25
1,193. Thunderbird Stadium (figure 8), Bremerton, Washington – May 26
1,194. Thunderbird Stadium (oval), Bremerton, Washington – May 26
1,195. Whispering Pines Motorsports Park, Kamloops, British Columbia, Canada – May 27
1,196. Magic Valley Speedway, Twin Falls, Idaho – May 28
1,197. Owyhee Motorcycle Raceway Park, Boise, Idaho – June 1
1,198. Race City Motorsports Park, Calgary, Alberta, Canada – June 2
1,199. Edmonton International Raceway, Wetaskiwin, Alberta, Canada – June 2
1,200. Castrol Raceway, Edmonton, Alberta, Canada – June 2
1,201. Hidden Valley Motorsports Park, Drumheller, Alberta, Canada – June 2
1,202. Boyd's Speedway, Ringgold, Georgia – June 8
1,203. Fayette County Fairgrounds, Washington Courthouse, Ohio – June 9
1,204. Brush Creek Motorsports Park, Pebbles, Ohio – June 9
1,205. Brown County Speedway, Russellville, Ohio – June 9
1,206. Vinton Speedway, Vinton, Ohio – June 10
1,207. Hilltop Speedway, Millersburg, Ohio – June 10
1,208. I-70 Speedway – dirt (outer oval), Odessa, Missouri – June 13