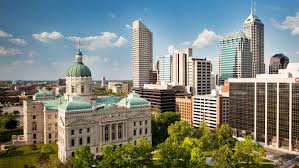 Greetings from Indianapolis, Indiana
.
.
From the travels and adventures of the 
"World's #1 Trackchaser"
.
.
Indianapolis Raceway Park
Asphalt oval
Lifetime Track #88
.
.
Indianapolis Raceway Park
Asphalt road course
Lifetime Track #558
.
.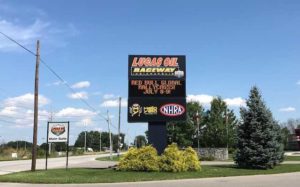 Lucas Oil Raceway
Mixed surface road course
Lifetime Track #2,346
The EventMixed surface road course 2017The road course visit from 2002Video PlusPhotos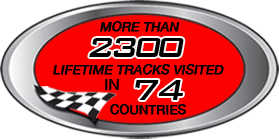 THE EVENT
I have had the opportunity to follow my trackchasing hobby all over the world. As this is written I have seen racing in 74 countries. My lifetime track total exceeds 2,300. Each and every year I will trackchase in 25-30 states.
At track #1,040 I moved into the "World's #1 Trackchasing" spot. Here's the funny thing about that. I was perfectly content to remain in about seventh place in the worldwide trackchasing standings. Then I had rotator cuff surgery, which knocked me out of golf for about six months. With no golf and time on my hands I turned up my trackchasing by a notch or two. I discovered I liked MORE trackchasing and LESS golf. It didn't take all that long to move up to the top of the world trackchasing standings at that point.
It seems as if I am returning to several facilities to catch a "different configuration". That was the case today. All the way back in 1980 I made it to "IRP" for racing on their oval track. Then I returned in 2002 for racing on their traditional asphalt road course. And now, some 37 years after my first visit here, I was back. I'll tell you all about it below.
My hobby is not only about racing. Trackchasing for me centers around three things. The racing part is pretty obvious. However of equal importance is the logistics of trackchasing and the opportunity to see the world.
I live in Southern California. The vast majority of tracks are located in the Midwest and East. It takes a good deal of logistical planning to get from where I live to where the tracks are. For the past 15 years I have traveled about 175 nights each and every year. Surprisingly to some, more than half of those overnights were not part of trackchasing.
Then there's the travel just for the fun of seeing new things. You won't want to miss my "Trackchasing Tourist Attractions" page or my "Sports Spectating Resume" page on my website at www.randylewis.org. That will give you some understanding on how important seeing the world is with my hobby.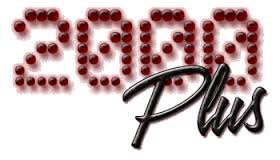 Today's adventure was one more of the 2,000 trips that have taken me up, down and around the long and dusty trackchasing trail. If you would like to see where I've been and experience those adventures here's the link: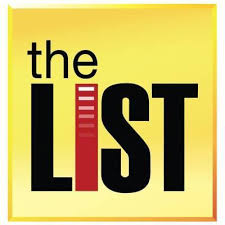 If you've got a question, comment or whatever please leave it at the bottom of this report.  It's very easy to do.  Or you can visit me on Facebook.  Thanks!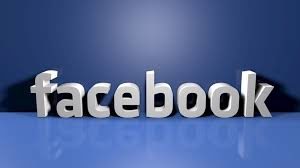 FOREWORD
Today began as a simple trackchasing day. However, I am always on the lookout for that "something extra". If you get something extra in life every day all of those "something extras" begin to add up after a while. That's how I live my life.
I call Southern California home. However, I would have to say that most of my friends live outside of Southern California. They are located all across the United States and the world for that matter.
Why is that? I guess it's because I'm not in Southern California all that much. When I was working most of the people I worked with lived all across the United States. Many of the people I've met up with in trackchasing also live all across the country and the world.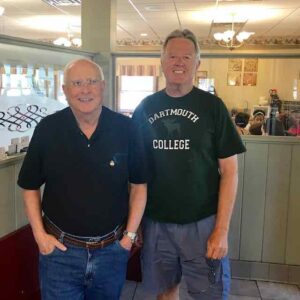 Today I was going to have breakfast with my good friend from Procter & Gamble, Greg Robbins. Whenever I'm cruising through Ohio I give Greg a heads up. When he can he joins up with me and we have a delightful conversation for a few hours on all matter of things. That was the case today as well. Greg even has a few racetracks on his lifetime resume as a result of our friendship.
One of the biggest benefits of my trackchasing hobby, that I don't really mention very often, is my ability to see people who live a long way from where I live frequently. Most people who live in one geographical location or another have most of their friends and contacts within 25 miles of them. That's not the case with my lifestyle. Trackchasing is one of the major reasons for it.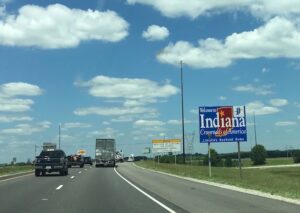 Following breakfast with Greg I would be trackchasing at the Lucas Oil Raceway over in Indianapolis, Indiana. That location was only a two-hour drive from George's restaurant in Dayton, Ohio. The logistics for everything would work out perfectly.
THE RACING

Lucas Oil Raceway – Indianapolis, Indiana
I have a history with the Lucas Oil Raceway. I first went there all the way back in 1980. I saw racing on their somewhat famous (from the ESPN days) asphalt oval. The track was then called the Indianapolis Raceway Park. It was my 88th lifetime track. Yes, that was a long-time ago. Honestly, I don't remember much about that race.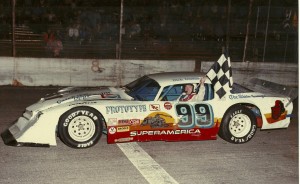 I do know that one of my all-time favorite stock car racers, Dick Trickle, won the feature event. I'm pretty sure it was an American Speed Association (ASA) race. We often traveled long distances just to see Trickle race. The night before I had seen Sammy Swindell win a big sprint car race over at the famous Eldora Speedway in tiny Rossburg, Ohio.
I wasn't really a "trackchaser" back then. I was a "racechaser". I went to the races for the quality of the racing I expected to see. I followed racing series that offered my favorite race drivers. My, how things have changed. Nowadays I'm not much concerned with the quality of racing. I only get concerned about things I have some control over!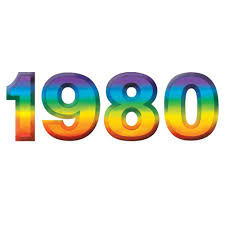 We moved from Connecticut to Chicago in 1980. Nevertheless, many of the new track visits I made that year were a long way from home. That part of my racing hobby hasn't changed much over the years. Here's my 1980 list of new track visits.
| | | |
| --- | --- | --- |
| EAST BAY RACEWAY |   | GIBSONTON, FL |
| BIG H MOTOR SPEEDWAY |   | HOUSTON, TX |
| DEVILS BOWL SPEEDWAY |   | MESQUITE, TX |
| STAFFORD SPRINGS MOTOR SPDWY |   | STAFFORD SPRINGS, CT* |
| DANBURY FAIR RACE ARENA |   | DANBURY, CT |
| ELDORA SPEEDWAY |   | ROSSBURG, OH |
| ORANGE COUNTY FAIR SPEEDWAY |   | MIDDLETON, NY* |
| LINCON SPEEDWAY |   | NEW OXFORD, PA |
| DOVER DOWNS INTL SPEEDWAY |   | DOVER, DE* |
| GRANDVIEW SPEEDWAY |   | BECHTELSVILLE, PA |
| FLEMINGTON SPEEDWAY |   | FLEMINGTON, NJ* |
| SILVER DOLLAR SPEEDWAY |   | CHICO, CA |
| NAZARETH RACEWAY |   | NAZARETH, PA |
| LEBANON VALLEY SPEEDWAY |   | LEBANON VALLEY, NY |
| ALBANY-SARATOGA SPEEDWAY |   | MALTA, NY |
| EAST WINDSOR SPEEDWAY |   | HIGHTSTOWN, NJ |
| INDIANAPOLIS RACEWAY PARK |   | INDIANAPOLIS, IN |
| WAYNE COUNTY SPEEDWAY |   | ORVILLE, OH |
| MANSFIELD RACEWAY |   | MANSFILED, OH |
| WALL STADIUM |   | BELMAR, NJ |
Then, in 2002, I came back to this facility to see racing on the IRP asphalt road course. My stepfather joined me for racing that weekend. I don't recall much about that event. However, I do remember our visit to a little kart track in Linton, Indiana two nights before. I guess road course racing has never made much of an impression with me.
The Indianapolis Raceway Park (I'll call it that because that was the track's name when I first came here) opened for racing action all the way back in 1960. Believe it or not that's 57 years ago. Time flies when you're having fun.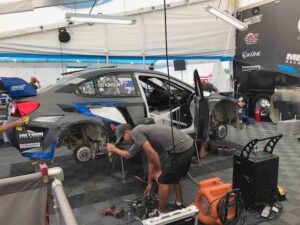 Despite being in the racing business for that long today the currently named Lucas Oil Raceway was hosting a racing group for the very first time. The Red Bull Global Rally Cross group was here this weekend. I've seen the Red Bull GRC race in several locations. Here are a few that come to mind.
Los Angeles, CA
Washington, D.C.
Austin, TX
Thompson, CT
Memphis, TN
Phoenix, AZ
Las Vegas, NV
Atlantic City, NJ
Ft. Lauderdale, FL
I must admit that I have been critical of the shows they put on in the past. Frankly, my opinion hasn't changed. Nevertheless, I am a trackchaser. I go to locations where I can add a new track to my lifetime list. I can sit through just about anything.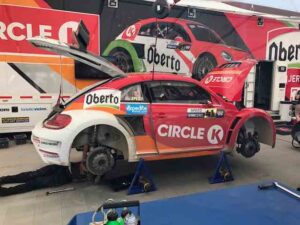 If the Red Bull GRC series were racing at a location for the first time it is 100% guarantee that would be a new track for me. This is true even if I have been to the general facility in the past.
Why is that? Every track surface these folks run on is a "mixed" racing surface. Part of their track is asphalt and part is dirt. A mixed surface track will always be a new location for me when GRC comes calling.
So why is it that I don't like the racing that the Red Bull GRC group provides? It's really pretty simple. I don't think it's a good value. Frankly, it's a terrible value.
They charge $60 for a one-day general admission ticket. I don't pay that much money for any kind of racing even on the biggest stages such as NASCAR Cup racing.
I also don't find their racing all that compelling. They bring two classes to each of their events, supercars and lites. Their car counts are low. There are just 9-10 cars in each class. All of the races are for four or five cars racing for 4-6 laps until they get to the main event. Then of the main event takes all of the cars that are still running and has a 10-car final for each of the two classes.
As an example, today the lites' semi-final started six cars for six laps. The last of the two supercar heat races started five cars. Just two finished the heat race. If you were to go to a late model or sprint car show anywhere in the United States and saw those kinds of car counts for such few laps you would be frustrated as well. You wouldn't just be frustrated. I know you. You would be downright irate just like I would be.
Now that ticket thing with GRC is a big deal to me as well. I think of myself as an expert at buying tickets to sporting events. If you have read my Trackchaser Reports for very long I think you would agree.
I have learned this craft at the most major events in the world including the major-league baseball All-Star game, the NBA finals, Asian F1 race events and many many more. I understand how the process works. It's not really all that difficult but you have to have the kahunas to put the plan in place. I can do that. For me it's fun.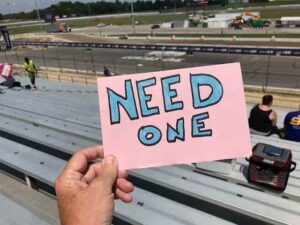 The simplest way to get a great price on good tickets to these big events is to simply show up an hour or so ahead of time with a sign that says, "Need one". You will be deluged with offers. In 97.6% of the cases you'll be able to buy the tickets at below face value and sometimes you'll even get the tickets for free.
Today I was attending my third Red Bull GRC race of the year. Previously I had seen them race in Memphis, Tennessee and Thompson, Connecticut.
The face value for their races is $60 U.S. That's just for a one-day general admission ticket. That means to see three GRC races this year I would be on the hook for $180 U.S. Folks, as you know I am retired. I don't have the big trackchasing budgets of the Dreaded East Coast Trackchasers and I never have.
My lack of funds does not deter me though. For the last three tickets to the last three events where the normal fan would have paid $180 my total ticket expense, for all three shows was $15.
Let me digress for just a moment. Almost no trackchasers share their experiences via the written word as I do. However, when they do I can tell these folks don't get very good deals on travel, race tickets etc. Maybe because they are the ones with lots of money to spend on this hobby they don't need to get good deals. I can't explain it. I have very clearly spelled out how to get great values on all of this stuff. Some folks are just too stubborn to take good advice.
At the GRC events I attended in both Tennessee and Connecticut people actually gave me a ticket at no charge whatsoever. Today would be a little different.
What was the difference? I showed up late. The first race of the day began at 2 p.m. I didn't get there until nearly 3 p.m. I paid the $10 parking charge, which also bummed me out about this group in general.
I looked over the parking lot. It appeared that 99% of the fans had already arrived. My timing, for getting a cheap ticket, was not good. There couldn't have been more than two or three cars of spectators coming into the race as I parked my own car.
Nevertheless, I pulled out my "need one" sign, put a nice smile on my face and looked around for opportunity. Carol says I am an opportunist. Sometimes she says that in a tongue in cheek manner. However the really fantastic thing for her is that she is the primary beneficiary much of the time from my opportunistic tendencies.
Without even using my "need one" sign I asked a couple walking to the track if they had any extra tickets. They didn't. I asked a couple of teenage boys the same question. They didn't have any tickets.
The next group coming along was a threesome, two boys and a girl. They were in their early 20s. I asked if they had an extra ticket. They said they didn't.
Then they thought about it again. Yes! One of the people in their original party of four had bailed on them at the last minute. That happens ALL the time. They had an extra ticket. That ticket was an electronic ticket on one of the young men's phone. Not a problem.
I asked him how much he wanted for it. He came back and asked me the same question, "How much did I want to pay"? That was a great technique on his part. He wasn't bidding against himself. It's more fun for me when I encounter a worthy advisory.
However, this was not my first ticket-buying rodeo. I knew that I had to offer a low price in order to create a bracket that we could negotiate from. The face value of general mission tickets today was $60. I asked him if $10 would work.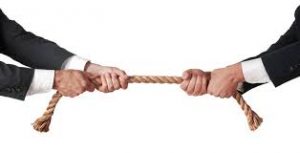 He came back with, "How about 15"? No, this wasn't his first ticket-buying rodeo either! Someone had taught him well. I thought for a moment. There were almost no people coming into the racing venue at this point. I thought I might be able to beat $15 but it would take me some time. I agreed to buy the ticket for the $15 offered price.
As we approached the ticket entry gate my friend pulled out his phone and scanned both one ticket for him and one for me. The ticket taker said, "It's nice to have the Dillons with us today". Yes, I was a "Dillon" today. As soon as we got inside and were clear of security I pulled out three five-dollar bills and gave it to the other "Dillon". We were square.
Folks, that is how this is done. A fan has three options in a situation like this. They can forgo attending an event like this because the ticket prices are too high. They can pay the high ticket prices and waste their precious dollars earned by the fruits of their labors. Alternatively the racing fan can come to the event and pay a very low price and sometimes get their ticket for free. I prefer the last option.
There is one more thing for everyone to think about. I realize that some folks have more conservative thinking and behavior patterns than I do. Someone might think I took advantage of the young man who sold me his ticket for such a low price. They might think I was scamming him or even "stealing" from him.
I certainly don't see it that way. Had the young man not encountered the World's #1 Trackchaser today he would still have his friend's ticket INSIDE his phone for gosh sakes. There was no way that ticket was going to be used until I came along. The young man netted $15 U.S. out of a situation where he was going to get zero. Heck, he's probably writing in his own blog about how he took advantage of me!
What about the race track/race promoter? Did they miss out on a sixty-dollar sale today? Yes, they did from me. However, unless they get their head out of their respective behinds and realize their shows are not worth anywhere close to sixty bucks they won't have a show! In a way I am educating them in the hopes they can save their business. Maybe they should be paying ME to get their business model straightened out.
It was warm in Indianapolis, Indiana today. It was 87° going up to a high of 92. Actually, it felt hotter!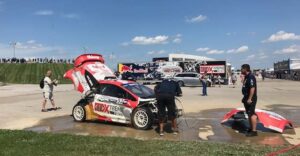 I took a walk through the paddock area. For me the highlight of attending a Red Bull GRC race is being able to get up close and personal with the cars in the paddock area. However, I've done that more than ten times now. The newness is wearing off. It almost seemed as if there were fewer cars today than at previous GRC races I've been too.
The Lucas Oil Raceway complex is home to a major drag strip. They also have an asphalt oval track that hosts several types of racecars.
When the Red Bull GRC series comes to a facility they create their own track. I've got to give them credit. Today was one of the best tracks anywhere where I've seen them race. From the main grandstand fans could see the entire show. The one and only jump was right in front of them. Don't miss the video and my pictures of today's action.
Nevertheless, I can't get too excited about a program that generally runs five cars for five laps. The first heat of the day was scheduled to begin at 2 p.m. The supercar finale was on the docket for 7 p.m.
Admittedly, I am a short track racing fan. I can't recall very many short track racing programs where the first heat was scheduled to begin at a certain time and the feature wasn't scheduled to start until five hours later.
Yes, I've certainly been at short track events where the feature race started five hours or later after the heat races. However, that would only be due to the constant inefficiencies offered by short track racing programs. At least they don't tell the fan in advance it's going to take that long between qualification races and the main event.
I walked all over the facility. They have a LOT of down time between races at GRC events. I guess you have too if you only have two classes with ten cars in each class. I actually got my four miles of power walking in at the track today. Maybe I should think of my hobby as power walking and not trackchasing when I come to a Red Bull GRC race.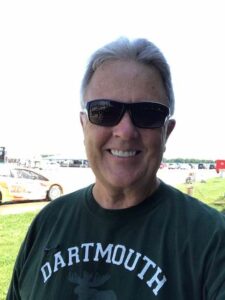 I walked all over the grounds getting photographs from just about every angle. I figured some of you might like to see my photos and video and save your own hard-earned sixty dollars. I watched the heat races and semi finals. However I wasn't going to stay for a 7 p.m. supercar finale come hell or high water. I just don't have that kind of patience. I don't care much for waiting and I don't care much for this type of racing
I was glad that I had only paid an average price of five dollars for the three GRC races I saw this year. I would have been willing to pay up to $10 per event if necessary. As you can see from my photographs the crowd wasn't all that large. If I had to guess I would say there were 2,000-3000 people. For a racing group that gets exposure on national TV that's a pretty small crowd.
AFTER THE RACES
I had another motivation for leaving before today's races were finished in their entirety. Please don't be confused by this. Whether I had another plan for this evening or not I would not have stayed for the complete GRC program.
On the drive over toward Indianapolis I did a little research to see if any short track was racing tonight, a Sunday evening. I was pleased to find that the newly named Kickapoo Motor Speedway in nearby Danville Illinois (maybe Oakwood, Illinois) was racing tonight.
Of course, I had been to this track a very long time ago. All the way back in 1987 I saw some stock car racing at the Vermillion County Fairgrounds in Danville. That track in Danville was only my 169th lifetime track to see. Danville is located just 120 miles from my hometown of East Peoria, Illinois where I lived for the first 18 years of my life.
I've told you in the past that I got a very late start in trackchasing. Can you imagine that I was nearly 40 years old when I saw my 169th lifetime track? Heck, during the 2005 season alone I saw 182 tracks. That was in one year.

Most of my fellow competitors had seen far more tracks by the age of forty than I had. As an example, my nearest fellow competitor, Guy Smith, had seen nearly 700 tracks by the age of forty. Now my nearest fellow competitor is more than 600 tracks BEHIND my totals.
Danville is only about an hour and 15 minutes from the Lucas Oil Raceway. Additionally, I would gain an hour by moving from the eastern time zone to the central time zone. That was a plus.
Tonight's special event in Danville would be a UMP Summer nationals' race. This is a special summer racing series that goes for about 30 days. They race at a different track almost every night for about 25 nights out of the thirty.
The good thing is that they draw some of the bigger name dirt late model drivers to the series. Some drivers just swoop in for a few nights of racing and some drivers try to stick it out for the entire 25 nights of racing or so.
I've seen several of these races. I have found most of them to be disappointing. They start the fast qualifier in the first row of the first heat. Usually that fast timer runs off and wins his heat race. That qualifies him for a redraw amongst the heat winners. That means the fast timer who didn't have to pass a single car to win his heat race will likely start on the front row of the feature race. Here again he can win THAT race without ever passing a car for position. That's not the kind of racing I want to watch but it was nearby and it would be better than staying for anymore of the GRC racing
I have a race tomorrow night in La Porte, Indiana. La Porte is just east of Gary, Indiana. It's not that far from Chicago itself. Now that I was going to be racechasing into the late evening in Danville I would grab a hotel somewhere between here and there. I'd be able to sleep in late tomorrow.
Good afternoon from Indianapolis, Indiana.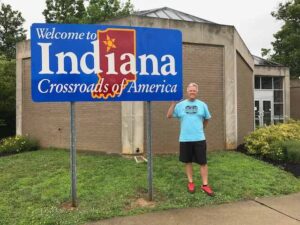 Indiana
The Hoosier state
This afternoon I saw my 109th lifetime track in the Hoosier state, yes the Hoosier state. I hold the #2 trackchasing spot in Indiana. I'm gaining fast on Indiana's leading trackchasing, Roger Ferrell. At the rate I'm going I will pass him in the next few years. I've seen 109 or more tracks in three separate states.
Thanks for reading about my trackchasing,
Randy Lewis
World's #1 Trackchaser
Peoria Old Timers Racing Club (P.O.R.C.) Hall of Fame Member
Indiana definitions: You haven't had donuts until you've tried Dan's…
Forget whatever new weird breakfast trend is happening (looking at you, cronuts). Dan's Variety Donuts in Kokomo is all about simple, classic, ridiculously sugary and fried donut goodness. That's reason enough not to flyover Indiana right there.
QUICK FACTS
LIFETIME TRACKCHASER COMPARISONS 
The three most important trackchasing comparisons to me are:
Total lifetime tracks seen
Total "trackchasing countries" seen
Lifetime National Geographic Diversity results
Total Lifetime Tracks
There are no trackchasers currently within 600 tracks of my lifetime total. Don't blame me.
Randy Lewis, San Clemente, California – 2,346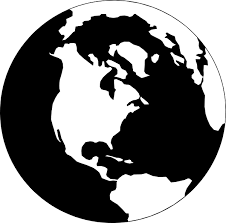 Total Trackchasing Countries
There are no trackchasers currently within 20 countries of my lifetime total.
Randy Lewis, San Clemente, California – 74
Current lifetime National Geographic Diversity results
Randy Lewis, San Clemente, California – 4.37
That's all folks! Official end of the RLR – Randy Lewis Racing Trackchaser Report
Greetings from Clermont, Indiana,
PEOPLE/TRAVEL NEWS
My stepfather Bill (above far right) and I spent Saturday late morning and afternoon watching the cars at the Indianapolis Raceway Park road course. About 25 of the cars were out on the track running practice laps. I was anticipating the morning to be practice and the afternoon to be actual racing like it was at the SCCA race in Kershaw, South Carolina event a couple of weeks ago. Much too my chagrin I learned that the ENTIRE Saturday outing was only a driving school and would not offer any official racing. Therefore, I wouldn't get to count the track.
IRP will be offering the SCCA races tomorrow on Sunday but we plan on being in Plover, Wisconsin on Sunday.   After we learned there would be no real racing we immediately headed for the Super 8 hotel in Remington, Indiana. There I met sisters Becky and Lynn, nephews and nieces, Sarah, Jennifer, Carley and Elliott, great nephew Kyle and brothers-in-law Bob and Dan.   Shortly after we arrived we learned our Saturday night race destination, Shadyhill Speedway in Medaryville, Indiana had cancelled their program. Even though rain was in the forecast it had not rained. It was also cold, about 45 degrees. I can understand the promoter not running but it was somewhat disappointing since they cancelled and it had and did not rain.  
Nevertheless, from a family point of view it was probably best that we didn't go to any races. We all went to a Chinese family restaurant. I violated my policy of not eating Chinese food in the Midwest. I did try to teach my 10 relatives how to eat Chinese food with chopsticks. After the conclusion of my informal class I noticed everyone enjoying their Chinese food…..with knives and forks only! Following our Chinese feast it was back to the hotel and a little indoor swimming for the kids. Then we all congregated in one hotel room and consumed the contents of the coolers from the Illini visitors. This included rice Krispy treats, Krispy Kreme donuts, graham crackers, grapes to name just a few of the treats.   
Sometime during this feast I made a phone call to Plover, Wisconsin to see what their plan for tomorrow's Sunday afternoon race would be. The promoter informed me they were expecting 1-3 inches of snow Sunday afternoon. Now I know why I'm so happy not to be living in Illinois anymore! Plover is a six-hour one-way drive from where we are staying. Should we risk a 12-hour round-trip drive based upon this snowy weather forecast? We'll make that call on Sunday morning.  
Sunday morning brought rainy, windy and cold weather to Remington. A call to Plover revealed they had cancelled their program. That's good. I didn't want to drive that far with such a bad weather forecast.   With this situation the family all gathered in the nearby truck stop for a huge breakfast. After breakfast we said our good-byes and were happy to have had the family reunion even though it was brief.   Bill and I decided to give Indianapolis Raceway Park one more try and we were successful! 
RACING NEWS
Indianapolis Raceway Park's road course is my 558th different racetrack. This ties me with the reported results of Norm Wagner for 11th place in the worldwide rankings.
We paid $5 to get into IRP yesterday. At the ticket booth I explained we were trackchasers from California hoping this would get us admitted to the SCCA closed to outside spectator's event. He asked if I had any "credentials". I handed him my trackchasing business card. Upon looking at the "#1 trackchaser living west of the Mississippi" imprint he informed us the admission fee would be $5. I don't know if this was a reduction or increase in the normal admission price.
On Saturday we had briefly visited the small indoor concession building. They were charging $3 for 20 oz. bottled water. That seemed a little extreme.
There were two main groups of racecars in attendance, the open wheelers and the fendered cars. The fendered cars were made up of some baby grand bodied cars and an assortment of small engined foreign makes such as BMWs and Porches. The open wheeled cars were also smaller engined cars some of which looked homemade.
With the weather conditions being poor on Sunday we decided to watch a race from inside the rental car. The first race of the afternoon was for about nine open wheeled cars. The course is 2.5 miles long. We could see about half the track from our position. After a couple of laps the cars strung out until their 10-lap race was completed. Since the Talladega Winston Cup race was on TV at our hotel just a few miles down the road we bolted IRP. Since we had watched practice there for more than two hours on Saturday I didn't feel bad about leaving after just one feature.
The only good thing I can say about road course racing is that normally it's on a Saturday or Sunday afternoon and can be tied into an evening race. Next week I begin my quest to catch Pappy Hough for 10th place. With this weekend's weather problems it'll take a couple of extra weeks to catch him but I'm on the case.
TRACK FOOD: The concession area offered burgers and fries. Ice was $10! Not sure what quantity. Since it was about 40 degrees outside I don't think they sold much ice.
RENTAL CAR UPDATE: With the snow out of Plover, Wisconsin about 1,000 miles of the trip was wiped out. That's probably good for the National racing Pontiac Grand-Am.
TRACK RADIO FREQUENCY: Didn't have much opportunity to use the radio here.
New racetracks visited in 2002
Beebe Speedway, Beebe, AR
North Alabama Speedway, Tuscumbia, AL
Pike County Speedway, Magnolia, MS
North Central Arkansas Speedway, Yellville, AR
West Plains Motor Speedway, West Plains, MO
Southern National Speedway, Kenly, NC
Carolina Motorsports Park, Kershaw, SC
The Dirt Tract at Lowe's Motor Speedway, Concord, NC
Oglethorpe Speedway Park, Savannah, GA
Big Daddy's South Boston Speedway, South Boston, VA
Bakersfield Raceway Park, Linton, IN
Indianapolis Raceway Park (road course), Indianapolis, IN
Upcoming events for April, 2002
Kil-Kare Speedway (small oval), Xenia, OH
Kil-Kare Speedway (figure 8), Xenia, OH
Toledo Speedway (small oval), Toledo, OH
Toledo Speedway (figure 8), Toledo, OH
Click on the link below to see the video production from the racing action today.
Click on the link below for a photo album from today's trackchasing day.  You can view the album slide by slide or click on the "slide show" icon for a self-guided tour of today's trackchasing adventure.
A warm day of mixed surface road course racing in Indianapolis