GREETINGS FROM MASON, MICHIGAN,
Reprinted with permission from my August 3, 2005 Trackchaser Report.
SPECIAL NOTICE 
Anyone who has been reading the Trackchaser Report for any amount of time knows that Will White (above center) is our trackchaser commissioner.  Will hails from Quakertown, Pennsylvania.  One of Will's ongoing trackchaser goals is to see new tracks in as many foreign countries as he can.  Virtually every year he will add two or more new foreign countries to his list.  He currently ranks #3 in most countries visited and would like to be #1 in that category someday.
Will always keeps the financial picture in the front of his mind when he travels.  If he doesn't have it, he won't spend it.  Will can be one of the most fiscally creative people I have ever seen.  He doesn't need a hotel and frequently he doesn't even need a car when he travels the world seeking out new racetracks.
Today, I am offering you part #2 of Will's writings about his July 4 European adventure.  His report is located at the bottom of today's Trackchaser Report.  As you read about what Will did to see his tracks, remember that he is traveling in places where English is not the primary language. He is traveling via public transportation and on a very tight time schedule.  I hope you enjoy what Will had to share, I know I did.
PEOPLE/STRATEGY/TRAVEL NEWS 
First, I want to wish a belated July 30 happy birthday to Bud Heineman, a long time Trackchaser Report reader from Jefferson City, Missouri. Hope things are going well, hi to Florene, and I look forward to seeing you both the next time I am down Jeff City way.

Last Saturday night my video camera seized up at the track in Beatrice, Nebraska.  I have been studying my options for a replacement.  The decisive factor was J.J.'s recommendation that whichever brand I buy, I buy it at Costco.  Costco has a policy where you can return electronics equipment at ANY point in the future for virtually any reason.  You can't beat that.  Costco is much more developed on the west coast.  Carol shops at Costco 2-3 times per week.
When I was in Nebraska, I searched the Costco website for a nearby store.  The closet store that would be open when I would be in the area was near Ann Arbor, Michigan.  Therefore, I waited until today to visit that store and buy a video camera.
You need to know how Carol and I manage our finances.  I earn the money and then I give it to her.  She then parcels it out to me a penny or two at a time, as I need it.  That plan has worked O.K. for 34 years. 
Carol also has a plan for me when it comes to check writing.  I am never allowed to carry more than three checks at a time.  I probably write less than 10 checks per year.  Carol gets upset when I write a check and don't tell her when, where or how much I wrote the check for.  She simply has no patience.
When I shop at Costco, which only happens about three times per year, I prefer to go up and down every aisle.  When I am with Carol at Costco, my strategy annoys her.  I guess since she is in Costco 2-3 times per week, my boyish enthusiasm about visiting a "store" is lost on her.
Anyway, I had to write a check at Costco because they do not accept major credit cards.  I hate writing checks because they make me feel like a criminal each time I write one. Today, they were concerned that my home address on the check says San Clemente, California and my driver's license says Honolulu, Hawaii.  Have they never heard of dual residency?  I had to wait while a "manager" came over to "OK" everything.
I bought a nice and compact Sony video camera.  It weighs about one-tenth as much as my old boat anchor Panasonic video camera.  I will be able to easily carry my video camera and digital camera in the same camera bag.
I did have one problem when I was setting up the new video camera today.  I was trying to program the date information and got stuck at the beginning.  I didn't understand a word.  The word was "Eng".  That word was directly on top of the word "Lish".  It took me the longest time to figure out what they wanted me to do. Finally, it dawned on me.  "Eng" and "Lish", how about English!  Yes, I would like the camera to show me information in English.  This pre-programming of electronics equipment is what I have children for!
RACE TRACK NEWS:
INGHAM COUNTY FAIRGROUNDS, MASON, MICHIGAN – TRACK #921
This evening's Michigan track was my 31st track to see in the state. It was also my 14th Michigan track to see in 2005.  Allan Brown leads the state standings with an incredible 126 tracks.
What a difference a day of rest makes.  Today's drive from the hotel to the track was just 14 miles. Heck, Will walked this far, then I could too.  However, the temperature was 90 degrees at race time tonight so an air-conditioned rental car seemed a more reasonable alternative.
The Ingham County Fairgrounds is beautiful.  It looks like it belongs in the state of Washington. The drive into the fairgrounds is shaded with evergreens.  It looks like a forest at the fairgrounds.  Apparently, these trees are expensive to maintain.  Tonight's admission was $14.  That price was double what it cost to see the very same show last night.  Maybe if they cut down all those trees, they could save on gardeners and wouldn't have to charge such high prices.
Surprisingly, to me anyway, was the grandstand was absolutely packed.  The grandstand itself was beautiful.  It was of the old wooden, covered grandstand variety.  I got a good look at it after the races from afar.  The support posts were painted white and the seating was painted dark green.  They also had decorative woodcarvings and some creative nighttime lighting that made it look somewhat majestic in the moonlight.
Before I entered the fairgrounds, I shopped the midway area for dinner.  I don't know if it's my imagination or not, but the food selections just don't seem to be that great in numbers or variation.  Maybe, I'm just seeing smaller fairs that I have been accustomed to seeing.
I settled on a chicken and sausage Cajun gumbo.  One of my favorite three restaurant cities is New Orleans (the other two are New York and San Francisco).  I could have been served tonight's gumbo in the best New Orleans restaurant I have ever visited and would not have know the difference.  It was that good.  I had a strong battle with my internal self not to order another serving after the races were over.  I washed my gumbo down with a sugar laced Jumbo lemonade.  You know the kind of county fair lemonade where the granulated sugar sticks to your teeth.  I don't think you would call this diet lemonade.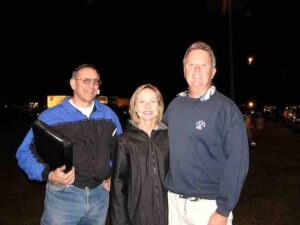 I found a seat in the absolutely jammed grandstands, just before the first heat started.  I walked down to the lower aisle way to give the program seller my press release.  I talked to her for a moment and was returning to my seat when I heard, "Randy!"  It was none other than #9 ranked worldwide trackchaser Ed Esser (above left) of Madison, Wisconsin.
He had a seat open next to him and we watched the races together. It turned out that Ed had been at the Saginaw County races last night but we didn't see each other.  Maybe that was because Saginaw had almost no lighting on the track or in the grandstand!  Tonight's show had excellent lighting.
Ed and I always enjoy seeing each other.  After sharing our secret fraternity handshake (Delta Sigma Pi), we talked about the events of the day. 
Readers should know that I have offered a wager to Ed.  The all-time record for new tracks in one year is 127.  I established that record last year and had 69 tracks at the end of July, 2004. Wouldn't you know it, Ed also had 69 tracks at the end of July, 2005. 
I have offered Ed a challenge to see if he can see more than 127 tracks in 2005.  My offer is this.  If Ed sees more than 127 new countable tracks in 2005, I will give him a free round-trip airline ticket.  If he accepts the wager and sees 127 or fewer tracks then he owes me 10 pounds of Wisconsin cheese.  Ed is seriously considering accepting this challenge.  If and when he accepts, I will keep everyone informed about his continuing progress.  I hope to be eating some fine Wisconsin cheese by my fireplace come this January.
Most readers know that I provide a "trackchaser press release" to the announcer during each program.  On many occasions, I will be invited to talk with the announcer about our hobby of trackchasing.  I feel educating the general public about our hobby is my way of paying back for all the fun I get out of trackchasing. 
Sometimes rather than have an interview, the announcer will simply read some of the trackchaser press release highlights and that works for me as well.
I'm in Michigan this week, the home of the #2 ranked worldwide trackchaser, Allan Brown (above right).  Most of you know that when your team plays on the "road", there can sometimes be a case of "hometown" officiating.  Well, I think that's what happened tonight.  The announcer seemed to have a case of "Michigan bias".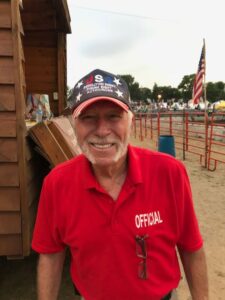 I always list the top 10 trackchasers by name and quantity of tracks in my press release.  The owner, promoter and announcer of the Michigan based USA figure 8 group is named Sonny Hall (above).  Well, it seems Sonny is a good friend of Allan's.
When Sonny received my press release, he noticed Allan's name at the #2 ranked trackchaser.  From that point on, it was "Allan this and Allan that".  According to Sonny, Allan wrote the best directory of tracks of anyone in the world.  According to Sonny, if you looked in the program on page 15, you would see an ad for the National Speedway Directory published by, who else, Allan Brown.  I looked at Ed.  Ed looked at me.  The crowd was getting restless with the "Allan Brown" thing.  Finally, after the intermission was extended from 5 minutes to nearly 20 minutes, Sonny was done talking about Allan!  Sonny's last words on the subject were, "Thank you Randy Lewis, for letting us know about Allan Brown's trackchasing ranking".  Any time, Sonny!
Tonight's racing was good.  The field of about 40 big car V-8 figure eight racers ran seven heat races. The winners of each heat transferred to the feature while the other cars loaded up.  Each heat was 15 laps and the "A" feature was 25 laps.
The program started at 7:30 p.m. and was finished by 9:45 p.m. Following the races, Ed and I stood outside of the grandstand for a long time and talked about our hobby.  We do this several times a year and both enjoy it very much.  Ed, even though he has more than 800 lifetime tracks, has NEVER seen a race outside of the U.S.  I'm going to Canada on Friday.  I made a strong pitch for Ed to join me.  He said he might, but I doubt that he will.  Ed, if you are reading this in a library, meet me at the border and we'll have a fine time in Canada.  If you can't do that, at least accept my wager offer so we can have some fun for the rest of the year.
RENTAL CAR UPDATE:
The National Rental Car Racing Chevy Malibu LS V6 got a rest today. Today was the FIRST day of this eight day racing trip that I did not fill the tank with gas!  I will say that I have less than one-quarter of a tank so it would not have been pushing it to make it eight tank fulls in eight days.
LIFETIME TRACKCHASER STANDINGS UPDATE:
These worldwide trackchasers are within 100 tracks (plus or minus) of my current trackchaser total.
Allan Brown, Comstock Park, Michigan – 1,018

Guy Smith, Effort, Pennsylvania – 982

Any Sivi, Clairton, Pennsylvania – 978

Gordon Killian, Sinking Spring, Pennsylvania – 978

Randy Lewis, San Clemente, California – 921

Jack Erdmann, DePere, Wisconsin – 872

P.J. Hollebrand, Webster, New York – 823 (P.J., you better join me here in Michigan and add to your total. I don't want to have to bump you from this list)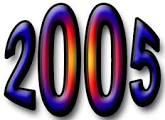 2005 TRACKCHASER STANDINGS
Randy Lewis, San Clemente, California – 112

Ed Esser, Madison, Wisconsin – 69

Roland Vanden Eynde, Vilvoorde, Belgium – 59

Guy Smith, Effort, Pennsylvania – 40

P.J. Hollebrand, Webster, New York – 35

Paul Weisel, Orefield, Pennsylvania – 34

Roger Ferrell, Majenica, Indiana – 27

Gordon Killian, Sinking Spring, Pennsylvania – 20.

Pam Smith, Effort, Pennsylvania – 20
10.Will White, Quakertown, Pennsylvania – 15
CUMULATIVE DRIVING DISTANCES:
Chicago O'Hare Airport – trip begins
Waterloo, Illinois – 329 miles
Ludington, Michigan – 883 miles
Onawa, Iowa – 1,683 miles
Knoxville, Iowa – 1,918 miles
Beatrice, Nebraska – 2,214 miles
Hartington, Nebraska – 2,489 miles
Audubon, Iowa – 2,719 miles
Chesaning, Michigan – 3,494 miles
Mason, Michigan – 3,690 miles
Air travel
Orange County, CA – Chicago, IL – 1,726 miles
TRACK ADMSSION PRICES: 
Waterloo County Fairgrounds – $9
Ludington County Fairgrounds – $10
Blackbird Bend Speedway – $8
English Creek Speedway – $5
Beatrice Speedway – $8
Cedar County Raceway – $8
Bull Valley Speedway – $7
Saginaw County Fairgrounds – $7
Ingham County Fairgrounds – $14
Will White Trackchaser Report 
In part one of this report, I outlined the planned trip itinerary and
covered my successful first day in Europe, in which I saw races at the Gardermoen Motorpark in Norway. We pick up the story with the toughest day of the journey.
–SUNDAY, JULY 3, 2005–
My last night in a bed was Thursday night. Since then I had worked at the factory on Friday morning, taken an overnight Transatlantic flight, walked 7 miles to the races in Norway, spent 4 hours at the track, walked 7 miles back to the airport and endured an unrestful night of sleep in the Oslo Airport, which was interrupted when 100 Spaniards swarmed around me and chatted from 12:30 to 1:45 AM. I still had a long way to go before things got any easier.
Today began with an early morning flight from Oslo to Copenhagen, Denmark. I thought I could at least check in early and then perhaps get some better rest in the lounge at the boarding gate. That didn't happen, as no one showed up to check people in until less than an hour before the scheduled 6:20 AM departure time. While waiting for check-in to open, I found an ATM machine that was capable of dispersing a variety of currency. From it I was able to withdraw the Danish kroner (DKK)  I would be needing for the next couple days or so. The DKK is worth slightly more than the NOK, and comes to a bit more than 6 DKK to the US dollar.
This flight was a little under an hour, but they still served a light breakfast. Speed was paramount for the flight attendants as they raced through the aisle, distributing drinks and food, then shortly after sped back to retrieve the trays and cups. There was no time for special requests; you took what they threw at you and were happy with it.
Conveniently, long distance rail service is available directly from Copenhagen's Kastrup Airport, with no need to ride into the city and then change trains. There were hourly runs scheduled to take me where I needed to go, so if I missed the first train I'd still have a shot of making it to the races on time. However, another long walk to the races awaited me, and in addition to the blister on my right heel from yesterday's 14+ miles of walking, I now also had what I thought was a blister on my left little toe. This was causing the most discomfort and it was becoming increasingly difficult to walk.
Luckily I had no problem making the 8:40 AM train out of Copenhagen, which got me to the town of Ikast at 1:01 PM (including one transfer at Herning). I probably slept a majority of the 3 1/2 hour trip from Copenhagen to Herning, despite the fact that I was seated at a table with 3 other passengers who were engaged in conversation. Yes, I would be quite the rude riding companion throughout much of the following week's train travels.
Before leaving home I had purchased a second class rail pass that allowed me to travel anywhere within Germany and Denmark, for any 8 days within a 2 month period. The pass cost $302. The only catch was that many of the routes, especially longer ones between main cities, allow seats to be reserved at an additional cost. Since I didn't want to pay extra for reservations, I could still ride these trains, but I had to give up my seat if someone had reserved it for any part of the journey. Of all the trips I took throughout the following week, there were only 3 times that I was asked to move. Two of these times simply involved moving to a nearby unoccupied seat. The other time it happened, the train was very crowded and I ended up sitting in a smoking car, which I admit I am far less tolerant of than I was on previous trips to Europe. The combination of sweat soaked clothing and cigarette smoke does not appeal to me.
Denmark is a nice little country. Again the weather was quite moderate for July, barely reaching 70 degrees in the afternoon. Many of the people have a pleasant, soft speaking tone and the language has an interesting sound to it.
Today's trackchasing goal was to see countable racing at the Nørlundbanen, a 730 meter rallycross course located outside the town of Ikast. My fears were realized when I exited the train and discovered no storage facilities at the small town station. In fact there were no indoor facilities, other than a tourist office which was, of course, closed. That makes sense; who would expect tourists in town on a weekend? Anyway, this confirmed my prediction that I would make today's estimated 8-9 mile roundtrip to the track, carrying all my belongings. This was no time to let exhaustion, tender toes, a 20 pound bag and rainy skies hinder my progress.  At least I had a rough time frame to work with today. The first heat was scheduled for 12:30, the final was estimated to go around 4:30, it was now about 1:05, and I guessed I had a 4 to 4.5 mile walk to the track. Under normal circumstances I could do that in about 75 minutes, but these weren't normal circumstances.
The first few miles of the walk were on sidewalks in a town setting. Soon after heading out, it began to rain hard enough to necessitate putting up my umbrella, which made it a little more difficult (I mean fun) walking. At this point I was completely aware of how much easier things might be going right now had I purchased a backpack to use instead of my bag. No matter, nothing would stop me from making it to the track in time. Finally when I reached the highway that bypassed the town on the south side, I figured I had about a mile to go. No problem.
Without sidewalks, I now had to dodge every vehicle that came flying past on my side of the narrow road, and I do mean flying past. I was in the countryside, complete with cows grazing with no fences to contain them. Luckily the rain stopped for most of the walk and I was able to put down my umbrella. I limped along until reaching the spot where the online mapping software claimed the track should be. I guess this stuff only works for Randy, because there was no track entrance to be found.
Through the woods I thought I heard race cars a couple of times. It must be around the next bend. No, just another stretch of road with no track entrance in sight. Was that a race announcer I heard faintly in the distance, or just someone's backyard radio? I couldn't tell. No matter, I had come all this way and couldn't give up now. I had no choice but to hobble on to the next bend in the road, to see what was beyond. Finally, about a mile later I saw a long lane lined with flags of some sort. At the end of the lane was a track sign, announcing today's race meeting. I had made it! But wait, I hadn't quite earned this one yet. There was a long walk back on the dirt road, through a clearing in the woods.
It was 3:00 and I had made it. Racing was taking place. A nice surprise was finding the ticket seller picking up his table. He was finished charging admission for the day. So I walked right in. I must have been a helluva sight to the Danish racing fans. Here comes this foreigner, soaked with sweat, wearing a UMP Summernationals shirt, limping in during the middle of the meeting, without a car, carrying a large yellow bag and a black camera bag. What an idiot!
Today's meeting was for folkerace and crosskarts. Folkerace (or folkrace in Swedish) is another name for this basic autocross type of racing that is prevalent throughout much of Europe. The crosskarts here are similar to buggies but have a small body on them. The racing was conducted in the same fashion as what I saw in Norway, with the split lane at one part of the track. But this time, the short route was only taken once by each car. I think there were heats and finals at this meeting because the first races I saw were 4 laps and then they switched to 6 lappers.

There were very few competitors here, as I only saw 7 crosskarts and about a couple dozen cars race. The crowd was maybe 200 or so. There were anywhere from 2 to 6 starters per race that I saw. Kind of oddly, the finish line was located before the completion of the final lap.
At 3:25 they took a 35 minute break, during which time I hobbled over to the concession stand for 2 long, thin, hotdog type sandwiches, a bag of chips and a half liter of Pepsi, for a total cost of DKK 43. At least prices were beginning to come down compared to yesterday's Norway experience. This track looked dirty and I couldn't really tell where the paved sections of the track were. There was also no place for me to sit except on the ground. Even though it had rained recently, I was so exhausted I ended up sitting in the grass.
A few minutes before 5 o'clock, with more races still to be run, I began my journey back out the long dirt driveway to the road. It rained off and on and was becoming harder to keep going with the bags and the umbrella up. I had to take more brief breaks heading back into town. I had hotel reservations in the city of Århus and there were trains leaving Ikast at 2 minutes after each hour for there. I was hoping to make it to the station in time to catch the 7:02 PM train, but my toe was slowing me down too much and I eventually realized I had no chance of making it. As it turned out, I arrived back at the station about 10 minutes late. With no facilities, and not even any kind of stores open on a Sunday evening in the area, I sat on a wet bench and waited for the 8:02 train, filled with a sense of happiness at having concluded another successful day of trackchasing, but in no shape to enjoy it at the moment.
An hour and 20 minutes by train took me to Århus central station. This was a kind of place I normally enjoy walking around in. The city center was alive with people out taking in the evening. The streets were narrow and winding. I had about a 1/2 mile walk to the Hotel Cab Inn. The DKK 450 single rate is a steal for Denmark. Inside I found a very large, modern looking hotel. The room was very narrow and small, but modern as well. To make good use of the space, a second bed, if needed, folds out of the wall right above the first one, bunk bed style. That explained the small ladder leaning against the wall. My room overlooked a pedestrian street, lined with outdoor cafes, that has a canal running right down the middle of it. I almost thought I had taken the wrong train and ended up in Amsterdam.
–MONDAY, JULY 4, 2005–
With nothing in particular lined up for the day, I enjoyed the luxury of my first night of bed sleep in 3 days. I had paid an extra DKK 50 for the hotel's breakfast buffet, which was a good deal. The breakfast room on the fourth floor was a nice large room, with large windows looking out to the surrounding rooftops of the area. There was a nice selection, including a couple kinds of cereal and juices, coffee, fruit, bread and several types of what Americans would call lunch meats.  I had now discovered that it was not a blister on my left little toe, but something more grotesque looking. All the skin had come off one side of the toe and somehow moved around to the other side. I was now barely able to overtake old men with their canes. I had hoped to do a lot of walking around some of the city centers of Denmark and Germany during this week, recalling all the many miles logged on foot (about 200) during my 23 country European trip of 1990. Since that wasn't going to happen today, I decided to just ride around to a few Danish cities, get a view of the countryside and step outside the stations for at least a brief look around the immediate area. This I did until late in the evening, ending up back in Copenhagen where I knew I could take an overnight ride to somewhere and catch a few winks on the way.
–TUESDAY, JULY 5, 2005–
The rainy weather continued as I eventually ended up in Hamburg, Germany. I had brought along 120 euros (1 EUR= approx. $1.20), left over from my 2003 trip, so I didn't have to exchange money today. The Hamburg central train station (Hauptbahnhof, or Hbf, in German) is large and has many services available. One that I took advantage of was the tourist office. You tell them the area you want to stay in, and a price range your willing and able to pay, and they will book you a room, for a fee of 4 EUR. I was able to get a room just across the street from the station for 41 EUR, including breakfast buffet. The name of the place was the Hotel Popp.
My walking was slightly improved today and I did cover a few miles around the general area near the station. A weekday in a German city is not the time or place to be moving around in a slow fashion. Everyone is rushing about purposefully, going about their daily routine. It was not easy trying to move about in or near the Hbf at a relaxed pace without being run over by the throngs of locals. Being July, as it was, I found it interesting that few tourists were encountered throughout my trip (the 100 Spaniards in Oslo notwithstanding). Perhaps it was mainly because I was not visiting many of the "hot" tourist areas. That suited me fine. I'd rather spend time surrounded by the local inhabitants.

I was almost tempted to add to Randy's fa(h)rt sign collection when I spotted a large "Wallfahrt" sign at an underpass.
I tried a couple of the chain food stands that were found at some of the larger German train stations. My dinner came from the stand called "Mr. Clou". The large salad with tuna fish was quite good. I topped it off with some type of dessert that resembled a 3 layered chocolate sundae. In between the layers there were pieces of fruit and nuts. These 2 items came to a total of 6.50 EUR. Earlier in the day I had sampled some Hawaiian pizza and a Coke at another stand for 4.00 EUR.
Back in my room that night, I discovered that the skin of my toe had now formed 2 hard, square ridges that protruded inward against the neighboring toe. Having no scissors or clippers with me, I came up with the idea of shaving my toe. I was able to remove a majority of the ridges and this greatly improved my walking for the next part of the trip.
In part three of my report, we'll hang out in Germany for a few more days and prepare to take on tracks in 3 countries at the weekend.
Thanks for reading about my trackchasing.
Will White
#3 in the Nations Cup
Thanks for reading about my trackchasing,
Randy Lewis
Trackchasing's #1 trackchaser of the 21stcentury
Randy Lewis is a freelance writer, who winters in San Clemente, California and frequently flies in economy class.
Planned new racetracks
August 4 – St. Clair County Fairgrounds – Goodells, Michigan
August 5 – Wonderland Speedway, Lambeth, Ontario, Canada
Racetracks visited in 2005 (** not the first time to visit this track)
Sungold Stadium aka Premier Speedway, Warrnambool, Victoria, Australia, January 1
Freedom Hall – Oval – Louisville, Kentucky, January 15
Freedom Hall – Figure 8 – Louisville, Kentucky, January 15
Southern Illinois Center, DuQuoin, Illinois, January 16
Golden Aisles Speedway, Waynesville, Georgia, February 25
Zephyrhills Antique Racecar Track, Zephyrhills, Florida, February 26
Dirt Devil's Speedway, Land O' Lakes, Florida, February 26
Ringwood Raceway, Ringwood, England, March 25
Birmingham Wheels, Birmingham, England, March 26
Boiling Hills Farm, Sleaford, England, March 27
Snetterton Circuit, Snetterton, England, March 27
**     Great Yarmouth Stadium (oval), Yarmouth, England, March 27
Great Yarmouth Stadium (Figure 8), Yarmouth, England, March 27
The Grove Farm, Monkland, England, March 28
Grimley Raceway, Grimley, England, March 28
Castle Combe Circuit, Castle Combe, England, March 28
Boyd Raceway, Boyd, Texas, April 1
Port City Raceway, Tulsa, Oklahoma, April 2
Outlaw Motor Speedway, Oktaha, Oklahoma, April 2
Hallett Motor Racing Circuit, Jennings, Oklahoma, April 3
JPR Speedway, Tulsa, Oklahoma, April 3
Charlotte County Speedway – Figure 8, Punta Gorda, Florida, April 9
CORA Speedway, Dixon, California, April 16
Reno-Fernley Raceway – Road Course, Fernley, Nevada, April 17
Lakeside Speedway, Kansas City, Kansas, April 22
Salina Speedway, Salina, Kansas, April 23
Jetmore Motorplex, Jetmore, Kansas, April 24
Oberlin Speedway, Oberlin, Kansas, April 24
USA Race Track, Tucson, Arizona, April 30
Tucson Raceway Park (inner oval), Tucson, Arizona, April 30
Driesum Race Track, Driesum, Netherlands, May 5
Autosportsdadion de Polderputten, Ter Apel, Netherlands, May 5
Bellekouter Autocross – oval, Affligem, Belgium, May 8
Bellekouter Autocross – road course, Affligem, Belgium, May 8
Circuit de Croix-En-Ternois, Saint-Pol sur-Ternoise, France May 8
Nurburgring, Nurburg, Germany, May 13
Lopik – oval, Lopik, Netherlands, May 14
Lopik – road course, Lopik, Netherlands, May 14
Ten Boer Autocross, Ten Boer, Netherlands, May 14
Rennplatz "Casper Gerd", Rutenbrock, Germany, May 15
Zuidwolde Autocross, Zuidwolde, Netherlands, May 15
Midland Speedway Circuit, Lelystad, Netherlands, May 15
Aalten Autocross, Aalten, Netherlands, May 16
Circuit de Peel International Speedway, Venray, Netherlands, May 16
U.S. 30 Speedway – permanent inner oval, Columbus, Nebraska, May 26
Hitchcock County Speedway, Culbertson Nebraska, May 27
Pikes Peak International Raceway, Fountain, Colorado, May 28
Colorado National Speedway – asphalt oval, Dacono, Colorado, May 28
Colorado National Speedway – figure 8, Dacono, Colorado, May 28
Rocky Mountain National Speedway – figure 8, Commerce City, Colorado, May 28
Broken Bow Wilderness Park – figure 8, Fullerton, Nebraska, May 29
Casino Speedway, Watertown, South Dakota, May 29
Sioux Speedway, Sioux Center, Iowa, May 30
Madison Speedway, Madison, Minnesota, May 30
Hawkeye Downs, Cedar Rapids, Iowa, June 3
Autobahn Country Club – North Course, Joliet, Illinois, June 4
Shadyhill Speedway, Medaryville, Indiana, June 4
Pottawattamie County Fairgrounds, Avoca, Iowa, June 5
Dawson County Speedway, Lexington, Nebraska, June 5
Marshfield Super Speedway, Marshfield, Wisconsin, June 14
Red Cedar Speedway, Menomonie, Wisconsin, June 15
Victory Lane Speedway, Winnipeg, Manitoba, Canada, June 16
River Cities Speedway, Grand Forks, North Dakota, June 17
Raceway @ Powercom Park, Beaver Dam, Wisconsin, June 18
Jefferson Speedway, Jefferson, Wisconsin – outer oval, June 18
Jefferson Speedway, Jefferson, Wisconsin – inner oval, June 18
Golden Sands Speedway, Plover, Wisconsin – June 19
Langlade County Speedway, Antigo, Wisconsin – June 21
Thunderhill Raceway, Sturgeon Bay, Wisconsin – June 22
Luxemburg Speedway, Luxemburg, Wisconsin – June 23
Monster Hall Raceway, Unity, Wisconsin – June 24
Crandon International Off-Road Course, Crandon, Wisconsin – June 25
Pepsi Raceway Park, Tomahawk, Wisconsin – June 25
TNT Speedway, Three Lakes, Wisconsin – June 25
Shelby County Speedway – permanent oval, Shelbyville, Indiana – June 26
Shelby County Speedway – temporary oval, Shelbyville, Indiana – June 26
Jennings County Fairgrounds, North Vernon, Indiana – June 27
Paducah International Speedway, Paducah, Kentucky – June 28
Crystal Motor Speedway, Crystal, Michigan – June 29
Dells Motor Speedway, Wisconsin Dells, Wisconsin – June 30
Van Wert County Fairgrounds, Van Wert, Ohio – July 1
Baer Field – 3/8 mile oval, Ft. Wayne, Indiana – July 1
Gingerman Raceway, South Haven, Michigan – July 2
Thunder Valley Motorsports, Jones, Michigan – July 2
New Paris Speedway, New Paris, Indiana – July 2
Durand Downtown Circuit, Durand, Illinois – July 3
Ripple Ridge Raceway, Rawlins, Wyoming – July 8
Sheridan Speedway, Sheridan, Wyoming – July 10
Livingston County Fairgrounds (figure 8) Fowlerville, Michigan – July 12
Eaton County Fairgrounds, Charlotte, Michigan – July 13
Laird International Speedway, Echo Bay, Ontario, Canada – July 14
I-96 Speedway (inner oval), Lake Odessa, Michigan – July 15
I-96 Speedway (outer oval), Lake Odessa, Michigan – July 15
Thunderbird Racepark, Muskegon, Michigan – July 16
Bob's Family Racetrack, Clarksville, Michigan – July 17
Orleans Raceway, Orleans, Michigan – July 17
Mid Michigan Raceway Park, Muir, Michigan – July 17
Franklin County Park (oval), Brookville, Indiana – July 19
Franklin County Park (figure 8), Brookville, Indiana – July 19
McCook Speedway, McCook, Nebraska – July 22
Pikes Peak International Raceway, Fountain, Colorado – July 23
I-25 Speedway (oval), Pueblo, Colorado – July 23
I-25 Speedway (figure 8), Pueblo, Colorado – July 23
Thomas County Speedway, Colby, Kansas – July 24
Waterloo County Fairgrounds, Waterloo, Illinois – July 27
Western Michigan Fairgrounds, Ludington, Michigan – July 28
Blackbird Bend Speedway, Onawa, Iowa – July 29
English Creek Raceway, Knoxville, Iowa – July 30
Beatrice Speedway, Beatrice, Nebraska – July 30
Cedar County Raceway, Hartington, Nebraska – July 31
Bull Valley Speedway – figure 8, Audubon, Iowa – August 1
Saginaw County Fairgrounds – figure 8, Chesaning, Michigan – August 2
Ingham County Fairgrounds – figure 8, Mason, Michigan – August 2