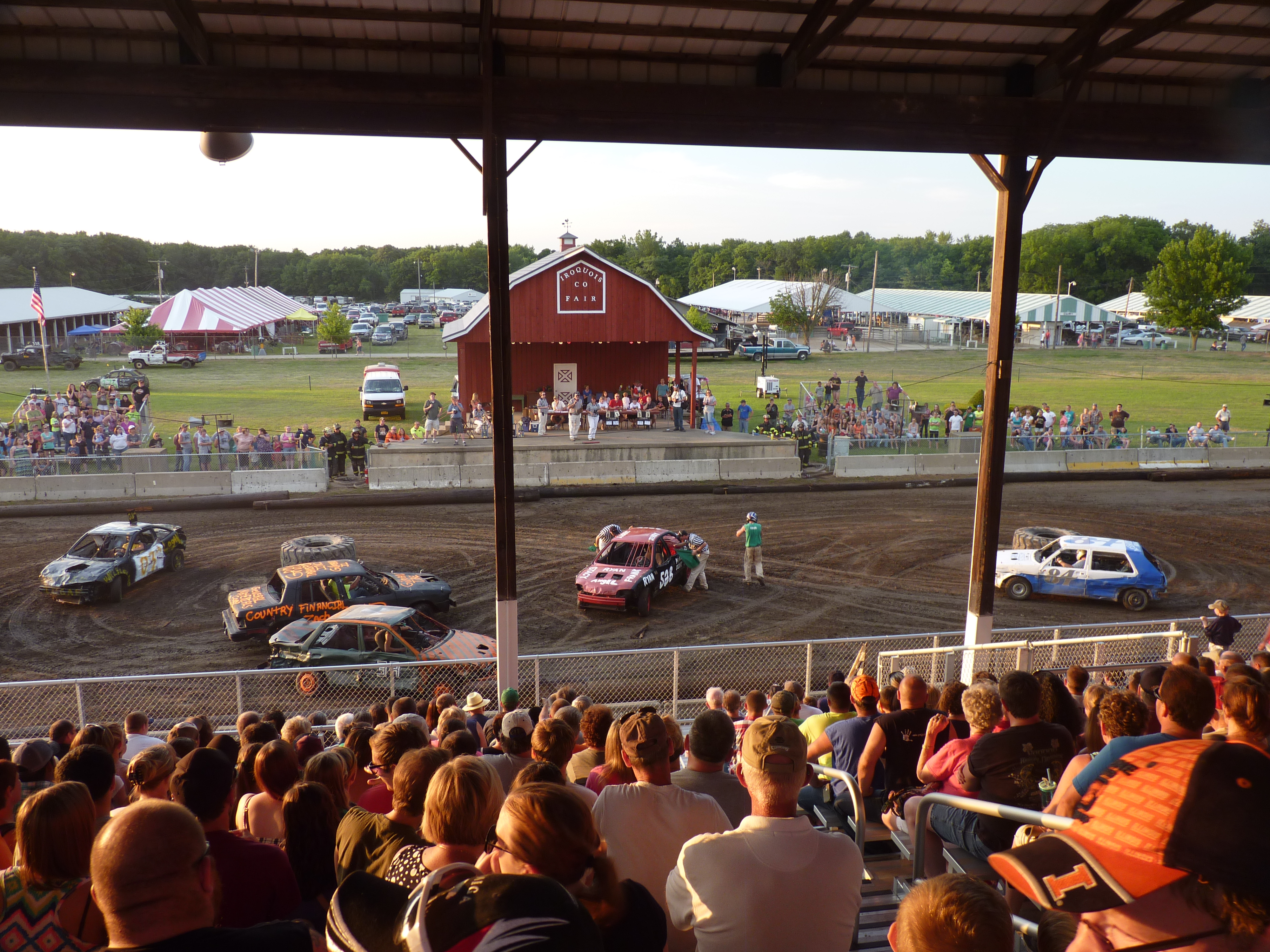 Greetings from Watseka, Illinois
From the travels and adventures of the 
"World's #1 Trackchaser"
Lifetime Track #1,868
Highlights
Special
The Details
Race Review
Videos
Photos
Quick Facts
Your schedule is too much for me!……………more in "Special".
It's not always about the racing………………more in "The Details"
Mikey likes it…………..details in "Race review".
THINGS YOU MIGHT HAVE NOTICED HAD YOU BEEN PAYING MORE ATTENTION IN SCHOOL
THE BEST READERS IN RACING TAKE TIME TO CONTRIBUTE
From Mike Skonicki (who is Mike?  See below) regarding our joint visit to the Iroquois County Fairgrounds.
I went to church, the Y and then slept on the couch most of the afternoon. Your schedule is just too much for me.
Hope the rain stopped in Minnesota.
THE PLAN.
I was back in my boyhood state of Illinois.
I'm in the midst of a summer long visit, primarily the Midwest.  For some of my upcoming trips I find that it's better to "stay out" than to fly back and forth multiple times to California.  This trip is a quick four-day four track county fair adventure.
I always love trackchasing in my boyhood state of Illinois even though I don't get to do it that much anymore.  Tonight I was seeing my 87th lifetime track in Illinois.  Ed Esser leads in Illinois with 99 tracks.  If I had a lot of tracks still to see here passing him would be an easy task.  Alas, I don't have that many tracks and getting to 99 or more will be most difficult and somewhat time consuming.

One and done.
You will see that many of my remaining tracks for the year will be county fairs that race just one time each year.  One of the better things about trackchasing is that once you've seen a track you don't have to go back.  I very much like seeing racing events at county fairs.  However, there are almost none where I would have a burning desire to return.  Why is that?  I suspect it's because there are still hundreds of fairs I have not seen that offer 99.44% the entertainment value of just about any county fair I have already visited.
THE TRIP.
I didn't sleep until noon but it felt like it.
I woke up this morning in Palatine, Illinois.  I went to bed in Palatine, Illinois.  This is what today looked like.
I hadn't had much sleep the past few nights.  Being able to "crash" at fraternity brother Mike Skonicki's house for the evening was great.  Sometimes just getting seven hours sleep seems as if I am sleeping until noon.
The day was busy (more about that in the "Experience").  It's always good to see my friends who live nearly 2,000 miles away.  Following the races Mike drove us back, in his Chevy SUV, to Palatine.
THE EXPERIENCE.
It's not always about the racing.
Trackchasing all over the country allows me to see friends that I wouldn't normally see given my home location in California.  I know that many of those friends read my reports.  Have I had a chance to stop by and see YOU over the years?
On this trip I was stopping in the greater Chicago land area to see my college fraternity brother Mike Skonicki.  Actually after a long drive last night from Stronghurst, Illinois I pulled into Mike's place in Palatine, Illinois at well past midnight.  That's just how a good houseguest should do it right?  O.K., maybe not.  However, I have tried to educate my civilian friends on the inconveniences of trackchasing.  They seem to understand the situation….or at least tolerate it for the sake of our friendship!


Golf, food then some good old county-fair figure 8 racing.
Before heading down to the track this evening Mike and I had time to play nine holes of golf in very hot and humid weather.  Since I expect to be returning to the area later this year I left my golf clubs in Mike's care.  He told me he would clean them up!  Now that's what a fraternity brother is for right?
For lunch I hosted (at least I think I picked up the check) both Mike and his lovely wife Mary at Brandt's of Palatine.  From 1980-83 my family lived in nearby Inverness.  Despite driving past this restaurant a hundred times we never stopped in.
The place is a converted house into a restaurant.  It's now under new management and carried a well above average Yelp! rating of 4.5 stars.  You will rarely go wrong with that and we didn't.  Everyone enjoyed their lunch and the company.
City boys have different experiences than small town boys.
Brother Mike is a "city" boy.  He grew up in a predominantly Polish neighborhood on the south side of Chicago.  I suspect that where a person grows up has a significant impact on how they view the world at least until they gather other experiences.
Mike and I were discussing our formative years in golf.  In Chicago he would walk to a bus stop hoping that various ethnic factions would not try to steal his stuff or beat him up.  Once he reached the bus stop he would board a bus with his golf clubs and ride a few miles to the golf course.  While on the bus he would steal need to be on the lookout for folks who might try to inflict ill-will.
I, on the other hand, grew up in a small town (13,000) in central Illinois.  Cars were the culture for us.  Every kid I knew had an old car that was his to drive.  My first car was a 1955 Pontiac, acquired for just $185 U.S.
My drive to the golf course was just a couple miles.  There I would play with my friends for hours upon hours.  It was just a 9-hole par 3 course.  Back in the day a season pass for kids cost all of thirty dollars.  I just played that track, Fon du lac Golf Course, this past year with my brother Mark.  Today the WEEKEND rates are $8 ($7 seniors).  An all-year pass for kids is now up to the whopping sum of $85.
Mike and I met in college at Northern Illinois University.  Most of the kids who went to that school were from Chicago or the nearby Chicago suburbs.  However, I was from "down state".  To them I was a farm boy although I had never really spent any time on the farm.  I wasn't a city boy nor was I a farm boy.  I was a small town boy though.
It was a completely new education for me to be thrown in with all of these "city" characters.  Their views on ethnic groups, religion and street life were on the other side of the street from anything I had ever seen or heard.  I guess I led a very sheltered life up to that point.
IROQUOIS COUNTY FAIRGROUNDS – WATSEKA, ILLINOIS
Figure 8 racing is slowly taking over.
Figure 8 racing is slowly but surely taking over the demolition derby events at our nation's county fairs.  Demo is still #1 but figure 8 is catching up.  Why?  I would think that one of the reasons is that a figure 8 car can be built and raced several times.  Many demo cars are "one and done" meaning they pretty much get destroyed in just one demo derby event.

Watseka?
Frankly, I had never heard of the Iroquois County Fair in Watseka, Illinois.  Of course Watseka is the "county seat" of Iroquois County.  The small town has a population of just 5,670 and sits about 15 miles from the Illinois/Indiana state lines.
Admission to the fair was $6 U.S. and an additional five-spot would get you into the grandstand for tonight's motorized events.  This evening we would be seeing both big and small car figure 8 racing, a lawnmower demo derby and a truck demo derby.  All for just five bucks!
I always take a tour of the livestock barns at county fairs.  When Mike comes along, him being a "city" boy and all, I love to take him to see the farm animals.  I've been going to fairs like this since I was a young tike.  I doubt Mike has been to any fairs other than the ones I have dragged him too.

Which is better?
Tonight Mike was seeing his first ever county fair figure 8 race.  I know that many of my "racechasing" friends turn their noses up at county fair figure 8 racing.  They don't see it as real racing.  To some degree they are right.
However, the competitors who race figure 8 take their sport as seriously as just about any dirt late model or sprint car driver does.  What did Mike think about county fair figure 8 racing?

Mikey loves it!
He loved it.  He's see racing at about ten tracks with me.  He liked the figure 8 racing MUCH better than the dirt oval racing he's seen.  Why?  This type of figure 8 racing is action packed.  Mike doesn't like the yellow flag delays featured at most dirt oval tracks.  I don't either!  Just about every "rookie" race fan that I've taken to the tracks prefers the rough and tumble non-stop action of a figure 8 event over a much higher racing profile dirt track event.  Maybe that's why county fair figure 8 shows play in front of a packed grandstand (I understand  that most of these are once a year shows) and many dirt track oval outfits are racing in front of 100-200 people.

Pork burgers are as American as apple pie.
After devouring the requisite pork burgers Mike and I grabbed a seat up high in the grandstands.  We weren't alone.  There wasn't a spare seat in the good-sized covered seating area.
The small car figure 8 racing was the best.  The big cars (V-8s) couldn't navigate the turns of the course very well.  I don't get much of a bang from lawnmower demo derbies but the crowd seemed to enjoy them.  The truck demo was the last event of the night.  We watched it on the way out of the parking lot.
As always I won't spend a lot of words on the actual racing action.  That's why I take the time to produce YouTube videos and Picasa slideshows for you.
STATE COMPARISONS
Illinois
The Illini State
This evening I saw my 87th lifetime track in the Illini state, yes the Illini state.  I'll be back.
Thanks for reading about my trackchasing,
Randy Lewis
World's #1 Trackchaser
Peoria Old Timers Racing Club (P.O.R.C.) Hall of Fame Member
Illinois sayings:  We won't anois you.
TRAVEL DETAILS

AIRPLANE
Los Angeles, CA (LAX) – Minneapolis, MN (MSP) – 1,535 miles
RENTAL CAR #1
Minneapolis- St. Paul International Airport – trip begins
Sibley, IA
Minneapolis- St. Paul International Airport – 459 miles
AIRPLANE
Minneapolis, MN (MSP) – Chicago, IL (ORD) – 334 miles
RENTAL CAR #2
O'Hare (Chicago) International Airport – trip begins
Stronghurst, IL
O'Hare (Chicago) International Airport – 490 miles
FRIEND'S CAR #1
O'Hare (Chicago) International Airport – trip begins
Watseka, IL
TRACK ADMISSION PRICES:
Osceola County Fairgrounds – $7
Henderson County Fairgrounds – $6
Iroquois County Fairgrounds – $5 (additional $6 fair admission)
LIFETIME TRACKCHASER COMPARISONS 
The three most important trackchasing comparisons to me are:
Total lifetime tracks seen
Total "trackchasing countries" seen
Lifetime National Geographic Diversity results
Total Lifetime Tracks
There are no trackchasers currently within 350 tracks of my lifetime total.  Don't blame me.
1.  Randy Lewis, San Clemente, California – 1,868
Total Trackchasing Countries
There are no trackchasers currently within 10 countries of my lifetime total.
1.  Randy Lewis, San Clemente, California – 65
Current lifetime National Geographic Diversity results
1.  Randy Lewis, San Clemente, California – 5.10
That's all folks!  Official end of the RLR – Randy Lewis Racing Trackchaser Report