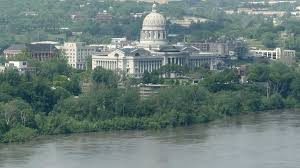 Greetings from Jefferson City, Missouri
.
.
From the travels and adventures of the 
"World's #1 Trackchaser"
.
.
Jefferson City Jaycees Fairgrounds
Dirt figure 8
 Lifetime Track #2,572
The EventVideo PlusPhotos
THE EVENT
My name is Randy Lewis. I live in San Clemente, California. I am a "trackchaser". I trackchase. Before you discovered my site had you ever heard of trackchasing? Maybe not? So….what the heck is trackchasing? Sit back, take a read and you'll be an expert on my hobby of trackchasing when you're finished.
Here's my best explanation.
Trackchasing is a three-pronged hobby. I'm a racing fan. I love to travel. I love to analyze opportunities to get the most out of everything while saving time and money.
Trackchasing fills the need for all of the above. The racing part of my trackchasing has me trying to see wheel to wheel auto racing at as many different racetracks as I can all over the world. Yes, all over the world. So far things are going pretty well. As this is written, I've seen racing in 85 countries at more than 2,500 tracks. As a matter of fact, I've seen racing at more tracks than anyone else in the world.
Equally important to me are the things I get to see and experience over the "long and dusty trackchasing trail". I call these adventures "Trackchasing Tourist Attractions". You won't want to miss my "Trackchasing Tourist Attractions" page. Here's the link:  Trackchasing Tourist Attractions or my "Sports Spectating Resume" page, Sports Spectating Resume on my website at www.randylewis.org.
I live in southern California. That's probably the most inconvenient location in the country for seeing tracks in the U.S. Most of the racetracks in the U.S. are located well over 1,000 miles from where I live. As a matter of fact, my average trip covers 5,000 miles and more. I take 35-40 of those trips each season. In any given year I will travel well over 200,000 miles, rent more than 50 cars, and stay in more than 150 hotel rooms.
I get the chance to meet people all over the world. With trackchasing trips to 85 countries and counting just getting the chance to experience so many other cultures, spend time in their homes and meet their friends is a huge reward for being in this hobby. I am indebted to several of these folks for their help and friendship.
It's takes a good deal of planning to do the above and not spend my entire retirement portfolio. I enjoy the challenge, the travel and every other aspect of "trackchasing". In reality, my trackchasing hobby is a lot like being with the carnival. I breeze into town, stay a little while and then head on down the road.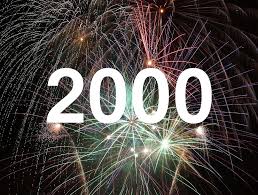 Today's adventure was one more of the 2,000 trips that have taken me up, down and around the proverbial long and dusty trackchasing trail.  If you would like to see where I've been and experience those adventures here's the link: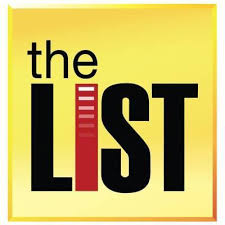 If you've got a question, comment or whatever please leave it at the bottom of this report.  It's very easy to do.  Or you can visit me on Facebook.  Thanks!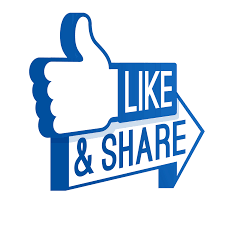 FOREWORD
Saturday, August 3, 2019.
 I woke up this morning at the Marriott hotel in Cedar Rapids, Iowa. Today was going to be special…..for several reasons. Stick with me and I will tell you all about it.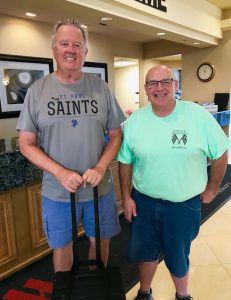 I was going to be joined for breakfast at the hotel today by a fellow named Kevin Cerveny. Keven lives in the area. Let me tell you the "Kevin Cerveny" story. I think you'll find it interesting and really a great character study. 
 I've seen racing at nearly 2,600 tracks. Let's say that I saw an average of 50 drivers at each of those 2,600 tracks.  That would mean that I've seen around 130,000 racecar drivers in my time. That doesn't even count the thousands of return visits I've made and the new drivers that would've appeared during those races. 
 After having seen that many races and that many drivers I have my favorite tracks. I have my favorite drivers.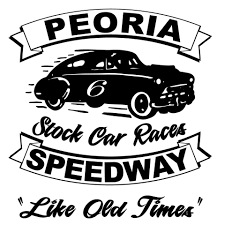 My all-time favorite racetrack is the Peoria Speedway. The Peoria Speedway actually came in two versions. Until 1964 when I was 15 years old, they raced at the old "Mt. Hawley" Speedway. Then in 1965 they relocated the Peoria speedway to its current location out on Farmington Road in Peoria. 
 The Peoria Speedway is and was a high-banked quarter-mile dirt oval. After watching so many races there I never really considered it a "bullring" but I guess it was. I've seen so many races at Peoria where the drivers battled side-by-side for the entire heat race or main event.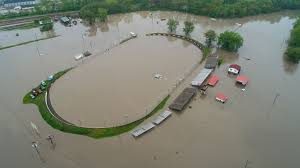 I never thought of the Peoria Speedway as a dusty track. Once in a while their season even gets delayed when the nearby Kickapoo Creek flows over its banks. That's why I was so surprised when I brought my entire family to the track a few years ago. We got sandblasted by dirt and dust so strongly that had we been a car all of the paint would have been removed by the second feature event. Nevertheless, I love the Peoria Speedway.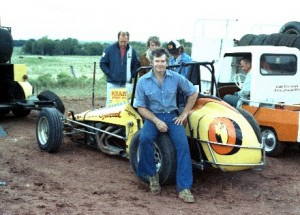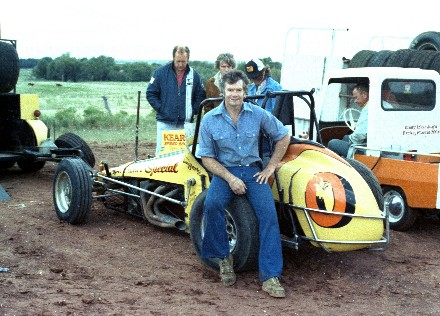 I also have my favorite drivers with such memorable and, in some cases, unusual names as Dick Trickle, Rick Ferkel (above), Rocky Noll, Buster Venard, and Ed Bolen. Of course, I've had a lot of favorites and can't name them all here.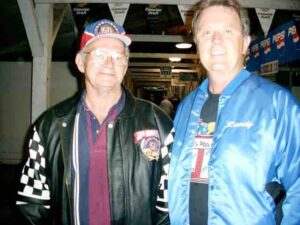 I've been to nearly 2,600 racetracks. I've seen more than 130,000 drivers competing. Do I have an all-time favorite driver? Yes, I do. His name was Darrell Dake. Darrell Dake raced out of Cedar Rapids, Iowa. 
 This is where the "Kevin Cerveny" story begins. Kevin happened to be doing some searching one day about his all-time favorite driver, who just happened to be Darrell Dake…..as well. Kevin came upon my website. He saw my tribute page to Darrell Dake. If you haven't seen it you might want to take a look. Here's a link:
Darrell Dake – My all-time favorite driver
 After Kevin read what I shared on my website about Darrell Dake he got in touch with me. We conversed a little and then Keven sent me a surprise via the mail.
 Kevin had grown-up in Darrell's neighborhood back in Cedar Rapids. After one of the races, actually one of the big races….the mid-season championship, Darrell won the feature event. The race was at the famous Hawkeye Downs in Cedar Rapids.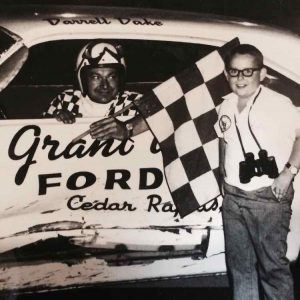 I'm sure that must have been an over-the-top experience for Kevin (above) to see Darrell Dake win that race. What might make it even MORE over-the-top? Darrell Dake gave Kevin the midseason championship trophy after the race! I know for me that would've been a boyhood and likely a lifetime highlight. 
 Kevin told me that he and his wife were in the midst of some "downsizing" at home. Since I was such a major Darrell Dake fan he wanted me to have the midseason championship trophy he had been given as a young boy. Mind you, I had never met Kevin. I had only talked to him on the phone one time. Now Kevin was giving me one of his prize possessions. He wasn't selling me the trophy. He was giving me the trophy. He even paid the postage to get the hardware to California.   If that doesn't tell you something about Kevin Cerveny I can't imagine what would. 
 I would get the chance to meet Kevin a couple of years after he gave me that trophy. On extremely short notice I found out I was going to be flying into the Cedar Rapids, Iowa airport. I texted Kevin and asked if he might like to come out and meet me at the airport and share some lunch. Yep. He could do it. 
 I had never met Kevin. I didn't know what he looked like. How was I going to find him in the airport? It turned out that would not be an issue. As I glanced around all of the people waiting to pick up their friends and family I noticed a fellow holding a sign. What did the sign say? "World's #1 Trackchaser".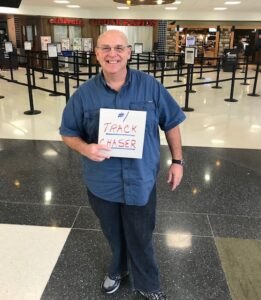 I've met people all over the world who were picking me up at the  airport. Their signs usually simply read, "Randy Lewis". These folks weren't necessarily friends but usually paid drivers who were there to take me onto my next adventure. Now I had a friend who was at the airport with a sign, not with my name on the sign but with my title. 
 On that day Kevin and I sat in the airport restaurant and talked about a lot of our all-time racing stories. Kevin doesn't have much time for racing now. Nevertheless, it was fun to meet someone who was thinking about the same kinds of things I was as a young person. 
Last year I was going to be trackchasing in Maquoketa, Iowa. Maquoketa is only 58 miles from Cedar Rapids. I gave Kevin a heads up and asked if he would like to join me. He was up for it. It was a beautiful sunny fall afternoon and Kevin and I sat in the grandstands and enjoyed the racing.
 Now today, at the Marriott hotel in Cedar Rapids, Iowa, Kevin was going to come over and join me for breakfast. He showed up wearing his new mint green "World's #1 Trackchaser" t-shirt. We sat down and had a nice breakfast. He and I had gotten to know each other reasonably well over our previous meetings. Each time a person meets with a new friend both people get to understand a little bit more about the other. 
 I learned that Kevin spends much of his time now being a caregiver for his elderly mother-in-law. I learned that he and his wife will be celebrating their 41st wedding anniversary next week. I also found out that Kevin enjoys checking out presidential libraries and museums. I guess that's not surprising. I do too. 
 Kevin made an interesting comment. He told me a couple of times that "If you would have been my school teacher I think I would've learned a lot more in school". That was a nice compliment.
 Just the night before I had met a fellow at random at the Cass County Fairgrounds over in Michigan. After the races we stayed at the fair and sat on a park bench. We talked for another hour and a half. He told me pretty much the same thing Kevin had mentioned. The fellow from Michigan said that I had given him a lot to think about and it was a good time in his life to begin thinking about those things. 
 On this morning in Cedar Rapids, Iowa I needed to get going to drive down toward Jefferson City, Missouri. I'm sure that Kevin and I will meet up again either at a racetrack or a restaurant somewhere. I sure hope so. I hope you've enjoyed reading about the "Kevin Cerveny" story. 
 I enjoy meeting and talking to people. My business background was in sales. I found that "selling" is simply having a conversation with someone else in the hopes that you can give them something that they need. I have now been retired for 18 years. I don't know where that time went.  I couldn't imagine a period of 18 years going any faster than it has for me. 
 My trackchasing hobby combines my love for auto racing, my desire to travel the world and the enjoyment of getting the chance to meet new people and hear their story. Everyone has a story. You can imagine the amount of people I've met up, down and over the long and dusty trackchasing trail.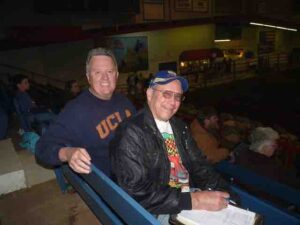 Tonight I was going to be seeing racing in Missouri. Going into tonight long-time trackchaser Ed Esser was the trackchasing leader in Missouri. Ed hailed from Madison, Wisconsin. 
 I have met almost all of the top trackchasers whoever strapped on a seatbelt grabbed a steering wheel and headed on down the long and dusty trackchasing trail. I've got to tell you that trackchasers just like any group of people come from a lot of different points of view. 
 Trackchasing is a competition amongst other things. The people who will tell you that trackchasing is not a competition are the most competitive trackchasers. I've learned that over a period of years. 
 Sadly, I've met a few trackchasers who seem to be simply jealous of others achievements in the business. I do my very best to avoid those people at all costs. I'm pretty good at doing that.
 On the other hand, I've met some really nice people in trackchasing who have been leaders in the hobby with their participation. These included folks like Andy Sivi, John Moore and the aforementioned Ed Esser. Back in the day Ed and I were rising trackchasers even though we were positioned in the bottom 10 of the worldwide rankings for years. 
 Although I lived in California and Ed lived in Wisconsin we ended up finding each other at a racetrack more than 30 times during our careers. Ed and I, believe it or not, even had a secret handshake.        

 That handshake came from our being fraternity brothers at the Delta Sigma Pi fraternity. Ed was a graduate of the University of Wisconsin. I graduated from Northern Illinois University. Although Northern has beaten the likes of Nebraska, Iowa State and Alabama in football we've played Wisconsin several times and never won. 
 Ed Esser was a prolific trackchaser. He drove to all of his tracks rather than taking an airplane. It was not unusual for Ed to leave Wisconsin for a trackchasing trip to Florida on one weekend, return to Wisconsin during the week and drive back to Florida the next weekend. That's the way Ed did it. He also saw all of his racetracks, more than 1400, in the United States….except for one. 
 Randomly I happened to run into Ed on a Saturday afternoon at an ice racing track in Wisconsin. When I saw his car parked at the edge of the ice track I pulled in and parked directly behind him. He didn't know who had "boxed him in"! Soon Ed and I spent the afternoon chatting about the events of the day like we always did whenever we ran into each other. 
 I was headed to Canada for an ice racing event the next day. Ed had never been to Canada to see a race. I had always tried to get him to go but up to this particular day had never been successful. For whatever reason, and after reading the rest of the story you can only imagine what that reason might be, Ed decided to join me for the next day's trip up north. 
 We agreed that we would leave Ed's car somewhere in Minnesota. He would hop in my car and we would have a fun Sunday afternoon of trackchasing in Canada. We did just that. The experience was unique. 
 Although Ed spent almost all of his time on the road by himself whenever he was with me he was quite the "talker". We spent many hours in the car getting up to Canada and back. Ed never stopped talking. I guess he just had a lot to say after traveling all of those miles by himself. 
 The weather was so bad at our Canada race with wind and snow that they canceled the event about midway through. I didn't mind since the conditions for watching the racing were deplorable. We even got detained at the Canadian/US border for a while. They pulled us aside and wanted to check out, in much greater detail, the contents of our rental car. I loved this stoppage. This was Ed's first ever trackchasing  trip to Canada. I wanted him to get the FULL experience. 
 During our trackchasing careers Ed and I shared a hotel room a couple of times including on this Saturday night on the way to Canada. We literally talked, even with the lights were turned out, until 3 o'clock in the morning about all of our experiences over the long and dusty trackchasing in trail. 
 This trip was in early March. The ice racing season was winding down. Just a few weeks earlier, in January, Ed had gone with a friend to the famous Chili Bowl midget races in Tulsa, Oklahoma. On this trip Ed would ride down to Oklahoma with his friend.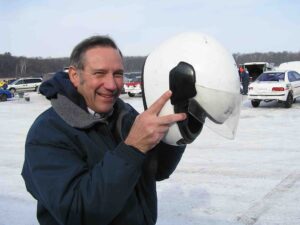 Ed was telling me the story about this trip during our Canada weekend. He told me that his neighbors had noticed his car was still in his garage at home in Madison, Wisconsin. When the car didn't move for a few days, because Ed was down in Tulsa with his friend, the neighbors began to be concerned.
They were so concerned that they ended up breaking a window at the back door of Ed's home. They entered the house only to find that no one was at home. That probably says something good about Ed Esser. His neighbors had been so concerned about his personal safety they broke into his house to investigate. 
 Of course, now the neighbors had broken a window in the middle of winter in Wisconsin to help out a neighbor who wasn't at home. That could be a problem. They hastily ended up getting both a new window AND a new door. Why a new door? They couldn't find a window to fit the old door! Ed was still on his trip to Tulsa. Ed told me the new door doesn't fit very well and now, once the winter ends, he was probably going to have to replace it as well.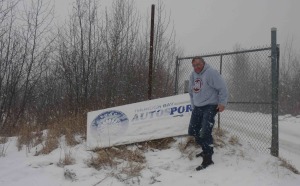 So Ed had been down to Tulsa, Oklahoma in the middle of January for a few days. Now six weeks later he was trackchasing with me up in Canada. We had a fun time. Ed was up for getting his picture taken in front of the track sign during our ice race visit to Thunder Bay, Ontario. When I bid Ed Esser farewell back at his car in Minnesota we agreed that we would likely run into each other many more times. 
 Sadly, that would never come to pass. Just four days after our Canada trip Ed died unexpectedly. When I read about the news I couldn't believe it. 
 I didn't go to Ed's funeral in Wisconsin. I was in California. Since I had spent about 36 hours talking to Ed nonstop only four days before he passed away I knew there really wasn't much I could add by attending his funeral. I was sad about that unexpected loss then and I still am today.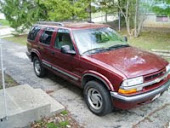 Now as I go about my own trackchasing I begin to approach and sometimes surpass the trackchasing records that Ed established all over the Midwest. I never forget that I wouldn't meet or beat his records if he were still pounding his Chevy Blazer (above) up and down our nation's highways. However, at the same time I'm pretty confident that if someone was going to surpass one of his records here or there that Ed would be pretty happy that it was me. 
 Ed ended up seeing racing at 68 different racetracks in Missouri. Tonight I was driving down to Jefferson City, the capital of Missouri, to see some J&B Promotions' figure 8 racing. The race would be held at the Jefferson City Jaycees Fairgrounds.
When the first green flag flew I would have seen racing competition at my 68 lifetime Missouri track. That would tie me with my good buddy Ed Esser. I thought about that on the drive down to Missouri and throughout the night. I'm happy to share the "Ed Esser" story with you as a tribute to one of the best trackchasers ever to drive up and down the road.
THE RACING
Jefferson City Jaycees Fairgrounds – Jefferson City, Missouri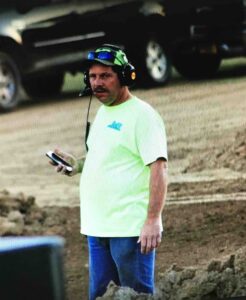 I told you that I meet a lot of people at the races. I'd like to take a moment to share the "Gary Jones" story. I certainly don't know Gary as well as I did Ed Esser. However, after having been a recruiter for most of my time in business I think I can recognize a "good guy". 
 Gary is the owner of J&B Promotions LLC. He is a race promoter. He organizes and runs figure 8 racing and demolition derbies at about ten county fairs each year. I first met Gary a few years ago and took the time to go down and introduce myself. I wanted to tell him that his small car figure 8 racing is the best in the country. 
 I have never been a race promoter. However, I have observed race promoters, both good and bad, over the years. 
 Race promotion is not an easy business. There is the money part of the job and the people part. I'm going to guess that the money part is a lot easier to handle than the people part. 
 I don't really know the details of the financial situations that race promoters have with the venues where they promote. I suspect those arrangements vary a good deal. I would tell you this. Nobody works for free. If a race promoter shows up year after year they are at least making enough money to keep the lights on. 
 On the other hand the "people" part of just about any business can be difficult. I have a lot of entrepreneurial friends. They tell me that managing and retaining people is the most difficult part of their business. 
Auto racing in almost every circumstance is a blue-collar sport. The state of Missouri, where Gary Jones operates, is a blue-collar state and his figure 8 racing is a blue-collar sport. This is not high-dollar racing. It is low-dollar racing. Figure 8 racing is a competition. When you put all of that together the "people" part of the figure 8 race promotion business can be challenging.
 At any figure 8 race you will have three or four race officials who stand on dirt mounds maybe 4-6 feet tall. This gives the officials a good view of the racing actions so they can make their rulings accurately. It also puts them in close proximity to the actual hi-speed 3,000 pound racing machines sliding around on a slick dirt surface. 
 I only get a chance to see one or two of the J&B Promotions racing venues each year. I do follow them on Facebook from time to time. That's where I learned that Gary Jones had been injured. I couldn't exactly tell how it came about but it sounded as if he had been hit by one of the racecars while judging in event. 
 Tonight when I ran into Gary for the most part he looked fit. I asked him what was up with his injury last year. That's when he told me that he had been struck by a racecar while he was flagging the show. He was badly injured with knee and hip injuries amongst other things. Now he hast to wear a $6,000 knee brace most of the time. 
 Gary is an active guy. He does some farming. He runs around at these racing events and probably talks to well over 100 people each night. Having a knee that needs such a huge brace in order to be somewhat normal has got to be a hassle. However, because Gary is a good-natured fellow he seems to handle it in good cheer. 
 People get hit, injured and sometimes killed at racetrack all the time. I've seen seven fatalities during my race watching career. One of those deaths was a fan who tried to actually cross the racetrack up at the Baylands Raceway Park in Northern California at just the wrong time. 

 Just this morning I heard a news report that said a spectator sitting inside his pickup truck inside the infield of the dirt oval track was killed by a flipping car at the Williams Grove Speedway in Pennsylvania. That's pretty amazing and certainly unlucky for the fellow who died. 
 What makes the injury to Gary Jones such a bad story is that he was hit on purpose! I won't go into all the details. Litigation is pending. I will simply repeat that promoting races to a blue-collar audience in a competitive sport in the heat of the action can bring out the worst in people some of the time. 
 Even though Gary was super busy with his promotion responsibilities tonight he took the time to stop and talk with me on a couple of occasions. He introduced me to his track announcer, Tim, for a brief interview. Tonight I happened to be wearing my "World's #1 Trackchaser" t-shirt.
After my interview, which was down in front of the grandstands where people could see me, I went up into the stands to watch the first couple of races. Many of the folks sitting around me wanted to say hello and share their race experiences and ask me questions. I met a lot of friendly people. 
 There are essentially two general kinds of figure 8 racing. One form would be "big car" racing where the cars are powered by V-8 engines. The other would be "small car" (above) figure 8 racing where the power plants are four cylinder engines. J&B Promotions runs what I would call junk car four-cylinder figure 8 racing. 
The states of Iowa, Nebraska and Michigan offer the best big car figure 8 Racing.  I used to say that Missouri and Pennsylvania had the best small car racing. However, after further consideration, I'm going to have to narrow that down and say that Missouri offers the best small car figure 8 racing. 
 Why would I say that about small car figure 8 racing and Missouri? Actually I'm really talking about J&B Promotions and their F8 racing. There is very little figure 8 racing in the Show Me state that is not offered by J&B. 
 Tonight they had a field of nearly 40 figure 8 racers. Most of figure 8 races I attend have 10-20 cars at their events. I'm told there is a season-ending race in California, Missouri (a J&B track) where it's not unusual to get more than 100 figure 8 racers. 
 I've seen racing at more than 325 figure 8 racetracks. I guess if just being in attendance is a major criteria then I am an expert on watching figure 8 races. Most figure 8 tracks will start six or seven cars in the feature. That's not how they do it at J&B Promotions. 
 Tonight the first two cars in the six heat races transferred to the "A" main event. Then they had 3 "B" consolation races of 10-12 cars each. When was the last time you saw any significant consolation events at a figure 8 race? When was the last time you saw 10 and more cars starting in those consolation races let alone having three of those kinds of races?  The answer to those questions is "almost never". 
 Tonight they started 19 cars in the figure 8 feature. Did Randy just say 19 cars in the feature? Yes, speaking in the third person, he did. Amazing! Starting 19 cars in a feature race at a figure 8 track is about three times what 90% of the other figure 8 promoters would start in their feature race. Does that maybe tell you why I say Missouri has the best small car figure 8 racing in the world? 
 Tonight, between the consolation races and the feature, they had a small car demolition derby with about eight competitors. There was a major fire that stopped the demo for several minutes. Don't miss the video on that one. 
 I had a chance to spend a few minutes talking with one of the firemen at the track. He was part of a volunteer fire crew for the city of Russellville. He's been doing the job for 30 years. He told me his father was a fireman for 47 years. 
 Tonight the temperature at the beginning of the show was in the 80s. The track firemen wear heavy duty fire clothes that allow them to withstand being in the middle of a 1000° fire for 15 minutes or so. Tonight the fireman told me the suit wasn't as heavy as it looked but it was hot. I can only imagine. Here's a big thanks to all of the firemen who risk their lives for our personal property all over the world. 
AFTER THE RACES
 OK, I woke up in Cedar Rapids, Iowa this morning. I would end up going to bed in Hannibal, Missouri. My day included a figure 8 race. 
 However it is these trackchasing experiences, which created the Kevin Cerveny story and the Ed Esser story and the Gary Jones story. Some people might think of trackchasing as simply the idea of sitting in the grandstand for a couple of hours and watching cars go around in the circle. As I tell you as often as I can that is not the case for me. 
 I have loved watching races over all these many years. However, trackchasing has changed from the enjoyment of auto racing into a hobby of travel and meeting people. As you may have read I've done my share of traveling all over the world. As you continue to read it becomes obvious that I also have gotten the chance to meet so many fun, interesting and just plain "good" people. That is a definite highlight of my hobby.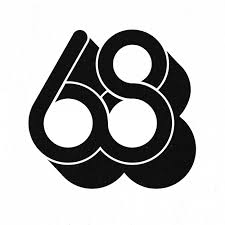 Good evening from Jefferson City, Missouri and the Jefferson City Jaycees Fairgrounds, my 68th lifetime Missouri track.
Randy Lewis – 85 countries – 2,572 tracks.
Missouri
The Show Me state
This evening I saw racing at my 68th lifetime track in the Show Me state, yes, the Show Me state.  I hold the #1 trackchasing ranking in Missouri. Well, actually I'm tied here with Ed Esser. We're both #1!  I've seen 68 or more tracks in thirteen different states. No trackchaser can match that stat.
Thanks for reading about my trackchasing,
Randy Lewis
World's #1 Trackchaser
Peoria Old Timers Racing Club (P.O.R.C.) Hall of Fame Member
Missouri sayings:  Check out those hoosiers!
Uh, no we're not talking about people from Indiana. When you hear this from a Missourian (especially from the eastern part of the state) it means red-neck.
QUICK FACTS
LIFETIME TRACKCHASER COMPARISONS 
The threemost important trackchasing comparisons to me are:
Total lifetime tracks seen
Total "trackchasing countries" seen
Lifetime National Geographic Diversity results
Total Lifetime Tracks
There are no trackchasers currently within 720 tracks of my lifetime total.  Don't blame me.
Randy Lewis, San Clemente, California – 2,572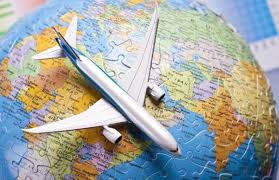 Total Trackchasing Countries
The nearest trackchasing competitor has seen racing in 30 fewer countries compared to my lifetime total. 
Randy Lewis, San Clemente, California – 85
Current lifetime National Geographic Diversity results
Randy Lewis, San Clemente, California – 4.14
That's all folks!  Official end of the RLR – Randy Lewis Racing Trackchaser Report
Click on the link below to see the video production from the racing action today.
Click on the link below for a photo album from today's trackchasing day.  You can view the album slide by slide or click on the "slide show" icon for a self-guided tour of today's trackchasing adventure.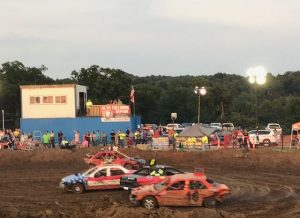 The day I saw my 68th racetrack in Missouri….home of the best small car F8 racing in the world