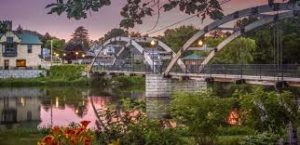 Greetings from Jefferson, Wisconsin
From the travels and adventures of the 
"World's #1 Trackchaser"
The Event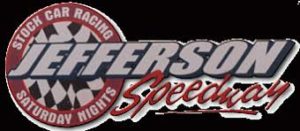 Jefferson Speedway
Asphalt outer oval
 Lifetime Track #873
.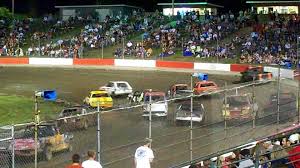 Jefferson Speedway
Asphalt inner oval
 Lifetime Track #874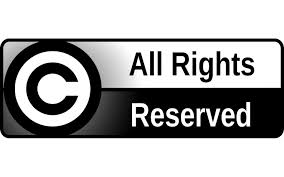 Reprinted with permission from my Saturday, June 18, 2005, Trackchaser Report. 

THE CLASSIC TRACKCHASER REPORT
Editor's note: This is a CLASSIC Trackchaser Report. What the heck does "Classic" mean? It's simply a Trackchaser Report that comes from my trackchasing archives. Typically these will be stories from tracks I visited five years or ten years or more ago.
For whatever reason (usually not enough time) it didn't get posted to my website when I first made the track visit. Often a classic TR will not have a video and/or photo album attached. I didn't begin producing my YouTube videos until 2009 (YouTube channel: RANLAY). I didn't begin writing a complete Trackchaser Report until I had seen about 425 tracks. Photo albums were sort of hit or miss during the early years of my trackchasing. Additionally, if you see a website link know that link worked when the TR was originally written. Will it work now? Your guess is as good as mine! Nevertheless, this CLASSIC Trackchaser Report has finally bubbled to the surface and is now available for everyone to see at www.randylewis.org. I hope you enjoy it.
I AM A TRACKCHASER.
My name is Randy Lewis (above with wife Carol at the Idaho State Fair). I hail from the sleepy little village by the sea, San Clemente, California. I am a "trackchaser". I trackchase. Have you ever in your life heard of "trackchasing"? I didn't think so. 
Well, you made it this far. You might as well pour yourself a cold one and take your Trackchasing 101 class. When you finish you'll have your trackchasing diploma and can then teach your friends about the hobby. 
Let's get started. Trackchasing is a three-pronged hobby. I'm a racing fan. I love to travel. I love to analyze opportunities to get the most out of everything while saving time and money.
Let's do this by the numbers.
The racing part of my trackchasing has me trying to see wheel to wheel auto racing at as many different racetracks as I can all over the world. Yes, all over the world. Do I mean that? Yes, I do! I've seen racing in 85 countries at more than 2,600 tracks. I'm known as the "World's #1 Trackchaser". Why? Because I've seen racing in more countries in the world than anyone else by a wide margin. 
However, my hobby of trackchasing involves much more than simply visiting racetracks. Much more. My hobby includes and requires lots of traveling. I get to see and experience, over the "long and dusty trackchasing trail," all kinds of interesting places, restaurants, sporting events and the like. I call these adventures "Trackchasing Tourist Attractions". You won't want to miss my "Trackchasing Tourist Attractions" page. Here's the link:  Trackchasing Tourist Attractions or my "Sports Spectating Resume" page, Sports Spectating Resume on my website at www.randylewis.org.
I live in southern California. That's probably the most inconvenient location in the country for seeing tracks in the U.S. Most of the racetracks in the U.S. are located well over 1,000 miles from where I live. My average trip covers 5,000 miles and more. I take 35-40 of those trips each season. In any given year I will travel well over 200,000 miles, rent more than 50 cars, and stay in more than 150 hotel rooms. 
I get the chance to meet people from all over the world. With trackchasing trips to 85 countries and counting just getting the chance to experience so many unique cultures, spend time in the homes of my friends and meet so many people is a huge reward for being in this hobby. I am indebted to several of these folks for their help and friendship.
It takes a good deal of planning to do the above and not spend my entire retirement portfolio. I enjoy the challenge, the travel and every other aspect of "trackchasing". In reality, my trackchasing hobby is a lot like being with the carnival. I breeze into town, stay a little while and then head on down the road.
Once you begin researching my trip itineraries from my website, yes you will want to do that, you will be surprised. One day I'll be in Tucson, the next in maybe Tuscaloosa and the following day in Syracuse. I do that kind of thing all the time. Figuring out the logistics of a trip like that is as much fun for me as watching a figure 8 race.
Now you know a little bit about my trackchasing addiction. When you receive one of my Trackchaser Reports or find one on my website at www.randylewis.org you'll get three pieces of entertainment.
First, my Trackchaser Report will be an in-depth essay on how the trip went from A-Z. Yes, I'll cover the racing aspect of things. But you will also hear about what it took to pull off the trip, the special stops that made the trip fun and the obstacles that needed to be overcome.
Secondly, you'll get a YouTube video of the racing action I saw. These are normally short 3-6 minutes highlights of the racing. My YouTube channel is named, "RANLAY". I have nearly 2,000 subscribers to my channel. Currently, I have posted more than 1,300 videos and my channel has more than 1.2 million views!
Finally, I'll share a captioned photo album using a photo-sharing program called SmugMug. Normally, there will be anywhere from 50-200 photos from each trip I take. Sometimes more! My website is linked to hundreds of thousands of photos from all of the trips I have taken.
There you have it. That's trackchasing…the way I do it. Do others trackchase? Absolutely. Do they share their experiences? Sorry. They don't. If you want to see the true "essence" of trackchasing you've come to the right place.
A common question I get about my hobby is, "Why?". I'm a curious fellow. I'm an adventuresome fellow. My hobby is about seeing and experiencing the things that most folks walk right past. Below is a link to a special video. It shows a small town in Missouri that I visited on one of my trips. In this video, I'll share with you exactly what I mean. This video might just make your day.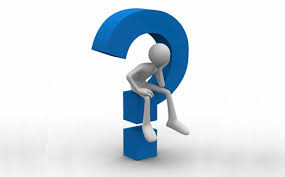 Trackchasing….this is exactly why I do it
Today's adventure was one more of the 2,000 trips that have taken me up, down and around the proverbial long and dusty trackchasing trail.  If you would like to see where I've been and experience those adventures here's the link: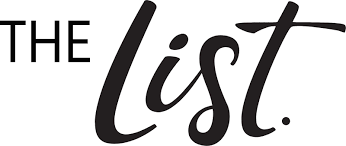 If you've got a question, comment or whatever please leave it at the bottom of this report.  It's very easy to do.  Or you can visit me on Facebook.  Thanks!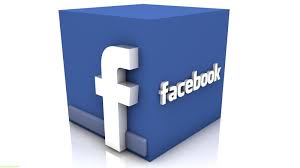 FOREWORD
Saturday, June 18, 2005.
Greetings from first Beaver Dam, Wisconsin and then Jefferson, Wisconsin
Editor's note: This Trackchaser Report covers two racing facilities visited on the same day.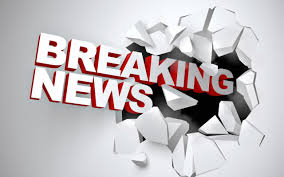 LATE BREAKING NEWS….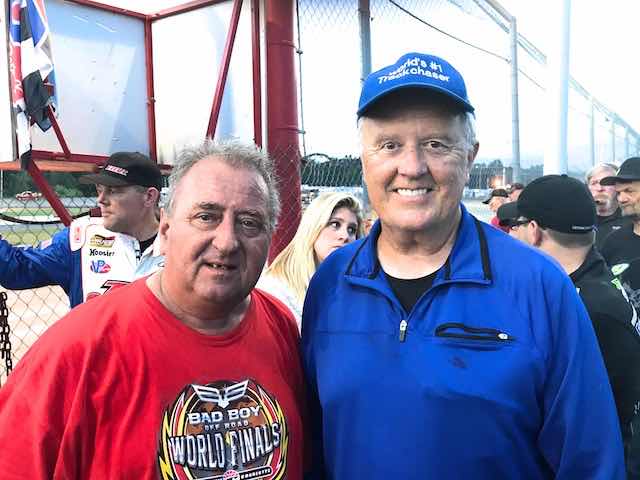 I just received this information from the U.K. born, Trackchaser Report reader and now Canadian resident, Rick Young (above left).  Rick is a former U.K. formula stock car driver and generally just nice guy:
Sat 25th Jun ………Airborne Speedway
"My Mum and Dad flew into Canada from the UK last Wednesday for a 2-week vacation, so decided to take them for a drive to Plattsburg NY today to see the sights of the Champlain River . In the evening we visited the Airborne Speedway, where I took part in the Media race driving the # 24 Mustang of Perry Winch of Lake Placid. It was my first time on-track in a "real" race since 1989, and it was lotsa fun… I must have been the oldest guy out there …LOL.. and think I came 5th out of about 9 starters"
Rick
AND THE READERS RESPOND:
Jim S. from Ponte Vedra Beach, Florida writes, "I still get bored driving three miles in the morning to get my coffee and a USA today. Not sure how they haven't found you in a ditch somewhere yet, congratulations on your fortitude to roll up this many miles. I think I've said this once or twice before, you're nuts!  
PEOPLE/TRAVEL NEWS
Jim makes some good points in the readers respond section.  I believe in another life I was a long haul trucker.  I know that I do not get bored with the driving.  How do I know that?  If I was bored, I wouldn't do it.
I'm always proposing hypothetical situations to my friends.  At my golf club, we normally tee off about 7:30 a.m.  Everyone loves to play or they wouldn't be there.  Almost always, our weather is picture-perfect.  There's not much wrong with teeing it up any morning of the week with perfect weather conditions.
I asked the guys how they would feel if we were in prison, and we were REQUIRED to play golf each and every morning at 7:30 a.m.  To a man, everyone agrees it would not be nearly as much fun under those conditions.  What do I learn from this?  Doing something because you want too makes it much more enjoyable than doing something because you have too.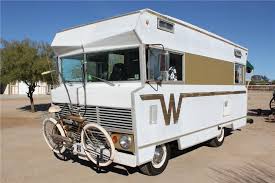 I can only hope that when people do retire, they take the time to do the things they always said they would do when they retired.  It is easy to say that you will "buy an RV and travel the country" or "take up golf" or "learn a foreign language" if you "had more time".  If you've planned your retirement properly, you will definitely have more time.  Don't be lazy.  Get out there and do something!
There is only one minor drawback to making such a long drive as the one today.  I must stay in the driver's seat.  There is no getting up and walking around.  Even though I am restricted, if you will, to the seat, I can still get lots done.  I do all of my phone work while making these drives.  This includes calls to relatives, business calls and phone calls to racetracks. 
Remember when you wouldn't want to make a call or talk too long because it was expensive to make a long-distance phone call?  Carol and I both have unlimited long distance phone calls, as well as roll over minutes from previous months, so for one monthly fee, we can pretty much talk all we want.  I'm sure you have a similar plan.
Satellite radio has made my driving trips much more entertaining.  My portable XM radio is usually turned on.  This past week XM added PGA golf to their selections.  I listened to the U.S. Open broadcast for much of today.  The Sirius NASCAR channel is excellent.  I can listen to the races live.  They also have interviews with drivers about topics you won't hear much about on TV or in racing papers.  Occasionally, I will listen to NASCAR races from times gone by.  It's fun to hear the driver's names from years ago.  I'll tune into CNN or the BBC for my news fix and will go to the country stations for my musical entertainment.  The reception is always clear and the diversity of entertainment choices includes more than 100 channels.  It's a great entertainment and information tool.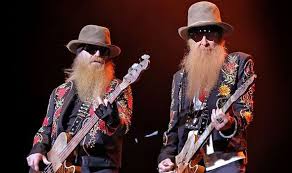 Not much "people" news in the people/travel news section today.  Last night I checked into a Motel 6 in Fargo, North Dakota.  The clerk told me they would be full.  Seems the county fair was going on in town and Z.Z. Top (spelling?) was the featured group in concert tonight.  I really wish I could see some of the entertainment (not necessarily Z.Z. Top) that plays at the many county fairs I attend each year.  It's too bad that on nights when the fairs have auto racing, they usually do not have any stage acts.
I've purchased a tank of gas on each of the four days of this trip so far.  Luckily, I'll get a small break on the mileage tomorrow.  I've ONLY got about 300 miles built into the plan.
You may want to check out this website, I noticed from a roadside billboard, www.wedocows.com from Stearns Outlet Veterinary Supplies and Pharmacy Store.  I've been looking for a veterinary supplies outlet store.
RACE TRACK NEWS:
RACEWAY @ POWERCOM PARK, BEAVER DAM, WISCONSIN – TRACK #872
This speedway is my 27th-lifetime track to see in Wisconsin.  The track was a mere 633 miles from last night's track in Grand Forks, North Dakota.  It was 553 miles from this morning's hotel in Fargo, North Dakota.  This will probably be my longest one-day drive of this trackchasing trip.
I left the Motel 6 in Fargo at 10 a.m.  I stopped once for a 12-minute nap, a second time for a Subway sandwich to go and a third time for gas.  I arrived at Powercom Park at 6:28 p.m. for the 6:30 p.m. scheduled start time.  I love it when a plan comes together.
I originally got this trackchasing double idea from P.J. Hollebrand during our trackchasing discussions while we toured England.  P.J. had doubled with the Dodge County Speedway and Jefferson Speedway.  Dodge County is just two miles down the road from Powercom Park so I knew the double was doable.  I frequently analyze the past trackchasing patterns of my fellow trackchasers.  I have found it's better to take an existing idea and try to improve it, than to develop a totally new idea on my own.
The facility at Powercom Park is excellent.  The racing surface is not.  I pulled into the parking lot while the national anthem was playing.  I entered the track near the fourth turn just as the first modified heat race was shoving off.  The dust and grit could be felt during the very first heat.  The concession stands sold "safety goggles".  At a dirt track, that is a bad sign.
This track has a huge grandstand.  They even have special terrace level seating where a server will come and take food, and drink orders.  That is a very nice touch.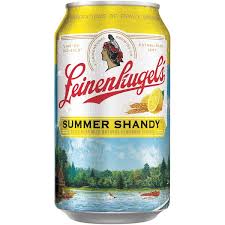 The P.A. was good and the sightlines are great.  My $3 brat sandwich was small and overpriced.  I did go with Greg Z's reco of a Leinenkugel beer.  It came in a red and white can.  I am not a big beer drinker and have a difficult time telling one brand from another. They also had Grandpa Recheck's beef jerky on the menu for a buck.
There were five classes of racecars tonight.  Each class had a good car count.  The heat races had 9-11 cars in each race.  I saw six modified heats, three dirt devil heats, two legends heats, two stocks heats and two grand national heats.  That's 15 heats at eight laps a pop.  That's a lot of heat racing.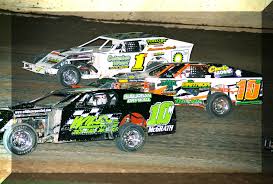 The modifieds had about 60 cars racing.  Following the heats, there were two 12-lap, 15-16 car modified "B" features.  When the dirt devils came onto the track for their "B" feature, I knew it was time to exit the Powercom.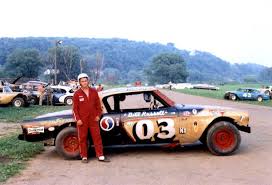 A highlight of the evening was seeing a '57 Studebaker Hawk race in the grand national division.  The only division that was really any good was the modifieds.  The other four divisions were either underpowered for the half-mile track or ill handling or both.
I was really disappointed with the condition of the track.  The surface reminded me of watching races on a daytime dirt track.  It looked like almost every car was on the verge of spinning out on each lap.
JEFFERSON SPEEDWAY, JEFFERSON, WISCONSIN – OUTER OVAL – TRACK #873 AND INNER OVAL – TRACK #874
These speedways are my 28th and 29th-lifetime tracks to see in Wisconsin.  This gives me a state ranking of ninth.   Ed Esser leads the Wisconsin standings with 93 tracks.  I have 28 countable tracks in the state still to see, of which about 23 race on a weekly basis.
When contemplating this trackchasing double, I debated which facility should come first.  Originally, I was going to go to Jefferson Speedway first.  That plan changed when I learned that Powercom started racing at 6:30 p.m. and Jefferson got underway at 7 p.m.  I was also told over the phone that Jefferson's bandits' class would be the last race of the night on the inner oval.  That was good.  It meant that it would be difficult to miss racing on the inner oval.
The Jefferson outer oval made a great second half to my blended double and the Jefferson inner oval made a great second half to my same track double.  I was able to see all the cars race (some twice) at Powercom.  The distance between the two facilities was 45 miles.
When I entered the Jefferson Speedway, the 30-lap Sportsman stock car feature was just beginning.  They raced around the quarter-mile five-degree banked asphalt oval in a two abreast fashion for most of their race.  They had only one caution flag.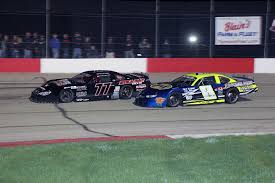 Next up was the 50-lap late model feature event.  They started 20 cars, which was plenty on this small track.  I used my racing radio to listen into different drivers and pit crews during the race.  There were only one or two yellows during this race.
Next up was the bandits class.  This is the only class to race on the inner oval at Jefferson.  Eleven cars pulled onto the track for their 12-lap race.  I figured this was the bandits feature and the last race of the night.  It turned out this was only the consie for the bandits.  Two cars would qualify for the next bandits race, the "last chance" race.  I don't ever recall seeing cars go from a consie to the last chance race. 
The racing on the small oval wasn't much.  The last chance bandits race started about one minute after the bandits consie was finished.  That didn't give the consie qualifiers much time to do anything except pull into the back of the last chance race.  There was a bandits flip during the last chance race and that was about the limit of the racing excitement.
While all of this racing was going on the announcer stood on a small dirt hill in the infield and announced the races with a wireless microphone.  On a suddenly turned cool and windy evening, he wore only a t-shirt and shorts.  At least I had on a sweatshirt and shorts and I was freezing. 
Following the last chance bandits race, I slipped down to the pizza stand.  I had seen other customers eating the pizza and it looked good.  Even though it was nearly 10 p.m., I went with two slices when I could have gotten by with one.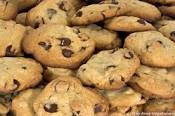 The grandmotherly woman serving the pizza handed my food to me and asked, "Would you like some freshly baked chocolate chip cookies?"  I am very appreciative of the fact that people are so nice to me everywhere I go.  Of course, I would like some freshly baked chocolate chip cookies!  I was a guest at Jefferson Speedway and it would be impolite to decline her offer.  The cookies had just come from the oven.  She placed them on the plate holding my pizza.  No charge.  Thank you very much.  The pizza was very good and the cookies were delicious.
The final event on the outer oval was the 20-car, 20-lap hobby stock feature.  The class was mainly made up of Chevy Monte Carlos.  There was close two abreast racing throughout.  The final event of the evening, as promised, was the 24-car, 18-lap bandits feature.
Which facility would I pick of the two I visited tonight for a return trip?  I would go with the Jefferson Speedway.  Although the Raceway @ Powercom track is more widely known, the dust and grit along with a great incidence of yellow flags, makes my vote go to Jefferson.  Jefferson is similar to the old Saugus Speedway or the current Lakeport Speedway in California.  Both tracks tonight had very large crowds.  I am very impressed with the size of the crowds at each of the tracks I have visited this week.
RENTAL CAR UPDATE:
The National Rental Car Racing Chevy Malibu went over 2,000 miles before it entered the Jefferson Speedway.  I've been out here in the Midwest for four days.  I've seen racing each night for four days, played golf on two different days and driven more than 2,000 miles.  That doesn't leave much time to play gin rummy.
LIFETIME TRACKCHASER STANDINGS UPDATE:
These trackchasers are within 100 tracks (plus or minus) of my current trackchaser total.
Gordon Killian, Sinking Spring, Pennsylvania – 964
Guy Smith, Effort Pennsylvania – 962
Randy Lewis, San Clemente, California – 874
Jack Erdmann, DePere, Wisconsin – 872
P.J. Hollebrand, Webster, New York – 807
John Moore, Knoxville, Tennessee – 795
Ed Esser, Madison, Wisconsin – 777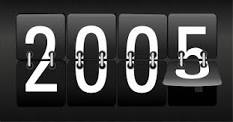 2005 TRACKCHASER STANDINGS
Randy Lewis, San Clemente, California – 65
Ed Esser, Madison, Wisconsin – 47
Roland Vanden Eynde, Vilvoorde, Belgium – 27
CUMULATIVE DRIVING DISTANCES:
Chicago O'Hare Airport – trip begins
Marshfield, Wisconsin – 288 miles
Menomonie, Wisconsin – 537 miles
Winnipeg, Manitoba, Canada – 1,767 kilometers
Grand Forks, North Dakota – 1,327 miles
Beaver Dam, Wisconsin – 1,960 miles
Jefferson, Wisconsin – 2, 005 miles
Total trip air travel – 3,472 miles
TRACK ADMISSION PRICES:
Marshfield Super Speedway – Free
Red Cedar Speedway – $12
Victory Lane Speedway – $20 Canadian
River Cities Speedway – I'm bringing you in for free!
Raceway @ Powercom Park – $9
Jefferson Speedway – $9
Thanks for reading about my trackchasing,
Randy Lewis
Trackchasing's #1 trackchaser of the 21st century
That's all the news that's fit to print from San Clemente where the women are strong, the men are good-looking, all of the children are above average and the real estate prices are way above average.
Planned new racetracks
(on the last day of each racing trip I will post my tentative plans for my next trip)
June 19 – Golden Sands Speedway, Plover, Wisconsin
June 21 – Langlade County Speedway, Antigo, Wisconsin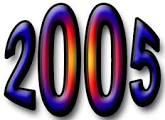 Racetracks visited in 2005
(** not the first time to visit this track)
Sungold Stadium aka Premier Speedway, Warrnambool, Victoria, Australia, January 1
Freedom Hall – Oval – Louisville, Kentucky, January 15
Freedom Hall – Figure 8 – Louisville, Kentucky, January 15
Southern Illinois Center, DuQuoin, Illinois, January 16
Golden Aisles Speedway, Waynesville, Georgia, February 25
Zephyrhills Antique Racecar Track, Zephyrhills, Florida, February 26
Dirt Devil's Speedway, Land O' Lakes, Florida, February 26
Ringwood Raceway, Ringwood, England, March 25
Birmingham Wheels, Birmingham, England, March 26
Boiling Hills Farm, Sleaford, England, March 27
Snetterton Circuit, Snetterton, England, March 27
**     Great Yarmouth Stadium (oval), Yarmouth, England, March 27
Great Yarmouth Stadium (Figure 8), Yarmouth, England, March 27
The Grove Farm, Monkland, England, March 28
Grimley Raceway, Grimley, England, March 28
Castle Combe Circuit, Castle Combe, England, March 28
Boyd Raceway, Boyd, Texas, April 1
Port City Raceway, Tulsa, Oklahoma, April 2
Outlaw Motor Speedway, Oktaha, Oklahoma, April 2
Hallett Motor Racing Circuit, Jennings, Oklahoma, April 3
JPR Speedway, Tulsa, Oklahoma, April 3
Charlotte County Speedway – Figure 8, Punta Gorda, Florida, April 9
CORA Speedway, Dixon, California, April 16
Reno-Fernley Raceway – Road Course, Fernley, Nevada, April 17
Lakeside Speedway, Kansas City, Kansas, April 22
Salina Speedway, Salina, Kansas, April 23
Jetmore Motorplex, Jetmore, Kansas, April 24
Oberlin Speedway, Oberlin, Kansas, April 24
USA Race Track, Tucson, Arizona, April 30
Tucson Raceway Park (inner oval), Tucson, Arizona, April 30
Driesum Race Track, Driesum, Netherlands, May 5
Autosportsdadion de Polderputten, Ter Apel, Netherlands, May 5
Bellekouter Autocross – oval, Affligem, Belgium, May 8
Bellekouter Autocross – road course, Affligem, Belgium, May 8
Circuit de Croix-En-Ternois, Saint-Pol sur-Ternoise, France May 8
Nurburgring, Nurburg, Germany, May 13
Lopik – oval, Lopik, Netherlands, May 14
Lopik – road course, Lopik, Netherlands, May 14
Ten Boer Autocross, Ten Boer, Netherlands, May 14
Rennplatz "Casper Gerd", Rutenbrock, Germany, May 15
Zuidwolde Autocross, Zuidwolde, Netherlands, May 15
Midland Speedway Circuit, Lelystad, Netherlands, May 15
Aalten Autocross, Aalten, Netherlands, May 16
Circuit de Peel International Speedway, Venray, Netherlands, May 16
U.S. 30 Speedway – permanent inner oval, Columbus, Nebraska, May 26
Hitchcock County Speedway, Culbertson Nebraska, May 27
Pikes Peak International Raceway, Fountain, Colorado, May 28
Colorado National Speedway – asphalt oval, Dacono, Colorado, May 28
Colorado National Speedway – figure 8, Dacono, Colorado, May 28
Rocky Mountain National Speedway – figure 8, Commerce City, Colorado, May 28
Broken Bow Wilderness Park – figure 8, Fullerton, Nebraska, May 29
Casino Speedway, Watertown, South Dakota, May 29
Sioux Speedway, Sioux Center, Iowa, May 30
Madison Speedway, Madison, Minnesota, May 30
Hawkeye Downs, Cedar Rapids, Iowa, June 3
Autobahn Country Club – North Course, Joliet, Illinois, June 4
Shadyhill Speedway, Medaryville, Indiana, June 4
Pottawattamie County Fairgrounds, Avoca, Iowa, June 5
Dawson County Speedway, Lexington, Nebraska, June 5
Marshfield Super Speedway, Marshfield, Wisconsin, June 14
Red Cedar Speedway, Menomonie, Wisconsin, June 15
Victory Lane Speedway, Winnipeg, Manitoba, Canada, June 16
River Cities Speedway, Grand Forks, North Dakota, June 17
Raceway @ Powercom Park, Beaver Dam, Wisconsin, June 18
Jefferson Speedway, Jefferson, Wisconsin – outer oval, June 18
Jefferson Speedway, Jefferson, Wisconsin – inner oval, June 18
Official end of RANLAY Racing Trackchaser Report