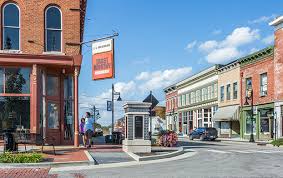 Greetings from North Vernon, Indiana
.
.
From the travels and adventures of the 
"World's #1 Trackchaser"
.
.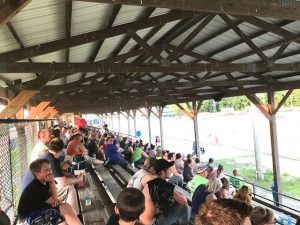 Jennings County Fairgrounds
Inner dirt oval
 Lifetime Track #2,451
The EventVideo PlusPhotos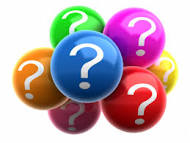 THE EVENT
I am a "trackchaser". So, what the heck is that? I get that question all the time from racing and non-racing people all the time. This is a difficult question to answer. Why? Because after I do my best to respond people say, "I've never heard of such a thing"!
Here's my best answer.
I'm a racing fan. I love to travel. I love to analyze opportunities to get the most out of everything while saving time and money.
Trackchasing fills the need for all of the above. The racing part of my trackchasing has me trying to see wheel to wheel auto racing at as many different racetracks as I can all over the world. Yes, all over the world. So far things are going pretty well. I've seen racing at nearly 2,500 tracks in 80 countries. As a matter of fact, I've seen racing at more tracks than anyone else in the world.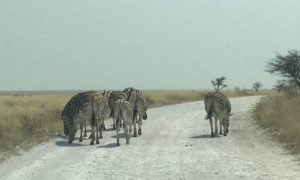 Equally important to me are the things I get to see and experience over the "long and dusty trackchasing trail". I call these adventures "Trackchasing Tourist Attractions". You won't want to miss my "Trackchasing Tourist Attractions" page. Here's the link:  Trackchasing Tourist Attractionsor my "Sports Spectating Resume" page, Sports Spectating Resumeon my website at www.randylewis.org.
I live in southern California. Most of the racetracks in the U.S. are located well over 1,000 miles from where I live. As a matter of fact, my average trip covers 5,000 miles and more. I take 35-40 of those trips each season. In any given year I will travel well over 200,000 miles, rent more than 50 cars, and stay in more than 150 hotel rooms.
I get the chance to meet people all over the world. With trips to 80 countries and counting just getting the chance to experience so many other cultures, spend times in their homes and meet their friends is a huge reward for being in this hobby. I am indebted to several of these folks for their help and friendship.
It's takes a good deal of planning to do the above and not spend my entire retirement portfolio. I enjoy the challenge, the travel and every other aspect of "trackchasing". In reality, my trackchasing hobby is a lot like being with the carnival. I breeze into town, stay a little while and then head on down the road.
Today's adventure was one more of the 2,000 trips that have taken me up, down and around the long and dusty trackchasing trail. If you would like to see where I've been and experience those adventures here's the link: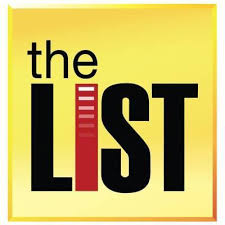 If you've got a question, comment or whatever please leave it at the bottom of this report.  It's very easy to do.  Or you can visit me on Facebook.  Thanks!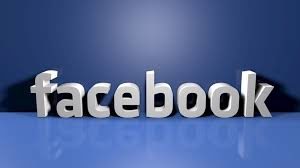 FOREWORD
Thursday, June 14, 2018.
My all-time classic trackchasing trip has always been out Friday and back Monday. However in order to get to tracks in the central or eastern time zone nowadays I sometimes have to leave on Thursday.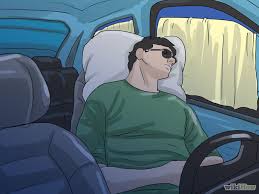 Carol does not come on some of these long-distance driving, sleep in your car or the airport trips. Would your spouse want to do that?
When she doesn't come along I like to treat her to dinner and a movie the night before I leave. This afternoon we went to see the Melissa McCarthy movie, Life of the Party. It was simple and in some ways silly but lighthearted entertainment. Of course, we used our MoviePass. We each pay $7-10 month for MoviePass. We can see one film in the movie theater every day of the month if we like. We probably average two or three films a month. That knocks down our cost at the cinema to less than five dollars per showing. Today's ticket price would've been $12 each if we had to pay for it.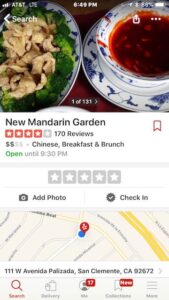 We've got a really special Chinese restaurant in San Clemente. It's called the Mandarin Garden. We like certain items there and order the same thing every time we go to the restaurant. Why not change? I guess we're a little afraid of trying something new, not liking it, and wasting the opportunity to have our favorites. I don't normally think that way. However, are favorites are SO good.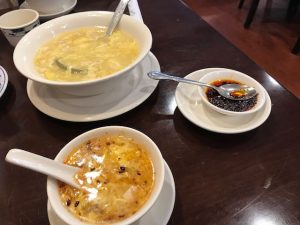 So what the heck are our favorites? First we start with the chicken corn soup. Delicious. Then we'll go with some humongous steamed dumplings. Our main entrée of honey walnut shrimp follows. When we get our check they give us both a fortune cookie and an almond cookie. The servings are so large the two of us can't eat everything. We end up getting three meals for the price of two although by our standards the restaurant is a little pricey.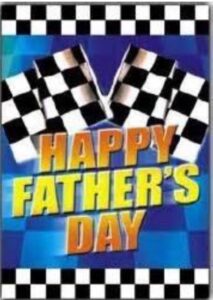 This weekend is Father's Day weekend. That being the case Carol presented me with my Father's Day gift, which was a collection of shorts and T-shirts. I am a "shorts and T-shirt" guy since I retired 16 years ago. I probably was before that too. It works for me.

Following dinner I dropped Carol off at our modest seaside cottage. Then I headed up to LAX. I was flying to Nashville, Tennessee tonight. It would be an overnight flight. When I landed in Nashville on Friday morning I was planning on touring the Johnny Cash Museum as well as the Lane Motor Museum, which is home to the largest collection of European cars and trucks in the United States.
My flight was leaving at about 10:30 p.m. When I pulled into my LAX parking garage I checked the flight availability that would take me to Nashville. Things were changing! What looked like a relatively open flight a few hours ago was now overbooked. I would be last on the standby list. That wasn't good. I couldn't risk trying for Nashville. If I stuck with that flight and didn't make it there wouldn't be enough time to try another option.
In the parking garage I quickly checked all of the overnight flights going back toward the Midwest. I wanted to get as close to Murray, Kentucky as I possibly could. It looked like a flight from Los Angeles to Indianapolis would fit the bill. They had some open seats too.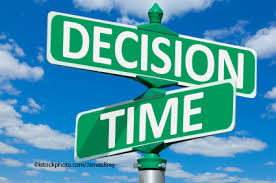 I would really like to tell you how I made that happen. Trust me, I really would. However if I told you it might be bad for me and it might be bad for you. Let me just put it this way. I made it happen. You've never met anyone who did what I did tonight. Trust me. You haven't.
By the skin of my teeth I boarded the flight to Indianapolis. I was smiling. I had been given an aisle seat. However, my smile turned downward when I noticed that a young mother and her two sons, ages five and two, were seated in the middle and the window seat. However, I sucked it up and told her this wouldn't be a problem at all. It wasn't. The kids both slept during the entire flight. We didn't have any problems at all.
Friday, June 15, 2018.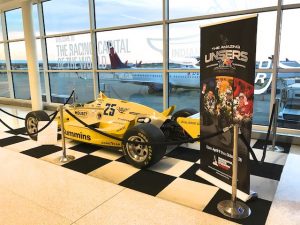 Now that I had landed in Indianapolis rather than Nashville I was five driving hours from Murray, Kentucky rather than two hours. That wasn't perfect. Following the racing tonight I needed to drive back to Chicago. That would be an overnight drive from Murray, Kentucky of six hours. By the way, the Indianapolis airport always has Indy cars on display.

I did have another option. That was a Top Dog Promotions event at the Jennings County Fairgrounds in North Vernon, Indiana. Logistically that would save me about eight hours of driving compared to going down to Kentucky. I liked that thought.
However, the easy way is not always the best way. I'm sure you have discovered that in life. Top Dog Promotions does a really good job with demo derby and circle track car racing all around the greater Cincinnati area. Unfortunately, the Jennings County Fairgrounds was a little bit out of their jurisdiction.
I had been messaging Top Dog Promotions czar, John Peck. He and I first met up with each other at one of his many events a few years ago. John told me there had not been any demo derby action at Jennings for the past five or six years and maybe longer. He also mentioned that this fairgrounds was about two hours outside of the circle where he normally operates.
What did all that mean? It meant there was a possibility no circle track cars would show up. That happened one other time with me and Top Dog Promotions. I certainly didn't want to fly overnight and then be shut out on Friday night. However, the attraction of saving eight hours of driving time kept me in Indiana when I could've seen a track for certain in Kentucky. I would have to wait all day to find out if that was a good decision or not.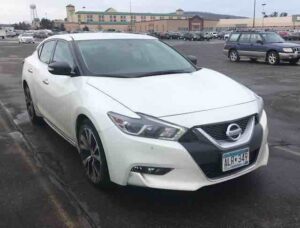 At the Indy airport, which features one of the most attractive airline terminals in the country, I grabbed a National Car Rental Racing Nissan Maxima. It's a nice car although a little tight on the inside. It would fit the bill.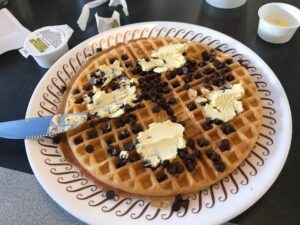 On the nearly two-hour drive down to North Vernon, Indiana I stopped for a power nap and breakfast at the Waffle House. I pulled into the Jennings County Fairgrounds at about 11 a.m. There wasn't much action going on. I ran into a couple guys who worked for the fair board. They were in charge of getting tonight's track shape.
The North Vernon, Indiana area had received a lot of rain recently. Depending upon who you talked to they got either four inches or as much as 10 inches of rain. I could believe either one of those numbers.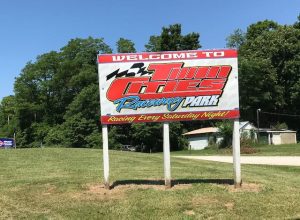 I have a "history" with North Vernon, Indiana. All the way back in 2002 I saw late model racing at the Twin Cities Raceway Park. That track is located about 6 miles from the fairgrounds. Billy Moyer won the feature that night as I visited my 577thlifetime track. Just two weeks later I retired from "working for the man" and have never looked back. Today I had a few extra minutes and drove down to the Twin Cities Raceway Park to see how things looked today, some sixteen years after my first visit. I'm pleased to say the track looked great.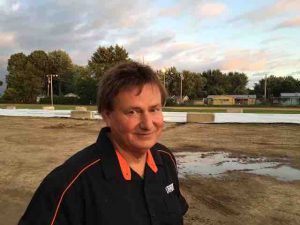 In 2005 I joined trackchasers Ed Esser and Roger Ferrell to see figure 8 racing at the Jennings County Fairgrounds promoted by my buddy Terry Eaglin (above). That was lifetime track #885.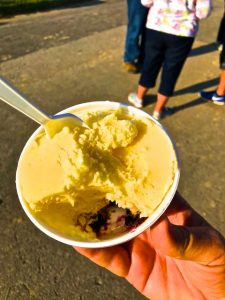 At this point all I could really do was wait eight more hours. Tonight's program called for demolition derby and hopefully circle track racing to begin at 7:00 p.m. I had some hours to kill. The high temperature today was going to be 87°. That was warm. I did end up getting two servings of the fair's homemade ice cream during the visit. Excellent!
As noted I had flown over night last night. That meant I needed some sleep today. I needed to get as much sleep as I possibly could because I was going to have a five-hour drive after tonight's racing back to Chicago's O'Hare International Airport. Once I got to O'Hare I would have an 8 a.m. flight departure to Canada. There were a lot of moving parts. There always are. That's what I like about trackchasing.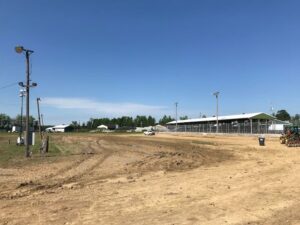 I did some Google searching that helped me determine that a car at idle burns about a third of a gallon per hour. That wasn't bad. I figured it would only cost me about a dollar an hour or maybe a little bit more to sit in the air-conditioned comfort of my car as it idled all day. I did that at the fairgrounds. I slept a little and I worked on stuff on my computer. I waited to see what was going to happen with the circle track oval racing tonight.
And about 6:30 p.m., still an hour before race time, I left the local Walmart parking lot. When I got over to the Jennings County Fairgrounds the parking lots were packed. Welcome to the beginning of county fair season! I am always amazed at how well attended these fairs are.
For me, the rubber was about ready to meet the road. I had committed to the Top Dog Promotions circle track racing show. By now if no circle track cars showed up tonight I had no other options. The race down in Murray, Kentucky was too far away to get to at this point. Yes, the rubber was about ready to hit the road.
This was a Friday night. Presumably many of the drivers, car owners and crew members had a work day today. That might make their arrival at the fairgrounds a little bit later then if the racing was taking place on a Saturday.
There was no admission to the fairgrounds tonight. In Michigan, they call that a "free" fair. I do remember how everything was so expensive at the Michigan "FREE" fair that I attended. That was not the case tonight.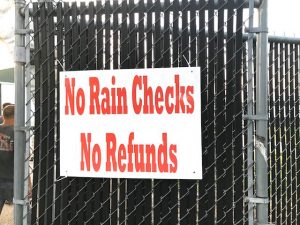 Fans could get into the grandstands to watch the demolition derby tonight for a more than reasonable five-dollar charge. Fair concessions were cheap too. Over the course of the day I had two orders of homemade ice cream. The frozen treat came with a choice of mixings. My first order was a chocolate brownie with ice cream and the second, ice cream with a piece of blueberry pie. The charge for each of those concoctions was a puny two bucks.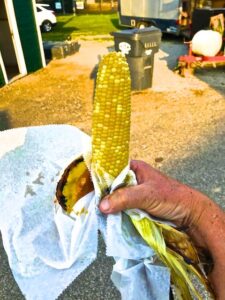 Dinner for me tonight was a four-dollar pork burger, a two-dollar ear of roasted corn (my first of the year) as well as a bottle of Diet Mountain Dew and a bottled water, each selling for a dollar. I was set on the culinary front.
THE RACING
\
Jennings County Fairgrounds – North Vernon, Indiana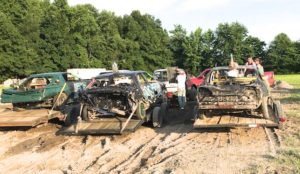 It was with some trepidation that I entered the pit area at the Jennings County Fairgrounds. Tonight a pit pass was selling for $15. I paid the fee and walked in. The first thing I saw was a very good sign.
I think most folks would agree that I am a veteran motorsports observer. I can pick up on the smallest of visual cues to give me a clue as to what's coming my way. Tonight's first visual cue was really important. What was that?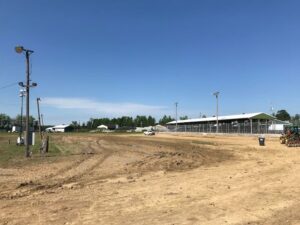 Tonight there was no formal demo ring. There was just a large flat dirt space in front of the grandstand. It was about 200' x 400' in size, maybe bigger. In the middle of that piece of ground were two concrete blocks. The blocks might have been 3' x 3' and were spaced about 40-50 yards apart. That was the visual cue. These were the markers the cars in the circle track race would be racing around. This was a very good sign.
I went in to say hello to promoter John Peck. He greeted me by name and shook my hand. Since he was busy I went around to check out tonight competitors. Here's what I found.
Over the next few minutes a total of four circle track cars would appear in the pit area. That wasn't a lot but it was enough. Veterans of the trackchasing hobby know that only two cars are needed to make a race and therefore count on track.
I walked over to say hello to a circle track driver in car #220. His name was Steven. After we began talking we were both reminded we had met each other three years ago at the Henry County Fairgrounds. On that night this driver was competing in his very first race. He was a friendly fellow. Sadly on that night some time ago he crashed in the very first turn and was out for the night. It was good to see his smiling face. Any idea how Steven came up with the car #220? It's his wife's birthday! February 20. What a romantic guy!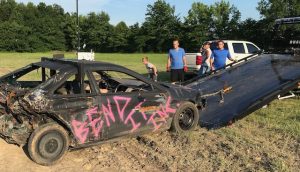 I continued to walk around the pit area. Even though it was past 7 p.m. we were still in the heat of the day with temperatures at nearly 90°. There was a good deal of humidity as well. This is the Midwest in the summer. Actually we're still a couple of days away from the official start of the summer season.
There were two classes of demolition derby cars. I'm certainly not an expert on demo derby. I've seen my share but they've always been part of a figure 8 or oval track racing program. It looked as if they were about five in the small car group and nearly that many in the large car group.
This was the first time that Top Dog Promotions had ever run an event at Jennings County Fairgrounds. I was told they had not had a demolition derby at the fair in maybe more than 10 years. John Peck also told me that Jennings was located about two hours outside of the circle where he normally promotes. That meant that his normal drivers might not show up tonight. Two hours of towing in the circle track and likely the demolition derby world is a long way.
I will tell you this. I was more than relieved to know that a few circle track cars were the pit area. I had flown a couple thousand miles over night and hung out in a Walmart parking lot with my car idling and the air-conditioning cranking in the hopes of seeing some circle track cars compete. That's what the hobby of trackchasing is all about. Yes, it's a little more difficult if you live in Southern California when all of the tracks are back in the Midwest and East.
I spent some time talking to John Peck and the lovely ladies that are part of the Top Dog Promotions traveling team. All nice folks. This is not an easy business.John told me he was on about his 10th program of the year and expected to have more than 50 for the entire season. That's a lot of running around and managing of people.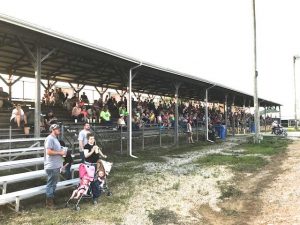 With my pork burger, roasted ear of corn and drinks I grabbed a seat in the top row of the old covered grandstand. The grandstand was not as old as some  but it wasn't brand new either. Tonight there was a good crowd in the stands. It was important to put on a good show for these folks so the event can be even bigger and better next year.
The show did not start on time. The area had received more than 4 inches of rain, some said 10 inches, over the past couple of days. However tonight's dirt demo ring had been smoothed out during the afternoon. It baked in the sun all day. They may have gotten a lot of rain in the last 48 hours but now the racing surface had turned to dust.
The announcer didn't have a lot to say. At one point he did inform the crowd that the circle car feature event, their only race of the night, would be for 10 laps. It would also be the first race of the night. I liked that idea.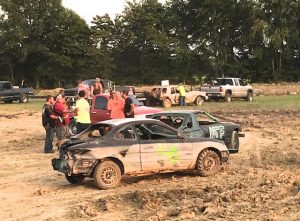 At a little past 8 p.m. the circle cars came out and did some hot laps. I think they were hot laps. The announcer didn't really tell us. They kicked up a lot of dust. Then they pulled back into the pit area.
Then we went into another delay. I could only assume  they were waiting to get the track watered. I had talked to some fairgrounds people this afternoon. They told me they had a water truck. However, no water truck appeared. The crowd became restless.
Later in the evening I would learn from the promoter that he had asked for the track to be watered. The fairgrounds refused. Then the fairgrounds threatened the promoter's economic livelihood if he didn't start the show with a dry track. He did.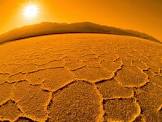 What do you call the Sahara Desert in the middle of the dry season? A dustpan. Tonight's racing surface reminded me what it might be like if there was circle track racing in the Sahara Desert. I watched the race from ground level. It was dusty down there. Folks in the grandstand said they couldn't even see the cars for most of the race because of the dust. Don't miss the video to get a visual idea of what I'm talking about.
The car circle track feature event ran nonstop. It was a "unique" race. I was certainly happy to get this track in the books. As you can tell from the story I've told you today the actual race was sort of like the cherry on top of the sundae. It was a real small part of the overall situation.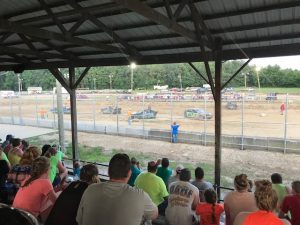 Next up was the small car demolition derby. There were five entries. For whatever reason the cars started off at a very slow pace. It almost looked as if the drivers were striking. Soon a red flag was displayed. An official went up to speak to each of the five drivers. When they started again, it was a full-fledged no holds barred demo derby action. The crowd loved that part of it. I have no real idea why they started out so slowly.
AFTER THE RACES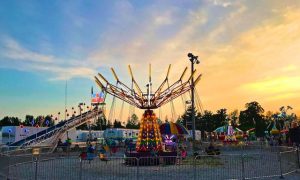 It was now getting to be about 9 p.m. Following the races it was going to be about a five hour drive up to Chicago's O'Hare International Airport. I had an 8 a.m. flight on Saturday morning. You can do the math. I hoped to get some sleep as well as a shower at a truck stop along the way. I did not stay for the three or four car large car demo derby. I had seen what I had come to see. The logistics were not easy. However, if this were easy everyone would do it.
North Vernon sits in the eastern time zone. That was a good thing tonight. That meant I would save an hour driving back to Chicago.
There were several different calculations that needed to be entered into a massive formula to make sure everything worked out for the rest of the night. I had to calculate that I would be saving an hour driving from the eastern time zone to the central time zone. I had to be aware of the idea that my flight left at 8 a.m. I had to return my car by 6:30 a.m. to the O'Hare airport because that's what time I'll picked the car up yesterday in the Indianapolis airport.
I also had to account for the fact that I would be driving five hours through the very busy downtown Chicago/Gary, Indiana corridor. I wanted to get as much sleep as I possibly could in a highway rest area. I also had allocate about 30 minutes for stopping at a truck stop to rent a shower and get cleaned up. I really needed that.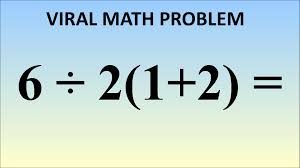 If I screwed up any of these calculations then I might not make my 8 a.m. flight from Chicago to Winnipeg, Manitoba, Canada. The circle track racing was only a preliminary event for this weekend's trackchasing. The really big "racing" part of this adventure would be over the weekend in first Manitoba and then later the province of Saskatchewan.
I did get four hours of sleep at an Interstate 65 rest area in Indiana. The overnight temperature never got below about 75°. It was warmish but not all that bad.

I also stopped at a Pilot Truck Stop. They charged $12 for a shower. When you need it, it's a very good value. At 4 o'clock in the morning there was no wait for showers! I took my time and gave myself a double cleaning. Yes, I needed that. When I left the Pilot Truck Stop I was clean and somewhat well rested. Now I just had to drive through Chicago, one of the toughest traffic cities in the United States.
I had some things going for me. It was 4 o'clock on a Saturday morning. If you're ever going to have light traffic in Chicago I would think that would be the time. I also had my Illinois I-PASS toll transponder. That would get me through the myriad of toll booths that Chicago is famous for quickly, and at half the price people must pay if they don't have a toll transponder.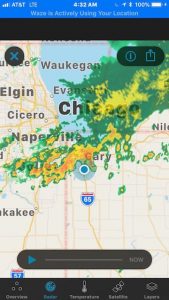 Just as I was entering Gary, Indiana I encountered I heavy thunderstorm. That was a good thing. It kept me awake. I had just a few more miles to go. I would need to stop and refuel amongst the rain, lightning and thunder. You've got to be careful where you stop for gas in Chicago. It's not all friendly territory.
And there you have the story. You have read about how I migrated from having dinner and a movie with my lovely wife Carol, flying overnight with a change of departure cities just a few minutes before I was leaving LAX, having to decide which racetrack I would attend once I landed in Indianapolis that would both maximize my track count and minimize the travel time, then struggling through the heat and humidity with the uncertainty that there may or may not be enough competitors to make up a race. Following all of that I had the long drive back through one of the most congested cities in the country AFTER I had showered in a truck stop. This is what I had encountered in just ONE 24-hour trackchasing day. You're welcome to join me in the fight if you like. I love it. You might too. Then maybe not.
Good evening from North Vernon, Indiana.
Randy Lewis – 80 countries – 2,451 tracks.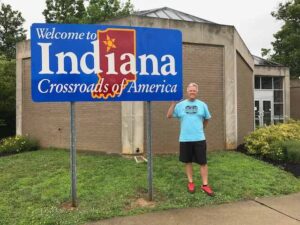 Indiana
The Hoosier state
This evening I saw racing at my 115th lifetime track in the Hoosier state, yes, the Hoosier state.  I hold the #2 trackchasing ranking in Indiana. I'm closing fast on the state's leader R. Ferrell.  I've seen 115 or more tracks in three different states.
Thanks for reading about my trackchasing,
Randy Lewis
World's #1 Trackchaser
Peoria Old Timers Racing Club (P.O.R.C.) Hall of Fame Member
Indiana sayings:   Make sure your warsh your hands.
Not sure where that extra "r" comes from, but you'll hear this consistently throughout the Hoosier state.
QUICK FACTS
LIFETIME TRACKCHASER COMPARISONS 
The threemost important trackchasing comparisons to me are:
Total lifetime tracks seen
Total "trackchasing countries" seen
Lifetime National Geographic Diversity results
Total Lifetime Tracks
There are no trackchasers currently within 655 tracks of my lifetime total.  Don't blame me.
Randy Lewis, San Clemente, California – 2,451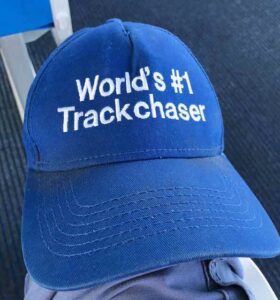 Total Trackchasing Countries
There are no trackchasers currently within 25 countries of my lifetime total. 
Randy Lewis, San Clemente, California – 80
Current lifetime National Geographic Diversity results
Randy Lewis, San Clemente, California – 4.14
That's all folks!  Official end of the RLR – Randy Lewis Racing Trackchaser Report
Click on the link below to see the video production from the racing action today.