Greetings from West Salem, Wisconsin
.
.
From the travels and adventures of the "World's #1 Trackchaser"
.
.
 LaCrosse Interstate Speedway
Outer asphalt oval 
Lifetime track #31
.
.
LaCrosse Interstate Speedway
Inner dirt oval 
Lifetime track #1,114
HighlightsDirt inner oval 2006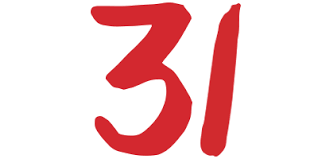 The LaCrosse Interstate Speedway is officially listed as my 31st-lifetime track.  I did not begin writing my famous "Trackchaser Reports" until the middle of the year 2000.  My first official Trackchaser Report was written for track #425, the State Fair Speedway in Sedalia, Missouri.  I saw that track with my brother Mark on May 28, 2000.
Prior to 1980, I never kept track of when I went to a track. I just know from memory that I had seen racing at 71 different racetracks from when I was born in 1949 through the 1979 season.
You see when I first became a racing fan I never gave the idea of "trackchasing" a passing thought. Why? Trackchasing requires the funds to travel long distances. I grew up poor. We had no money for travel. The ONLY vacation I can ever remember taking until I was in college was a bus trip from Peoria, Illinois to Evansville, Indiana to visit my grandparents. We had absolutely no money for luxuries and travel was a luxury.
I began my racing fan "career" as a "racechaser". How did I decide beginning in college and running through the early 80s where I would go to the races? That was easy! I simply followed my favorite drivers. I scoured the Hawkeye Racing News for advertised race dates. I followed my favorite dirt driver, Darrell Dake, all over his home state of Iowa and my home state of Illinois. We were big Dick Trickle fans. When he was racing at a big show we tried to make it there. Yep. I was a racechaser. I didn't give a second thought to whether I was visiting a new track or not.
However, somewhere in the 80s, I decided I liked going to a track for the first time more so than re-visiting a track for the 10th time. It was also about this time that Darrell Dake was slowing down his race schedule and Dick Trickle was moving from the midwestern short tracks to NASCAR. Of course, during the 60s and 70s, I was a regular at my hometown track, the Peoria Speedway. To this day the Peoria Speedway remains my all-time favorite track.
Therefore, much of what I can tell you (as limited as it is) is from memory.  I was able to refresh that memory just a bit when I returned to the LaCrosse Interstate Speedway then renamed the "LaCrosse Fairgrounds Speedway" on Thursday night, October 5, 2006. My Trackchaser Report from that trip to LaCrosse is part of this post.
The LaCrosse Interstate Speedway, at lifetime track #31 sits between the West Liberty Speedway (IA) at #30 and the Queen City Speedway (OH) #32. We moved from Peoria, Illinois to Cincinnati (Fairfield), Ohio in 1974. The Queen City Speedway was our home track while we lived for one year in Ohio. That would make my visit to the LaCrosse Interstate Speedway most likely in 1973.
I'm certain the attraction that made me drive to the LaCrosse Interstate Speedway, while I was living in Peoria, Illinois was to see one of my all-time favorites Dick Trickle race. As a matter of fact, my one and only note tells me that Mr. Trickle blew an engine with just one lap to go.
Back in those days, Dick Trickle was winning a lot. We didn't get a chance to see him race all that often, maybe only two or three times a year. Despite the fact that my stepfather Bill Virt (above right) and I were huge Dick Trickle fans (Bill maybe even more than me) he never seemed to do all that well when we were at the track. He blew a lot of engines!
Bill and I and our friends Ken Poole and Bob Cramlet went to the Wisconsin State Fairgrounds just outside of Milwaukee to see the USAC stock cars race many times. It seemed as if Dick Trickle's USAC rides were always a little inferior to the likes of A.J. Foyt, Norm Nelson, Jack Bowsher and Don White. Trickle had a lot of mechanical problems in those races as well.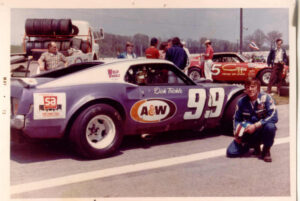 Nevertheless, when we pulled into a track and the purple and white A&W Root Beer sponsored Ford Mustang driven by Dick Trickle was in the pits ….we knew we were in for a fun night of racing. R.I.P. Dick Trickle.
You might have remembrances about this track.  If so, please feel free to share them in the comments section below.  If you have any photos from back in the day, send them to me at Ranlay@yahoo.com.  I'll try to include them here.
GREETINGS FROM WEST SALEM, WISCONSIN
SPECIAL NOTE
Don't miss "The trip" section of the Trackchaser Report today.  It's special.
I woke up in Mississauga, Ontario, Canada this morning. This is what transpired today.
PEOPLE/STRATEGY/TRAVEL NEWS
The Strategy                                                                     
In my last Trackchaser Report, I discussed the need to invest wisely so that you can enjoy an early and financially worry-free retirement.  Because Trackchaser Report readers are just a cut above the average man/woman (not manwoman) on the street, I suspect you are well ahead of the game in this area.
Since that is the case, you're going to want to spend your free time in retirement doing things that are fun, challenging and rewarding.  Maybe, you will pick trackchasing.  I wouldn't want anyone to get discouraged if they were to get a late start in this hobby.  At age 30, I had only seen racing at 71 tracks.  It's never too late to start.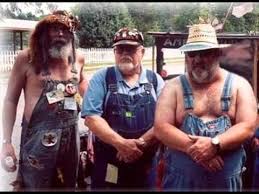 Most of the high-ranking members of the trackchaser set are over fifty years of age.  This leaves plenty of room for those young "Whippersnappers" to hit the highways and byways (what is a "Byway") and start rising in the rankings. 
If you want to compare your progress to mine, look at Table 1 below.  The number on the left is my age at the beginning of the trackchasing year.  The number on the right is the number of tracks I had seen by the end of the year.  As you can see, trackchasing wasn't much of a focus in some years.  I hope you enjoy seeing where you are at this point in your trackchasing career.  It's never too late to put on a charge and sink some of those old fogies who currently rank above you.  That's what I did!
Table 1
30 – 71
31 – 92
32 – 108
33 – 127
34 – 139
35 – 147
36 – 158
37 – 166
38 – 173
39 – 179
40 – 181
41 – 183
42 – 198
43 – 215
44 – 234
45 – 245
46 – 267
47 – 296
48 – 323
49 – 358
50 – 405
51 – 466
52 – 546
53 – 622
54 – 682
55 – 809
56 – 991
57 – 1,114 and counting
The Trip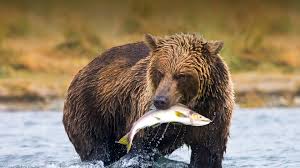 Trackchasing is like life.  Sometimes you eat the bear and sometimes the bear eats you.  This was actually a pretty tough trip.  My travel schedule on one of these things can be grueling.  Nevertheless, I have an aptitude for the pros and cons of travel that keeps me in good humor almost all of the time.  I think I learned to tolerate things this way while I was in Marine Corps boot camp.
Obviously, being in something like boot camp in the Marines comes with its own set of special circumstances.  Yes, they physically hit you, make you go without sleep, challenge you physically until the point of breaking.  My approach was to keep my head down, do what I was told and get to the end of the day.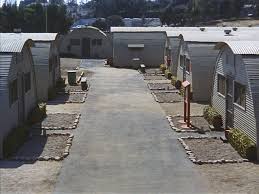 Whenever I needed to see a drill instructor about anything, I had to enter his Quonset hut (yes, Gomer Pyle style) by rapping three times on the door and yelling as loud as I could, "Private Lewis, platoon 1119 request permission to enter the duty hut, sir!"  If the rapping was loud enough and the request yell convincing enough, I was allowed to enter.  Since I was the only college graduate in my entire platoon of 72 people, I got a lot of grief for going to college (not dissimilar to some trackchaser feedback!).  I did relish one comment I received from our lead drill instructor midway through the 13-week boot camp.  His comment was, "Private Lewis, I believe you knock the loudest of anyone and mean it the least."  Yes, I was there to do a job and get out. By the way, I lived on a "street", for three months, exactly like the above during my Marine Corps boot camp training.
This two-day trip, actually three days and two nights, didn't provide much sleep.  On Tuesday night before I awoke at 3:20 a.m. to start the trip, I got only four hours of sleep.  The next night I didn't get to my Toronto area hotel until 1 a.m. and the wakeup call came at 4 a.m. (three hours of sleep).  My final night got me into my Chicago hotel at 2 a.m. and the wakeup call came at 8 a.m.  That's just 11 hours of sleep for three days, plus a couple of 12-minute power naps.
Today's trip started just outside of Toronto.  The Wednesday night races had finished about three hours later than I planned.  That put me into my hotel at 1 a.m. on Thursday morning.  There had been bad weather earlier in the day from Chicago to Toronto.  The weather forced United Airlines to cancel two of their Wednesday Toronto to Chicago flights.  Those passengers would now have to fly to Chicago on Thursday morning.  That was bad for me as there might not be space on the leisurely 10 a.m. Thursday departure I had planned.
I was in telephonic contact with J.J. and his best recommendation was to fly from Toronto to Washington D.C. to Chicago.  The Washington D. C. flight left at 6:20 a.m.!  That meant I would need a 4 a.m. wakeup call after going to bed just three hours earlier. 
I arrived at the Toronto airport at 4:45 a.m.  There was no one at the National Rental car return area to accept my car.  That told me this day was starting early!  I checked in with minimal hassle by U.S. customs.  I would soon learn my 6:20 a.m. flight had a mechanical problem.  Fortunately, they had a backup airplane available and the delay was less than one hour.
This delay caused me to nearly miss my connecting flight from the Washington Dulles airport to Chicago.  I got the very last seat on that airplane.  When I landed in Chicago, I picked up my rental car and began my 271-mile drive to the La Crosse Fairgrounds Speedway.  It was a leisurely drive with stops to eat (actually inside) at both Steak n' Shake and Culvers, two of my favorites.  The leaves are starting to turn and some of the colors are breathtaking.
The racing was good at the La Crosse track.  They started on time at 7 p.m. and I left at 9:30 p.m. when the temperature hit 39 degrees.  I don't care who you are, that's cold!
I now had another 271-mile drive to get back to the Chicago O'Hare Airport.  I needed to stay near the airport so I wouldn't be stuck in Friday morning rush hour traffic and miss my 10 a.m. flight.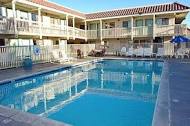 I was really tired.  I shouldn't have been driving.  I suspect I may have been as impaired as a drunk driver.  I did stop at a rest area for a famous 12-minute power nap, but that's wasn't as effective as it normally is.  After a gas stop, I pulled into the Motel 6 in Schiller Park, Illinois at exactly 2 a.m.
In the last 25 hours, I had flown from Toronto to Washington D.C. to Chicago.  I had then driven 540 miles.  It was time to go to bed.  I like Motel 6 establishments.  The fare is simple, inexpensive and generally consistent.  The one exception would be Motel 6 locations that are located in urban areas.  Those places are not quite up to snuff.
I had an advance reservation, but the check-in lady couldn't find it.  That was bad news at 2 a.m. after the travel schedule I had just endured.  Nevertheless, I was polite to her throughout as she continued to express her inner thoughts and concern about my reservation out loud. 
Finally, she found the problem.  Her co-worker had given my room to "Sherri" Lewis.  This prompted her to strongly criticize "George" her co-worker for being so "Stupid" and "Out of it."  I didn't care too much about George's personal evaluation or his Work & Development Plan.  I just wanted a room.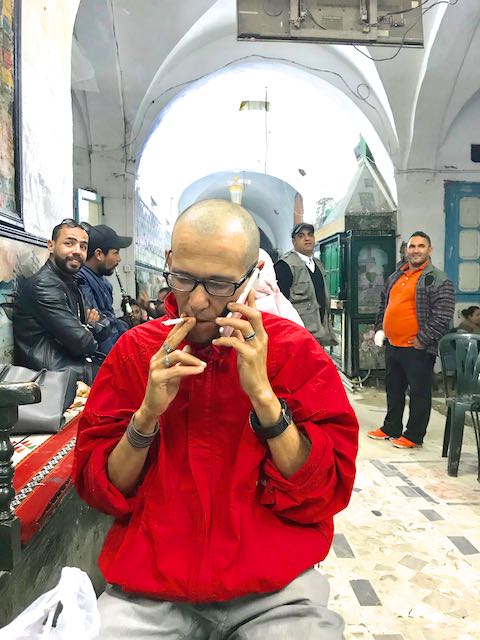 The check-in lady found a solution to the problem.  She would give me "Sherri" Lewis' room.  As I always say, "Any port in a storm."  There was one minor problem.  Sherri must have been a smoker because her room was a smoking room.  I'm not going to say all smokers should be shot or banished to some remote island.  I'm just not going to say it.  Although if they have their own gun or access to a remote island, I won't stand in their way.
O.K., I'll take the smoking room.  I was assured that "We spray em' down" so the smoke doesn't smell so bad.  If you don't like the smell, I'll come over and "Spray it down again for you", the clerk told me.  You can't beat that for customer service!
I was almost done with my quality check-in service but not quite.  I asked for an 8 a.m. wake-up call.  She told me they would call me at 7:50 a.m. and then again at 8 a.m.  I didn't WANT a 7:50 a.m. wake-up call, but arguing with her at this point didn't seem worth the effort.  At least when I trudged all the way to the back of the hotel, the key worked in the lock.  Often, it doesn't.
I had gone through some trials and travel tribulations on this trip.  Nevertheless, you'll have to trust me, I did it all with a smile on my face or at the very minimum without a frown.  I feel that God rewards people with this attitude, but I don't know that for sure.  Anyway, my luck was about to change for the better.
When I arrived at the airport, the self-check-in kiosk didn't recognize my identification.  When I finally got to talk with a real person, I learned I was 23rd on the standby list.  How many were on the list?  Twenty-three!  I might not get on the plane.
I showed up at my gate and waited for my name to be called.  It was!  I was given a boarding pass and told to get on the plane.  I quickly glanced down at my boarding stub.  It read "2A."  This was the best number I had seen during the entire trip.  "2A" was in first class.  Not only was my seat in first class it was on a United Airlines Boeing 777.  Actually, it wasn't "Just first class" it was a United First Class Suite seat.  There is a difference, a huge difference.
This service comes with some heavy-duty amenities, much like the Carol Lewis owned and Life of Virginia sponsored Lexus LS 430.  In addition to all of the free drinks I could consume and quality food, my seat came with these options
Six-way adjustable headrest
Twist-top reading light
Phone
Personal storage unit and work station
Power port
Tray table
Dropping side armrest
Lumbar firmness adjustment button
Lumbar height adjustment button
BackCycler motion system (for the lumbar unit)
Leg rest controls
Seat recliner
Bed button (Yes, the entire seat reclines to form a flatbed)
Seat reset button
I also had a Personal Control Unit (PCU) with these options
Noise reduction
Audio
Video (with a broad selection of individual movie tapes)
Airshow Map (to keep me posted on where we were)
Channel selection (including XM radio)
Personal overhead light (separate from my twist-top light!)
Flight attendant call button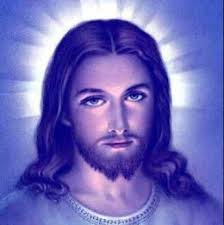 Yes, apparently God does reward those who are polite to Motel 6 desk clerks.  If it's not Him, then maybe a nice gate agent recognizes a weary traveler when she sees one.  And finally, if it's not that then it's just the ability to garner "Corporate" sponsorship to make the trackchasing game a little easier for a fellow that did it on his own as a "Little independent" for the first 1,111 tracks.
Special thanks to the employees of Delta Airlines, SkyWest Airlines and United Airlines as well as J.J. for the conveniences offered on this trip.
The People
Wisconsin race fans are unique.  They are generally older men and they are experienced.  You can just see it in their eyes.  They have been around the racing block.
RACE TRACK STATS:
LACROSSE FAIRGROUNDS SPEEDWAY (INNER OVAL), LA CROSSE, WISCONSIN – TRACK #1,114 – 10/5/06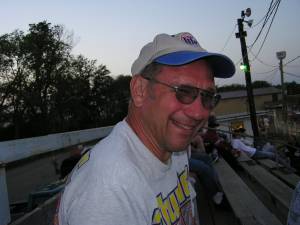 This track was my 47th lifetime Wisconsin track.  This new track moved me into sixth place all by myself.  It also moved fellow trackchasers Gordon Killian and Allan Brown back into a tie for seventh.  I gained one lifetime NGD point in the exchange.  Ed Esser continues to lead the state totals with 97 tracks.
RACE TRACK NEWS:
LACROSSE FAIRGROUNDS SPEEDWAY (INNER OVAL)
I started keeping the exact date records for each track I've seen at the beginning of the 1980 season.  Prior to 1980, I had seen 71 tracks.  I estimate that the La Crosse Fairgrounds Speedway, 5/8 mile track (outer oval) was my 31st-lifetime track.  I saw it sometime in the early 70s.  My one remembrance of that night of racing was the legendary Dick Trickle, driving his famous purple Ford Mustang sponsored by A&W Root Beer.  He blew up while leading the feature with just one lap to go.
I figured after 30 years or so, it was time to return to the La Crosse Fairgrounds Speedway.  This time I was here to see them race on their quarter-mile inner oval.  This facility normally races on a Saturday night, so I felt fortunate to get the inner oval on a Thursday night.  I didn't even have to burn a Thursday night during the summer, another plus.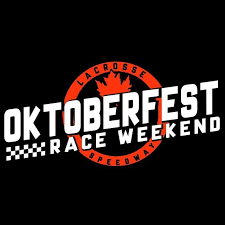 Tonight's racing was the first night of a four-day program called "Oktoberfest."  Leave it to those Wisconsinites to celebrate a holiday made famous by their beer-drinking brothers, the Germans.  This is one of those "Top 50" tracks in the U.S.  They have their act together.  They are a NASCAR Weekly Dodge Racing Series.  I have yet to see a "Dog" track from this group of much better than average short tracks.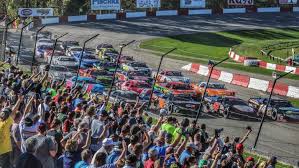 They have a ton of seating at La Crosse.  This was the biggest Thursday night crowd I have seen in some time.  I was thinking this might be a weak program since it was the first night of four and featured some classes that I wasn't very familiar with.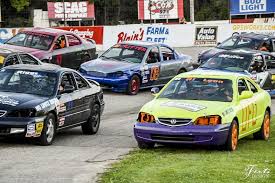 They started promptly at 7 p.m.  The Thunderstox made this track countable for me when the first race of the evening ran off on the quarter-mile.  They had 41 Thunderstox.  They ran four heat races for their 44 cars.  No yellows at all.  I like that!
Next up was the Big 8 Limited Late Model series.  They race on the outer oval.  They had two heat races for the 29 cars that were not in the top 14 qualifiers.  They followed that up later with two dashes for the 14 fastest time trialers.  Later in the evening this group ran a 40-lap, 25-car feature event.  They didn't pass much but fortunately didn't have too many yellow flag delays either.
The R.A.Y.S. class of street stock type cars ran two heat races.  These guys have no rules whatsoever.  The announcer told us their only rule was they had no rules.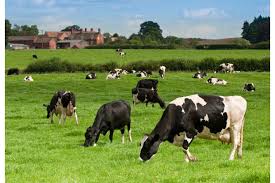 The dual announcers were good.  I liked the main announcer's signature call.  He started each race with, "They're nose to nose, door to door.  There's the green flag we're racing!"  He also gave my trackchasing presence a brief mention.  He told the assistant announcer, "This guy's seen more tracks than you've milked cows."  Yep, I knew I was in Wisconsin!
This was a well-run program on what turned out to be a cool night.  It was about 60 when we started at 7 p.m.  I went to the car at about 9:45 p.m. and by that time it was 39 degrees.  That's too cold for me. 
They must have had more than 500 camping units on the grounds.  This is a big event.  The P.A. system was good, but the lights were only fair.  I liked the quarter-mile track much better than the bigger track.  I did like the fact that the flagman did his best to admonish those drivers who tried to block their fellow competitors on the big oval.  They ran the races on the smaller oval without yellow flags.  They do things right at LaCrosse.
Following the races, I had nearly 270 miles to cover so I could get back to the Chicago O'Hare Airport.  That's much too far to drive after a racing event.  The temperature gauge on the National Rental Car Racing Pontiac Grand Prix dropped to 37 degrees.  When it was at that number the display first flashed "37" and then it flashed "Ice" continuously. 
I have never seen so many orange lights decorating houses in the neighborhoods I drove through.  They were getting ready for Halloween.  I wonder if this is a trend going on across the country.  If so, it has not hit California yet.  
WEATHER CONDITIONS 
It was cold tonight.  When I left, it was 39 degrees.  This is too late in the year to be this far north for trackchasing.  I'll try to avoid these cold climates for the balance of the year.
RENTAL CAR UPDATE: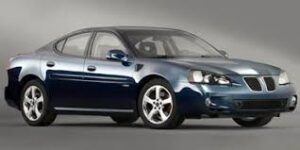 This will be my second National Rental Car Racing Pontiac Grand Prix for this week's trip. 
Wednesday total driving – 301 kilometers
Thursday total driving – 537 miles
Friday total driving – 3 miles
The driving portion of this trip covered 540 miles.  All of my driving was done in less than 24 hours.  I stopped once for gas and a two-gallon top-off.  I paid an average price of $2.26 per gallon.  The Pontiac Grand Prix gave me 29.3 M.P.G. in fuel mileage at an average cost of 7.7 cents per mile.  The car cost 9.8 cents per mile to rent, all taxes included.
LIFETIME TRACKCHASER STANDINGS UPDATE:
These worldwide trackchasers are within 100 tracks (plus or minus) of my current trackchaser total.
Randy Lewis, San Clemente, California – 1,114
Guy Smith, Effort, Pennsylvania – 1,069 (-45)
Rick Schneider – Bay Shore, New York – 1,060 (-54)*
Gordon Killian, Sinking Spring, Pennsylvania – 1,028 (-86)*
Andy Sivi, Clairton, Pennsylvania – 1,024 (-90)*
Allan Brown, Comstock Park, Michigan – 1,021 (-93)*
Ed Esser, Madison, Wisconsin – 948 (-164)**
* Warning, you are within 50 tracks of being removed from this list.
** Special exemption.
Other notables
These worldwide trackchasers are within 10 tracks (plus or minus) of Carol's current trackchaser total.
Johnny Gibson, Grand Island, Nebraska – 290 (+9)
Carol Lewis, San Clemente, California – 281
Sammy Swindell, Bartlett, Tennessee – 279 (-2)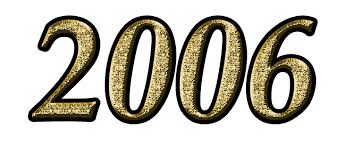 2006 TRACKCHASER STANDINGS
Randy Lewis, San Clemente, California – 123
Ed Esser, Madison, Wisconsin – 88
Mike Knappenberger, Reading, Pennsylvania – 81
Roland Vanden Eynde, Vilvoorde, Belgium – 72
Paul Weisel, Orefield, Pennsylvania – 71
Guy Smith, Effort, Pennsylvania – 64
Allan Brown, Comstock Park, Michigan – 57
Roger Ferrell, Majenica, Indiana – 57
Carol Lewis, San Clemente, California – 51
Pam Smith, Effort, Pennsylvania – 49
LIFETIME NATIONAL GEOGRAPHIC DIVERSITY STANDINGS
2006 (current – 10/1/06)**
Gordon Killian, Sinking Springs, Pennsylvania – 7.12
Randy Lewis, San Clemente, California – 7.33
Allan Brown, Comstock Park, Michigan – 7.86
**Lifetime NGD results could be affected by current track counting proposals
2005 (final)
Gordon Killian, Sinking Springs, Pennsylvania – 7.41
Allan Brown, Comstock Park, Michigan – 7.53
Randy Lewis, San Clemente, California – 8.12
Thanks for reading about my trackchasing,
Randy Lewis
#1 Trackchaser Living West of the Mississippi
I didn't do it.
CUMULATIVE TRAVEL DISTANCES:
AIRPLANE 
Los Angeles, CA – Salt Lake City, UT – 574 miles
Salt Lake City, UT – Toronto, Ontario, Canada 1,664 miles
RENTAL CAR – TORONTO 
Lester B. Pearson International Airport – trip begins
Simcoe, Ontario – 157 kilometers
Lester B. Pearson International Airport -trip ends – 317 kilometers
AIRPLANE 
Toronto, Ontario, Canada – Washington D.C. (Dulles) – 356 miles
Washington D.C. (Dulles) – Chicago, IL – 584 miles
RENTAL CAR – CHICAGO 
Chicago, O'Hare International Airport – trip begins
Lacrosse, WI – 271 miles
Chicago, O'Hare International Airport – trip end – 540 miles
AIRPLANE
Chicago, O'Hare International Airport – Los Angeles International Airport – 1,749 miles
Total Air miles – 4,927 miles
Total auto and air miles traveled on this trip – 5,665 miles
TRACK ADMISSION PRICES: 
Simcoe Fair – $8 (Canadian)
La Crosse Fairgrounds Speedway – $15
Total race admissions for the trip – $23
UPCOMING TRACKCHASING PLANS
I'm hoping that Trackchasing's First Mother can get state #46 very soon.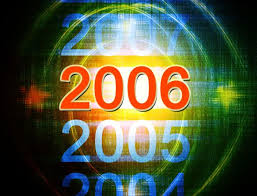 RACETRACKS VISITED IN 2006 (** not the first time to visit this track)
Watermelon Capital Speedway, Cordele, Georgia – January 14
Cross Roads Motorplex (asphalt oval), Jasper, Florida – January 15
Norfolk Scope Arena, Norfolk, Virginia – January 20
Qualcomm Stadium, San Diego, California – January 21
Oregon State Fair & Expo Center, Forster Livestock Arena, Salem, Oregon – January 28
Morosso Motorsports Park, Jupiter, Florida – February 4
Thunderbowl Speedway of Ocala, Ocala, Florida – February 4
Cross Roads Motorplex (dirt oval), Jasper, Florida – February 5
1,000.  Auburndale Kartway, Auburndale, Florida – February 10
1,001.  Ocala Speedway (asphalt oval), Ocala, Florida – February 12
1,002. Speedworld Speedway, Surprise, Arizona – February 19
1,003. Lowe's Motor Speedway (1/5 mile asphalt oval), Concord, North Carolina – February 25
1,004. Concord Raceway, Concord, North Carolina – February 25
1,005. Antioch Speedway, Antioch, North Carolina – February 25
1,006. Green Valley Speedway, Gadsden, Alabama – February 26
1,007. East Bay Raceway (inner oval), Gibsonton, Florida – March 17
1,008. Volusia Speedway Park West (1/6M oval), Barberville, Florida – March 18
1,009. Speedway Park, Fruitland Park, Florida – March 18
1,010. Sand Mountain Speedway (road course), Fort Meade, Florida – March 19
1,011. Anderson Motor Speedway, Anderson, South Carolina – March 31
1,012. Westminster Speedway, Westminster, South Carolina – March 31
1,013. East Lincoln Motor Speedway, Stanley, North Carolina – April 1
1,014. Margarettsville Speedway, Margarettsville, North Carolina – April 2
1,015. Sunny South Raceway, Grand Bay, Alabama – April 7
1,016. Barber Motorsports Park, Leeds, Alabama – April 8
1,017. Coldwater Raceway, Coldwater, Alabama – April 8
1,018. Talladega Short Track, Talladega, Alabama – April 8
1,019. Ballymena Raceway, Ballymena, Northern Ireland – April 14
1,020. Oulton Park, Little Budworth, England – April 15
1,021. Somerset Rebels Banger Raceway, Rooks Bridge, England – April 16
1,022. Mendips Raceway, Shipham, England – April 16
1,023. Oval Raceway, Angmering, England – April 17
1,024. Arlington Stadium, Eastbourne, England – April 17
1,025. Southside Speedway, Midlothian, Virginia – April 28
1,026. Motor Mile Speedway, Radford, Virginia – April 29
1,027. Wythe Speedway, Wytheville, Virginia – April 29
1,028. Summit Point Raceway, Summit Point Circuit, Summit Point, West Virginia – April 30
1,029. Old Dominion Speedway – inner inner oval, Manassas, Virginia – April 30
1,030. Shenandoah Speedway, Shenandoah, Virginia – May 4
1,031. Bridgeport Speedway (inner oval – front), Bridgeport, New Jersey – May 5
1,032. Empty Jug, Hawley, Pennsylvania – May 6
1,033. Oakland Valley Race Park, Cuddebackville, New York – May 6
1,034. Thunder Mountain Speedway, Center Isle, New York – May 6
1,035. Motocross 338, Southwick, Massachusetts – May 7
1,036. Glen Ridge Motorsports Park, Fultonville, New York – May 7
1,037. Calumet County Speedway, Chilton, Wisconsin – May 19
1,038. Grant County Speedway, Lancaster, Wisconsin – May 20
1,039. Blackhawk Farms Raceway, Rockton, Illinois – May 21
1,040. The Milwaukee Mile (Road course), West Allis, Wisconsin – May 21
** Angell Park Speedway, Sun Prairie, Wisconsin – May 21 (new track Carol only)
1,041. Park Jefferson Speedway, Jefferson, South Dakota – May 25
1,042. Superior Speedway, Superior, Wisconsin – May 26
1,043. Brainerd International Raceway, Brainerd, Minnesota – May 27
1,044. Canby Speedway, Canby, Minnesota – May 27
1,045. Crawford County Fairgrounds (figure 8), Denison, Iowa – May 28
1,046. Tri-State Speedway, Sisseton, South Dakota – May 29
1,047. Sheyenne River Speedway, Lisbon, North Dakota – May 29
1,048. Spring Mountain Motorsports Ranch, Pahrump, Nevada – June 3
1,049. The Bullring at Las Vegas Motor Speedway, Las Vegas, Nevada – June 3
1,050. Hibbing Raceway, Hibbing, Minnesota – June 6
1,051. Buena Vista Raceway, Alta, Iowa – June 7
1,052. Lebanon Midway Speedway, Lebanon, Missouri – June 8
1,053. Rocky Top Raceway, Coal Grove, Ohio – June 9
1,054. Midvale Speedway (oval), Midvale, Ohio – June 10
1,055. Midvale Speedway (figure 8), Midvale, Ohio – June 10
1,056. Spring Valley Raceway, Millport, Ohio – June 11
1,057. Rialto Airport Speedway, Rialto, California – June 17
1,058. Lawrenceburg Speedway (figure 8), Lawrenceburg, Indiana –  June 20
1,059. Lawrenceburg Speedway (temporary oval), Lawrenceburg, Indiana –  June 20
1,060. Thunder Mountain Speedway, Knox Dale, Pennsylvania –  June 21
1,061. State Park Speedway, Wausau, Wisconsin –  June 22
1,062. Dodge County Fairgrounds Speedway, Beaver Dam, Wisconsin –  June 23
1,063. Lucas Oil Speedway (oval), Wheatland, Missouri –  June 24
1,064. Lucas Oil Speedway (figure 8), Wheatland, Missouri –  June 24
1,065. Tri-City Speedway, Pontoon Beach, Illinois – June 25
1,066. Lake Ozark Speedway, Eldon, Missouri – June 29
1,067. Poplar Bluff Speedway, Poplar Bluff, Missouri – June 30
1,068. Indianapolis Motor Speedway (road course), Indianapolis, Indiana – July 1
1,069. Rush County Fairgrounds, Rushville, Indiana – July 1
1,070. Rock Castle Speedway, Mount Vernon, Kentucky – July 2
** Windy Hollow Speedway (oval), Owensboro, Kentucky – July 2
1,071. Heartland Park Topeka (dirt oval), Topeka, Kansas – July 3
1,072. Thunderhill Speedway, Mayetta, Kansas – July 3
1,073. Little Valley Speedway, Little Valley, New York – July 13
** Twin State Speedway (oval), Claremont, New Hampshire – July 14
1,074. Twin State Speedway (figure 8), Claremont, New Hampshire – July 14
1,075. Canaan Speedway (asphalt oval), Canaan, New Hampshire – July 14
** New Hampshire International Speedway, Loudon, New Hampshire – July 15
1,076. White Mountain Motorsports Park, North Woodstock, New Hampshire – July 15
1,077. Legion Speedway, Wentworth, New Hampshire – July 15
1,078. Devil's Bowl Speedway, Fair Haven, Vermont – July 16
1,079. Stafford Motor Speedway, Stafford Springs, Connecticut – July 17
1,080. Little Log House Speedway, Hastings, Minnesota – July 28
** Elko Speedway (outer oval), Elko, Minnesota – July 28
** Elko Speedway (inner oval), Elko, Minnesota – July 28
** Elko Speedway (figure 8), Elko, Minnesota – July 28
1,081. Chickasaw Big Four County Fairgrounds, Nashua, Iowa – July 29
1,082. Buffalo River Speedway, Glyndon, Minnesota – July 30
1,083. Miller Motorsports Park, Tooele, Utah, – August 4
1,084. Atomic Motor Raceway, Atomic City, Idaho – August 4
1,085. Mission Valley Speedway, Polson, Montana – August 5
1,086. Rock Creek Race Track, Kimberly, Idaho – August 6
1,087. Stevens County Fairgrounds, Morris, Minnesota – August 9
1,088. Norman County Raceway, Ada, Minnesota – August 10
1,089. Miller Speedway, Miller, South Dakota – August 11
1,090. Gimli Motorsports Park, Gimli, Manitoba, Ontario, Canada – August 13
1,091. Bemidji Speedway, Bemidji, Minnesota – August 13
1,092. Dayton Fair (figure 8), Dayton, Pennsylvania – August 14
1,093. Holmes County Fairgrounds, Millersburg, Ohio – August 15
1,094. Lawrence County Fairgrounds, New Castle, Pennsylvania – August 16
1,095. Armada County Fairgrounds, Armada, Michigan – August 17
1,096. Spencer Speedway, Williamson, New York – August 18
1,097. Yates County Fairgrounds (figure 8), Penn Yan, New York,  – August 19
1,098. Tillsonburg County Fairgrounds, Tillsonburg, Ontario, Canada – August 20
1,099. Marshfield Fair, Marshfield, Massachusetts – August 21
1,100. Cambridge Fair, Cambridge, Ontario, Canada – September 9
1,101. Georgetown Fair, Georgetown, Ontario, Canada – September 9
1,102. Oakwood Fair, Oakwood, Ontario, Canada – September 10
1,103. Western Fair, London, Ontario, Canada – September 10
1,104. Rice Lake Speedway, Rice Lake, Wisconsin – September 14
1,105. Iowa Speedway (oval), Newton, Iowa – September 15
1,106. Harrison County Fairgrounds (figure 8), Missouri Valley, Iowa – September 16
1,107. Calhoun County Raceway (oval), Rockwell City, Iowa – September 16
1,108. Hutchinson Raceway Park, Hutchinson, Kansas – September 22
1,109. Dodge City Raceway Park (outer oval), Dodge City, Kansas – September 23
1,110. Dodge City Raceway Park (inner oval), Dodge City, Kansas – September 23
1,111. Enid Motor Speedway, Enid, Oklahoma  – September 24
1,112. Desert Thunder Raceway, Price, Utah  – September 30
1,113. Norfolk County Fairgrounds, Simcoe, Ontario, Canada  – October 4
1,114. La Crosse Fairgrounds Speedway (inner oval), La Crosse, Wisconsin  – October 5