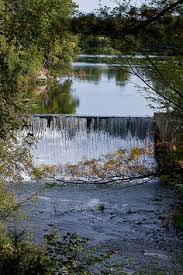 Greetings from first Chippewa Falls, Wisconsin
.
.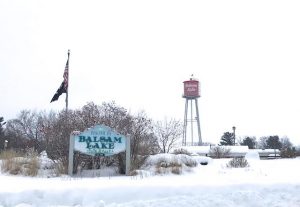 and then Balsam Lake, Wisconsin
.
.
From the travels and adventures of the 
"World's #1 Trackchaser"
.
.
Lake Wissota Ice Oval
Ice oval
 Lifetime Track #2,532
.
.
Lake Balsam Ice Track
Ice road course
 Lifetime Track #1,154 (re-visit today)
The EventVideo PlusPhotos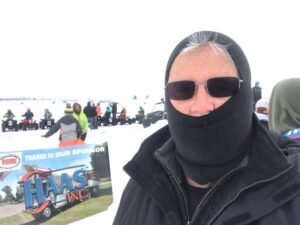 THE EVENT
I am a "trackchaser". I trackchase. Before you discovered my site had you ever heard of trackchasing? Maybe not? So….what the heck is trackchasing? Sit back, take a read and you'll be an expert on my hobby of trackchasing when you're finished.
Here's my best explanation.
Trackchasing is a three-pronged hobby. I'm a racing fan. I love to travel. I love to analyze opportunities to get the most out of everything while saving time and money.
Trackchasing fills the need for all of the above. The racing part of my trackchasing has me trying to see wheel to wheel auto racing at as many different racetracks as I can all over the world. Yes, all over the world. So far things are going pretty well. As this is written, I've seen racing in 82 countries at more than 2,500 tracks. As a matter of fact, I've seen racing at more tracks than anyone else in the world.
Equally important to me are the things I get to see and experience over the "long and dusty trackchasing trail". I call these adventures "Trackchasing Tourist Attractions". You won't want to miss my "Trackchasing Tourist Attractions" page. Here's the link:  Trackchasing Tourist Attractions or my "Sports Spectating Resume" page, Sports Spectating Resume on my website at www.randylewis.org.
I live in southern California. That's probably the most inconvenient location in the country for seeing tracks in the U.S. Most of the racetracks in the U.S. are located well over 1,000 miles from where I live. As a matter of fact, my average trip covers 5,000 miles and more. I take 35-40 of those trips each season. In any given year I will travel well over 200,000 miles, rent more than 50 cars, and stay in more than 150 hotel rooms.
I get the chance to meet people all over the world. With trackchasing trips to 82 countries and counting just getting the chance to experience so many other cultures, spend time in their homes and meet their friends is a huge reward for being in this hobby. I am indebted to several of these folks for their help and friendship.
It's takes a good deal of planning to do the above and not spend my entire retirement portfolio. I enjoy the challenge, the travel and every other aspect of "trackchasing". In reality, my trackchasing hobby is a lot like being with the carnival. I breeze into town, stay a little while and then head on down the road.
Today's adventure was one more of the 2,000 trips that have taken me up, down and around the proverbial long and dusty trackchasing trail.  If you would like to see where I've been and experience those adventures here's the link:
If you've got a question, comment or whatever please leave it at the bottom of this report.  It's very easy to do.  Or you can visit me on Facebook.  Thanks!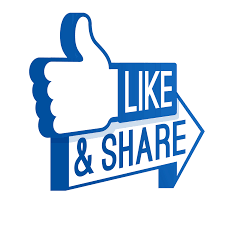 FOREWORD
Saturday, February 23, 2019.
I am retired. I have some free time. Like most people I enjoy my free time so I can pursue my interests. There's nothing to earth shattering about that life plan is there?
This trip began on Thursday night. Carol and I are season-ticket holders for UCLA basketball games. For the weeknight games it's a two hour drive, sometimes more sometimes less, from our house up to legendary Pauley Pavilion in Westwood, California.
I commonly tell you about my trackchasing sponsors. I have a sponsorship with a company program called Priority Pass. This allows me to visit more than 1200 restaurants and private lounges in the world's airports. Tonight on the way to the basketball game we stopped off for a quick dinner at the Los Angeles International Airport eatery, Rock & Brews. I don't recommend their Caesar chicken salad!
Tonight's tip-off was scheduled to begin at 8:07 p.m. When do you think that first jump ball was tossed? 8:07 p.m. Boy, if all of racing could be just as timely. We left San Clemente at 3:30 p.m. battled rush-hour traffic, stopped at LAX for dinner and got into the arena about 15 minutes before game time.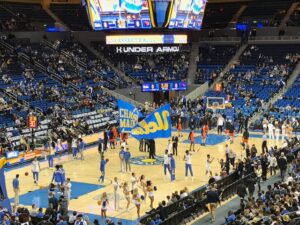 If you've read my Trackchaser Reports for very long you know that I am fond of getting "deals". This year UCLA had 19 home basketball games. Of course, this is major college basketball program we're talking about. I paid $150 per seat for all 19 games. Is that a good deal? I think so. Before each game I get a text message telling me where our seating location will be.
At Pauley Pavilion there is upper tier seating and lower tier seating where the seats are closer to the court. More often than not our seats are in the lower tier.  We've had this program for a few years now. I figure if we only went to 6-8 games we're getting a steal at the prices we pay.
We got back on the road after the game at about 10:30 p.m. By the way, UCLA was playing Oregon State tonight. The Beavers entered the game in second place in the Pac-12 conference. Nevertheless, the UCLA Bruins prevailed by one point. It was a fun game and we had great seats.
Somewhere around 11 p.m. we were passing by the Los Angeles International Airport on the way home. In just nine hours I would be leaving San Clemente and going back to the Los Angeles International Airport. That wasn't the most convenient logistical strategy. However, it was what was needed if Carol was going to go to the basketball game with me on Thursday night and then enjoy her weekend in San Clemente under sunny Southern California skies. Don't worry. It works for us.
Friday, February 22, 2019
We had gotten home at midnight last night. After a breakfast this morning of eggs and Jimmy Dean sausage patties I was out the door at 8:09 a.m. This was going to be my seventh consecutive weekend trip to Minneapolis, and sometimes beyond. It's the ice trackchasing season. The ice won't be around forever. If you want to see those ice tracks now is the time. Remember, I only go to ice racing locations that I have never been to before.
I do a lot of planning so that each of my trips can be as successful as possible. One of the things that I have to manage is airline travel and airline luggage. Today I was flying on Spirit Airlines. They had sold me a one-way ticket from Los Angeles to Minneapolis for the extremely low price of $98.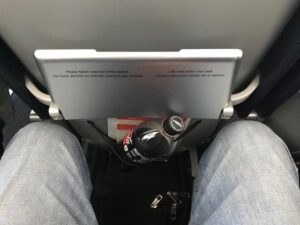 Of course, along with a $97 basic airline ticket, Spirit Airlines wants to charge you for every little "extra" that they can. There a fee for having a carry-on bag on the airplane of $40. I could check a bag for $35 U.S. No thank you. I remember when I had to work nearly all week cutting weeds in the hot and humid weather of central Illinois in order to clear about 40 bucks. I'll just keep the 40 bucks and live on my street smarts. By the way, there isn't a whole lot of legroom on Spirit Airlines!
I am a huge fan of Costco luggage. Earlier this week I bought a smaller piece of carry-on luggage made by Ciao from Costco online for the unbelievably low price of $29. It's a rolling carry-on bag that can expand by nearly 100% from its "squished" capacity.
Of course, with any new piece of luggage I have to get used to all the pockets and zippers. I could pack for a trip to Tokyo, Japan on five minutes notice. That trip could be for just about any duration.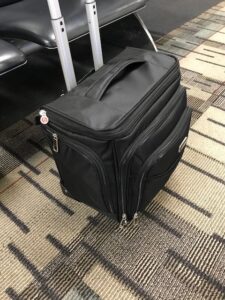 Packing for a cold-weather weekend with a piece of luggage that can only max out at the measurements of 18" x 14" x 8" can prove to be a little challenging. This is especially true if you were to see my size 14 work boots ,which is what I use during my ice trackchasing trips. I don't want to travel in those shoes so they need to be packed.
What do I do with everything I need to bring that won't fit into such a small Spirit Airlines carry-on bag? I pack the rest of my stuff into the sleeves of my winter coat. I've been doing this for years. I've never had a single issue with this plan. Remember, I am a professional. Also remember, I've never had the big trackchasing budgets of the Dreaded East Coast Trackchasers.
I live in the Pacific Time zone. I will be traveling to the Central time zone on this trip. That's a two-hour difference. There is no way I can leave early in the morning from Southern California and make it to an afternoon and often times to an evening race track in time for the start, no matter how tardy short track racing can be. That means I have to leave a day early. In trackchasing this is called the "California penalty". Most of trackchasers live on the East Coast. They're soft. They don't have to battle the "California penalty".
Today's flight would leave LAX at about noon and get into Minneapolis at about 6 p.m. This would give me some time to patronize my trackchasing sponsor the French Meadow Bakery and Café. I've been there about 10 times in the past five months. They are affiliated with the PGA MSP Lounge. That's a nice place to relax following my meal.
As you may have noticed when I go trackchasing it's not all just about racing. I do my best to see other sporting events and visit museums, halls of fame  and anything else that might be a general interest to the traveling tourist.
I'll tell you right now that I am a not a hockey fan of note. I think I understand offsides but icing still has me stumped. Nevertheless, I enjoy the ambience of any type of sporting event but prefer those with some professional street cred.
Last week, during my trackchasing trip to Canada, on one night I saw the Manitoba Moose vs. the Chicago Wolves in Winnipeg, Canada. The Moose are essentially a AAA hockey affiliate of the Winnipeg Jets. Then a couple of days later I saw a hockey match in Calgary where the Calgary Flames (above) defeated the Arizona Coyotes in a National Hockey League tilt.
Tonight, in Minneapolis, I was switching to college sports. I would have preferred a basketball game. However, the Minnesota Golden Gophers were playing the Notre Dame Fighting Irish in hockey.
The University of Minnesota has a sterling reputation in college hockey. They've won the national championship six times. A couple of days ago I grabbed a fantastic seat location on StubHub, which is my trackchasing sponsor for sports tickets.
For about a week before buying my ticket, I kept visiting SeatGeek looking for tickets to the hockey game. The least expensive options were situated in the nosebleed section. The better seats were very expensive. Then one day I looked at my SeatGeek app and saw that an outstanding seat was available to the game for just $41. That was cheaper than other tickets in the highest part of the 3M Arena Mariucci. I didn't realize it at the time but I would be sitting at center ice in the first row of seating directly behind the penalty box! That was exciting.
Are you getting the impression that I don't pay "retail"? If you are you are correct. Tonight I had booked a hotel near the Minneapolis airport. It was the Four Points by Sheraton property. I stayed there a couple of weeks ago. Tonight's price for this upscale Sheridan hotel was only $66 plus tax with Priceline.com.
Of course, when I checked in I used my standard line. It goes something like this. "I know that I used Priceline to buy tonight's hotel room (meaning I paid much less than if I booked with the hotel directly) but I am a member of the Bomvoy frequent stay program. I'm a "platinum elite member". Bonvoy is the new name for the frequent stay program of the Marriott, Sheraton, Westin and Ritz Carlton hotels. I have exulted status as a platinum elite member.
Yes, I reminded the desk clerk of my status. I think in "desk clerk orientation" they are trained to bow down and praise platinum elite members. I'm not bragging. I'm simply explaining what the front desk clerk training program seems to be about.
Remember, my motto is "to buy good things cheap not to buy cheap things cheap". Tonight the nearby Motel 6 was selling for more than what I was paying for a standard room at the Four Points by Sheraton tonight!
Did I say "standard" room? Well, I guess I did. However, by the time I left the front desk I had been upgraded to a king suite. That seemed like the way life should be. I was also given a complementary coupon to the hotel's breakfast buffet, a $15 value. Remember, I am a professional. Don't try this at home unless you've read everything I've written about the efficiencies and cost-effectiveness of luxurious travel.
Following check-in I headed over to the 3M Arena at Mariucci for tonight's hockey match. The place seats about 10,000. It was built in 1993. The arena hosted the inaugural women's Frozen Four back in 2001. In 2017 3M bought the naming rights to the arena for $11.2MM for 14 years.
They had a great atmosphere going on tonight despite the arena not being full. The University of Minnesota Golden Gophers are not having their best season this year. They are not even ranked in the top 25.
Do you have any idea who the #1 ranked NCAA college hockey team even is? It's St. Cloud State! I would not have guessed that in a million years. I didn't even know St. Cloud was a division 1 school in any sport. Now, I'll have to check out one of their hockey matches.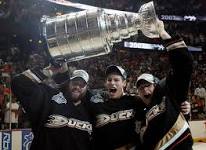 I would have to say seeing the Anaheim Mighty Ducks play the Ottawa Senators is my all-time favorite hockey match. It was the Stanley Cup playoffs. They played at the Arrowhead Pond in Anaheim, California. The Ducks won.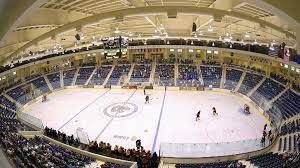 On the college front my experience at a North Dakota State hockey match in Fargo, North Dakota was my second most favorite hockey event. Wow! We were out in the middle of nowhere North Dakota and their stadium was as nice as any stadium I have ever visited. The placed seated 10,000 and was packed. The ambience, lighting, crowd support and more was outstanding. That was a very SPECIAL sporting event! It might have been better or at least as good as my Stanley Cup experience!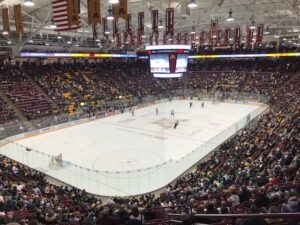 Tonight my seat location was right behind the penalty box. I was in row 3 but row 3 was the FIRST row for spectators in that section. I watched the first period from there. Then I moved up about 15 rows to get a broader perspective for the rest of the game. ND won, 3-2.
Saturday, February 23, 2019
I mentioned this was my seventh consecutive weekend of traveling to Minneapolis and beyond. Although the winter weather has been extremely cold I have had virtually no snow or adverse highway travel conditions to deal with. That was expected to change this weekend.
When I looked out the window this morning I noticed that it had snowed. People in the parking lot were using their snow brushes, an item not available in San Clemente, to clean off their snow-laden cars. After I finished my complimentary breakfast I was soon doing the same thing.
THE RACING
Lake Wissota Ice Track – Chippewa Falls, Wisconsin
I was going to be trying for a trackchasing doubleheader today. That is rare in the ice trackchasing world. I've only done that a time or two when seeing ice racing at separate locations on the same day.
This afternoon the racing on Lake Wissota was scheduled to begin at 12 noon. Their website said they started racing at 12 noon "sharp". Lake Wissota was about a 100-mile drive from my hotel. Then tonight at 5 p.m. there was going to be some nighttime ice racing up in Balsam Lake, Wisconsin. Balsam Lake was about 100 miles from Lake Wissota located in Chippewa Falls, Wisconsin.
Chippewa Falls was expecting 8-12 inches of snow starting in the late afternoon today. I was hoping they would be finished with their racing by then. I didn't know how that 8-12 inches of predicted snowfall would affect me as I drove up to Balsam Lake, which was to the north and to the west of this afternoon's ice track on Lake Wissota.
This was an ambitious plan. I tried to take it slow and easy. It seemed as if other drivers were not taking it so slow and easy as I noticed them spun out in snow-filled ditches along the highway.
I had entertained the idea of driving over to an ice race in Michigan tomorrow. That was going to be a six-hour drive if I decided to do it. I would lose another hour to time zone changes. Heavy snow was predicted over the entire route. I decided I would save that track for another day, which in actuality might be next weekend. We'll see about that.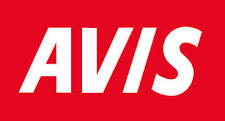 By the way, I had rented a Ford Fusion car from Avis for this trip. Normally, National Car Rental is my sponsor. They have sponsored me for well over a decade. However, on this trip they wanted $105 for two days of car rental. Avis was charging me only $58 for the same experience. I love my sponsors but they have to remain competitive or I will change trackchasing suppliers. Loyalty only goes so far!
For just $16 a day plus tax, totaling $58 (yes, taxes and fees are a big part of the total) for the two-day rental, did Avis give me some sort of junker? No they did not. They gave me a brand new Ford Fusion with 46 miles on the odometer. To top it off they sent me an email telling me what stall the car would be located in when I arrived at the airport. All I had to do was get in the car, press the start button and show my driver's license on the way out. If I didn't want the Ford Fusion they would give me something else. Being with Avis on this trip worked really well.
Did you know that the Ford Motor Company is eliminating all sedan passenger cars beginning in 2020 except for the Ford Mustang? I find that somewhat unbelievable.
For $16 a day my Ford Fusion rental car on this trip is just fine. However, I would never buy one. I can barely get in and out of the car and that's with the seat lowered down as far as it will go. I have never been a big fan of the Ford Fusion. Their windshield wipers in the snowy weather looked like they should be on a Mattel toy car.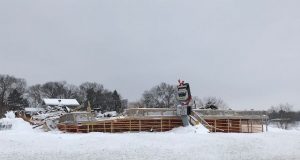 I pulled into today's race location on Lake Wissota in Chippewa Falls, Wisconsin at a few minutes before noon. I had a chance to take a quick look at a restaurant called the View overlooking the lake. Sadly, it burned down in the last week or two. The Northern Wisconsin Ice Racing Club uses the View as their restaurant headquarters when racing on Lake Wissota. The mishap would call for a new plan on that front.
Today there was no admission charge to watch the races. I arrived just as drivers and crew were gathered around to attend the drivers and riders meeting. I hurried out of the car and was pleasantly surprised to see the group's leader was broadcasting the drivers' meeting over a PA system.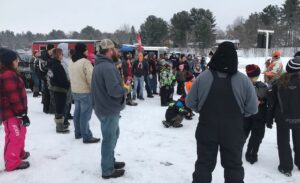 During the meeting he was telling everyone to make sure they recognized and thanked the race sponsors. He mentioned that an additional $2,200 had been raised from sponsors for the race today. He said that was $17 per racing entry. Doing the math told me that he had about 130 quads, motorcycle riders and UTVs on hand. That was a great turn out.
This was going to be my very first Northern Wisconsin Ice Racing Association event. Why hadn't I seen their other race locations earlier? It's simple. They only started running UTV's in the last year or so. Up to that point they had been exclusively a quad and motorcycle racing group.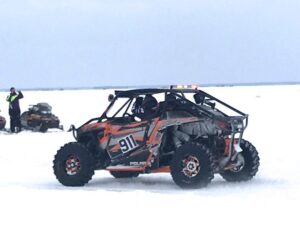 You might recall that I discovered that UTV racing was a countable event with the trackchasing rules. I began to see UTV racing, primarily on road courses. Mind you I'm talking about seeing UTV racing where the UTVs are the primary class racing. Soon the entire trackchasing hierarchy was going to UTV races. I haven't counted recently but I think my UTV race track total is now edging up toward 200. I said a long time ago that I would likely end up seeing more side-by-side racetracks that I would figure 8 racetracks. So far I've seen about 325 figure 8 tracks. At the rate I'm going it won't take long for UTV tracks to match the figure eights and then EXCEED the figure 8 racetrack totals.
The Chippewa Falls area has gotten its share of snow this year. Today they said that if they hadn't had such great support from there plowing personnel they never would have been able to race today.
They also announced they were planning on having an extra race next week. Their season was supposed to have ended this weekend. However, they've had an event or two canceled in 2019. A make-up date next week would be helpful.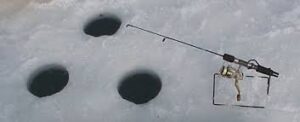 One of the other leaders of the organization reminded  the racers that if they knew any fisherman who might be drilling holes for ice fishing on Lake Wissota to ask them not too. The ice fishermen might think the quad and motorcycle season was finished when they hoped to race one more week. He said that if fisherman drilled holes the water would come up through the ice and the ice racing season be over BEFORE next weekend! If it's not one thing it's another. 
The whole idea of ice racing is very fragile. One of the reasons I didn't become seriously involved with ice racing as a spectator until about 2006 was that it was just too risky to book an airline reservation a week or two in advance. I wouldn't know what the weather was going to be like with an early booking.
Now that I've had my airline sponsorship for about a dozen years seeing ice racing is a much more practical activity. If the weather looks like it's not going to be supportive I just won't make a reservation at the last minute or if I do I can cancel without any penalties. This has allowed me to accumulate nearly 125 ice racing "points".
What is an ice racing point? Under this system a point is given for each ice track that is seen as well as for each country, state or province where an ice track has been visited. My nearest fellow competitor in this category is somewhere back in the 70s. I always find it pretty amazing since I live in a warm weather climate and virtually every ice track I visit is 1500 miles or more away from our modest seaside cottage.
I have some proprietary methods that I use as well as multiple information sources that help me locate the tracks I might like to visit. I can't share my proprietary methods or they wouldn't be proprietary would they? I can't share my information contacts either. Some of my best people in this area of expertise prefer to fly under the radar.
I was able to get in touch with one of those contacts, Chris Berlin, who is actually a UTV racer, to confirm UTVs were actually going to show up at this event. There are lots of quads and bike racing organizations. In the last year or two more of these organizations have been allowing UTV or side-by-side racers (they are one and the same) to compete. However, the car counts for that particular class remains low.
My track contact told me he expected three UTV racers at a minimum to show up today. Can you imagine this? I flew more than halfway across the country and drove into a snowy forecast based upon a one line piece of information that a person that I had never ever met gave me? I guess you could call that trust. I have had very good luck with this approach.
Yes, Chris Berlin was most helpful. I had hoped to meet Chris today and thank him in person for his help. However, he didn't race today. We was in Florida! I think Chris might have been in the point lead for the UTV division. Don't know how his trip to the Sunshine state affected that.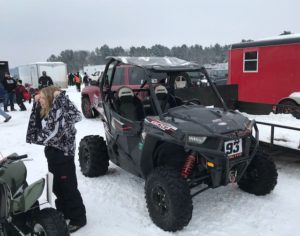 Nevertheless, I entered the pit area today with some trepidation. One UTV racer was parked at the entrance to the pits. That was a start but I would need at least one more to make it an official race. Fortunately there were two other UTV racers in the back part of the pit area. That made three for the day. Things were looking good.
Usually these types of races have only a few competitors in each event and the races are short. Today's racing probably had 4-6 racers in most of the events. The length of the races was only four laps around a ¼-mile flat ice oval.
Much to my surprise a couple of the quad groups actually raced on a road course that was mostly inside the plowed oval. The one and only UTV race was held on the oval configuration.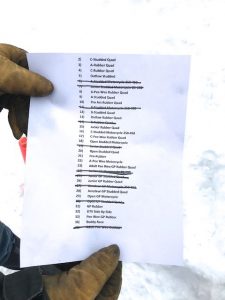 After sitting in on the drivers' meeting and then gathering some information from the track's "bulletin board" I learned there would be 34 races in the first half of the program. Where did the UTV race fall? You might have guessed. The UTV race would be 32nd out of 34 events! 
This would allow me to see all 130 racing competitors racing on the ice today. That was actually a good thing. The quads are the strongest part of the Northern Wisconsin Ice Racing Club's program. Some of those quads could really get around the ice oval.
I'm going to suggest that you take a look at my photos and YouTube movie from today's racing. Spectating positions were not great. Huge snowbanks some 6-8 feet tall surrounded the track. In order to get a good view I had to stand on top of one of those banks in a rather awkward side hill position. Nevertheless I was willing to make that sacrifice for the millions of viewers who like checking out my YouTube channel that goes by the name of "RANLAY".
When the first round of racing was finished it was time for me to exit. I had seen a lot of racing. The group is very efficient. They run one race after another without any delays. I liked that about the Northern Wisconsin Ice Racing Club.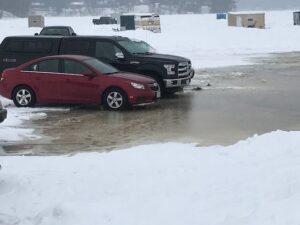 There must have been a hole in the lake somewhat near where I was parked. We were a good 200-300 yards from shore. Nevertheless the big "mud puddle" was getting larger by the minute. Yes, it was probably a good time to leave given that circumstance.
From Lake Wissota it would be an 84-mile drive up to this evening's ice racing on Balsam Lake. If I have success there I will have seen 92 tracks in Wisconsin. At this point in time, I've seen racing at 94 tracks in Minnesota. Both of these states are vying to become the seventh different state where I've seen 100 or more tracks. I'm sort of thinking Minnesota will get to the finish line first but there's no guarantee about that.
Getting over to Balsam Lake was relatively uneventful. I did get a phone call from fellow trackchaser Paul Weisel. He was trackchasing in Virginia tonight. He wanted to know if somehow I was also going to be at the same race he was going to see. Nope. I was committed to ice racing in Wisconsin. We chatted about the events of the day for 45 minutes and bid each other farewell.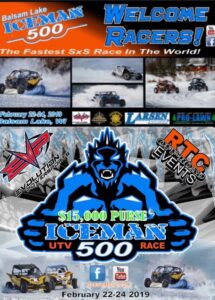 The small town of Balsam Lake, Minnesota was busy with motorsports activity this weekend. They were hosting the "Iceman 500″. This is a special 500-mile, yes I said 500 miles, event exclusively for side-by-side's. They would run 250 miles today and then another 250 miles tomorrow.
Nevertheless, I was NOT coming to Balsam Lake for the Iceman 500. It would've been a great show I'm sure. They did have a good turnout of side-by-sides. However, the racing at the Iceman 500 did not meet trackchasing's sometimes stringent and other times seemingly absurd rules.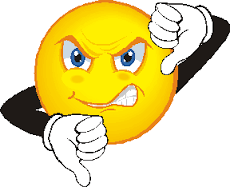 Why did the trackchasing rules makers turn thumbs down for such an important and prestigious event as the Iceman 500? OK, I'll admit it. I'm responsible. That's right I'm not even a member of the trackchasing group and yet I'm responsible for the nix being shown the Iceman 500.
Here's the weird thing about the entire situation. First of all, I discovered side-by-side racing in the hobby of trackchasing only a few years ago. No one was doing any trackchasing at side-by-side events until I started doing it. I discovered that a side-by-side racing machine has all the elements of being a "car". Often times side-by-side racers are referred to as cars. They are driven not ridden as are motorcycles and quads.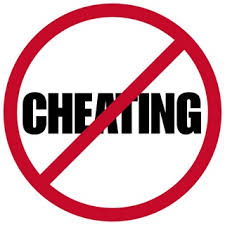 Once I started seeing side-by-side racing it was monkey see monkey do by the other trackchasers. Trackchasing is an ultra-competitive hobby. People have been reported to the authorities for cheating and almost presumed guilty more so than being innocent. I remember the sad and dark days when Guy Smith accused P.J. Hollebrand of cheating. That was a tough one and everyone just sort of looked down at their shoes and didn't say much about the entire incident.
That's how the political leadership of the hobby manifests itself at times. The dictator knows that if he either bullies or praises his "electorate" that virtually every trackchaser in the group is going to simply bail…. look down at their shoes and stay quiet until the issue floats away. It's easier for them that way.
So now we know why trackchasers are seeing side-by-side racing on a frequent basis nowadays. What we don't know, yet, is exactly why the Iceman 500 could not be counted according to trackchasing rules. Here's why.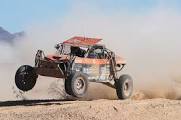 About 15 years ago I brought Trackchasing's First Mother, that would be wife Carol, to a desert off-road race in California. These are very popular events. They are very professional events. Sometimes 150-200 competitors come to one race event. The cars are expensive. The cars have technical support far superior to virtually any kind of racing that is counted in the trackchasing hobby. One racing team at the time even had a special "chase" helicopter that followed their car through the air so that if any malfunction occurred the situation could be radioed back to the pit area. There the race team would be ready to fix the car when it got back to the pits.
The racetrack "environment" at a desert off-road race is not the same as what you would find at the Eldora Speedway in many ways. Often times the racing groove is one or two car widths wide in an off-road race. There is not space to start 150 cars at once. That being the case quite often something like two entries start every 30 seconds until everyone is racing on the track. At that point you have 150 racing trucks and dune buggies zipping around "loops" that can be as much as 50 miles in length.
Let me give you just a little bit of geographical explanation around desert off-road racing. None of it should surprise you. First of all desert offering racing is conducted "off-road". Secondly, it is conducted in the desert. Now let's get a little more specific as to what all of this means.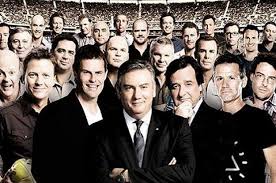 The trackchasing hobby was developed by 10 white people. Almost all of them lived on the East Coast. How many deserts do you know of that exist on the East Coast? Virtually all of the desert off-road racing occurs in the western 1/3 of the United States. Heck, when the trackchasing hobby was first conceived most of the 10 white founding fathers had never BEEN to the western 1/3 of the United States.
This group of trackchasing founding fathers probably hadn't seen five desert off-road races between them. It is highly possible that none of these people had ever seen a single desert off-road race at the time.
I told you that trackchasing is a super competitive hobby. How competitive? When Carol and I went to our first desert off-road race we saw the show, I wrote about it and I submitted our accomplishment to the trackchasing commissioner at the time, Will White. Mr. White approved the submission and the track was added to my totals. No harm, no foul at this point.
At the time I was moving up the worldwide trackchasing standings at a rapid pace. I was passing one eastern trackchaser after another on my assent to becoming the World's #1 Trackchaser. The Dreaded East Coast trackchasing elite didn't care for that one bit.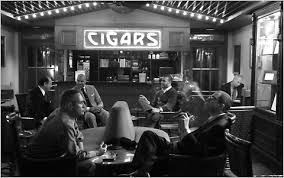 They immediately reconvened in a smoke-filled room and proposed a new rule. No one from the East Coast was seeing any desert off road racing on the West Coast. They could see that I would begin the rack up totals that didn't seem readily available to them. They weren't going to allow that to happen. How could they stop it? They decided they would "outlaw" any "race" where not all of the competitors left the starting line at the same time.
As you may know in desert off-road racing one racer may leave the starting line at 3 p.m. Then the remaining drivers might leave the starting line, two at a time, every 30 seconds until everyone had started the race. The last twosome could conceivably begin their race at 3:30 p.m. Would it be fair to give the starter who left at 3 o'clock such an advantage over the starter who left at 3:30 p.m.? No, it would not.
That being the case desert off-road racing is a "timed" event. That simply means that the driver who completed the course in the lowest elapsed time is the winner. When all 150 cars are out of the desert off-road course they are all racing against each other. If you walked in late after they are already had started you wouldn't know or really care how the race was started.
It was with this technicality that trackchasing's political elite was able to abolish any plan I may have had about adding to my lifetime totals by seeing desert off-road races. They even asked me to "return" the two desert off-road tracks I already added, and which had been officially added to my lifetime list by the trackchasing commissioner. Did I return them? No, I did not. I told them to pound salt.
Now you know the trackchasing history behind "timed events". The Iceman 500 was a timed event. They started one or two competitors at intervals.
I hope my explanation of the above to novice trackchasers or anyone who observes the hobby is now clear. I also hope that novice trackchasers don't see the politics in the hobby, lower their head and stare at their shoes until the dark cloud passes over. This is one of several reasons why I have no interest in being a member of this group under its current management. Despite the fact that I wouldn't be seeing the Iceman 500 on Lake Balsam I would be seeing some countable ice racing tonight.
When I arrived at Balsam Lake part one, the first day's 250-mile segment of the Iceman 500, was finished. Tomorrow morning they'll go out for another 250 miles on a course that is about 12 miles long.
The "short track" racing on Balsam Lake today was being sanctioned by Central Minnesota Ice Racing. I've seen several of their races this year. I know the guys who run it Derek Hedberg and his dad Tom. Both nice guys and very clever.
I've now seen about 105 ice tracks but only two or three of them were racing at night. It's kind of cool to see the headlights and tail lights of the racers going around the course at night. If the weather is reasonable, and tonight it was, I'm a big fan of nighttime ice racing.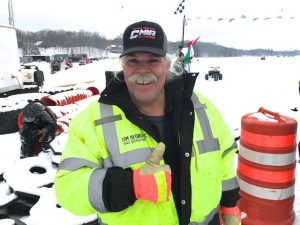 When I showed up I first had a chance to talk with Tom Hedberg, the CMIR flagman. He's got the coolest flag stand. There's a built-in propane heater which he tells me heats things up to about 85-90°. That must feel good on a minus 25 wind chill day.
I spent a little bit of time talking to Tom about some of the perilous positions that ice flagmen have been standing in this year. What they're doing on some frozen lakes is way too dangerous.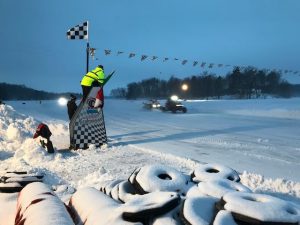 As I looked at tonight's racing I was actually a little concerned for Tom's safety as well. When the cars came out of the last turn they were pushing in the direction of the outside of the track which is exactly where Tom Hedberg and his flag stand were located. There were several fans, including me, who wanted to get the best viewing position possible. We were definitely in harm's way as well.
I realize that at these ice tracks it's not possible to have the safety barriers that are used at Daytona. It just isn't cost-effective. However, it only takes one car to get out of shape to cause a problem. I'd like to see CMIR and every other ice racing group take a strong look at this.
While I was talking to Tom a young fellow by the name of Mark Meyer came up to say hello. Mark had come down from Alberta, Canada to race in the Iceman 500. Here's the weird thing about that. Over the past two weekends I've seen Mark race up in his home province, Alberta. It's a small world and I get to meet a lot of nice people. Mark told me after day one's racing in the Iceman he was so physically beat that he needed to go to bed by about 7 o'clock this evening! Good luck tomorrow Mark. Say hi to Melissa and the kids.
While the drivers' meeting was going on I asked one of the drivers who was listening intently to take a break and snap a picture of Tom, Mark and me. That was probably rude on my part and I apologize. Nevertheless, the driver was more than happy to take the photo. Then he recognized me as being "that guy". He has been following my trackchasing exploits on Facebook and my website. Yes, I get to meet a lot of nice people while standing on frozen lakes.
Tonight's ice road course was a little shorter than normal for CMIR race events. Tom told me it was about a 3/4 of a mile in length where most of their tracks are a mile or so. Why did they make it shorter? They were only using five light standards and that's as big as they thought they could make the track and still have it lit well enough for the drivers to race.
The CMIR group races quads, UTVs and cars. So far this season I've found the UTVs to be the most entertaining. They have more of them and they're very quick. Tonight, for some reason, the front wheel drive cars didn't show up at all. In the past I've seen five or six of those competing with this group.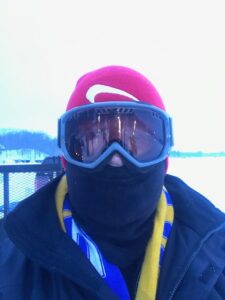 The temperature this evening was a reasonable 30° or so. There was a slight wind but it really wasn't too bad. Without the wind it actually felt almost balmy. That's compared to virtually every ice racing weekend this year where the temperature have been at 0° and sometimes colder than.
I'm going to ask you to look at my photo album and YouTube video to get a good sense of what the racing and the people were like tonight. A picture is worth a lot of words as I've been told.

Editor's note: I have sad news to report. After further reflection it dawned on me that I had seen ice racing on Balsam Lake one other time. That experience was back in 2007 (track #1,154). I saw the International Ice Racing Association compete on a road course in pretty much the same location as tonight's CMIR race on a road course.
That meant I could not count tonight's CMIR constructed track. I have the highest ethical standards in my personal life and my trackchasing hobby. I couldn't count what I saw tonight. No problem. I would move on down the long and dusty trackchasing trail.
AFTER THE RACES
When it was time to head out I was minorly concerned about having to drive up a fairly steep snow-laden and icy hill. However, the Avis Rental Car Racing Ford Fusion was a real trooper. I made it up in good shape. I did have to bright light a couple of trucks that were about ready to come down the one lane road when I was coming up. That wouldn't have been pretty.
It was only an 85-mile drive back to my hotel near the Minneapolis airport. It had been a long ice trackchasing day. I had probably been outside on the ice for nearly 5 hours. On a cold windy day that can wear you down.
I was thinking Mexican food for dinner. I had stopped at the restaurant, the Paradise Landing, that overlooks the ice racing location for tonight. It was busy and popular but seemed like it might've been more of a bar than a restaurant. However I'm sure I could've had a nice supper there.
In the midst of my drive I pulled up to a red light in one of the towns on the way back to Minneapolis. In a matter of about 10 seconds I was able to locate a highly-rated Mexican restaurant by using Yelp. It was only a mile away. I stopped in for a brief serving of queso fundido el pastor. It was outstanding.
When I got back to my hotel room I was just in time to watch the UCLA-Oregon basketball game. I very rarely turn on the TV when I'm in a hotel room. I would just as soon use my phone or my laptop to be entertained. However, I couldn't get the UCLA game on either of those devices. TV it would be.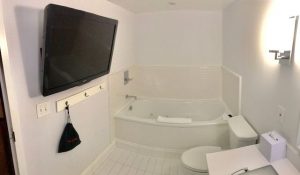 My king suite hotel room had a 42-inch flat screen TV… in the bathroom. I've never seen such a thing. When I tried to turn on the 50-inch flat screen TV in my hotel bedroom it wouldn't work. The game was starting. I called the front desk to see if someone could work on my bedroom TV. I began to watch the basketball game on the TV in the bathroom. That seemed weird and it was. Finally a young lady came up to my room. That seemed weird and it was. Anyway she got the TV going and was on her way. Thank you.
I had decided to bypass the trip to Michigan for tomorrow afternoon's expected ice racing. Getting back to my room tonight at 9 p.m. told me it would've been a pretty tiring and difficult six-hour drive to Michigan. On top of that I would lose another hour with time zone changes. It will be better for me to see those Wolverine drivers next time I'm in the area, which could very likely be next weekend. If I come back to Minneapolis next week it will be my eighth consecutive weekend of doing that. That's too much but I really hate to pass up ice trackchasing opportunities. You never know when those tracks will race again. Some of them are definitely once-in-a-lifetime opportunities.
I must tell you that the UCLA basketball game was a little disappointing to begin with. At half time they trailed the Oregon Ducks by 16 points. Then they made a miraculous comeback to win the game by about ten. I don't see very many reversals like what I saw tonight. I was happy UCLA won.
Monday, February 25, 2019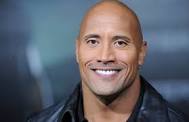 I slept in a bit this morning and then grabbed a non-stop flight back to SoCal. I watched a Dwayne "The Rock" Johnson movie. This might have been my first. Mr. Johnson was the highest paid male actor in the world last year! I actually enjoyed him much more on the big screen that I had anticipated.
Today was a huge day for my food trackchasing sponsors. First, I had a quick ham & cheese omelet compliments of my Sheraton hotel. Then in the Minneapolis airport I returned to the French Meadow Bakery & Café. I was hoping to take a hamburger on the plane but they were still serving breakfast. I had my second omelet of the day, again no charge.
Once back at LAX I took the newly discovered inter-terminal bus from terminal 2 to the international terminal. Without the bus I would have to leave security at terminal 2, walk a long way and re-enter airport security near the international terminal.
Inside the international terminal I ordered beef and broccoli as well as a side of asparagus. I wouldn't eat that stuff but Carol would. I got it to go, no charge.
Then I wandered next door for an hour's stop in the KAL (Korean Airlines) airport lounge. I dined on chicken wings and relaxed. I was able to see the last 30 minutes of my movie in a very quiet and upscale environment especially considering I was in a major airport, again at no charge.
Finally, I stopped in terminal 1 on the way back to the parking garage. There I ordered a double cheeseburger with fries and extra bacon. Total expense $26.50 but no charge for me. Rock & Brews is a trackchasing sponsor of mine. By the way I would NEVER pay $26.50 for a hamburger and fries on my own, but the place was still packed.
The general public would have paid well over $100 U.S. for what I had gotten for free today. Why do I mention this? Because I know some of you have the drive and ingenuity to do exactly what I did. Go for it. If you have any questions, ask me.
Randy Lewis – 82 countries – 2,532 tracks.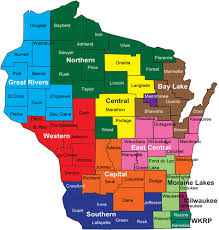 Wisconsin
The Badger state
This afternoon I saw racing at my 91st lifetime track in the Badger state, yes, the Badger state.  I hold the #4 trackchasing ranking in Wisconsin.  I've seen 91 or more tracks in eight different states. No trackchaser can match that stat.
Thanks for reading about my trackchasing,
Randy Lewis
World's #1 Trackchaser
Peoria Old Timers Racing Club (P.O.R.C.) Hall of Fame Member
Wisconsin sayings: "Cripes Sake"
Same swear word as "cripes" just with a little pizazz
QUICK FACTS
LIFETIME TRACKCHASER COMPARISONS 
The threemost important trackchasing comparisons to me are:
Total lifetime tracks seen
Total "trackchasing countries" seen
Lifetime National Geographic Diversity results
Total Lifetime Tracks
There are no trackchasers currently within 695 tracks of my lifetime total.  Don't blame me.
Randy Lewis, San Clemente, California – 2,532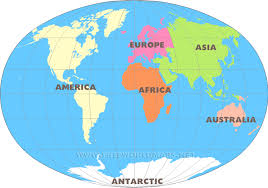 Total Trackchasing Countries
The nearest trackchasing competitor has seen racing in 30 fewer countries compared to my lifetime total. 
Randy Lewis, San Clemente, California – 82
Current lifetime National Geographic Diversity results
Randy Lewis, San Clemente, California – 4.14
That's all folks!  Official end of the RLR – Randy Lewis Racing Trackchaser Report
Click on the link below to see the video production from the racing action today.
My first ever ice racing adventure with the Northern Wisconsin Ice Racing Club 
.
.
The evening part of the trip had me making a return trip to Balsam Lake, Wisconsin to see the Central Minnesota Group perform
Click on the link below for a photo album from today's trackchasing day.  You can view the album slide by slide or click on the "slide show" icon for a self-guided tour of today's trackchasing adventure.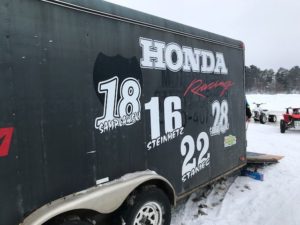 My first ever day of ice racing with the Northern Wisconsin Ice Racing Club
.
.

It was a return visit to Balsam Lake for racing with the Central Minnesota Ice Racing group