Greetings from Kinston, North Carolina
.
.
From the travels and adventures of the 
"World's #1 Trackchaser"
.
.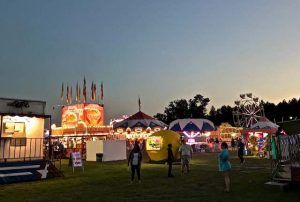 Lenoir County Fairgrounds
Dirt figure 8
Lifetime Track #2,377
The EventVideo PlusPhotos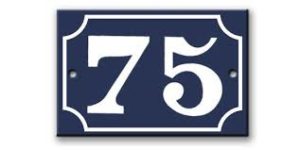 THE EVENT
I have had the opportunity to follow my trackchasing hobby all over the world. As this is written I have seen racing in 75 countries. My lifetime track total exceeds 2,300. Each and every year I will trackchase in 25-30 states.
At track #1,040 I moved into the "World's #1 Trackchasing" spot. Here's the funny thing about that. I was perfectly content to remain in about seventh place in the worldwide trackchasing standings. Then I had rotator cuff surgery, which knocked me out of golf for about six months. With no golf and time on my hands I turned up my trackchasing by a notch or two. I discovered I liked MORE trackchasing and LESS golf. It didn't take all that long to move up to the top of the world trackchasing standings at that point.
I sometimes "cut it close" when trying to meet trackchasing rules on what does and does not "count". Today I "cut it close". I don't like it when that happens. When you read the details I think you will discover the situation was out of my control.
It could be said that I could "control" things by simply avoiding the potential problem in the first place. Yes, that is technically correct. However, I didn't get to be the World's #1 Trackchaser by not taking a risk from time to time.
My hobby is not only about racing. Trackchasing for me centers around three things. The racing part is pretty obvious. However of equal importance is the logistics of trackchasing and the opportunity to see the world.
I live in Southern California. The vast majority of tracks are located in the Midwest and East. It takes a good deal of logistical planning to get from where I live to where the tracks are. For the past 15 years I have traveled about 175 nights each and every year. Surprisingly to some, more than half of those overnights were not part of trackchasing.
Then there's the travel just for the fun of seeing new things. You won't want to miss my "Trackchasing Tourist Attractions" page or my "Sports Spectating Resume" page on my website at www.randylewis.org. That will give you some understanding on how important seeing the world is with my hobby.

Today's adventure was one more of the 2,000 trips that have taken me up, down and around the long and dusty trackchasing trail. If you would like to see where I've been and experience those adventures here's the link:
If you've got a question, comment or whatever please leave it at the bottom of this report.  It's very easy to do.  Or you can visit me on Facebook.  Thanks!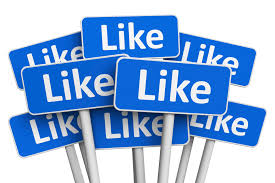 FOREWORD
MONDAY
I didn't have any trackchasing on today's agenda. Monday is the least popular day, other than when Monday is part of a holiday weekend, for auto racing in the United States. Outside of the summer season racing on a Monday would be nearly unheard of.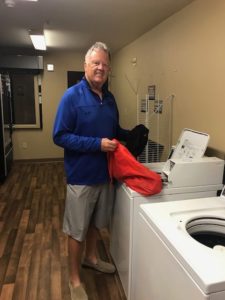 That being the case I would attend to some household chores while I was out on the road. The chores started with doing my laundry at the Extended Stay America hotel.
I have learned pretty much everything I know in life from watching NASCAR races. Understanding how a NASCAR pit strategy works will go a long way in allowing you to be as efficient as possible in your own personal life.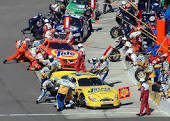 A NASCAR crew chief would not ask his driver to pit at the end of the race until the car was in its "fuel window". Let's say a car can run 100 laps on a tank of fuel. Then, not to belabor the obvious, the last scheduled pit stop would be with less than 100 laps to go. That way if the race goes green the rest of the way the car and driver would have enough fuel to make it to the end.
I do the same thing with my laundry when a "pit stop" is required. When I knew that I didn't have enough clean clothes to make it to the end of the trip I waited until there were four days left in the adventure. Then I washed just enough clothes to keep me cleanly outfitted until I pulled into the driveway of our modest seaside cottage in San Clemente, California.
At the Extended Stay America hotel it costs two dollars to wash your clothes and two dollars to dry them. For some reason the dryer didn't do much "drying" today. I didn't know if it was broken or not. That's OK. I didn't want to over dry my clothes anyway.
I am a multi-tasker. Carol doesn't think multi-tasking is a good idea. She says that you can't do a good job on any of the tasks that you're doing when you're doing more than one at a time.
I couldn't disagree more. Most things you need to do in life are not rocket science. They don't have to be done precisely down to the thousands of an inch. My clothes were safely in the washer. While that 28-minute wash cycle was happening I went outside and got in about 20 minutes of power walking. Then when my clothes went in the dryer I finished up my power walking in a local shopping mall parking lot.
Presto! It was now 9:30 a.m. I had my laundry done AND my power walking! How's that for multitasking? Take that lovely and beautiful wife Carol. I can say such outlandish things because I know that Carol never reach my reports. Why? She tells me she lives it.
I had stayed overnight in Fairfax, Virginia. I am slowly developing a tertiary hobby of visiting state capitol buildings. This summer I have visited a few. I decided I would continue progress against my goal of seeing every state capitol building today.
For this particular Monday I was considering the capitol buildings in Maryland and Delaware. I even thought about doing a state capitol "double". However, logistics would end up ruling that out.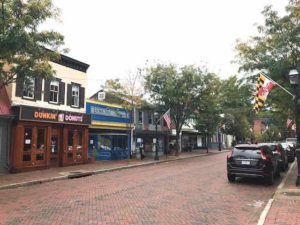 I would drive to Annapolis, Maryland capital of the state. It was only about an hour from where I was staying. For the most part they only do self-tours at the statehouse in Maryland. All of my previous state capitol tours have been with a formal tour guide.
I had toured the Naval Academy with son J.J. more than 20 years ago. He was considering going into one of the services so we could get flight experience and become a commercial airline pilot. He ended up going to UCLA for both his undergrad degree and MBA. He still became a commercial airline pilot!
Carol and I would later tour the Naval Academy in Annapolis, Maryland ourselves. I remember it was a blistering hot day but we enjoyed the visit and finished with a nice lunch in downtown Annapolis.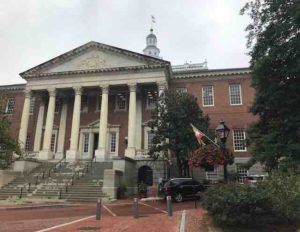 I found the Maryland state house easily. One can do things like that now with resources such as Google, Waze and the like.
Tourists like myself are only allowed to tour on one floor of the building. That was OK. I got to see where both the house of representatives and the state senators do their legislating. This was a compact space but it pretty much included everything I've seen in my previous two-hour guided tours. I sort of liked the self-guided idea as long as I could see just about everything there was to see. 
From there I considered another formal tour of United States Naval Academy. However I missed the last tour of the day by about 10 minutes. Not a problem. I'll likely catch it some other time.
I would be staying for the next two nights in Richmond, Virginia. Did you know that Richmond is the capital of Virginia? Lucky me. What do you think I'll be doing tomorrow morning?
On the way down to Richmond I stopped at a Waffle House for my second All-American breakfast of the trip. Those things can be habit-forming in your mind and around your waist. However, I still enjoyed it. I always do.
I pulled into the Holiday Inn in Richmond at about 8 p.m. I would simply relax before starting out what could be a state capital double tomorrow. I'll let you know if that works out. Tomorrow night I'll be trackchasing down in North Carolina. It's my first visit there in all of 2017.
By the way, as this is being dictated the trip odometer on my Volkswagen Passat reads 1,869 miles. I'm happy to report that the Avis Rental Car agent who told me that the Passat is better than a Ford Focus or Chevy Impala was right. It's been a delightful car. 
TUESDAY
The main attraction for today would be a visit to the Lenoir County Fairgrounds in Kinston, North Carolina. They were going to have some figure 8 racing at their fair tonight.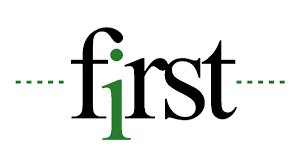 This would be my first trackchasing trip to North Carolina in 2017. Tonight's track would make the 34th state where I've sent racing this year. That goes along with four Canadian provinces and two Mexican states. Additionally I've seen racing in the African continent nation of Namibia.
Overall I would be seeing my 55th lifetime track in North Carolina. My database of records indicates that I have made 36 separate trips to North Carolina to pursue my hobby.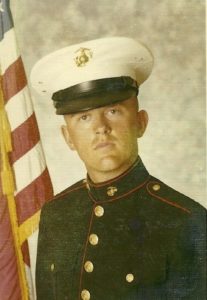 Most people don't know this but I am a former resident of North Carolina. I lived here for three months in 1972. I was employed by the U.S. government as a United States Marine at Camp Lejeune, North Carolina. Yep. Now you know the rest of one of my stories.
I woke up this morning in the capital of Virginia, Richmond. I didn't think it would be a very interesting day if my ONLY activity was to see some figure 8 cars race around a county fairgrounds track. Do you agree?
Therefore, I began my day with a tour of the Virginia state capitol building in Richmond. I wasn't sure exactly how the tour process worked. Some state capitals have formal tours and others offer an option of a "self guided" tour.
I showed up at the capitol building at a few minutes before 9 a.m. I had parked about a block away at five dollars per hour. If I stayed one minute over two hours my parking fee would would change to the daily rate of $30. That's right. One extra minute over two hours would cost me an additional $20 U.S.
Once inside the capital building I was welcomed by several different people with huge smiles. They were glad to have yours truly in attendance. They wanted to know where I was from and how I liked Virginia. If all races treated each other like these folks did, and meant it, there would be no racial problems anywhere.
I soon found out that my best bet was to tag along with an eighth grade tour and field trip of the capitol building. That would just be fine with me. I had a busy day scheduled and the sooner we got going the better.
There were about 20 of these eighth graders. I'm guessing they went to a private school. They all wore school uniforms. They were a little bit taller than I would have expected eighth graders to be. About two students out of three were girls.
I stayed with their tour for about ninety minutes. There tour was different. In my previous state capitol building visits I had been on public tours or on a self-guided tour.
Today when we finally got to the state Senate chamber all the students and myself, yes I was a little bit taller than most, sat at the desks of elected state senators. The person giving the tour told everyone about the history and procedural aspects of the state Senate. He then told the class they were going to be having a "debate" over some unknown issue.
It would have been fun to stay for that debate. However, I had already been inside the capital building for nearly two hours. My retirement funds would be seriously jeopardized if I parked for two hours and one minute. I had seen everything in the capital that was offered on the tour. It was a special bonus to tagalong with this group of eighth graders. They asked interesting questions. They knew a lot about what the state governing process was all about. I was impressed. If all students were as on the ball as these kids the country would be great again. Sadly, too many kids and their parents are simply dumbbells.
I was soon heading down Interstate 95 and then Interstate 85. My next destination was the state capitol building in Raleigh, North Carolina.
I had called ahead to figure out what they're touring procedures were. They only give guided tours on Saturdays. That meant that my tour today, on a Tuesday, would be headed up by…me.
That was fine with me. I can go with a guided tour or a self-guided one. However I was going to need some lunch before I got down to Raleigh. Where would be a good place to have lunch?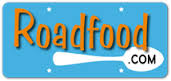 I went to a source that I have not used much recently, Roadfood.com. This is one of my best places to find those really unique and unusual restaurants. I don't know why I don't use Roadfood more often.
I searched both Virginia and North Carolina until I found something that would work for me. My pick for the day was called Dane's Chicken and Waffles in Durham, North Carolina.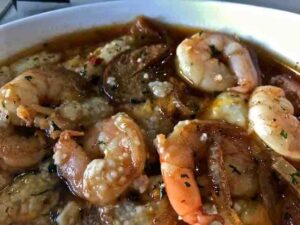 I went on Yelp to get some more information about Dane's. It looked as if the chicken and waffles, mac & cheese and the shrimp and sausage with grits would all be exciting culinary delicacies.
Let's not forget the objective of today. I was here to see a handful of figure 8 cars race around a muddy dirt track at a county fair in North Carolina. They only do this once a year. You might want to check the itineraries of my fellow competitors. Do they get much accomplished beyond seeing the figure 8 race? I'll let you decide that for yourself.
I was going to drive about eight hours cumulatively to see today's race. However, I was also going to get a tour of the Virginia state capital and the North Carolina state capitol building. Additionally I was going to stop at a gourmet restaurant for one of those very, very special meals. That sounds like a very full day to me. If you think that I trackchase just a little bit differently than my fellow competitors then you're probably just a little bit smarter than just about anybody in your hometown. Congratulations on that.
The actual North Carolina state capitol building is the smallest I've seen so far. Actually the legislative bodies of North Carolina don't do their business in the original state capital building. That seems a bit unusual. I've toured about 10 of these capitol buildings now. This is the first where one legislators are located "off-campus".
I asked the reception list why such an arrangement existed. She told me that when it was time to think about improving/enlarging the building North Carolinians were to "poor" to do it. Then later on the residents of North Carolina were simply against the idea. I wonder what the feeling would have been if UNC basketball coach Roy Williams was asking for a new locker room?
I visited two of the three floors of the building that were open to the public. Every capitol building tour I've taken so far uses a metal detector for security purposes. Today I was the only person touring the capitol building.
The North Carolina legislators stopped meeting in the original capital building in 1961. They are now housed about a block away in a more modern structure. I took a walk down there and checked things out as well. Visiting capital buildings is a little bit like trackchasing. Each one is a little different than the last one.
For some reason I wasn't feeling well. This had nothing to do with Dane's Chicken and Waffles. I woke up with a stomachache. I was thinking it might be a touch of food poisoning. That made it somewhat difficult to enjoy all of my touring activities for the day.
I had now seen the state capital in Virginia, had a great lunch at a legendary restaurant in Durham, North Carolina and toured the North Carolina state capital building as well. For most people that would be enough to do in one day. However, I am a professional tourist.
THE RACING

Lenoir County Fairgrounds – Kinston, North Carolina
I was now headed over to Kinston, North Carolina. Kinston is in Lenoir County home to the Lenoir County Fair at the aptly named Lenoir County Fairgrounds.
Racing was scheduled to begin at 7 p.m. I pulled into the fair parking lot at 5:30 p.m. Given my physical condition I took a one-hour nap. That one-hour flew by.
Before I went to sleep I did see one four-cylinder figure 8 racer pull into the pits. I dreamed that many more cars were pouring into the pit area. All was right with the world.
Tonight admission price was $10. I gave the lady ticket taker a $20 bill. She asked me if she could keep the change. I looked at her with a smile and said, "She would have to take that up with my wife. "She and her compatriots got a kick out of that reply.
It was good half-mile walk from the pit entrance to where the figure 8 racing would take place. The fairgrounds is situated on sandy soil. That reminded me of when I was a resident of North Carolina back in 1972. I had a job there when I lived in Jacksonville, North Carolina. The job was so good that they gave me free clothing, free meals and free lodging. How many people get that from their job? All I had to do was show up for work every day. That's how they do it in the United States Marine Corps at Camp Lejeune.  Oh yeah, we played some cards too.  That's me above (lower left).
I had talked with Clifford on the phone a couple days ago. I just wanted to confirm everything was happening. He told me they hadn't been getting very many cars for the figure 8 racing but that no matter what they would have a race. That's the kind of attitude I want to hear from the promoters I talk too.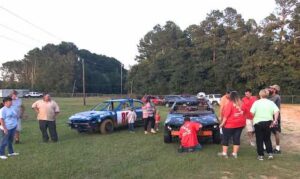 It was with that confirmation in mind that I viewed the entire contents of the pit area tonight. There were two figure 8 racers. Two! Two?
If you have followed my Trackchaser Reports for very long you know that the minimum number of cars to contest a race (so that it COUNTS) is two, as long as the race is not limited to two. This was clever verbiage, which essentially meant that drag racing is a bunch of horseshit. We can't count drag racing in trackchasing. What kinds of demented souls came into the world with ideas like this?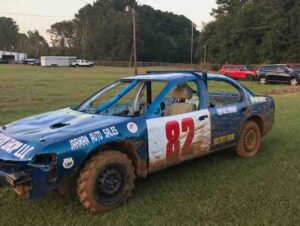 For the life of me I don't understand many of the trackchasing rules. Why would you be willing to count a two car, four-cylinder junk car figure 8 event and not count the biggest drag racing extravaganzas in the United States? Is a drag strip a track? Of course it is. I can only conclude that the people who were developing the rules for trackchasing had their own self-interests and were thinking very narrowly at the time. Often times that condition exists today.
Some promoters might cancel a race when only two cars show up to compete. Not the guys at the Lenoir County Fairgrounds! Today I first met Cliff and then later on I spent quite a bit of time talking with Dickie. They were running the races tonight. They were going to run no matter what.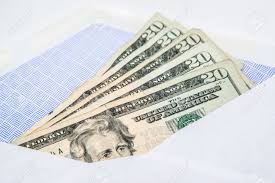 Some of my fellow competitors have been known to slyly slip a $20 bill or two in the hand of a promoter in order to get them to run a "special" race (wink, wink). I don't operate that way. I never have and I never will.
When I first met Cliff I handed him my business card and introduced myself. During the course of our conversation I asked him if he was still going to have the race with two cars. He looked at me like he thought this was a most unusual question. Of course he was running the race. Why wouldn't he?
Most two figure 8 races are short in duration. They might run five or ten laps. I think I did see a F8 race at the Spartan Speedway in Michigan that ran for 100 laps. I'm not sure about that memory.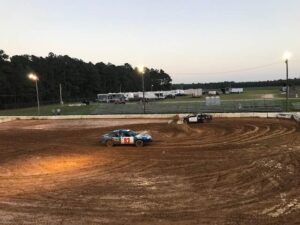 Tonight the two drivers were given a choice. They could run a feature for 40 laps or 50 laps. They ended up choosing a 40-lap figure 8 race.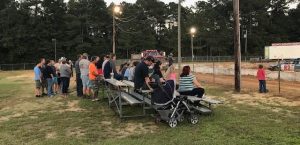 A smallish crowd of 50-75 people were in the grandstands and standing around the traditional county fair figure 8 track. The cars raced around two markers that were pyramid shaped. As a matter fact they looked almost exactly like the termite mounds I had seen in Namibia a couple of weeks ago.
You might not think that a two-car figure 8 race for 40 laps would have much drama. Wrong! Tonight's race DID have drama.
After about 20 laps one of the cars, #82 had gotten about a five-lap lead over his nearest fellow competitor, the driver of the #10 racer. However it looked like the leader might be having clutch problems. He seemed to stall at least once every lap.
The #10 for car wasn't much better. He actually did stall and stop for several seconds. I wondered if they would require the leader to continue the race for 40 laps if his opponent had stopped racing all together. I didn't have to worry about that much longer. The #10 car got it going again even though he was multiple laps down at this point.
On about lap #38 the leader, car # 82, went up in smoke. It looked very much like he had blown his engine. It must've just been a radiator hose. He stopped for about 20 seconds while the fan club for #10 all kept yelling, "Keep on racing". As if by divine intervention car # 82 got his car going again for another lap and a half to complete the 40-lapper.
I wasn't feeling all that well today with a stomachache and chills that came on toward the end of the day. It would have been a very long drive back to Richmond tonight if they had not run this figure 8 race.
If this hasn't became apparent by now I don't think you've been reading my Trackchaser Reports very closely. Trackchasing is all about "counting". If the track counts the trackchaser will go through hell and high water to see it. Yet, the most compelling and dramatic sprint car feature, NASCAR race or Boone modified special could be happening across the street with free tickets being handed out and all you can eat voucher included. Trackchasers will pass up the good race to see the bad race. I can explain it. I can only tell you about it.
AFTER THE RACES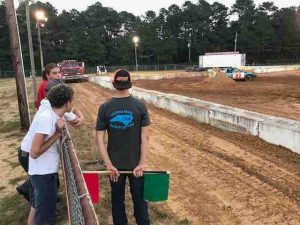 It was about a three-hour drive back to Richmond, Virginia after tonight's "races". The race took its final flag, not a checkered flag, at 7:20 p.m. They only brought a green flag and a red flag to the race tonight. I was out of there much sooner than I had expected. That was a good thing.
It was somewhat of a challenge to make the drive given how I was feeling. This had some of the overtones of my seeing a race in Wisconsin on a Saturday night many years ago. My plan then, that I stuck with, had me driving overnight to Ohio for a Sunday afternoon race. I was pretty sick on that trip as well. Actually, I don't think I have ever felt worse on a trip than with that Wisconsin/Ohio combo.
My plan for tomorrow was to see the Delaware state capitol building. Given my current condition and the fact that going to Dover, Delaware would add 3-4 hours of incremental driving I bagged that idea.
When I got back to my Holiday Inn in Richmond I immediately hit the sack. I would sleep in tomorrow. I need to recuperate for one final new track on this trip before flying back to the West Coast. Once back home I'll pick up Trackchasing's First mother for a week of laughter and luxury in Maui, Hawaii.
Good evening from Kinston, North Carolina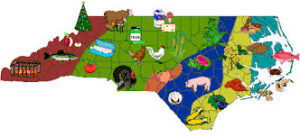 North Carolina
The Tar Heel state
This evening I saw my 55th lifetime track in the Tar Heel state, yes the Tar Heel state. I think I've got a sixth place ranking from North Carolina.
Thanks for reading about my trackchasing,
Randy Lewis
World's #1 Trackchaser
Peoria Old Timers Racing Club (P.O.R.C.) Hall of Fame Member
North Carolina stuff: Outer Banks
Or OBX. A magical place of lighthouses, ferry rides, fresh seafood, natives with strange accents, childhood sand castles, beach vacations, oh and that mystical rip tide you always feared would suck you right in if you went in
QUICK FACTS
LIFETIME TRACKCHASER COMPARISONS 
The three most important trackchasing comparisons to me are:
Total lifetime tracks seen
Total "trackchasing countries" seen
Lifetime National Geographic Diversity results
Total Lifetime Tracks
There are no trackchasers currently within 600 tracks of my lifetime total. Don't blame me.
Randy Lewis, San Clemente, California – 2,377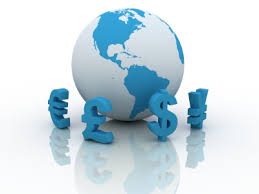 Total Trackchasing Countries
There are no trackchasers currently within 20 countries of my lifetime total.
Randy Lewis, San Clemente, California – 75
Current lifetime National Geographic Diversity results
Randy Lewis, San Clemente, California – 4.37
That's all folks! Official end of the RLR – Randy Lewis Racing Trackchaser Report
Click on the link below to see the video production from the racing action today.
Click on the link below for a photo album from today's trackchasing day.  You can view the album slide by slide or click on the "slide show" icon for a self-guided tour of today's trackchasing adventure.
Three state capitol tours and two figure 8 race cars