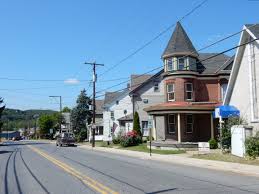 Greetings from Walnutport, Pennsylvania
.
.
From the travels and adventures of the 
"World's #1 Trackchaser"
The EventVideo PlusPhotos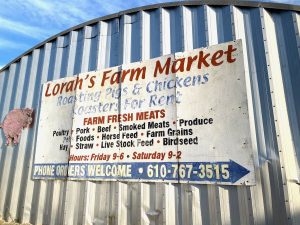 Lorah's Family Farm
Dirt oval
 Lifetime Track #2,638
THE EVENT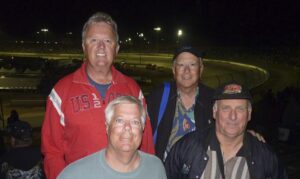 Editor's note: One of the best parts of my trackchasing is getting to meet and become friends with so many people over the long and dusty trackchasing trail. Years ago I met Pennsylvania trackchaser Paul Weisel (above, lower right)….while we were both trackchasing in Australia! Then later I met his good buddy Bing Metz who once won a TQ midget feature at the famous Atlantic City Convention Center. Tonight I reunited with both of those guys.
I AM A TRACKCHASER.
Are you new to the hobby of trackchasing? If so, let me give you just a little bit of background. Before I go any further I will tell you that a lot of people get pretty enthused about what I've been doing with trackchasing. I will offer this warning. If you try it yourself it could become addictive.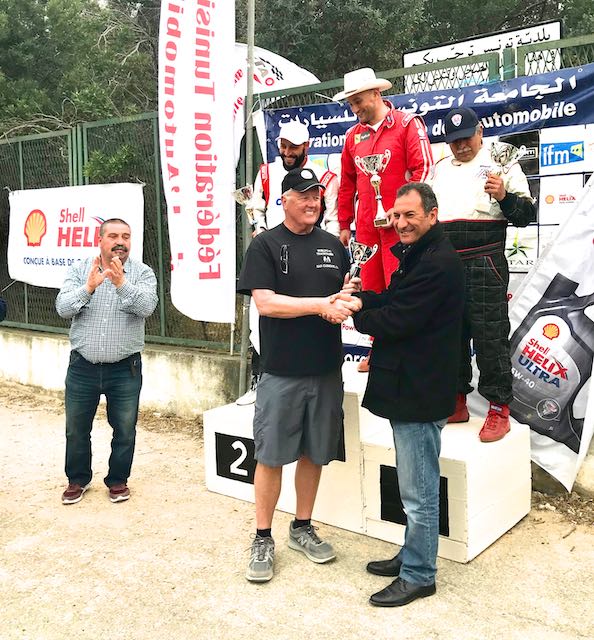 My name is Randy Lewis (above with my friends from Tunisia). I hail from the sleepy little village by the sea, San Clemente, California. I am a "trackchaser". I trackchase. Have you ever in your life heard of "trackchasing"? I didn't think so. 
Trackchasing is a "collecting" hobby. Trackchasing is a "counting" hobby. It's really not all that much different than when you were a kid and you collected stamps or beer cans or bottle caps.
Trackchasing is all about visiting new auto racing tracks for the very first time. Believe it or not, trackchasing has "rules" as to what kind of racetrack and race car and race driver count toward a chaser's lifetime totals and which ones would not. In a nutshell, a trackchaser can count a track where adult drivers race cars or trucks at ovals, road courses and figure 8 tracks. That covers 98% of the rules.
In addition to the racing part of trackchasing for me, I really enjoy seeing the local sights and sounds of whatever area I am visiting. I called these "Trackchasing Tourist Attractions". If you go to my website at www.randylewis.org and click on the Trackchasing Tourist Attractions tab you'll see where I've been all over the world. Here's a link to that tab.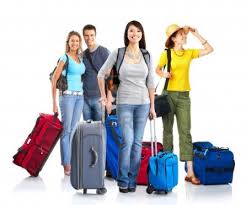 Trackchasing Tourist Attractions
I also really enjoy the logistical part of the hobby. I have been retired for nearly 20 years. During that time I have not earned a single dime of work income. That means I have to manage my money pretty closely enable in order to be able to do what I do.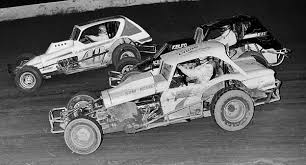 Logistically I have to handle seven different categories of trackchasing expenses. Those expenses include airplanes, rental cars, hotels, airport parking, gasoline, food and race tickets. As an example, you can just imagine what traveling from Southern California out to the Midwest for four days of racing would cost.
In any given year I will travel well over 200,000 miles. I'll stay in hotels 150-200 nights a year, rent 50-75 rental cars every year and buy a full tank of fuel about 100 days a year just for trackchasing.
After each and every event that I attend I post a YouTube video, a SmugMug photo album and a very detailed Trackchaser Report about the experience. My stories are not just about what happened at the track but about my visit to the area and what exactly it took to make the trip happen. That's where the racing, the touring and the logistical challenges come from.
I told you that trackchasing is a "counting" hobby. Trackchasing is ultra-competitive as well. Lots of people don't recognize that when they are initially exposed to this hobby. Trackchasing has had all of the political drama, cheating, accusing people of cheating and other aspects of poor personal behavior that any other competitive activity might have. This is why I am NOT a member of any organized trackchasing group. The management of these groups has been so poor over the years these groups are not something I want to be associated with whatsoever.
As this is written I have seen racing in 85 different countries at more than 2,650 racetracks. During all this time I have never tried to benefit financially from my hobby. This is despite being interviewed by hundreds of track announcers, newspaper reporters and radio and TV outlets as well as doing a TV pilot. I'm a volunteer. I do this 100% for the fun of it.
Because I have seen racing in 85 countries at this point I am considered the World's #1 Trackchaser. That's good enough for me. Now I encourage you to drop down a few spaces and read about today's trackchasing adventure. As you discover what went on at this track just think about the idea that I've done this more than 2,600 times. I don't mind admitting I am addicted to the hobby of trackchasing.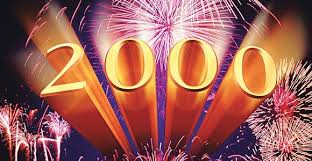 Yes, today's adventure was one more of the 2,000 trips that have taken me up, down and around the proverbial long and dusty trackchasing trail.  If you would like to see where I've been and experience those adventures here's the link: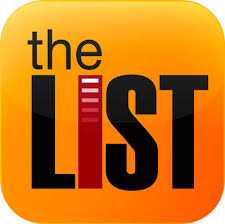 If you've got a question, comment or whatever please leave it at the bottom of this report.  It's very easy to do.  Or you can visit me on Facebook.  Thanks!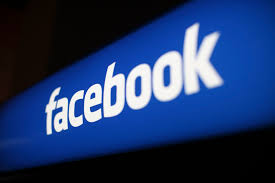 FOREWORD
Friday, August 14, 2020.
This weekend I will begin my 11th consecutive trackchasing trip where I will fly from point A to point B and beyond. This is all being done during the midst of the coronavirus pandemic. Am I right to do that? Am I wrong to do that? If I'm really wrong you'll never have the chance to tell me, "I told you so".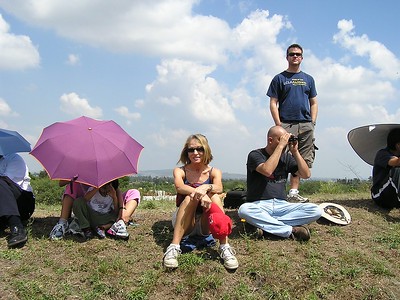 I am lucky on several fronts in life. I do believe I made my own luck in several of those situations but I'm just lucky in general. I'm lucky to have such a smoking hot wife that is fully supportive of my trackchasing hobby. If I wasn't the World's #1 Trackchaser then I probably wouldn't have such a smoking hot wife.
To begin this trip I was going to have to fly on an all-nighter "red-eye" flight from Los Angeles to Philadelphia, Pennsylvania. There's a three-hour time difference between Philadelphia and Los Angeles. If I took the early morning flight the best I could do was land in Philadelphia at about 5 p.m. By the time I got a rental car and drove an hour and a half to the racetrack I would be late for the start of the races. That was if everything was on time. Nope. That would not work. I would pay the "California Penalty". What's that? It's the penalty of trackchasing from such a remote location as southern California.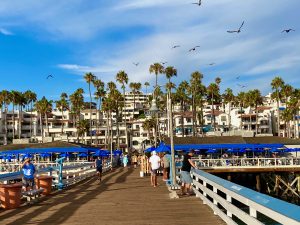 That being the case I decided to take Carol out to dinner on Thursday evening before my flight. After dinner, we took a leisurely walk down and around the San Clemente pier. This would include taking a walk out to the end of the iconic San Clemente pier. As we walked along the pier we watched the fisherman and the surfers and the tourists. Everyone was having a good time. Despite being in the middle of the pandemic in California, typically a social and health-conscious state, I saw only one person wearing a mask. I guess being outdoors contributed to that air of invincibility.
My hobby of trackchasing has me seeing auto racing, wheel to wheel auto racing. It's also about seeing the local sites where I trackchase and finding creative methods to get there and back without spending all of Carol's trust fund. I love all three aspects of my hobby.
Quite a long time ago I saw racing at most of the tracks that would come to mind if you thought about auto racing. Since trackchasing is a counting hobby it is a "one and done" hobby. I've seen racing at more than 2,600 tracks. It stands to reason that I went to many of the best tracks early in my trackchasing quest. That leaves several of the less professional, less organized and sometimes less entertaining venues. Of course, that is a generalization. There are still lots of fun tracks to visit.
I was going to be flying overnight to Philadelphia for a Friday night junk car racing show. It was being held at a place called Laura's Pig Farm a.k.a. Laura's Family Farm. Who could argue with flying cross country to see racing of this quality?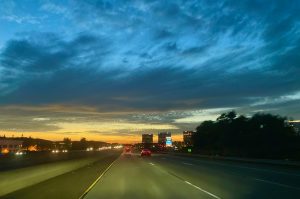 Had I left Los Angeles early on Friday morning I might have been late for the Friday evening show in Pennsylvania. By flying out at 10:30 p.m. on Thursday night I was now going to be EARLY for the Friday night show. The sunset driving up to the airport was stunning. I would be landing in Philadelphia at about 6 a.m. Eastern time which would be 3 a.m. California time where I live. Neither choice was ideal. However….someone once told me if you're not early you're late. Thank you Gerry O.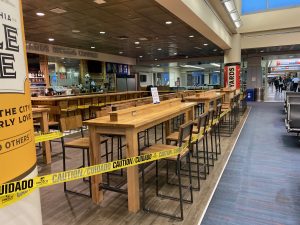 I did in point of fact land at the Philadelphia International Airport at 6 a.m. The COVID-19 affect on airport businesses was obvious. I couldn't pick up my rental car until 11 a.m. Why was that? I would be returning the car on Saturday at 11 a.m. If I picked up the car on Friday any earlier than 11 a.m. my rental car expense would double.
I did run into a funny situation when making my National Car Rental reservation. As a frequent renter, I am guaranteed to get a car no matter if the location is sold out to regular customers if I make a reservation 24 hours in advance.
It was Thursday night at about 9 p.m. when I remembered to make my rental car reservation for Friday for a pick-up of 11 a.m. I was giving National Car Rental less than 24 hours' notice. Their website came back to tell me that they were sold out of cars!
No problem. I have encountered this situation before. Even though I wanted to pick up my rental car on Friday at 11 a.m. I now told National that I wanted to pick it up at 11 p.m. Now I was giving them 26 hours' notice. Their website accepted this approach. Then I showed up and simply picked up the car at 11 a.m. like I wanted to all along. No harm no foul. Basket counts.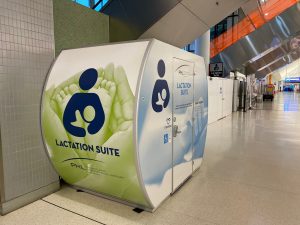 I had five hours to kill in the Philly airport. How was I going to spend that time? I had a plan. I always have a plan. I try to walk four miles almost every day. Despite getting only about one hour of sleep on the plane, I watched a 2 1/2 hour movie. I went walking about at the airport. The Philadelphia airport is one of the very best airports to walk in. They have several long terminals. I ended up with nearly 3 miles of walking in the airport this morning. The airline terminal sights were unusual. I passed a lactation unit and a pet relief area!
The Philadelphia airport has several wooden rocking chairs. That seems like something they would have in Charlotte more so than Philadelphia. I grabbed one of those rockers over in the corner. I proceeded to plug in all of my electronic equipment which included my MacBook Pro, iPad, AirPods and iPhone. My work resembled a Mexican electrical job. However, having all of this equipment fully charged is critical to my success.
I was going to have time this afternoon for a Trackchasing Tourist Attraction. I want to do experience these TTA's whenever and wherever I can. Even if I'm tired after an overnight flight I don't want to pass up a TTA. I really have to push myself to make sure that I get a chance to see and experience all of the outstanding things that need to be seen and experienced in the places I visit.
I've been to Philly many times. I've done historical stuff, seen their auto museums and even toured the Eastern State Penitentiary which I absolutely loved. What was I going to do today? I did a Google search.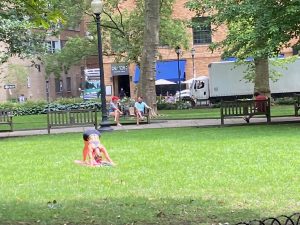 I decided on a visit to Rittenhouse Square. Bette Golden, a Philadelphia native, told me this was an upscale and worthwhile place to visit. My buddy Louis Skypala gave a thumbs up for a square visit as well.
Philadelphia is famous for Philly cheesesteaks. I've tried several of their locations and my personal favorite is Leo's Steak Shop located just a few miles from the airport. I stopped in at Leo's today.
Since my last visit, they have remodeled their entryway. It looked great. The old serving area was really small. The remodeling job creates a very much larger place to be served.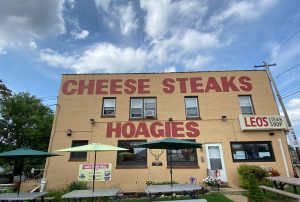 I've been to Leo's Steak Shop many times. I was first turned onto it by looking at a Yelp review. One day about a year and a half ago or so I showed up only to find Leo's was closed. Why? There was a sign on the door that said that a young woman had crashed into their building with her automobile. In order to get the building back up to code after this accident, a good deal of time and money was going to have to be spent by the owners of Leo's. Now they are open and doing well.
Right now I'm on a low-carb diet. For the most part that means no bread, no sugar and no pasta or dessert. I ordered one of their beef cheesesteaks to go. They gave me an outstandingly huge serving of beef, cheese, peppers and the like. My server even threw in one of their rolls just in case I was tempted to grab a carb here or there.
From there I motored downtown to Rittenhouse Square. I've got to tell you that from my point of view Philadelphia looks like a very tough city. Philly folks are known for having a no-bullshit kind of persona. They may seem macho to some but to me not so much. I drove through some pretty rough neighborhoods getting to Rittenhouse Square. I wouldn't have wanted to have a flat tire in the area.
And then in just a block or two, I came across Rittenhouse Square. RS is essentially a big city park in what looks like to be a reasonably upscale neighborhood. I would have my lunch in the park and just walk around and see the sights. I'm glad I picked this location today. It was just right on a day where I was trying to conserve my energy after an all-night flight. I even had the chance to walk into the Church of the Holy Trinity Episcopal to take a look around.
The logistical process of airplanes and rental cars had been taken care of. I had been able to see an outstanding Trackchasing Tourist Attraction. It was time to move onto the racing. Now, I needed to drive northward to meet up with my trackchasing buddy Paul Weisel.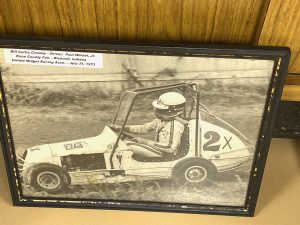 Paul Weisel is what I would call a racing traditionalist. He drove open-wheel race cars (above), primarily TQ (three-quarter) midgets and midgets back in the 60s, 70s and early 80s. Paul even raced in the country of Jamaica.
Paul is also the chief organizer/operator of an outstanding automobile racing museum. When I arrived in his neck of the woods he took me on another tour of the museum. Right now I am in negotiations with Paul in the hopes that he will give his blessing on my sharing photographs from this visit in my special "museums" section at www.randylewis.org.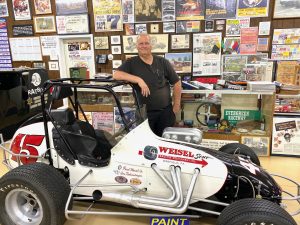 I enjoy meeting up with Paul for several reasons. First of all, I couldn't disagree more with his political philosophies. He and I don't see eye to eye on NASCAR either. Nevertheless, we are able to bat these topics back-and-forth without any ill feelings. Both of us have the constant hope that we are going to convince the other of our point of you. So far I'm pretty sure neither one has been successful in this endeavor.
After our museum touring was complete it was time to think about dinner. At about that point in time, Paul's good friend and my good friend Bing Metz showed up. Bing lives somewhat nearby. He was a really good auto racer in his time as well. I haven't been able to match up with Bing as often as I would like but whenever I do I enjoy his company. He's a former Marine and it's Semper Fi between the two of us.
The three of us headed up to a place called Sam's Sandwich shop nearby. Their Paul acted just a little bit out of character by buying us dinner. Thank you, Paul.
Both Paul and Bing are in lockstep with their political beliefs. That being the case we could have a pretty good discussion around their thinking and mine. We then began to place some wagers on the presidential election. Bing and I were betting a beer. I had to clarify if this was one beer or all the beer I could drink in a single night. Bing told me it was for one beer. That seemed to indicate that his confidence about the election's outcome wasn't too solid.
By the way, Paul and I had already wagered a cheesesteak on the election outcome. Later I would try to add a soft drink to the bet. Paul replied to that add on request with some of his famous political conspiracy theories. You should not mistake the side of the bet I take to be the same as my political leanings. When I bet I bet to win.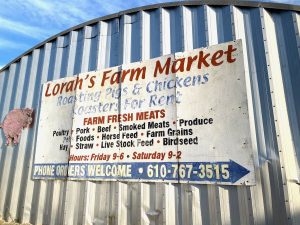 From the restaurant, we drove up to Laura's Pig Farm in Walnutport, Pennsylvania. I wasn't sure what to expect. Truthfully, I wasn't expecting much.
I think when you don't expect much it often turns out that you get more than you expected. Maybe that's a good way to approach life. Don't expect much and then be pleasantly surprised when the product that is delivered to you is better than you were expecting!
I thought Laura's Pig Farm was a most pleasing romantic title. The place is also known as Laura's Family Farm. Up to know they have been into truck and tractor pulls. I don't see much of that but when I have seen it I liked it. Now Laura's is branching out into junk car racing which is sometimes called autocross or bump and run racing.
Since Paul bought dinner Bing offered to buy sno cones and funnel cakes. I covered the race tickets. General admission was a reasonable $10.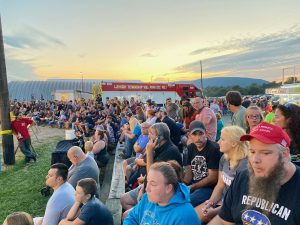 How do I know that a ticket price of $10 was reasonable? I looked at the crowd. They had well over 1,000 people. Paul thought the crowd might have numbered 2,500. Maybe he was right. A lot of people showed up for this Friday night junk car promotion. By the way from the looks of the shirts and hats and signs on racecars this is Trump country!
Most of these one-off promotions like we were seeing at Laura's tonight would be held on a Saturday. I was a little surprised that tonight they were doing this kind of event on a Friday night. Don't people work on Fridays? It is difficult for the working man/woman to get off work and get out to a junk car race that starts at 7 p.m. on a weeknight.
Is the coronavirus knocking down people's working commitment? Right now unemployment payments are encouraging people to stay home. Lots of people make more staying at home than working! At least they can spend some of their government money at the junk car races?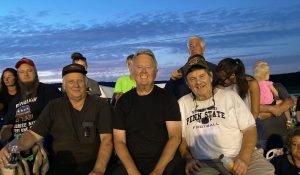 When we left Paul's place we brought along three large folding chairs. We didn't know exactly what the seating arrangement was going to be like. When we showed up everybody with a lawn chair had already taken all of the good viewing spots. We elected to sit in a small five-row grandstand. Our spot offered an excellent vantage point for turns one and two. Even though we arrived later we had one of the best seats in the house.
I had not purchased a pit pass. No problem. I simply walked into the pits and took a look around. I also attended the drivers' meeting. There I learned that every driver who won a heat race would transfer to the feature event. Each second-place finisher would transfer to the "B" main event, each third-place driver to the "C" and so on. That's a common format.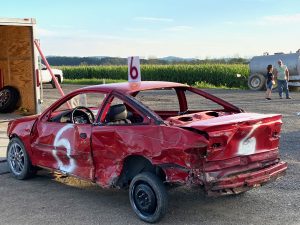 There were a lot of cars in the pit area. I'm going to estimate there were 100 cars or more racing tonight. I don't know what the entry fees were for the drivers. I suspect pit passes cost more than the $10 general admission price. If there were 2,000 fans in attendance that's $20,000 in gate revenues right there. Then when you add in 100 cars and their pit fees and entry fees the promoter was gathering in a fairly large sum of cash.
Did the promoter pay a large purse? Well, let's think about this. The heat races paid $100, $50 and $25 for the top three finishers. The "A" main event paid $600, $200 and $100. Somebody was making a lot of money. That's certainly OK with me. The promoter is running these races in order to make a profit and that's how America works.
The track had a traditional food concession trailer and also a sweets trailer. The lines were long at both. I'm sure if they could have handled the concessions like Eldora does they would've doubled or tripled their concession profit. As it was their poor work efforts pretty much left them out to lunch in how they handled concessions.

Tonight's junk car racing was just a little bit different than most junk car racing I watch. First of all the track had extremely long straightaways and narrow turns. It would make the Martinsville Speedway look like a circle.
Secondly, if I had to guess, I would say the drivers got up to speeds of 60 miles an hour and more driving down the long straightaways on a relatively dry track. This resulted in two flips in the first heat alone. The flips happened in turn #1. We were sitting right there. We liked that.
I'm going to ask you to take a close look at the YouTube video that I produce from the racing action tonight. I think you'll be impressed by the amount of speed and contact amongst these amateur drivers. The safety equipment seemed to be a little lax. There were no roll cages in these cars. Some of the drivers didn't even have a shoulder belt, not even a domestic passenger car shoulder belt. Of course, that situation makes things good for local dentists.
They started about 15 cars in each heat race. Usually about half of those entries finished the race. We watched about five heat races and then they watered the track. I've seen my share of water trucks. However, I have never seen a water truck that dispensed this much water at one shot ever in my life.
Once they watered the track the show's quality, in our opinion, diminished quite a bit. Now the speeds were reduced. The cars were slipping and sliding and even the wrecks weren't much on the wet and sloppy track.
We had seen quite a bit of junk car racing in the couple of hours we were at the track. I have no idea how long they went with the racing tonight. It didn't really matter. When you go to a buffet you don't have to eat every item in the buffet line to enjoy yourself.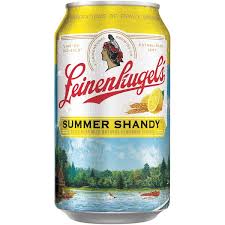 With that Paul and I bid Bing a hearty farewell as he headed back to his home in New Jersey. I had a special smile for Bing because I was looking forward to free beer in early November.
From there Paul and I headed back to his home where I would be staying overnight. However, just down the road from Lorah's was the Blue Mountain Speedway. They race quarter midgets there. These cars are for kids. Kids are forbidden in trackchasing. Kids are essentially hated by trackchasing's hierarchy. Truth be told I have never ever seen a founding father of trackchasing within six feet of a child. Yes, the founding fathers apparently hated kids.
Paul and I decided to stop in there and maybe catch a race or two just to see what the action was like. However, we showed up at intermission when they were watering and working on the track. After 15-20 minutes I figured that we had pretty much wasted our time on this effort. I know where the Blue Mountain Speedway is now. Maybe I will return someday for a handler's race.
What is a handler's race? It's when the parents and the track officials and the mechanics have their once a year opportunity to hop into a quarter midget. Their kids have been racing these cars all year. Because the founding fathers of trackchasing seemingly hated kids this is the one and only opportunity for a trackchaser to be able to count racing at a quarter midget track. Maybe I'll come to Blue Mountain in October.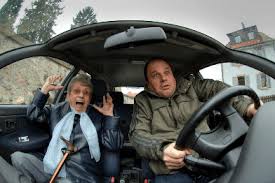 It was going to feel got to get some rest after having virtually no sleep over the past 36 hours. On the way to Paul's house, I was driving in the front passenger seat. Everyone has their tales of a backseat driver. Sometimes women are accused, more frequently than their per capita reputation would suggest, as a backseat driver.
Paul is not a backseat driver. He is a front seat driver! I'm not sure he realized he was with the World's #1 Trackchaser who has driven hundreds of thousands of 100% accident-free miles. If Paul goes on another trackchasing trip with me the first thing I'm going to do is take him to Walmart and buy him a face mask he can wear on the top half of his face.
Nevertheless, we did make it back to his place. There we sat in the living room and talked about politics and NASCAR and other things. We never convinced each other of our own point of view.
It was a good time out in Pennsylvania. Nice seeing Paul and Bing. Good evening from Laura's Family Farm in Walnutport, Pennsylvania
Randy Lewis – 85 countries – 2,638 tracks.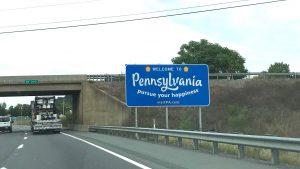 Pennsylvania
The Keystone State
This evening I saw racing at my 108th-lifetime track in the Keystone State, yes, the Keystone State.  I'm not even ranked in the top ten in in Pennsylvania. Pennsylvania ranks #4, amongst all the states, in tracks seen for me in the U.S.
Here's a link to my all-time Pennsylvania state trackchasing list. I have made 65 separate trips to Pennsylvania seeing these tracks.
Thanks for reading about my trackchasing,
Randy Lewis
World's #1 Trackchaser
Peoria Old Timers Racing Club (P.O.R.C.) Hall of Fame Member
Pennsylvania sayings: Dippy Eggs
Referred to as eggs over easy most other places, dippy eggs hold a special place in Pennsylvanians' hearts.
JUST THE FACTS
LIFETIME TRACKCHASER COMPARISONS 
The three most important trackchasing comparisons to me are:
Total lifetime tracks seen
Total "trackchasing countries" seen
Lifetime National Geographic Diversity results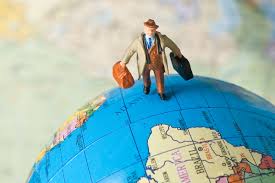 Total Lifetime Tracks
There are no trackchasers currently within 770 tracks of my lifetime total.  Don't blame me.
Randy Lewis, San Clemente, California – 2,638
Total Trackchasing Countries
My nearest trackchasing competitor, a native of Belgium, has seen racing in more than 30 fewer countries compared to my lifetime total. 
Randy Lewis, San Clemente, California – 85
Current lifetime National Geographic Diversity results
Randy Lewis, San Clemente, California – 3.96
That's all folks!  Official end of the RLR – Randy Lewis Racing Trackchaser Report
Click on the link below to see the video production from the racing action today.
Click on the link below for a photo album from today's trackchasing day.  You can view the album slide by slide or click on the "slide show" icon for a self-guided tour of today's trackchasing adventure.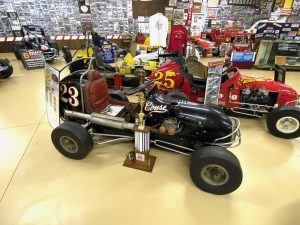 Philly touring plus an auto museum and, of course, junk car racing