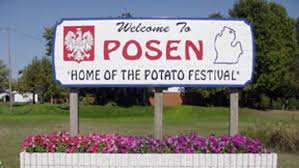 Greetings from first Posen, Michigan
and then…..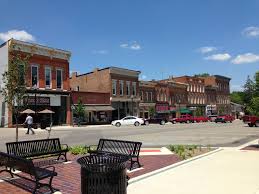 Manchester, Michigan
.
.
From the travels and adventures of the 
"World's #1 Trackchaser"
.
.

Posen Summer Slam
Dirt oval
 Lifetime Track #2,466
.
.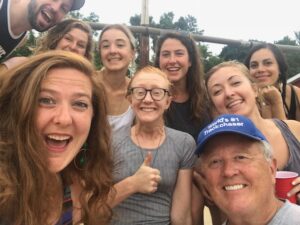 Manchester Community Fairgrounds
Dirt oval
 Lifetime Track #2,467
The EventVideo PlusPhotos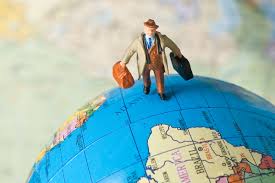 THE EVENT
I am a "trackchaser". So, what the heck is that? I get that question from racing and non-racing people all the time. This is a difficult question to answer. Why? Because after I do my best to respond people still say, "I've never heard of such a thing"!
Here's my best explanation.
Trackchasing is a three-pronged hobby. I'm a racing fan. I love to travel. I love to analyze opportunities to get the most out of everything while saving time and money.
Trackchasing fills the need for all of the above. The racing part of my trackchasing has me trying to see wheel to wheel auto racing at as many different racetracks as I can all over the world. Yes, all over the world. So far things are going pretty well. I've seen racing at nearly 2,500 tracks in 80 countries. As a matter of fact, I've seen racing at more tracks than anyone else in the world.
Equally important to me are the things I get to see and experience over the "long and dusty trackchasing trail". I call these adventures "Trackchasing Tourist Attractions". You won't want to miss my "Trackchasing Tourist Attractions" page. Here's the link:  Trackchasing Tourist Attractions or my "Sports Spectating Resume" page, Sports Spectating Resume on my website at www.randylewis.org.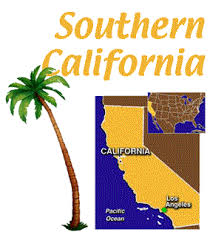 I live in southern California. Most of the racetracks in the U.S. are located well over 1,000 miles from where I live. As a matter of fact, my average trip covers 5,000 miles and more. I take 35-40 of those trips each season. In any given year I will travel well over 200,000 miles, rent more than 50 cars, and stay in more than 150 hotel rooms.
I get the chance to meet people all over the world. With trips to 80 countries and counting just getting the chance to experience so many other cultures, spend times in their homes and meet their friends is a huge reward for being in this hobby. I am indebted to several of these folks for their help and friendship.
It's takes a good deal of planning to do the above and not spend my entire retirement portfolio. I enjoy the challenge, the travel and every other aspect of "trackchasing". In reality, my trackchasing hobby is a lot like being with the carnival. I breeze into town, stay a little while and then head on down the road.
Today's adventure was one more of the 2,000 trips that have taken me up, down and around the proverbial long and dusty trackchasing trail.  If you would like to see where I've been and experience those adventures here's the link: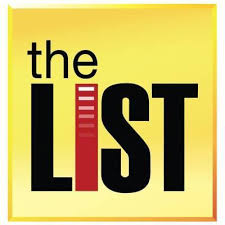 If you've got a question, comment or whatever please leave it at the bottom of this report.  It's very easy to do.  Or you can visit me on Facebook.  Thanks!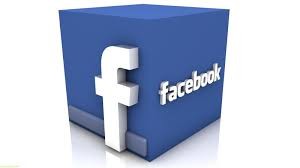 FOREWORD
Saturday, July 14, 2018.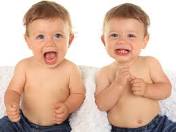 Today was going to be a "day/night" trackchasing double. I've had my share of those over the years. This type of a double simply means I'll see one racetrack in the afternoon and another in the evening.
This trackchasing trip was beginning to wind down. It was essentially a nine-day eight-night trip. On the first night of this adventure I flew overnight on an airplane. Last night I slept for one hour in a highway rest area.
This morning I returned the National Car Rental Racing Toyota Camry to the Indianapolis airport. I had originally picked up that rental car in Nashville, Tennessee. I had the car for five days. I drove it 2,340 miles. I had three different contracts for just one car during the five days. There's a reason for that. I won't bore you with those details right now.
I was beginning to recover from my severe head cold and flu like symptoms of earlier in the week. That was a good thing. No one likes to have a head cold in the middle of a hot and humid summer day.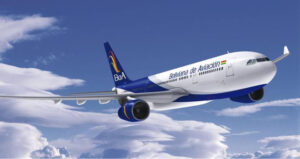 Yesterday I had driven six hours from Evansville, Indiana over to a racetrack in rural Missouri. Then after last night's racing I made a five hour drive from Linn, Missouri back to Indianapolis. With just one hour of slumber I boarded a jet airplane this morning from Indianapolis to Detroit, Michigan.
The plan today was to quickly get a rental car and drive from Detroit up to northern Michigan. My destination was Posen, Michigan a four-hour drive from the Detroit airport. Up in Posen I would see some low dollar stock car racing that was scheduled to begin at 2 p.m. in the afternoon.
I had originally planned on seeing the Whittemore Speedway later this evening. They race at that track about 10 times a year. However, rain was in their forecast. Additionally visiting the Whittemore Speedway might not be the best trackchasing strategic move.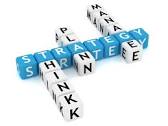 A better option than trying to see racing at Whittemore Speedway, which might be rained out, was a USA Derby figure 8 program down in Manchester, Michigan. There were two positives associated with going to Manchester.
The Manchester event is held only one time a year. It's better to see a track the races once a year now and leave the track that races 10 times a year for later. That means in the future I could see the Whittemore Speedway on any of 10 different race dates during a given year. If I went to Whittemore now and bypassed Manchester, next year I would only have one Manchester date to pick from. Get it?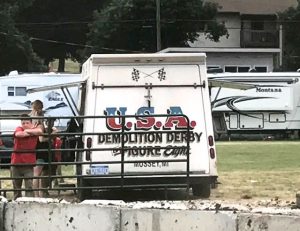 Additionally, the weather forecast in Manchester was better than it was in Whittemore. However, even if it rained in Manchester, USA derby events are mostly rain or shine. That's a big plus for a trackchaser. I would choose Manchester, even though it was another four hour drive, this time from Posen, for their 7 p.m. starting time. Getting down by Manchester would make staying overnight in Detroit tonight a better option as well. Yes, there is a lot of strategic planning that goes into one of these trips if a person wants to maximize their effort. I'm one of those people.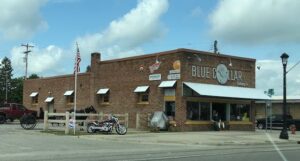 Today I had about six hours to make the four-hour drive from Detroit up to Posen. I would intersperse short 20-30 minute naps during that drive time. I kept my eye on the prize. I needed to be at the Posen race location by 2 p.m. I actually arrived at 1:30 p.m. thirty minutes before race time. I took 25 of those 30 minutes for an additional nap in the parking lot. I'm pretty good at exploiting every opportunity in order to achieve whatever objective I'm going for.
THE RACING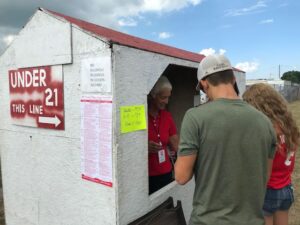 Posen Summer Slam – Posen, Michigan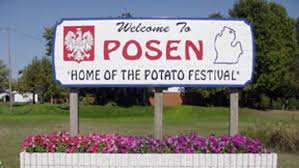 Posen is famous for their September potato festival. Today's announcer/promoter told the crowd there would be 40,000 people in attendance in September. I don't know if that's true but I do know that the Posen Potato Festival is a very popular event.
Admission today was just seven dollars. A hot dog was two bucks and a bottle of water was one dollar. You can't beat those prices.
Today was going to be a warm and sunny afternoon. There were lots of huge puffy white clouds pasted over a bright blue sky. The 85° temperature felt warmer when the sun bore down on the spectators.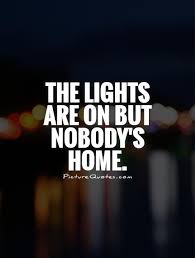 Today's event was promoted by TNT Demolition Derby. I couldn't recall ever seeing one of their programs but I suspect that I have. I tried to call the president on the phone number listed on their website. However, I got a message stating his mailbox was full and I couldn't leave a message. That kind of organization is never a good thing.
Initially I was pretty impressed with the day's track announcer. He had a lot of enthusiasm and comic relief in this presentation. However, as the program wore on he was just a little bit light in explaining how the program was going to be run today. They started out with heat races and after running six or eight of those they moved into "round robin" races. I had absolutely no idea what those were. Then they came out with a couple of two and three car race events. He told the crowd the winners of those races moved into the feature. I was a little confused.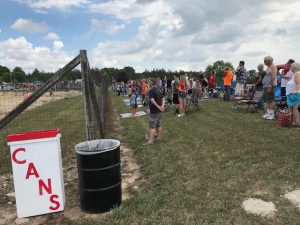 The crowd was what I would call "Michigan rural". I grew up in central Illinois, home to the Caterpillar Tractor Company. Back in the 50s and 60s a number of people moved up from the south to take high-paying factory jobs at "Cat". Often times these folks were referred to, often by themselves, as "hillbillies". I don't know the exact definition of a hillbilly.
I ran into a guy one night at track in eastern Kentucky. We sat together and chatted for more than two hours. He was proud to call himself a hillbilly. He was actually a pretty deep thinker on a number of topics.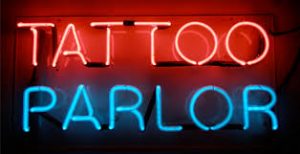 They must have some extremely busy tattoo artists or folks who provide tattoos at very low prices in and around Posen. Virtually all of the women were heavily tattooed. Often times it looked as if someone was writing a letter to mom on their bodies. Often times clothes covered up part of the essay. I could only get a partial jist of the tattoos message.
I do not have any tattoos. I am not a supporter of tattoos for myself or for my loved ones. Why is that?
There is still a large part of America that looks at people with tattoos with some disdain. That may or may not be warranted. I always told my children that before they got a tattoo they should decide if they wanted to be judged by others, often in a negative way, for having a tattoo. I told them that if they were OK with that then go ahead and get one. However, if they thought it might hurt their professional or personal success maybe they should simply stay away from the branding process. I just never wanted my friends or loved ones being looked down upon because of having a tattoo.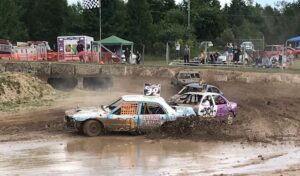 Today's racing was absolutely wild. It reminded me of some of the crazy autocross/banger racing that I've seen in Europe. I grabbed a seat in the top row of a small wooden grandstand to watch the action.
Today's track configuration was one of the most unusual "ovals" I have ever seen. In some ways it was more like a square. However, the width of the track on each side of the square varied by quite a bit.
On one of the four sides the width of the track had to be a good 40 yards. That side started with a huge mud puddle as well. The other side of the track from what I could see was very narrow only about two or maybe three car widths wide.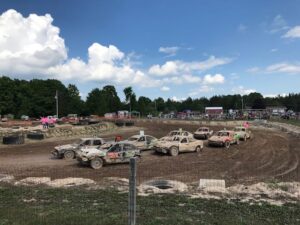 I know I say this from time to time. Nevertheless, you really have to see the video of today's racing. It was one of the wildest that I've seen with the cars racing through huge mud puddles and transitioning into dust balls where a driver couldn't see 10 feet in front of his or her windshield. I passed along the video to Carol and she said it was the wildest, craziest, dustiest worst track she had ever seen. I didn't share that view but I did love its uniqueness.
I spent a couple hours at the track seeing 15 races or maybe a few more. I got a little lost as to which race was which and which class was which. From what I could tell they probably had about 35 cars in attendance. The online race program said they were going to have a demolition derby today but the announcer never made any reference to that.
It was a nice touch having the announcer briefly interview each driver after their race win. The drivers were quick to thank the crowd for attending and their families for supporting them. This was a down-home adventure with some really exciting racing. Like I said don't miss the video.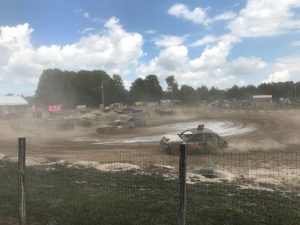 When I thought I had seen seven dollar's worth of racing, and maybe more, I decided to pack it in on Posen. This was a very unique race track. However, I had four hours of driving to do. I figured I might as well get with it.
I was looking forward to completing my next four-hour drive. When I did I will have driven 19 hours in the past 30 hours and been at an airport for an additional three hours. I would have also been at racetracks for about five hours. You can do the math on that one. With the time spent driving, flying and watching races there wasn't much time for anything else.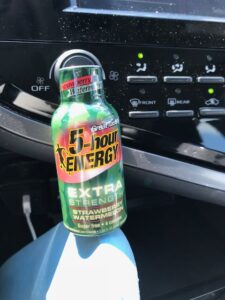 I will admit to downing a bottle of 5-Hour energy drink on the ride down to Manchester today. It was extra strength strawberry watermelon flavor. That's a pretty effective product for me.
Good afternoon from Posen, Michigan. 
THE RACING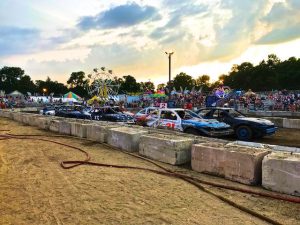 Manchester Community Fair – Manchester, Michigan
This evening I would be seeing racing at my seventh county fair in six days. Yes, it did take me a bit more than 2,900 driving miles to do that. However, I had seen racing on Monday, Tuesday, Wednesday, Thursday, Friday and on Saturday I saw racing at two tracks. Very few Trackchasers ever get to do that.
I stopped at a Michigan highway rest area for a comfort break on my way down to Manchester. I was happy to see that all of their vending machines accepted Apple Pay. If that were true everywhere I wouldn't need to carry any cash. That situation cannot come soon enough for me.
Tonight's starting time for the autocross racing at the Manchester Community Fair was 7:30 p.m. I had just enough time to get there for the national anthem after my drive down from Posen. I parked on a side street. Tonight admission to the fair and the racing was a reasonable nine dollars U.S.
This was a small fair with a few rides and even fewer food choices. I went with what looked to be the private food concessionaire as opposed to the carnival trailer food options. Carnival food is often on the pricey side. The privateers more frequently have a little bit more customized homemade feel to their food offerings. That was the case tonight.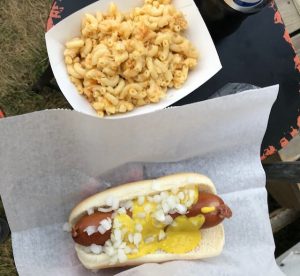 I selected first a bratwurst and then a side order of mac & cheese. Each was three bucks. They were both unique servings and offered at a great value. I took my stash up until the top row the grandstand.
I was at admiring the largeness of my mac and cheese serving. About that time the first race started. I noticed the grandstand where I was sitting was getting a good deal of dust. There wasn't much of a wind but the wind that there was blowing directly into my grandstand. Not only was there a race on the track but there was now a race on for me to consume as much of the mac & cheese as I possibly could before it was peppered with dust. I made it about halfway through. Then the dust overcame the mac & cheese.
I would have to change seating locations. I chose a small grandstand "downwind". As I found a place to sit down a group of young college women began chanting almost in unison, "What's your hat mean? What's your hat mean?" They were referring to my "Worlds #1 Trackchaser" baseball style hat.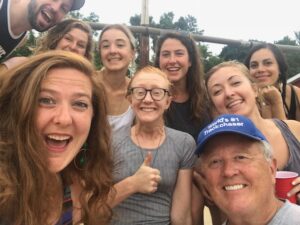 I've never seen such an enthusiastic group of young ladies since Dan Feist made an appearance at the nurse's convention across the hotel hallway from one of our very early sales meetings. For the next several minutes I talked "trackchasing", travel and lots of other thing with these ladies. They insisted on a photo. I promised them a photo on my website. Nice gals.
Tonight's racing was being promoted by USA Demolition Derby. For years and years USA  Demolition Derby has been the preeminent demolition derby promotional team in Michigan. It was owned and operated by Sonny and Rosie Hall.
I've met Sonny a couple of times. I knew that he and his wife had just sold his operation to another group. The new owner is Jack Fistler Jr. The sale took place this year. Sonny is still doing the announcing for the group and helping them during their first year of operation.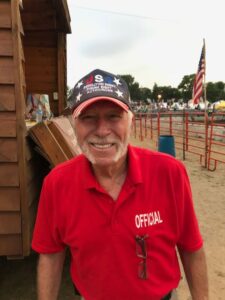 Tonight after each race Sonny interviewed the race winners. I took this opportunity to go over and say hello to him. He told me the time was right to sell his organization after some 42 years of operation. I'll bet Sonny has enough stories to write a book several times over. I wish he and his wife many many years of good health and prosperity as they move into this new phase of their life. 
It was sort of hard to tell how many cars were in the pit area. I didn't think the field was very large. I did notice a few cars that seemed to be running almost every race. The feature event on the dirt oval track started eight racers.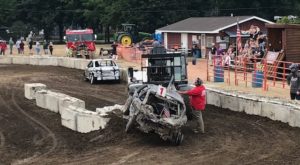 The cars raced around a series of about a dozen rectangular concrete blocks. These blocks were in a straight line and probably covered a distance of about 40 yards.
What made this track unique was the backstretch. There was another series of blocks, maybe 10-15 yards in length that separated the backstretch into two "lanes". It almost looked like a "joker lane" approach. I have never ever seen this type of racing. The track was small and narrow. The cars did some good bumping and banging which is why they call this Bump and Run racing.
When the bump and run oval track racing was finished they moved into the demolition derby portion of the event. In order to do that they were going to have to remove about 20 concrete blocks or more, one by one. That was going to take some time. I hadn't seen a hotel shower for 48 hours. I wanted to change that. I walked out of the Manchester community fairgrounds at a couple of minutes before 9 p.m.
AFTER THE RACES
For the next two nights I would be staying in a Delta Hotels by Marriott property. I estimate that I have stayed in hotel rooms more than 5,000 nights in my life. Probably a good third of those nights were at Marriott hotel properties. Nevertheless, I had never heard of a "Delta hotels by Marriott" option.
It turned out that the Delta hotels by Marriott concept began in Canada. The desk clerk told me they have 54 properties with this brand name. The hotel I was staying in tonight was a former Radisson Hotel. It is common that hotels change their brand names over the years. That's not necessarily a good sign.
The hotel's regular rate was $109 a night. I got my room on Priceline.com for $57 a night. When you add in taxes on both of those prices I was saving about 50%. It is decisions like this one that allow me to stay out on the road year after year as the Dreaded East Coast Trackchasers are forced to sit home on the porch.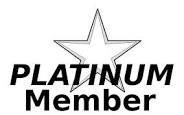 I have "platinum elite status" with the Marriott/Sheraton hotel chain. That translates into lots of perks. Yes, I got the hotel at 50% off of the lowest available online price for this property. Nevertheless, I was also given a complimentary breakfast each morning in the hotel's restaurant as well as a $10 per day credit that I could use with room service, the gift shop or whatever. That meant I was actually paying about $30 a night for a quality upscale hotel in a major metropolitan market. Yes, I guess there's a reason I've been able to stay out of the road as long as I have despite being unemployed for the last 16 years.
Tomorrow will be a big change from the county fair racing I've seen all week. As a matter fact, I was going to have to leave the United States to do it. Nevertheless, I am a trackchaser. When I am on the road I go trackchasing.
Good night from Manchester, Michigan.
Randy Lewis – 80 countries – 2,467 tracks.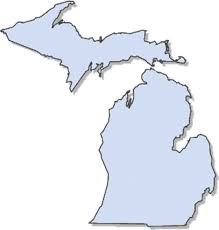 Michigan
The Wolverine state
This afternoon and evening I saw racing at my 128thand 129th lifetime tracks in the Wolverine state, yes, the Wolverine state.  I hold the #4 trackchasing ranking in Michigan. I've seen 129 or more tracks in two different states.
Thanks for reading about my trackchasing,
Randy Lewis
World's #1 Trackchaser
Peoria Old Timers Racing Club (P.O.R.C.) Hall of Fame Member
Michigan sayings: Beaches are better unsalted
People from outside of Michigan might be a bit confused by this saying: since when is "unsalted" used to describe anything other than a food item? Here in Michigan, we're proud of our freshwater lakes for countless reasons, and we love to point out that they're unsalted… not a drop of saltwater to be found!
QUICK FACTS
LIFETIME TRACKCHASER COMPARISONS 
The threemost important trackchasing comparisons to me are:
Total lifetime tracks seen
Total "trackchasing countries" seen
Lifetime National Geographic Diversity results
Total Lifetime Tracks
There are no trackchasers currently within 655 tracks of my lifetime total.  Don't blame me.
Randy Lewis, San Clemente, California – 2,467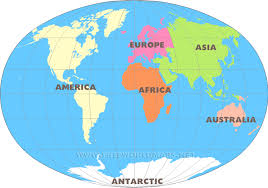 Total Trackchasing Countries
There are no trackchasers currently within 25 countries of my lifetime total. 
Randy Lewis, San Clemente, California – 80
Current lifetime National Geographic Diversity results
Randy Lewis, San Clemente, California – 4.14
That's all folks!  Official end of the RLR – Randy Lewis Racing Trackchaser Report
Click on the link below to see the video production from the racing action today.
Racing from the Posen Summer Slam 
.
.
Racing from the Manchester Community Fairgrounds
Click on the link below for a photo album from today's trackchasing day.  You can view the album slide by slide or click on the "slide show" icon for a self-guided tour of today's trackchasing adventure.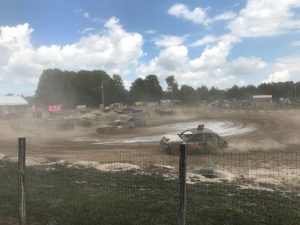 One of the most unusual tracks I've seen this year…it's the Posen Summer Slam
.
.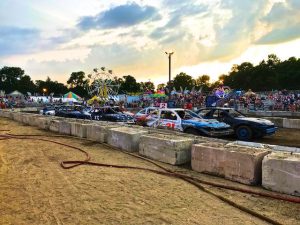 USA Derby autocross racing from Manchester, Michigan