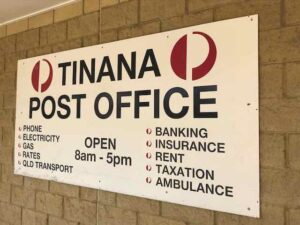 Greetings from Tinana, Queensland, Australia
.
.
From the travels and adventures of the 
"World's #1 Trackchaser"
.
.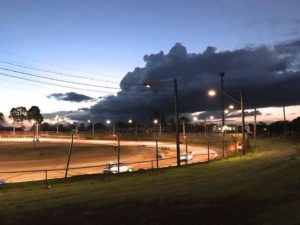 Maryborough Speedway
Dirt oval
 Lifetime Track #2,405
The EventVideo PlusPhotos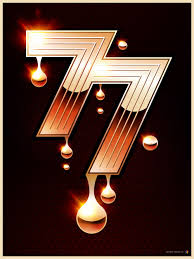 THE EVENT
I have had the opportunity to follow my trackchasing hobby all over the world.  As this is written I have seen racing in 77 countries.  My lifetime track total is just over 2,400.  Long ago I wrapped up seeing racing in every American state.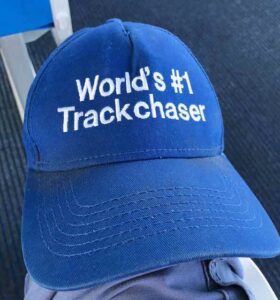 Some eleven years ago I moved into the "World's #1 Trackchasing" spot.  Of course, that's if that title is awarded to the person who has seen the most lifetime tracks.  Frankly, I don't think it should be.   Maybe "Most Prolific Trackchaser" is a better description for that category.  By the way they sell these hats at the Mall of America in Minneapolis, Minnesota!
The World's #1 Trackchaser title should be bestowed on the person who has seen the most racing in the most countries.  That's what the "world" is made up of isn't it?  Countries!
A highlight from today was taking a three-hour cruise along Platypus Bay and around Fraser Island.  It was fun meeting some local folks and learning from what they had to say.  Yes, there was racing as well.
No, my hobby is not only about racing.  Yes, that is one part of it.  However, of equal importance are the logistics of trackchasing (getting from point A to B to C, etc.) and the opportunity to see the world.
I live in Southern California.  The vast majority of tracks in the U.S. are located in the Midwest and East.  It takes a good deal of logistical planning to get from where I live to where the tracks are.  A typical weekend trip within the U.S. will cover more than 5,000 air and driving miles.  I do about forty of those trips each year.  For the past 15 years I have traveled about 175 nights each and every year.  Surprisingly to some, more than half of those overnights were not part of trackchasing.
A big part of trackchasing for me is simply travel just for the fun of seeing new things.  You won't want to miss my "Trackchasing Tourist Attractions" page or my "Sports Spectating Resume" page on my website at www.randylewis.org.  Search around on my site.  Use the drop-down menus.  They will take you all over the world!  My site will give you some understanding on how important seeing the world and just "seeing stuff" is with my trackchasing hobby.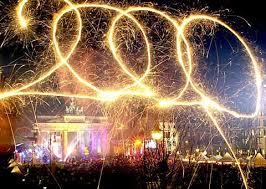 Today's adventure was one more of the 2,000 trips that have taken me up, down and around the long and dusty trackchasing trail.  If you would like to see where I've been and experience those adventures here's the link:
If you've got a question, comment or whatever please leave it at the bottom of this report.  It's very easy to do.  Or you can visit me on Facebook.  Thanks!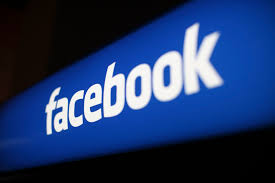 FOREWORD
Friday, December 29, 2017
I woke up this morning in my van room at Ned Kelly's Motel.  They offer somewhat standard traditional hotel rooms and the van rooms like I was staying in.
I was told in advance I was getting a "small" room.  I didn't exactly know what that meant.  The smallest room I ever stayed in was a capsule/coffin hotel in downtown Tokyo, Japan.  I also stayed in a really small hotel room (transit room) with a common bathroom at the airport in Manila, Philippines.  I've had my experiences with small and don't mind it especially under the right circumstances.
If you were going to be traveling to a place like Australia, where the prices seem to be a little bit higher than they are in the United States, what would you think about this idea?  How about a room that has a microwave, refrigerator, TV, toaster, lots of plates and silverware as well as an en-suite bathroom and air conditioner.  The air conditioner could make you feel like you were in Alaska if that's what you preferred during the hot Australian summer?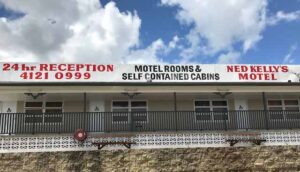 That's exactly what I got with my van room at Ned Kelly's Motel.  The room was small.  Not counting the bathroom area, which included a really good shower, it was about 7' x 7'.  It was modern.  Everything looked brand new.  It was clean.  It was safe.  I paid $38 USD for my room per night.  I thought it was a fantastic value and just what I needed when and where I needed it.
I could literally walk from the front door of my motel room to the Maryborough Speedway if that's what I wanted to do.  The distance was less than a mile. However, it was 9 o'clock in the morning.  I had some Trackchasing Tourist Attraction activity to complete before I watched any racing.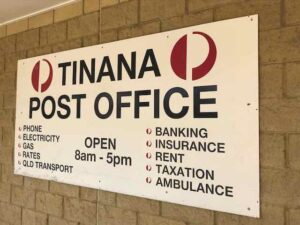 Nevertheless, as this is what is written (dictated), I didn't know what that the TTA was going to be. In addition to all of the things noted above, my room also included a complementary postcard of the Ned Kelly Motel property.  I filled it out with a message to Trackchasing's First Mother and went looking for a post office.  The post office was only a couple blocks away.  The stamp back to the U.S. was $2.50 Australian or about two bucks if you're a yank.
It was just me and the gentleman selling me the postage stamp in the store at that moment.  I asked him what there might be to see and experience in the general area today.  He recommended I drive over to Hervey Bay.  There was a marina there.  They offered cruises around the bay.
It's been warm everywhere I've gone in Australia.  That's to be expected.  It is their summertime.  Minnesota is having overnight low temperatures of -25°F.  Today's temperature in Maryborough would reach into the low 90s.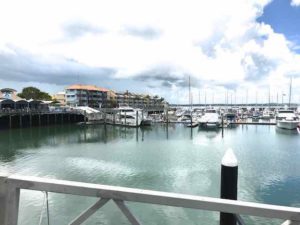 It was a half hour drive over to Hervey Bay.  I found the marina easily.  Soon I was booking myself on a three-hour cruise in Platypus Bay with views of the tourist haven of Fraser Island.  A cooling cruise like this would just be perfect for such a warm day.
I soon found a waterfront location for lunch. What a great view.  When I have the time, I've been known to sit down and eat at some really nice spots.  Today's Asian themed restaurant served great calamari rings as an appetizer and red curry chicken for my entrée.  It was delicious.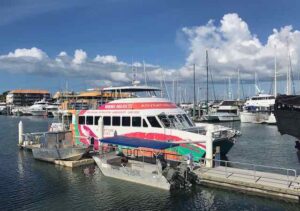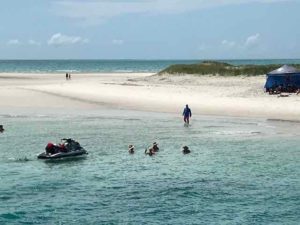 Today's ship was good sized.  There were only about 20-25 people on board, mostly families on holiday.  I simply sat back and enjoyed the ride.  In the middle of our voyage it did rain for about five or ten minutes.  I wondered if it was raining at the Maryborough Speedway just 20 miles or so away.
THE RACING
Maryborough Speedway – Tinana, Queensland, Australia
My cruise went from 1-4 p.m.  By the time I stopped for a McFlurry I didn't get to the race track until 5 p.m. I had been told racing was set to begin at 4 p.m.  That seemed awfully early on a Friday afternoon when the temperatures were expected to be warm.  However, it was the week before Christmas and New Year's Eve so I guess anything could be possible.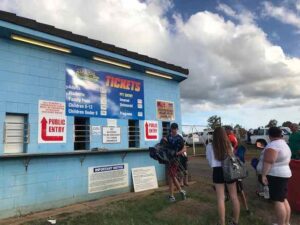 I walked up to the ticket window with a big smile and a lot of confidence.  I asked for "one pensioners ticket".  I've been turned down with that request in the past.  However, I long ago learned that if you don't ask you don't get.
The phrase "pensioner" is what we would call seniors. The general admission ticket price today was $25 but pensioners with an Australian pension card paid five dollars less.  The young lady selling tickets granted my request even though I didn't have an Australian ID card.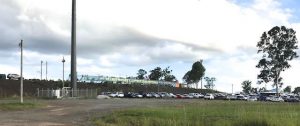 I could see from the parking lot that the Maryborough Speedway had a good-sized five row tall wooden grandstand.  That meant that I wouldn't have to use my newly acquired Kmart beach chair.  It also meant that I could now amortize it's cost over only three nights of racing rather than four.  However, that was something for the accountants to handle later.

When I got my first look at the speedway I noticed it was a traditional quarter-mile dirt oval.  In reality, it was almost closer to a circle than an oval.  It had a slight banking to it and fixed walls all around the track. It was very similar to the quarter-miles a fan might find in the states.
Tonight, there would be three classes of racing competitors.  The junior sedans brought enough racers for four heat races.  I would be seeing the mod-lites, for the first time on this trip.  They had about 20 cars.  The headliner division, the super sedans, which I really like, brought nearly 30 cars.
From what I can tell it is a fairly standard procedure for Australian dirt tracks to have each racer compete in three races and a final.  Since I see most of my racing in the states it's easy to make comparisons.
In the United States an oval track would most likely have each racer running one heat race and a final.  There are some minor exceptions to that but that's the standard procedure.  In my opinion three heat races is WAY too much heat racing.  I would accept two heat races per competitor but I would prefer one heat and a final.  Nevertheless, they didn't ask me how to run the program.  I was a guest.  As a guest, I must take what my host gives me and be thankful for it.  I'm just commenting on how I like things as a fan.
Tonight, there were about 35 events on the race program.  Again, I think that's way too much.  It creates very long racing programs which are not conducive for children or the casual fan.  Heck, it's not really conducive for the veteran fan who wants to be entertained and not get a sore butt.
When I went to the Wahgunyah Speedway their program ran from about 3 p.m. until around 10:15 p.m.  At the Simpson Speedway, they started at 6 p.m. and by 10:15 p.m. they had only completed 10 heat races.  Last night at the Mothar Mountain Speedway they started at about 5 p.m. and wrapped it up at 11 p.m.  Tonight's show would go from 5:15 p.m. until 10:30 p.m.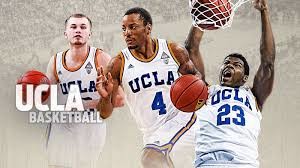 As a fan, I enjoy lots of sports other than auto racing. I'm a big fan of basketball. A basketball game lasts about two hours.  I like college football and major-league baseball.  Those games are anywhere from three hours to 3 1/2 hours in length.
I don't think an auto racing program should go any longer than 3 1/2 hours and I would prefer it if it was closer to 2 1/2 hours from start to finish.  In my opinion Australian racing programs, that I've seen this week, or just too doggone long.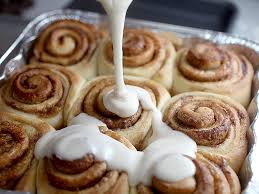 Have you ever eaten a cinnamon roll?  You know that the center of the cinnamon roll is the reward for eating all of the outer rings.  That's how it is in racing.  You sit through the heat races so you can watch the feature.  However, just like eating cinnamon rolls if there are too many outer rings you're just too doggone worn out to enjoy the center of that cinnamon roll. 
I don't even want to think about the effect a super long racing program has on youngsters or women who are commonly the casual race fan.  Does the promoter ever wonder why the vast majority of fans are older males?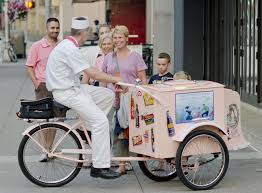 I noticed a few things that are unique to Australian tracks and have a lot of similarities with the racing I've seen in the U.K.  Every track I've been to has a freestanding ice cream truck.  Did you know that I used to be an "ice cream man"?  Yes, I had a bicycle with a freezer.  I used dry ice to keep things cold and sold Popsicles and other ice cream treats for ten cents each.  I got to keep two cents of each sale.  That's not much now and it wasn't much then!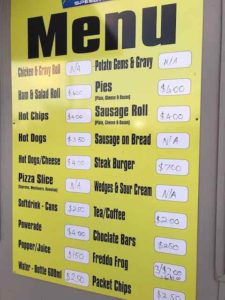 All of the tracks that I have visited on this trip have lots of unique, especially for Americans, concession items.  I've been trying to eat a little less at the tracks so I stopped at French fries with gravy and ice cream (two separate items!).  Yes, that's my idea of eating less.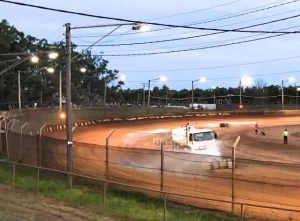 These tracks do a good job of watering the racing surface. They'll come out after every race or two and throw down just a little bit of water.  This helps with the dust even though most of the tracks have had some degree of dust.  That's to be expected given the warm temperatures they're having right now. The watering doesn't take very long and they only need the cars to make a lap or so before they're ready to race.
The last two tracks have allowed the fans to go into the pit area for free at the "intervals".  Of course, the interval is what we know as intermission.  It happens after the heat races and before the finals.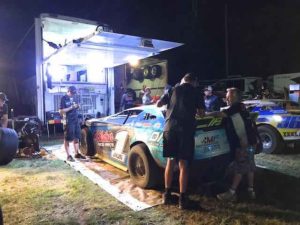 What a wonderful idea!  If they can do it in Australia why can't they do such a thing in the United States.  If American road courses allow fans into the paddock why can't U.S. oval tracks?  Can money/greed/survival be the answer?  Getting the youngsters and casual fans up close and personal with the race cars and drivers is a way to build a long-term fan.
The announcers were nice enough to give me a solid shout out for being an American trackchaser.  There were two announcers.  They talked a lot. Unfortunately, the PA system wasn't the best.  Much of what they said went unheard.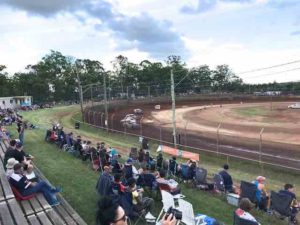 I watched most of the racing from the backstretch wooden grandstand.  I had a top row seat at a nice elevation.  That's one of the drawbacks to beach chair seating.  You don't have a lot of height to look over the people sitting in front of you.  The beach chair idea is a lot like watching a movie from the third row.
I did walk around the track to get photos and videos from every different angle.  The pit area was located behind the front stretch.  When I walked over to turns one and two I noticed a huge junkyard just a few feet from the track property.  I also noticed that I was being bitten like crazy from the bugs in that area.
I struck up a conversation with a female security guard.  She looked as if she could take me down in seconds and never give it much thought.  Nevertheless, I am a friendly and persuasive soul.  Soon she was sharing with me her "tree oil" bug repellent.  Nice gal although I wouldn't want to arm wrestle her.
As I mentioned the super sedans would run three heat races.  When the drivers check in they get a somewhat random heat race starting rotation.  It's essentially designed so they start one race up front, one race from the back and the other from somewhere in the middle. 
Let's say one driver's starting positions in a series of ten car heats is 1, 10 and 5.  That adds to sixteen.  All of the other competitors will get starting positions that also add to sixteen or very close. That's kind of cool but it assumes three heat races per competitor.  That's too many heat races for this fan.
Tonight's track was pretty much one groove around the inside.  After seeing the super sedans for a couple of nights I've noticed who the strong runners are.  In the first couple of heat races the best cars started on the front row and won easily.  Then in the second heat for these drivers they started in the back.  One finished last and the other could only make it up to seventh place.  Yes, it was difficult to pass.
There are three ways a racing program can go.  First, it can be follow the leader.  No fan likes that.  Secondly, there can be a caution every 2-3 laps because passing is difficult and/or the reward/penalty system allows for that.  No fan likes that.
Finally, a racing program can have lots of passing.  That assumes a few things.  First, the faster cars need to start toward the back.  Faster cars passing slower cars creates passing.  Fans like passing.  They also like crashing but not to the point of seeing a yellow flag every 2-3 laps.
Unfortunately, racing that includes a lot of passing is in the distinct minority of the events I attend.  Much of that is because the fast cars are allowed to start in the front.  Additionally, often times the cars and drivers are fairly equal.  That makes passing difficult.  The casual fan simply wants to see color and pageantry and hear the noise of the event.  The serious fan wants to see passing.  The really serious fan wants to see passing but is satisfied to see racing without passing.  I guess I'm not a serious fan.  I want to see passing.  I do not want to waste my time with one-groove racing or yellow-fever racing.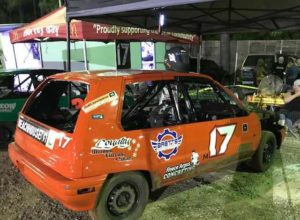 I very much enjoyed getting to tour the pit area during the interval.  It's a lot of fun to see the cars up close.  I guess I'm not the only one who felt that way.  The pits were jammed with spectators taking advantage of the opportunity.
When I returned from my visit to the pits I sat down next to a guy with a good-looking camera.  I struck up a conversation with him as I am wont to do.  It turned out he was the uncle of one of the top drivers here tonight, Matty Pascoe.  My new friend was Vic Pascoe.  Vic works as a track coach specializing in sprints hurdles and relays.
Vic and I spent the next hour or more talking.  He was able to give me a lot of useful insights into how the programs are run at these Aussie tracks.  Vic gave me a full explanation of how the heat race line-up system worked.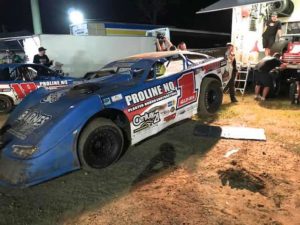 Vic's nephew was leading the final last night at Mothar Mountain Speedway, when a $10 part failure forced him into the pit area costing him the $2000 winner's prize.  Tonight, Matty Pascoe started on the front row of the final.  He won by more than half a lap.  Pascoe would end up winning the next two nights at different tracks as well.
The Maryborough Speedway was about as one-groove as I've seen in a long time.  The race officials in these parts are strict.  Any driver behavior that is even close to being aggressive yields a black flag.  They are very strict.
Tonight, the second-place driver was holding up the pack.  Because no one wanted to get a black flag for "moving" him they just followed each other nose to tail from second place on back for the entire race.  With about eight laps left in the forty-lapper they had a yellow flag.  When the race resumed Matty Pascoe was able to get out to another half-lap lead over the field in just eight laps while second place through last place were still on each other's bumper.

I was told the track had a strict curfew of 10:30 p.m.  I wanted to test out that theory but they were able to sneak in with a 10:27 p.m. overall finish.
The Maryborough Speedway would be considered an above average short track in the U.S.  I don't know if it's always this difficult to pass.  There was some passing during the program but it took quite a bit of skill on the driver's part.
As mentioned I did notice, especially last night, the track officials did not tolerate any aggressive driving. There were no warnings.  If one driver got into another in what seemed like an overly aggressive manner the offending driver was sent immediately to the pits.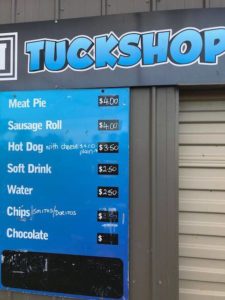 There were several highlights from my visit to Maryborough.  It was nice having the track be just a mile or less from my motel.  I love the fact that they had a grandstand where I could sit up higher with a good view of everything.  The concession offerings were good.  It was fantastic being able to go into the pit area during the interval.  Finally, it was nice to be able to talk to someone who knew a little bit about the Australian race format and lots of other things as Vic Pascoe did tonight.
Overall this was a decent but not over-the-top night of trackchasing.  Tonight, I had seen my 2,405th lifetime track.  Carol has checked in with 594. That gives us a total of 2,999 tracks.  We might as well get #3,000 tomorrow night right?
AFTER THE RACES
It wasn't long before I was back at Ned Kelly's Motel.  I was soon enjoying the comforts of my 7' x 7' sleeping space.  I felt like I was in a space capsule!
Good night from the Maryborough Speedway in Tinana, Queensland, Australia.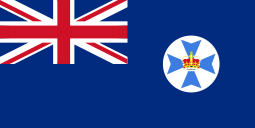 Queensland
The Sunshine state
This evening I saw racing at my third lifetime track in the Sunshine state yes the Sunshine state.  I've now seen 14 tracks in Australia.  With another 18 racked up in New Zealand I hold the #1 trackchasing ranking in the entire continent of Australia.  That's right.  The continent of Australia.  I'll take that.
Thanks for reading about my trackchasing,
Randy Lewis
World's #1 Trackchaser
Peoria Old Timers Racing Club (P.O.R.C.) Hall of Fame Member
Queensland sayings:  Toilet
"Dunny"
QUICK FACTS
LIFETIME TRACKCHASER COMPARISONS 
The three most important trackchasing comparisons to me are:
Total lifetime tracks seen
Total "trackchasing countries" seen
Lifetime National Geographic Diversity results
Total Lifetime Tracks
There are no trackchasers currently within 600 tracks of my lifetime total.  Don't blame me.
Randy Lewis, San Clemente, California – 2,405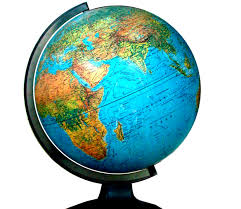 Total Trackchasing Countries
There are no trackchasers currently within 20 countries of my lifetime total. 
Randy Lewis, San Clemente, California – 77
Current lifetime National Geographic Diversity results
Randy Lewis, San Clemente, California – 4.37
That's all folks!  Official end of the RLR – Randy Lewis Racing Trackchaser Report
Click on the link below to see the video production from the racing action today.
Click on the link below for a photo album from today's trackchasing day.  You can view the album slide by slide or click on the "slide show" icon for a self-guided tour of today's trackchasing adventure.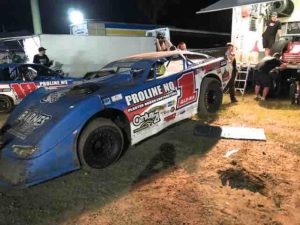 An afternoon cruise on Platypus Bay and a relaxing night of dirt track racing