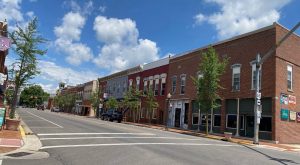 Greetings from West Liberty, Ohio
.
.
From the travels and adventures of the 
"World's #1 Trackchaser"
The EventVideo PlusPhotos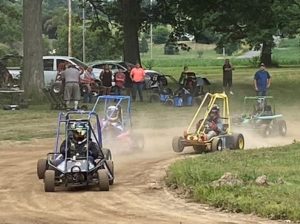 McClure Raceway
Dirt tri-oval
 Lifetime Track #2,624
THE EVENT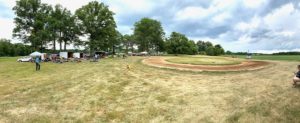 Editor's note: This was a unique trip. I was seeing what I call a "backyard" track. I would be the first trackchaser ever to set foot on the property of the McClure Raceway, which was more of a "farm" track than a backyard track. I was in line to meet some nice folks who love their racing. Stick with me and enjoy the story.
I AM A TRACKCHASER.
Are you new to the hobby of trackchasing? If so, let me give you just a little bit of background. Before I go any further I will tell you that a lot of people get pretty enthused about what I've been doing with trackchasing. I will offer this warning. If you try it yourself it could become addictive.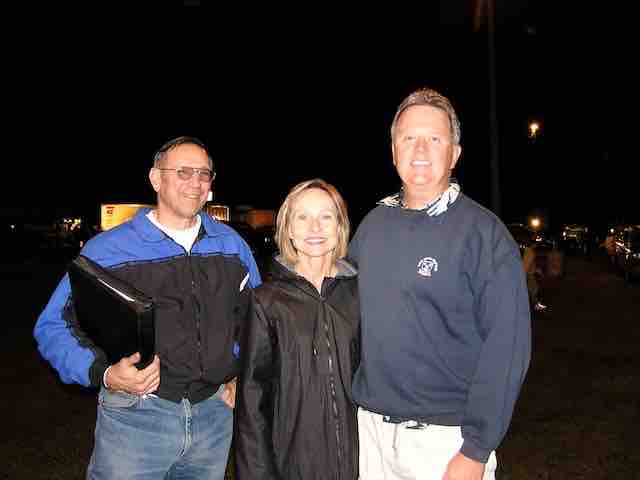 My name is Randy Lewis. (above meeting up with legendary trackchaser Ed Esser in Florida) I hail from the sleepy little village by the sea, San Clemente, California. I am a "trackchaser". I trackchase. Have you ever in your life heard of "trackchasing"? I didn't think so. 
Trackchasing is a "collecting" hobby. Trackchasing is a "counting" hobby. It's really not all that much different than when you were a kid and you collected stamps or beer cans or bottle caps.
Trackchasing is all about visiting new auto racing tracks for the very first time. Believe it or not, trackchasing has "rules" as to what kind of racetrack and race car and race driver count toward your lifetime totals and which ones would not.
I'll try to oversimplify the rules situation for you. Trackchasers are allowed to count racing cars and trucks that compete on oval, road course and Figure 8 configurations. Any class that is racing, in order to count, must be open to racers 18 years of age or older.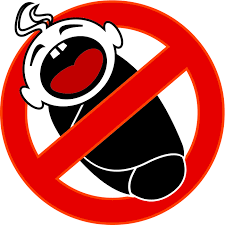 This means that trackchasers cannot count racing down exclusively by kids. There are also various motorsports events and classes of cars that do not count. Trackchasers do not count drag racing, demolition derbies, motorcycle racing or boat racing. Just cars and trucks on ovals, road course and figure 8 tracks. Trackchasing does not allow the counting of flat go-kart racing either.
Before the hair on the back of your neck starts to stand straight up as you think one or more of these rules are just preposterous let me explain. First, I didn't set up these rules. I only count by them. The rules were set up in the 1990s by a group of white men who primarily hung out in Pennsylvania. I don't know that any of them had ever seen any racing on a road course or figure 8 track or maybe even a drag race, with a few exceptions, when the rules were established. There is one good thing about having a common set of rules. It allows each trackchaser to compare his or her list to the next trackchaser. Trackchasers like to do that.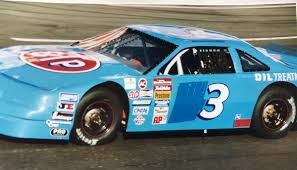 For me, I need three things in order to make my hobby hunt. First, I need a race date. Then I need good weather because folks in the U.S. often cancel racing events when it rains. Finally, I need a way to get to the track. I live in Southern California. The lion's share of racing events in the United States are located in the Midwest and east.
I trackchase just a little bit differently than my fellow competitors. For me, there are three essential elements to the enjoyment of trackchasing. First, I like to see auto racing. I prefer to see racing on what we call "short tracks" more so than a visit to Daytona, Indianapolis or Monaco. By the way, I've seen racing in each of those three iconic locations.
In addition to the racing part of trackchasing for me, I really enjoy seeing the local sights and sounds of whatever area I am visiting. I called these "Trackchasing Tourist Attractions". If you go to my website at www.randylewis.org and click on the Trackchasing Tourist Attractions tab you'll see where I've been all over the world. Here's a link to that tab.
Trackchasing Tourist Attractions
The third and final reason that trackchasing is a lot of fun for me is simply the logistical part of the hobby. I have been retired for nearly 20 years. During that time I have not earned a single dime of work income. That means I have to manage my money pretty closely enable in order to be able to do what I do.
Logistically I have to handle seven different categories of trackchasing expenses. Those expenses include airplanes, rental cars, hotels, airport parking, gasoline, food and race tickets. As an example, you can just imagine what traveling from Southern California out to the Midwest for four days of racing would cost.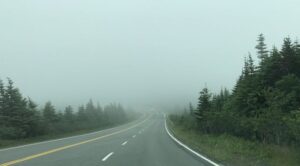 In any given year I will travel well over 200,000 miles. I'll stay in hotels 150-200 nights a year, rent 50-75 rental cars every year and buy a full tank of fuel about 100 days a year just for trackchasing. I've pretty much covered every road in the U.S.
After each and every event that I attend I post a YouTube video, a SmugMug photo album and a very detailed Trackchaser Report about the experience. My stories are not just about what happened at the track but about my visit to the area and what exactly it took to make the trip happen. That's where the racing, the touring and the logistical challenges come from.
I told you that trackchasing is a "counting" hobby. Trackchasing is ultra-competitive as well. Lots of people don't recognize that when they are initially exposed to this hobby. Trackchasing has had all of the political drama, cheating, accusing people of cheating and other aspects of poor personal behavior that any other competitive activity might have. This is why I am NOT a member of any organized trackchasing group. The management of these groups has been so poor over the years these groups are not something I want to be associated with whatsoever.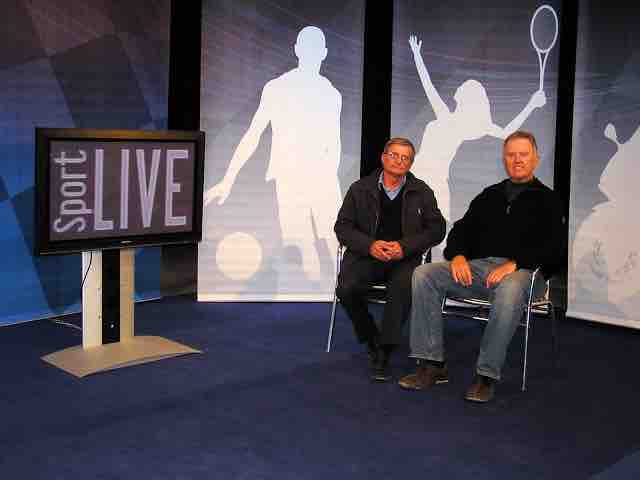 As this is written I have seen racing in 85 different countries at more than 2,630 racetracks. During all this time I have never tried to benefit financially from my hobby. This is despite being interviewed by hundreds of track announcers, newspaper reporters and radio and TV outlets (in-studio one-hour "Sports Center" type interview in the country of Malta) as well as doing a TV pilot. I'm a volunteer. I do this 100% for the fun of it.
Because I have seen racing in 85 countries at this point I am considered the World's #1 Trackchaser. That's good enough for me. Now I encourage you to drop down a few spaces and read about trackchasing adventure. As you discover what went on today just think about the idea that I've done this more than 2,600 times. I don't mind admitting I am addicted to that hobby of trackchasing.
Yes, today's adventure was one more of the 2,000 trips that have taken me up, down and around the proverbial long and dusty trackchasing trail.  If you would like to see where I've been and experience those adventures here's the link: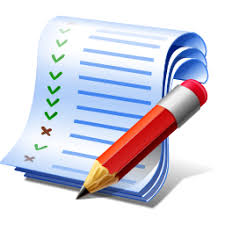 If you've got a question, comment or whatever please leave it at the bottom of this report.  It's very easy to do.  Or you can visit me on Facebook.  Thanks!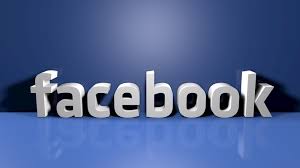 FOREWORD

Saturday, July 12, 2020.
I am a lucky trackchaser. I am especially lucky with the weather. I rarely get rained out. I've got to tell you that I thought the rain was going to put a damper on my plans and cancel today's races. The rain held off.
I woke up this morning in Indianapolis, Indiana. I expected to be sleeping in my own bed in our modest seaside cottage located in San Clemente, California this evening. However, I had quite a bit of activity that I was hoping would happen between Indianapolis and San Clemente.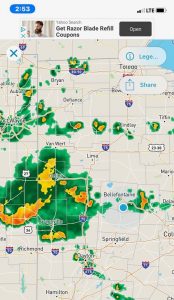 The plan for today was to see some racing at the McClure Raceway in West Liberty, Ohio. There was just one problem. The weather forecast called for a 60% chance of rain pretty much all day.
Today's racing was scheduled to begin with a practice session at 1 p.m. and go from there. I needed to be on the road by no later than 4 p.m. in order to drive up to Detroit, Michigan and catch a flight back to Los Angeles.
I can't exactly remember where I first learned of the McClure Raceway. Apologies to whoever first turned me on to this little gem. McClure is a "backyard" track located on the farm of the McClure family in the tiny little town of West Liberty, Ohio.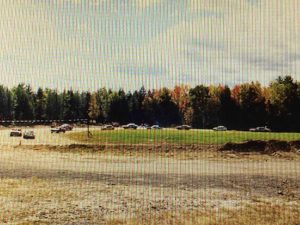 I've been to somewhere between five and ten backyard tracks. The most famous of which (above) was the Barnyard Raceway in Rhode Island. I love these little bullrings. I would much rather make a new track visit to one of these locations than watch racing at the biggest racing venues in the world. I truly would.
I had quite a bit of help in advance from Robert McClure. Robert is a racer with this group and manages their track communications via Facebook Messenger. Robert was very responsive. He always answered all of my questions and even let me know what the weather was looking like in his area.
To make today's trackchasing happen I needed to make an 153-mile drive from Indianapolis over to the McClure Raceway. Much of my expected travel route was along Interstate 70. I-70 is not in very good shape in this part of the country. Additionally, it seems as if there are more trucks on the road than cars. I'm surprised it's only two lanes wide!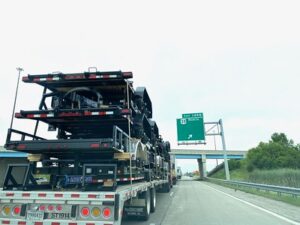 In the middle of my drive I encountered a fully stopped traffic jam along Interstate 70. I waited for a couple of minutes. I had no idea how long I was going to be stopped. I didn't have a lot of time to waste. I noticed that just a short distance ahead there was an exit. That exit would take me onto the small county and state roads of the Buckeye State. I figured I would give that a shot. This route would likely save me some time and give me a great view of some very rural picturesque American farmland.
Luckily, I have a robust GPS system. Soon I was traveling through the small towns and villages of Ohio with names like Piqua, Gettysburg and St. Paris. Yep, this is farm country.
The weather system was moving through the area where the racetrack was located this morning at about 11 a.m. This was the same weather system that had dumped a lot of rain over Indianapolis last night at about 2 a.m. Fortunately, that system had dissipated for the most part and didn't leave more than a sprinkle on West Liberty, Ohio.
At that point, I thought I had escaped the threat of a trackchasing rain out. However, one should never count their chickens. Wouldn't you know it? Another rain system was now showing up on the radar with lots of yellow and red in the storm cells. That batch of weather would be able to reach the McClure raceway sometime this afternoon.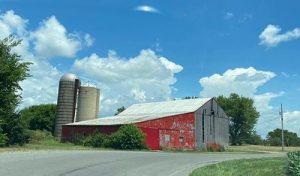 Robert had given me the address of the track as being located on County Road 47 just to the east of West Liberty. After driving through town I came around the bend and soon I was seeing the race karts that frequent the raceway. They were all pitted amongst a huge grove of very large old trees. This was definitely a backyard track.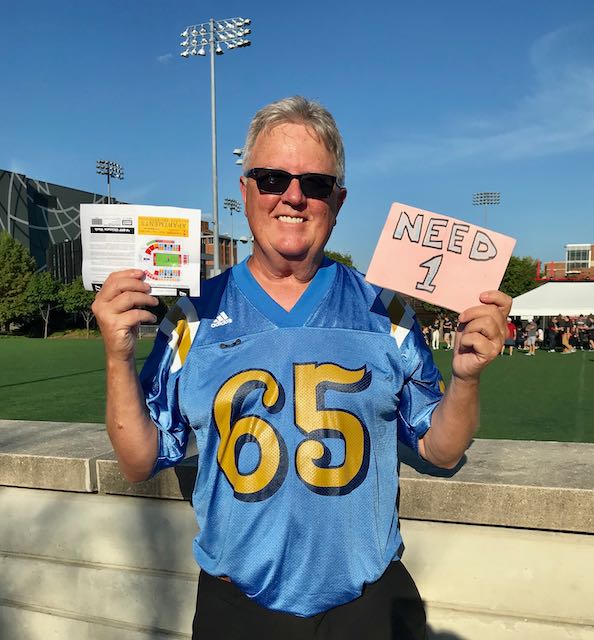 I guess when a big guy wearing a powder blue UCLA football jersey and board shorts pops into a place like the McClure Raceway he won't go unnoticed. I didn't. One of the first people I ran into was Robert McClure himself. Robert took the time to tell me about their racing group called Buckeye Outlaw Kart Racing.
The group was formed eight years ago. They have raced the last five years at today's location. Today three classes of karts would be racing. These classes were the modifieds, stocks and junior stocks. The junior stock group is open the drivers 8-13 years of age. It's new this year.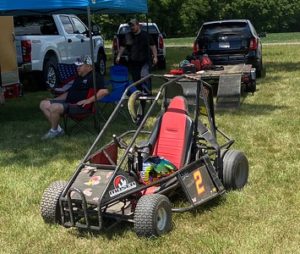 I would classify these racing machines as a cross between a yard cart and senior champ kart. The modifieds have some pretty stout engines that generate 20-30 HP. That's quite a bit considering the kart and driver itself can only weigh a maximum of 425 pounds.

The track itself is a flat dirt tri-oval if you will. Believe it or not the track was built using specifications from the Pocono Raceway. This makes the roughly 1/10 of a mile racing venue have three corners rather than four. Yep. It's the "tricky triangle" of dirt! You definitely don't want to miss my YouTube video and photos from today's trackchasing. You're going to see some styles of racing karts that you don't normally see.
The real highlight of the day for me was meeting all of the people that are part of the Buckeye Outlaw Kart Racing group. It seems that many of them are related and of course everyone knows everyone else.
After meeting up with Robert I ran into a fellow by the name of Darius and his wife. Darius has been a long time racer around the area. This is his first year of not racing but he is heavily involved in the mechanical side of things. Today Darius was working with several people in the pits who seemed to be having one mechanical problem after another until Darius came over and helped them out.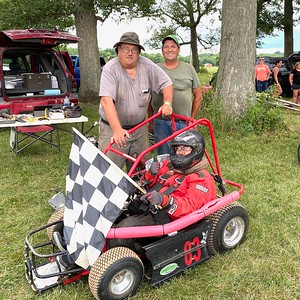 A bit later I spent several minutes talking with Bob (above right) who was Robert's father. Bob is also the flagman for the group. Bob and Robert farm about 700 acres. It was Bob who told me the track was designed after the Pocono tri-oval.
A little bit later I ran into Nick who drives kart number 60 in the modified division. Nick is a five-time champion with the group. He and all of the other people I met couldn't have been more friendly and welcoming to a California visitor.
This is a laid-back group for sure. Rain was in the area but that didn't seem to move the program along any quicker. They had some practice, watered the track and then qualified the karts. Then they ran in the track a little bit more. Today every competitor in each of the three classes would run a heat race and a feature event. There were 15-20 karts in the pit area in total.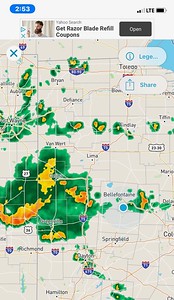 With rain, including red and yellow rain radar, all around West Liberty they never did get a drop of rain at the track. Above, the track is the blue dot!  Robert told me that for some reason their location is nearly the highest elevation in all of Ohio. It seems that the rain sort of goes around this high point and gives them less rainfall than other nearby areas of Ohio.
In point of fact, Campbell Hill, in the town of Bellefontaine, is the highest point in Ohio. I guess "highest" is a relative term. Campbell Hill has an elevation of just 1,550 feet. That spot is only about ten miles from the McClure Raceway!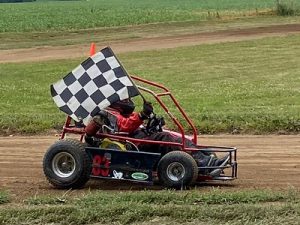 Robert, my main contact, was minorly laid up with an ankle injury. This had put him on crutches but he was still racing. To make matters worse he flipped his caged kart racer in his heat race. Then he went on to win the feature event by a wide margin. Yep. He did all of this while being confined to crutches in the pit area!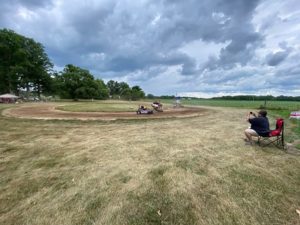 I also had a chance to talk with Roy, brother of Bob and the official unofficial track photographer (above right) at the McClure Raceway. Roy told me a lot of stories, one of which was the fact that a tornado had come through this part of the farm and blew down several large trees. This freed up the space to build the McClure Raceway! I was glad to hear that Roy had come back pretty well from a bad health bout.
I am always telling you that despite having seen racing at more than 2,600 tracks that it is not unusual that I encounter something that I have never encountered at any previous track visit. You should understand I've been doing this for decades. There's an excellent chance that I might have encountered what I think I have never encountered some previous time but I forgot about it. If that is the case then today's encounter is a new encounter right?
Today I stood by and listened to the drivers' meeting where the lineups were presented and the general Q&A took place. I've done that seemingly one million times. However, there was something unique to this drivers' meeting that I have never experienced before.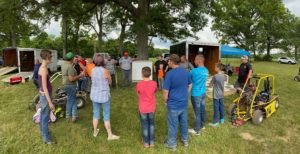 Nick, the five-time track champion, was handling the prayer duties today. During the prayer he asked that the Lord bless the drivers and fans and owners and "the fellow who came from California".
Well, that was definitely a first. I'm pretty sure I have never been mentioned in a track prayer before. I appreciated the kindness very much. There was no playing of the national anthem today.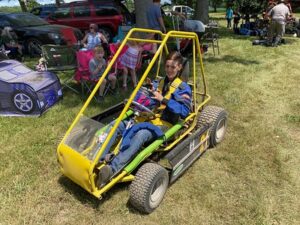 One of the first people I met at the track was driver Alex Van Houten. Alex is Robert's sister. She is one of the leading drivers in the stock division. It seemed as if everybody was family or knew each other very well. This comes from small-town living.
Overall, this was another excellent day of trackchasing. I got lucky with the weather. It's always fun to see a track that no other trackchaser has been to. The racing was good and the people were even better.
I guess a lot of people would think this was a pretty full day of activity. In total, I would end up driving 7-8 hours from the time I got up in Indianapolis until the time I went to bed in San Clemente, California. I was at the track for more than two hours. I also rode on a four-hour cross-country flight from Detroit to Los Angeles. For a lot of people, that's a pretty full day.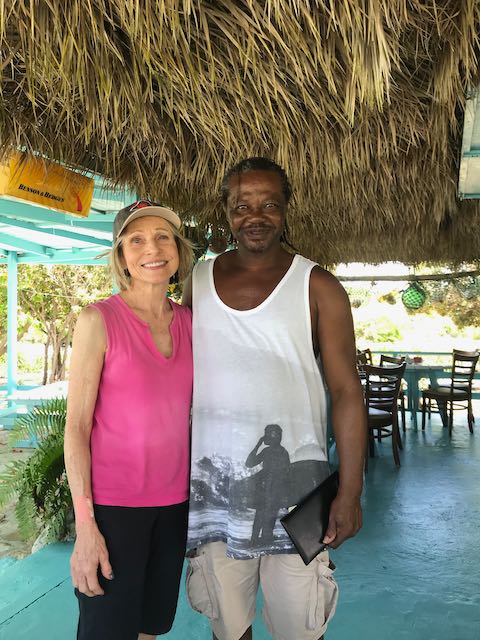 This trip was originally planned for five nights out with Trackchasing's First Mother a.k.a. wife Carol (above with our buddy from the Mama's and Papa's restaurant during a trackchasing trip to Antiqua and Barbuda). Then when a new track opportunity popped up in Wisconsin located on a farm I couldn't pass it up. I extended my trip from five days to ten.
During those 10 days, I had four different rental cars, three rental car contracts and drove about 2,700 miles. I added five new tracks to my totals and revisited two more. I had heavy-duty rain pictured on my weather radar near where I was on several days. Nevertheless, the worst I ever experienced in the entire 10-day trip was a few sprinkles on the windshield.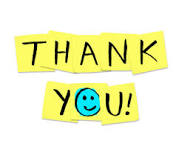 Additionally, and this is very important, I learned of FOUR MORE NEW TRACKS that I would hope to see someday in the future. Heck, I might even see two or three of those this year. I want to know this. How many "unknown" tracks are out there racing somewhere in America that I don't know about at this point in time? Who knows? There could be 100 or more.
I saw racing from all of the featured classes today. When the entire program was finished I headed the National Car Rental Racing Toyota Camry northbound. It was going to be a 2 ½-hour drive up to Detroit where I hoped to catch a flight on a standby basis that would take me nonstop to Los Angeles. Once I landed Carol would be there to pick me up after another successful trackchasing trip was in the rearview mirror.
Good afternoon from West Liberty, Ohio.
Randy Lewis – 85 countries – 2,624 tracks.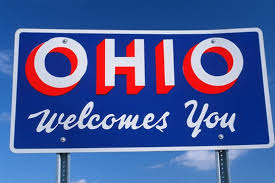 Ohio
The Buckeye State
This afternoon I saw racing at my 83rd-lifetime track in the Buckeye State, yes, the Buckeye State.  I hold the #8 trackchasing ranking in Ohio. There are quite a few trackchasers just ahead or just behind me in Ohio. Ohio ranks #11, amongst all the states, in tracks seen for me in the U.S. I'm a bit surprised I don't rank higher here. I have been to the famous Eldora Speedway some 36 times but only once since 2004. Thirty-six visits to a single track count only ONCE in trackchasing!
Here's a link to my all-time Ohio state trackchasing list. I have made 62 separate trips to the coaching state of Woody Hayes seeing these 83 tracks. That doesn't count all of those Eldora visits!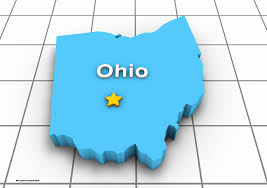 Thanks for reading about my trackchasing,
Randy Lewis
World's #1 Trackchaser
Peoria Old Timers Racing Club (P.O.R.C.) Hall of Fame Member
Ohio sayings: "The Three C's"= Columbus, Cleveland and Cincinnati.
JUST THE FACTS
LIFETIME TRACKCHASER COMPARISONS 
The three most important trackchasing comparisons to me are:
Total lifetime tracks seen
Total "trackchasing countries" seen
Lifetime National Geographic Diversity results
Total Lifetime Tracks
There are no trackchasers currently within 760 tracks of my lifetime total.  Don't blame me.
Randy Lewis, San Clemente, California – 2,624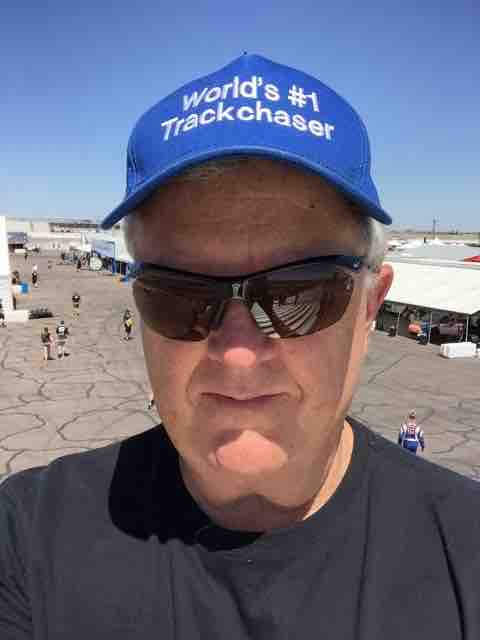 Total Trackchasing Countries
My nearest trackchasing competitor, a native of Belgium, has seen racing in more than 30 fewer countries compared to my lifetime total. 
Randy Lewis, San Clemente, California – 85
Current lifetime National Geographic Diversity results
Randy Lewis, San Clemente, California – 3.96
That's all folks!  Official end of the RLR – Randy Lewis Racing Trackchaser Report
Click on the link below to see the video production from the racing action today.
Click on the link below for a photo album from today's trackchasing day.  You can view the album slide by slide or click on the "slide show" icon for a self-guided tour of today's trackchasing adventure.
 [enter photo link]