Greetings from Monte Carlo, Monaco
From the travels and adventures of the "World's #1 Trackchaser"
Country #60 – Track #1,747
Highlights
Pre-Trip
Days -1-4
Days 5-6
Days 7-9
The List
Background
Videos
Photos
Quick Facts

 THE TOP LINE SUMMARY.  

Fact 1:  We are retired pensioners living off our meager savings in retirement.
Fact 2:  It was Mother's Day weekend.  I had to treat Carol in some special way right?
Fact 3:  This trip was planned to this last detail.
Fact 4:  However, despite all the planning in the world, everything CANNOT be planned for.


As you read the words from this great "Mother's Day Adventure" be on the look out for the FIVE BIG ONES.    

Big One #1:  The car won't start.
Big One #2:  We were homeless in Cannes.
Big One #3:  Someone on the train has stolen my wallet.
Big One #4:  It's tear gas!  Get out!
Big One #5:  The crash.    

When you finish reading all three parts of this travelogue the "Five Big Ones" will make all the sense in the world to you.  You'll see how we faced adversity and overcame.  You'll also hear about exciting places like Venice, Italy, Cannes, France and Monte Carol, Monaco just to name a few of the upscale places we visited.  


Also, don't miss the photos from these places and more.  You'll see some things you've only read about maybe even including those famous topless beaches in southern France.  Of course, there are lots of racecars photos for those "gear heads" among you.  The culinary police won't be disappointed either.  There's something for everyone.
 

WHERE HAVE YOU BEEN?
That would be a legitimate question to ask.  It HAS been 7 days since my last trackchasing adventure….in Slovakia.  Yes, I came home to get some clean clothes between these two European trips.  You might not know it but there's a good deal of pressure in simply being retired and trying to fight off those "Dreaded East Coast Trackchasers" as they try to wrest the "World's #1 Trackchaser" title from me.  Therefore any rest I can get at home is most appreciated between these mega trips along the trackchasing trail.
 

I was able to hit the golf links three times during my short stay at home.  As the year goes by I'm beginning to believe more and more that I actually can have more golf days than trackchasing days in 2012.  I've been trying to do that for all ten years of my retirement and have never made it.    


Entertainment Diversification Update
Goal:  22 full weekends (a full weekend is Friday, Saturday and Sunday) away from trackchasing.  This goal is in place to keep my free time in perspective.  

Current results:  9 weekends off through May 17, 2012  


TODAY'S HEADLINES

Could I sneak this one past Carol?! ……..details in "Saturday/Sunday – Days -1 & 0 – San Clemente, California"  

Although I am 'untrained' I had done some work ……..details in "Monday – Day 1 – Los Angeles, California to Paris, France via Minneapolis-St. Paul, Minnesota  

Is a gondola ride along the canals of Venice, Italy a lifetime bucket list item or a rip-off? ……..details in "Thursday – Day 4 – Venice, Italy"  

Why does diesel fuel cost more than gasoline in the U.S. but it's the other way around in Europe? ……..details in "Wednesday – Day 3 – The adventure just to get to Venice, Italy"


PRE-TRIP
ADVANCE PREPARATION
THE RACE
These guys races just one day every 24 months.
The main event for this trip will be seeing the Historic Grand Prix in Monte Carlo, Monaco.  The undercard for this week's trip will be a special race in France.  If all goes well Carol will be trackchasing in countries #29 and #30.  Monaco will make it #60 for me.  The Monaco Historic Grand Prix races just every other year and then for only one day.
 
THE VISA


This is getting pretty easy by now.
Traveling to Europe is a piece of cake compared to Asia, Africa or South America.  Western Europe requires no special visas to enter the continent.  We'll use the new "TSA Precheck" program to pass quickly through airline security in the U.S.  Then we'll use the "Global Entry" program to make clearing customs back into the U.S.A. a snap.  I've tried to use the P&G mantra of "continuous Improvement" is all aspects of my trackchasing.  This makes everything easier and more convenient each time I do it.  Reapplying much of what I learned in the corporate world to my personal life is a real benefit.

TIME ZONES  

Is a nine-hour time change really a big deal?
Everywhere we will be heading in Europe will be in the same time zone.  That time zone will be ahead of California by nine hours.  We'll be away for eight nights.  That's just long enough to make getting back on "California time" when we return a weeklong effort.


BOOTS ON THE GROUND

I can always count on TripAdvisor and other electronic friends.
I had a lot of help from internet contacts on this trip.  I used Kayak.com to get our rental car.  Booking.com made getting hotel reservations for five of our hotel nights in advance a snap.  I love reading the user reviews before I book a night's lodging.  Despite the price or location I won't book something if I don't like the reviews.
 
Whenever I had a question I went to TripAdvisor.com for advice from locals and folks who knew a lot more about the topic than I did.  The people at TripAdvisor never disappoint.  They were especially helpful getting around Venice, Italy and with the trains between Cannes, France and Monte Carlo.

THE TRANSPORTATION  
Los Angeles to Minneapolis to Paris, France to Venice Italy to Cannes, France to Monte Carlo, Monaco and back.
The above cities will be the highlight of our planned 3,000-kilometer (on the ground) driving trip.  We'll be gone nine days and eight nights.  Two days will be taken up with traveling.  Two will be devoted primarily to trackchasing.  The other five days will be spent touring.  

As most everyone knows the United States of America has 50 states.  All of Western Europe is less than HALF the size of the U.S. (See the map). Europe has 50 states.  Oops I meant to say countries!  However, moving from one "country" to the next in Europe is very similar to driving from Minnesota into Wisconsin and then into Illinois.  

If we were going to use our sponsors to get us to Europe it was best to go now.  By the middle of May through the early part of September getting here with sponsorship help will be very difficult.  However, I love coming to Europe in April/May and September/October.  The weather is generally good and it's far less crowded by tourists.
 
CURRENCY
Carol to the monetary rescue.
As far as I know Carol brought a sack full of euros on the trip.  We'll need them.  Europe is one expensive place.  America is a very prosperous country.  If it's expensive for us then how do the locals afford it?  Generally just about anything you buy in Europe costs 1.5-2 times what it does in the U.S.  

Right now it takes about $1.32 U.S. to buy a single Euro.  That's down from what it has been recently.  However, the small savings we will recoup with short-term favorable U.S. currency savings is dwarfed by the money the companies I invest in will lose moving their profits from Europe back into the U.S.

WEATHER    
Just right!
The weather forecast calls for temperatures to range from 65-75 degrees.  Rain should not be a problem.  This is my most favorite weather situation.  It's also the 12-month weather pattern for our hometown of San Clemente, California.  The license plate frame seen most often in San Clemente reads, "San Clemente – World's Best Climate".  I think that statement is true.

OVERNIGHT ACCOMMODATIONS    
A little bit of everything.
We'll be gone for eight nights.  The first night will be on the airplane getting to Europe.  The first night on the ground we will stay somewhere along the road in Italy.  Then it's two nights in Venice, Italy.  That will be followed by a night on the road most likely along the beach in Italy.  Then we'll stay two nights in Cannes, France.  The final night will be up near the Charles de Galle (Paris) airport.  

I don't normally like to be locked into hotels in advance.  There's just too much variability in the travel plan.  However, Venice will be a "go to" destination on this trip.  Cannes will be the perfect location for our trackchasing efforts in France and Monaco.  Finally with an early morning flight out of Paris having a hotel near the airport the night before is important.

THE RENTAL CAR  

When is there no difference between little and big?
With Carol coming along on this trip having a better rental car is a good idea.  I rented a Mercedes A class (or similar) car for this trip.  My friends over at Avis came through with a good deal.  If we get a stick shift car (which is likely) I'll do all the driving.  If we get an automatic Carol will probably help out.  The one and only time I got deathly sick on one of these trips was also one of the few times we got a rental car with an automatic transmission.  For that weeklong trip through Austria, Switzerland and the like Carol drove virtually the entire week.  She can do it if I ask her, I just hope I don't have to ask her.    
NAVIGATION


I'm back with my buddy Garth.
"Garth" my loyal and reliable GPS buddy will be riding shotgun with us.  I can't really imagine "doing Europe" without a GPS unit now that they are so readily available.  Of course, I can't thank the Peters family enough for sponsoring our European GPS system.  I must repeat.  I couldn't do what I do without my sponsors.  I wouldn't want to do it without GPS.     
THE TRAVELING COMPANION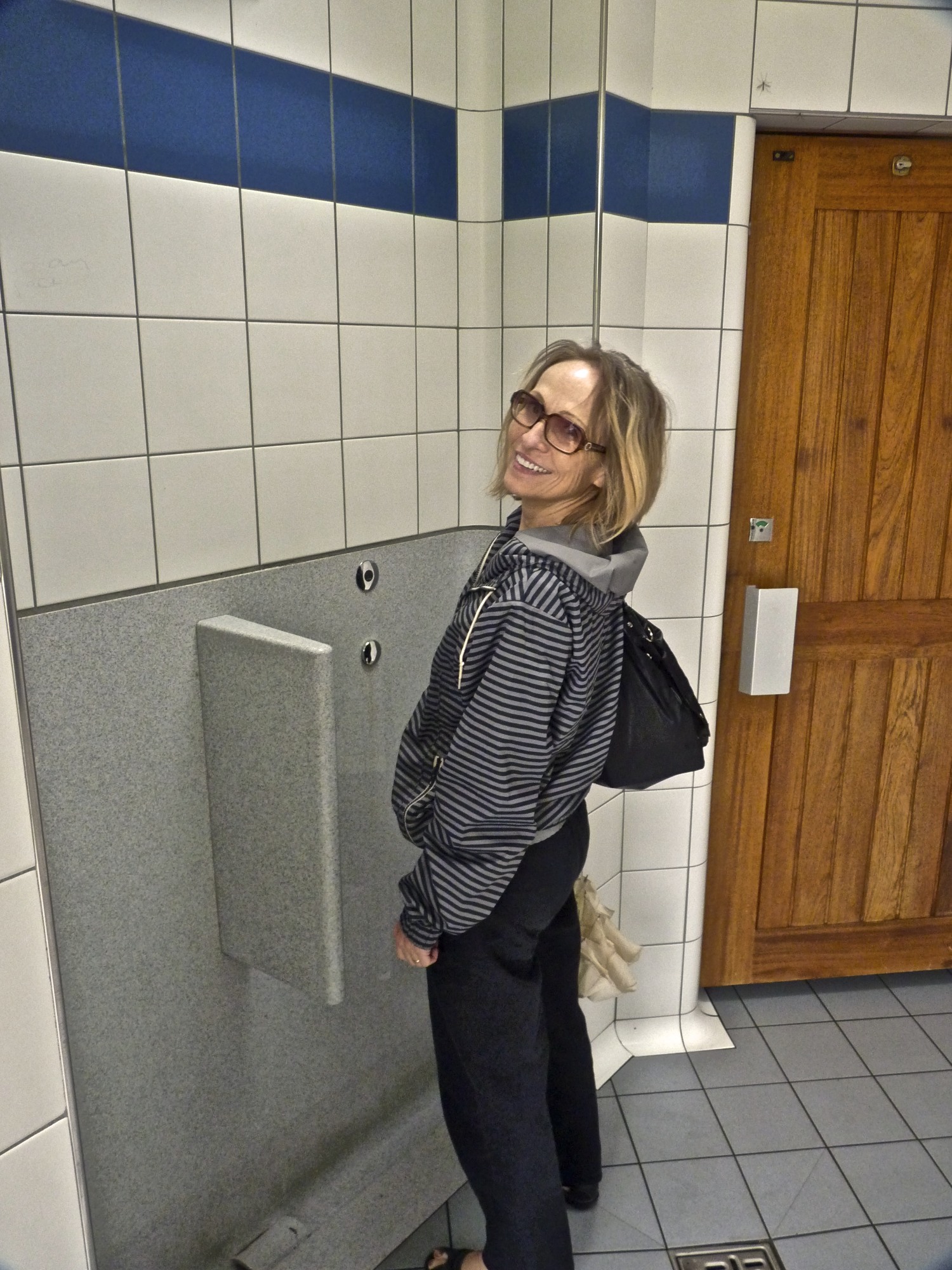 No woman in trackchasing travels anywhere close to what Trackchasing's First Mother does.
Carol will be joining me on this trip.  When she returns her "overnight" travel total for the year will be twenty-six nights.  In four and one-half months she will have traveled nearly a month worth of overnights.   

I'm a traveler at heart.  Carol really isn't.  I can't ask for much more support than she already gives.  By the end of the year, she'll be near her average of 75 nights out for the year.  When this trip finishes for me I'll have been gone exactly twice the number of nights as Carol, fifty-two.  Remember, the "season" doesn't even start until Memorial Day and runs through the end of September.    
THE SUMMARY

The plan never goes according to plan.  I just don't know which parts will fail.
We had firm race dates.  The weather was going to be great.  We also had a pretty good way to get where we were going.  Carol was trying to expand her trackchasing country total to thirty.  That would easily place her in the top three of international trackchasers.  I would continue my quest to seeing wheel-to-wheel auto racing in more and more countries.  It was time to get this party started.
Saturday/Sunday – Days -1 & 0 – San Clemente, California

Filling my bucket list.
Folks, it pays to have flexibility of mind and spirit.  That's a good personal trait and a good one for your spouse to have as well.  I was very much looking forward to our short visit to Venice, Italy.  Who wouldn't have as one of their "bucket list" items a gondola ride through the canals of Venice.
 
However, the original plan called for just one night in Venice.  My TripAdvisor research was beginning to convince me that wasn't enough time.  We needed at least another night there.  That made Carol and my dinner conversation a little more delicate.

How to balance subtlety with the need for a commitment.  
I had tried to keep the length of this trip down to a bare minimum for a few reasons.  First, Carol doesn't like to be gone from home too long.  Secondly, we are retired pensioners and can't spend as freely as those "Dreaded East Coast Trackchasers".  My four-night trip just a week ago to Slovakia and other parts of Europe supports this view…sort of.  

Between forkfuls of Carol's delicious dinner I had to sneak in the idea that we should leave a day early on this trip.  Was this a big deal?  It meant leaving in 36 hours rather than 60 hours.  It was a bigger deal to Carol than it was to me.  Why?  She does all the stuff around the house; I don't.  However, when my "sales mentality" took hold, Carol agreed that we could make it happen.  Yes, flexibility of mind and spirit can't be beat.


Monday – Day 1 – Los Angeles, California to Paris, France via Minneapolis-St. Paul, Minnesota

Are we 'really' seniors?
Carol and I are "active seniors".  Truth be told I don't really think of us as seniors.  However, I have discovered that the world seems to take pity on us "experienced" folks.  They give us special seats on buses, discounts we don't need and the like.  If folks want to treat us that way I'll just quietly go along.  As long as I can still shoot in the 70s on the golf course I won't really consider myself a senior.
 
Carol and I agreed to be "out the door" at 4 a.m. today.  I set my alarm for 3:30 a.m.  When I got up Carol was already dressed and nearly ready to go.  She was an "eager beaver" no pun intended.

We are 'trackchasing assassins'.  
It doesn't take me long to "get it together" on getaway morning.  In twenty-three minutes I had showered, dressed, checked our flight on the computer and zipped up my bag.  "Meet you in the driveway" I told Carol.  That's "code" for "I'll have everything in the car with the engine running and ready to go".  

She was quick to confirm at 3:53 a.m., "It's still 4 o'clock right?".  In the past Carol has accused me of moving up our departure time at the last minute.  "Yep, still 4 o'clock".  With that I went to the car to wait in the driveway for the next seven minutes.

Carol would make a good farmer.  She's up early doing chores.
During this time I could see Carol scurrying about doing last minute chores.  She was emptying the trash and getting the trashcans out to the drive.  Then she turned off the water to the house.  It would never be fun to return to a flooded house because of a broken water heater.
 
Why didn't I do any of these chores?  I am essentially an "untrained" resident of the house.  I am like so many non-taxpayers in our country.  I consume more than I contribute in many ways.  On the other hand, I had the car packed, the gas tank full and was 100% in charge of the plan that was going to make this plan happen.  The way I look at it we both do our parts.  At PRECISELY 4 a.m. Carol's well-conditioned posterior (the benefits of six days of aerobics a week) hit the heated front passenger seat of the Carol Lewis owned and Lincoln Financial Products Lexus LS 430.  We were off!


If we could just get to Minneapolis we could get to Paris.
The plan was to fly to Minneapolis and then on to Paris today.  Why Minneapolis?  Of all of our city hubs, Atlanta, New York, Phoenix, Charlotte, Philadelphia, Detroit, Memphis, Chicago, Salt Lake, Denver and the like, "MSP" was the only city where the flights were pretty much wide open to Paris.  

However, the challenge would be getting to Minneapolis.  Of course we had fallback plans.  Only the first two Los Angeles to Minneapolis flights would get us to the twin cities in time to make our flight to Paris.  If we missed those two but made the third LAX-MSP flight we could at least see our Los Angeles Angels of Anaheim play the Minnesota Twins.  If we missed the first three flights we would have to try again tomorrow.

As it was we ended up getting the LAST two seats on the first flight of the day.  Of the 22 standby passengers we were LAST on the priority list.  Carol was the only one of us that had a confirmed seat.  I was "walked" down the jet way with the expectation there might be one open seat left on the plane.  There was!  Carol and I were off to Minneapolis.
 
Once there we had a three-hour layover until our next plane left for Paris.  That flight had plenty of seats but we would have to fly in coach.  It's an eight-hour flight from Minneapolis to Paris.  I don't mind flying coach domestically but business class or first class is much preferred on the longer international flights.

We made it to Pareee.  
Although the legroom wasn't much we hung in for our arrival in Paris.  We watched movies, tried to sleep but couldn't and arrived at 7 a.m. Tuesday morning.  On the return we'll be flying out at 10:30 a.m.  That means dropping our rental car back about two hours before flight time.  We would not be able to pick up our rental car this morning until 8:30 a.m. or we would be charged extra.   

Clearing French customs was super easy.  They didn't ask us a single question.  A quick stamp in the passport was it.  Then we found an electrical plug and "hung out" for more than as hour waiting for the right time to pick up the rental car.  If order to travel effectively and efficiently cost savings strategies must be kept in mind at all times.
 
Tuesday – Day 2 – Paris, France to Aosta, Italy.

What's a 'throwaway" day?
Today is a "throwaway" day.  We've been to Europe many many times over the years.  We have a preferred way to handle the massive 9-hour time change.  On the morning we arrive we try to stay up past dinnertime.  That's somewhat difficult considering "European dinner time" is about thirty hours after we started our trip.  However, if we can stay up that long then we can sleep 8-10 hours and be nearly "caught up" with our vacation time zone.  We don't normally try to do too much but just survive.  That's why we call it a throwaway day.  

We flew overnight on the plane last night from Minneapolis.  Given the nine-hour time change we didn't feel like sleeping.  We LANDED at

10 p.m.

our time, 7 a.m. Paris time.  By the time we got our rental car it was be about 12-midnight California time.

It's midnight, time to start our day.  
Therefore we are starting our day at midnight!  What's on the agenda today?  I want to drive eight hours of the 12-hour drive we need to make it from Paris to Venice, Italy.  Our first night in a real bed on these long trips is always something to look forward too.  We'll get a full 8-10 hours of sleep and then immediately convert to European time for the rest of the trip.  That doesn't mean we won't be "dragging" some afternoons but we'll fight through it.  If we don't do it this way we'll be staring at the ceiling, wide-awake, at 3 a.m.  I've done that.  It's no fun.

We would have a good car for our long driving journey.  
Our rental car is a "Class L" Volkswagen Golf diesel powered machine.  It had only 1,000 miles on the odometer when we picked it up.  The car has lots of pickup and a unique gas-saving feature.  When the car is stopped in traffic or at a red light and the brake is applied the engine shuts off.  Then when the brake is pressed again the car re-starts.  This is a great way to save gas when the car would normally be idling.  

We were in France a few months ago.  At that time we were blown away at the French toll roads.  They charge an arm and a leg….and more to use those roads.  Yes, I could set "Garth" up to avoid toll roads.  However, at eight dollars U.S. per gallon of fuel driving "out of the way" very far might be worse than the astronomical tolls they charge.

How do the locals afford it?  
I hope you don't think I am exaggerating when I complain about the French toll roads.  What would be an expensive toll to you?  Five dollars?  Eight dollars?  Maybe ten dollars?  Today we were on the road for 2-3 hours and drove well over 100 miles on the toll road.  I was concerned about the amount of the toll for this ride.  My concern was justified.  The toll came to 42.90 euros or about $60 U.S.!!  At the French/Italian border in Mont Blanc we had to use an 11-kilomter tunnel.  What was the toll for that one-way tunnel ride.  How does 38.90 euros or about $50 U.S. sound!  For the entire day we spent 94 euros on tolls.  That about $130 U.S.  This was only the first day of our seven-day driving trip.

I broke my record for 'power naps'.  
When I'm on the road on my U.S. based trips I will occasionally take a "12-minute power nap".  When I do I feel refreshed and good to go.  How tired was I after flying 4,000 miles overnight and then driving eight hours to the evening's destination.  I took SIX 20-minute power naps.  I've gotten to the point of placing my hands on the steering wheel at the "10 and 2" position while driving.  Then when I begin to fall asleep the weight of my hands falling from the top of the steering wheel wakes me up!  I'm only partially kidding.  

We did encounter some light rain during our drive.  I believe that might be the last of the rain for us over the next several days.  Otherwise the traffic was light, and except for those power naps, we made good time. 

Just go to your room.  You can pay me later.  
We arrived into a small Italian town about 4 p.m.  We soon found a modern hotel that included breakfast in its rate of 80 euros.  Moreover the check in process was much different than back home.  All we had to show the desk clerk was our passports.  No form of payment was asked for or provided by us.  Our room is large and has the biggest bed I have ever seen.  We have a "king" bed back home and the one in our hotel room is bigger.  

The hotel clerk recommended a local Italian restaurant.  We headed there and the ambience was first class.  The food offerings were splendid.  We dined on wine and pasta.  We finished off with a flan type dessert smothered in chocolate sauce.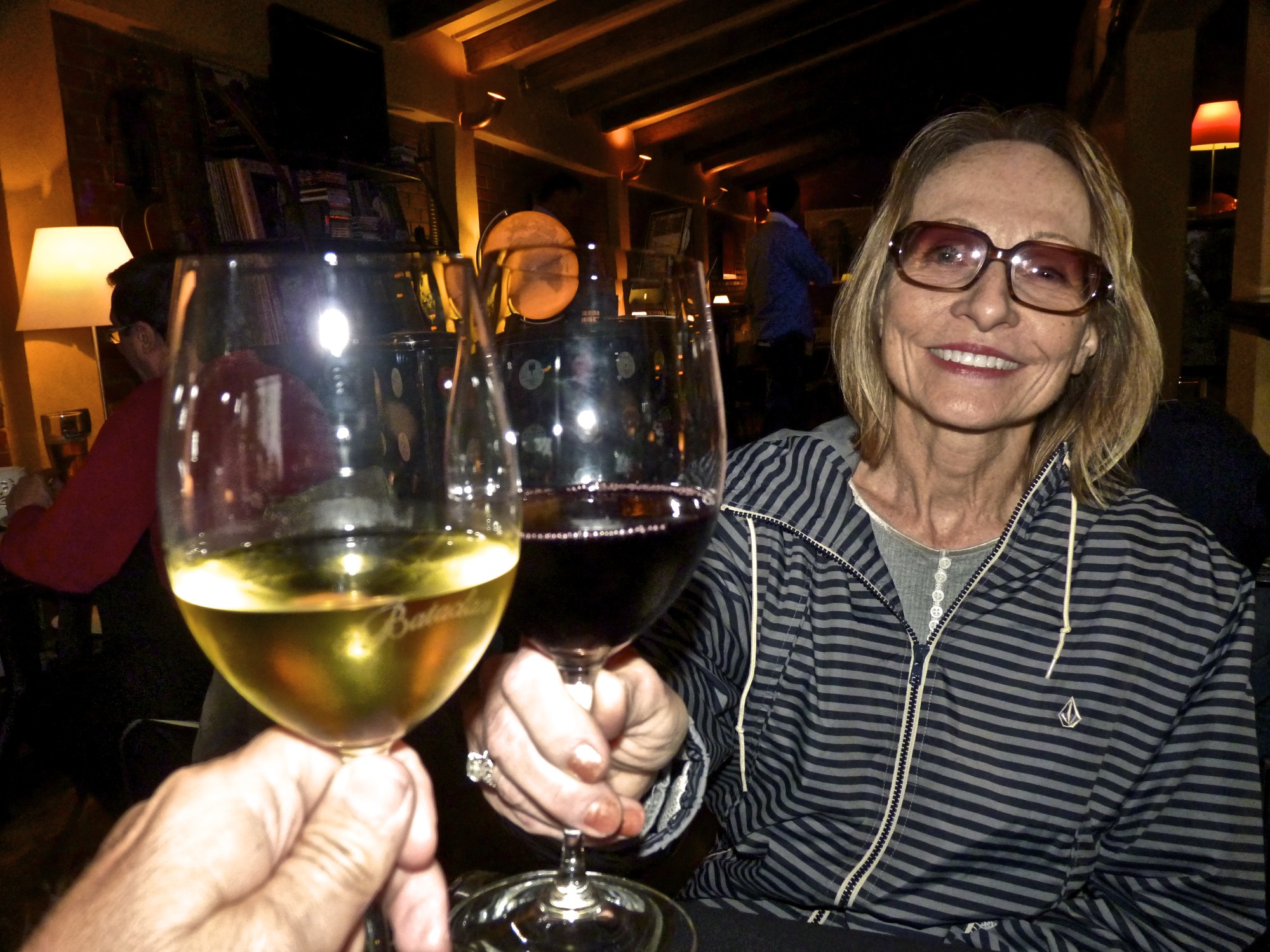 The first night of a weeklong trip of gourmet dining.
There wasn't much English spoken in this restaurant.  That's why the eateries owner handled our dinner this evening.   He spoke English well.  When we were finished I asked our server if the gratuity was included.  He told me it was not.  I had him run a separate credit car charge to add in the tip.  The owner was so pleased with my approach toward tipping that he ordered his staff to bring us two aperitifs.  I truly do believe that when you are generous it all comes back to you in even greater amounts.    
Wednesday – Day 3 – The adventure just to get to Venice, Italy

33 hours of driving – 8 days to do it.
Today is our full first vacation day in Europe.  The weather was in the high 60s/low 70s.  In the morning it sprinkled rain.  It's been raining a lot in the area over the past few days.  However, the forecast for the balance of our trip is for warm and dry weather.  We lucked out on that part of the trip.  

We expect to cover a lot of ground on this trip.  Our need to visit Venice will add lots of miles to the odometer and subtract some funds from the net worth statement as we handle $8-9 U.S. per gallon fuel prices.    Google Maps tells me we will drive about 33 hours during our 8-day trip.  However, day 1, our 'throw away" day ate up eight of those hours and the last day we'll drive about ten hours.  That leave only 15 hours of driving over the heart of the vacation, which covers six days.
 
We woke up in this morning's hotel in Aosta, Italy (Aosta) in the Italian Alps to snow covered mountains just outside our hotel window.  The hotel breakfast was excellent.  I give it a B+.  They had croissants, several dry cereals, coffee, juices and lots more.  The only thing they were missing were meats and cheeses.

Why not just avoid the toll roads?  
Today we needed to cover, according to Garth, about 270 miles.  That would be if we used the toll roads.  I asked Garth to give me the distance and travel time if we DIDN'T use toll roads.  He came back to tell us that we would drive only 30 miles further.  That extra distance seemed worth it.    However, the drive would take us an extra three hours.  We elected to use the toll roads and paid about 40 euros ($52 U.S.) in tolls.  After awhile euros don't seem like real money to us.  However, when the credit card bills come do they will!

You get what you pay for.  
I will say the toll roads in France and Italy are of excellent quality.  A huge plus is that they have rest areas every 10-15 minutes along the roadside.  Most of these rest areas have unique eateries and gas stations.  I've found that European rest areas trump the ones along the U.S. interstate system in both quantity and quality.

Why?  
When our orange "low fuel indicator" came on we began searching for gas.  Of course by "gas" I mean diesel fuel.  In the U.S. diesel fuel costs more than gasoline.  In Europe diesel fuel is less expensive.  Sorry, I can't explain it.  

In Italy diesel fuel was going for 1.723 euros per liter.  That's $2.25 U.S. per liter.  There are 3.8 liters to a U.S. gallon so that makes the charge about $8.55 U.S. per gallon.  I can't tell you what our fuel economy was because the gas station attendant didn't completely fill the tank.  He couldn't do that because I mistakenly pulled into the "big truck" section of the station and the gas filler attachment was nearly too big to fit into our VW Golf gas tank.  He did manage to get us about three-quarters full.

Yep, I was a tired little trackchaser but we had to keep on schedule.  
Yesterday I needed six 20-minute power naps.  Today I would need only one.  I suspect I'm done with the power napping need for the balance of the trip.  

I had found our hotel by using first Google and then Booking.com.  My initial search showed Venice hotels to be very expensive.  Many were in the $200-400 U.S. range.  That was too expensive for us.  Then I used the "sorting" features of Booking.com to come up with a very creative hotel find.  

Venice, Italy is on its own island.  You can't even drive a car in Venice.  You have to park your car outside of Venice and then either walk or ride a boat to the interior of the city.

This would be a very creative hotel location.  
The hotel I found was on a

separate

island.  How  cool was that to be staying in a hotel on your own private (semi-private?) island just a short waterbus ride away from lovely, romantic Venice.
 
Of course little of the travel that I/we do is for the faint of heart.  One needs to be creative, resourceful and resilient or you'll never be able to complete the travel itinerary of a "RANLAY" planned trip.  That was the case today.

Could we get to a hotel that required a boat ride before we could check in?  
First we needed to find the small Italian town of Treporti.  In Treporti we would board a "waterbus" to take us to the island of "St. Erasmo" (More about St. Erasmo).  If that sounds easy it wasn't.  First, all signs and other communications are in Italian.  However, I had hints on how all of this worked from the boys and girls at Tripadvisor.com.  What a wonderful resource.  

Once we found the parking area (15 euros per day) we needed to buy our 48-hour "waterbus" pass.  For 33 euros per person we could ride the "buses" as much as we wanted.  A one-way ride was 6.50 euros per person so we thought the 48-hour pass was a good idea.  It's amazing how many euros we can spend trying to save euros!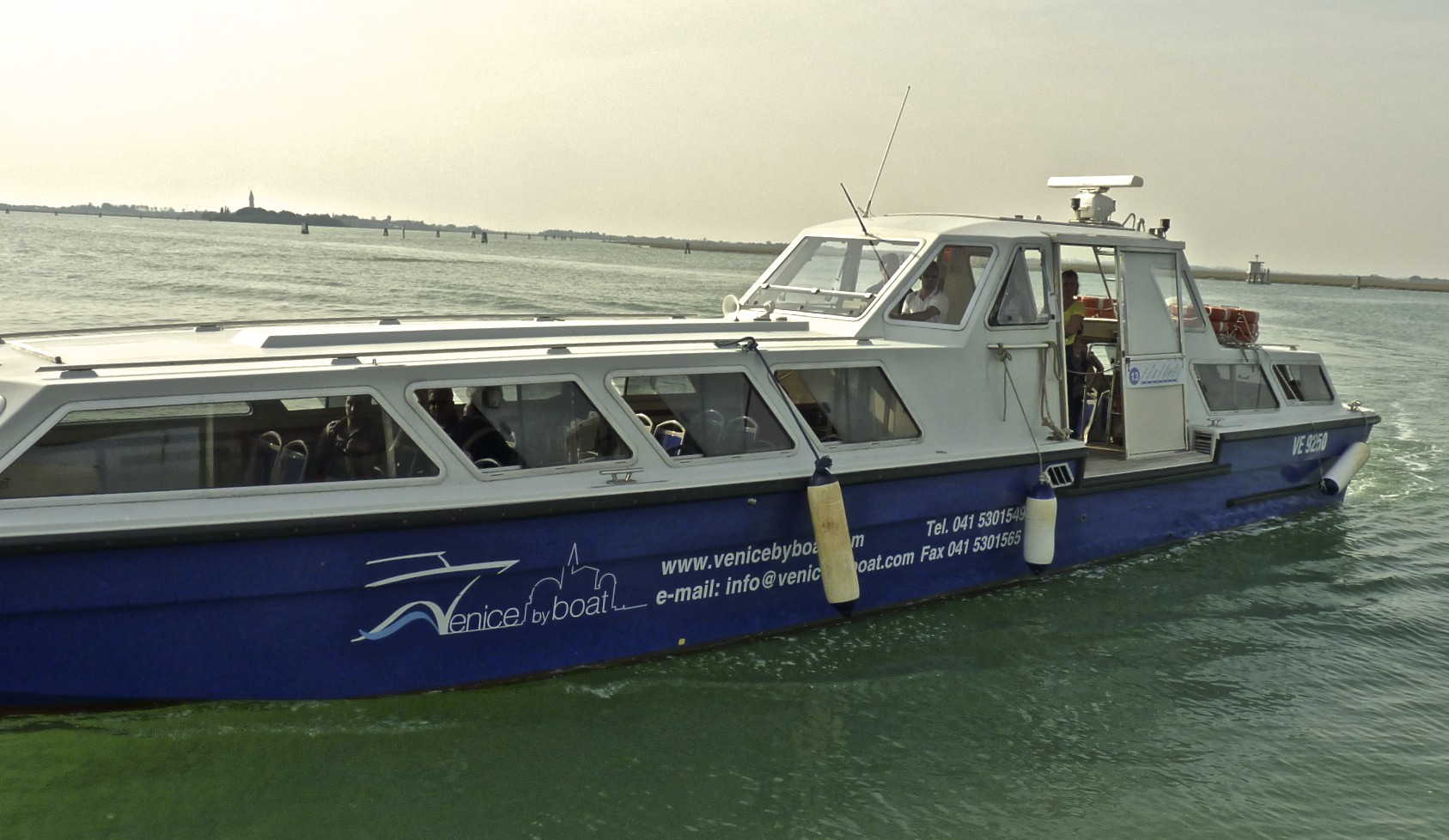 We had never done anything like this.
The "waterbuses" (What's a waterbus?) are what moves people to and from Venice.  I had been told we would need bus #13 from Tretori to St. Erasmo.  Bus #13 would also take us from our island to Venice and back.  It took some doing but we found the place to buy our bus tickets, a local restaurant near the parking area.  We then rolled our luggage along toward the dock where our bus would come along about every hour.   The waterbuses are smaller enclosed boats that can handle anywhere from 20-75 people.  During any of our rides for the entire trip they never did ask to see our bus passes.  The buses adhered pretty well to their schedule and were mostly convenient to ride.  It was a 30-minute water ride to our hotel from Treporti.

Carol was beginning to wonder if "creative" meant good?  
Once we landed on St. Erasmo island it was a 15-minute walk to the hotel.  The hotel information told us we could call to be picked up by their van.  Of course we have no working cell phone in this part of the world.  It was quite the sight to see Carol rolling her luggage down a long narrow asphalt road that led to her "dream" vacation.  Visiting Venice would be the "trip of a lifetime".  I think "trip of a lifetime" means you're only supposed to do one of these trips during each life that you have.  Luckily, we're able to do a "trip of a lifetime" about once a quarter.


Give me a problem; I'll solve it.
During our walk to the hotel we were chatting merrily along.  Carol was offering up minor complaints as folks in her position/gender are wont to do.  I in compliance with my position/gender was trying to acknowledge and solve each comment and complaint so we could move on to full enjoyment of our trip.  In reality we were each behaving as if we had been married more than forty years.

Look out!  It's the mosquitoes.  
That was until the mosquitos got us.  We don't have bugs in California.  I have to fly to the Midwest, or Venice, in order to get bitten by mosquitos.  They were big and fierce here.  It scares me to consider the bike rides we were hoping to do on our island tomorrow.  I squashed one and my O+ blood squirted all over the place.  We were running now to get to the hotel before all that was left was a smoldering piles of bones and Waffle House fat cells.  

The II Lato Azzurro hotel (See the hotel!) looks a bit like a huge college fraternity or sorority house.  It sits in a residential area where most properties cover an acre or two.  Check in was quick.  Like our first hotel all we needed to do was give them our passports, no credit cards or anything else.

From a big bed to two little ones.  
We'll be here for two nights.  Our room is large but has two twin beds.  What a change.  Last night we had the biggest bed I have ever seen.  Tonight we have what amounts to two prison cots!  That's the wonder of traveling internationally.  Seeing what your hotel room will be like is similar to opening a box of chocolates (Forrest Gump).  You never know for sure what you will get.

Did we dare chance another bout with those dreaded mosquitos?  
It was three o'clock in the afternoon.  There was still plenty of time to see Venice.  However, to get there we needed a waterbus schedule.  Then we would make the 15-minute walk through the mosquito infested Italian air from the hotel to the waterbus docking station.  We walked a little faster this time!  There we waited about ten minutes for our waterbus.  We hopped on the #13 and sailed for thirty minutes for our first ever visit of Venice.


What is 'minorly less enamored'?  
I loved every minute of this adventure.  It truly was an adventure.  Carol was minorly less enamored by the whole affair.  As a used car salesman once told me "there's an ass for every seat".  Folks, those are words to live by.

Morocco or Epcot Center?  
Venice was most unusual.  Of course this was our first visit.  It reminded me of visiting the medina of Marrakesh, or the set at Disneyland's Epcot Center.  Some of the walkways were only 3-4 feet wide for as far as the eye could see.  It was like a human maze.  I thought it wonderful.  Carol immediately concluded we would never be able to find our way back to the waterbus stop.  Of course, this comment put the pressure on me to make sure we didn't get lost and miss the last boat back to our island.

When a nice glass of merlot is just what the doctor ordered.  
From there I immediately sought out an outdoor café.  There we would each have a glass of wine.  Folks, knowing there's an "ass for every seat" is invaluable in life.  However, the saying "candy is nice but liquor is quicker" is pretty good too.  After a smooth glass of merlot Carol seemed to be feeling a little better about the "rat maze" that she found Venice to be.  

We walked a good deal and I was a little surprised.  For the most part all we saw were restaurants, bars and light "gift shop" type retail.  Where were the churches, museums and government buildings?   Of course, we had only seen what we could walk too leisurely in and hour or two.  We'll have the full day tomorrow to explore Venice.  

We finished off our evening in Venice with a lovely Italian dinner at an outdoor café.  We dined on pasta and wine under perfect evening weather conditions.  This is what retirement life was meant to be like.

Time to pay the piper?  
Now it was time to head back to the boat.  The last direct boat left at 10:40 p.m.  There were other boats that required a change along the way that ran into all hours of the morning.  We wanted to be on the last direct boat.   This was when Carol's words rang in my ears "We'll never find our way out of this maze".  I had mentally been recording "the way back" during the entire outbound portion of the trip.  Of course that recording had been done in daylight.  It was dark now.  Plus, my mental hard drive had maxed out after so many twists and turns.

If I tried to bluff my way out of this would Carol notice?  
I figured I could "bluff" my way through it and Carol would never notice on our return to the boat.  That worked for a while but then we became obviously lost.  Time was not my friend at this point.  Maybe Carol wasn't either.  I could hear the "I told you so" comments just bubbling below the surface.  

However, I have been in pressure situations like this before.  My strategy is "keep flying the airplane".  That means don't give up til you crash.  I was now stopping to ask people "how to get to the boats?".  Of course these folks spoke Italian and very little English.  Each person pointed us just a little bid closer…..until we came screaming into the boat dock at 10:29 p.m. eleven minutes ahead of schedule.  The TripAdvisor folks had told me that sometimes the boats come past their stop ten minutes early.  I just hoped this boat had not come twelve minutes early.

I knew I could do it.  
The boat was on time.  In fact this was the smallest boat we had ridden yet.  We boarded with 10-12 college aged kids and their chaperone in the bottom of what I would call a motor-powered sailboat.  They were having fun and as it turned out were staying at our hotel on St. Erasmo island with us.  

When we landed we had our now customary 15-minute walk to the hotel….in the dark.  However the air was cool, it seemed perfectly safe and we were soon back to our room.  I used the exceedingly slow hotel Wi-Fi to make sure there was nothing "happening across the world" that needed my attention.  As usual there was not and we hit the sack with at least one of us eagerly anticipating our all-day Venice outing that would come tomorrow.  

Folks don't miss the pictures.  They will tell you the complete story.    
Thursday – Day 4 – Venice, Italy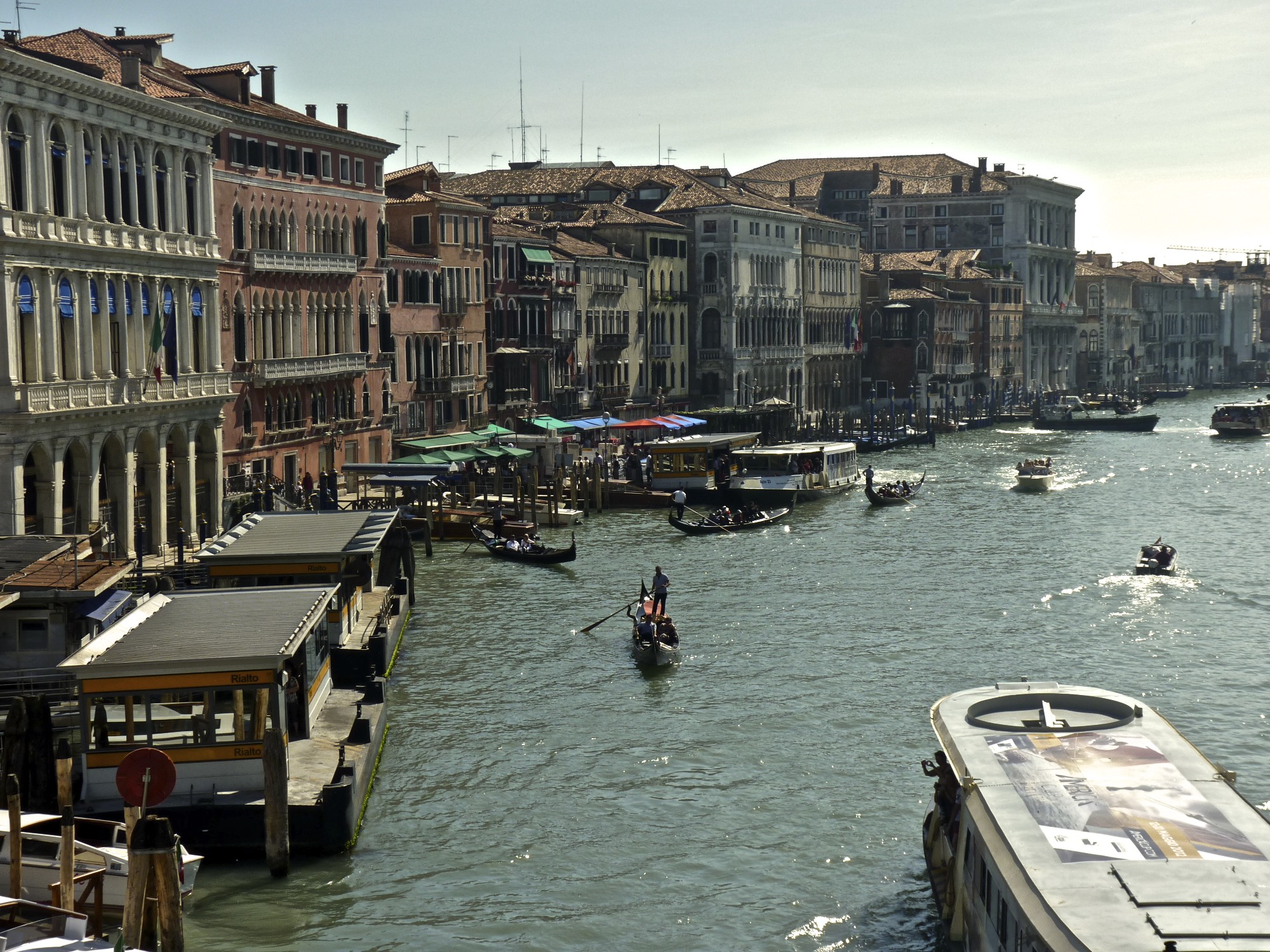 You can call me anything you want; just don't call me late for breakfast.
The day dawned bright and clear.  That's important when you expect to be touring outdoors all day.  Luckily, Carol was on this trip….or I would have slept through breakfast.  Breakfast at the II Lato Azzurro is served from 8:30 a.m.-10:00 a.m.  Carol woke me up at 9:30 a.m. and we were the last guests "to take" breakfast.  European hotels almost always offer breakfast, usually included in the room rate.  American hotels normally don't but that is changing somewhat as hotels strive to maintain their competitiveness.

Today breakfast consisted up corn flakes, toast, milk, coffee and juice primarily.  I would give it a C+.  In order to get an "A" meat and cheese needs to be offered.  Nevertheless the breakfast room was bright with the morning sun.  We met the hotel owner "Julie".  She's an American from Ames, Iowa and has been in Venice for 31 years!  

We were becoming experts on this "waterbus thing" now.  We spent the rest of the day just enjoying Venice.  I couldn't believe we hadn't come this way before.  The highlight of the day was our gondola ride. 

You've seen this in the movies.  If you interested check out our photos.  The architecture, canals, people and just the "sights of Venice" were fantastic on a perfect weather day.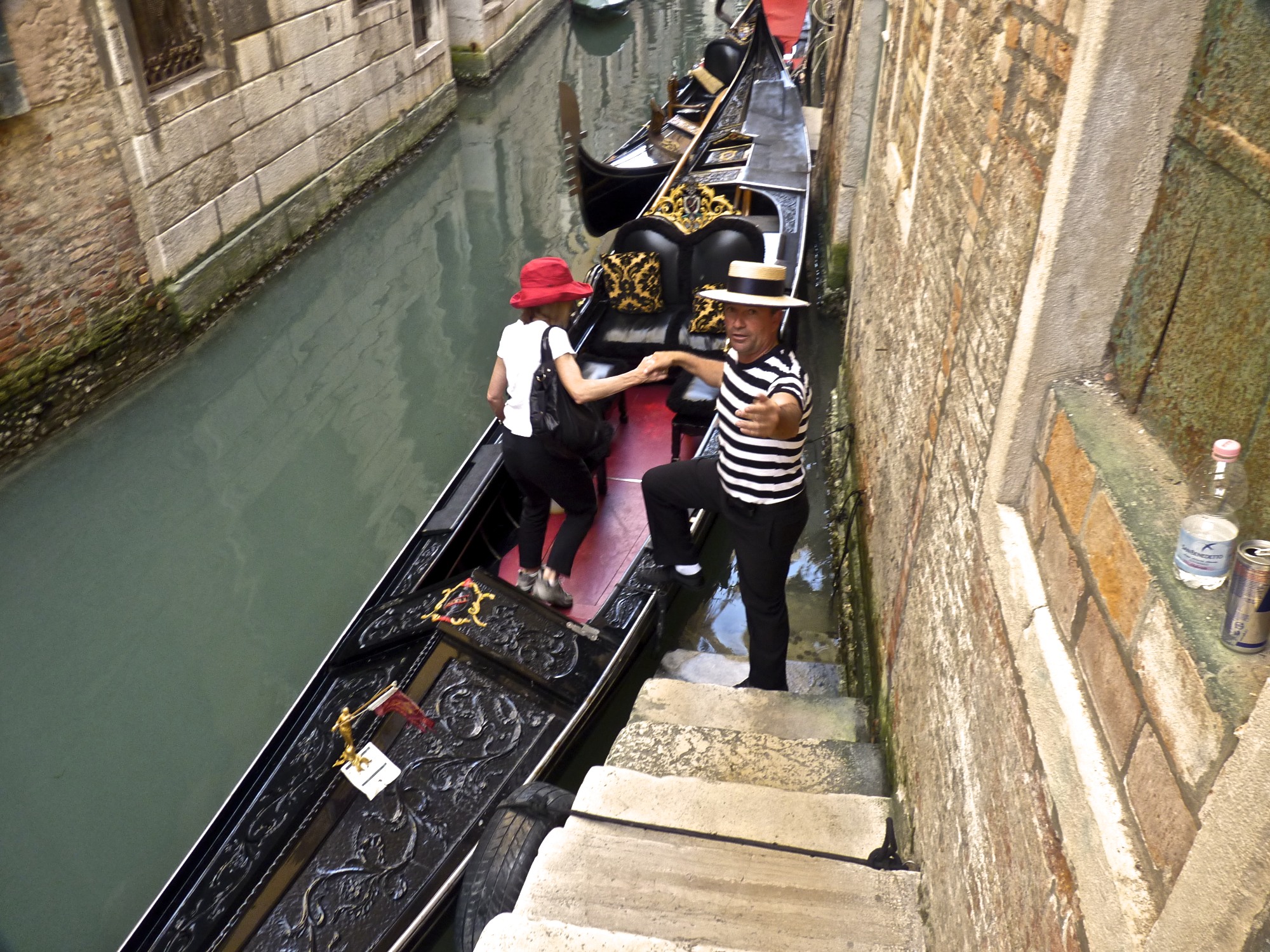 Our "gondolier" even sang as we sailed along the Grand Canal of Venice and the "side streets" if you will.  We dined on gourmet Italian food for lunch and dinner.  Of course a libation or two is just what the doctor ordered after a stressful gondola ride along the high seas of Venice.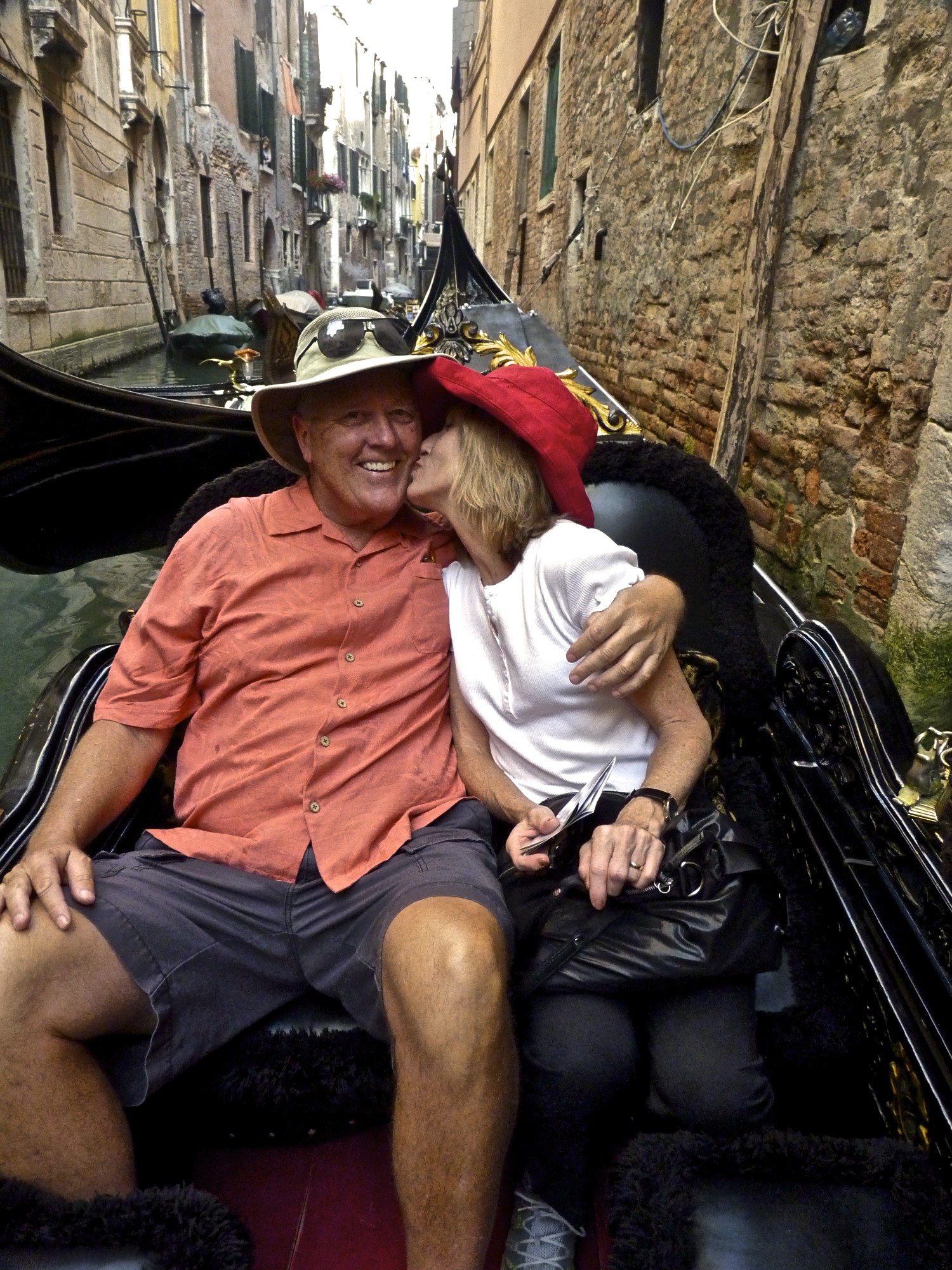 Our trip was going perfectly as planned.  None of the FIVE BIG ONES has hit yet….but they were about too.  We didn't know what we were in for!    


THE TOP LINE SUMMARY.
Fact 1:  We are retired pensioners living off our meager savings in retirement.
Fact 2:  It was Mother's Day weekend.  I had to treat Carol in some special way right?
Fact 3:  The trip was planned to this last detail.
Fact 4:  However, despite all the planning in the world, everything CANNOT be planned for.  
As you read the words from this great "Mother's Day Adventure" be on the look out for the FIVE BIGS ONES.  
Big One #1:  The car won't start.
Big One #2:  We were homeless in Cannes.
Big One #3:  Someone on the train has stolen my wallet
Big One #4:  It's tear gas!  Get out!
Big One #5:  The crash.  


Don't miss the "Five Big Ones".
When you finish reading all three parts of this travelogue the "Five Big Ones" will make all the sense in the world to you.  You'll also hear about exciting places like Venice, Italy, Cannes, France and Monte Carol, Monaco just to name a few.
Also, don't miss the photos from these places and more.  You'll see some things you've only read about maybe even including those famous topless beaches in southern France.  Of course, lots of racecars for those "gear heads" among you.  The culinary police won't be disappointed either.  There's something for everyone.    




TODAY'S HEADLINES

 

What do you mean the car won't start? ……..details in "

Friday – Day 5 – On the way to Cannes, France"

 

Check out my first ever 'fossil fuel update' ……..details in "Fossil Fuel Update"  

Can you believe it costs me more to drive in the U.S. than when I'm paying nearly nine dollars per gallon U.S. while in Europe……..details in "Saturday – Day 6 – Cannes, France to Le Castellet, France"    

What do you mean we can't get in our apartment? ……..details in "Saturday – Day 6 – Cannes, France to Le Castellet, France"  

Friday – Day 5 – On the way to Cannes, France


We didn't even know what country we would be staying in this evening.  
We woke up on the island of St. Erasmo in Italy.  It was a bright and beautiful day.  Our next major destination was Cannes, France.  However, we only planned to drive part of the way with an overnight stop in parts unknown today.  We didn't have the faintest clue what city we would stay in.  We didn't even know what country we would be sleeping in tonight!

One more activity before we left Venice.
The first item on the agenda was a bike ride.  Our hotel provided free bicycles and the island was flat.  As long as the mosquitoes didn't carry us away it would be a lovely ride.  It was.  Don't miss the pictures.
Next up was a quick hotel breakfast.  Then Julie, the hotel owner, drove us in the hotel shuttle bus to the waterbus dock.  We would be catching the 9:57 a.m. "bus" back to Treporti, the spot we had left just 48 hours earlier.  It had been a fun two days in Venice.  We don't have any plans to return but we wouldn't have missed it for anything.
I was already thinking about the rest of the day's activities when we arrived back to the Treporti parking lot.  We used an automated machine to pay our parking fee and soon spotted the Avis Rental Car Racing Volkswagen Golf.  



Big One #1:  The car won't start.


That's right.  The little bugger's engine would not turn over.  It wouldn't start!  This was a problem on many levels.  First, it was going to delay our day.  Secondly, it might be an expensive problem.  Thirdly, they don't speak much English in these parts.  Fourthly, my cell phone doesn't work in Europe.  Yes, we had a problem….on many levels.  Before you read on how would YOU solve this problem?   Here we were in a parking lot with a car that wouldn't run.  Folks in this part of the world don't speak a lot of English.  About the only words I know in Italian are pizza and spumoni.  Of course, AAA won't come to help us out here either.

Doing nothing, although an option, was not really a good option.
However, I have encountered enough situations like this to know that the only thing we couldn't do is nothing.  Remember doing "nothing" when faced with a problem is really doing "something".  Yes, these are pearls.  Don't forget to bend over to pick them up.  You will be richer for it.

Meet the man 'who speaks Italian'.
Soon I collared a stranger with a cell phone.  To the best of my ability I helped him understand our problem.  The young man, with an Italian working cell phone, began calling the Avis hot line.  The Avis person switched back from the "man who speaks Italian" and then to me as need be.   When the conversation was finished our new friend told us that help would arrive in 20-30 minutes.  Based upon the conversation, and my perceived lack of understanding on both parties, I wasn't holding my breath that help would arrive quickly or even at all.

Hey!  We're over here.
However, I was wrong.  In about half an hour a bright yellow mini-truck with its lights flashing came driving past the parking lot.  Carol and I were yelling and waving our arms as if we had just spotted a boat off Gilligan's Island.  Soon help pulled up right beside us.
I had tried starting the car several times with no success.  However, the AAA equivalent driver had better results.  I gave him the key.  He hopped in and started the car on the first try!   I had been driving the car for three days.  I knew that to start the car you had to depress the brake while turning the ignition key.  I had tried that without success this morning.  According to our helper I had not depressed the brake far enough.

The help was good news.  Would there be bad news?
The good news was the car was now running.  Would there be bad news?  Would we have to pay for this service?  If we drove the car for an hour and then parked it would it start?  The driver answered the cost question.  "I'll put down 'low battery' on my report" he told me (wink!).  I signed the paperwork and our helper disappeared into the morning sunlight.  Had we dodged a bullet?  I hoped so.

What about the folks back home?
We weren't three miles down the road when we noticed a grocery store.  The store would be the perfect place to get some food souvenirs.  We would buy pasta for our loved ones back home….except for J.J.  He doesn't have a stove just yet.  You can imagine that an Italian grocery store has every pasta size and shape known to man.  We bought a lot.  It was all heavy.  We'll figure out how to pack it later.   Then we proceeded to drive about six hours toward France although we never left the Italian toll roads.  The rest stops are not as frequent or as nice in Italy as they are in France.  Nevertheless, they're still better than those offered in the U.S.  The toll charges are about the same in Italy as they had been in France.





It was time to find lodging.
It was beginning to get dark.  It was time to look for a hotel.  Garth, my friendly GPS buddy, showed that the road was taking us along the Ligunan Sea.  That was perfect.  We would shoot for a sea view hotel room.
Later we would find out that we had pulled off in Sanremo, Italy (Sanremo).    Sanremo is just 15-20 miles south of the France border.  It is a beautiful seaside town that is a dead ringer for Laguna Beach, California that is just up Coast Highway from us.   We stopped at the first major hotel we came upon.  It looked good and had a huge tour bus parked in front.  That wasn't a good sign.  What if all the rooms were already taken.  However, there was good news from the front desk.  They had a room, for 80 euros, that included breakfast.  "We'll take it" I said.  We showed our passports (both of us) but no credit card was needed upon check-in.

I would call this a 'late night' dinner.
It doesn't get dark around here until nearly 9 p.m.  The restaurant was open til 9:30 p.m.  Folks eat late, by our standards, in this part of the world.  We eat dinner religiously at 5:30 p.m. every night except when I have circuit training class two nights a week.  Then we do our best to stretch the dining hour to 6 p.m.
By just past 9 p.m. the restaurant was slowing down.  However, we had a beautiful meal that began like all of our dinners have with a bottle of wine.  The wine can wash off the grease and grime of driving long distances!   We each ordered a "starter" aka appetizer of pasta.  The serving size rivaled a main dish where we come from.  Our "main" followed that up.  We both had a delicious piece for fresh salmon.  It was good eatin'.  Our tradition on this trip would be to order one dessert and share it.  Tonight it was a vanilla flan/pudding drizzled with cherry sauce.

This was some English language menu!
It was all wonderful.  Our server went out of his way to help us.  I had no idea what the dinner cost.  It'll be on our hotel bill in the morning.  When we had asked for a menu in English, our Italian speaking waiter brought in a man who spoke English to tell us what was on the menu!  How's that for service.
With the car problem to begin our day and about six hours of driving getting a good night's sleep was just what the doctor ordered.  Our room was large, decorated in UCLA colors (blue and gold) and had a nice sea view.  The day's plan had not gone perfectly.  Nevertheless, the day had.    


Saturday – Day 6 – Cannes, France to Le Castellet, France

How about using the 'non-toll road' option.  
We woke up in Sanremo, Italy.  We would go to sleep in Cannes, France.  We had a nice breakfast in the hotel before we headed out for a day of racing.  There was plenty of time to get to Le Castellet, France for the 3 p.m. start of racing at the Circuit Paul Ricard.   We had so much time we decided to take the "non-toll road" GPS option.  It was an absolutely perfect Saturday morning in the beach town of Sanremo and the small cities that sit just north of it.  The scenery was as picturesque as you could get.   However, the traffic was slow….really slow.  We kept losing minutes to our GPS dictated ETA (estimated time of arrival).  After an hour of very slow progress we decided to switch back to the toll roads.   Garth, as if to say "make up your mind" had some difficulty getting back on the toll road to France.  The toll roads do not have frequent exits (sorties).  I guess they want to keep taking your money for as long as they can.   Soon we made it back to the toll road and all was good.  Where we come from there was lots of "switchback" type roads to get motorists up and over a mountain or big hill.  That is not the case here.  They just tunnel through the side of the mountain.  We must have driven through more than 300 hundred tunnels during the trip!    



FOSSIL FUEL UPDATE

 

How much is too much?


Folks, you know that I work hard to protect Carol and our retirement funds.  They have to last a lifetime you know.  At the same time I never want to buy "cheap stuff cheap".  I want to buy "good stuff cheap".  If you think about it there a REAL major difference in these two approaches.
Yes, we certainly get our share of help with our airline sponsorships.  However, taking 30-40 major vacations every year can add up with the cost of hotels, rental cars, gasoline and the like.  You get the picture.

Are we really 'giving gas away' in America?  
Fuel prices in the U.S.A. have been on the rise for a long time.  California fuel is some of the most expensive in the nation.  Maybe that's why I like to travel.  I can "drive around" in Illinois or Georgia or just about anywhere for the weekend a lot cheaper than I can in California, the Golden state, yes the Golden state.     Average gas prices in American right now are about $3.75-$4.00.  People are screaming bloody murder about that.  I say "relax".  At four bucks a gallon we've got it made.  According to a recent fuel expense survey of 141 countries the U.S.A. ranks at #100 with the cost of fuel.  Folks, you need to know when you've got it good!     To make the point even stronger we ran into an English couple, now living in France, during the trip.  They have been to the U.S. to vacation.  The Englishman, said with a grin, "You Americans are

giving

gas away".  He made a good point relative to the fuel situation in Europe.     We were traveling mainly in Italy and then France on this trip.  Where do those countries rank in the fuel survey below?  Italy is #3 and France is 11?  Our rental car is diesel-powered.  Diesel fuel is less expensive than gasoline in Europe but it's still expensive.


RLR – RANDY LEWIS RACING SPECIAL REPORT
My special reports are meant to be "critical thinking" pieces on the state of trackchasing.  Sometimes they are just "news" items.  Often times the "trackchasing hierarchy" will consider them controversial.  At other times they are just good ways to think about the right things.  The topics won't always directly relate to trackchasing but they will always at least indirectly tie to the trackchasing hobby.  Remember the best way to learn about new things….is to listen.    

Are U.S. gas prices really high?
Are gas prices really high in the United States?  Are they high in Europe?  Take a look at the table below provided by Bloomberg.  Maybe this will let you look at the issue in a new way.

 Price/ Rank
   Country
$/Gallon Premium

Pain at the

Pump Ranking

1

Norway

$9.69

48

2

Denmark

$9.37

42

3

Italy

$9.35

29

4

Netherlands

$9.35

37

5

Greece

$9.23

23

6

Sweden

$8.97

44

7

Hong Kong

$8.89

31

8

Portugal

$8.85

21

9

U.K.

$8.84

34

10

Belgium

$8.82

37

11

France

$8.72

35

12

Finland

$8.59

40

13

Germany

$8.56

36

14

Ireland

$8.34

39

15

Switzerland

$7.95

47

16

Slovakia

$7.93

19

17

Hungary

$7.69

11

18

Czech Rep.

$7.59

22

19

Japan

$7.58

41

20

S. Korea

$7.57

26

21

Spain

$7.55

32

22

Slovenia

$7.54

28

23

Austria

$7.45

43

24

Malta

$7.32

25

25

Latvia

$7.26

9

26

Luxembourg

$7.24

51

27

Lithuania

$7.24

12

28

Estonia

$7.05

20

29

Poland

$7.01

15

30

Cyprus

$6.96

33

31

Bulgaria

$6.94

5

32

Australia

$6.75

49

33

Singapore

$6.70

45

34

Romania

$6.59

7

35

Chile

$6.54

17

36

Brazil

$6.41

13

37

India

$6.06

1

38

Canada

$5.75

46

39

S. Africa

$5.72

8

40

Seychelles

$5.53

14

41

Argentina

$5.44

16

42

China

$5.31

4

43

Thailand

$4.96

6

44
U.S.

$4.19

50

45

Indonesia

$4.11

3

46

Russia

$3.71

29

47

Malaysia

$3.00

24

48

Mexico

$3.20

27

49

Iran

$2.78

18

50

Nigeria

$2.33

2

51

UAE

$1.89

53

52

Egypt

$1.73

10

53

Kuwait

$0.88

54

54

Saudi Arabia

$0.61

52

55

Venezuela

$0.09

55

The table above is based on this Bloomberg article "Highest & Cheapest Gas Prices by Country":     "The cost of a gallon of gasoline ranks with bad weather as one of the most universal complaints. In the U.S., the price of gas is getting even more attention than usual this year as presidential contenders battle over energy policy.     What's lost in the debate is how much the U.S. and other countries actually pay for gas, relative to one another and to their citizens' wages. The ranking above sorts 55 countries by: a) the average retail price at the pump for a gallon of premium gas (from April 2 to 11, 2012), and b) by "pain at the pump," which is measured by the percentage of average daily income needed to buy a gallon of fuel."    

MP: The world's cheapest gas is found in Venezuela at $0.09 per gallon (cheaper than bottled water), where the cost of filling up the 39-gallon tank of a Chevrolet Suburban is only $3.51, compared with $163.41 in the U.S.  The most expensive gas among these countries is India, based on the "pain at the pump" measure.  A gallon of gas costs $6.06 in India, which is  more than 100% of per-capita daily income (based on annual per-capita GDP of $1,400).  If gas was that expensive in the U.S., it would cost about $200 per gallon (based on annual per-capita GDP of $48,387).  So even at $4 per gallon, gasoline here is a real bargain.     Based on the price of gas relative to income, the U.S. ranked No. 50 out of 55 countries for the "pain at the pump" measure, and that was based on gas prices at their peak in the U.S. in early April.  Now that U.S. prices have fallen by almost 20 cents in the last six weeks, the "pain at the pump" has eased somewhat – so quit your whining about "high" gas prices! Relative to income, we have some of the cheapest gas in the world.    

The toll roads were a rip in more ways than one.  
Fuel stops on the toll roads were a bit more expensive than in the towns we passed through.  However, it was more convenient to get fuel at the toll road service stations from time to time.  How much was diesel fuel there?  We paid from $8.64 to $8.72 U.S. per gallon.  Regular gasoline was just about a dollar more expensive per gallon than diesel fuel.     "But Randy, the Europeans don't travel very far most of the time.  It's not so bad if fuel is expensive but you're not using your car much" the challenging but caring reader might comment.  Folks, we will end up driving more than 2,000 miles.  That's about the distance from Los Angeles to Pittsburgh at……..nearly NINE DOLLARS A GALLON!    

I'll bet you never expected me to say this.
However, and I really loved this "however" driving in Europe was actually LESS expensive than my driving the Carol Lewis owned and Lincoln Financial sponsored Lexus LS 430 back on the sunbathed streets of San Clemente.    

Randy, have you lost it?  
"Randy, I think you've totally lost it now.  You just told us how expensive fuel is in Europe.  Now you're telling us that it's actually cheaper to drive the streets of Venice and Paris than it is in California?" the seemingly stunned reader could likely comment.  O.K., Venice doesn't really have streets but canals.  But you get the point.  Yes, that is EXACTLY what I'm telling you.    

Here's my data.  
Permit me to provide you with supporting data.  As a former employee of Procter & Gamble no one was allowed to make any argument without "supporting data".  You could tell someone it was raining outside and their comment might very well be, "Where's your data?".     Our Avis sponsored Volkswagen Golf 4-cylinder diesel-powered car gave us 43.4 M.P.G. during this trip.  Even though we averaged $7.81 U.S. for diesel fuel on this trip (we got some "buys" a couple of times getting fuel away from the toll road) our cost per mile was 17.97 cents.     The Lexus Carol so generously allows me to drive gets about 21 M.P.G. around the streets of San Clemente.  Of course the Lexus requires that we pay extra for premium fuel.  Premium in California currently sells for about $4.75 U.S. per gallon.  That gives me an average per mile fuel expense of 22.61 cents.    

See my point?  
There you have it.  Even at nearly $8.00 U.S. per gallon for diesel fuel in Europe it's cheaper, on a per mile basis, than it is in California.  Actually, it's almost 26% MORE expensive for California gasoline with a Lexus that it is for a diesel powered VW golf is some of the most expensive fuel countries in Europe!   Now that I have convinced you that fuel is expensive everywhere I hope you understand that, as retirees, we're pushing the limit to travel the way we do.  Fuel was expensive…..but not as bad as another expense.    

Fuel was expensive but toll charges were beyond belief.  
However, we had an expense that I'm going to guess you haven't even thought of that was just as expensive.  No it was not airfare or hotels it was TOLL ROADS!     If you want to get anywhere in France or Italy and don't want to take your entire vacation doing it you're going to be using the toll roads.  "But Randy, how expensive could 50 cents here and a dollar there really be?  Where's your data to support this assertion?" the curious reader might exclaim.    

Can you believe this?  
Folks, we paid EXACTLY $5.68 U.S. less on tolls than we did on diesel fuel for the entire trip!  Can you believe that?  We paid 17.7 cents U.S. PER MILE to use the toll roads and there were a few miles where we weren't even on the toll roads.  Chicago is the biggest "rip-off" city for tolls in the U.S.  France and Italy appear to take this "honor" in Europe although I am sure they have other worthy competitors.     There you have it….the FOSSIL FUEL UPDATE.  I'll bet you learned something here.  You might not have known it can be more expensive to drive a luxury car in the U.S. than an economy car in Europe.  You might not have known that toll charges can rival the always talked about high European fuel prices.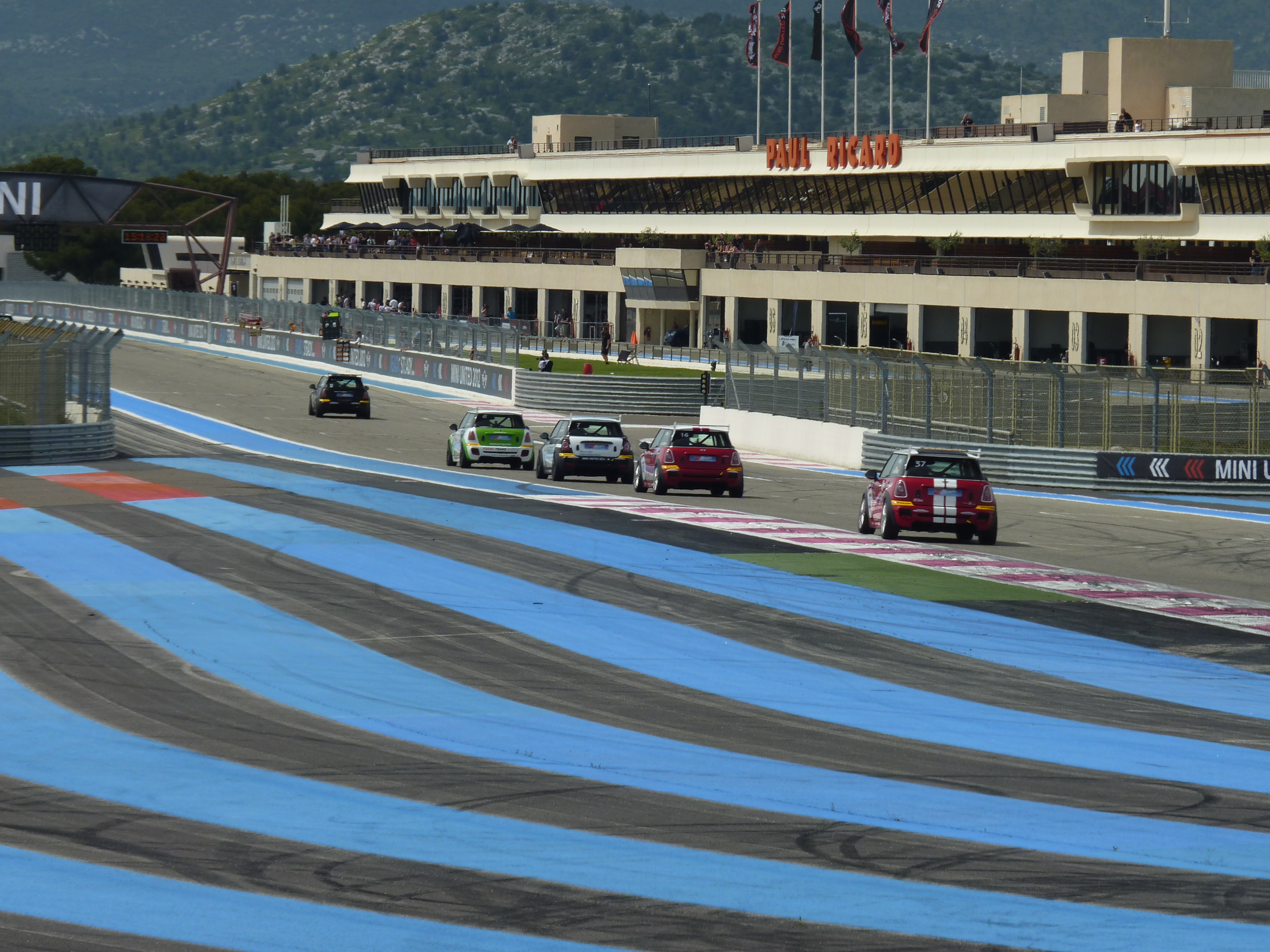 It was time to go racing.
We needed to be at the Circuit Paul Ricard for the 3 p.m. racing start time.  This racetrack is in a rural desert type location in Southern France.  The circuit was built in 1969.  It has hosted the French F1 Grand Prix several times the last of which was in 1990.     I was surprised to learn Formula One promoter Bernie Ecclestone's company owns the track.  He plans to return the French F1 Grand Prix to the Circuit Paul Ricard in 2013.  From there the plan is to race F1 at Paul Ricard in alternating years with the Belgium Grand Prix at Spa-Francorchamps, a track Carol and I saw in 2011.     Today's racing event was part of the "Mini-United" promotion.  Mini-United (Mini-United) was offering the largest ever get together of Mini-Cooper owners and enthusiasts along with a rock concert atmosphere.  However, Carol and I not being music aficionados, had a hard time recognising the major acts.  Have you heard of The Ting Tings and Birdy Nam Nam?  If you have "good on you" you know your music.     The weather was warm (about 95 degrees) but dry.  It was also windy.  This seemed like desert dry heat and it wasn't nearly as bad as if the humidity had been off the charts.     Not knowing what the demand might be for such a huge event we purchased our tickets in advance.  That committed us to attending the show.  I had some helpful advice from a German man associated with the racing group.    

Mini-Coopers and then more….Mini-Coopers.
When we arrived we found a huge airstrip used to accommodate the private jets of F1 thrill seekers.  We also found thousands and thousands of BMW Mini-Cooper automobiles in the parking lot.  After we tracked down our race tickets and a very attractive "lanyard" we headed to the track.     It was still early afternoon, and although the place was crowded, I think the biggest part of the crowd would be around for the evening rock concerts.  The auto racing almost seemed like an afterthought for this event.  The music and Mini-Cooper displays took center stage, no pun intended.     Nevertheless, this was a perfect place to see a race.  First, this would be a new trackchasing country for Carol, #29.  France was my seventh trackchasing country all the way back in 2005.  Secondly, most European countries race more on Sundays than Saturdays, the exact opposite of how it works in the U.S.  Finally, Le Castellet, France was less than two hours from Monaco where we planned to trackchase tomorrow, Sunday.  I was really pleased to find an event that offered so much and complimented the main purpose of this trip….seeing racing in Monaco.    

France was 'in the books' for Carol.
When we arrived at about 2 p.m. they had just started a race for the lesser powered Mini-Cooper group.  These cars were so quiet it was difficult to tell if they were racing.  We grabbed a couple of hot dogs (3.50 euro each) and found a seat in the front straight grandstand.     The circuit is huge and, at any one point, only about half of the racing action can be seen.  The stands on the front stretch were about 5-10% occupied.  The announcing was done in both French and English and maybe German I'm not sure.  I will say this.  The mustard for the hot dogs was the hottest I have ever tasted.  It rivaled the "hot mustard" served in Chinese restaurants.     Although the two races today each started 20-25 cars the action was a little sparse.  The track was simply too large.  However, the cars were meticulously presented albeit somewhat underpowered for such a big track.  I would have preferred to see these cars racing on a high-banked quarter-mile dirt track!    

Moving around on a road course is a good idea.
We did change our seating location to a point where we could see racing in the last couple of turns.  This was much more entertaining.  If you want to see some really beautiful small car racing machines please don't miss the pictures.     We spent a couple of hours after the two races (the only racing for the day) were completed, in the paddock area.  One of the advantages of today's event is that it allows patrons to see every nook and cranny of big time facilities like the Circuit Paul Ricard.  You can bet that during an F1 weekend fans won't be able to get access to we saw today.     Inside the paddock were all manner of Mini-Cooper machines.  There were pristine vintage cars from the 50s and 60s.  There were modern day cars with the most exotic paint jobs one could imagine.  There was even a Mini-Cooper limo and a Mini-Cooper camper.  Don't miss the pictures.    

Did we have the time…and interest for The Ting Tings and Birdie Nam Nam?
We had seen the racing.  We had seen the exhibits.  Now did we want to stay to see The Ting Tings (The Ting Tings) and Birdie Nam Nam (Birdie Nam Nam)?  We stayed for a few minutes but it was just too warm and our desire for this form of music was too little to stay any longer.    

Cannes (pronounced 'con') here we come.
We headed for Cannes, France (Cannes) a city located in the French Riviera.  Cannes' twin city in the U.S. is Beverly Hills, California no less!  Cannes, home to the famous film festival (Film Festival), is just 90 miles up the road and on the way to Monaco tomorrow's destination.  I had used Booking.com to secure two nights of accommodation in Cannes.  I didn't know this in advance but the Cannes Film Festival was beginning just two days after we would leave town.     In Cannes we were staying in an apartment.  Garth took us to the place seamlessly.  We were in a less than luxurious part of town but just a 10-minute walk to the beach where the action would be.     All was going well until I discovered that I did not have the access code to enter our apartment building!    

Big One #2:  Homeless in Cannes.
It was 7 p.m. in Cannes on a Saturday night.  We had parked our car some three blocks from our apartment.  We rolled our luggage that distance to the front of the apartment building.  Now the door to the building was locked from the outside.  What to do?     I had contact phone numbers but my phone doesn't work in France.  It's amazing how dependent we, especially me, have become on cellphones.  We were also facing the language barrier of France.  Folks, when you can't communicate and you need action from someone else….you're screwed.    

Another good Samaritan to the rescue.
As some very good luck would have it, a contractor was doing some late Saturday night work on the building next door.  What were the chances of that?  We asked and he readily agreed to phone the apartment owners with his cellphone.  From there we were given the access code to the building and the combination to the safe inside the lobby that contained our room key.  Now we were back in business!    

This would be a good place to hang our hats for a couple of days.
Our apartment was simple yet functional.  It featured a living room/kitchen with all of the appliances we just wouldn't need during our two-day stay in Cannes.  Probably the best feature was free and fast Wi-Fi.  This kept me in touch with the airlines so we could get home when it was time to get home.    

We weren't homeless and it was time to eat.
After getting past the scare of being "homeless in Cannes" we decided to look around the area.  With a question here and a question there we were soon directed toward the beach.  It was Saturday night and there were many sidewalk cafes open.  We were getting used to having dinner at 9 p.m.     I would say I was minorly disappointed in Cannes.  It wasn't as upscale as I was hoping for although at the beach it was still very nice just maybe not "Newport Beach" nice.  When I take Carol on these trips I want to treat her with the best experiences.  However, we did dine in a wonderful restaurant that again served gourmet food.    

Window shopping?
It being Saturday night the young folks (20s and 30s) were out in force.  It is somewhat amazing what the ladies are wearing nowadays.  Watching them was like days gone by when the term "window shopping" was used.  When one went window shopping you weren't going to buy anything but just looking was free.     At this point we walked back to the apartment with great anticipation for what tomorrow would bring.  If all went well I would see racing in my 60th different country and Carol would see racing action in her 30th country.  That's 90 country visits between us two youngsters.  No other racing couple has seen one-third that many!


THE TOP LINE SUMMARY.
Fact 1:  We are retired pensioners living off our meager savings in retirement.
Fact 2:  It was Mother's Day weekend.  I had to treat Carol in some special way right?
Fact 3:  The trip was planned to this last detail.
Fact 4:  However, despite all the planning in the world, everything CANNOT be planned for.  
As you read the words from this great "Mother's Day Adventure" be on the look out for the FIVE BIGS ONES.  
Big One #1:  The car won't start.
Big One #2:  We were homeless in Cannes.
Big One #3:  Someone on the train has stolen my wallet
Big One #4:  It's tear gas!  Get out!
Big One #5:  The crash.  
The Five Big Ones
When you finish reading all three parts of this travelogue the "Five Big Ones" will make all the sense in the world to you.  You'll also hear about exciting places like Venice, Italy, Cannes, France and Monte Carol, Monaco just to name a few.     Also, don't miss the photos from these places and more.  You'll see some things you've only read about maybe even including those famous topless beaches in southern France.  Of course, lots of racecars for those "gear heads" among you.  If you like seeing F1 vintage racecars these pictures are for you.  The culinary police won't be disappointed either.  There's something for everyone.    
TODAY'S HEADLINES
What a train ride ……..details in "Sunday – Day 7 – Monte Carlo, Monaco"  
We were a big "hit" at the Cannes Film Festival ……..details in "Monday – Day 8 – Cannes, France"  
I've never had a trip I didn't like……..details in "Tuesday – Day 9 – On the way home!"    
Sunday – Day 7 – Monte Carlo, Monaco
LIKE TO KNOW MORE ABOUT MONACO?
If you'd like to learn a little more about Monaco the country check out the "background" information I prepared for you.  Simply click on the "background" tab.  I have condensed this section so you can get a good "feel" for this western European continent location.  Most of the material comes from Wikipedia.    
I'm in this for the adventure.
This morning we woke up in Cannes, France.  We went to sleep near the Charles de Gaulle Airport in Paris (not IN the airport!).  It was an active day.  Come along and enjoy the experience.     Cannes is less than an hour's drive from the Circuit de Monaco in Monte Carlo, France.  Of course, we could have driven that distance easily.  However, I am always looking for the more "unusual" travel aspects of any vacation we might take.  We would take the train!    
Traveling by the seat of our pants.
I hadn't done a whole lot of preparation with this idea.  The folks at TripAdvisor.com advised me on the pricing.  It would cost only about 15 euros per person to ride the train down to Monte Carlo and back.  I figured with the cost of gas and parking we'd probably break even on the deal.  However, I didn't want to take the train to save money.  I wanted the adventure.     "But Randy, you're riding a train for gosh sakes.  What kind of adventure could you possibly encounter on a one-hour train ride" the long-time well-satisfied reader might reasonably ask.    
Some folks get adventure; some don't
Yes, adventure is where you find it.  Folks I am certain there are people who rode the train from Cannes over to Monaco and back on Sunday who didn't have ANY great adventures to tell their friends about.  However, if that were the case they didn't ride in our part of the train!     By the way when we walked out of the front door of our apartment we had no idea where the train station was located.  The night before someone had told us that it wasn't far from our apartment.  However, our strategy this morning was just to start walking and ask people along the way.  Many of my trips are extensively planned.  However, some are "fly by the seat of your pants" as our trip was for this morning.    
Big One #3:  Someone on the train has stolen my wallet.
Just moments after we boarded the train in Cannes, an English man (U.K.) began screaming at the top of his lungs, "Someone on the train has stolen my wallet.  There is a thief on this train".  You can imagine this got everyone's attention.     A large group of about 50 people had boarded our double-decker train car all at once.  It must have been at this time that the man's wallet was picked from his pocket.  With the victim yelling and everyone boarding the train all at once it was mass confusion.    
We found your wallet!
The train was so crowded that only Carol could sit.  I stood, about ten feet from the victim.  He was pretty well agitated.  We were on the top level of the train.  In a minute or so, someone yelled from the bottom of the train, "We found your wallet."  Apparently, the thief had "chickened out" when all of the noise about his crime had been made public and simply dropped the wallet.  An American had found the wallet on the floor of the bottom level of the train car even though the man who lost it was on the top level.  From what I could tell the wallet was intact and the victim didn't lose anything.    
Who done it?
From that point, the group of about ten U.K. travelers began to speculate as to who might have been the thief.  The train was moving now and they had about fifty people to pick from.  If we had gone along much further I think they were about ready to lynch a younger man whom they suspected was part of the attempted crime.  Yes, riding the train was providing EXACTLY the kind of international adventure I was looking for.    
People from all over the world are always befriend us.
Soon we were in Monaco.  Some U.K. folks (the Wilsons) who now live in France had befriended us.  They gave us the lowdown on riding the trains and how best to enjoy the Circuit de Monaco.  They were nice folks and we appreciated their help.    
Tickets.  Who's got the tickets?
I had ordered our race tickets in advance.  I don't like to buy anything in advance unless I have too or there's a worthwhile price advantage.  Committing in advance simply limits the trip's flexibility.  I don't like limited flexibility.     Again, we had to ask a few people how to get to the travel agency that had our race tickets.  However, it wasn't long before we found the place and we had our tickets.    
This was going to be perfect race weather….unless is started raining.
The weather was cloudy and cool.  If it didn't rain it would be perfect for race viewing.  If it did rain they would still race…..but we would get wet.  That's one of the main trackchasing advantages when I travel internationally.  Most places race in the rain.  In the U.S. most places DON'T race in the rain.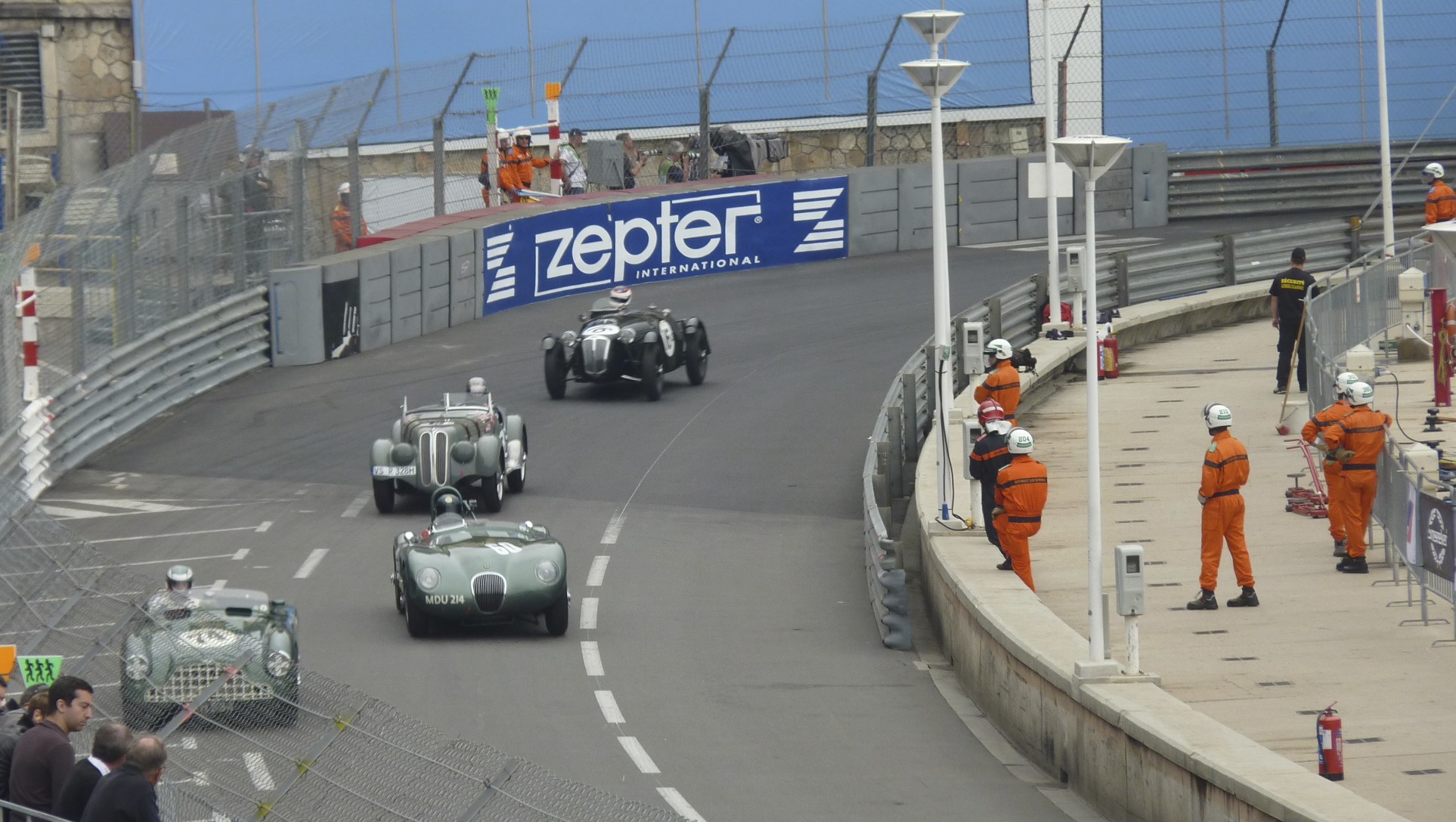 The Historic Grand Prix of Monaco….cool.
We were here to see the Historic Grand Prix of Monaco.  Here's a link to a great website that will give you the details about this event (HGPM).  The event happens every other year a couple of week before the Formula One Grand Prix in Monaco.     I thought about going to this race last year only to learn that 2011 was their "off" year.  During that time Englishman Colin Herridge came some good "intel" about the event.    
Give me vintage over modern at this venue any day.
I would much rather see the HISTORIC Grand Prix than the Formula One Grand Prix racing at Monaco for a few reasons.  It would be much less crowded for the historic GP.  Seeing the historic GP would be a lot less expensive too.  Tickets for today's race was 30 euro.  Tickets for the F1 Grand Prix, for a grandstand seat, would be in the 450 euro (about $500-700 U.S.) range per seat.  That's beyond ridiculous!     Essentially you can't see much at a F1 race.  I've been to several including races in Korea, Singapore and Las Vegas.  It's no different than most road course racing.  Usually if you can see 25% of the course if you're lucky.  If you're not so lucky you might only be able to see 5-10% of the race circuit from any one position.     Another MAJOR advantage of seeing the historic GP was that we would see cars from many different eras.  The racing in Monaco first began in 1929.  How do I know that?  The souvenir race hat I bought tell me so.    
If you like vintage racecars you'll love the cars that raced today.  Don't miss the pictures.
If you want to see lots of pictures from cars that have raced over the years in Monaco you won't want to miss my still photos or YouTube videos.  You can see them by clicking on the links above.  I won't comment much more on the racing.  We had a good time.  The pictures will tell the complete story about that.  
AFTER THE RACES……
This was not our first Monaco rodeo.
After the racing it was a short walk back to the Monte Carlo train station.  By the way this was not our first visit to Monaco.  Back in the 80s Carol and I attended the Long Beach Grand Prix in California as the guest of American Airlines.  We ended up winning a contest and first prize was a week's hotel and round-trip airfare to…..Zurich, Switzerland.  Not bad huh?  During that trip we flew over to Monte Carlo for a couple of days to see the place.  That was a fun trip and this one was too.     We figured that nothing could match the excitement of our train ride from Cannes to Monte Carlo.  We might have been wrong with that line of thinking.    
Big One #4:  It's tear gas.  Get out.
Again, if you were a passenger in another part of the train you would have missed this adventure too.  Midway during our short one-hour ride we stopped at one of the train's regular stops.  During the one-hour ride the train stopped six or eight times.  When it did passengers got on and off the train.    
Something wasn't right.
At one of the stops three teen aged boys left the top deck where we were seated.  I was busy looking out the window for picture taking opportunities.  However, something didn't seem right….or should I say smell right.     Carol heard a "hissing" sound at the boys walked past her.  She felt some sort of spray hit her arm.  A very short time later we could tell what it was.  The boys had sprayed some form of tear gas/mace in our car.  People were slow to recognize this at first.  I have experienced tear gas during Marine Corps boot camp.  It's not pleasant especially the way the Marines like to "introduce" it to young recruits.    
Get out!
I immediately yelled to Carol "Get out".  Other passengers were coming to the same conclusion on about the same timing.  As we left the train we could see the three boys running for their lives a long way up the tracks.    
This could have been serious and maybe it was.
I am sure to them they saw this as a harmless prank.  However, for some of the passengers this was very serious.  One old woman, in her 80s, had some serious choking go on.  I'm not exactly sure how she turned out.  Another young woman had a newborn baby in her arms.  She wasn't doing well either.     By now we were all standing outside the train car wondering what to do next.  Although I was gasping for air and my eyes were watering I had enough sense to wonder what would happen if the train took off without us.  Luckily, the train personnel recognized the situation.  The train was delayed for several minutes while the passengers in our car boarded another part of the train.     Carol told me she was affected by the tear gas throughout the remainder of the day.  Who would have thought we would have so much excitement with a simple one-hour round-trip train ride.  Carol doesn't know if she so keen on riding any more trains!    
Why were all the restaurants closed?
We had some difficulty finding a restaurant near the water in Cannes on this Sunday night.  That was surprising to me.  As busy as Saturday night dining had been in town, Sunday was just the opposite.  However, just at it started to rain, we found a great little French restaurant that was open.  There we continued our more than week-long adventure of eating gourmet food, with dessert, everywhere we went.    
Monday – Day 8 – Cannes, France to Paris, France
Our apartment had been a good find.
We woke up in Cannes, France and went to sleep just outside of Paris, France.  This is what happened on this rather traumatic day.     It was easy checking out of our Cannes apartment.  The building is home to seven individual apartments.  I found it on Booking.com.  There is no reception desk.  Once inside we retrieved our apartment key in a safe on the ground floor of the building.  When we left we simply walked out of the two-room apartment and put our key back in the safe.     Then we walked three blocks to pick up our car that had been parked for two days.  It was nice not to do any driving for 48 hours.  However, today's drive would be nearly 600 miles and take a bit more than nine hours.    
I had a bright idea….let's see more stuff.
Before we left Cannes, a city famous for its' worldwide recognized film festival I had a bright idea.  We had been staying just a 10-minute walk from the beach.  On both Saturday and Sunday nights we had dined near the beach but only after the sun had gone down.  I wanted to see the beach in the daylight hours.     These beachside French towns, Italy too, remind me so much of the San Clemente-Laguna Beach-Newport Beach area of southern California.  It's really beautiful real estate.    
It was a postcard perfect morning.
I had just turned onto the main drag.  Traffic was slow.  After a couple of blocks Carol and I determined that we had better just head to Paris.  The road we were on was three lanes wide.  We were driving in the center lane.  A huge bus was in the right lane, which was reserved for buses only.  The bus was stopped.  I couldn't tell if it was stopped for a red light or to let people on and off the bus.  If there was a stoplight it was blocked from my view by the bus.     Since I was in the center lane and couldn't see the stoplight with the bus on my right entering the intersection I waited.  I figured if the bus went we must have a green light.    
The left lane would provide the action.
The far left lane was normally reserved for parking.   However, there were no parked cars in the left lane at this point in time.  "Randy, I certainly appreciate the level of detail you provide in these reports but what's so important about this seemingly innocent intersection?" the somewhat impatient reader might reasonably ask.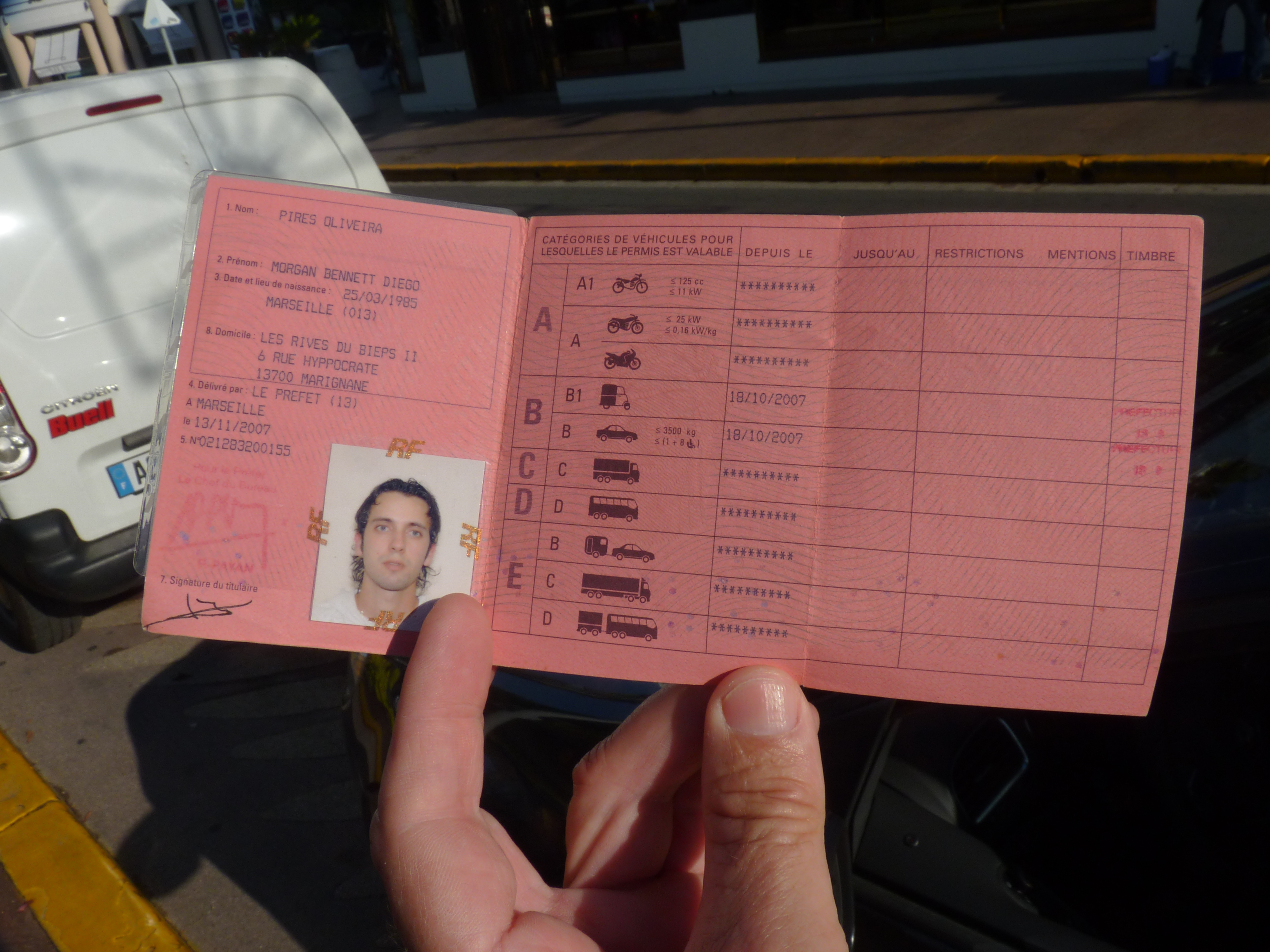 Big One #5:  The crash.
I'm not just telling you about the street grid of Cannes for my health.  I'm describing an accident scene!  That's right.  While I was stopped in the center lane a white panel van tried to pass me on the left.  He drove through the parking lane to my left but that created a problem.  As he attempted to pass me his right rear clipped my left rear.  Bang!  Thud!  Crash!    
He hit us!
"He hit us" I yelled at Carol.  Yes, our Avis Rental Car Racing VW Golf that had just 1,000 miles on its odometer when we picked it up was now wounded.  I honked loudly and the offending driver pulled his van over to a stop on the other side of the intersection.  I pulled in right behind him.     The young man, that I later learned was 27 years old, was somewhat distraught.  He said in English but with a strong French accent, "I'm sorry.  It's my fault but I have to get to work.  Just take a picture of my license plate and we'll both go on".  Nope.  That didn't work for me.    
You wanna go dancing tonight.
I told him we had to call the police.  He agreed to do that and told me to make the call.  Of course, my cell phone doesn't work in France.  I asked the him to make the call.  He did so in French.  He came back with the answer that told me something to the effect, "Police don't come to the scene of accidents like this".  That sounded plausible.  However, for all I knew he could have been calling his girlfriend and saying, "This stupid American thinks I'm calling the police since I just ran into him.  You wanna go dancing tonight?".    
This situation was going to suck.
"Show me your driver's license" I demanded.  He replied that he was late for work which was just across the street from where we were standing.  I told him I would need to call Avis to find out what action was required on everyone's part.     "I work just across the street.  Here's my license and my phone.  When you find out what you need to do come over to where I will be working" he told me.  With that he gave me his brand new iPhone and driver's license.     It took me sometime to figure out how to make calls to the foreign based phone numbers of the Avis accident hot line with my newly borrowed French iPhone.  Finally, I did get in touch with Avis.  They weren't all that helpful and the French language barrier didn't help.     Carol and I surmised that we needed to fill out the accident form found in the glove box.  Our car was certainly drivable.  The damage consisted of some severe scrapes on the rear bumper and right rear quarter panel.    
My mind jumped ahead.  This was going to be a hassle.
Despite the somewhat minor damage I knew this was going to be a "paperwork/follow-up nightmare".  That was a pretty obvious conclusion.  Luckily, I found a good Samaritan Frenchman who spoke English well.  He would help us through parts of this.     We were having some good fortune now.  The helpful man turned out to be the boss of the driver who had hit me.  The driver was supposed to have been at work at 6 a.m.  It was now 9 a.m. when he finally showed up.  Maybe being three hours late for work was why he felt he needed to sideswipe me just 50 yards from his workplace.     This fellow's boss was more than helpful.  He guided me through the completion of the accident form which was printed 100% in French!  Without his help I might still be in Cannes trying to figure out what to do next.  All the while Carol sat in our car about 80 meters away.     While we completed the form, the offending driver, Morgan Bennett, continued his work.  He was building and erecting huge billboards that advertised films for the upcoming Cannes Film Festival.  The festival would be starting in just two days.  The press was on to get these billboards placed on the sides of buildings all along the oceanfront street.    
My iPhone does it all.
I used my iPhone to take pictures of the damage done to both vehicles.  I also took photos of Morgan's driver's license and insurance card.  The accident form had a place for me to draw a picture of sorts of how the accident occurred.  Then, after answering a few more form questions both Morgan and I signed it.     He was more than apologetic.  He really did seem like a nice guy.  However, apologies don't pay body shop bills.  When I get back to Paris I'll present the accident form with my explanation of what happened.  Since I never buy the rental car insurance I'll have to take this paperwork to my MasterCard rental car insurance company.  From there I hope they pay!  I'll keep you posted.     This little "stop" had cost us nearly two hours.  That would prevent much sightseeing along the way today.  We headed north for our nine-hour, 600-mile drive a little deflated.    
We now enjoyed a nine-hour mostly leisurely drive back to Paris.
The drive was uneventful except on a few fronts.  The French toll roads are in fantastic shape but very expensive to use.  They have quality rest areas complete with restaurants, gas stations, etc. every 15-30 miles.    
Really?
Despite the rest areas offering all kinds of useful services, neither the men or women's toilets have toilet seats.  If you need to sit down then it's bare skin meets cold porcelain time.  How can sophisticated Europeans put up with these substandard toilet conditions?     We also had breakfast in one of these rest areas that was home to a McDonald's.  I won't normally eat in an American chain on one of these trips but our hotel didn't offer breakfast and this was our first stop of the day.    
Really….again?
Folks, McDonalds is OPEN for breakfast they just don't DO breakfast.  There is no oatmeal, no egg McMuffin or O.J.  They just serve their regular burger meal in the mornings!   What really intrigued us was the electronic ordering machines.  You didn't have to be anywhere near the counter to place your order electronically.  Are lines really that much of a problem at Mickey Ds?  There were no lines this morning so we ordered the traditional way.    
Tuesday – Day 9 – On the way back to San Clemente, California via Minneapolis-St. Paul, Minnesota and San Francisco, California
24 hours (and more) of straight traveling.
Today was getaway day.  We had a wonderful time, with lots of adventure, on this trip.  We couldn't or wouldn't ask for more.  Some call the "getaway" day the "endless" day.     Our flight would be leaving at about 11 a.m. Paris time.  That was 2 a.m. – Tuesday, San Clemente time.  Of course we STARTED our day in Paris five hours earlier at 9 p.m. Monday night – San Clemente time.  If all went really well we would get home at 7 p.m. San Clemente time.  If all did not go all that well we would be traveling from the Paris airport to our modest cottage by the sea for 24 full hours before pulling into the driveway at 2 a.m. Wednesday morning.  If that happens then yoga class will probably get stiffed!    
We did very well with our hotel choices on this trip.
There were a few "loose ends" to tidy up.  First, we needed our breakfast from the Le Celtique Hotel.  By the way, this was an excellent choice for a "night before" Paris departure hotel.     Our room was great and it was quiet especially considering it was so near the Charles DE Gaulle Airport.  It was easy to find….the hotel provided GPS coordinates right to their front door.  The price was right.  How can you beat $73/night in Paris.     The hotel restaurant served us an excellent dinner last night.  Dessert was crème brulee, maybe our best treat of the trip.  There was free parking within 15 feet of the front door.  Breakfast, at an additional cost of 6.50 euro was much cheaper than eating in the airport.  Breakfast was served at a bar next door to the hotel.  This might have been our best breakfast of the trip.    
What was Avis going to think about this great adventure?
Then we were off to return our rental car.  There was one little issue, our Cannes accident, to both report and to resolve.  Of course, we would not resolve this issue in Paris.  I would have to follow-up with the folks at MasterCard.  I use them instead of getting any additional insurance from the rental car people.  I've never had a claim with them.  I'll keep you posted as to the outcome.     Working with Avis in Paris was pretty simple.  The young woman looked at the car reported it as a "left rear wing scratch/scrape" and we were on our way.  Of course, she did charge us 379.42 euro for the damage, a 29.26 euro "damage administration fee" and 7% V.A.T. on all of the above.  Now if MasterCard pays me back I'll be even!    
Does this seem fair?
Here's the funny part of this situation.  I would highly doubt that Avis will go after the driver that hit me for $500 U.S. or so.  Therefore he gets off scot-free and we have the paperwork hassle and possible some financial impact from the accident.  As I told a friend we were a "big hit" at the Cannes Film Festival.     Once at the Charles de Gaulle airport we went through the "rigamarow" that is called checking in for an international flight.  We were well rested and ready for it.  We did have to take our liquids and computer out of our bags but were allowed to keep our shoes on!    
One minute you have a business class seat….the next you don't.
The flight from Paris to Minneapolis was wide open for sponsored passengers like us.  The only question was whether or not we would get business class on the nine hour and twenty minute flight.  At first we were given a business class seat and a coach seat for the two of us.  Then I was told to wait to see if we might be able to get a second business class seat.     Going into the flight there were 13 business class seats that were unsold.  Carol and I were #14 and #15 on the standby list.  The odds were good that we would get upgraded.  Usually a few people on the standby list (ahead of us) or folks with paid tickets don't show up.     Soon the agent called me back to the desk.  He was sorry that he couldn't come up with a second business class seat.  He was even sorrier to report that he would have to take back the one business class boarding card he had already given me.     It wasn't so bad.  Carol and I were given two seats in coach in a row of four seats.  This left two open seats between us giving one of us, at a time, room to sleep as needed.    
A fantastic discovery.
I did make one fantastic discovery in our coach section.  They had electrical plugs.  This was huge!  It meant I could work on my laptop for the entire flight without having any battery problems.  My Apple MacBook Pro has excellent battery life but a nearly 10-hour flight would exhaust it.  With "electric" I could keep my screen on full brightness AND arrive with a 100% charged battery for our five-hour flight back to Los Angeles.  Actually, our set up in coach class was nearly, but not totally, as good as having a business class seat.    
I learn something new from every trip.
I also re-discovered another "convenience" item on this trip.  I flew barefooted!  Yep!  Even though I've flown internationally hundreds of times I only started flying barefooted during the past trip or two.  Of course when bathroom needs arise I'll put my shoes on as the "lavs" on international flights can get a bit "nasty" after a few hours.  Carol behaved herself by watching movies most of the flight.    
We're Energizer Bunnies.
Soon, well not really "soon" we were back in Los Angeles.  Actually we ended up having to fly from Minneapolis to San Francisco to Los Angeles.  It didn't matter.  We just keep going like the Energizer Bunny.  I was too wiped out to consider yoga class!  Nevertheless, we had a great time on this trip.  Honestly, I can't ever recall NOT having a good time on ANY trackchasing trip I've ever taken.     Trackchasing country #60 is now in the books for me.  Number 30 is on Carol's trackchasing resume.  We'll be back to North American trips for a while.  However, I have my eyes on some more international adventures.  Stay tuned.  
Thanks for reading about my trackchasing, 
Randy Lewis
World's #1 Trackchaser (semi-retired)
Life should NOT be a journey to your grave with the intention of arriving with a well-chiseled and honed body but rather to crash in, riding your golf cart up the 18th fairway with a glass of single malt in one hand and a brownie in the other. You should be totally worn out and used up with a tattoo on your chest proclaiming, "What a ride".     And so it goes from country #60.  I hope you'll tune in when country #61 becomes a reality.  
RLR – Randy Lewis Racing Lifetime Trackchasing Countries
# 1 – UNITED STATES OF AMERICA – Peoria Speedway – Mt. Hawley, (oval) – Track #1, Peoria, Illinois – circa 1954 (age 5)  
# 2 – CANADA – Cayuga Speedway (oval) – Track #174, Nelles Corner, Ontario, Canada – July 31, 1988 (Dick Trickle winner)  
# 3 – AUSTRALIA – Parramatta City Raceway (oval) – Track #180, Granville, New South Wales, Australia – November 17, 1989 (accompanied by Carol)  
# 4 – UNITED KINGDOM – Northhampton International Raceway (oval) – Track #378, Northhampton – June 26, 1999 (accompanied by Carol, Kristy, Jim)  
# 5 – NETHERLANDS – Driesum Racetrack (oval) – Track #839, Driesum – May 5, 2005 (accompanied by Roland Vanden Eynde)  
# 6 – BELGIUM – Bellekouter oval (oval) – Track #841, Affligem – May 8, 2005 (accompanied by Roland Vanden Eynde)  
# 7 – FRANCE – Circuit de Croix en Ternois (road course) – Track #843, Saint-Pol sur-Ternoise – May 8, 2005 (accompanied by Roland Vanden Eynde – 2nd new country in one day!)  
# 8 – GERMANY – Nurburgring (road course) – Track #844, Nurburg – May 13, 2005 (accompanied by Carol, Roland Vanden Eynde)  
# 9 – NEW ZEALAND – Western Springs Speedway (oval) – Track #1,134, Western Springs – December 26, 2006 (accompanied by Carol)  
# 10 – MEXICO – Triovalo Bernardo Obregon (oval) – Track #1,281, Tiajamulco de Zuniga, Jalisco – October 14, 2007 (accompanied by Carol, J.J., Roger Ward)  
# 11 – BARBADOS – Bushy Park Racing Circuit (road course) – Track #1,296, Bushy Park – December 9, 2007  
# 12 – THAILAND – Bira Circuit (road course) – Track #1,300, Pattaya – January 19, 2008  
# 13 – SOUTH AFRICA – Durban Grand Prix (road course) – Track #1,315, Durban, KwaZulu-Natal – February 24, 2008 (accompanied by J.J. and Will Van Horne)  
# 14 – JAMAICA – Dover Raceway (road course) – Track #1,322, Brown's Town St. Ann – March 24, 2008  
# 15 – SWEDEN – Sturup Raceway (road course) – Track #1,335, Malmo – May 10, 2008 (accompanied by Carol)  
# 16 – DENMARK – Ring Djursland (road course) – Track #1,336, Tirstrup – May 11, 2008 (accompanied by Carol)  
# 17 – CZECH REPUBLIC – Automotodrome BRNO (road course) – Track #1,381, Brno – September 13, 2008  
# 18 – AUSTRIA – Lambrechten Stock Car Track (road course) – Track #1,382, Lambrechten – September 14, 2008  
# 19 – IRELAND – Tipperary International Raceway (oval) – Track #1,388, Rosegreen – October 26, 2008 (Carol and I visited this track earlier in the year)  
# 20 – GUYANA – South Dakota Circuit (road course) – Track #1,390, Timehri – November 2, 2008 (accompanied by Carol)  
# 21 – CHINA – The Guia Circuit (road course) – Track #1,392, Macau – November 16, 2008 (accompanied by Carol)  
# 22 – COSTA RICA – Autodromo La Guacima (road course) – Track #1,398, La Guacima – November 30, 2008  
# 23 – ANDORRA – Grandvalira Circuit (road course) – Track #1,404, Port d'Envalira, Andorra – January 17, 2009  
# 24 – ARGENTINA – Circuito Efren Chemolli (oval) – Track #1,406, Buenos Aires, Argentina – January 31, 2009 (shared with Jerry Fisher)  
# 25 – QATAR – Losail International Circuit (road course) – Track #1,408, Doha, Qatar – February 13, 2009  
# 26 – BAHRAIN – Bahrain International Circuit (road course) – Track #1,410, Sakhir, Bahrain – February 27, 2009 (accompanied by Carol)  
# 27 – UNITED ARAB EMIRATES – Dubai Autodrome (road course) – Track #1,411, Dubai, United Arab Emirates – February 28, 2009 (accompanied by Carol)  
# 28 – COLOMBIA – Autodromo de Tocancipa (road course) – Track #1,415, Tocancipa, Colombia – March 22, 2009  
# 29 – SPAIN – Motorland Aragon (road course) – Track #1,416, Alcaniz, Spain – March 28, 2009  
# 30 – PORTUGAL – Circuto de Murca (road course) – Track #1,417, Murca, Portugal – March 29, 2009  
# 31 – ICELAND – Kapelluhraum (road course) – Track #1,420, Hafnafjorour, Iceland – April 25, 2009 (shared with Will White)  
# 32 – HUNGARY – Hungaroring (road course) – Track #1,426, Mogyorod, Hungary – May 8, 2009 (accompanied by Carol)  
# 33 – SWITZERLAND – Hock Ybrig (road course) – Track #1,427, Hoch Ybrig, Switzerland – May 9, 2009 (accompanied by Carol)  
# 34 – ITALY – Vighizzolo d'Este Stock Car Track (road course) – Track #1,428, Vighizzolo d'Este, Italy – May 10, 2009 (accompanied by Carol)  
# 35 – DOMINICAN REPUBLIC – Autodromo Mobil 1 (road course) – Track #1,515, Santo Domingo, Dominican Republic – December 6, 2009 (accompanied by Carol)  
# 36 – MALTA – Ta'Qali Race Track (road course) – Track #1,521, Ta'Qali, Malta – February 7, 2010 (accompanied by Carol)  
# 37 – FINLAND – Lake Pidisjarvi Ice Track (road course) – Track #1,524, Nivala, Finland – February 20, 2010  
# 38 – JAPAN – Suzuka Circuit (road course) – Track #1,530, Suzuka, Japan – March 21, 2010  
# 39 – CHILE – Autodromo de Interlomas (road course) – Track #1,531, Temuco, Chile – April 18, 2010  
# 40 – MOROCCO – Circuit de Marrakesh (road course) – Track #1,535, Marrakesh, Morocco – May 1, 2010 (accompanied by Carol)  
# 41 – BRAZIL – Circuit de Caruaru – Aryten Senna (road course) – Track #1,540, Caruaru, Brazil – May 16, 2010 (accompanied by Carol, Jerry Fisher and Katina Spencer)  
# 42 – ESTONIA – Laitse Rally Park (road course) – Track #1,571, Laitse, Estonia – July 24, 2010 (accompanied by Carol)  
# 43 – LATVIA – Bikernieki (road course) – Track #1,572, Riga, Latvia – July 25, 2010 (accompanied by Carol  
# 44 – GUATEMALA – Autodromo Pedro Cofino (road course) – Track #1,580, Alotenango, Guatemala – August 15, 2010  
# 45 – EL SALVADOR – El Jabali (road course) – Track #1,582, Quezaltepeque, El Salvador – August 22, 2010 (accompanied by Carol)  
# 46 – ROMANIA – Bradu (road course) – Track #1,603, Bradu, Romania, El Salvador – October 16, 2010  
# 47 – BULGARIA – Closed Route – Burgas (road course) – Track #1,604, Burgas, Bulgaria – October 17, 2010 (accompanied by Lyubomir and Plamen Simeonov)  
# 48 – SOUTH KOREA – Korea International Circuit (road course) – Track #1,605, Yeongam, Jeollanam-Do, South Korea – October 24, 2010  
# 49 – PHILIPPINES – Batangas Racing Circuit (road course) – Track #1,608, Batangas, Philippines – November 21, 2010  
# 50 – NORWAY – Lyngas Motorbane (road course) – Track #1,648, Lier, Norway – April 30, 2011  
# 51 – MALAYSIA – Sepang International Circuit (road course) – Track #1,656, Sepang, Malaysia – May 28, 2011   # 52 – INDONESIA – Sentul International Circuit (road course) – Track #1,657, Babakan Madang, Boder, Indonesia – May 29, 2011  
#53 – LUXEMBOURG – Alzingen (road course) – Track #1,711, Alzingen, Luxembourg – September 4, 2011 (accompanied by Carol)  
# 54 – POLAND – Tor Slomczyn (road course) – Track #1,713, Slomczyn, Poland – September 11, 2011 (accompanied by Carol)  
# 55 – SINGAPORE – Marina Bay (road course) – Track #1,714, Singapore, Singapore – September 24, 2011 (accompanied by Carol)
# 56 – URUGUAY – Piriapolis Grand Prix (road course) – Track #1,724, Piriapolis, Uruguay – November 12, 2011  
# 57 – SRI LANKA – Pannala Race Track (road course) – Track #1,732, Pannala, Sri Lanka – February 12, 2012  
# 58 – ECUADOR – Autodromo Internacional de Yahuarcocha (road course) – Track #1,736, Ibarra, Ecuador – March 11, 2012  
# 59 – SLOVAKIA – Slovakia Ring (road course) – Track #1,742, Orechova Puton, Slovakia – April 29, 2012  
# 60 – MONACO – Circuit de Monaco (street course) – Track #1,746, Monte Carlo, Monaco – May 13, 2012      
The 'International Big 5' standings.


During the last 55 months, I have added 51 trackchasing countries to my list.  That's an average of nearly one new country every month for going on five years.
Randy Lewis, San Clemente, California USA – 60

Roland Vanden Eynde, Vilvoorde, Belgium – 50

Carol Lewis, San Clemente, California USA – 30

Will White, Quakertown, Pennsylvania USA – 25

Chris Economaki, Charlotte, North Carolina USA – 20




I hope to have a good year of international trackchasing.
I started the year having seen racing in 56 different countries.  Monaco becomes country #4 for 2012.  I figure I might as well see as many new countries as I can while I have the resources and good health.    

2012 Country List
Sri Lanka
Ecuador
Slovakia
Monaco    

Monaco knocks off one of the last (maybe the last) Western European trackchasing countries where I can see wheel-to-wheel racing.  Am I finished adding new countries to this year's total?  No, although I might be finished until after the U.S. "summer rush".  We'll see.  I've got a lot of "international irons in the fire".  My "fishing" net is being cast wide and far.  We'll just have to see how much cooperation I get from the United States State Department and various foreign governments.  As international trackchaser Will White says, "I would never be surprised to see you show up anywhere in the world".  Of course, his words are loosely translated.    


Monaco – FAST FACTS*
Monaco, officially the Principality of Monaco, is a sovereign city state, located on the French Riviera in Western Europe. Bordered by France on three sides, with one side bordering the Mediterranean Sea.  It has an area of 0.76 sq mi, and a population of 35,986, making Monaco the second smallest and the most densely populated country in the world.   Monaco is a principality governed under a form of constitutional monarchy, with Prince Albert II as head of state.  The House of Grimaldi have ruled Monaco, with brief interruptions, since 1297.  The official language is French, but Monégasque, Italian, and English are widely spoken and understood.  Despite Monaco's independence and separate foreign policy, its defence is the responsibility of France.  However, Monaco does maintain two small military units, totaling 255 officers and men.   Economic development was spurred in the late 19th century with a railroad line to France, and the opening of the first casino, Monte Carlo Casino.  Since then, the principality's mild climate, splendid scenery, and gambling facilities have made Monaco world-famous as a tourist and recreation center for the rich and famous. The state has no income tax and low business taxes, and is well known for being a tax haven.   Monaco boasts the world's highest GDP nominal per capita at $172,676 and GDP PPP per capita at $186,175.  Monaco also has the world's highest life expectancy at almost 90 years, and the lowest unemployment rate at 0%, with over 48,000 workers who commute from France and Italy each day. For the third year in a row, Monaco in 2011 had the world's most expensive real estate market.  Monaco has the world's lowest poverty rate, and the highest number of millionaires and billionaires per capita in the world.    
SKIPPING THROUGH THE HISTORY OF MONACO
Following a land grant from Emperor Henry VI in 1191, Monaco was refounded in 1215 as a colony of Genoa.  Monaco was first ruled by a member of the House of Grimaldi in 1297, when Francesco Grimaldi, known as "Il Malizia" (translated from Italian either as "The Malicious One" or "The Cunning One"), and his men captured the fortress protecting the Rock of Monaco while dressed as a Franciscan monk – a Monaco in Italian, although this is a coincidence as the area was already known by this name.   In 1419, the Grimaldis purchased Monaco from the crown of Aragon and became the official and undisputed rulers of "the Rock of Monaco", and in 1612 Honore II began to style himself "Prince" of Monaco.  The princes of Monaco thus became vassals of the French kings while at the same time remaining sovereign princes. As successive princes and their families spent most of their lives in Paris, and through marriages with French nobilities, the House of Grimaldi, though Italian in origin, became thoroughly French in character. The principality continued its existence as a protectorate of France until the French Revolution.   In 1793, Revolutionary forces captured Monaco and it remained under direct French control until 1814, when the Grimaldis returned to the throne.  In 1869, the principality stopped collecting income tax from its residents—an indulgence the Grimaldis could afford to entertain thanks solely to the extraordinary success of the casino. This made Monaco not only a playground for the rich, but a favored place for them to live.   In 1943, the Italian army invaded and occupied Monaco, setting up a Fascist administration.  Shortly thereafter, following the collapse of Mussolini, the German Wehrmacht occupied Monaco and the Nazi deportation of the Jewish population began.  A 1962 amendment to the constitution abolished capital punishment, provided for women's suffrage, and established a Supreme Court of Monaco to guarantee fundamental liberties. In 1993, the Principality of Monaco became a member of the United Nations, with full voting rights.[65] In 2002, a new treaty between France and Monaco specified that, should there be no heirs to carry on the Grimaldi dynasty, the principality would still remain an independent nation rather than revert to France.  On 31 March 2005, Prince Rainier III, too ill to exercise his duties, relinquished them to his only son and heir, Prince Albert II.  Prince Rainier died on 6 April 2005, after a reign of 56 years, his son Prince Albert II succeeded him, and was thereafter titled Albert II, Sovereign Prince of Monaco.   Rainier III, who ruled until 2005, succeeded to the throne following the death of his grandfather, Prince Louis II, in 1949. On 19 April 1956, Prince Rainier married the American actress Grace Kelly; the event was widely televised and covered in the popular press, focusing the world's attention on the tiny principality.   A 1962 amendment to the constitution abolished capital punishment, provided for women's suffrage, and established a Supreme Court of Monaco to guarantee fundamental liberties. In 1993, the Principality of Monaco became a member of the United Nations, with full voting rights.    
CLIMATE
Monaco has a warm-summer Mediterranean climate, which is influenced by the oceanic climate and the humid subtropical climate.   As a result, it has warm, dry summers and mild, rainy winters. Cool and rainy interludes can interrupt the dry summer season, the average length of which is also shorter. Summer afternoons are infrequently hot (indeed, temperatures > 30 °C /86 °F are rare) as the atmosphere is tempered by constant sea breezes. On the other hand, the nights are very mild, this being due to the fairly high temperature of the sea in summer. Generally, temperatures do not drop below 20 °C in this season. In winter, frosts and snowfalls are extremely rare, generally occurring once or twice every ten years.    
SECURITY
The wider defence of the nation is provided by France. Monaco has no navy or air force, but on both a per-capita and per-area basis, Monaco has the largest police force (515 police officers for 35,000 people) and police presence in the world. Its police includes a specialist unit which operates patrol and surveillance boats.   There is also a small military force. This consists of a bodyguard unit for the Prince and the palace in Monaco-Ville called the Compagnie des Carabiniers du Prince (Prince's Company of Carabiniers), which is equipped with modern weapons such as M16 rifles and 9 mm pistols, and which together with the militarized, armed fire and civil defence Corps (Sapeurs-Pompiers) forms Monaco's total public forces.  The company numbers exactly 116 officers and men; while the NCOs and soldiers are local, the officers have generally served in the French Army.    
ECONOMY
One of Monaco's main sources of income is tourism. Each year many are attracted to its casino and pleasant climate. Monaco's own citizens are not allowed to gamble in the casino.  In 2001, a major new construction project extended the pier used by cruise ships in the main harbour.   The state retains monopolies in numerous sectors, including tobacco and the postal service. The telephone network (Monaco Telecom) used to be fully owned by the state; it now owns only 45%.  Living standards are high, roughly comparable to those in prosperous French metropolitan areas.   Monaco is not a member of the European Union. However, it is very closely linked via a customs union with France, and as such, its currency is the same as that of France, the euro. Before 2002, Monaco minted its own coins, the Monegasque franc. Monaco has acquired the right to mint euro coins with Monegasque designs on its national side.    
GAMBLING INDUSTRY
The plan for casino gambling was mooted during the reign of Florestan I in 1846. Under Louis-Philippe's petite-bourgeois regime, however, a dignitary such as a Prince of Monaco was not allowed to operate a gambling house.  All this changed in the dissolute Second French Empire under Napoleon III. The House of Grimaldi was in dire need to generate cash. The Grimaldis hoped the newly legal industry would help alleviate the difficulties they faced, above all the crushing debt the family had incurred, but Monaco's first casino would not be ready to operate until after Charles III assumed the throne in 1856.   The grantee of the princely concession (license) was unable to attract enough business to sustain the operation and, after relocating the casino several times, sold the concession to French casino magnates François and Louis Blanc for 1.7 million francs. The Blancs had already set up a highly successful casino (in fact the biggest in Europe) in Bad-Homburg in the Grand Duchy of Hesse-Homburg, a small German principality comparable to Monaco, and quickly petitioned Charles III to rename a depressed seaside area known as "Les Spelegures (Den of Thieves)" to "Monte Carlo (Mount Charles)."  They then constructed their casino in the newly dubbed "Monte Carlo" and cleared out the area's less-than-savory elements to make the neighborhood surrounding the establishment more conducive to tourism.   The Blancs opened Le Grand Casino de Monte Carlo in 1858, and the casino benefited from the tourist traffic the newly built French railway system created.  By 1869, the casino was making such a vast sum of money that the principality could afford not to collect tax from the Monegasques; a master stroke that was to attract affluent residents from all over Europe.   Today, Société des bains de mer de Monaco which owns Le Grand Casino still operates in the original building the Blancs constructed and has been joined by several other casinos, including Le Casino Café de Paris, the Monte Carlo Bay Casino, the Monte Carlo Sporting Club & Casino (Summer Casino) and the Sun Casino. The most recent addition to the list—the first casino to open in Monte Carlo in 75 years—is the Monte Carlo Bay Casino, which sits on 4 hectares of the Mediterranean Garden and, among other things, offers 145 slot machines, all equipped with "Ticket-In, Ticket-Out" (TITO); it is the first Mediterranean casino to use this technology.    
TAX HAVEN
Monaco levies no income tax on individuals.  The absence of a personal income tax in the principality has attracted to it a considerable number of wealthy "tax refugee" residents from European countries who derive the majority of their income from activity outside Monaco; celebrities such as Formula One drivers attract most of the attention, but the vast majority of them are less well-known business people.  This applies to all residents of Monaco of any nationality except French citizens whose residency started after 1957. These French citizens still must pay French income tax.   However, Monaco has high social insurance taxes payable by both employer and employee. The employer's contribution is between 28%–40% (averaging 35%) of gross salary including benefits and the employee pays a further 10%–14% (averaging 13%).    
SPORTS
Formula One
Since 1955, the Monaco Grand Prix has been held annually in the streets of Monaco. It is widely considered to be one of the most prestigious automobile races in the world. The erection of the Circuit de Monaco takes six weeks to complete, and the removal after the race another three weeks. The circuit has many elevation changes and tight corners, along with a tunnel. This together with being incredibly narrow and tight makes it perhaps the most demanding Formula One track. Only two drivers have ever crashed into the harbour, the most famous being Alberto Ascari in the 1955 Monaco Grand Prix, just four days before losing his life at Monza. The other was Paul Hawkins, during the 1965 Monaco Grand Prix.   Monte Carlo Rally The Monte Carlo Rally has been held since 1911, having originally been held at the behest of Prince Albert I and is, like the principality's Grand Prix, organized by the Automobile Club de Monaco. It has long been considered to be one of the toughest and most prestigious events in rallying and from 1973 to 2008 was the opening round of the World Rally Championship. From 2009 until 2011, the rally served as the opening round of the Intercontinental Rally Challenge, having most recently been run on the 19–22 January 2011 in celebration of the event's centenary.   Football Monaco hosts two major football teams in the principality; men's football club AS Monaco FC and women's football club OS Monaco. AS Monaco plays at the Stade Louis II and competes in the Ligue 2, the second division of French football.    

EDUCATION

  Primary and secondary schools Monaco has ten state-operated schools, including: seven nursery and primary schools; one secondary school, Collège Charles III; one lycée that provides general and technological training, Lycée Albert 1er; and one lycée that provides vocational and hotel training, Lycée technique et hôtelier de Monte-Carlo. There are also two grant-aided denominational private schools, including Institution François d'Assise Nicolas Barré and Ecole des Sœurs Dominicaines, and one international school, the International School of Monaco.   Colleges and universities   There is one university located in Monaco: International University of Monaco    



DEMOGRAPHICS


Monaco's population is unusual in that the native Monegasques are a minority in their own country comprising 21.6% of the population. The largest group are French nationals at 28.4%, followed by Monegasque (21.6%), Italian (18.7%), British (7.5%), Belgian (2.8%), German (2.5%), Swiss (2.5%) and US nationals (1.2%).   Citizens of Monaco are called Monacans, while Monegasque is the proper term for describing someone who was born in Monaco.    



RELIGION


The official religion is Roman Catholicism, with freedom of other religions guaranteed by the constitution. There are five Roman Catholic parish churches in Monaco and one cathedral, which is the seat of the archbishop of Monaco. The diocese, which has existed since the mid-nineteenth century, was raised to an archbishopric in 1981 as the Archdiocese of Monaco. The patron saint is Saint Devota.  



TRAVEL DETAILS
AIRPLANE
Los Angeles, CA (LAX) – Minneapolis, MN (MSP) – 1,535 miles
Minneapolis, MN (MSP) – Paris, France (CDG) – 4,210 miles  
RENTAL CAR
Charles de Gaulle International Airport – trip begins
Le Castellet, France – 1,307 miles
Monte Carlo, Monaco – 1,419 miles
Charles de Gaulle International Airport – 2,017 miles – trip ends  
AIRPLANE
Paris, France (CDG) – Minneapolis, MN (MSP) – 4,210 miles
Minneapolis, MN (MSP) – San Francisco, CA (SFO) – 1,590 miles
San Francisco, CA (SFO) – Los Angeles, CA (LAX) – 363 miles  
Total air miles – 11,908 (5 flights)
Total rental car miles – 2,107 (1 car)  
Total miles traveled on this trip – 13,926 miles