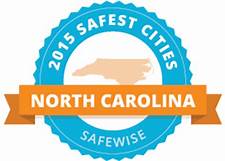 Greetings from first then Newport, North Carolina
.
.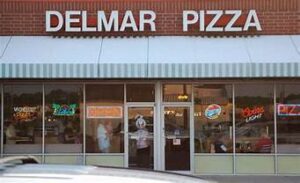 and then Delmar, Delaware
.
.
From the travels and adventures of the 
"World's #1 Trackchaser"
.
.
Newport Flea Mall
Dirt figure 8
 Lifetime Track #2,562
.
.
U.S. 13 Kart Club
Dirt oval
 Lifetime Track #2,563
The EventVideo PlusPhotos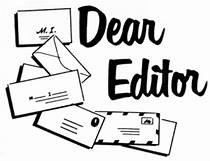 EDITOR'S NOTE
There are times when it just seems like a good idea to combine the experiences of two or more racetrack visits into one Trackchaser Report. This was one of those times.
THE EVENT
I am a "trackchaser". I trackchase. Before you discovered my site had you ever heard of trackchasing? Maybe not? So….what the heck is trackchasing? Sit back, take a read and you'll be an expert on my hobby of trackchasing when you're finished.
Here's my best explanation.
Trackchasing is a three-pronged hobby. I'm a racing fan. I love to travel. I love to analyze opportunities to get the most out of everything while saving time and money.
Trackchasing fills the need for all of the above. The racing part of my trackchasing has me trying to see wheel to wheel auto racing at as many different racetracks as I can all over the world. Yes, all over the world. So far things are going pretty well. As this is written, I've seen racing in 85 countries at more than 2,500 tracks. As a matter of fact, I've seen racing at more tracks than anyone else in the world.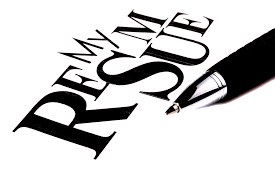 Equally important to me are the things I get to see and experience over the "long and dusty trackchasing trail". I call these adventures "Trackchasing Tourist Attractions". You won't want to miss my "Trackchasing Tourist Attractions" page. Here's the link:  Trackchasing Tourist Attractions or my "Sports Spectating Resume" page, Sports Spectating Resume on my website at www.randylewis.org.
I live in southern California. That's probably the most inconvenient location in the country for seeing tracks in the U.S. Most of the racetracks in the U.S. are located well over 1,000 miles from where I live. As a matter of fact, my average trip covers 5,000 miles and more. I take 35-40 of those trips each season. In any given year I will travel well over 200,000 miles, rent more than 50 cars, and stay in more than 150 hotel rooms.
I get the chance to meet people all over the world. With trackchasing trips to 85 countries and counting just getting the chance to experience so many other cultures, spend time in their homes and meet their friends is a huge reward for being in this hobby. I am indebted to several of these folks for their help and friendship.
It's takes a good deal of planning to do the above and not spend my entire retirement portfolio. I enjoy the challenge, the travel and every other aspect of "trackchasing". In reality, my trackchasing hobby is a lot like being with the carnival. I breeze into town, stay a little while and then head on down the road.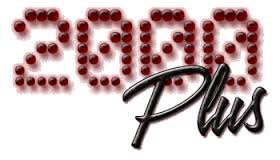 Today's adventure was one more of the 2,000 trips that have taken me up, down and around the proverbial long and dusty trackchasing trail.  If you would like to see where I've been and experience those adventures here's the link: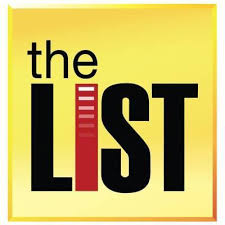 If you've got a question, comment or whatever please leave it at the bottom of this report.  It's very easy to do.  Or you can visit me on Facebook.  Thanks!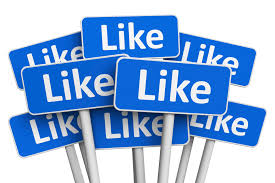 FOREWORD
Friday, June 21, 2019.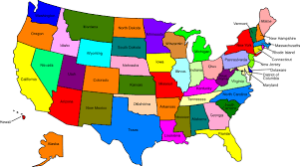 Of the four regions within the United States, those regions being the west, Midwest, south and east, I have trackchased the least in the east. Where have I trackchased the most? No, not the west where I live but the Midwest. Here's the summary:
Midwest – 895
South – 522
West – 434
Foreign – 404
East – 308 
There is a three-hour time zone difference between the west and the east coast in the United States. It also takes me about five hours to fly from Los Angeles to any of the major eastern cities. What does all of that mean? 
As my US-based readers know almost all racing in the United States, with the exception of permanent road courses, takes place at night. Let's say a racetrack program will start their program at 7 p.m. Here's the problem.
If I leave on a 7 a.m. flight it's already 10 a.m. on the East Coast. If my five-hour flight lands at 3 a.m. and it takes me an hour or two to round up my luggage and get a rental car I only have a couple of hours to get to the racetrack.  The vast majority of eastern located racetracks are located more than two hours away from any of the major eastern airports that I could reach on a nonstop basis from Los Angeles. 
Let's say a track is scheduled to race at 7 p.m. on a Friday night. There are very few circumstances where I can leave on Friday morning and make it on time to the racetrack that night. What does all of that mean? If I want to see an Eastern-based track that begins at 7 p.m. on Friday night I either have to leave sometime on Thursday or fly overnight from Los Angeles landing in the East Coast on Friday morning    That was the case with this trip.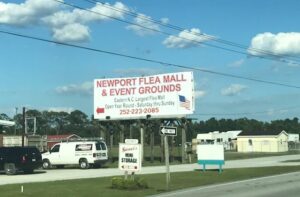 This weekend I was hoping to see a JM Productions figure 8 race at the Newport Flea Mall in Newport, North Carolina on Friday evening. They were scheduled to race at night. That being the case I picked out a flight from Los Angeles to Baltimore. That flight would leave late Thursday night and get me into the  "Charm City" on Friday morning. 
The flight to Baltimore wasn't leaving Thursday night until 9 p.m. That would give me almost all day at home on Thursday to take care of whatever needed to be taken care of. I went to bed on Wednesday night with a smile on my face knowing that I had until 9 p.m. the next day before I needed to hop on a jet airplane.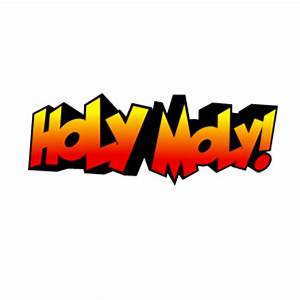 You can imagine my chagrin as I was lying in bed at 7:30 a.m. on Thursday morning reading the paper. That means reading the paper on my phone. I took a moment to check the "loads" on the flight to Baltimore that evening. Holy moly! Those nine open seats had melted to one! I could no longer chance waiting for the flight to Baltimore. 
I immediately went into "scramble" mode. What other flights could I take earlier in the day to the East Coast? There was a flight heading to Philadelphia. It was scheduled to depart at 10:30 a.m. If I hurried, and I would have to hurry, I might be able to make that flight. 
The flight was as we say it in the stand-by world, "tight". There were five open seats in first class and coach was overbooked by four. I soon became the only stand my passenger. I knew that some people wouldn't show up who had already purchased a ticket. If these numbers didn't change I would likely make that flight to Philly.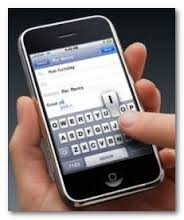 When I'm inside our modest seaside pottage in the sleepy little village of San Clemente I communicate with Carol in two primary ways. I will either talk to her over the intercom or send her a text. That's pretty much how we have to do it in our modest little seaside cottage.
On this morning I announced over the intercom that I was leaving the house in 15 minutes. This was new news to Carol. She's an early riser. She thought I was still sleeping! 
In 15 minutes I would take a quick shower, pack my suitcase and assemble all of my tech gear. I can do something like that in less than 15 minutes. While I was doing my part Carol packaged up the remaining portion of my PF Changs lo mein with shrimp order sitting in the fridge. That would be my breakfast on the way to the airport. 
I know that some of you live your lives vicariously through my travel. By the way, there is nothing wrong with that. Doing such a think saves you a lot of money! You secretly would love to be a worldwide trackchaser or equivalent. However, you have commitments. You might have a job. You might have a family. You might have an aversion to flying. Whatever. I can "feel you" coming along with me on several of my trips.
On the 65-mile drive to LAX I went through my technology checklist. While exploring one of those apps, Flightview, I discovered that this morning's flight to Philadelphia had been delayed by 45 minutes. That was both good and bad.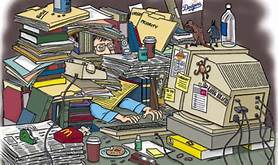 On the one hand it assured me that no matter what the traffic was like on the way to the airport I would be there in plenty of time for the delayed flight. On the other hand, I always count on those Americans who just can't quite get their shit together. They fail in many circumstances and within the world of travel they often can't get to the airport on time. When those people don't get to the airport on time what happens? I get their seat and they get a change fee. It's just the way it works in America. 
I was going to be in the air for five hours traveling to Philadelphia if I made the flight. I would need something to eat during that time. I stopped at the Habit Burger Grill located in terminal six at LAX. It's one of my favorite eateries in the airport as well as in Southern California. I ordered a double charburger with cheese, mustard and raw onion. 
Soon I was hearing my name called. I had made the flight! Not only had I made the flight I was being given a first class seat. Amazing, but true. Now I had a delicious double cheeseburger to eat in first class. But, they were also going to serve me a meal and all the alcohol that I could drink on a five-hour flight. 
There were three rows of first class seats. That meant there were 12 first class seats in total. I was seated in 3F next to the window. The seat next to me was vacant until the very last minute. A young woman, about 30 years old, with all kinds of packages, glitter and glam sat down in the seat next to me, 3D. No harm no foul… so far. 
Soon the flight attendant came up and spoke to the young woman. She said, "Our records show this seat is unoccupied. Can I see your boarding pass?"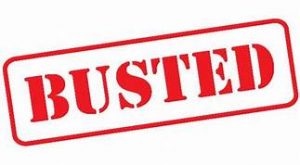 The young woman fumbled and then she stumbled and finally she produced a boarding pass with the seat location of "20A". Busted! She was soon escorted to the back of the plane with the rest of the unwashed passengers. I can't blame a girl for trying. 
My normal rental car trackchasing sponsor is National Car Rental. Avis is my back up. However, National wanted $190 for a three-day rental. Even with my sponsorship rebates they couldn't match what Costco Travel was offering with Alamo. Alamo would give me a car for only $103 for the three days. Loyalty is a two-way street. National failed me in on this occasion and lost the business to Alamo. By the way, Costco Travel is sometimes cheaper than what I can get with National and about the same amount of time more expensive, sometimes by a lot.
It was a nice flight into Philadelphia. I certainly couldn't argue with the opportunity to fly first class. When I landed I went over to the Minute Suites inside the Philadelphia airport and relaxed for an hour. While I was there I selected my hotel for tonight on Priceline. Minute Suites is one of my sponsors and part of the Priority Pass program. I use them whenever and wherever I can.
By the time I took the shuttle over to Alamo Rental Car it was 10 p.m. That would prove to be important later in the trip. When I use National I simply get off the shuttle bus, walk out in the parking lot and pick any car I want. Normally I'm on the road in less than five minutes.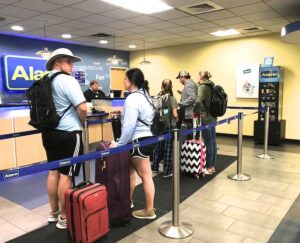 When I pulled into the Alamo rental office I stood in the back of a 10-person line with only two agents helping out. At that point I seriously questioned whether saving $70 or $80 was worth standing in the back of the line. I wanted to get on the road. Luckily, the line moved fairly quickly. 
When Alamo didn't have any cars that I liked I asked if they might be able to scrounge up a Toyota Camry. The Camry is one of my all-time favorite rental cars. Soon a recently washed all white with black wheels Camry was rolling out. If you don't ask you don't get. The car had only 812 miles on the odometer. That was perfect. Thank you Alamo for a great car at a super price.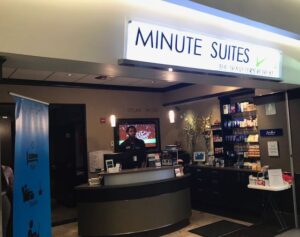 While in the Minute Suites I had booked a reservation at the Courtyard by Marriott in Dulles, Virginia. Their location would get me a couple of hours closer to tomorrow night's destination for figure 8 racing in North Carolina. Even though I had purchased the hotel on Priceline at about half of what it was going for to the general public I still got a $10 food credit good for tomorrow morning's breakfast in the hotel restaurant.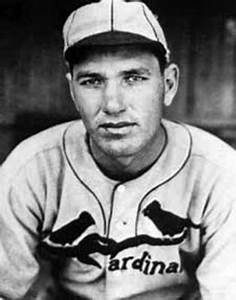 I think it's extremely unlikely that any other trackchaser will be able to match my totals. Why do I say that? Other trackchasers simply don't have the technical and logistical capabilities that I do. I don't say that to brag. Recall that the famous baseball pitcher and later turned broadcaster, Dizzy Dean used to say, "It's not bragging if it's true or you can do it." 
This morning on 15 minutes notice I decided to fly to Philadelphia. My breakfast came from PF Changs' at no charge from my priority pass sponsorship. When I arrived at the airport I was given a first class seat on a cross country flight. Then when I arrived in Philadelphia I was able to relax in the quiet comfort of a Minute Suites for a good hour. Next up I got Costco Travel to pitch in on a trackchasing sponsorship and give me a brand new rental car, for about $35 a day which is an absolute steal to a major East Coast city. Then I was able to get a dramatic reduction on a quality hotel like the Courtyard by Marriott and have them buy me breakfast. Do you honestly feel that any of my fellow competitors are going to be able to match this no matter how much money they inherit? 
Friday, June 21, 2019 
I woke up to a low-calorie breakfast in the first floor restaurant at the Courtyard by Marriott. It was a nice way to start my day especially when my bill came to just $1.73 after my sponsorship rebates. 
We all know that free standing shopping malls are having a hard time these days. Online businesses like Amazon are kicking their butts. That was good for me this morning. A huge mall was located just across the street from my hotel. The mall parking lot and surrounding area was a great place to get in a couple of quick power walking miles without any bothersome traffic.
O.K., I had spent the past 24 hours getting to the position I was in at this moment. Now all I had to do was handle a six-hour drive from Dulles, Virginia down to the Newport Flea Mall in Newport, North Carolina. 
THE RACING
Newport Flea Mall – Newport, North Carolina
I arrived at the "Flea Mall" at 6:30 p.m. I had forgotten exactly what time the event was going to start. I thought maybe 7 o'clock. I figured 7:30 p.m. at the latest. Rather than sit in my car, even though it was warm outside, I figured I would go in and grab a top row seat and just relax until race time. 
Tonight's event was being promoted by JM Productions. I've seen several of their promotions over the years. The western New York based demolition and figure 8 promoter has always done a good job and provided entertaining events.
They normally get 20-30 Figure 8 racers. JM is very well organized and the show always runs smoothly. That's why I am going to cut them a break about tonight's show.
Upstate New York and Pennsylvania are just a different animal when it comes to small town auto racing. No other states in the country can match those locations for the enthusiasm generated for racing at the short track level.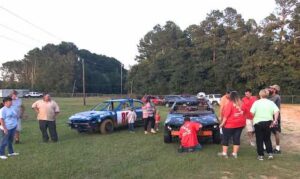 The last time I went to a county fair figure 8 race in North Carolina just TWO (above) F8 cars showed up. Neither one of those cars could have driven down the highway for a distance of 10 miles before conking out. I was lucky to get the show at all that night.
Tonight was only marginally better. The ticket taker told me there were 10 cars signed up for tonight's figure 8 racing. That wasn't good. Then when I checked out the pit area there were really only eight figure 8 racers. The situation was getting worse by the minute. When the first green flag flew only six cars accepted the competitive challenge.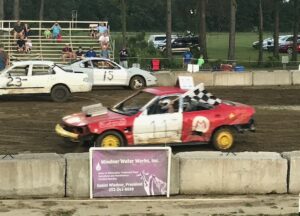 The winner of that first heat would go to the feature.  The remaining cars were expected to race in the second heat. However, only four of those cars could make the starting lineup. Heat number three had only two or three cars. The fourth heat was canceled for lack of participation!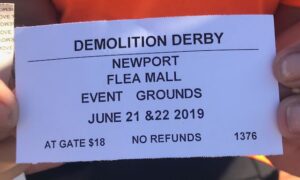 What really rubbed salt in the wound tonight was the fact that they charged an $18 general admission price. There was no county fair going on. There were no amusements. There was nothing except six figure 8 cars racing on a double figurine. I'm going to nominate the show as the most overpriced I have seen this year. I think it's got a good chance of winning that 2019 booby prize.
I liked the announcer. He was an honest and straightforward individual. He admitted to the crowd that double figure 8 racing had not really "caught on" in North Carolina. He kept referring to next year and saying, "if we come back". I don't think you'll see figure 8 racing next year at the Newport Flea Mall. 
At intermission, they had some kid's power wheels "racing". I don't know who first started this. It's become a very popular activity in demolition derby and figure 8 racing. I'm not sure if the person who came up with kid's power wheel racing should be put in jail, solitary confinement in Alcatraz or simply forced to watch 24 hours of kid's power wheels YouTube videos. 
I watched the feature race from ground level. It was dark now and getting cooler. Just before the race started I went over and purchased a bag of homemade barbecue pork rinds. There were four flavors, all made by the vendor. One package was five dollars U.S. I munched on them all weekend. Tasty.
In order to get the five drivers they had for the feature JM Productions employee Jay Milligan from up in New York was an entry. The entire show was a sorry situation and at 18 bucks. I think the promoter should have offered a refund of part of the admission price. The announcer did say they had "24 or 25" cars signed up for the next night's demo. I would bet you a dollar to a donut they didn't get 24 demo cars! Like I said JM Productions has always done a good job up to this point. I'll give them a Mulligan on this one. 
AFTER THE RACES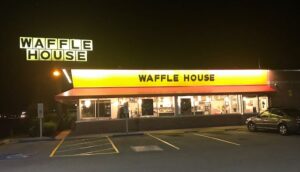 From there I drove northward to Greenville, North Carolina. Greenville is home to the East Carolina University Pirates. I had reserved a reasonably priced Microtel hotel in Greenville. After a stop at the Waffle House to spend the remaining calories I had for "earned" for the day I arrived at my hotel at about midnight. 
Saturday, June 22, 2019 
Things were pretty simple today. I needed to drive six hours from Greenville, North Carolina up to Delmar, Delaware. I was planning to see the go-kart racing at the U.S. 13 Kartway in Delmar. 
I had planned to get in a few steps this morning. I set my morning alarm for 8:30 a.m. That was 5:30 a.m. California time. When the alarm went off I couldn't answer the bell. I'll try to get my steps in to cover four miles or more at different points during the day instead.
The first hour of my drive was on a rural two-lane highway going straight north in North Carolina. There was a problem. My phone didn't have any service in the area. The drought lasted so long that I thought my phone might be broken. If my phone ever breaks in the middle of one of these trips I will be in a "hurt locker" as we used to say back on the block. 
It is absolutely amazing, to me anyway, how much work I can get done contacting people, making future travel plans, analyzing situations and much more during one of these long drives. I don't even need to turn on any of my many and varied audio sources. I can certainly see where technology has improved productivity by ten-fold or more in the workplace.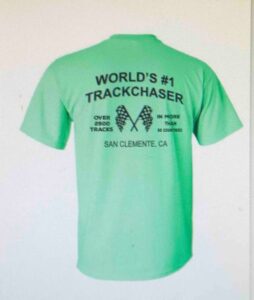 I've got a new "World's #1 Trackchaser" souvenir T-shirt in the works. I was firming up orders for the shirt today in places as far away as Tunisia and France. Yes, I have a lot of trackchasing friends spread out all over the world. I like to repay their kindness whenever I can.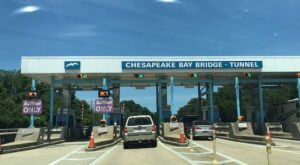 Today's route took me up a four-lane divided highway through the Virginia Beach, Virginia area and along the eastern shore. I think I paid $14 as a toll to cross that bridge. I could never recall driving in that part of the country before and I have driven just about every road in the United States.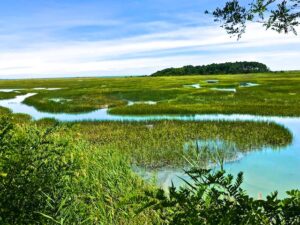 I came across a welcome center rest area. Just to the side of the parking lot was a wildlife refuge. With a little time on my hands I took off walking into the woods to see what I could see. It was amazing how rural the hike got so quickly. I covered a good mile and a half, which helped with my steps for the day. 
A little while later I rolled into Delmar, Delaware. That town is right on the border of Delaware and Maryland. I had been to the Delaware International Speedway all the way back in 2006 for racing on their big oval in Delmar. 
THE RACING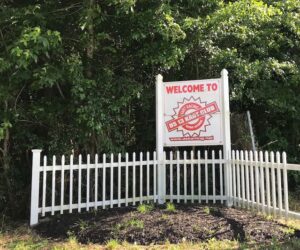 U.S. 13 Kart Club – Delmar, Delaware
Today I was interested in the U.S. 13 Kart Club track. The small track has been there forever but for most of the past 25 years they only ran flat karts. Alas, flat karts don't count by trackchasing rule. This year the kart club started running senior camp karts. Senior champ karts as a caged class of racer is countable in the hobby of trackchasing.
The U.S. 13 Kart Club sits within yards of the big dirt oval of the Delmar International Speedway. They have a drag strip at the complex as well. I entertained the idea of staying for the racing at the big track when the kart racing was finished. Frankly, having been to the big track in 2006, (more than 1,500 track visits ago) I didn't recall if I had seen good racing or not on the big oval. I checked my report from that era. This is what I found. 
"I must say I found today's program less than entertaining. There were just too many caution flags and very little passing.  I arrived early and bought a pit pass.  I rarely buy a pit pass nowadays, because they just are not a good value.  In today's racing world the cost of a pit pass is often twice what a spectator will pay. 
My pit pass today cost $25, while spectator admission was $20.  It was well worth an extra five dollars to get up close and personal with the more than 100 cars in today's pit area.  Kids under age 13 were admitted free with a paying adult.  That was a nice touch by the promoter.
The track did the fans another favor.  They were running five features today (big blocks, late models, streets, modified lites and AC Delco modifieds).  Most of the fans were there to see the big block modifieds or late models.  Most tracks run their featured classes last.  This forces fans to sit through a long list of classes they have little or no interest in seeing.
Delaware International Speedway (I have no idea why "International" is in their name.)  is a long way from any foreign countries with a racing presence. Anyway, D.I.S. started their featured class first.  Hooray! The fans like stuff like this.
Unfortunately, the races were not any good.  The 50-lapper had eight caution periods.  The race also had almost no passing.  The winner let the entire race and was nearly a straightaway ahead most of the time.  During his winner's interview, he told everyone this was not only his first ever modified win, but also his first ever modified race!!
The 50-lap late model feature was up next.  They were terrible.  No, they were really terrible.  They tried four times to start their race, but each time multiple cars crashed on the first lap.  Then they went to a single file lineup and they tried to get the race started.  This resulted in two more first lap cautions. That's right, they crashed six straight times while trying to get the late model feature started.  When the ninth caution came out on lap 15, I stopped counting the yellow flag periods.
The track was dusty.  This hurt visibility, but didn't cause much of a physical problem or at least I didn't think so at the time.  Several hours later when I visited the Washington Dulles Airport restroom, after I had been talking to several airport personnel and fellow passengers, I discovered the "rubber dust."  Yes, I said "rubber dust."
My face looked like a West Virginia coal miner. That fine black rubber film is hard to wash off.  I can only imagine what it does to one's lungs.  Yes, trackchasing is often referred to as the "romantic hobby."  The track's P.A. was above average and the announcer sounded just like Mike Joy, very professional.  He gave me a nice trackchaser welcome before the start of the big block feature event."
My decision was easy. I would NOT be returning to the Delaware International Speedway tonight even though it was a beautiful weather night and I would not even have to move my already parked car.
On opening day this year the kart club had nine senior champs racing. Then for the next couple of shows they had six, then a rainout and finally four senior champs at the last race. I felt pretty confident that I wouldn't have a problem with the senior champ kart count. I was nearly wrong about that. 
There was some good news regarding the timing of tonight's show. The track had a 9 p.m. curfew. I liked that. They were expected to start racing a little bit after 5 p.m. I liked that there were 10 classes racing and the senior champs were fourth in that lineup. Yes, I liked all of this. 
I paid my five-dollar admission price, which I thought was also a pit pass. Then I parked my car just outside of turn number three. I was all set. 
With a little time on my hands, I am almost always early, I took a walking lap through the pit area. When I was in the midst of this lap I discovered that I didn't have a pit wristband. O.K., sue me. I continued my walk looking for the coveted senior champs. 
I had already seen three junior champs hot lapping in cars numbered 15, 17 and 19. When I subtracted those cars from the caged karts in the pit area I only saw one senior champ kart. That was kart number 22. 
Then I moseyed over to where all the lineups were posted on separate clipboards for each class. The senior champs showed just two drivers racing tonight. They were in karts, #191 and #00. This was all a bit confusing.
The one and only senior champ kart I had physically seen in the pit area wasn't listed in the track lineup. The two karts that WERE listed on the clipboard lineup I hadn't seen in the pit area. What was up with that? Would they have at least two senior champs racing tonight so I could count the track?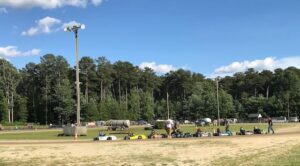 I would be filming the races from just off of turn four. The racers were entering the race track at the opposite end of the track at turn two. As God is my witness I didn't know if I was going to see one, two or three senior champs come out for the fourth race of the night. If only one or none came out my entire trip to Delaware would be a failure. 
I will tell you this. I breathed several collective sighs of relief when a grand total of two senior champs came out for their heat race. As soon as they took the green flag this track was in the books. I doubt I will ever grace the grounds of the U.S. 13 Kart Club again. 
It was at this point that I elected to exit the track property. There was an outside chance, a very much outside chance, that I could catch a flight back to Los Angeles tonight. I had to at least try.
I was following trackchaser tradition (one that I support wholeheartedly) to leave the track after seeing a small quantity of senior champ karts race. That was the way it was done before I ever started following this type of racing and I'm glad. Of the 50 to 60 to 70 cars in the pit area tonight only two of them met trackchasing rules. Is that a problem with the karts or a problem with the trackchasing rules?
On the other hand we now have trackchasers in the year 2019 who are going to permanent oval racing tracks and seeing a heat race or maybe two and then leaving to see another track. I have never done such a thing. I think that it is a waste of time for anyone to do that. I don't consider anyone who does that to be a legitimate trackchaser. Who would go to an Eldora or a Peoria Speedway or a Slinger Speedway and stay for only a heat race?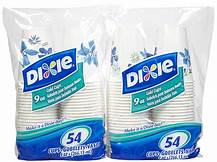 However, everyone is entitled to their own opinion. Some trackchasers had stated that they would just as soon stay at the track until every last of Dixie cup is picked up and long after the lights at the track have been turned out. I will not go that far. I've stated that I feel a blended trackchasing double is a good way to see racing at two tracks in one night. Those kinds of doubles allow trackchasers see a reasonable amount of racing at two different tracks in a single night. The idea of seeing three or more permanent oval tracks in one night is ridiculous in my mind. It's that third track in one night that makes the racing at each of those track to be so limited as not to be worthwhile. However, I repeat that's only my personal opinion.
Let's try to recap this trip. I had originally planned on seeing a race on Thursday night. But before I left Los Angeles, one of my two trackchasing options canceled their event for no apparent reason. The second option had a very bad weather forecast and ended up getting rained out. I'm glad I didn't try to see either one of those events. 
Then I made it down to one of the most remote parts of North Carolina and one of the most remote sections of the entire United States (as regards proximity to a top 50 airport). When I showed up all they could come up with was six figure 8 racers. The next night I went to a kart track and got the very bare minimum, two senior champs. 
AFTER THE RACES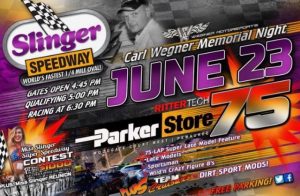 For Sunday I had planned to visit my sister and her husband in Illinois. We would go up to see some good racing in Wisconsin. However, the weather forecast for the Badger state was horrendous. There was an 80% chance of rain all day. I elected not to even give that one a try. Then it didn't rain and they raced!! 
So…. I had left her this trip on Thursday morning and I might not get back until sometime on Monday. I had seen a grand total of eight cars race. That sucks. Although I did get to see two new tracks and add them to my lifetime totals the quality of the racing this weekend was one of the worst that I can remember in a very long time. 
In just a couple days Carol and I will be leaving for Japan on a three-week trip. All but one afternoon will be for touring that unique part of the world. It's going to be a fun trip. Essentially I will put Trackchasers on the back burner for a while.
However, on THIS trip I still needed to get home. I hustled my way back to the Philadelphia airport. I used some "proprietary tricks" to get listed, get through security and I still missed the last flight of the night by four seats. If the flight had not been delayed by nearly an hour I wouldn't have gotten as close as I did.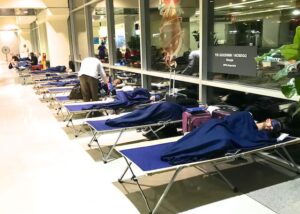 I would be sleeping overnight in the airport. That's not new for me. The Philadelphia airport is one of the best if you're going to stay overnight in an airport. They put out cots, blankets, pillows, snacks, water and amenity. Think about it. This is Philadelphia for gosh sakes not Minneapolis or Portland. I had a restful nearly five hours of sleep.
Sunday, June 23, 2019 
My best bet was to fly into the above mentioned Portland, Oregon. Flights going everywhere were full. The Portland flight had a few seats. I ended up getting upgraded to first class! That was a good thing.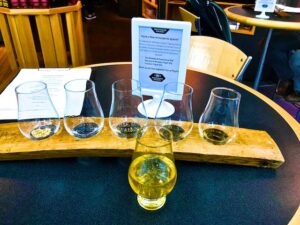 Once in Portland I used my Priority Pass sponsorship to first have another breakfast at Caper's Café Le Bar. I ordered an omelet and four desserts to go and my bill was $2.50. Then I walked over to a place called, Westward Whiskey. They sell….wait for it….whiskey. I ordered their $28 U.S. whiskey sampler. My order came with four separate whiskeys and a Manhattan cocktail. I sampled this all including their 125 proof offering. Then I bid Westward Whiskey farewell. My cost…zero. I couldn't do this without sponsorship.
I missed my first attempt at a flight to Los Angeles by one seat. Then I went over to the Hollywood Theatre that INSIDE the airline terminal and watched some short films at no charge. I made my second flight attempt to LAX.
Once back at LAX I saw a guy drop his boarding pass without knowing it. I picked it up. He was a fast walker. It took me a couple hundred yards to catch up to him. He appreciated me!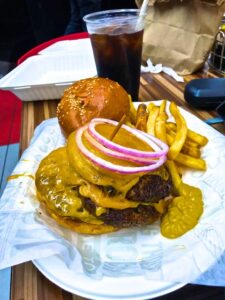 At LAX it was time for dinner. I went to my usual handout Rock & Brews. I went with my "usual". That's three one-half pound patties, fries and a Diet Coke. What does that cost? $31.97. My cost? $3.44 plus tip. A pound of the burger and most of the fries goes home with me.
I still wasn't done. Then I walked over to the international terminal to bring home some Chinese food from P.F. Changs for Carol. She likes the beef and broccoli. That plus the garlic green beans sells for $28.96. My cost nothing except the tip. But…before I went to P.F. Changs I stopped in the Korean Air Lounge, also part of the Priority Pass program. I worked on a couple of small projects that could just as easily be done in the airport as my office.
Next up was my 20-minute hike back to the airport parking garage. By now I had surpassed my goal of walking four miles every day. It was an uneventful 65-mile drive back to our modest seaside cottage.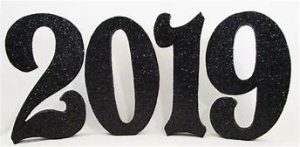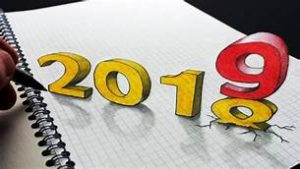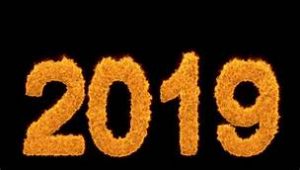 This brings us to the end of the first six months of my 2019 trackchasing season. It was one of the most varied time frames in my trackchasing career. Don't miss my six month goal summary that appears under the "goals" tab at the top of my home page at www.randylewis.org.
Good evening from first Newport, North Carolina and then Delmar, Delaware.
Randy Lewis – 85 countries – 2,563 tracks.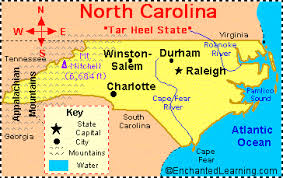 North Carolina
The Tar Heel state
This evening I saw racing at my 60th lifetime track in the Tar Heel state, yes, the Tar Heel state.  I hold the #3 trackchasing ranking in North Carolina.  I've seen 60 or more tracks in 14 different states.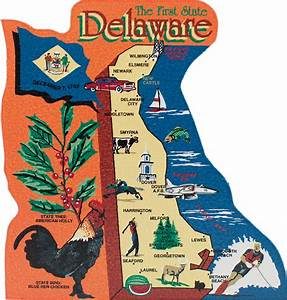 Delaware
The First state
This evening I saw racing at just my 6th lifetime track in the First state, yes, the First state.  I'm not even ranked in the top ten in Delaware.  I've seen 6 or more tracks in 49 different states.
Thanks for reading about my trackchasing,
Randy Lewis
World's #1 Trackchaser
Peoria Old Timers Racing Club (P.O.R.C.) Hall of Fame Member
North Carolina stuff:  Cheerwine
If North Carolina had a statue of liberty it'd be a giant Cheerwine bottle waving a Krispy Kreme doughnut, greeting everyone on boats as they sail past.
Delaware sayings:  Scrapple…..MMMM. Porky goodness enjoyed in loaf form for breakfast that includes everything except the oink.
FAST FACTS
LIFETIME TRACKCHASER COMPARISONS 
The threemost important trackchasing comparisons to me are:
Total lifetime tracks seen
Total "trackchasing countries" seen
Lifetime National Geographic Diversity results
Total Lifetime Tracks
There are no trackchasers currently within 715 tracks of my lifetime total.  Don't blame me.
Randy Lewis, San Clemente, California – 2,563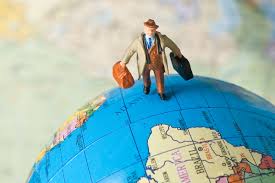 Total Trackchasing Countries
The nearest trackchasing competitor has seen racing in 30 fewer countries compared to my lifetime total. 
Randy Lewis, San Clemente, California – 85
Current lifetime National Geographic Diversity results
Randy Lewis, San Clemente, California – 4.14
That's all folks!  Official end of the RLR – Randy Lewis Racing Trackchaser Report
Click on the link below to see the video production from the racing action today.
North Carolina figure 8 racing at the Newport Flea Mall
.
.
Kart racing from the U.S., 13 Kart Club on a sunny Saturday afternoon
Click on the link below for a photo album from today's trackchasing day.  You can view the album slide by slide or click on the "slide show" icon for a self-guided tour of today's trackchasing adventure.
Figure 8 racing from way down south
.
.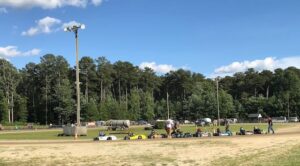 I don't trackchase often in Delaware…tonight I was lucky