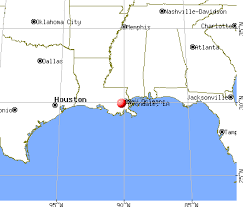 Greetings from Avondale (New Orleans), Louisiana
.
.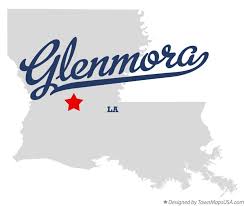 and then Glenmora, Louisiana
.
.
From the travels and adventures of the 
"World's #1 Trackchaser"
.
.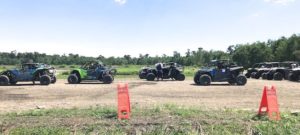 NOLA Motorsports Park
Dirt road course
 Lifetime Track #2,584
.
.
Thunder Valley Speedway
Dirt oval
 Lifetime Track #2,585
The EventVideo PlusPhotos
THE EVENT
My name is Randy Lewis. I live in San Clemente, California. I am a "trackchaser". I trackchase. Before you discovered my site had you ever heard of trackchasing? Maybe not? So….what the heck is trackchasing? Sit back, take a read and you'll be an expert on my hobby of trackchasing when you're finished.
Here's my best explanation on what trackchasing is to me.
Trackchasing is a three-pronged hobby. I'm a racing fan. I love to travel. I love to analyze opportunities to get the most out of everything while saving time and money.
Trackchasing fills the need for all of the above. The racing part of my trackchasing has me trying to see wheel to wheel auto racing at as many different racetracks as I can all over the world. Yes, all over the world. So far things are going pretty well. As this is written, I've seen racing in 85 countries at more than 2,500 tracks. As a matter of fact, I've seen racing at more tracks than anyone else in the world.
Equally important to me are the things I get to see and experience over the "long and dusty trackchasing trail". I call these adventures "Trackchasing Tourist Attractions". You won't want to miss my "Trackchasing Tourist Attractions" page. Here's the link:  Trackchasing Tourist Attractions or my "Sports Spectating Resume" page, Sports Spectating Resume on my website at www.randylewis.org.
I live in southern California. That's probably the most inconvenient location in the country for seeing tracks in the U.S. Most of the racetracks in the U.S. are located well over 1,000 miles from where I live. As a matter of fact, my average trip covers 5,000 miles and more. I take 35-40 of those trips each season. In any given year I will travel well over 200,000 miles, rent more than 50 cars, and stay in more than 150 hotel rooms.
I get the chance to meet people all over the world. With trackchasing trips to 85 countries and counting just getting the chance to experience so many other cultures, spend time in their homes and meet their friends is a huge reward for being in this hobby. I am indebted to several of these folks for their help and friendship.
It's takes a good deal of planning to do the above and not spend my entire retirement portfolio. I enjoy the challenge, the travel and every other aspect of "trackchasing". In reality, my trackchasing hobby is a lot like being with the carnival. I breeze into town, stay a little while and then head on down the road.
I've tried to tell you what the trackchasing hobby is to me. Now I will show you what trackchasing is to me in pictures and music. If you watch just one YouTube video this year, this is the one to watch.
You will see how a simple trackchasing trip takes me a long way from my environment in California and most importantly not just in miles. My hobby is about seeing and experiencing the things that most folks walk right past. Check this out. It might just make your day.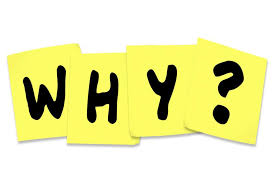 Trackchasing….this is exactly why I do it
Today's adventure was one more of the 2,000 trips that have taken me up, down and around the proverbial long and dusty trackchasing trail.  If you would like to see where I've been and experience those adventures here's the link: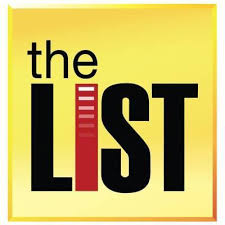 If you've got a question, comment or whatever please leave it at the bottom of this report.  It's very easy to do.  Or you can visit me on Facebook.  Thanks!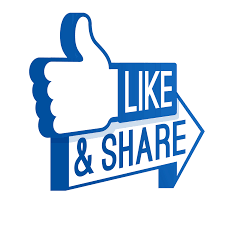 FOREWORD
Saturday, August 31, 2019.
I woke up this morning in Memphis, Tennessee. I will trackchase in the state of Louisiana today. Let me tell you why I chose Louisiana.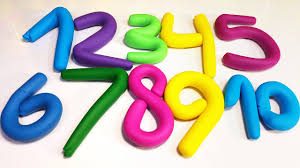 I've mentioned in the past that trackchasing is a "counting" hobby. People who do it are collecting and then counting their experiences just like coin collectors collect physical items to satisfy their passion. 
Over the years all kinds of people, primarily males, have run up and down the long and dusty road to one racetrack or another collecting their trackchasing experiences. As they have done this they have shared their, "counting results" with others. 
I have a very extensive and complete list of all of the racetrack names and locations that I have ever visited. I know exactly where my results stack up against others.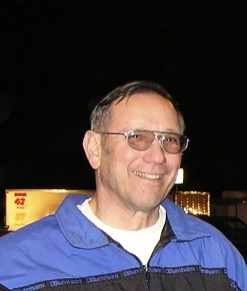 As an example, coming into today, I knew that I had seen racing at 14 different tracks in the Bayou State, Louisiana. I also knew that John Moore from Knoxville, Tennessee had seen 15 tracks and Ed Esser (above) from Madison, Wisconsin had seen racing at 16 venues in what is also known as the Pelican state. 
Sadly, my good buddy Ed Esser is now deceased. John Moore, also a friendly source to me, has not been seen or heard from him in some time. I hope he's doing well but I don't think he's spending much time trackchasing these days. 
By the end of the day, if things worked out well, I could pass Mr. Moore in the Louisiana state rankings and move into a tie with Ed Esser here. I will tell you by the end of the day if things worked out well. Yes, I will tell you how it all came about.
THE RACING
NOLA Motorsports Park – New Orleans, Louisiana
There's an off-road racing group called "LA Cross-Country Series" (LACC). Whenever I see that name I think "LA" stands for Los Angeles rather than Louisiana!  
These folks race UTVs all over the state of Louisiana. Most of the courses where they race are "woods" courses. One of my trackchasing fellow competitors, whom I have never met, Edward Corrado discovered this racing group. I always like to give others credit when I'm using their ideas to find new tracks.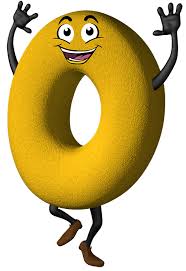 Sadly, not every trackchaser operates with the same level of integrity in the hobby. Even more sadly is the fact that well over 90% of the trackchasers don't share ANYTHING about their trackchasing with the public. Please don't quibble with me about that. I'm just telling you the facts. There's only one set of facts! 
There is one very good thing about the LACC racing. They move around a good deal, all over the state of Louisiana to race. Each year they race about 10 times. That provides lots of opportunities for the avid trackchaser.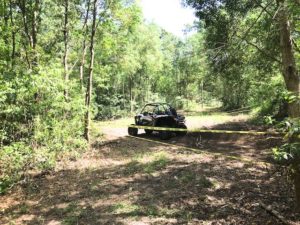 On the downside is the fact that the "woods" racing is not very spectator friendly. Nevertheless, it must be all kinds of fun for the competitors!
So what the heck is "woods" racing? It means the race runs through the woods. Heavy woods! Heavy woods means poison ivy, mosquitos and critters. From time to time I venture out into the woods to get a closeup view of the racing. However, that must be done with caution.
The LACC UTV racing typically begins in the mid-afternoon. That is not a great starting time for the bright-eyed and bushy-tailed trackchaser looking for a day/night trackchasing double. Since I've seen virtually every track within a four or five-hour radius of where LACC races I can't really get to a new track in the evening following one of their mid-afternoon shows. It's sort of a long walk for a short slide to travel to rural Louisiana for woods UTV racing with the prospect of adding only one new track for the day.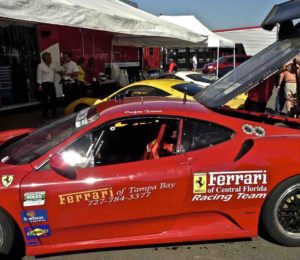 Today's race was being held at the NOLA Motorsports Park in Avondale, Louisiana. This is quite a multipurpose motorsports venue. I've been down here on two previous occasions to trackchase. My first visit in 2012 (above) was to see a special Ferrari race group on NOLA's longer permanent asphalt course. Then in 2017, I returned to see NASA racing on their smaller 1.8-mile Indy course. NOLA is an upscale facility and a very busy one at that. 
Today the go-kart track was busy. As far as I know, they have never held any racing on that track configuration that would be "trackchasing countable". As noted LACC was racing on dirt today. The facility even had some activity on their permanent road course. Staying busy is how a facility like this survives financially.
It was a stifling hot day in the Louisiana bayou. That is not unusual. This was the last day of August. The temperatures were in the mid to high 90s with heavy-duty humidity. That's just about (O.K. I hate this kind of weather) my least favorite type of weather. 
Today's UTV Racing was scheduled to begin at 2:15 p.m. I am happy they started on time. I paid $10 to get onto the track property in general. Then I found the dirt road course about 30 minutes before race time. It was too hot to do much exploring. From inside my air-conditioned rental car, I could see the starting line.
I attended the small and brief drivers' meeting. When the meeting was finished I re-introduced myself to Ryan Breaux who owns the series. That last name is a Bayou name if I ever heard one. Ryan remembered me from my visit to the "Pete Cooper" racetrack a few months ago.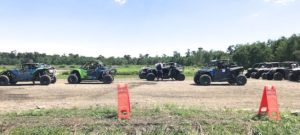 There were about a dozen UTV race machines competing today. Those racers would actually be separated by engine size. This created four "races within the larger race". Each of the four divisions left the starting line with only their other classmates when a green flag was raised, not dropped. 
The first part of today's course was a race down a long gravel and dusty road. Then they made a couple of turns out in the open and disappeared into the woods. The racers were probably in the woods for more than 80% of a single racing lap.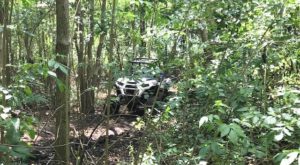 One of the keys to watching woods racing for the spectator is to try to get out into the woods to get the best view possible. I did that today. Nevertheless, I needed to be careful. I was wearing shorts. I always wear shorts. I did come down with my first and only case of poison ivy watching woods racing…..in the woods….in Indiana. I didn't like that! 
Today's racing was not all that spectator friendly. The weather was extremely hot and humid. Nevertheless, this experience was required to get track #15 added to Louisiana state trackchasing resume. I was now tied with John Moore and just one track behind Ed Esser! 
AFTER THE RACES
Tonight's Thunder Valley Speedway location was three hours north of the NOLA Motorsports Park. I could make that with an hour to spare. I decided to take that extra hour and reinvest it in some Cajun food. I did a Yelp search.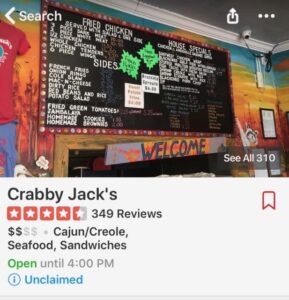 Almost instantly I came up with a place called Crabby Jack's. This restaurant had a 4.5-star rating on yelp from a lot of users. Crabby Jack's it would be.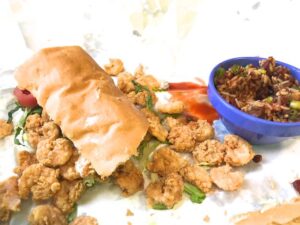 Crabby Jack's was my kind of place. It was funky and they served Cajun food, one of my favorites. I placed my order at a central counter. I would be having a regular-sized shrimp Po boy sandwich and a side order of jambalaya. I tried for the bread pudding but even though they had made a fresh batch today they were already out of it. I thought that was God's way of telling me I didn't need any bread pudding. I knew I didn't need it but I wanted it.
The food was excellent albeit a little pricey at $18 plus tip. I would go back there again in a heartbeat. What would I do without Yelp?
From Crabby Jack's I was looking at a three-hour drive up to the Thunder Valley Speedway. I was only in last night's hotel including shower time for five hours. Today I would need to drive 11 hours to make everything happen. Then I would sleep in my car for two hours before grabbing a 6 a.m. flight to fly three more hours up to Chicago. I guess there's a reason not very many people do this at the pace I do it. 
Last night I had seen the last permanent track that I had never been to in Arkansas. Tonight, if everything worked out, the Thunder Valley Speedway would be my last permanent track to see in Louisiana. Racing was scheduled to begin at 8 p.m. 
On the drive up to Glenmora, Louisiana I took a 30-minute power nap. I built that into my schedule so that I would be pulling into the track tonight right at starting time. I had an address for the track. It's just that neither one of my GPS systems pulled up that address. I figured I would just drive into Glenmora, with it being a small town, and I would find the track easily. That strategy almost never works!
THE RACING
Thunder Valley Speedway – Glenmora, Louisiana
By the time I got to Glenmora at 8 p.m., it was dark. I hadn't seen any indication of a racetrack on the drive into the center of town. That being the case I stopped at a gas station. I noticed two gentlemen filling up their automobile. 
They looked like local folks. I asked them about the location of the Thunder Valley Speedway. One guy immediately said, "I didn't even know we had a racetrack!" The other guy gave me directions. He told me to go back to the stoplight, make a left and drive five or six miles. I did as he suggested.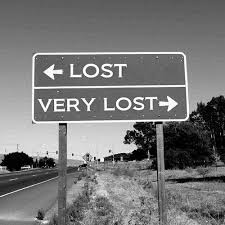 I was driving on a two-lane road in the dark tonight with almost no moon. I watched my odometer. At about five or six miles I began looking for the track. Nothing. I drove a total distance of 10 miles. I was lost. I returned to the gas station. 
I walked into the convenience store. There I asked a gentleman if he knew where the track was. He told me he didn't. He wasn't from around here but his friend was. His friend gave me exactly the same direction that I had gotten from the two guys earlier. Had I somehow missed the track.? I thought I had followed the directions well. The directions I was given weren't that difficult. 
For the second time, I went down to the stoplight, made a left and started driving "five or six miles". Once I got down to a flashing yellow light, after having driven 10 miles, I still had no idea where the Thunder Valley Speedway was located. What was I going to do now? 
I was out in the middle of nowhere. There weren't any retail businesses and if there were they would have been closed by now. I lowered the windows of my rental car. I didn't hear any racecars. I did hear a lot of bullfrogs! A car came driving past about every three or four minutes slowing for the flashing yellow light. I tried to flag someone down to stop. No luck. I called the track's Facebook phone number. No answer. I tried using the track's address in my GPS systems. Wouldn't take. Nothing good was happening.
I was getting frustrated now. The races were scheduled to begin at 8 p.m. I had now wasted nearly an hour looking for the track. It was almost 9 p.m. I knew that tonight's race activity was a preliminary event for tomorrow night's championship racing. Often times, these preliminary races don't last all that long.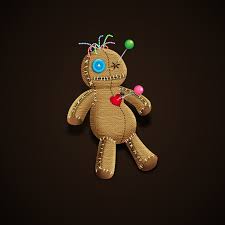 I must tell you there have been a few occasions since Ed Esser passed away where I have tried to meet or beat his records. In almost every case I've had some trouble doing that. If I wasn't as rational person as I am I might think that Ed was, "messing with me from above". Maybe some kind of "voodoo" thing. I've mentioned this idea to Carol. She knew Ed very well and met him on many occasions. Ed certainly had a soft spot in his heart for Carol. She agrees that he might just be having fun with me! Ed, no offense. I know if anybody had to meet and meet your records you would love it to be me. 
Finally, in a last-ditch effort, I decided to drive beyond the 10-mile barrier from the gas station that I had self-imposed on myself. I'm glad I made that decision. At about the 13-mile mark I found the track. I could see the grandstand lighting system. To me, thirteen miles is a lot different than, "five or six miles".
Racing at the Thunder Valley Speedway had been scheduled at 8 p.m. It was now about 9 p.m. When I pulled into the sandy surfaced parking lot I could hear that the race program had obviously already begun. 
The track's website told me there would be four classes racing tonight. Three of those classes would run heat races only tonight. Those cars would have their feature races tomorrow. One class, the street stocks, would be racing their features tonight including a rained-out main event from earlier in the season. 
Tonight's general admission price for seniors was 12 bucks. I asked if they were offering any discounts because of my late arrival? That was a bold question to ask considering my late arrival was my own fault….I guess. Yes, the track could have provided some better information for their fans.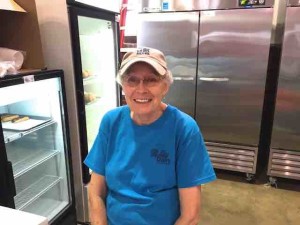 The lady was sympathetic. I can't tell you how she responded to my request. I will simply say she was a great ambassador for the Thunder Valley Speedway. Whenever a short track can get a good ambassador they should hang onto them and celebrate them. I was reminded of one of my many mantras, "If you don't ask you don't get".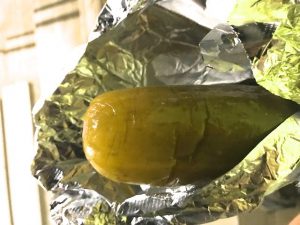 I purchased a bottle of water for a buck and a half and a really good-sized juicy dill pickle for another buck. One of my fellow competitors tells folks he is "supporting" the track with his concession purchases. I didn't think of it that way. I was thirsty and this was the first pickle I've had in the 2019 trackchasing season. 
I joined about 200 other fans and grabbed a seat in the top row of the modern aluminum grandstands. The track was well lit. The announcer could be heard well over the PA system. He sounded as if he was a former/current driver because he told fans he would be racing tomorrow night. If he did that I'm not sure who would handle his announcing tasks. 
I didn't think I was catching the Thunder Valley Speedway on their best night. I definitely was not catching them on my best night. I NEVER arrive an hour late for a show when I should have been there on time. 
Tonight's racing was pretty basic. The car counts, especially in the heat races, were small. I enjoyed the 10 car 15 laps street stock feature. The class that had each car racing with an American flag was pretty cool too. 
I did something tonight that I can't recall ever doing. I, "broadcast" some of the races on Facebook live video. I only did it for a couple of races. Folks were tuning from all over the world. That was kind of fun.
Tonight's racing wrapped up at about 10:15 p.m. When the final race was run the announcer didn't say much. At the checkered flag fans just got up and left. Almost before they had reached solid ground from the grandstands the track was turning the lights off. Then there was a "people jam" at the exit gate as the fans "visited" with the female security officer. I had never seen such a thing.
AFTER THE RACES
I wouldn't get much sleep tonight. I had to make a five-hour drive down to the George Bush Intercontinental Airport in Houston, Texas. My flight was leaving tomorrow morning at 6 a.m. Where was I headed from Houston? Tune into my next Trackchaser Report to find out. 
I am happy to tell you that tonight I saw racing at my 16th racetrack in Louisiana. That puts me in a tie for first place here with Ed Esser. I now hold a first-place ranking in an astounding 26 states. I am tied for that #1 ranking in four of those states. I consider that a pretty solid trackchasing accomplishment. 
Tonight's drive was uneventful and dark. Just as I crossed into Orange, Texas I saw the Texas highway welcome center. I would take a two-hour early morning nap there. Last night I got 4-1/2 hours of sleep. I can't do that forever but I can do it for enough days to get on down the road. 
I pulled into the George Bush Intercontinental Airport rental car center at 4:30 a.m. I had driven the National Car Rental Racing Toyota Camry some 1,544 miles since picking it up in Cincinnati, Ohio in advance of the UCLA football game. I was the only person in the entire rental car center at that hour. The car performed well. 
I was choosing to fly to Chicago because of Spirit Airlines. At times Spirit Airlines can offer some unbelievable airfares. For this trip they were going to fly me from Texas to Illinois for $62 U.S. If they were willing to do that then I was willing to board their big yellow airplane.
Good evening from first Nola Motorsports Park in New Orleans, Louisiana and then the Thunder Valley Speedway Glenmora, Louisiana.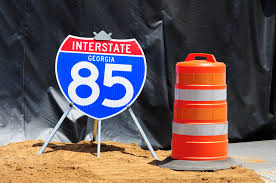 Randy Lewis – 85 countries – 2,585 tracks.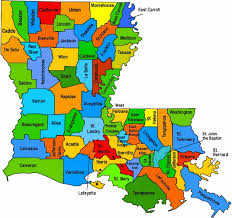 Louisiana
The Pelican state
This afternoon and evening I saw racing at my 15th and 16th lifetimes track in the Pelican state, yes, the Pelican state.  I now hold the #1 trackchasing ranking in Louisiana. I am tied with trackchaser Ed Esser for the lead here.  I've seen 16 or more tracks in thirty-six different states. No trackchaser can match that stat.
Thanks for reading about my trackchasing,
Randy Lewis
World's #1 Trackchaser
Peoria Old Timers Racing Club (P.O.R.C.) Hall of Fame Member
Louisiana sayings: "Throw me somethin', Mister!" 
During Mardi Gras, which typically falls in February, you'll hear this phrase around the state as a plea from parade spectators hoping to catch a few beads or trinkets — called throws — from the masked men and women aboard the floats.
New Orleans is famous for Mardi Gras, but you should also check out southwest Louisiana and the city of Lake Charles, about 75 miles west of Lafayette, near the Texas border. Here, the glitz and glamor features more than 60 parade groups, known as krewes, with a family-friendly feel and plenty of activities for children, including a children's day.
For a truly traditional Mardi Gras, look no further than the town of Eunice, about 83 miles west of Baton Rouge, and the Courir de Mardi Gras (kur-rir da mar-dee ɡrah), or running of the Mardi Gras. In this centuries-old tradition — said to originate in France — revelers beg for ingredients to create a communal meal, usually gumbo. Some are on foot, some on horseback, but all are costumed to hide their identities. You'll only find Courir de Mardi Gras in rural communities, and it's a uniquely Louisiana tradition.
QUICK FACTS
LIFETIME TRACKCHASER COMPARISONS 
The three most important trackchasing comparisons to me are:
Total lifetime tracks seen
Total "trackchasing countries" seen
Lifetime National Geographic Diversity results
Total Lifetime Tracks
There are no trackchasers currently within 720 tracks of my lifetime total.  Don't blame me.
Randy Lewis, San Clemente, California – 2,585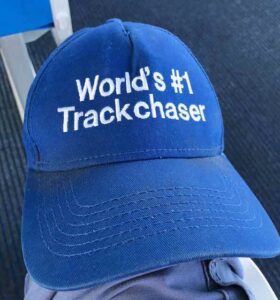 Total Trackchasing Countries
The nearest trackchasing competitor has seen racing in 30 fewer countries compared to my lifetime total. 
Randy Lewis, San Clemente, California – 85
Current lifetime National Geographic Diversity results
Randy Lewis, San Clemente, California – 4.14
That's all folks!  Official end of the RLR – Randy Lewis Racing Trackchaser Report
Click on the link below to see the video production from the racing action today.
Off-Road racing from NOLA Motorsports Park 
.
.
Click on the link below for a photo album from today's trackchasing day.  You can view the album slide by slide or click on the "slide show" icon for a self-guided tour of today's trackchasing adventure.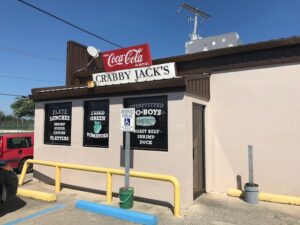 Lots of driving, some off-road dirt UTV racing and Crabby Jack's
.
.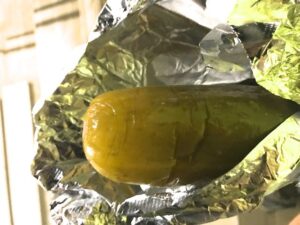 Thunder Valley Speedway…my 16th lifetime track to see in Louisiana