Greetings from Oyster Bed, Prince Edward Island, Canada
.
.
From the travels and adventures of the 
"World's #1 Trackchaser"
.
.
Oyster Bed Speedway
Asphalt oval
 Lifetime Track #1,751
The Event
Video Plus
Photos
CANADIAN PROVINCE #9!….  TRACKCHASING WEEKEND
THE KEYS TO THE TRIP
It was a relief to finally 'cross off' Prince Edward Island……………..more in "Race Review".
You've got to be kidding me………………more in"The Trip".
Is it better to travel west or east? …………..details in "Observations".
WHO, WHAT, WHY AND WHERE
The Plan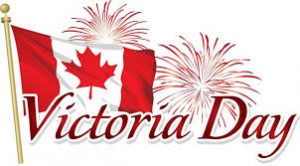 Today was a special trackchasing day. 
Today is a special day in more ways than one.  For Canadians it is "Victoria Day".  More on that below.  For me it is going to be my first ever race in the Canadian province of Prince Edward Island.  Did you even know that PEI WAS a Canadian province?  I know I didn't until I first started researching this a few years ago.
This was not my first Prince Edward Island rodeo.
Carol and I were in PEI in 2008 for a race but we were rained out.  On that evening in early August it had not rained that hard.  I felt they could have and should have raced.  On the next night in New Brunswick it rained much harder and they did get the race in.  Province wise it would have been better to have seen a race in PEI in 2008 and been rained out in New Brunswick.  However, things don't always work out.  That rainout would prompt today's return visit to PEI.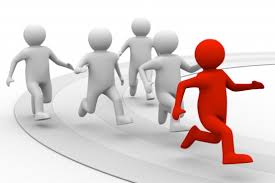 Even Carol is a 'fellow competitor'.
Going into this season Carol and I had both seen racing in eight of ten Canadian provinces. I wanted us to see racing in PEI and then the final province, Newfoundland and Labrador, to complete the Canadian "ten-pin" (province) strike. 
However, last week's trip to Italy, France and Monaco precluded Carol from making this trip. With good weather and a special Monday Victoria Day race date in PEI I couldn't pass up this opportunity.  Now Carol has fallen behind my Canadian province pace.  That's O.K. As a "fellow competitor" she can find her own way back to PEI!
The Trip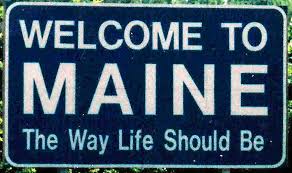 I don't often visit the Atlantic time zone. 
I woke up this morning in Fredericton, New Brunswick, Canada.  I went to bed in Bangor, Maine.  This is what today looked like.
So far, after flying overnight the first evening, I've been able to get a full eight hours for the next two nights.  That felt good.  This morning I have a short 200-mile drive to the racetrack.  To me "short" includes drives up to about 200 miles.  After the race I will have a "long" drive of about 400 miles back to the Bangor, Maine area.  Driving 600 miles in a day is on the long side but it's what is necessary given the location of the track (Prince Edward Island) and the airport (Maine) today.
Both this morning's Canadian province, New Brunswick and this afternoon's destination province, Prince Edward Island use the Atlantic Time Zone.  That's one hour ahead of the Eastern time zone and four hours ahead of my home time zone in California.  I'll gain an hour coming back into Maine tonight and then three more when I get back home.  That's a good thing.
Free is good; I'll find my own place to rest up.
Along this morning's drive there were very few formal rest areas.  That was in start contrast to having a rest area, with outstanding services, every 15-20 miles when we traveled in France and Italy last week. Of course, we paid nearly 20 cents per mile for that privilege in Europe.  I guess I'd rather travel on "free" roads like most of those in Canada and find my own place to rest!

You've got to be kidding me!
However, not all was free while driving in Canada.  To get from the province of New Brunswick to the province of Prince Edward Island I had to cross the "Confederation Bridge (The Bridge).  This was a toll bridge.  Any guesses on the toll charge.  How does $44.25 Canadian (about $43.34 U.S.) grab you?  Ya, it grabbed my attention too.  It the most expensive toll bridge in North America!
The bridge opened in May 1997.  This is their 15-year anniversary.  What was the toll when the bridge opened?  Thirty-five dollars.  At least, out of the kindness of their heart, they only charge the toll one-way, when you're leaving PEI. 
This was not the most expensive bridge toll I have ever paid.  A few years ago Carol and I traveled from Copenhagen, Denmark to an afternoon race in Malmo, Sweden.  The one-way toll for that bridge was about $55 U.S.  We were only in Sweden for a few hours.  Then we had to pay the SAME toll again to come back from Sweden into Denmark.  Then, later in the day, we crossed another bridge where the toll was $40 U.S.  We paid $150 U.S. in bridge tolls (three bridges) in one day!  Our retirement bank account is still recovering from that one.
Check out my 'non-Carol' hotel booking strategy.
Last night's hotel was booked via Booking.com.  With that site I did a search for Fredericton, New Brunswick hotels.  I knew that Fredericton was about as far as I wanted to drive after seeing an afternoon race near Quebec City.  If you do a search like that you'll like come across several high priced hotels.  That doesn't fit my "non-Carol" travel plan.
My "non-Carol" Booking.com strategy is to sort the hotels by price (low to high) and pick the highest consumer rated of the lowest priced hotels.  That would be called "value pricing" in my world.  It normally yields very comfortable and clean accommodations for a most reasonable price.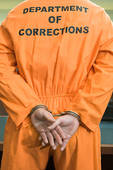 Did I want to stay with 'Cons for Christ'?
When I checked the Airport Inn's GPS location another interesting lodging alternative popped up in my GPS search.  This place was called "Cons for Christ".  That sounded interesting.  However, the "Airport Inn" sounded just a little bit more comfortable.  I'll leave sleeping with the "Cons for Christ" for another trip up this way.
After the race……
Bugs.
I'm just entering the warm weather "heavy bug" season.  A clean windshield in these parts will only last about 50-60 miles. After that it's time for a pit stop. However, I can't pit just for a dirty windscreen.  Of course the bugs effect the quality of some of my scenic photos at times.
Where WAS everybody?
The lack of vehicular traffic along I-95 in Northern Maine on a Monday night was most noticeable. In rural areas, during periods of higher than normal gas prices, road traffic really seems to drop off drastically. I'm guessing good-paying jobs are difficult to come by in these parts and driving takes a hit with relatively high gas prices.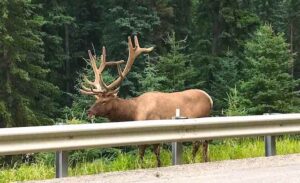 Additionally, I was on the lookout for moose.  More than one Maine resident warned me about this.  I saw some Moose on mid-day during day one in Maine.  I didn't want to see any in the dark standing in the passing lane of I-95 tonight.
When the last checkered flag falls I head home.
When the final race is finished I want to get home.  I enjoy being out on the road and looking forward to the next race. However, when the last checkered flag falls I can't wait to get home.  I only have so much time to devote to trackchasing and my body clock knows when I've reached that limit.
On Monday morning I had two options for leaving Bangor where I would connect to Los Angeles via Philadelphia.  The first light left at 6:59 a.m. and the next one left at just past 11 a.m.  I would have loved to have taken the later flight.  It would have allowed me to sleep in after the 400-mile drive back to Bangor after Sunday afternoon's race. 
However, the flights later in the day from Philly to LAX were filling up fast.  To make matters worse the weather on the east coast was failing.  I didn't care too much.  The weather for the racing had been 100% perfect.  I can deal with rain AFTER the races.
My flight from Bangor was delayed by more than an hour.  That made making the connection on the "most open" flight of the day back to LAX nearly impossible.  To top that off I was seated in the back of the plane with a group of Bangor school children going on a field trip to Knoxville, Tennessee.
However, I was in luck.  The landing Bangor flight and the departing LAX flight had gates that were near each other. I came rushing up for the Los Angeles flight.  The gate agent told me to "take any seat".  That's airline lingo for "You just made it.  We're leaving in seconds.  If you want a seat 'go for it'."  That was good enough for me.  It sure beat waiting four hours for the next flight, which I might not make anyway. 
In another five hours I was home.  I had left on this trip less than 48 hours after returning with Carol from our 9-day adventure to France, Italy and Monaco.  I may just leave in another 48 hours for my next trackchasing adventure. Don't worry.  I do this so you don't have too.
Observations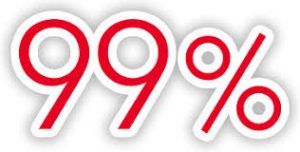 I don't think what I do is all that unusual.
I don't consider my hobby that unusual.  I know that about 95% of my readers (99%?) would not agree with me.  Border agents side with my readers!
Border agents, both U.S. and Canada, just can't seem to wrap their arms (or their minds either) around my trackchasing behaviour.  Their most common question is "You came all the way from California to HERE to see a car race?".  Yep, I did. This activity along with a passport that is as thick as their Harry Potter paperback book prompts a series of questions that backs up the line of cars behind me.  However, I have patience (it's keeps me out of trouble) with my border agent friends.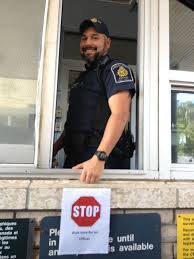 Today's Canadian border agent has some unusual questions.  He was younger than most.  I think he might have just been messing with me.  However, I had no choice.  I had to endure.  He wanted to know how far in advance I book my trips.  What kind of a question is that?  Then he wanted to know if I bet on the car races?  Where was this guy from….outer space.  Finally he asked me to open my car's trunk.  Satisfied there were no dead bodies in my car he let me pass.
Travel tips for the harried traveler.
Implementing travel tips into my every day adventures makes everything go much more smoothly.  I never want to leave anything behind when I check out of hotels.  Often I need to plug my camera battery charger in overnight on these trips.  The charger unit and battery are small.  It would be easy to leave them behind when I check out.  How do I prevent that?  I simply leave my car keys next to the charger.  I won't be leaving without my car keys!  When I get the keys I can't help but see the battery charger just a inch or two away.
Continuous improvement is one of the most important lifestyles you can practice.
"Continuous improvement" is a life mantra I live by.  I learned this working in the corporate culture.  If you can improve everything you do in life just a little bit every day, in the long run it's make a huge difference.
On this trip I played and replayed my Tour Temp golf training "app" on my iPhone.  Tour Tempo is the best golf training aid I've ever seen….and I've seen or purchased most of them!  The "Tour Tempo Total Game" app provides videos and more.  During these long drives with little traffic I can practice my chip shots in my mind all the while observing perfect technique via the videos.
This was a holiday weekend in Canada.
Today is "Victoria Day" in Canada.  That's why they were racing on a Monday.  What is Victoria Day?  The holiday recognizes Queen Victoria's birthday.  Yearning to know more about Victoria Day?  Click on this link (Please tell me more about Victoria Day).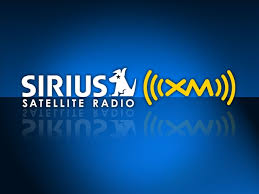 Why would anyone NOT want to have satellite radio?
When I rented my car I asked for one with satellite radio.  I always look for that.  The National rental agent tried to oblige.  She DID give me a car with satellite radio…..sort of.  The car had the satellite but the subscription had not been paid so the satellite radio didn't work.  That was a real bummer.  Using "commercial" radio, especially when driving out in the boonies yields limited selection and poor reception.  Two of the things in life that I like to avoid are 1) limited selection and 2) poor selection!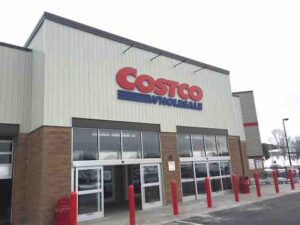 Would you like to pay $44 just to drive to Costco?
The residents of the Canadian province of Prince Edward Island live on an…..island!  The bridge that connects the island to the next nearest province is New Brunswick is called the Confederation Bridge (The Bridge).  The eight-mile long bridge opened in 1997.  Here's the kicker.  The Confederation Bridge is the most expensive toll bridge in North America! It costs $44.25 Canadian to exit PEI using the bridge.  There is no charge to enter PEI via the bridge.  How would you like to live on an island and have to pay more than forty dollars just to pick up a few things from Costco!
Is it better to travel west or east?
As you continue to see from my travels I change time zones a lot.  I've learned one thing from doing this kind of travel virtually every week since I was 23 years old.  It's a lot easier to travel west than it is to travel east.
Let me provide an example.  During most of my business career I've lived in California.  During ALL of my business career my company headquarters have been in the Eastern time zone.  Which would you like better heading east or west? 
When I traveled east I would reach my hotel in the evening.  When it was 11 p.m. Eastern time most people would feel like going to bed. However, for the traveling Californian it would be only "8 p.m."  Who wants to go to bed at 8 o'clock in the evening?  If the business meeting started at 8 a.m. Eastern time that meant a start of 5 a.m. for me.  Yuck! Double yuck!
However when you travel towards the west things are much different.  If it's 11 o'clock at night in California it's 2 a.m. for the eastern traveler.  Most folks would be pretty tired at 2 a.m.  That's O.K. You're tired and it's time to go to bed in California.  Then when morning comes for that 8 a.m. meeting in the Golden state the Easterner is really thinking it's 11 a.m. their time.  Who would object to having a meeting begin at 11 a.m.  Yes, it's a no-brainer.  Traveling west is much better than traveling east.
TRACKCHASING TOURIST ATTRACTION 
I very much enjoy the racing when I go on trackchasing trips.  However, I am not the type of person who would feel the trip was complete if I simply left home, went to the race and came back home.
I do a good deal of traveling.  I want to do my best to see the local area when I come for a visit.  There are usually unusual attractions that one area is noted for more than any other locale.  I want to see those places.  I want to touch them and feel them.  When I leave an area, I want to have memories of these special places that I call Trackchasing Tourist Attractions.  I will remember those experiences long after the checkered flag has fallen on whatever race I have seen that day.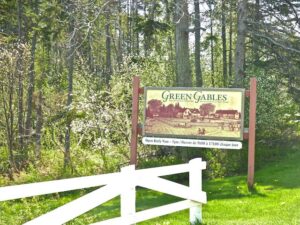 Green Gables – Cavendish, Prince Edward Island, Canada
(http://www.gov.pe.ca/greengables/)
It pays to expand one's interests.
I've done something consistently that my fellow competitors have never done.  I do my level best to see things the local area has to offer when I go trackchasing.  As you know I call them Trackchasing Tourist Attractions.  Some folks are satisfied to driver 500 miles for two hours of county fair figure 8 racing.  That doesn't do it for me.  I'll remember the TTA long after the figure 8 race fades from my memory.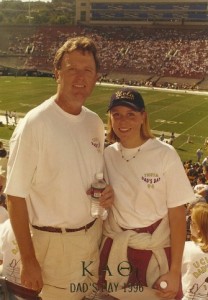 Carol had mentioned that our daughter Kristy was a big fan of the "Anne of Green Gables" book series as a youngster.  I didn't recall much of that.  However, when I had the chance I would to check out this TTA that is located in the Prince Edward Island National Park.
Their website says that each year "hundreds of thousands" of people visit the site that author L.M. Montgomery created her beloved tale of a red-haired orphan, Anne of Green Gables.  I'm not sure they get those kinds of crowds based upon the few people that were there on a beautiful Victoria Day holiday.
Nonetheless, it was fun to spend an hour here.  I learned a lot more about the background the story's background and inspiration.  I especially liked visiting the gift shop. I'm sure that someday Astrid will have a similar interest in Anne of Green Gables just as her mother did.
RACE REVIEW
OYSTER BED SPEEDWAY – OYSTER BED, PRINCE EDWARD ISLAND, CANADA
Not an easy place to get too. 
Geographically, this was a difficult track to get too.  That's why it was so disappointing to come all this way and get rained out in 2008. However today was a picture perfect Victoria Day Monday race date.
I arrived while the Canadian National Anthem was being played.  The place was absolutely packed with fans ready to enjoy the first race day of the year. Since a pit pass was only two loonies (What's a loonie?)more than a general admission ticket that's what I wanted.  However, they ran out of "pit bracelets" delaying my entrance by nearly 15 minutes.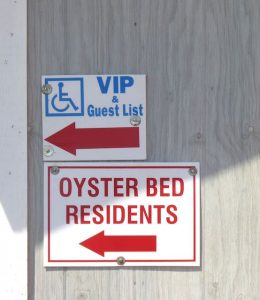 It was interesting to note that Oyster Bed residents, with two forms of I.D. were admitted to the track for free. I'll bet that keeps noise complaints down.
Finally an English speaking Canadian announcer.
The racing was done on a 3/8-mile or so high-banked asphalt oval.  The P.A. was strong and the announcer spoke in English.  That was refreshing after two straight days of French speaking announcers where I didn't understand a word.  The announcer also gave me a nice Prince Edward Island trackchaser welcome.
This was definitely a missed opportunity.
There was only one concession stand that I could see.  It was packed with long lines all day.  I don't understand why promoters allow a situation like that.  Don't they know how much business they are losing?  I had one of the more forgettable hamburgers from this stand, which also sold insect repellent.
The crowd was projected a family atmosphere with lots of kids in attendance.  I find this to be the case where the track's location is more rural. The racing season starts late, May 21 and ends somewhat early, September 16.
There was a good deal of racing action today.
Today's racing featured a "full card" and a demolition derby.  From what I could see the DD had less than ten entries.  The mini-stock feature started 13 cars.  The mini-outlaws had just six, the modifieds (really looked like late models had seven and the street stocks had a full field of 18.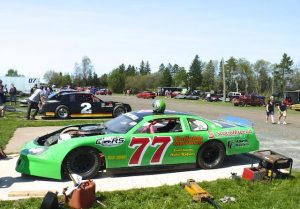 I spent my time in the pits getting a close up look at the cars early on.  Then I sat near the flag stand and finally in turns three and four.  In the turns the grandstands are within 6-8 feet of the track's safety fence.  It looked like this was a dangerous situation.  I hope they never have a problem there.
It's probably best if you take a look at the photos and video from my visit to the Oyster Bed Speedway.  I tried to get a photo of most of the cars. I have some very complete racing footage in my YouTube video.
Relief.
Overall, I was most pleased to finally knock off the one and only racetrack in all of Prince Edward Island. I have only one Canadian province where I have not trackchaser.  That would be Newfoundland & Labrador.  I know.  It sounds like it's TWO provinces but it's really only one.  Not sure if I'll make it to N&L this year or not.  
PROVINCE COMPARISONS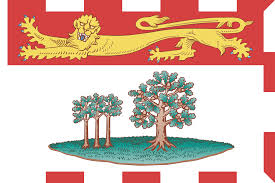 Prince Edward Island
The Garden Province
This afternoon I saw my 1st lifetime track in Prince Edward Island, the Garden Province, yes the Garden Province.  There is only one countable racetrack on PEI.  I have now seen it.  That wraps up Prince Edward Island!
Coming Soon – RLR – Randy Lewis Racing Exclusive Features!

Do some trackchasers carry an unfair geographical advantage?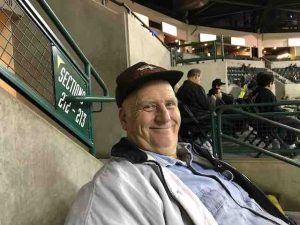 What happened to the recent trackchasing rules proposal submitted by Paul Weisel?  Plus editorial comment from me.
Should foreign trackchasers be given a handicap so they can enjoy the fruits of trackchasing glory?
Thanks for reading about my trackchasing,
Randy Lewis
World's #1 Trackchaser
Peoria Old Timers Racing Club (P.O.R.C.) Hall of Fame Member
Prince Edward Island sayings:  I'll be there as soon as I 'warsh' up.
TRAVEL DETAILS
AIRPLANE
Los Angeles, CA (LAX) – Philadelphia, PA (PHL) – 2,390 miles
RENTAL CAR #1 
Philadelphia International Airport – trip begins
Stroudsburg, PA – 105 miles
Philadelphia International Airport – 215 miles – trip ends
AIRPLANE
Philadelphia, PA (PHL) – Bangor, ME (BGR) – 472 miles
RENTAL CAR #2 
Bangor International Airport – trip begins
Vallee Jonction, Quebec – 209 miles
Montmagny, Quebec – 311 miles
Oyster Bed, Prince Edward Island – 901 miles
Bangor International Airport 1,297 miles – trip ends
AIRPLANE
Bangor, ME (BGR) – Philadelphia, PA (PHL) – 472 miles
Philadelphia, PA (PHL) – Los Angeles, CA (LAX) – 2,390 miles
Total air miles – 5,794 (4 flights)
Total rental car miles – 1,297 (X cars)
Total miles traveled on this trip – 7,091 miles
TRACK ADMISSION PRICES: 
Snydersville Raceway – $6
Autodrome Chaudière – $25 Canadian (included pit admission)
Autodrome Montmagny – $25 Canadian (included pit admission)
Oyster Bed Speedway – $15 Canadian (included pit admission)
Total racetrack admissions for the trip – about $70 U.S.
LIFETIME TRACKCHASER COMPARISONS 
The threemost important trackchasing comparisons to me are:
Total lifetime tracks seen
Total "trackchasing countries" seen
Lifetime National Geographic Diversity results
Total Lifetime Tracks
There are no trackchasers currently within 300 tracks of my lifetime total.  Don't blame me.
Randy Lewis, San Clemente, California – 1,751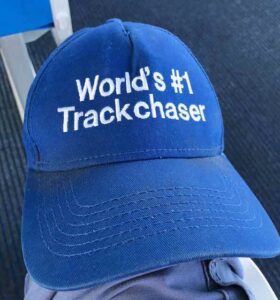 Total Trackchasing Countries
There are no trackchasers currently within 9 countries of my lifetime total. 
Randy Lewis, San Clemente, California – 60
Current lifetime National Geographic Diversity results
Randy Lewis, San Clemente, California – 5.29
That's all folks!  Official end of the RLR – Randy Lewis Racing Trackchaser Report
Click on the link below to see the video production from the racing action today.
Racing action from the Oyster Bed Speedway! 
Let's run around Prince Edward Island and then go to the races.
Click on the link below for a photo album from today's trackchasing day.  You can view the album slide by slide or click on the "slide show" icon for a self-guided tour of today's trackchasing adventure.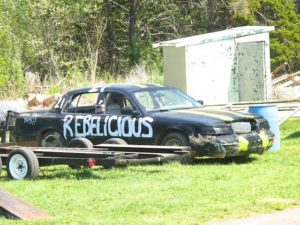 Oyster Bed Speedway……2012 visit…..lifetime track #1,751